No category
6 volt electric fuel pump installation instructions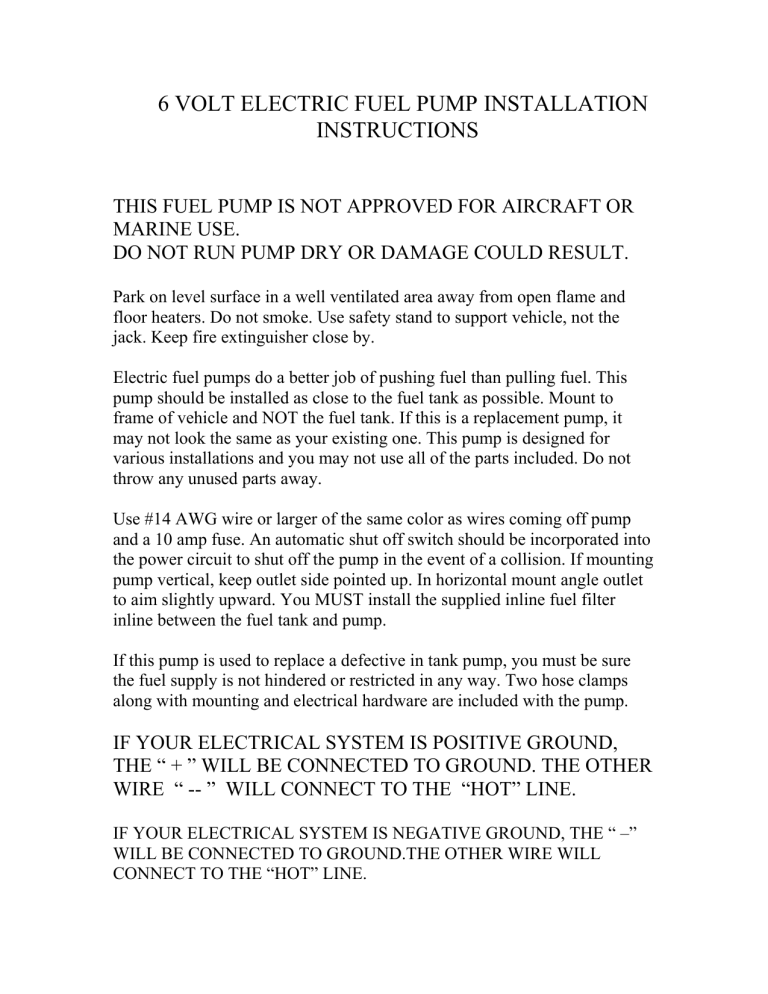 6 VOLT ELECTRIC FUEL PUMP INSTALLATION
INSTRUCTIONS
THIS FUEL PUMP IS NOT APPROVED FOR AIRCRAFT OR
MARINE USE.
DO NOT RUN PUMP DRY OR DAMAGE COULD RESULT.
Park on level surface in a well ventilated area away from open flame and
floor heaters. Do not smoke. Use safety stand to support vehicle, not the
jack. Keep fire extinguisher close by.
Electric fuel pumps do a better job of pushing fuel than pulling fuel. This
pump should be installed as close to the fuel tank as possible. Mount to
frame of vehicle and NOT the fuel tank. If this is a replacement pump, it
may not look the same as your existing one. This pump is designed for
various installations and you may not use all of the parts included. Do not
throw any unused parts away.
Use #14 AWG wire or larger of the same color as wires coming off pump
and a 10 amp fuse. An automatic shut off switch should be incorporated into
the power circuit to shut off the pump in the event of a collision. If mounting
pump vertical, keep outlet side pointed up. In horizontal mount angle outlet
to aim slightly upward. You MUST install the supplied inline fuel filter
inline between the fuel tank and pump.
If this pump is used to replace a defective in tank pump, you must be sure
the fuel supply is not hindered or restricted in any way. Two hose clamps
along with mounting and electrical hardware are included with the pump.
IF YOUR ELECTRICAL SYSTEM IS POSITIVE GROUND,
THE " + " WILL BE CONNECTED TO GROUND. THE OTHER
WIRE " -- " WILL CONNECT TO THE "HOT" LINE.
IF YOUR ELECTRICAL SYSTEM IS NEGATIVE GROUND, THE " –"
WILL BE CONNECTED TO GROUND.THE OTHER WIRE WILL
CONNECT TO THE "HOT" LINE.

* Your assessment is very important for improving the work of artificial intelligence, which forms the content of this project