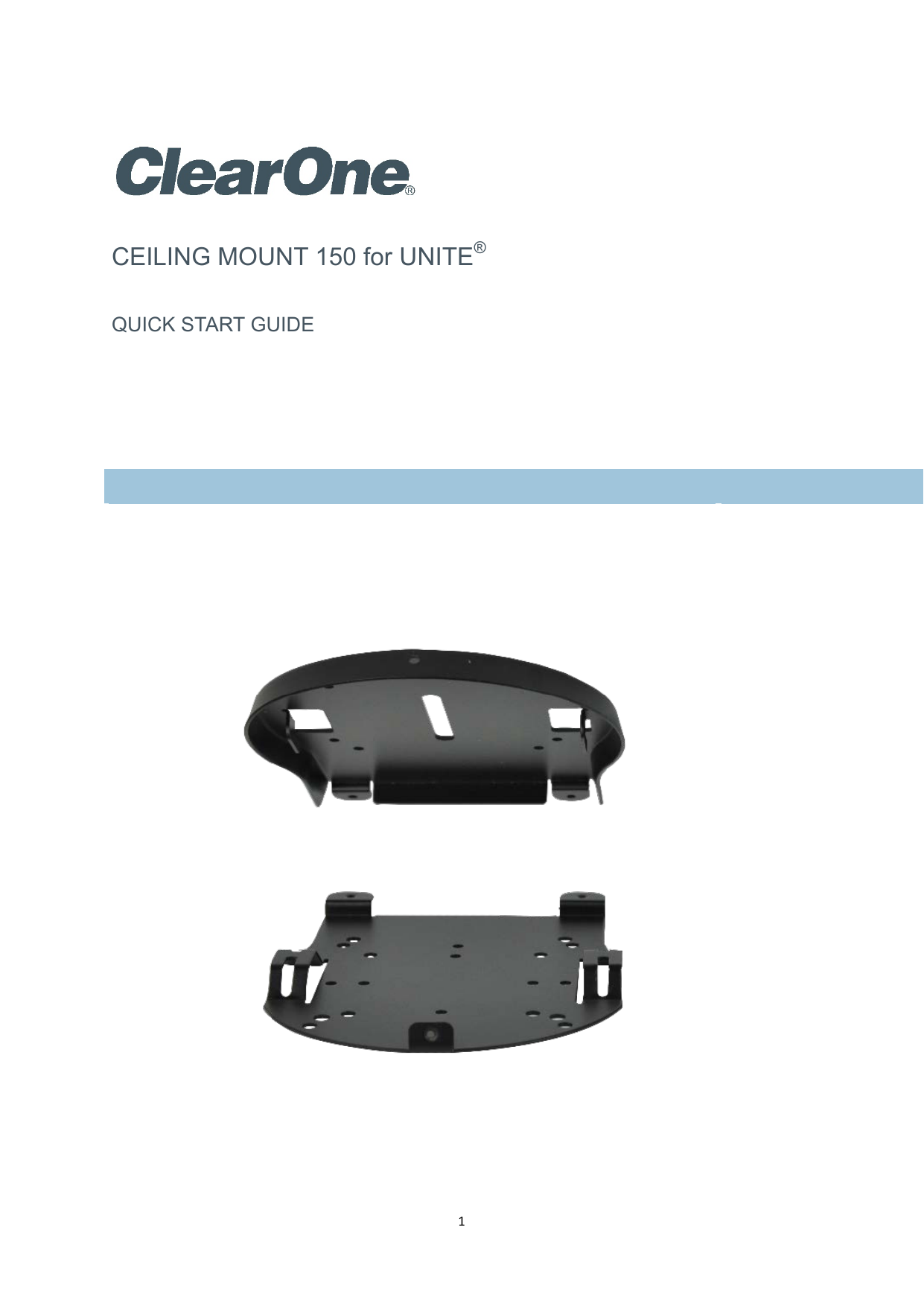 CEILING MOUNT 150 for UNITE®
QUICK START GUIDE
1
WHAT'S INCLUDED:
Pieces
1
Item
Ceiling Mount
1
Cross recessed, pan head with tail machine teeth screw, UNC 1/4''-20*8,
PWM3*10
6
Pan head, flat tail, self-tapping lock screws, M3*6
NOT INCLUDED:
Pieces
4
Item
*M5 expansion screws
* These screws need to be provided by the installer based on the thickness of the ceiling.
Caution: It is the responsibility of the installer to ensure the camera and its mounting
hardware are firmly secured, so that the camera does not fall. Anchoring hardware
appropriate to the ceiling type must be selected and provided by the installer.
2
INSTALLATION
Step 1.
a) Position upper component of anchor on ceiling, and mark ceiling for placement
(markers indicated in Steps 2 and 4).
b) Pre-drill holes in ceiling.
NOTE: Check depth of the mounting holes by inserting a straw or toothpick, and
measure against the length of screws.
Step 2.
a) Place top component of mount back over markings on ceiling.
b) Secure using M5 expansion screws (not included).
STEP 3.
Secure bottom component of mount to the bottom of the camera using included M3*6
screws.
3
STEP 4.
a) Attach camera to mount.
b) Secure using M3*6 screws.
Upper
Upper component fixing hole
( Fixed on wall or bracket )
Assembly combined with the Card
position
Lower
Camera fixing hole
Camera fixing hole
Service and Support
If you need assistance setting up or operating your product, please contact us. We welcome your
comments so we can continue to improve our products and better meet your needs.
Technical Support
Telephone:
1.800.283.5936
E-mail:
[email protected]
4
© 2017 ClearOne Communications, Inc. All rights reserved. Information in this document is subject to change without notice.
Other product names may be registered trademarks of their respective owners who do not necessarily endorse ClearOne or ClearOne's products in the United States and/or other countries.
ClearOne Document: QSG-0047-001 Revision 1.0 June 2017.

* Your assessment is very important for improving the work of artificial intelligence, which forms the content of this project