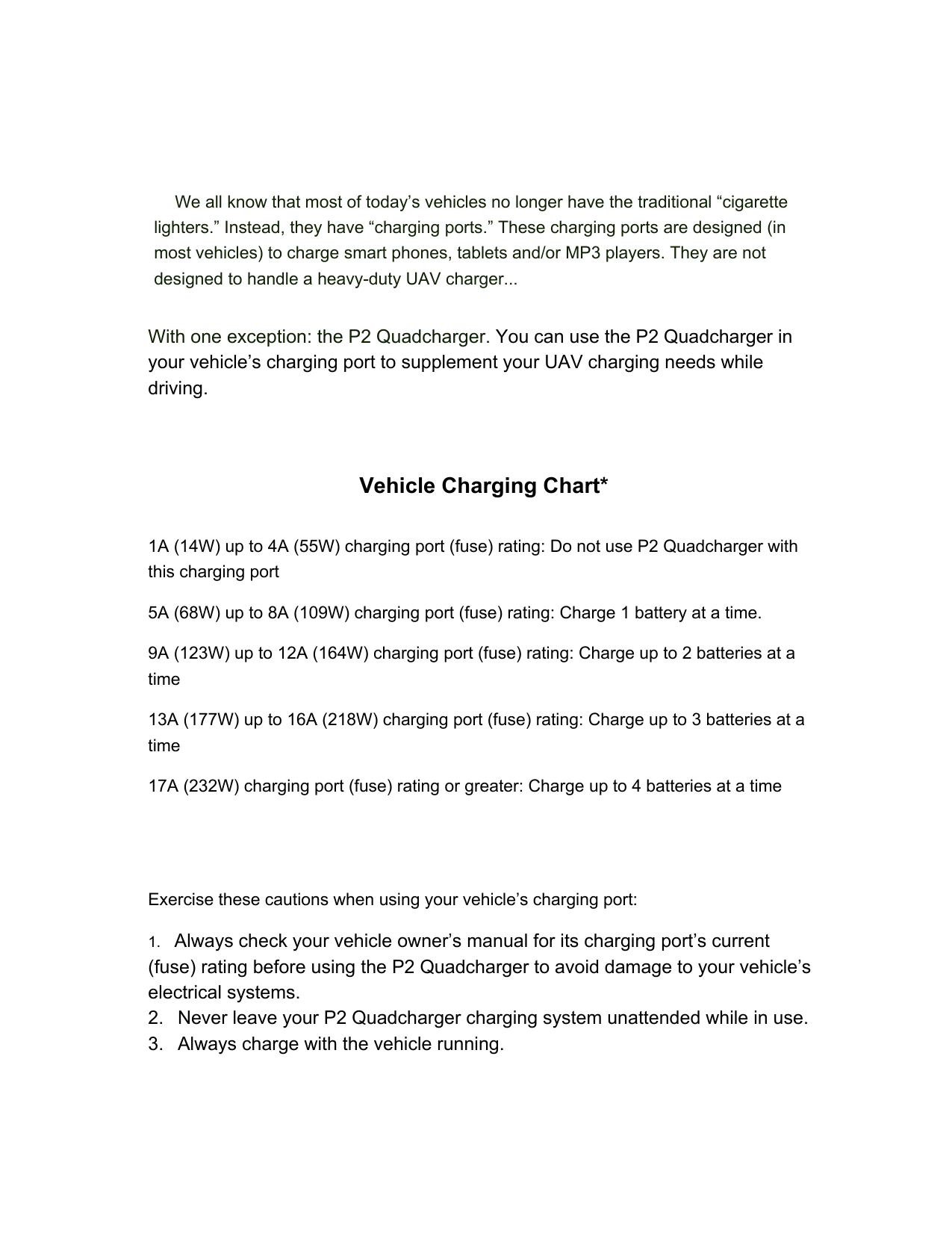 We all know that most of today's vehicles no longer have the traditional "cigarette lighters." Instead, they have "charging ports." These charging ports are designed (in most vehicles) to charge smart phones, tablets and/or MP3 players. They are not designed to handle a heavy­duty UAV charger... With one exception: the P2 Quadcharger. ​
You can use the P2 Quadcharger in your vehicle's charging port to supplement your UAV charging needs while driving. Vehicle Charging Chart* 1A (14W) up to 4A (55W) charging port (fuse) rating: Do not use P2 Quadcharger with this charging port 5A (68W) up to 8A (109W) charging port (fuse) rating: Charge 1 battery at a time. 9A (123W) up to 12A (164W) charging port (fuse) rating: Charge up to 2 batteries at a time 13A (177W) up to 16A (218W) charging port (fuse) rating: Charge up to 3 batteries at a time 17A (232W) charging port (fuse) rating or greater: Charge up to 4 batteries at a time Exercise these cautions when using your vehicle's charging port: 1.​
​
Always check your vehicle owner's manual for its charging port's current (fuse) rating before using the P2 Quadcharger to avoid damage to your vehicle's electrical systems. 2.​
​
Never leave your P2 Quadcharger charging system unattended while in use. 3.​
​
Always charge with the vehicle running. * Due to the design and wire size used on vehicles' electrical systems and charging ports, the charging process with the P2 Quadcharger will allow your Phantom 2 batteries to charge between 50 and 90 percent of their charging capacity. See​
Technical Aspects of the P2 Quadcharger ​
for more information. 
* Your assessment is very important for improving the work of artificial intelligence, which forms the content of this project