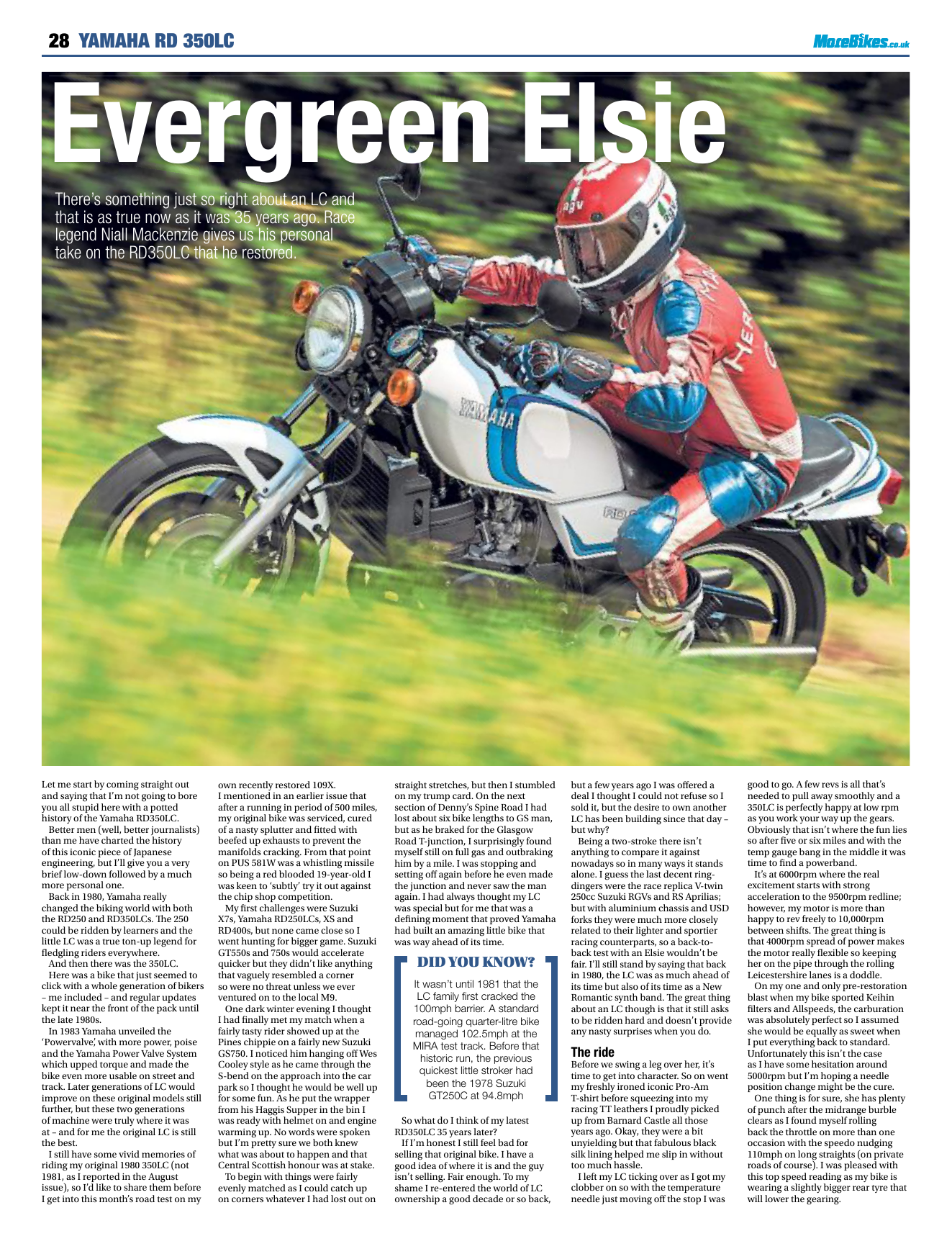 28 YAMAHA RD 350LC
Evergreen Elsie
There's something just so right about an LC and
that is as true now as it was 35 years ago. Race
legend Niall Mackenzie gives us his personal
take on the RD350LC that he restored.
Let me start by coming straight out
and saying that I'm not going to bore
you all stupid here with a potted
history of the Yamaha RD350LC.
Better men (well, better journalists)
than me have charted the history
of this iconic piece of Japanese
engineering, but I'll give you a very
brief low-down followed by a much
more personal one.
Back in 1980, Yamaha really
changed the biking world with both
the RD250 and RD350LCs. The 250
could be ridden by learners and the
little LC was a true ton-up legend for
fledgling riders everywhere.
And then there was the 350LC.
Here was a bike that just seemed to
click with a whole generation of bikers
– me included – and regular updates
kept it near the front of the pack until
the late 1980s.
In 1983 Yamaha unveiled the
'Powervalve', with more power, poise
and the Yamaha Power Valve System
which upped torque and made the
bike even more usable on street and
track. Later generations of LC would
improve on these original models still
further, but these two generations
of machine were truly where it was
at – and for me the original LC is still
the best.
I still have some vivid memories of
riding my original 1980 350LC (not
1981, as I reported in the August
issue), so I'd like to share them before
I get into this month's road test on my
own recently restored 109X.
I mentioned in an earlier issue that
after a running in period of 500 miles,
my original bike was serviced, cured
of a nasty splutter and fitted with
beefed up exhausts to prevent the
manifolds cracking. From that point
on PUS 581W was a whistling missile
so being a red blooded 19-year-old I
was keen to 'subtly' try it out against
the chip shop competition.
My first challenges were Suzuki
X7s, Yamaha RD250LCs, XS and
RD400s, but none came close so I
went hunting for bigger game. Suzuki
GT550s and 750s would accelerate
quicker but they didn't like anything
that vaguely resembled a corner
so were no threat unless we ever
ventured on to the local M9.
One dark winter evening I thought
I had finally met my match when a
fairly tasty rider showed up at the
Pines chippie on a fairly new Suzuki
GS750. I noticed him hanging off Wes
Cooley style as he came through the
S-bend on the approach into the car
park so I thought he would be well up
for some fun. As he put the wrapper
from his Haggis Supper in the bin I
was ready with helmet on and engine
warming up. No words were spoken
but I'm pretty sure we both knew
what was about to happen and that
Central Scottish honour was at stake.
To begin with things were fairly
evenly matched as I could catch up
on corners whatever I had lost out on
straight stretches, but then I stumbled
on my trump card. On the next
section of Denny's Spine Road I had
lost about six bike lengths to GS man,
but as he braked for the Glasgow
Road T-junction, I surprisingly found
myself still on full gas and outbraking
him by a mile. I was stopping and
setting off again before he even made
the junction and never saw the man
again. I had always thought my LC
was special but for me that was a
defining moment that proved Yamaha
had built an amazing little bike that
was way ahead of its time.
DID YOU KNOW?
It wasn't until 1981 that the
LC family first cracked the
100mph barrier. A standard
road-going quarter-litre bike
managed 102.5mph at the
MIRA test track. Before that
historic run, the previous
quickest little stroker had
been the 1978 Suzuki
GT250C at 94.8mph
So what do I think of my latest
RD350LC 35 years later?
If I'm honest I still feel bad for
selling that original bike. I have a
good idea of where it is and the guy
isn't selling. Fair enough. To my
shame I re-entered the world of LC
ownership a good decade or so back,
but a few years ago I was offered a
deal I thought I could not refuse so I
sold it, but the desire to own another
LC has been building since that day –
but why?
Being a two-stroke there isn't
anything to compare it against
nowadays so in many ways it stands
alone. I guess the last decent ringdingers were the race replica V-twin
250cc Suzuki RGVs and RS Aprilias;
but with aluminium chassis and USD
forks they were much more closely
related to their lighter and sportier
racing counterparts, so a back-toback test with an Elsie wouldn't be
fair. I'll still stand by saying that back
in 1980, the LC was as much ahead of
its time but also of its time as a New
Romantic synth band. The great thing
about an LC though is that it still asks
to be ridden hard and doesn't provide
any nasty surprises when you do.
The ride
Before we swing a leg over her, it's
time to get into character. So on went
my freshly ironed iconic Pro-Am
T-shirt before squeezing into my
racing TT leathers I proudly picked
up from Barnard Castle all those
years ago. Okay, they were a bit
unyielding but that fabulous black
silk lining helped me slip in without
too much hassle.
I left my LC ticking over as I got my
clobber on so with the temperature
needle just moving off the stop I was
good to go. A few revs is all that's
needed to pull away smoothly and a
350LC is perfectly happy at low rpm
as you work your way up the gears.
Obviously that isn't where the fun lies
so after five or six miles and with the
temp gauge bang in the middle it was
time to find a powerband.
It's at 6000rpm where the real
excitement starts with strong
acceleration to the 9500rpm redline;
however, my motor is more than
happy to rev freely to 10,000rpm
between shifts. The great thing is
that 4000rpm spread of power makes
the motor really flexible so keeping
her on the pipe through the rolling
Leicestershire lanes is a doddle.
On my one and only pre-restoration
blast when my bike sported Keihin
filters and Allspeeds, the carburation
was absolutely perfect so I assumed
she would be equally as sweet when
I put everything back to standard.
Unfortunately this isn't the case
as I have some hesitation around
5000rpm but I'm hoping a needle
position change might be the cure.
One thing is for sure, she has plenty
of punch after the midrange burble
clears as I found myself rolling
back the throttle on more than one
occasion with the speedo nudging
110mph on long straights (on private
roads of course). I was pleased with
this top speed reading as my bike is
wearing a slightly bigger rear tyre that
will lower the gearing.
YAMAHA RD 350LC 29
Although it is easy to get tucked
in (one hand on the fork leg ProAm style if you're really serious),
the normal riding position is quite
upright but with much better ground
clearance than the old air-cooled RDs.
And because I move around the bike
more than in my early 1980s novice
racer days, getting more weight on
over the front seemed to give a more
planted feel than I remember.
I may have been impressed with
the brakes 30 odd years ago but they
certainly don't come close to what
we have now on modern sports
bikes. That said, I could still get the
front to lock if I pulled hard enough
as I tried to re-enact the old GS750
outbraking manoeuvre down Denny's
Spine Road. What I did like though is
the feel and performance of the rear
drum brake as it greatly assists the
lack of stopping power from the front.
Having plenty of weight over the rear
makes it very usable and helps to keep
things stable at the same time.
The general handling felt nimble
which may or may not have been
helped with the later model's stronger
rear spring; however, I was reminded
on a few occasions why a steering
damper is necessary for racing. While
you never get any violent 'head shake'
on LCs, they do tend to weave at high
speed. This in itself isn't particularly
dangerous but it does get tiring after
a while so a cheap damper is a quick
and simple way to fix the problem.
My bike actually came with one
fitted but being quite anal about
keeping things standard I've chosen
to put up with the odd 80mph wobble.
Buying & owning
It's little wonder that LCs have
become popular again. Well, when we
say that, we know they've always been
popular and held their own pricewise, but they are a modern classic
still on the up.
Even at the turn of the last century
you could probably buy a nice
enough, average condition LC for
around £500-£700 – my mate James
Whitham did! The main problem was
always finding one in as standard a
condition as you could. LCs were one
of the most molested machines in
the 1980s, a mantle probably taken
over later by GSX-Rs. Mine was better
looked after than most (same owner
for around 25 years) but it still had
Allspeeds on it and came for £1800.
Don't be fooled, that was a good price
and there are a lot of sharks out there
who are willing to make your wallet
suffer for your nostalgia. Although
I looked into buying this one, I had
some basket cases offered to me for
more than £2000, so do shop around.
From speaking to the experts, you
really need to try and ensure that
frame and engine numbers match
up. Sensible, I know, but the LC was a
much-raced and abused machine and
many 250s were converted into 350s
with the addition of the bigger barrels
so you really need to check that history
if you want an original 350. If you
want to make your own 'LC Johnnie'
special, then maybe you're not so
worried. You pays your money…
Parts and spares do seem to be
readily available and I can't stress
enough how important it is to join the
forums or clubs like the VJMC where
you will benefit from lots of advice
and knowledge.
Price-wise for a minter now is
heading north of what I sold mine
for a few years ago (around £3000).
I thought back then that this was the
I raced one: Niall Mackenzie
From the moment my jaw
dropped when I saw a picture of
the new RD350LC in MCN
I knew I was having
one. The very next
weekend Bill Fleming
Motors in Glasgow
had my deposit
and PUS581W
finally landed in the
September of 1980.
The combination of
losing my licence and a
new 500 production series
being launched in Scotland got
me thinking that racing might
be the future so preparations
began. To be honest getting
my bike race ready took only a
day and required very minimal
mechanical skills.
Mirrors, number plate and
stands were removed, while
three plastic circles made
from containers from the local
paper mill bolted in front of the
headlight and on to the grab
rails provided the number
backgrounds. The
front foot pegs were
replaced by the rears
which were bolted
on to the top front
bolt of the foot peg
hanger. The gear
linkage was replaced
with a straight lever
which immediately
gave me one up – five
down race shift. The only other
addition was Ace bars and the
sump plug was wired and the
original tyres were replaced with
KR124 Dunlops.
My bike was fast from the
showroom but I ran her in with
care. That said I'm sure fitting
Boyesen Reeds along with
tidying up the piston windows
and transfer ports with a small
file helped me compete with the
highly tuned Stan Stephens and
Terry Beckett rocket ships from
the south. I also used Bel Ray
two-stroke oil which may or may
not have helped, but it certainly
smelt nice.
With my bike race prepped I
showed up at Carnaby in the
March of 1981 and finished third
behind the fastest LC riders in
the country at the time... the
next week I won my first ever
race at Knockhill and the rest,
they say, is history!
IN DETAIL
Above left: The beauty of 109 is that with one owner for so long we know the mileage is bang on.
Above right: Originally 109's barrels were natural finish. Now she's black all over once more.
You don't look daft
ftt on an LC in full leathers thanks to proddie racing.
30 YAMAHA RD 350LC
TECH SPEC
YAMAHA RD 350LC
Engine: 347cc liquid-cooled,
parallel twin-cylinder twostroke
Bore x stroke: 64 x 54mm
Compression ratio: 6:0:1
Fuelling: 2 x 26mm Mikuni
Ignition: CDI
Power: 47bhp @ 8500rpm
Torque: 30lb-ft @ 8000rpm
Clutch: Wet, multi-plate,
cable actuation
Gearbox: 6-speed
Final drive: Chain
Frame: Twin loop cradle type
mild steel frame, cantilever
monoshock
Brakes: Twin 270mm discs
single-piston calipers, rear:
drum
Tyres: 90/90 x 18
110/80 x 18
Weight: 143kg
Performance: 115mph
Not as good as modern, but still
good if looked after.
peak of prices for a good 4L0 but
that doesn't seem to be the case.
A quick check on the internet and
you can even see the less cool/
less desirable F models going for
anything from £2000 to £4000 and
even some RD350Rs going for
£1500+ which makes you wonder
where it will all end.
When it comes to taking the bike
back to how it was, then much of the
bike is basic black, so you can strip
it and repaint – and paint is better
than powder coating. Some parts
are easy to find, some hard – many
of the RD aficionados will swap
parts, so sometimes if you have a
bike with some non-standard bits
(like I had with exhausts) you can
swap for standard. Lots of the big
names on the forum or in the clubs
will carry a vast stock of parts great
and small. Let me tell you that often
this isn't to corner the market or to
force prices higher. Instead it's often
a hoarding complex they have for
the future of their own restorations
which then leads to more altruistic
tendencies: lots of these guys are
pukka bikers who are happy to
help out for a fair price, not rip you
off. So, again, join the forums and
the clubs as there is strength in
numbers. Even things down to the
small stickers on speedos or fuel
tanks are being replicated now, if
you want that 100% LC look.
Conclusion
way to satisfy it – go and buy one
or like me restore one, albeit with
a little help from your friends. The
end result is purely magical, as these
machines really do bring back the
memories and roll back the years.
So, overall, my first day's riding
since 109S's rebuild was for the most
part a great success. Apart from
the slight stutter around 5000rpm,
mechanically she ran like a dream.
The handling was good and all
the electrics worked perfectly so
to all intents and purposes I could
have been on a brand new bike.
On checking her over back at base
I wasn't surprised to find a few
nuts and bolts that had come loose
(mainly exhausts) but that is what
shakedown tests are for.
With me and the bike enjoying a
glorious summer together, and the
ability to shoe-horn myself into those
original leathers, it was great to be
transported back to a special carefree
time of my life when the Human
League were at the top of the charts
and a tank of fuel cost only a fiver.
I'm not going to make the same
mistake a third time: this LC is a
keeper and may we have many more
pleasurable days together this year
and beyond.
Thanks to
● Chris and Tim at CJ Ward Stove
Enamellers ● Dave (Guitar) Yates at Elite
Windows ● Kevin (LC God) Schofield
● Evans Coolants ● Racepaint UK
● Samco Hoses • Avon Tyres ● Moto
Direct ● Motul Oils ● Redline KTM
● reproductiondecals.com
This test is less about the legend of
the LC or why you should get one, but
more about how good my LC feels.
After all, if you're reading this,
looking at Joe's gorgeous pictures
and feeling that massive pang of
nostalgia, there's really only one
Frame numbers and fings…
With the LC proving to be
popular as a race bike and
a target for thieves, it's little
wonder that the golden rule of
'check the frame numbers' rings
true. Especially with a number
of RD250LCs sprouting larger
capacity barrels in a bid to be
more 'grown up'.
The first 350LCs were 4L0 in
Europe, 5J5 in South Africa and
4U0 in Japan/Australasia where
it was sold as the RZ350. In his
early career, Mick Doohan rode
and raced RZ250s and 350s.
In Europe from June 1980-81,
the start number for engine/
frame was 4L0-000101, for 1981
it was 4L0 100101 and 1982
4L0 200101. In Japan the 1980
RZ350 was coded 4U0 000101
and in 1982 it was 4U0 020101.
In South Africa (where it was
also a popular race machine)
the frame/engine code is 5J5.
Sales of the RD350LC in the
UK were strong. In 1981, 1354
machines were sold, while in
1982, 1823 of the blighters left
the dealerships. Best thing was
that the US never got the bike
due to emmissions regs/not
being interested until the YPVS
came out, but that didn't stop
Mike Cameron, from Colorado,
buying two and taking one to
second place in the Aspen SixHour race.
Bryan Trevor and me shake on the £1800 for 109! I did want to haggle, but that was a bargain, really?