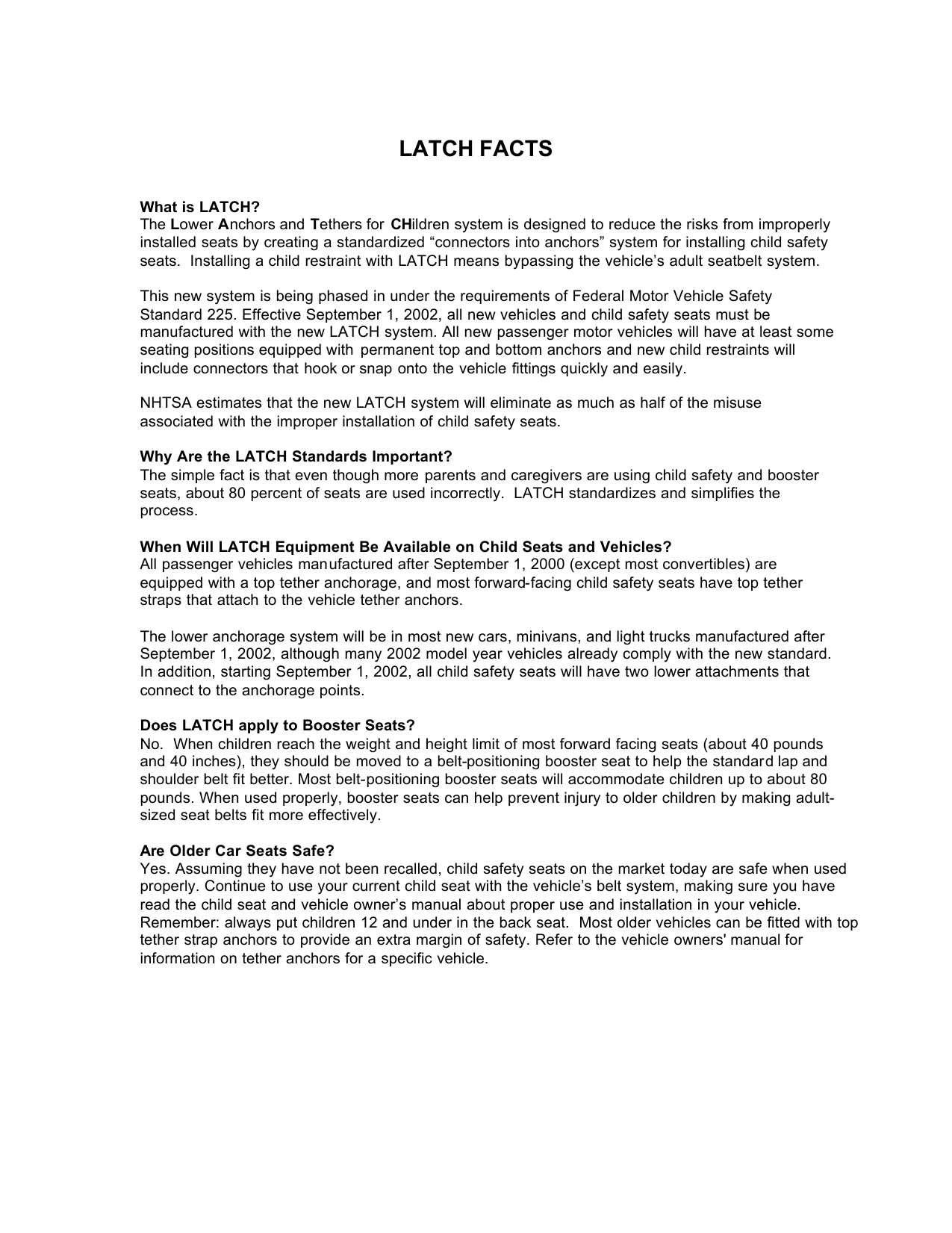 LATCH FACTS
What is LATCH?
The Lower Anchors and Tethers for CHildren system is designed to reduce the risks from improperly
installed seats by creating a standardized "connectors into anchors" system for installing child safety
seats. Installing a child restraint with LATCH means bypassing the vehicle's adult seatbelt system.
This new system is being phased in under the requirements of Federal Motor Vehicle Safety
Standard 225. Effective September 1, 2002, all new vehicles and child safety seats must be
manufactured with the new LATCH system. All new passenger motor vehicles will have at least some
seating positions equipped with permanent top and bottom anchors and new child restraints will
include connectors that hook or snap onto the vehicle fittings quickly and easily.
NHTSA estimates that the new LATCH system will eliminate as much as half of the misuse
associated with the improper installation of child safety seats.
Why Are the LATCH Standards Important?
The simple fact is that even though more parents and caregivers are using child safety and booster
seats, about 80 percent of seats are used incorrectly. LATCH standardizes and simplifies the
process.
When Will LATCH Equipment Be Available on Child Seats and Vehicles?
All passenger vehicles manufactured after September 1, 2000 (except most convertibles) are
equipped with a top tether anchorage, and most forward-facing child safety seats have top tether
straps that attach to the vehicle tether anchors.
The lower anchorage system will be in most new cars, minivans, and light trucks manufactured after
September 1, 2002, although many 2002 model year vehicles already comply with the new standard.
In addition, starting September 1, 2002, all child safety seats will have two lower attachments that
connect to the anchorage points.
Does LATCH apply to Booster Seats?
No. When children reach the weight and height limit of most forward facing seats (about 40 pounds
and 40 inches), they should be moved to a belt-positioning booster seat to help the standard lap and
shoulder belt fit better. Most belt-positioning booster seats will accommodate children up to about 80
pounds. When used properly, booster seats can help prevent injury to older children by making adultsized seat belts fit more effectively.
Are Older Car Seats Safe?
Yes. Assuming they have not been recalled, child safety seats on the market today are safe when used
properly. Continue to use your current child seat with the vehicle's belt system, making sure you have
read the child seat and vehicle owner's manual about proper use and installation in your vehicle.
Remember: always put children 12 and under in the back seat. Most older vehicles can be fitted with top
tether strap anchors to provide an extra margin of safety. Refer to the vehicle owners' manual for
information on tether anchors for a specific vehicle.
Can I Use Old Car Seats With New Cars Equipped With LATCH?
Yes. In addition to the option of simply using the vehicle's adult belt system, contact your car seat
manufacturer to see if they offer a LATCH adaptor kit designed for use with your specific seat. This is
the approach Avis has taken in its child safety program.
Will a New Child Safety Seat Still Work With My Older Vehicle?
Yes. New child safety seats can be used in older vehicles. They will have to be installed using your
vehicle's safety belt system without the top tether attachment. (You may be able to install a tether
anchor mounting in your older vehicle -- contact your vehicle manufacturer for a tether anchor kit).
These new seats must continue to meet the current requirements of the standard for head protection
when tested without the tether attached.
Where Can Parents Learn More?
Have your child safety or booster seat inspected and correctly installed by a certified child passenger
safety technician. Visit www.nhtsa.dot.gov for a list of child safety seat inspection sites near you or
call NHTSA's hotline at 1-888-DASH-2-DOT. NHTSA's hotline averages 2000 calls per week on child
safety seat issues.
PASSENGER SAFETY FACTS
Seat belt use across the country reached an all-time high of 71 percent in September
2000, up four percentage points from December 1999.
--U.S. Department of Transportation September 2000 report
Adult safety belt use is the best predictor of child occupant restraint use. A driver who is
buckled up is three times more likely to restrain a child passenger than one who is not.
--American Academy of Pediatrics, 1998
Since 1975, child restraints systems (child safety seats and booster seats) have saved
more than 4,000 children.
-- Child Restraint Systems Safety Plan, National Highway Traffic Safety Administration,
November 2000
More than 60 percent of the children killed in traffic crashes in 1999 were completely
unrestrained.
--National Highway Transportation Safety Administration, 2001
SOURCE FOR MORE INFORMATION
American Academy of Pediatrics
http://www.aap.org
Evenflo ParentLink
www.evenflo.com
General Motors
http://gm.com
National Child Passenger Safety Board
http://www.cpsboard.org
1-800-233-5921
National Highway Transportation Safety Administration Child Passenger Safety
http://www.nhtsa.dot.gov/people/injury/childps
National Safe Kids Campaign
http://www.safekids.org
*All info from National Highway Traffic Safety Administration (www.nhtsa.gov), unless otherwise noted.

* Your assessment is very important for improving the work of artificial intelligence, which forms the content of this project