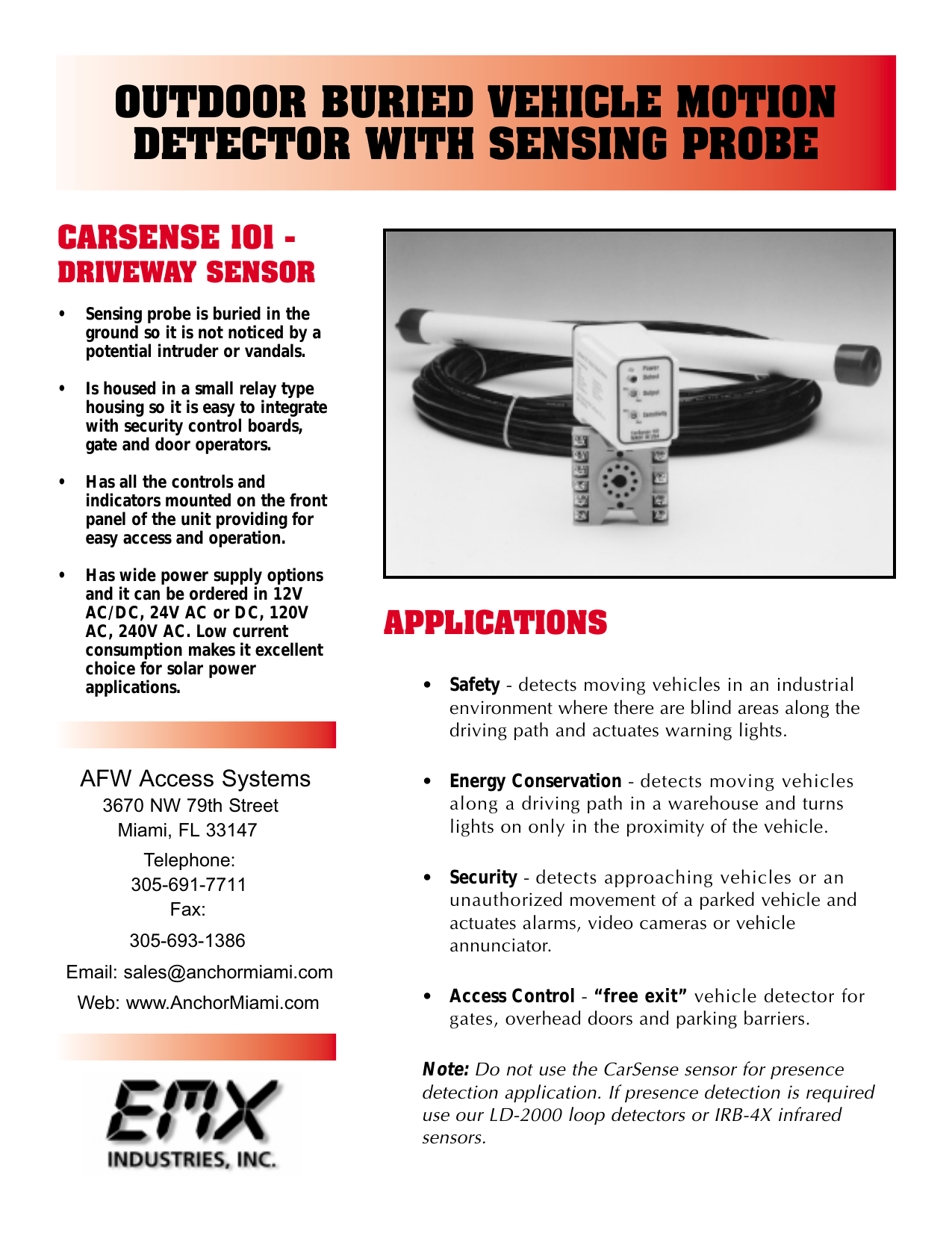 OUTDOOR BURIED VEHICLE MOTION
DETECTOR WITH SENSING PROBE
CARSENSE 101 DRIVEWAY SENSOR
•
Sensing probe is buried in the
ground so it is not noticed by a
potential intruder or vandals.
•
Is housed in a small relay type
housing so it is easy to integrate
with security control boards,
gate and door operators.
•
Has all the controls and
indicators mounted on the front
panel of the unit providing for
easy access and operation.
•
Has wide power supply options
and it can be ordered in 12V
AC/DC, 24V AC or DC, 120V
AC, 240V AC. Low current
consumption makes it excellent
choice for solar power
applications.
AFW Access Systems
3670 NW 79th Street
Miami, FL 33147
Telephone:
305-691-7711
Fax:
305-693-1386
APPLICATIONS
• Safety - detects moving vehicles in an industrial
environment where there are blind areas along the
driving path and actuates warning lights.
• Energy Conservation - detects moving vehicles
along a driving path in a warehouse and turns
lights on only in the proximity of the vehicle.
• Security - detects approaching vehicles or an
unauthorized movement of a parked vehicle and
actuates alarms, video cameras or vehicle
annunciator.
Email: [email protected]
Web: www.AnchorMiami.com
• Access Control - "free exit" vehicle detector for
gates, overhead doors and parking barriers.
Note: Do not use the CarSense sensor for presence
detection application. If presence detection is required
use our LD-2000 loop detectors or IRB-4X infrared
sensors.
CARSENSE 101 - DRIVEWAY SENSOR
Technical Information
Power Supply
Power Supply Tolerance
Stand-by Current
Detect Current
Relay Type
Relay Rating
Sensitivity
Off Delay
Control Unit Temperature Range
Probe Temperature Range
Power On Indicator
Detect Indicator
Sensitivity Control
Off Delay Control
Surge Protection
Control Unit Housing
Connector
Probe
12V AC/DC, 24V AC or DC, 120V AC, 220V AC
+/– 20% from the power rating
10 mA maximum
45 mA maximum
DPDT
1A 24V DC 120V AC
High, Medium, Low adjustment
1 to 5 seconds adjustment
-40F to 170F
-40F to 170F
High intensity Green LED
High intensity Red LED
Continuous adjustment
Continuous adjustment
MOV, neon and silicon protection devices
Break resistant Polycarbonate H:2.2"(55mm), W:1.6"(41mm),
D:3.25"(84mm)
86CP11 11 pin connector
PVC water tight housing (Length 17", Diameter 1") with shielded
direct burial lead-in cable
Ordering Information
CS
CS
CS
CS
CS
CS
101-12-50
101-24DC-50
101-24AC-50
101-120-50
101-220-50
Probe-50
power supply of 12V DC and 12V AC
power supply of 12V DC
power supply of 12V AC
power supply of 120V AC
power supply of 220V AC
probe with 50 feet lead-in wire
Probe Selection
Each probe comes with 50 feet long lead-in wire. To specify other lengths in multiples of 50 feet, modify the last
digits of the part number as necessary. For example: CS 101-12-150 or CS Probe - 150 for probe with 150 feet
lead-in wire.
Installation Notes
The CarSense CS 101 sensor uses passive probe sensor to detect changes in the earth's magnetic field. These
changes are caused by a movement of ferrous metal objects such as a car in the proximity of the probe. The sensing area of each probe is in the shape of about 15 foot circle. The size of this detection circle changes with the
size and speed of the moving car.
The passive probe sensor can be buried in the ground about 6 inches deep parallel to the paved driveway. It also
can be placed 2" deep in asphalt or concrete under the path of the vehicle. In all cases the probe has to stay totally motionless and be free of any vibration in order to prevent false detects. The lead-in cable has to be protected
from any damage to its outer insulation. Refer to the installation manual supplied with the unit for full installation
instructions.

* Your assessment is very important for improving the work of artificial intelligence, which forms the content of this project