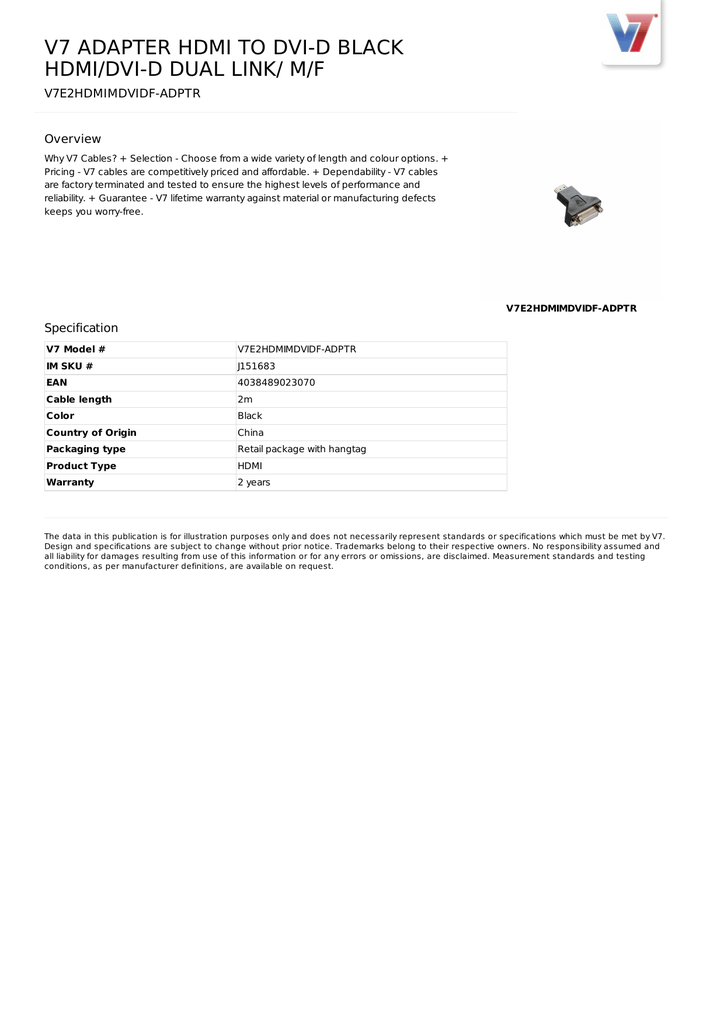 V7 ADAPTER HDMI TO DVI-D BLACK
HDMI/DVI-D DUAL LINK/ M/F
V7E2HDMIMDVIDF-ADPTR
Overview
Why V7 Cables? + Selection - Choose from a wide variety of length and colour options. +
Pricing - V7 cables are competitively priced and affordable. + Dependability - V7 cables
are factory terminated and tested to ensure the highest levels of performance and
reliability. + Guarantee - V7 lifetime warranty against material or manufacturing defects
keeps you worry-free.
V7E2HDMIMDVIDF-ADPTR
Specification
V7 Model #
V7E2HDMIMDVIDF-ADPTR
IM SKU #
J151683
EAN
4038489023070
Cable length
2m
Color
Black
Country of Origin
China
Packaging type
Retail package with hangtag
Product Type
HDMI
Warranty
2 years
The data in this publication is for illustration purposes only and does not necessarily represent standards or specifications which must be met by V7.
Design and specifications are subject to change without prior notice. Trademarks belong to their respective owners. No responsibility assumed and
all liability for damages resulting from use of this information or for any errors or omissions, are disclaimed. Measurement standards and testing
conditions, as per manufacturer definitions, are available on request.

* Your assessment is very important for improving the work of artificial intelligence, which forms the content of this project