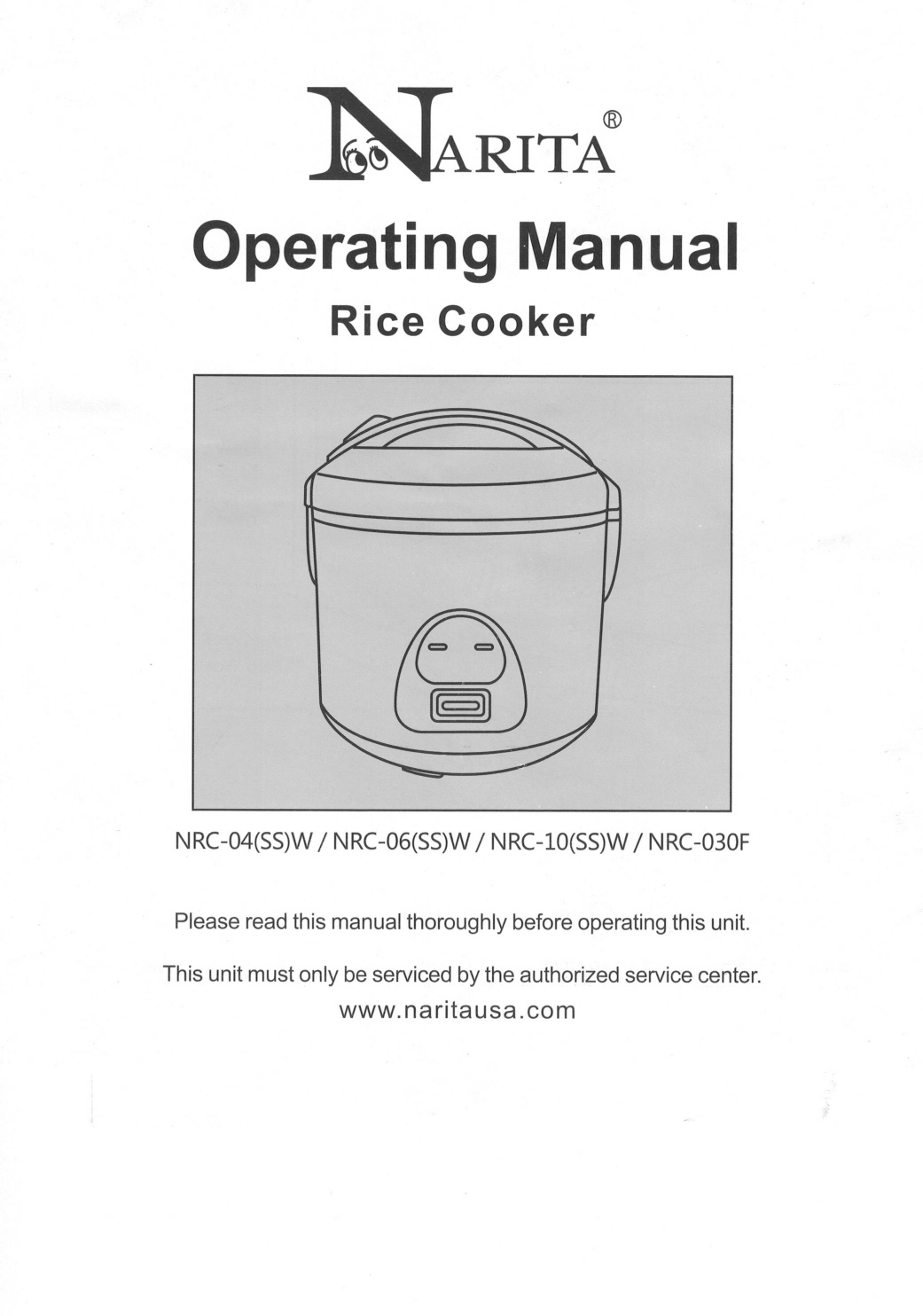 INarrrs
Operating Manual
Rice Cooker
NRC-04(SS)W / NRC-06(SS)W / NRC-10(SS)W / NRC-030F
Please read this manual thoroughly before operating this unit.
This unit must only be serviced by the authorized service center.
www.naritausa.com
PARTS IDENTIFICATION
Inner lid shaft
* Inner lid
To attach inner lid press onto shaft.
Pan
Location of
spatula holder
Body
swich |
+ Out lid
e Dew collector
To remove, hold sides
and pull out. To attach,
reverse directions.
"Rice Cook" lamp
"Keep Warm" lamp
-
| Power onlet
AC cord plug
Measuring cup
Rice spatula Spatula holder
For 6cups and
Steam Tray 10cups cooker
1
PRECAUTIONS
® Plug into properly wired wall outlet. Unplug when
notin use.
* Always keep pan bottom and heating plate clean
and dry. Any foreign material between them will
cause cooker to malfunction.
— Pan
Foreign material
Heating plate
e Do not pour or immerse the unit
in water.
7 ED
709
y
* When panis notin cooker, or just after cooking,
switch cannot be engaged. Do not depress by
force.
* Set uniton a stable surface. Do not expose to wa-
ter, high humidity or heat souces. Do not use pan
directly on open flame.
* During cooking, the vent would get hot and
spout out steam, do not put your hands or face
close to it. Never have any object on the outer
lid would deform and discolour.
1 Measure rice with the measurina cup and wash itin a
separate bowl.
* Be sure to measure out rice precisely with the
measuring cup.
® Do not wash rice inthe pan, to avoid pan bottom
from dented or deformed and to avoid uneven
contact with the heating plate that may cause mis-
cooking. It might as well affect the special coating
of the pan.
2 The scale marked on the inside of the pan is a guide
for water level with rice .
e The left of the scale measures water in liters. Put
the washed rice of the measured quantity onto
the pan. Then add water to, e.g., For one liter of
rice, a level indicated by "1.0"
* The right of the scale measures water in cups. Put
the washed rice of the measured quantity into the
pan. Then add water to, e.g., For 4 cups full of rice,
a level indicated by "4" |
cup cup
1.8 10 1.0 5
1.4 8
1.0 6 0.6 3
4
0.6 0.2
3 Place the pan in the body
Be sure to wipe dry the outside of the pan, particu-
larly the bottom of it. Then place the pan into the
body and turnit slightly to the night and left to
make sure that it comes into close contact with the
heating plate.
4 Fitinner lid into the outer lid
Align the center hole of the inner lid with the center
pinofthe outer lid, then push the inner lid in to
make the projecting side of the packing contact the
outer lid..
5 Close the outer lid
Put on and press down the outer lid until the hook
clicks into the hook catch.
Imperfect closing the lid may affect the cooking
effciency.
HOW TO USE
6 Attach AC cord to cooker and plug in. Immediately
press switch. "Rice Cook" lamp tells you cooking
has started.
* |f pan is not in cooker, cooking will not begin.
Y
7 When rice is done, switch will pop up. "Keep Warm"
Lamp lights to signal "Keep Warm" function.
* "Keep Warm" function continuous until unplugged.
(<
a ELE
8 After switch pops up, leave covered for at least 15
minutes to steamrice.
9 Use spatula to mix rice well
insertion of spatula holder.
Spatula holder 4
10 Unplug after use.
e Remove and clean dew collector after every use.
Y
м
HOW TO CLEAN
Unplug before cleaning.
] Soak pan inner lid in hot water and wash with а
sponge.
2 Wipe body with a damp cloth. Do not immerse in
water.
3 Dew collector and spatula holder should be remo-
ved and cleaned.
* Do not use abrasive cleaners or steel wool. Clean
with non-metal brush or sponge.
Stainless Steel inner Pan /
® Soak pan in hot water for a while.
* Use a sponge to clean.
WARM AND TASTY
TO KEEP COOKED RICE y
* Wash rice with water quickly and thoroughly. Bran
is removed during washing.
* Using "Keep Warm" function for more than 12
hours may cause discoloration or an objectionable
odorintherice.
* Utensils left in pan during "Keep Warm" may affect
rice smell and taste.
SPECIFICATION: 7
NRC-4(SS)W
NRC-030F
Rated voltage 120V/60Hz
Power 350W
NRC-6(SS)W
Rated voltage 120V/60Hz
Power 500W
NRC-10(SS)W
Rated voltage 120V/60Hz
Power 700W
LIMITED WARRANTY
This unit is warranted for defective materials or workmanship for one year from the
date of purchase. The warranty is valid for any manufacturing defects only. This
warranty covers operational defects incurred in normal use and does not apply in
the case of damage, abuse, mishandling, accident, or failure to follow operation
instructions. Narita shall have no responsibility for any damages incidental to
equipment and its sole responsibility shall be for the repair of replacement as
indicated, except for shipping and handling costs. There are no implies or expressed
warranties of fitness or merchantability which extend beyond the above warranty.
Note: Any unit for reimbursement or repairing should be sent back with original
complete box to the authorized service representative.

* Your assessment is very important for improving the work of artificial intelligence, which forms the content of this project