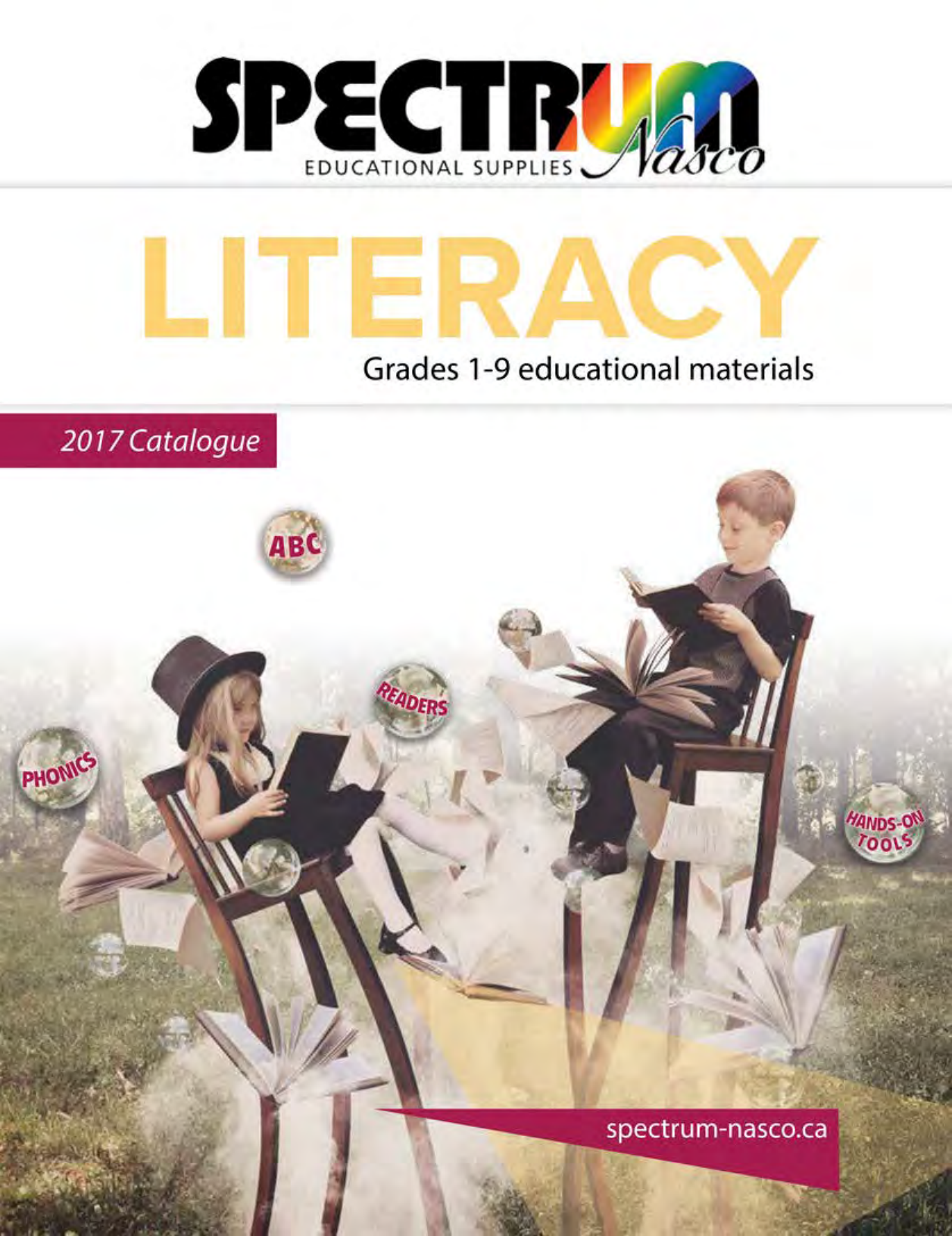 3-D Story Books
Retell-a-Story!
Read and re-enact 20 Classic children's
stories with charming 3-D objects!
Grades PreK-2 These
classic storybooks
represent some of the
finest children's literature
available. Each set includes
the book plus carefullyselected set of charming
objects to help young
students retell and
re-enact these wonderful
stories in their own words.
spectrum-nasco.ca
The Mitten
214216
$52.60
Goodnight Moon
751852
$92.10
The Very Hungry Caterpillar
751855
$78.90
1,2,3 to the Zoo
214217
$78.90
The Gingerbread Boy
214220
$52.60
The Little Red Hen
751860
$52.60
The Three Billy Goats Gruff
751853
$52.60
Stone Soup
214218
$46.00
Henny Penny
214213
$46.00
Jump, Frog, Jump!
751911
$65.75
Sheep on a Ship
214217
$52.60
Five Little Monkeys Jumping on the Bed
214215
$59.15
Sylvester and the Magic Pebble
751859
$65.75
I Went Walking
751854
$52.60
Sheep in a Jeep
751856
$52.60
Tacky the Penguin
751861
$52.60
Mouse Count
214219
$52.60
Hippos Go Berserk
214222
$65.75
Counting Crocodiles
214214
$65.75
Make way for Ducklings
751858
$65.75
1
Reading Comprehension
3-D Story Starters
Spark the most creative
kid-generated adventure stories ever!
4
fun-filled, imaginationstirring laminated mats
30
real life 3-D props are
interchangeable with all
story mats
New!
Pirate Island
3-D Story Starter Combo Set
Grades K-3 Never again will your students be at
a loss for story ideas! Let their imaginations run
wild as they fashion fantastic adventures with
these realistically detailed miniature objects and
intricately illustrated, language-provoking story
mats. Just place the objects on a mat, and watch the
words, ideas, and creativity fly! Includes 4 fun-filled,
imagination-stirring laminated mats (Pirate Island,
Castle Fantasy, Big Busy City, and Photo Safari) and
30 real life 3-D props that are interchangeable with
all story mats.
752040 - $52.60
The Road to Reading:
All the Lessons and Materials You Need to Put Struggling
Readers Back on Track
Put Students Back On The Road To Reading!
Grades K-5 This systematic, sequential reading intervention
program helps struggling learners in grades K-5. These
foundational reading skills and strategies are practiced with
hands-on, multi-sensory instruction that will keep children
enthusiastic and actively engaged. This complete, easy-toteach program helps students reach grade level goals quickly,
and move on to success in the classroom.
The Road to Reading Kit includes ALL THE MATERIALS
you need to teach the program - organized, contained and
ready to use!
Road to Reading Program Binder Detailed,
easy-to-follow lesson plans!
Diagnostic tests determine entry points in each 12 units.
Unit tests ensure students are ready to proceed. Each
illustrated 2-page lesson includes objectives and step-by-step
instructions. Manipulative-rich activities engage children. 288
pages, with tabs and grade/skill references for easy use.
Road to Reading Resource CD Assessment,
books, games, and more!
Diagnostic tests, mastery tests, and individualized recordkeeping forms for progress monitoring. Printable
books and stories, plus games, game boards, graphic
organizers, and many other instructional aids. More
that 250 pages of printable resources.
750572 Complete Program $783.15
750574 Binder & CD Only $130.30
2
Available
only at
Spectrum
Tel: 1.800.668.0600
Castle Fantasy
Photo Safari
Big Busy City
Language Development
Vocabulary Development Centre
PreK+ This marvelous collection helps build the vocabularies and strengthen the language skills of English
language learners and struggling native speakers alike. You get 200 miniatures (realia), organized into 26
primary themes, and an Object Organizer with labels for your collection. The comprehensive resource guide
shows you how to set up, organize, and get the most out of your realia collection. Dozens of easy-to-follow,
language-rich activities help students learn to name the objects, describe them in detail, sort them into
categories, follow directions, tell stories, and more. Included templates let you make your own felt story mats
for even more storytelling possibilities. Complete collection includes: 220 realia objects, 26-drawer organizer
with labels, 72-page Realia guidebook, and 4 Sorting Mats for category sorting.
750600 $329.00
750602 Realia: Making Language Real Guidebook (72 pages) $21.00
New!
First Words Practice Kit
Grades K-1 Invite young learners to practice
reading, building, and writing the most common
sight words. Children tread the words printed on
First Word Tiles, spell them out with large molded
plastic letters, and write them on tour laminated
Word Practice Boards. Perfect for a word building
center. Includes 52 sturdy plastic First Word Tiles
with large type, two sets of Movable Alphabet
letters (414 letters in all), Letter Organizer, four
laminated 18"by 11"Word Practice Boards,
write&wipe crayons, and Teaching Notes.
751953 $131.60
Word of the Day
K-3 Start building a lifelong love of words in 10 minutes a day. Each of these rich oral vocabulary lessons begins
with a Word Story featuring the Wordly Family, then invites children to answer questions about the word and
think about what it means. Interactive follow-up activities make words meaningful as children act out word
meaning, draw pictures, and find lots of ways to use each word.
750586 $21.00
New!
Idiom of the Week
K-3 These short weekly oral language lessons make
learning idioms "a piece of cake." Includes colourful
phrases such as "in the same boat," and easily
misstated idioms such as "look up to."
750594 $18.40
Word Problem of the Day
K-2 Build comprehension skills and teach vocabulary
with these clever word problems. Children listen
carefully, visualize, then solve the problem using
different strategies.
Categories Cards
Grades Pre-K + In childhood new objects, events,
and people are constantly encountered. Without
developing the essential cognitive ability to
categorize, children would have to learn to respond
anew to each new entity they experience. This set
of 144 realistically-illustrated picture cards delivers
concrete practice in this fundamental building block
of learning. 17 categories with 6-10 cards in each.
Teaching suggestions include activities ranging from
simple categorization to identifying items that do
not belong, creating sub-categories, and mindstretching go-together riddles.
751954 $52.60
750596 $21.00
spectrum-nasco.ca
3
Literacy Centres
Literacy Centres
These self-checking centres invite children to practice core literacy skills in a developmentally appropriate,
predictable format. Each centre includes 4 work mats or set of boards, manipulatives for 4 children, stepby-step instructions, teaching notes, and a sturdy, plastic storage case.
Build the Alphabet Centre
K-1 A B C D E F G… use tiles to build the upper
and lower-case alphabet, on a special work mat
designed to match the alphabet song.
750604 $59.20
Onset and Rime Centre
K-2 Children build words with onset and rime
tiles to match pictures, then write the words.
750606 $52.60
Word Building Centre: Short Vowels
K-2 Students build and write simple short-vowel
words, using letter tiles and picture cards.
750612 $52.60
Vowels Centre
Word Building Centre: Complex
Vowels
750608 $78.90
750614 $52.60
High Frequency Words Centre
Build A Sentence Centre
K-2 Children add vowel tiles to fill-in-the-blank cards, Grade 1-3 Move on to building and writing
then write the words they have built.
words with complex vowels.
New!
Word Ladder Kit
K-3 Children will learn to recognize phonics patterns
as they work with these sturdy, laminated word
ladders. Each word differs by only one or two letters
from the one above it. Students build the first word
with tiles, then add, delete, or change letters to make
each subsequent word. They record their work on a
Recording Sheet, then check it on the answer card.
Ladders progress from simple CVC words with no
vowel change, to more complex patterns. Includes 24
Word Ladders, 24 Answer Cards, Teaching Notes, and
4 sets Student Letter Tiles.
751955 $78.90
New!
Grade 1-3 Children learn to spell 100 tricky Dolch list Grade 1-2 Children place word tiles on one of
10 colour-coded Sentence Strips, then build new
words.
sentences just by changing one or more tiles.
750618 $78.90
750620 $52.60
Word Ladders Centre Level 1
K-2 Students use tiles to build a chain
of three-letter words, each differing
from the one above it in just one way.
Includes 24 different ladders.
750610 $52.60
Word Ladder Cards
Includes Word Ladders, Answer Cards, and Teaching
Notes.
751956 $38.95
Word Ladders Centre Level 2
Grade 1-2 Move on to higher-level
phonics skills with these 24 ladders: final
silent e, blends, digraphs, and vowel pairs.
750616 $52.60
4
Tel: 1.800.668.0600
Complete Sound Sorting with
Picture Cards Kit with Pocket
Chart
This huge assortment of beautifully illustrated
picture cards in a divided organizer will
give children practice in sorting words by
the sounds they hear in them. They will
connect these sounds to letters and letter
combinations. Target sounds are easy to locate
because most words contain only one syllable.
Comes with guide book for teaching ideas, plus
the royal blue Portable Pocket Chart, 50 cm
wide by 45 cm high tabletop, with 9 rows, back
storage pocket and sorting strips. Picture Cards
include: Initial Consonant Sounds, Rhymes,
Vowel Sounds, Final Consonant Sounds, and
Blends and Digraphs. Total of 522 cards.
751017 $261.95
Savings of over
$60.00
Sound Sorting with Picture Cards
Sounds Sorting with Picture Cards
Grades K-2 This huge assortment of beautifully illustrated picture cards will give children
practice in sorting words by the sounds they hear in them. They will connect these sounds to
letters and letter combinations. Target sounds are easy to locate because most words contain
only one syllable. Cards measure 2.5" x 2", with the word on the back. Each set comes in a
storage box with labeled dividers.
Initial
Consonants
Grade PreK-2 Begin
with easier distinctions
like t vs. m and move on
to more difficult ones
like f vs. v. 124 picture
cards plus teaching
notes.
Save over
$60.00
751027 $46.00
Vowel Sounds
Grade PreK-2 Explore long, short
and variant vowels, diphthongs, and
r-influenced vowels. 115 picture cards
plus teaching notes.
751023 $46.00
Final Consonant
Sounds
Grade PreK-2 Start with
contrasts like pig vs. pin,
then move on to bus
vs. brush. Includes final
digraphs. 95 picture cards
plus teaching notes.
751021 $46.00
Blends and Digraphs
Grade PreK-2 Sort words that have beginning
digraphs, and beginning and ending blends. 92 picture
cards plus teaching notes.
751019 $46.00
Rhymes
Grade PreK-2 Sort 24
common word families.
96 picture cards plus
teaching notes.
751025 $46.00
Portable Pocket Chart
Grade PreK-2 Tabletop charts measures a generous
50 cm wide by 45 cm high for small group work.
Position the 8 Sorting Strips to emphasize the
distinctions between your sorts. Includes back
storage pocket. Folds flat when not in use.
750633 $92.10
spectrum-nasco.ca
5
Sound/Sort Phonics Factory
Animals
Sports and Toys
Around the House
New!
People
Language Objects Set
Grades K-2 You asked for it! The irresistible miniature objects
used in these new hands-on collections will actively engage young
students while building their oral language skills and saving you
time!
Set includes:
· 18 food items
· 55 different animals
· 31 items associated with people
· 48 household items
· 29 sports and toy items
Includes all
5 sets.
181 0bjects!
Food
751957 $197.45
The Phonics Factory
K-2 Bring new life to your phonics lessons with this unique multi-sensory system.
150 enticing miniatures represent all the phonemes you teach primary students,
organized alphabetically into drawers for instant access. The included guidebook
shows you how to get the most out of your collection. Includes 150 objects for
beginning letters, medial vowels, ending consonants, blends, digraphs, diphthongs,
rhymes, and more; guidebook with management tips, activity ideas, and word lists to
help you select objects; matching word cards for all objects; and 24-drawer cabinet
with labels.
750636 $329.00
750638 Objects Only (150 pcs.) $131.60
Phonics Factory Special
K-2 Sort objects by individual sound,
then build the words with fill-inthe-blank cards and alphabet letters.
Includes The Phonics Factory, plus 4
two-sided sorting mats, 207 molded
alphabet letters with organizer, and 30
word building cards.
750640 $367.25
6
Tel: 1.800.668.0600
Word Building
Word Building Centre
Gr. 1-2 This well-organized activity centre offers a ready-made station for word
building practice and differentiated learning. You get the sturdy Tri-Fold Centre,
plus 20 Word Chains task cards, 48 Letter Scramble task cards, 90 lowercase
Student Letter Tiles, 4 Build and Write Mats, and 51 self-checking
Vowel Power picture cards.
751166 $177.40
Magnetic Alphabet Tiles
K-3 Two to four of each lowercase letter, plus 26 uppercase letters. 92 tiles in all,
plus two apostrophes. Red vowels and black consonants.
750658 $19.70
Magnetic Build and Write
Special
Magnetic Word Builder
K-3 Give young students lots of
alphabet and handwriting practice
with these magnetic manipulatives.
Four sets of 52 solid foam upper
and lowercase letters provide extra
kinesthetic feedback, and help prevent
letter reversals. Red vowels and blue
consonants, 1.9 to 5 cm high, in
organizer box for easy storage and
retrieval. Four large, two-sided magnetic
Build and Write boards let children
build the alphabet by matching letter
outlines on one side, and practice writing on the other. 35 x 27.5 cm. The
movable Alphabet guidebook contains dozens of alphabet activities.
K-3 The 30 x 15 cm magnet
board has marked spaces for
storing each letter, plus an area
for word building and spelling.
Comes with 92 magnetic letter
tiles.
750654 Each $39.45
750656 Set of 4 $130.30
751168 $171.05
New!
Movable Alphabet Complete Set
Includes two sets each lowercase letters (10 of each vowel and 5 of each
consonant) and two each of uppercase letters. 414 letters in all: red vowels
and blue consonants. Plus Alphabet Letter Organizer and Movable Alphabet
guidebook.
751958 $105.25
New!
3-D Sight Word Sentences
K-3 Even though a child masters sound/symbol relationships, reading
fluency may be difficult without instant recall of the 220 high-frequency
Dolch sight words. With 3-D Word Sentences, kids master sight words as
they create hundreds of fun, fanciful sentences with nouns that literally
"jump off the page." Just trade objects and a wacky new sentence springs to
life! Each set includes 15 real-life miniature objects, 20 sentence cards, and
teaching suggestions.
751940 3-D Sight Word Sentences: Pre-Primer $39.45
751941 3-D Sight Word Sentences: Primer $39.45
751942 3-D Sight Word Sentences: Grade 1 $39.45
751943 3-D Sight Word Sentences: Grade 2 $39.45
751944 3-D Sight Word Sentences: Grade 3 $39.45
751950 3-D Sight Word Sentences: Set of all 5 $182.95
spectrum-nasco.ca
Letter Tile
Organizer
Store and organize all your
alphabet letters or other
small items in this versatile,
clear plastic container.
13.7" x 8.6" x 1.37" deep,
with push-tight lid. 30 fixed
compartments measure 1.6"
x 2". 2 fixed compartments
measure 1.6" x 1.25". Letters
not included.
751959 $17.05
7
Word Building
Alphabet Letter Tiles
Choose from a variety of tiles both
one- and two-sided, colour-coded for
vowels and consonants. Tiles measure
2.5 x 3.2 cm.
Two-Sided Alphabet Letter
Tiles
Each set contains 2 to 4 of each letter,
lowercase on one side, uppercase on the
other. 68 tiles in each pack; red vowels
and black consonants.
7506421-pack $19.70
7506444-pack with Letter Tile Organizer $92.10
75064620-pack with 5 Letter Tile Organizers $393.55
Student Letter Tiles Lower Case
Each pack contains 45 lower case tiles.
750648 1-pack $10.50
750650 4-pack $39.45
750652 20-pack $182.95
New!
Hands-On Alphabet
Grades K-1 Help children recognize the letters of the alphabet, connect upper
and lowercase letters, and isolate initial sounds in words. Includes 130 objects (3
to 6 for each letter), 26 sorting cups with labels, two sets of upper and lowercase
letter cards, upper and lowercase sequencing cards, and plastic organizing basket.
Hands-on Alphabet teaching manual shows you how to get the most out of your
alphabet materials.
Letter Tile Organizer
Shown on page 7.
751959 $17.05
Word Family Tiles
Children will love making words
with this set of 42 onset tiles and 35
rime tiles. Onsets measure 2.5 x 3.2
cm and rimes 5 x 2.5 cm.
751015 Each $26.25
751316 Set of 4 $99.75
751041 $131.60
Alphabet Object Special
Grades K-1 Includes Alphabet Pocket
Chart (751030) plus Hands-on Alphabet
(751041).
Build a Contraction Magnetic Tiles
Grades 1-3 Set of 35 magnetic tiles to help
children understand how contractions are
formed, and remember how they are spelled.
Magnetic functionality allows them to see
exactly how letters are replaced by apostrophes.
Includes tiles, one Magnetic Build & Write
Board, and teaching notes.
751031 $196.15
751161 $32.85
Alphabet Objects
Gr. K-3 All 130 enticing
objects; 3 to 6 for each
letter.
Alphabet Pocket
Chart
751024 $78.95
Grades K-1 75 x 50 cm
chart has one pocket
for each letter to show
corresponding Alphabet
Objects.
751030 $65.75
Articulation Box
3-D Rhyme Basket
PreK-1 Sock, clock, sail, snail, clown, crown ... Knowing how and where rhyming
words are the same and different is a critical phonemic awareness skill that's
essential to reading readiness. Fun, hands-on activities bring word play to life for
young students and English language learners. Includes 30 realistic objects, handy
storage basket, and teacher notes.
751947 $39.45
8
This huge collection
of wonderful objects
represents 12 of the earliest
developing speech sounds.
It will involve children and
make them want to talk.
There are at least four
objects for every sound,
not only at the beginning
of words, but in the middle
and end of words as
well. Includes more than
130 sensational, realistic
miniatures, 13 object
storage bags with labels,
and an organizing chart
showing all the different
ways the objects can be used. Not for children under 3 years of age.
751211 $136.45
Tel: 1.800.668.0600
Word Building
Successful reading intervention they can see and touch!
Support struggling learners with colour-coded,
multi-sensory Reading Rods™ that snap together to
build letter relationships, words, or sentences.
Use Reading Rods™ to:
• Improve mainstream classroom instruction.
• Offer more targeted, small-group skill remediation.
• Provide one-to-one, skill-based intervention with a specialist.
Everything you need to get started:
•
•
•
•
Reading Rods® (in storage tub)
24 Double-Sided Activity Cards
Instruction & Activity Book
4 Activity Trays
Phonemic Awareness Classroom Kit
Word Building Classroom Kit
Simple Sentences Classroom Kit
68426 $88.85
68430 $88.85
73904 $88.85
Gr. K+ Your pre-emergent and emergent readers
will develop phonemic, phonological and alphabet
awareness by using letter and picture Rods to learn
sounds, letters, and letter-sound relationships.
Gr. 1+ Young readers develop skills in phonological
awareness, phonemic awareness and phonics by
using suggested patterns to build and practice
words.
Gr. 1+ Help students develop reading fluency,
beginning writing skills and an understanding of
word relationships as they explore parts of speech,
and build and read aloud simple sentences.
Hands-on Fun with Colourful Cubes!
Word Building Cubes
Learning Letters Cubes
Onset & Rime Cube Set
751163 $32.85
751180 $32.85
751164 $32.85
Your students will be amazed by the hundreds of
words they can create just by turning these twenty
3.2 cm cubes with red vowels and black consonants.
Consonant blends and vowels pairs also included.
Letter recognition and spelling fun – hands on!
Twenty 3.2 cm cubes with red vowels and black
consonants feature two of each upper and lowercase
letter.
These twenty 3.2 cm cubes with green onsets and
yellow word endings reinforce common spelling
patterns while your students make hundreds of real
and nonsense words!
Build-A-Sentence Cubes
Gr. 1-3 Explore grammar and usage conventions in a fun,
non-threatening way. These sturdy 3 cm plastic cubes have
a related high-frequency word on all six sides. Sentence
Building with Word Cubes provides step-by-step lesson
plans. Children build sentences, then vary them by turning
one or more cubes. Each of the six colour-coded ninecube sets explores a different sentence structure. Change
declarative sentences into interrogative ones or present
tense into past, affirmative into negative, and much more.
Especially useful for identifying children with syntax
problems or working with ELL students. 54 cubes.
751034 $65.75
spectrum-nasco.ca
9
Literacy Tools
This series, created by renowned Canadian literacy
teacher, Carolyn Filice, was developed specifically
to help teach literacy to elementary students.
FREE INSTRUCTIONAL VIDEOS
for Sound Buddies, Keys, Steps, and Vowel Pals
ONLINE at spectrum-nasco.ca
24.5 cm
Short and Long Vowel
Pals are phonics flip-ups
of rhyming words. They
assist in learning the
short and long vowel
sounds and discriminating
between them with visual
distinction. Colour-coded
for visual reinforcement
with consonants in black
and vowels in red. Each set
includes 5 Short and Long
Vowel Pals and teacher's
guide.
37 cm
Vowel Pals
744192 $28.10
Sound Buddies
Grades K-2 Sound Buddies are visual aids used by teachers to help
children learn and identify letter combinations that make the same
sound. Knowing the letters that make a specific sound makes word
solving more efficient. Attention to letter combinations and patterns
helps children to decode unknown words effectively and to decode by
analogy. Children receive explicit instruction in identifying the letter
combinations that appear on the Sound Buddies in words and in word
families. They are trained to use the strategy of looking for what they
know inside the word before sounding it out. Sound Buddies can also be
used for word sorts and are an excellent bulletin board display. Each set
of Sound Buddies includes 25 sounds organized in groups of 2, 3 and 4
Sound Buddies. Teacher's activity guide included.
744190 $22.90 See Sound Buddies Desk Strips on page 11
Group Set – Includes one teacher key,
5 student keys and teacher's activity
guide.
744193 $29.75
Teacher Set – Includes one teacher's
key and a teacher's activity guide.
744188 $11.40
10
Grades K-2 A tool used
for effective word-solving
strategy instruction.
Teachers explicitly
teach and model the
strategy on each key and
support students in their
attempt to apply the
strategy. They develop
an understanding that
when they're trying to
figure out a word, it's
like using a key to unlock
it. Sometimes it takes
more then one strategy o
unlock a word. Teacher's
guide included.
Student Set – Includes set of 5 student
keys and a teacher's activity guide.
744186 $19.45
Single Student Key
744187 $4.50
Steps to Retelling
746956
Children use "Retelling
Raccoon" and the 6
wooden steps to retell
stories orally. Steps are
labeled to help students
organize the components
of a story (characters,
setting, problem, events
and solution) and put
them in sequence.
Set includes 6 steps,
6 Retelling Raccoon
cutouts plus teacher's
guide.
744194 Set $30.90
744191 Single Step
with Raccoon & Teacher's Guide $5.65
Non-Fiction Steps to Retelling
744191
19 cm
Keys to Unlocking
Words
14 cm
Prop used by teachers and students to explore non-fiction books. Helps children
to understand that before they read a non-fiction book, it is important to think
about what they expect to learn and what they already know about a topic. Set
includes 6 steps, 6 Retelling Raccoon cutouts plus teacher's set guide.
746957 Set $30.90
746960 Set of 1 each of Steps to Retelling Non-Fiction and Fiction $11.30
746956 Single Step with Raccoon & Teacher's Guide $5.65
Tel: 1.800.668.0600
Literacy Kits and Desk Strips
Sound Buddies Desk Strip, Pkg. of 10
Sound Buddies are visual aids to help children learn and identify letter combinations that make the same
sound. Desk Strip can be used as a resource for individual students. Measures 40.6 x 10.5 cm.
Made of write and wipe-off material.
749968 Package of 10 $6.80
Teachers Resource
Literacy Kit
This teacher's kit is ideal for every literacy teacher to
excite children with fun teaching tools. Set includes
Sound Buddies, 6 Living Things Wands, 8 Seasonal
Wands, 6 Alphabet Write 'N' Wipe Boards, and a
pocket chart.
751057 Kit $85.50
New!
Word Puzzles with Letter Tiles
These engaging word puzzles will help emergent readers become
"word smart." Perfect for centers, these self-correcting puzzles rely
solely on phonetically regular or high frequency words. A wide range
of difficulty levels provides a challenge for every student in your
class. Children explore different solutions simply by moving letter
tiles around. Includes: 98 puzzles, instructions, answer keys, and 180
student letter tiles.
751961 $131.60
New!
Posters
Designed specifically for individual or small group
activity or for use in areas where space is at a
premium, these posters are all high in educational
content.
748576 Blends & Ends Are Fun $5.95
748578 Sounds Are Fun $5.95
748580 Single Sounds Are Fun $5.95
751013 Set of all 3 Posters $17.95
Educards Alphabet
EduCards bring the alphabet to life in your hands.
Each card contains a detailed photograph on the
front and facts on the reverse side. When you
point your device to the letter on the front of the
card you will see it come to life and move! Each
set has 26 cards. Minimum requirements:
Suitable for most Android devices running
on Android OS 2.2 and greater and the
following iOS devices: iPad 2 and later, iPad
mini, iPhone 4/4S, 5 or 3GS running latest
OS and the iPod Touch 4th gen or later.
751960 26 Cards $15.95
Desk Plates – Traditional Manuscript
Includes a photo alphabet line, 30 cm ruler, number
line, shapes and colours, Canadian currency, and a
hundred chart. 48.3 x 12.7 cm. Package of 36.
748634 $9.50
spectrum-nasco.ca
Sounds Alike!
These delightful cards will help
young readers to identify and
learn which common letter
groups make the same sound!
A total of 32 letter groups are
shown on 11 sturdy, laminated
boards each measuring 23 x 50
cm. Sounds Alike! is presented
in a clear, simple format to
facilitate learning, providing a
valuable reading resource for
your classroom.
746866 $25.95
11
Manipulatives
EduCLIME's teacher-approved and effective handwriting program! The
Living Letters® Handwriting Program has the tools to get your child
started on the path to neat writing and also reinforces proper letter
formation. Students learn and master printing with these Brain-Engaging
Products!
Living Letters® Handwriting Teacher's Starter Kit –
Print
Grades K-2 Engage the brain and improve handwriting! This classroom
kit for teaching printing utilizes a multi-sensory approach with fun
tools and warm-up exercises to introduce letter forms. Students learn
to print more quickly and with greater accuracy than with traditional
programs. The fun pictures and rhyming verses in the Living Letters®
stories make quick work of learning letter placement on the line. Kit
includes easy to follow teacher's manual, learning cards, evaluation
tools, Living Letters® Storybook, sky/earth/grass paper (200 sheets), 2
wipe-off boards, grips, wipe-off crayons and eraser, and EduCLIME's
magnetic tracer set.
750901 $184.25
New!
Living Letters® Desk Strip Print
Grades K-2 Our desk strips beautifully reinforce
placement on the line and proper letter form. Each
student now has a reference reminding them how
to form their letters with the stroke numbers and
directional arrows right at their desks! Each package has a
class set of 36 desk strips. 14" x2"
751963 $13.95
Living Letters® Handwriting Paper
Living Letters® Magnetic Tracer Print
Set
Grades K-2 An EduCLIME® original! Ready-made
letters printed on easy-to-handle, laminated cards
– great for learning letter/number formation,
directionality and developing sensory skills necessary
for good printing. Set includes upper/lower case
letters and numbers 0-9, and a Magnetic Tracer.
Uses sky/grass/earth colours to help students know
where the letters "live" on the line. This unique
concept works quickly to teach and correct letter
placement and size. Contains 200 sheets, 8.5" x 11".
750913 Gr. K-1 3/4" Lines $17.10
750911 Gr. 2-3 1/2" Lines $17.10
New!
Living Letters® Name Plate
Grades K-3 These 8.5" x 2" name plates
correspond to the Living Letters sky, grass, earth
color-coding. Your students can see the proper
placement of their own names on the line!
751964 $10.80
750915 $59.25
Magnetic Spinner Gameboard
Living Letters® Wipe-Off Board
Grades K-1 A great tool for teaching and practicing
letter placement on the line, letter size and
proportion. Each 8.5" x 11" wipe-off board offers a
hard surface on which to write and is two sided: 1"
sized lines on one side and 3/4" lines on the other!
750907 $7.95
12
New!
Living Letters® Story Book
Grades K-2 Living Letters®is a fun, Brain-Engaging
tool that uses storytelling to introduce proper
writing. With the blue sky green grass, and brown
earth as placement markers, students learn where
letters like to"live"on the line some stay on the grass
while others like to poke their heads up into the sky,
or play down in the dirt. This memorable, relatable
tool helps kids quickly associate placement and
proportion of letters-all through a story they want to
hear and read over and over again!
751962 $13.15
Math, reading, spelling, science, you name it!
Creating unlimited games is a snap with this unique
new classroom gameboard! Large, top-quality 5"
spinner for easy visibility across the classroom,
features a super-strong magnet that sticks to either
side of the write-on, wipe-off gameboard. 6 game
spaces printed on one side, 10 on the other. 12" x 12".
Recommended for use with wipe-off marker pens
(not included). See Page 13
751945 $26.25
Magnetic
Spinners
Extra-large 5" low-friction spinners
with strong magnetic bases mount
to any metallic surface. Set of 3.
751946 $9.15
Tel: 1.800.668.0600
Manipulatives
Crayola DryErase Board Set,
Dual Sided
Unique, neon, dryerase Crayon colours
with two-sided dryerase board lets kids
create on white or
black surfaces! Includes
board, crayons, eraser
mitt, and sharpener.
750482 $11.60
Dry Erase
Boards
Crayola® DryErase Crayons
– Box of 8
Large, non-toxic,
dry-erase crayons
in 8 opaque
colours. Crayons
are odourless and
have no caps to
lose! Washes off skin
and fabrics easily.
Includes eraser and box with built-in sharpener.
From quick reminders to a day's worth of
assignments, dry erase boards are the workhorse of
any busy school. Unframed, these boards do the job
at a fraction of the cost.
747100 24 x 30 cm $3.70
747102 24 x 30 cm Lined $4.10
747104 24 x 30 cm Dry Erase/Chalkboard $5.15
747124 Classroom Set:12 each of Dry Erase Board, Pen, Eraser $80.30
749998 $5.55
Low-Odour
Dry-Erase Markers
Low-odour, non-toxic,
dry-erase markers for white
boards. Wipes off with a dry
cloth or eraser. Wedge tip.
Set of 4 (red, black, blue,
green).
741382 Set of 4 $4.90
748620 Set of 8 $9.20
Kleen Slate® Dry Erase Board System
All-in-one, 2-sided, hand-held, white boards come
with a clear, dry-erase sleeve for interchangeable
templates, and built-in marker with eraser that
stores in the handle. Writing surface is 24 x 19 cm.
The sleeves allow teachers to customize templates
to fit any curriculum. The boards are perfect for
active learning, formative assessment, and real-time
communication. The Classroom Set includes 12
paddles with dry-erase sleeves, 12 learning templates
(1 side lined/1 side graph), 12 markers with eraser,
and a microfiber cloth.
751192 Classroom Set $115.80
751194 Set of 24 Paddles with Sleeves $222.40
751198 Set of 36 Paddles with Sleeves $309.30
Write 'N' Wipe Boards
These double-sided, no-tear, plastic boards can be
used with dry-wipe or wet marker pens. Upper and
lower case alphabet and ruled lines for practice
writing (blank on the other side).
741372 Each $1.40 741374 Set of 5 $6.95
75874 Set of 30 $37.80
Dry-Erase Markers with Erasers
Small, medium-point, dry-erase markers with
built-in erasers. Non-toxic and low odour.
751203 10-Pack Assorted Colours $19.75
751208 24-Pack Black $43.45
751209 36-Pack Black $58.75
Tabletop Easel
Dry Erase Handwriting Boards
Students can practice on these boards over and over!
Each 22.5 x 30 cm board has five lines for writing. Use
dry-erase markers only.
741376 Each $5.95
741378 Set of 10 $58.50
Dry Erase Markers
748358 Set of 4 $7.25
Two magnetic dry-erase boards (44 x 37.5 cm): one
side blank, the other side lined. Book/marker ledge
on each side. Built-in tray with three removable
Tiny Tubs for marker storage. Lifetime warranty
on tubs and 5 years on frame. Frame is 47. 5W x
42.5W (including book ledges) x 47.4H cm.
746620 $92.20
Handle Dry Eraser
For dry-erase boards.
Measures 2.5 x 5 cm. Not
exactly as shown.
741380 $1.10
Microfiber Cleaning
Cloth
With book binder ring, these
cleaning cloths prolong
the life of dry-erase
surfaces. Also great
for cleaning glasses,
cell phones and
computer screens.
12-pack of 43 x 20 cm cloths.
751201 Set of 12 $31.60
Lined Magnetic Dry-Erase Boards
Permanent, pre-printed lines help students form
letters and write words and sentences. Extra-sturdy
22.5 x 30 cm board doubles as a magnetic slate. Back
side has blank, magnetic, white board surface.
744280 Lined, Each $7.50
744286 Lined, Set of 10 $71.25
73970 Blank, Each $7.50
73972 Blank, Set of 10 $71.25
spectrum-nasco.ca
Medium Magnetic Write/Wipe Board
With plastic frame for easier handling and total
safety. White, wipe-clean surface can be used both
with magnetic accessories or to write with dry-erase
markers. 35.6 cm x 25.4 cm. Set of 6.
749996 Set of 6 $36.40
13
Manipulatives
New!
Dry Erase Classroom Kit
Includes: 30 Dry Erase Boards, Dry Erase Markers
(set of 4), 3 Dry Erase Cloths (set of 10) and Storage
container.
751850 $160.00
Word Formation
Sand Tray
Grade PreK-2 The perfect size for lots of sensory
practice with tracing words as well as a creative
space for setting up creative playtime dioramas!
Letters stand out clearly in the smooth blue
laminate bottom of the 15" x 8" tray. Includes
wooden lid and crystalline silica-free fine-grain
Safe Sand®.
751970 $52.60
Jumbo Sand Tray
Students will love tracing letters and whole
words in our new jumbo-sized sand tray! It's also
the perfect setting for make-believe dioramas
using favourite toys and manipulatives. Solid
wood tray 45 x 45 cm with dark blue laminate
bottom. Includes lid and fine grain Safe Sand®,
free of crystalline silica.
751182 $92.10
Letter Formation Sand Tray
Grade PreK-2 Solid wood tray for
handwriting practice measures 20 x 20 cm.
The contrasting dark blue laminate bottom
makes letters stand out clearly. Includes lid
and fine grain sand.
751104 Each $32.85
751106 Set of 4 $125.10
Double-Sided Write-on/Wipe-off
Magnetic Demonstration Tabletop
Pocket Chart
Large enough for classroom demonstrations yet
small enough for centre use! This 60 x 50 cm
tabletop pocket chart features a large magnetic
write-on/wipe-off board (60 x 50 cm) and two clear
sentence strip pockets on each side. Two storage
pockets. Folds for storage.
744486 $59.25
New!
SpinZone™ Magnetic Whiteboard
Spinners
Add a fun spin to your classroom activities! Use
these three giant 28 cm spinners to turn your
whiteboard into a custom game or activity for the
whole class. Simply draw a segmented circle, place
the magnetic pieces, and you're ready to play!
Students spin, match, and sort colourful pictures
as they learn about colours, shapes, animals, and
clothing. Spinners included: giant arrow, giant pencil,
and giant pointing hand.
749656 $26.95
Magnetic
Whiteboard Eraser
– Apple
Use to erase any dry-erase
marker from whiteboard.
Sticks to steel-backed
whiteboards, steel filing
cabinets, refrigerators
and other steel surfaces.
Cleans up with soap and
water.
751095 Each $5.60
12 or more, each $5.20
14
Magnetic Foam Letters
Lightweight, washable foam coupled with magnetic
backing makes the letters practical for any setting.
Comes in a resealable storage bag. Teaching tips are
included.
Small Lowercase 55
Uppercase
lowercase letters
40 uppercase letters
measuring 1" to 1-1/4".
measuring 1-3/4". 27
41 blue consonants,
blue consonants, 12 red
13 red vowels, and 1
vowels, and 1 purple Y.
purple y. 751967 $7.80
751965 $13.15
Lowercase
52 lowercase letters
measuring 5/8"
to 1-3/4". 36 blue
consonants, 14 red
vowels, and 2 purple
y's.
Magnetic Foam
Letters
Helps kids practice their spelling and build their
word skills. Set includes 2 of each uppercase and
lowercase letters with extras of the most used
letters. Multicoloured letters with red vowels, 1¾"
tall.
751308 Set of 120 $29.25
Small Uppercase 55
uppercase letters
measuring 1-1/4". 41
blue consonants, 13 red
vowels, and 1 purple y.
751968 $7.80
751966 $13.15
Essential
Word
Magnets
Grades 4+
This is the kit
that started
magnetic
poetry. The
carefully
selected 440 words and word fragments take your
imagination to uncharted territory. Includes words
like music, elaborate, time, soar and dream.
745432 $28.90
Magnetic Foam Objects
These 1¾" tall magnets show full-colour pictures of
a variety of objects from A to Z. Great for phonemic
use, especially with sound-letter relationships
when used with our Magnetic Foam Letters above
(#751308). Set includes at least 2 objects for each
initial letter sound.
751309 Set of 60 $31.20
Tel: 1.800.668.0600
Manipulatives
Magnetic/Dry
Erase Boards
For the best of both
worlds – attach
a note or jot one
down, this board
gives you options.
22.5 x 30 cm.
747106 $7.95
Magnetic Soft
Learning Letters
New!
Grades K+ These soft,
foam, magnetic letters
are colour-coded to
differentiate consonants
(blue) from vowels (red).
Set includes 104 letters
– 2 sets of both upper
and lower case letters,
enough for students to
build multiple words.
Letters measure 4.5
cm tall and come in a
sturdy plastic storage
bucket.
Blank Dry Erase Boards
Students love having their very own write-on/
wipe-off lapboard. The double-sided blank surface
is perfect for practicing math, reading, writing, and
spelling skills. Each sturdy board measures 9" x 12".
751972 Set of 10 $39.45
740290 $29.60
Magnetic Lower Case Letters
Standard 4 cm letters (eg. "t")with smooth surface.
67300 Set of 40 $17.95
Upper Case
Letters
48 pieces, 3.5 cm.
15431 $17.95
New!
New!
Smart Start
Magnetic Dry Erase Board
Grade K+ Help students master printing and writing
skills using the Smart Star™ "Sky to Ground" concept
featured on this double-sided magnetically receptive
whiteboard. The colored lines at the top of the board
feature the sky and ground graphics which reinforce
the "Start at the Sky and Pull Down to the Ground"
approach to proper letter formation. Use magnetic
letters to build words and have students write them
in the lines. The write-on/wipe-off surface allows
students to practice again and again. Each sturdy
board measures 9" x 12".
741971 Set of 5 $39.45
Reading
Recovery
Program
Letters
Light Learning:
Uppercase Letters
Appeal to the senses while learning the alphabet
and spelling simple words! Spell out sight words and
students 'names. We have doubled up on commonly
used letters. Use the letters on a light table to create
glowing words. Inside each letter is a small disc. Ask
students to move the disc all the way around a letter
to practice fine motor skills. Layer the letters to make
new colour combinations. Note: All vowels are red.
Includes 38 letters up to 3½ x 4¾" (9 x 12 cm) and
guide.
781969 $59.95
Magnetic Letters
Magnetic Letters
These letters are easily
handled by young children
as they have ridged edges
and are made from thick
shatterproof plastic. These
are the required letters for the
Reading Recovery Program.
67308 Lower Case Letters, 200 pieces, 3 cm $70.95
15402 Lower Case Letters, 50 pieces, 3 cm $17.95
Magnetic Letter Kit
Includes a portable organizer, one set of upper
case magnetic letters (15431) and 3 sets of lower
case magnetic letters (15402).
743014 Kit $84.50
743016 Portable Organizer Only $12.95
Brightly-coloured 3.2 cm magnetic letters. 10
pieces for each vowel, 5 pieces per consonant. 155
letters.
743010 Upper Case $36.45
743012 Lower Case $36.45
Making Words Class
Kit
Magnetic Board
With Reading Recovery
Letters Buy 3 x Upper Case
Letters (15431), 2 x Lower Case
Letters (67308), and a Set of 5
Magnetic Boards (44448) and
receive FREE Making Words
for Grades 1-3 (46962).
39300 $193.60
For individual learning or small group
demonstration. 40 x 30 cm. (Letters not
included.)
44448 Set of 5 $25.95
spectrum-nasco.ca
15
Manipulatives
Appleletters®
Jumbo Bananagrams®
Grade 2+ Players race against each other to build
Jumbo crossword grids and use all their letter tiles
as quickly as they can! Features 144 water-resistant,
3" square tiles in a jumbo banana-shaped tote bag.
Perfect for innovative outdoor play, during recess or
even in the classroom. Exercise your body and your
brain! 1-8 players.
Zip-It®
Grade 2+ An exhilarating, high-speed, two-player
game with 24 letter cubes in a unique cloth pouch
that has coloured scoring zippers. Take 12 cubes
and race against your opponent to build a word
grid. Each pouch contains a WEORDS® dictionary of
weird words that win word games!
Grade 1+ Originally designed with younger players
in mind, Appleletters® features three levels of play
to amuse children and challenge adults. Create a
continuous word snake by adding your word to
the head or tail. The free-standing tiles are easy
to handle and can be used to play three different
games. For 2-8 players. 110 tiles.
750945 $26.30
750949 $27.65
750947 $103.95
Stick-EZY Letters
Classic Bananagrams®
Grade 2+ The award-winning word game that needs
no pencil, paper or board. Fast and fun! For 1-8
players. 144 tiles.
750953 $32.90
Jumbo Zip-It®
Grade 2+ Exhilarating high-speed crossword race
you can play anyplace! Features 24 wooden lettered
2" cubes with coloured scoring zippers built into
the pouch. Two players race to form their own
crossword grid using any side of the cubes. Perfect
for super-sized play, indoors or out! 2 players.
750946 $57.90
These stick-on letters magically stick
to any smooth surface including
walls, glass, whiteboards, chalkboards
and ceramic tiles. They can be easily peeled off
leaving no residue. Kids will be excited to play with
these letters by sticking them on a wall and then
taking them off again and again. No magnets or a
magnetic board needed. The letters are washable,
colourful, non-toxic, odourless, and environmentally
friendly. 50 letters in each set.
749674 Uppercase – Multicolour $12.55
749676 Lowercase – Multicolour $12.55
749678 Uppercase –
Red Vowels/Blue Consonants $12.55
749680 Lowercase –
Red Vowels/Blue Consonants $12.55
Word Building Tiles
Grades K-2 Build emergent reading success
with lessons and centres designed to develop
and practice early phonics skills. Set includes
233 magnetic foam letter tiles (including upper
and lower case consonants and vowels, plus 5
punctuation tiles) and a 32-page teaching guide
with activities and reproducibles.
744274 $69.95
Alphabet Letters & Pictures Super Set
Grades K-1 Great for small-group instruction and
independent practice. Children use the large, easyto-grip magnetic foam letters to explore and practice
sound-letter relationships. Set includes 228 upper and
lower case letters with blue consonants and red vowels,
52 phonemic pictures and a 32-page teaching guide
with assessment strategies, lesson plans, and dozens of
activities and word-building reproducibles.
Double Bananagrams®
Gr. 2+ The big banana for the larger bunch of up to
16 players. 288 tiles (multiples of 6).
750951 $57.90
Word Family Tiles
744272 $69.95
Grades K-2 Help children increase their sight word vocabulary and improve
their decoding and spelling skills with word family tiles featuring the top 42 word
families. Set includes 42 word family tiles, 56 letter tiles and a 4-page teaching guide.
744278 $45.50
16
Tel: 1.800.668.0600
New!
New!
Conversation Cubes
751978 $13.15
751975 $13.15
New!
Hands-On Literacy® Phonics
Cube Sets
New!
Story Starter Cubes
Word Families Cubes
Six 2" cubes with 36 story
starters. Spark creative
thinking by rolling the cubes to
choose characters, situations,
and setting for original stories.
Grades K+ Six 1½ " foam cubes:
2 each of red, blue, green with
word beginnings and endings.
Make up to 77 words!
Learning is fun with these phonics
cubes! Includes 6 large, soft, lowercase
alphabet cubes, 6 blend cubes, and 6
word family cubes, with activity guide.
68494 $43.85
751974 $7.80
751976 $13.15
New!
New!
Question Cubes
Retell a Story Cubes
Grades K+ Four 2" cubes get
discussions and/or
stories started. Each
cube has Who? What?
When? Where? Why?
and one blank side.
Six 2" cubes with 36
activities. Activities
encourage demonstration
of comprehension skills and
creative self-expression.
751977 $13.15
751973 $7.80
Question Dice
Roll this pair of quiet, foam dice and
yield a new question starter: "What
might?", "Why is?", "Who can?".
You'll be amazed how much thought
students put into their questions and
answers using this simple thinking
tool.
744310 $7.50
Dry Erase Answer
Paddles
Quick and quiet whole class
participation made easy with Dry
Erase Answer Paddles. Great for review
sessions, surveys, assessment and
more! Non-ghosting dry erase surface
with an easy grip handle and smooth
edges. Hardboard backing is warp and
chip resistant.
Mini Round, 5" x 9"
751989 Class Pack of 12 $23.76
751983 Class Pack of 24 $47.40
Round, 7" x 12"
751991 Class Pack of 12 $47.40
751984 Class Pack of 24 $94.80
Rectangular, 8" x 9.75"
751992 Class Pack of 12 $47.40
751990 Class Pack of 24 $94.75
Alphabet
Magnetic
Dry Erase, Two-Sided
New!
New!
Desktop Easel Set
Ideal for small-group learning
activities, this versatile double-sided
easel brings interactivity to a child's
fingertips. Features two magnetic dry
erase surfaces, one dry erase pen with
magnetic eraser cap and two colorful
disk magnets. Lightweight aluminum
frame with rounded plastic corners
for style and safety folds flat for easy
storage. Overall closed dimensions 18"
wide x 12" high x 1.75" deep. Opens
to 10.5" deep with locking hinges for
stability and safety.
Magnetic board with reference
alphabet encourages young learners
to play with print. Alphabet features
both lower and uppercase letters
with vowels in red and consonants in
blue. Handwriting line is 1" high with
a broken midline. Magnetic dry erase
front, plain dry erase back. Rounded
corners and smooth edges for safety
and comfort. Backing is warp and chip
resistant. Measures 12" x 9" x 0.125".
751988 Each $7.90
751993 Pack of 12 $94.60
751994 Pack of 24 $189.20
751979 $39.50
New!
Manipulatives
Grades K+ Six 2" cubes
with 36 questions.
Questions assess
comprehension skills
regarding text types and
reading strategies.
Six 2" cubes with 36
conversation-starting
questions. Encourage students
to learn about one another
as they respond to thoughtprovoking questions.
New!
Reading
Comprehension
Cubes
Black Dry Erase Board
Use neon dry erase markers on this economical, unframed lap board with a plain black dry erase
surface for doodling, math or handwriting practice and more! Quality write-and-wipe surface is
non-ghosting. Hardboard backing is warp and chip resistant. Rounded corners and smooth edges
for comfort and safety. Adhesive squares included for mounting.
751985 9" x 12", Set of 24 $7.00
751986 15" x 24", Set of 24 $13.95
751987 24" x 36", Set of 12 $24.75
spectrum-nasco.ca
New! Spiral-Bound Flip
Chart Stand with Tablet
Perfect for group work, conferences,
brainstorming sessions, training and
more. Stand keeps charts visible and
in good condition. The portable
corrugated stand holds 24" x 32" and
24" x 16" spiral-bound chart tablets.
Sloped design makes it easy to turn
pages without tearing them. Solid
back supports pages while you write!
Ships flat; assembles to 24" wide x 33"
high x 14" deep. Made from recycled
materials. Recyclable. Set includes
one stand and one 24" x 32", 25-page
spiral-bound chart tablet with 1.5"
handwriting lines.
751981 $33.15
Spiral-Bound Flip Chart
Tablet
Spiral-bound chart tablets. Each 24"
x 32" tablet includes 25 sheets of 1.5"
ruled pages. Recyclable. Twelve tablets
per carton.
751982 $13.15
17
Manipulatives
Letter Construction
Activity Set
Grades K+ Snap together
colour-coded pieces to
build uppercase and
lowercase letters. Practice
letter recognition and prehandwriting too! Enough
pieces of individuals and
small groups. Includes
13-double-sided activity
cards with step-by-step
directions. Contains 60
pieces.
New!
Edu Letter Tiles
Create your own crossword
grid! Set of 144 water resistant
tiles (UV coated paper), 8" x
8" (20 x 20cm) each. Perfect
for the gym floor or any large,
flat area. Instruction Guide
included.
751995 Set of 144 $35.95
750488 $47.40
8"
8"
New!
Desktop Slant Board Set
ABC Cookies
Reinforces the alphabet, letter recognition, beginning
sounds, CVC word building, and early vocabulary.
Includes 45 double-sided cards, 2 spinners, and 42
alphabet cookies measuring approximately 5 cm.
749784 Set of 89 $23.70
Great for handwriting practice or clipping pattern
cards that children can copy and expand using
magnetic manipulatives. Unique, two clip design
works well for both right- and left-handed students.
Set also includes one black dry erase pen with
magnetic eraser cap and two colorful disk magnets.
Collapsible legs with rubberized feet provide a stable
base while in use and fold flat for efficient storage.
Board measures 17.25" wide x 12" high x 1.5" deep
when flat. Top of board raises to 4.75" off desk surface
when feet are engaged.
Magnetic Letter Construction
Grades K+ Build letters and numbers with colourcoded, magnetic pieces! Soft foam lines and curves
can be used to create both upper and lowercase
letters (plus numbers). Great for use in small groups
with smaller magnetic boards. Includes storage
bucket and activity guide. Longest piece measures 5
cm long.
751217 $29.75
751980 $32.90
Rhyme Out!®
Grades 5+ It's
rhyme time with
a triple twist!
This 2-level,
triple-rhyming,
family-friendly
card game spans all
ages. Includes 600
questions (1800
rhyming words).
For 3 or more
players.
751007 $17.10
KaBAM!™
Grades 2+ The fastest word-builders win in this
quick-thinking, head-to-head word game. Includes
74 cards (7.5 x 12.5 cm) featuring letters and letter
combinations that promote reading, vocabulary
expansion, and spelling skills.
For 2 players or teams.
751005 $17.10
Wordical®
Grades 3+ Roll the vowel dice and combine the
letters with the consonant cards in your hand. Build
the highest-scoring word and you win the round!
Includes 108 consonant cards, 2 vowel dice, and
game guide.
751009 $17.10
Language Arts Learning Cubes
Make language arts learning a hands-on,
minds-on process with Learning Cubes.
Each team receives its own cube. They roll
the cube and are led through a cooperative
learning activity. The soft and quiet foam
cubes each measure 7.5 cm.
Reader Response
Grades 3-8 Sentence
starters such as "I'd like
to hear more about..."
provide ways for students
to provide feedback to their
classmates.
744332 Single Cube $4.75
18
Reading
Comprehension
Grades 3-8 After reading
any piece, students spin
the cube and perform the
selected activity to help
boost understanding and
retention.
744336 Single Cube $4.75
Thinking Cube
Grades 3-8 Each side
features one level of
thinking from Bloom's
Taxonomy, and related
words to prompt activity
ideas to develop that level
of thinking.
745442 Single Cube $4.75
Story Elements
Grades 3-8 Questions and
prompts to examine any
story's elements including
setting, point of view, plot,
character, conflict and
moral.
744340 Single Cube $4.75
Tel: 1.800.668.0600
Story Prewriting
Grades 3-8 Help budding
writers pen terrific stories
with this prewriting activity.
Each roll generates a new
question to help map out
new stories.
744344 Single Cube $4.75
New!
Manipulatives
3-D Phonics Bingo
Grades K+ Hands-on success with CVC words
comes naturally in a new game your students will
love. Create a brand new bingo card each time
you play by placing 9 of the 36 realistic miniature
objects on your card. Then choose a letter, say its
name and sound ("p" says /p/), and remove any
matching objects from your board. Three open
spaces in a row WINS! Play initial consonant, final
consonant, or medial vowel bingo. Includes 36
real-life 3-D objects, 4 multi-use
laminated bingo cards, 45 plastic
alphabet tiles, self-checking answer
card, and game play directions.
Objects may vary. Up to four
players.
751996 $52.60
Basic Vocabulary Photo Card Set
Grades K+ Versatile set of 156 photo-illustrated
cards helps early learners develop oral language skills
related to everyday themes. Each 8.75 cm write-on/
wipe-off card features a photo and word(s) on one
side, with space for writing on the other side. Set
includes dividers for each of the 16 themes and 16page activity guide.
745512 $33.15
Dry-Erase Write 'N' Wipe Black Boards
Set of 10
Blank black boards.
751255 Set of 10 Boards $13.30
Tactile Sandpaper Letters
Day & Night Magnetic Board – Set of 6
This double-sided, dry-erase, magnetic board is
black on one side and white on the other, and has a
convenient carrying handle. Use dry-erase markers
(available separately) on both sides, and dry-erase
crayons on the black side. Size: 30 x 22.5 cm.
751253 Set of 6 Boards $34.35
751254 Neon Dry-Erase Markers, pkg/4 $7.95
Grades K-1 Beginning readers and special needs
students will benefit from the tactile experience of
these letters. The 11 x 7 cm cards are covered with
fine sand and help students make the connection
between the physical movement of forming letters
and the actual letter shapes.
748646 Lower Case $19.60
748648 Upper Case $19.60
Chalk Board
Classic, nostalgic or simply a great idea that stands
the test of time. Call it what you want, chalkboards
just feel right.
747110 24 x 30 cm $4.10
3-in-1
Portable
Easel
Bingo Games
Primary Writing Chalkboards
Green lines. Just right for young children. 23 x 30.5
cm.
75846 Single Chalkboard $4.20
72048 Set of 10 Boards $39.95
Two great games in one! Each side of the doublesided answer mat features a different skill. Perfect
for use with the entire class or just small-group
instruction. 36 double-sided game cards. 720 tokens,
calling cards. Double-sided answer mat. Game guide.
751355 Picture Words (50 calling cards) $15.95
751356 Sight Words (100 calling cards) $15.95
spectrum-nasco.ca
Three classroom-friendly
products in one! Just unfold and fasten the Velcro®
tabs to create a 2-sided magnetic board, a 2-sided
whiteboard, or a flannel board. Perfect for small
groups or on-the-go lessons, announcements and
reminders, and centre activities. Sits conveniently
on desk, table, or floor. Take it or store it anywhere.
Measures approximately 37.5 x 50 cm.
745626 85.50
19
Manipulatives
New!
Magnetic Letters with Consonants
Vocabulary Toolbox
126
Objects!
Grades K+ This compact
collection of carefully-selected realia objects
features 126 beautifully detailed miniatures are
organized into 16 vital categories. Includes detailed,
downloadable teacher's guide featuring dozens
of hands-on language-building games, activities,
and reproducible diorama backgrounds. Durable
16-drawer cabinet with self-adhesive labels keeps
everything organized.
751948 $171.10
Big Box of
Sentence
Building
Grades K+
Improve sight
word recognition,
build vocabulary,
increase fluency,
teach punctuation,
and introduce
grammar with these 250
puzzle pieces (5 cm). Includes 4
blank pieces with write and wipe surface. The pieces
are colour-coded by parts of speech. Directions,
teaching suggestions, and games included.
Ages 4+ Perfect for learning how to spell, these
magnetic foam alphabet letters come in vibrant
colours and offer 24 letter combinations in addition
to single letters. The sound blends help early readers
to pronounce common word beginnings in a tactile
learning experience. Includes 76 individual letters,
24 letter combinations, four punctuation symbols
and an instruction sheet. 5" x 5" x 6.7".
751998 $19.75
New! Magnetic
Letter & Numbers
Alphabet
Stamp Sets
Grades PreK+
Teach the alphabet,
printing/writing,
and simple words.
Set of 34 letters (2.5
x 2.5 cm) come in
compartment case.
74030 Uppercase
$15.40
74032 Lowercase
$15.40
Alphabet Stamps
2.5 cm (1")
751999 $19.10
748638 $26.30
Big Manuscript Letter Beads
Grades K+ Chunky, bright letters are more than
beads! They make great manipulatives. They work
with both string and wire. Size: 2.2 cm. Package of
288.
74028 Uppercase $21.95
743070 Lowercase $21.95
Alphabet Beads,
100 g
Bag of alphabet beads.
Ideal for threading
to promote learning
skills.
751089 $4.50
Letter & Number Blocks
Grades K+ Thirty durable, high-density foam blocks
with letters, numbers and pictures with words will
help with spelling, counting and word recognition.
30 pieces. 11.75" x 9.5" x 2.13".
Ready2Learn™
manuscript alphabet
stamps reinforce letter
recognition and word
building. Useful for
making work sheets,
posters and charts.
Sets of 34 rubber
stamps, with easy-togrip plastic handles,
come in clear, labeled
and sectioned storage
cases. 26 alphabet and 8
punctuation stamps.
745530 Uppercase $21.05
745532 Lowercase $21.05
752000 $44.75
Pop for Word
Families™
Grades 1+ Includes
100 die-cut
popcorn pieces
with 2 and 3 letter
word endings.
750492 $11.85
20
Alphabet Building Blocks
751997 $23.65
Grades K+ This 105 piece
magnetic letter and number
set includes capital
and lower case letters,
numbers and a variety
of punctuation marks
and math symbols which
are colour coded
to help early
learning. Comes
with a resealable
jar with handle
for easy travel and
storage use. 3.75" x
3.75" x 8".
New!
New!
Age 2+ Take the alphabet to new heights! This
colorful 36 piece set is perfect for identifying letters
and making simple words while enjoying fine motor
stacking fun. Blocks feature a flat front and open
back for dual use as letter molds. Includes 2 sets of
vowels (all the same color) and a storage bag. Blocks
measure 2"H × 2"L.
Giant Stampers
Giant foam 7.5 cm stamps with comfort grip handles
and directional arrows. A great way to stamp out
your own posters, wrapping paper and signs with
2 sets of 28 uppercase and 28 lowercase alphabet
stamps.
745538 Uppercase $44.70
745540 Lowercase $44.70
745542 Set of 2 (uppercase and lowercase) $82.90
Tel: 1.800.668.0600
Manipulatives
Wikki Stix
Wikki Stix
Kids can trace their names or make drawings
with these pieces of beeswax-impregnated yarn.
Standard packs contains 48 strands (20 cm long).
65950L Primary Colours (set of 48) $6.30
65952L Neon Colours (set of 48) $6.30
Unifix® CVC Consonant/Vowel Cubes
Set
90 single-letter cubes (blue consonants and red
vowels). Lower case on one side, upper case on the
other. Plastic storage box and teacher guide.
Super Wikki Stix
740342 $23.65
See how creative you
can get with 90 cm
Wikki Stix in 6 neon
colours! 7.2 m of each
colour for a total of
43.2 m!
Large Unifix® CVC Magnets
With magnets over 5 cm square, this set includes 90
colour-coded consonant and vowel cubes and 10
blank cubes. These large magnets can be seen from
the back of the classroom.
744452 $27.20
748642 $17.80
Wikki Stix
Alphabet Cards
Learn the alphabet
with fun, colourful
Wikki Stix. Set includes
26 letter cards with
directional arrows to
help create the proper
"stroke" using the 36 Wikki Stix provided. Fun
illustrations to copy for creative play time.
CVC Word Building Cards
Grades 1-3 Set of 24 laminated cards with picture
and colour cues for children to build three-letter
words with Unifix® Letter Cubes CVC sets. Colour
illustrations of common objects and animals.
741512 $9.45
748644 $16.40
Unifix® CVC Blend Cubes Set
Set of 90 colour-coded cubes including the most
frequently used two-letter initial blends, medial
blends, digraphs and diphthongs.
740344 $23.65
Roll & Learn Pocket Cubes
- Beginning Language
Grades K+ At least six games plus variations
and extension ideas. Whole-class, small-group,
and individual play. (2) 4" durable fabric
cubes with clear plastic pockets. 24 two-sided
learning cards. Resource guide. Covers: colour
words, picture and word matching,
alphabetical order, initial sounds,
compound words, long and short
vowels.
751354 $21.10
Differential Instruction Cubes
Each Differentiated Cube can provide a
group of students with up to six different
problems, prompts, tasks, or questions to
discuss. Different groups can work with
different cubes, which allows teachers to
adjust the questions or tasks on each cube
to best match the needs of each learner in
the group.
• 3 durable fabric cubes with clear plastic
pockets
• Comprehensive resource guide with cross curricular
activities, plus templates for create-your-own cards
751551 $21.10
spectrum-nasco.ca
Unifix® Onsets and Rimes Kit
Grades 1-4 Each cube is printed with a different
onset or rime on each side and can be connected to
create scores of word combinations. The 40 onset
cubes include four each of the initial consonant
sounds plus common beginning blends. The 60 rime
cubes are printed with 240 of the most frequently
used rimes. Includes 20-page teacher's guide. For 4-6
students.
741514 $35.50
21
Manipulatives
New!
Words Galore!
Grades 4+ You have to be wide awake to spy every
scoring opportunity in this well-designed wordbuilding game! Players expand their vocabulary by
combining prefixes, root words, and suffixes to form
words horizontally and vertically. The colour-coded
roots and suffixes help cement word-formation
patterns. In Level One, players use prefixes and roots
to make two-part words. In Level Two, players make
three-part words with prefixes, roots, and suffixes.
Included is a list of meanings for roots and suffixes
as well as additional suggestions for using the tiles
beyond the board. Includes 186 prefix, root, and
suffix tiles. For 2-4 players.
New!
Jumbo Magnetic Spin Wheel
Transform your whiteboard into an interactive,
whole-class game space! Simply place the spinner
on your whiteboard, choose a template, and use
your dry-erase markers to create the games and
activities you need-the possibilities are limitless. ·
Includes jumbo 16"magnetic spinner, 3 double-sided
write-on/ wipe-off cards, and teacher guide with
16 classroom management, math, language arts,
readiness, and other activity suggestions
Afterwords
Ages 8+ In this fast-paced,
open-ended, vocabulary-building game, players
must nimbly name a word that matches one of their
category cards AND begins with the letter in play
on the board. Think fast before the timer runs out,
and be the first to discard all of your cards to win in
this rapid recall game! Perfect for family game night,
AfterWORDS encourages quick-thinking skills, helps
build vocabulary, and promotes good sportsmanship
for up to 6 players!
752002 $28.95
752001 $61.85
747082 $29.55
Chunks
Chunk Stacker
Grades 2-6 Chunk Stacker is a challenging and
stimulating word-building game that develops
reading and spelling skills. It encourages strategic
and lateral thinking as players compete to fill their
trays with words made from frequently used onsets
and rimes. Includes a 48-page dictionary for word
look-up and definition, word trays and 80 onsets and
rimes tiles. For 2-6 players.
New!
Chunks was developed by researchers and classroom
teachers. Includes 140 brightly coloured chunky
plastic tiles: 70 of the most common rimes (rhyming
sounds) and 70 onsets (consonants, consonant
blends, and digraphs). Great basis for a writing unit
and a motivating classroom game.
66128 $43.80
Word on the Street Jr.
Buckle up and bring the fun of Word on the Street
to the entire family with Word on the Street Junior!
Draw a category card and set the timer to think of
the best possible word to fit the selected category.
Move the letters in your chosen word to your side
of the street before time runs out! The first team to
move 8 tiles across the street wins! This easy-to-learn
and fun-to-play game helps to develop vocabulary
skills, creative thinking skills, and encourages
teamwork. Perfect for 8 players!
752003 $26.30
741460 $42.95
Beezi Spelling Game
Ages 8-12 Surprise yourself, challenge your friends.
Tickle, harass, flabbergast, exuberant. Spell these
words correctly and you're on your way to reaching
the "beehive". A cool tool to improve and master
your spelling in an engaging, interactive game that's
easy to play. Cards are divided into 5 levels for
Grades 3-7. Total of 1500 curriculum-based words in
four levels of difficulty from easy to expert.
750999 $29.50
22
LETRA – A Fun with Letters and Words Game
Ages 5+ LETRA is a game that provides many ways to have fun while helping players improve their "Spelling
Skills", expanding their "Vocabulary" and sharpening their "Noticing Skills".The objectives of the LETRA is to
collect Letters, from the game board and use as many of those letters as possible to spell Words. Players learn
the alphabet, word building and spelling skills. Players each collect six letters and score point for the letters
that are used to spell a word. There are four ways to play LETRA to help keep learning literacy skills interesting
and fun.
751907 Letters Board Games "LETTERS" $4.50 10 or more $4.00
751925 Board Games "LETTERS" Kit $69.95
Kit Includes: 6 LETRA Boards, 6 Dry-Erase Boards, 1 Crayola, Dry-Erase Crayon (Set of 8), 6 Dry-Eraser, 12 Dice
and Pawn Counters (Pack of 48).
Tel: 1.800.668.0600
Manipulatives
Free
instructional
videos on-line
spectrum-nasco.ca
What's In Your Book?
Word Teasers: Funny Sayings
Grade 2+ 150 silly or thought-provoking questions,
each using a funny saying (idiom) guaranteed to get
everyone talking and laughing.
751098 $17.75
A fun game that develops comprehension
skills by engaging students in purposeful talk about
books. Students explore story elements (character,
setting, plot, solution) and are challenged to demonstrate
their understanding by making connections and asking questions.
Can be played by two players or teams.
746951 $20.45
Word Teasers: Junior
Grade 2+ This little box of challenge questions
contains the words kids should know by sixth grade.
Through a series of fun and wacky conversation
starters, kids will naturally build their vocabulary
and have fun too!
751100 $17.75
Alphabet Racetrack
Set of 2
Games
$18.50
750995
Grades K-1 A fun, hands-on way to help students
learn to recognize the letters of the alphabet. Can
be played by the whole class, in small groups or by
individuals who need help identifying upper and
lower case letters. Set includes six double-sided
boards, six wooden race cars, and activity guide.
746949 $9.95
Blends and Sounds Racetrack
Grades K-1 Fun, hands-on way to help students
identify beginning, middle and ending sounds in
words. Can be played with an entire class, with an
individual student, or with a small group of students.
Set includes six double-sided boards, six race cars
and activity guide.
746948 $9.95
Word Teasers: Small Fry
Grade 2+ A great way for emerging readers
to develop vocabulary with a series of fun and
entertaining questions. A fun fact about the
vocabulary word is included on the back of the card.
751134 $17.75
Yottsugo
Grade 4+ Yottsugo is a puzzle challenge for people
who enjoy word and logic puzzles. The goal is simple:
create a 4 x 4 grid of four letter words using the 16
letter tiles provided in the clue. A genius vocabulary
isn't needed to play. Each of the words in the 40
puzzles are words you might use on a daily basis.
Sounds easy, huh? If you are a word lover, you're in
for a surprise. For 1+ players.
750989 $34.95
Double-Sided
Tabletop Pocket Chart
Buzzword® Junior
Ages 7+ Designed with younger players in mind.
Just like the award-winning Buzzword game, you
and your teammates have 45 seconds to solve a set
of clues, and all the answers contain the Buzzword.
With clues for all ages, Buzzword Junior is the perfect
family game. 4+ players in teams.
750384 $29.50
Dabble®
If you like Scrabble® and Bananagram®, you'll love
Dabble! This challenging yet simple word game helps
children and adults develop vocabulary, spelling, and
quick thinking skills. Points are scored by spelling 5
words with 2-6 letters. Playing time is 5 minutes per
round, 30-60 minutes per game.
751078 $32.90
spectrum-nasco.ca
Grades K-3 No stand needed with this convenient
pocket chart. Just set it up on the table for small
groups or individual use. Includes 10 clear sentence
strip pockets for activity cards (sold separately) and
large window pocket to hold manipulatives.
Measures 40 x 40 x 50 cm, has a sturdy handle and
collapses for storage. Activity Guide included.
741266 Each $23.70
23
WhisperPhone™
Classroom Resources
WhisperPhone™
Accelerate learning
and encourage a
quieter classroom with
WhisperPhone™ – a
hands-free, acoustical
voice-feedback headset
that enables children
to focus and hear
themselves ten times
more clearly as they
learn to read, spell or
process language aloud.
Provide your students
with this valuable reinforcement. Lightweight.
No batteries needed. Dishwasher safe. Reversible
and adjustable. Available in two sizes for a
perfect fit.
742702 Grades K-4 $12.25
743142 Grades K-4 Classroom Pk of 12 $139.65
743144 Grades 5+ $13.95
743146 Grades 5+ Classroom Pk of 12 $159.00
751113
Reading Guide Strips
Students can easily track print through the
transparent, tinted window. Designed to help
students from skipping words and lines, reversing
letters, transposing letters, losing their place,
re-reading lines, and squinting. Helps with
concentration, comprehension, red/watery eyes
and reading fatigue.
751101 With Yellow Window, Each $1.50
12 or more, Each $1.35
751109
WhisperPhone Element
Reusable Dry Erase Pockets
Slide Reader
Slowly move the white slider bar in and out as you
read along. The Slide Reader helps students focus
on words, letters and phrases. Aids in fluency and
comprehension, and blocks distractions.
751105 With Yellow Window, Each $1.50
12 or more, Each $1.35
Reusable Dry Erase Pockets help to improve students'
skills. Anyone can easily practice math problems,
letters, writing and more. Simply insert a sheet of
paper and use a low-odour, dry-erase marker to write
on the pocket. When the lesson is completed, easily
wipe the marker off the pocket and use again.
751109 Neon Colours, 9" x 12", Pkg of 25 $59.15
751111 Neon Colours, 6" x 9", Pkg of 10 $18.10
751113 Primary Colours, 6" x 9", Pkg of 10 $18.10
This handheld WhisperPhone is ideal for helping
young learners develop their reading and spelling
abilities and for developing new language
skills. Perfect for early learners and the tactilely
sensitive who prefer to hold their WhisperPhone
vs. wearing our Solo headset.
751908
WhisperPhone Element
750046 Each $6.60
750048 Classpack of 12 $78.95
WhisperPhone Colour Variety
Pack
Highlight Strips
Grades PreK+ Place the strip over text to highlight
one line of type. This flexible ruler is a simple tool
for focusing concentration while reading. Great for
children who have difficulty reading aloud. Use them
for bookmarks, too! 3 colours: pink, blue and yellow.
3 x 18 cm. Package of 30.
740974 $16.95
Removable Highlighter Tape
½" x 393". A removable alternative to highlighter
pens and a focusing tool for temporary highlighting
of charts, books or other classroom materials. Sticks
securely, yet removes easily without damage to most
surfaces.
743162 Assorted 6 Pack (1 each of 6 colours) $22.45
Eye Lighter
Transparent plastic highlighter with a beveled frosted
edge, to underline the sentence you are reading, yet
see the next few sentences. This improves fluency
and increases reading speed.15 cm long. Packages
of 12.
742647 Blue $23.70
24
751908 Classpack of 12 $78.95
WhisperPhone Element XL
750050 Each $7.90
750052 Classpack of 12 $92.15
Toobaloo
Removable Highlighter Tape
17/8" x 393" Assorted 6 Pack (1 each of 6 colours)
743176 $63.00
Improve pronunciation and confidence, reading
and listening skills, phonics, and speech with this
innovative tool. The Toobaloo's design magnifies
the sound of their voice, making it easy to hear
themselves speak with only a whisper. Break-resistant,
non-toxic plastic is easy to clean.
742548 Each $7.85
12 or more $7.65 Each
Tel: 1.800.668.0600
Classroom Resources
Free
instructional
videos on-line
spectrum-nasco.ca
Word Hand & Finger Covers
Covering up parts of words to decode is a reading
strategy. The Word Hand and Finger Covers are tools
that teachers can use with a word wall to model this
strategy to children. Set of 4: 2 big, 2 small.
746944 $5.25
Thematic Word Wands
You and your students can use these wands to frame
chunks, word families, blends, and word endings.
They can also be used to frame punctuations marks.
Living Things Wands – Set of 6 includes butterfly,
robin, frog, fish, pig, and cow.
746940 $9.95
Seasonal Wands – Set of 8 includes snowman,
mittens, scarecrow, pumpkin, flower, rain boots, sun,
and pail & shovel.
746942 $10.20
New!
Alphabet Magnetic Strips
Decorate your whiteboard in a snap with durable
magnetic decor! Add flair to other metal surface such
as doors, desks, shelving, and bins. Cuts easily with
scissors to make your own labels or games pieces.
Includes 12 pieces per pack. Each magnetic strip is
12" x 3/4". 12 total feet.
752008 $13.15
Deluxe Chart Stand
Hang chart paper and pocket charts from one
stand. Features a 61W x 84L cm double-sided
magnetic dry erase surface that is height adjustable
in 7 cm increments, locking/adjustable premium
Big Book ledge, telescoping hooks for pocket charts
up to 124 cm wide, two Open Tubs with lifetime
warranty 38L x 31W x 16D cm, "Snap on" chart
hooks. 10-year frame warranty. Measures 67W x
64D x 128-165H cm.
75188 $266.40
New!
Left/Right Alphabet Tented
Name Plates
Tented Design. 7" x 11-1/2" and folds to 3-1/2" x 111/2". 2 inches longer than most other name plates!
36 per pack.
752009 $7.90
Book Buddy Bags
Dry-Erase Pouch
Pack of 10
This Dry-Erase Pouch is suitable for every grade level,
allowing students and teachers to insert pages of
suggested activities, open-ended problem solving
and discussions on assessments. When you are done
with the inserted page, simply erase the work and
reuse the Dry-Erase Pouch for the next lesson. Set
includes two each of five colours (purple, red, blue,
yellow and green). Size: 32.5 x 28 cm.
751783 Pack of 10 Pouches $20.60
751782 Pack of 4 Markers (red, blue, green, black) $2.60
727227
750044
Magnetic Hooks
Great for hanging pocket charts, flipbooks,
decorations, hall passes, and more. Original Hooks
measure 1.25" diameter and the colourful Super
Strong Hooks measure 1.5" diameter.
727227 Super Strong Hooks (holds 20 lbs each),
Coloured, Set of 4 $15.40
750044 Original Magnetic Hooks (holds 13 lbs
each), White, Set of 5 $11.90
Use Book Buddy Bags
to keep your books
and other classroom
materials protected
and well organized,
whether they're
safely stored in
your classroom or
en route to or from
students' homes. Each clear, plastic
bag comes with a sturdy handle, a four-colour
design on the front, and a place to write a student's
name or to label the bag's contents.
62574 26.3 x 32.3 cm, Set of 6 $13.10
5 or more sets $12.45 per Set of 6
Chevron
Storage Bag
Use these storage
bags to keep your
books and other
classroom materials
protected and well
organized, whether
they're safely stored
in your classroom or
en route to or from
students' homes.
Each clear, plastic bag
comes with a sturdy
handle. Bags measure 10½" x 12½" includes 6 bags.
751909 $13.10
5 or more $12.45 per Set of 6
spectrum-nasco.ca
Magnetic Pockets, Chalkboard Brights (Small)
Magnetic Pockets, Aqua Chevron (Large)
New!
Magnetic Pockets
Use for sentence strips, math problems, class jobs,
behavior management charts, storing papers or
displaying student work, the possibilities are endless!
The pockets will stick to your whiteboard or any
magnetically receptive surface so you can move them
easily. Large Size: can hold a piece of paper up to 123/4" wide. Measures 14" x 2". 4 per pack. Small Size:
can hold a piece of paper or index card up to 5-3/4"
wide. Measures 7" x 2". 8 per pack.
752004 Chalkboard Brights Large, 4 pack $13.15
752005 Chalkboard Brights Small, 8 pack $13.15
752006 Aqua Chevron Large, 4 pack $13.15
752007 Aqua Chevron Small, 8 pack $13.15
25
Classroom Resources
Linking Word
Study to Shared
Reading Pocket
Chart
With this ready-to-use
pocket chart, children
are able to apply word
study skills to a shared
reading text. Students
engage in shared
reading with an
instructional purpose.
The activities target
punctuation, letter
combinations, letter
patterns and word
endings. Includes
pocket chart and 84
printed cards.
746958 $19.50
752010
752011
New!
Smart Start Magnetic Strips
Free
instructional
video on-line
spectrum-nasco.ca
Help students master printing and writing skills
using the Smart Start™ "Sky to Ground" concept.
The ruled strips feature colored lines with sky and
ground graphics to reinforce the "Start at the Sky
and Pull Down to the Ground" approach to proper
letter formation. The write-on/wipe-off surface
allows students to practice again and again. These
handy strips are easily repositionable and stick to any
magnetically receptive surface.
752010 Sentence Strips, 24" x 3" - 6 per pack $13.15
752011 Word Strips, 8" x 3" - 8 per pack $13.15
Rainbow Pocket Chart
10-row chart is great for demonstrating sequencing
and grouping exercises or with any standard pocket
chart activity. Complete with reinforced grommets
for hanging. 84 x 105 cm.
74992 $29.60
Adjustable Chart Stand
752012
Steel stand holds both pocket and flip charts. Sturdy
locking casters and 5 ring-style hooks for hanging
Adjustable height 125-200 cm and width 87 x 185
cm. Easy to assemble.
Wipe-Off® Phrase Strips
7.5 x 30 cm (3" x 12") reusable strips with wipe-off
surface. 30 per pack.
750056 White $4.65 750058 Multi-Colour $5.25
62586 $77.00
752013
New!
(Back View)
7 Pocket Chart
These lightweight and durable pocket charts feature
colorful designs and hang easily from sturdy, metal
grommets. Measures 28" x 28".
752014 Chalkboard Brights $28.95
752013 Lime Polka Dots $28.95
752012 Black $28.95
(Front View)
(Front View)
Word Strips
Can be used as flash cards, 8 x 20 cm.
68722 Lined Multi-Coloured, pkg/75 $5.45
68726 Lined White, pkg/100 $4.35
Stoplight Pocket Chart
The Stoplight Pocket Chart is ideal for behavior,
classroom, and center management as well as
differentiating small group assignments! It measures
approx. 19.75"x 26" and features: 6 nylon color
pockets, 5 clear pockets, 30 write-on wipe away
student sticks, flame retardant material and durable
construction, sturdy grommets for easy hanging and
a teacher resource guide.
752017
7.5 x 60 cm paper preprinted with solid rule at 5 cm
and 2 cm dotted midline, in assorted colours.
63147 Lined Multi-Coloured, pkg/75 $9.80
751949 $29.95
Standard
Pocket
Chart
The extra long
pockets of this
82 x 108 cm
pocket chart
are ideal for
sentence strips,
word banks and
more. 10 rows
of clear plastic
pockets.
752016
New!
10 Pocket Chart
These lightweight and durable pocket charts feature
colorful designs and hang easily from sturdy, metal
grommets. Measures 34" x 44".
752015 Lime Polka Dots $30.25
752017 Chalkboard Brights $30.25
752016 Black $30.25
Zaner-Bloser™ Sentence Strips
39852 $46.00
Mighty Bright Sentence Strips
26
Sentence Strips
Sturdy, white tagboard in 7.5 x 60 cm (3" x 24")
sentence strips. Ruled 3.8 cm (1.5") with red baseline,
2 cm (0.75") dotted blue midline and 2 cm (0.75")
skip space. Opposite side is not ruled. 100 strips per
film wrapped package. Recyclable.
748750 Set of 50 (5 each of 10 bright colours) $7.90 62458 $10.40
Tel: 1.800.668.0600
Classroom Resources
New!
Magnetic Pocket Chart Squares
4 small charts (35 x 43 cm) that can be used alone
or velcroed together to form a normal-sized pocket
chart measuring 70 x 85 cm. Comes in red, green, blue,
and yellow. Includes grommets and magnets as well as
a storage pocket on each backside and a PVC pocket
to hold sheets of paper.
750060 $29.60
HourGlass Classroom Timer/
Noise
2-in-1 classroom timer and noise controller!
• Times tests, games, any classroom event
• Too loud? HourGlass lets them know!
• Visible and audible for the entire classroom
HourGlass is a dual-function classroom management
system that can be used as a Timer and as a Noise
Detector. The giant display of lights is a dynamic
measuring tool that can be seen by everyone in a
classroom or even an auditorium.
One year unconditional warranty. Requires 4 "C"
batteries or optional AC adaptor. Battery life in a
typical classroom operation is 6 months- 2 years, but
varies according to usage. 15" x 8" x 4.5".
752021 $131.60
752022 Adaptor $19.70
Time Timer®
The Time Timer's simple depiction of
elapsed time makes it a valuable tool
for teaching and managing time at all
age and ability levels. Move the red
disc counterclockwise to the desired time interval.
The disc diminishes as time elapses until no red is
visible on the time face. Use a visual depiction only,
or add sound to signal the end of a time segment.
Large Time Timer® Audible 30 cm square
(12") Designed to be wall hung for classroom and
group activities.
748786 $52.65
Original Time Timer® Audible 20 cm
square (8") The most versatile for both individual
and group applications.
745660 $44.75
Personal Time Timer® Audible 7.5
cm square (3") Travels easily. Carry case and
protective cover.
745662 $39.50
New!
Time Timer MOD
New!
Venn Diagram Pocket Chart
Magnetic Digital Timer
86.5 x 80 cm pocket chart with 9 long, clear vinyl
pockets. Comes with resource guide.
748782 $31.60
The digital timer is a countdown timer and
stopwatch in one. Great for math exercises, science
experiments, timed tests, games, classroom
management, and more! Includes one AG13
button-cell battery. Sticks to whiteboards or any
magnetically receptive surface. Measures approx.
2-1/8" x 3-3/8" x 1/4".
752018 Black $10.50
752019 Lime $10.50
752020 Aqua $10.50
Ages 3 years +
Features:
• Great durability with
a removable, latex-free
cover
• Protective lens and
compact size make the
MOD portable and
easy to use at work, school and home
• Silent operation and on/off alert is perfect for
sound-sensitive environments
• Requires-1 AA battery (not included)
Benefits:
• Increase productivity by breaking projects into
manageable segments
• Keep meetings and appointments on schedule
752023 $48.70
Free
instructional
video on-line
spectrum-nasco.ca
Car Pointers
Economy Pocket Chart
42.5 x 62.5 cm (17" x 25") pocket chart
with 9 rows of pockets.
750983 $27.25
Car Pointers help during word study activities when
you "drive" the car slowly under a new word the first
time, then pick up speed to blend the sounds into a
meaningful word. Use them during shared reading
when blending sounds in unfamiliar words. 19 cm L.
746946 Set of 5 $5.25
spectrum-nasco.ca
Hand Pointers
- 60 cm
Set of 3 pointers, 60 cm long, with metal hanger.
746602 $21.30
Hand Pointers - 30 cm
30 cm pointers in blue, green and red.
743088 Hand Pointers, Set of 3 $21.30
743208 Hand Pointers, Set of 10 $41.50
27
Classroom Resources
New!
New!
Dry Erase Blocks
Link-NLock Tiles
Create your own fun and games
by drawing pictures, writing
letters, words, phrases, numbers
or a combination of them all!
Roll, pass or toss blocks for many
different types of play. The four
3" x 3" dry erase blocks come in
orange, purple, teal and green
with a black dry erase marker.
Puzzle-shaped dry erase tiles
for writing, drawing and
so much more. This four
pack of dry erase tiles can
be joined together or used
individually for endless hours
of fun. Includes two dry erase
markers (black and Blue) and
an instruction sheet. Foam puzzle tiles come in an
assortment that includes lime, teal, orange and pink. 10" x 10"x 1.63".
752024 $17.10
752025 $23.70
Beginning Sounds
Ages 4+ This set helps kids
identify initial word sounds
and distinguish between
them. Put a Beginning
Sounds starter tile in each of
the ten pockets and ask the
student to find matching tiles
with similar initial sound.
751502 $19.50
Word Families
Ages 5+ The word families
card set helps kids practice
phonemic awareness skills
as they learn to identify 50
rhyming word sounds and
discover word patterns.
751504 $19.50
Jumbo Language Cards
Motivate students to build their oral and written
language skills with the thought-provoking images on
these jumbo card sets. Stimulate classroom discussion,
inspire stories, build vocabulary, and increase students'
ability to describe the world around them. Total of 8 images per set (43.2 x 56
cm) – 4 cards with images on both sides. Teacher's guide included.
748768 People $18.95
748770 Activities $18.95
748772 Animals $18.95
Sight Words
Ages 5+ With this card
set, kids start by learning
sight word recognition,
pronunciation, and
spelling. Then they
move on to recognizing
parts of speech, forming
sentences, and using
punctuation.
Privacy Boards
These boards are made of
sturdy corrugate and are perfect
for any desk, table or computer
area. They help keep students
focused, distractions out, and
help prevent wandering eyes.
4 boards per package, white
on both sides. Size: 120 x 40
cm (48" x 16"). Recycled and
recyclable.
750981 Set of 4 $15.95
Round Table Privacy
Board
This board is perfect for
keeping children's attention
on the work in front of them.
Great for keeping distractions
out and eyes from wandering.
It can be used with four or
six stations, depending on
the teacher's need. Easy to
assemble and store. Size: 120
x 35 cm (48" x 14"). Recycled
and recyclable.
750979 $19.25
28
751503 $19.50
Word Bits
Ages 5+ Building
words, learning lettersound relationships,
and recognizing word
patterns are much easier
with the large, easily
interchangeable, colourcoded Word Bits cards.
Kids' ability to recognize
differences in sounds (phonemes) is an important first step in learning to
understand the spoken and written language.
751505 $19.50
Alphabet Letters
Ages 4+ This versatile card
set allows younger kids
to enjoy discovering and
manipulating the alphabet
cards, while older children
can practice spelling words
and discover word patterns.
Uppercase letters are printed on one side of the cards, with lowercase letters
on the other side. The set contains 4 cards of most letters for multiple word
building. Vowels are printed in red for easy recognition, and bonus vowel cards
teach long and short sounds.
751506 $19.50
Tel: 1.800.668.0600
Classroom Resources
Sight Word Phrase Cards
These four sets of laminated cards will
take your learners to a new level of
fluency using this series of effective
sight word phrases. Designed for
differentiation, each set
teaches students how to
visually scan text more
efficiently so that they feel
more confident attempting
new texts or expressing their
thoughts in writing. Each set
is designated with a special
symbol, so that teachers
can mix up the sets and words
and easily sort them, or use them
to differentiate in their classroom.
Phrases include many from Frys
sight word list. All 50 2" x 8" sight
word phrase cards are laminated,
and each set includes two blank
cards for write-on/wipe-off use.
50 Sight Word Phrases for
Developing Readers PreK-2
• Two- and three-word phrases
• A wide range of common words
such as went, our, & see
• Uses known words to construct
longer phrases found in conventional
reading
751897 $12.55
Sight Word Phrases for Emergent
Readers PreK-2
• Two-word phrases that build on
single sight word knowledge
• Repeated exposure to most common
cores such as the, I, & you
751898 $12.55
New!
Alphabet Lines
Use these alphabet lines to teach the alphabet and
proper letter formation. Each alphabet line measures
over 14' (4.3 m) long when assembled. Seven 24 1/4" x
7 5/8" (61.6 x 19.4 cm) strips per package.
752026 $12.65
Sight Word Phrases for Transitional
Readers 1-4
• Three and four-word phrases mirror
typical reading patterns
• Includes multi-syllabic sight words,
such as away, under, & going
• Combines the most common words
with a wider range of other sight
words
751900 $12.55
Sight Word Phrases for Fluent
Readers 1-4
• Three- and four-word phrases,
including contractions
• Complex sight words including those
often confused, such as because,
before, & behind
• Includes phrases found in questions
and compound sentences
751899 $12.55
New!
Parts of Speech Superheroes Bulletin Board Set
These superheroes make learning parts of speech dramatic and exciting! Each
colorful poster features a clear definition and example. Set includes a 4 page
teacher guide with reproducibles. 8 posters measure 11x17" (27.9 x 43.2 cm).
752027 $15.15
Peel & Stick Dry Erase
Sheets
Turn any surface into a dry erase
board! Dry erase sheets can create
in/out boards, calendars, charts,
project sheets, to-do lists, etc. Simply
peel off backing and apply to clean
surfaces including walls, doors, chalk
boards, etc. Sheets are removable
and repositionable, so they can be
relocated. Packages of 15 white sheets.
751133 60 x 42.5 cm (24" x 17")
New!
Story Mapping
Quick-Study
Poster
Give students a tangible way to
review and remember parts of a story
with these colorful scenes featuring
characters, setting, problem/conflict,
events, and solution/resolution.
$78.40
751135 21.3 x 27.5 cm (8.5" x 11")
$40.80
752028 $3.20
spectrum-nasco.ca
29
Phonics Resources / Readers
First Phonics Studio
Month-by-Month Phonics
Grades 1-3 A valuable part of your students'
balanced literacy diet, Month-by-Month Phonics
focuses on common word problems and allows
young readers to instantly decode new words with
similar builds and cross-check for accuracy. More
activities, lessons, and reproducibles will show
teachers significant results while keeping students
interested throughout. 176 pages.
751464 Grade 1 $21.10
751465 Grade 2 $21.10
751466 Grade 3 $21.10
Grades K-2 Help children build basic
phonics skills through hands-on sorting
and word building activities, using
colourful magnetic tiles and two-sided
magnetic folder. Level 1 activities focus
on beginning and ending consonants
and short vowel sounds. Level 2 moves
on to digraphs, vowel pairs, silent e, and
more. Two sets of pictures and letter
tiles (picture tiles have words printed on
reverse), plus First Phonics Folder and
teaching manual.
750973 $118.40
Hands-On, Interactive Readers
Tails and Tiles Phonics Readers
™
Grades K-2 Build fluency with these irresistible readers,
each highlighting a different phonics pattern: a short
vowel, final silent e pattern, vowel pair, consonant pair,
or beginning blend. Matching tiles help students learn to
recognize these patterns automatically. Interesting, funny
stories and clever illustrations offer students a true reading
experience. Complete set includes one copy each of all 40
books, plus 50 tiles, Guidebooks, CD, and storage box.
Phonics Readers: Individual Sets
Each set includes 10 readers, each with corresponding tiles,
and Guidebook.
Short and Long Vowels Consonant Pairs
750902 Each $52.60
750910 Each $52.60
750904 Set of 4 $196.10 750912 Set of 4 $196.10
Vowel Pairs
Beginning Blends
750906 Each $52.60
750914 Each $52.60
750908 Set of 4 $196.10 750916 Set of 4 $196.10
Phonics/Word Study
Grades K-6 This series provides everything children
need to build multiple skills in language. Focusing
on phonics, structural analysis, and dictionary skills,
each book offers creative ideas for using phonics and
word study skills in other language areas. Answer key
included. 200+ pages.
74156 Phonics K $12.65
74158 Phonics 1 $12.65
74160 Phonics 2 $12.65
74162 Phonics 3 $12.65
74498 Word Study & Phonics 4 $12.65
74500 Word Study & Phonics 5 $12.65
74502 Word Study & Phonics 6 $12.65
30
Phonics Readers Pack
Includes one copy each of the 40 books and 50
tiles in a storage box, plus Guidebook and CD.
750944 Pack $209.30
751122 Set of 4 (160 books, 200 tiles) $788.45
Tel: 1.800.668.0600
Manipulative Kits
New!
Guided Word Building Program - Small Groups
Grades K-2 This comprehensive program makes word building accessible and
manageable for intervention or small group work. Explicit Guided Word Building lessons introduce
phonics patterns one by one, then contrast each new pattern with similar patterns. Children build
words on Word Building Mats with Phonics Pattern Tiles and Letter Tiles. Then read and write words
with common phonics patterns. Follow up key lessons by having students sort words by spelling
patterns n Sorting Journals. Then read Tales and Tiles™ Phonics Readers that feature the spelling
pattern. Making a seamless transition from phonics understanding to fluency and Comprehension.
* Perfect for intervention, small group, or whole class work.
* Built-in assessment and practice allow for differentiation of instruction.
* Additional materials provide more practice and extend learning.
New!
Manipulative Kit for Use with Fountas
& Pinnell's Phonics Lessons
Grade 1:
• 368 Letter Tiles in Letter Tile Organizer
• 78 Letter Cluster Tiles
• 220 High Frequency Word Tiles in organizer box
• 4 write & wipe Word Practice Boards plus 12
wipe-off crayons
• 522 full-colour sound sorting pictures in organizer
box
• 8 sorting mats (2,3,4, and 5 columns)
• 12 Blends and Digraphs Lotto boards
• 4 Alphabet Sound Boards
• Sturdy storage tub for kit contents
752031 $525.20
Small Group program includes:
* Guided Word Building book
* Letter Tiles in a Box(4 sets of letters in organizer)
* Phonics Pattern Tiles for 4 students
* 20 Word Building Mats
* My Sorting Journal eBook
* Sort and Say book
* Complete set of 40 Tales and Tiles™ Phonics Readers,
plus CD with downloadable versions of each reader
752030 $367.25
752029 Guided Word Building Book $26.30
New!
Manipulative Kit for Use
with Fountas & Pinnell's
Phonics Lessons
Grade 2:
• 368 Letter Tiles in Letter Tile Organizer
• 78 Letter Cluster Tiles
• 220 High Frequency Word Tiles in organizer box
• 4 write & wipe Word Practice Boards plus 12
wipe-off crayons
• 659 Word Sorting Cards in divided organizer boxes
• 8 sorting mats (2,3,4, and 5 columns)
• 20 Word Study Notebooks
• 50 Build-A-Compound Word Tiles
• 70 Build-A-Bigger Word magnetic tiles plus magnet
board
• Sturdy storage tub for kit contents
752032 $525.20
spectrum-nasco.ca
New!
Manipulative Kit for Use with
Fountas & Pinnell's Word Study
Grade 3:
• 368 Letter Tiles in organizer
• 78 Letter Cluster Tiles
• 196 Spelling Demons Word Tiles in organizer box
• 4 write & wipe Word Practice Boards plus 12 wipeoff crayons
• 659 word sorting cards in divided organizer boxes
• 8 sorting mats
• 20 Word Study Notebooks
• Transparent word part tiles in storage box:
compound words, contractions, prefix, suffix, and
root words, and syllables
• Sturdy storage tub
752033 $525.20
31
Finger Phonics Books
1-7
These 7 books teach children
how to recognize and form
the letter sounds. An action is
given for each sound and cutout letters show children's
fingers the correct formation
for every letter.
Jolly Phonics Starter Kit Extended
Ages 4-5 Resources cover 5 skills for reading
and writing, contained in a bright carrying case.
Includes (in print letters): The Phonics Handbook;
Jolly Songs, Level 1 Set (18 titles), Jolly Readers,
Level 2 Set (18 titles), Jolly Phonics DVD, Wall
Frieze, Letter Sound Strips, Finger Phonics Big
Books 1-7, Word Book, Cards, Alternative Spelling
and Alphabet Posters, and Tricky Word Wall
Flowers.
748366 $89.80
Finger Phonics Big Books 1-7
These large-format books contain the same content
as the Finger Phonics books but allow each new
letter sound to be displayed to the whole class.
740020 $168.70
The Phonics
Handbook
750975 $559.85
Grades JK-1 A complete
resource for teaching
reading, writing and
spelling. With over 100
reproducible pages, it
introduces the 42 main
letter sounds, followed by
activity sheets and games
for reading and spelling.
218 pages.
66158 $57.40
Jolly Phonics
Workbooks 1-7
My Jolly Phonics
Ages 3+ This new kit provides a range of resources to
help nurture key literacy skills in a fun and engaging
way. Full of multi-sensory resources enables the
student to explore and learn in a fun way. The bright,
canvas carrying case can be personalized by adding a
picture in a slot at the front. Open Snake's mouth to
discover a FREE set of triangular grip pencils and an
eraser. Contains: Jolly Phonics Activity Books 1-7, Jolly
Phonics DVD, Jolly Phonics Games CD (single user),
Jolly Songs (book and CD), Jolly Stories, Jolly Phonics
Letter Sounds Poster, and the FREE triangular grip
pencils (red, yellow, green, blue) and eraser.
751139 $249.95
Jolly Phonics
Activity Books 1-7
Ages 3+ These 36-page
colour activity books
enable children to learn,
practice and revise the
42 letters sounds and key
phonics skills through a
range of engaging activities
including colouring pages,
handwriting practice,
puzzles, mazes, word &
picture matching, sticker
activities, games, flashcards and word lists. Two
pages of stickers included. Clear instructions ensure
children can work through the activities with
minimal adult supervision.
751149 Set of 7 books $61.50
Grades JK+ A fun
way for children to
put their skills into
practice. Strategies
for tricky spellings
and puzzles for
phonic skills are also
provided. Set of 7
books.
Jolly Phonics Student and Teacher
Books
These 48-page student books
provide activities to practice
reading and writing skills.
Book 1 features all the 42
letter sounds and covers
letter formation, listening
for letter sounds, blending
activities, and the first set
of tricky words. Book 2
continues to build on those
skills and introduces more
tricky words, alternative letter sound spellings and
basic sentence structure to encourage independent
writing. Book 3 consolidates Books 1 and 2, and
introduces new spelling patterns, tricky words, plus
long and short vowels. The Teacher's Book provides
detailed lesson guides for each corresponding page in
the Student Books.
751141 Student Book 1 $6.30
751143 Student Book 2 $6.30
751145 Student Book 3 $6.30
751147 Teacher's Book 1 $18.10
745736 $31.85
Jolly Songs
A collection of songs
set to popular tunes
for each of the 42 letter
sounds in Jolly Phonics.
Sung by children in
North American English
on an audio CD. Perfect
for one-on-one or small
group teaching. Includes a
spoken guide to all the 42
letter sounds and some
fun letter sound games
and activities.
743242 $23.65
Jolly Phonics Class Set (in Print Letters)
The set contains 30 copies of the Student Book 1,
2 and 3, plus 1 free Teacher's Book in a single box.
Provides a year's worth of structured daily lessons and
enables teachers to have enough copies to give each
child in their class.
751785 $546.75
Jolly Jingles
Created by a Canadian
teacher, this is a fun and
interactive way to review
the letter sounds. A song
for each of the letter
sounds is given, as well as
an action and a tune. The
CD features Canadian
children singing the
songs, which can also be
read by your students.
746700 $60.10
Jolly Phonics Wall Frieze
More than just the alphabet, this classroom frieze shows the
42 main letter sounds in 7 sections.
740016 $18.90
32
Jolly Phonics Puppets
Bring the Jolly Phonics story characters to life
in your classroom with these three teaching
puppets. (Sized for the teacher's hand.)
66172 Set of 3 Puppets $107.80
Tel: 1.800.668.0600
Jolly Phonics / Phonic Leveled Readers
Assortment A
Assortment B
Assortment C
Assortment D
I Spy D
Hap and Cap D
Top Job, Mom! E
Pom-Pom's Big Win D
Pug's Hugs C
Jet It, Get it D
Click, Click E
The ABC Bags G
Sing-Song Sid E
Draw and Share F
Truck Tricks H
Dave and Jane's Band F
Pete's Street Beat E
Twice as Nice D
The Little Green Man Visits Pine Cone Cove E
Mr. Noisy at the Dude Ranch G
Sad Sam and Blue Sue F
Out to Gumball Pond F
Splish, Splash G
Barney Bear's Party F
The Rainy Day Band G
Cat and Dog at the Circus G
Jo Jo in Outer Space G
Riddle and Rhyme with Apron Annie G
62565 Set of 6 $21.60
Jolly Phonics for the
Whiteboard
62566 Set of 6 $21.60
Ages 4-6 years Daily
structured lessons can
be delivered in a fun and
engaging way to children,
using a wide variety of
activities. The software is
divided into three main steps,
providing a lesson a day for a
year, and all the resources a
teacher needs at the touch of
a button, making the program
fun and easy to use. Suitable
for all interactive whiteboards
(approved by Promethean
and Smart). Runs on PC and
Mac. Structured daily lessons complete with teacher's notes.
Interactive lessons with lots of blending, spelling and writing
practice; ideal for whole-class use.
751786 $803.25 Site License
Jolly Stories
Join the adventures of Inky
Mouse and her friends.
Follow them through
seven stories as they learn
the 42 letter sounds. This
beautifully illustrated board
book has 40 spreads, each
covering one or two letter
sounds.
749660 $39.95
62567 Set of 6 $21.60
62568 Set of 6 $21.60
Jolly Phonics Word
Book in Print
Letters
A handy teacher's resource
providing useful lists of
words made from the
individual letter sounds
and digraphs. Ideal for
dictation and blending
practice in class. 0In
addition there are initial
and final consonant blends,
alternative vowel spellings
and tricky words lists that
can be used.
740024 $6.20
Jolly Phonics
Reading
Assessment (In
Print Letters)
Child-friendly assessment
that teachers can use
with their students in
a one-to-one situation.
A pack of carefully
developed materials
have been created to
provide an easy and quick
method of assessing
children's decoding
and comprehension
knowledge. Suitable for
use with children aged 4-6 years old, this can be used
by individual teachers to assess the decoding and
comprehension skills of each student.
751926 $109.70
spectrum-nasco.ca
Jolly Phonics Magnetic
Letters
A tub of 106 lower case magnetic
precursive letters. Consonants are
in red and vowels are in blue. Tub
contains 2 each of the 42 letter sounds,
4 each of the vowels a, e , i and o, 6
each of m and d. Both c and k and q
and qu are included. Y is included both
in red and blue (as both consonant
and vowel).
751927 $36.50
33
3-D Reading / Interactive Readers
Hands-On, Interactive Readers
New!
3-D Reading
With 3-D Reading kits, the essential skills of
phonics, sight word recognition visualization and
comprehension all come together for beginners in the
actual, magical act of reading! Children experience the
Joy of "getting it"- of moving beyond just recognizing
and decoding isolated words on a page, to truly
understanding the meaning of passages they have read.
1. Children read and re-read the 15 short, charming
stories, written at just the right level for their
emerging skills.
2. They demonstrate their understanding of each
passage by choosing the appropriate objects and
placing them in the correct spots on the
illustration of the story.
3. Draw in the missing objects in a reproducible
version of the story to keep and show off to
friends and family!
Each set includes: 15 laminated, illustrated story cards,
17 charming, detailed miniature objects, and teaching
guide.
Level 1 Grades K-1
Stories include consonant-vowel-consonant (CVC)
words and basic beginning sight words.
752034 $39.45
Level 2 Grades 1-2
Stories include"magic e"words, consonant blends,
consonant and vowel digraphs, and more difficult, but
essential, sight words.
752035 $39.45
Tales and Tiles™ Sight Word Readers
Tales and Tiles™ Word Family
Readers
Grades K-2 Build high-frequency word recognition and fluency with these 40 interactive readers. Each clever tale
highlights four words that children need to recognize on sight. Matching word tiles help them find the target words
in the story. Real stories and engaging illustrations give students a true reading experience. Each set comes with
8 readers, 32 sight word tiles, and a Guidebook. The Complete Set includes all five levels: 40 books, 160 tiles, plus
Guidebook and downloadable CD, in storage box.
750940 $261.95
750942 4 Sets $985.85
34
Grades K-1 Watch young readers glow with
pride as they read these 25 clever stories.
Each captivating tale focuses on a different
phonogram, with matching tile. Guidebook
provides home and school activities, word
lists, and record keeping template. Includes
25 books, 25 matching tiles, Guidebook, CD,
and storage box.
750898 $209.30
750900 4 Sets $788.40
Tel: 1.800.668.0600
Leveled Readers
• Precisely leveled fiction and non-fiction readers
• Ideal for guided reading and independent reading
• Teaching tips and custom activities in each book build vocabulary and comprehension strategies
• 16 pages each, full colour, 16 x 19 cm
Rising Readers Leveled Books –
Fiction
Based on classic nursery rhymes, these
engaging tales are just right for beginning
readers. The nursery rhyme favourites have
been leveled so that students can read them
on their own, building important sight word
and academic vocabulary.
Animal Adventures
Reading Levels A-E.
748858 Set of 12 Books $71.10
Rising Readers Leveled Books
– Social Studies Volume 1
Reading Levels A-I.
751130 Set of 12 Books $71.10
Reading Levels A-D. Use familiar
contexts to build new concepts,
vocabulary, and reading skills. Young
children learn about careers, good
citizenship, birthdays, safety, pets, and
more as they practice reading.
751124 Set of 12 Books $71.10
Reading Levels A-I.
751128 Set of 12 Books $71.10
Reading Levels D-I.
751126 Set of 12 Books $71.10
Nursery Rhyme Tales Set 1
Reading Levels A-I.
751132 Set of 12 Books $71.10
Nursery Rhyme Tales Set 2
Nursery Rhyme Songs &
Stories
Rising Readers Leveled Books
– Social Studies Volume 2
Jump into Genre
24 Leveled Fiction
Books for Grades 1-3
Reading Level J-P. A
perfect transition from
Rising Readers Leveled
Books, this rich collection
of folktale leveled books
includes fables, fairy
tales, myths and legends,
pourquoi tales, tall tales
and trickster tales. This
genre enriches students' literature knowledge.
Volume 1 Reading Levels J-M.
751218 Set of 12 Books $75.00
Volume 2 Reading Levels N-P.
751219 Set of 12 Books $75.00
Volumes 1 & 2
New!
Rising Readers Leveled
Books – Math Volume 1
Reading Levels A-D. Support
Common Core and NCTM Standards
while building essential literacy skills.
Teach shapes, patterns, counting,
time, addition, estimation, and more!
Make math concepts meaningful
through real-world connections.
751183 Set of 12 books $71.10
Rising Readers Leveled
Books – Math Volume 2
Reading Levels D-I.
751185 Set of 12 books $71.10
Rising Readers Leveled
Books – Science Volume 2
Reading Levels E-I.
751181 Set of 12 books $71.10
Bug Adventures
Grades K-2 Young readers join a
colourful cast of bugs as they embark on the
adventure of a lifetime. This series pairs engaging
yet accessible text with amusing characters as it
describes the life cycles of various bugs, from dung
beetles to dragonflies. Brilliant colour photographs
show each stage of a bug's life, helping readers
gain a deeper understanding of the concept of
metamorphosis. Each title follows a certain bug in
its journey of life, highlighting what it eats, where it
travels, and how it changes. This series is a fun and
exciting resource to complement early elementary
life science curricula.
New!
Real-Life Vampires
Grades 1-4 Readers can sink their teeth into this
high-interest topic and learn a lot about creepy
creatures like lampreys, leeches, and vampire
finches. Fact boxes highlight especially cool or freaky
information about these animals' habits while an eyecatching layout keeps readers turning pages.
• Features up-close photographs of bloodsucking
animals in action
• Reinforces important science concepts, such as the
balance of an ecosystem and the predator-prey
relationships
• Includes safety information concerning diseases
carried by fleas, ticks, and mosquitoes
752036 $49.40
Reading Levels A-D. Enrich students'
grade-level science knowledge while
reading expertly leveled books.
Supports life science, earth science
and physical science standards.
751179 Set of 12 books $71.10
752037 $49.75
751220 Set of 24 Books $150.00
New!
Rising Readers Leveled
Books – Science Volume 1
spectrum-nasco.ca
Kids Can Code
Grades 3-7 Today's tech-savvy
elementary students are ready for coding! The eight
authoritative guides in this set help young readers
grasp the concept of coding by focusing on some
of today's most accessible software and hardware.
Some volumes in this set show readers how easy it
can be to code using visible blocks of information
instead of actual coding language. Other volumes
focus on simple written-code languages and make
potentially difficult topics more accessible to young
coders. Readers are introduced to essential coding
terms and concepts, including graphical user
interface (GUI), open source resources, and robotics.
Manageable text is paired with photographs of kids
using computers, and coding examples support
the development of computational thinking in
elementary grades.
752038 $94.75
35
Leveled Readers
Sight Word Readers
At the Zoo
Transportation Station
From bikes to boats, this collection
takes readers for a ride on some of the coolest,
fast-moving machines. Each book takes a look at a
vehicle's history, design, and its different types. Set
includes one copy of each title: Bikes on the Move,
Boats on the Move, Cars on the Move, Motorcycles
on the Move, Planes on the Move, and Trains on
the Move, all level L-N. 24 pages per book. Reading
levels 2-3. Interest level 2-5.
Curious youngsters will learn about a marvelous
menagerie of the most popular zoo animals. Kids
will soak up information about what the animals
eat, where they come from, and how they spend
their days. Set includes one copy of each title: Meet
the Ape, Meet the Elephant, Meet the Giraffe, Meet
the Lion, Meet the Panda, and Meet the Sea Lion, all
level D-G. 24 pages per book. Reading level 3.
Interest level K-3.
Grades K-2 Research shows that students greatly
increase reading efficiency when they can read half
or more of the words they encounter in a quick
and automatic way. Give students the opportunity
to read sight words automatically by reading
them repeatedly in context. Each of the 23 books
introduces a new sight word(s) within a delightful
story. Each Variety Pack contains 12 books.
744588 Variety Pack 1, Reading Level A-C $28.30
744590 Variety Pack 2, Reading Level C-E $28.30
750236 $49.75
750232 $49.75
Taking Action for My Planet
Grade 2 These books are chock full of important
information about the environment and how to
protect it in the long run. Charts and graphs are
coupled with fun drawings and many interactive
projects to really make green learning a blast. Set
includes one copy of each title: Earth Today and
Tomorrow, Keeping it Green!, Earth's Water, and
Earth's Energy. 32 pages per book. Levels U, W, Z.
Reading level 2. Interest level 2-6.
750238 $49.70
Powering Our World
Animals That Live on the Farm,
2nd Edition
Young readers are introduced to the ways that
we can use the sun, water, and wind for our everincreasing energy needs. Set includes one copy
of each title: Fossil Fuels: Buried in the Earth,
Geothermal. Energy: Hot Stuff!, Hydropower: Make
a Splash!, Nuclear Energy: Amazing Atoms, Solar
Energy: Running on Sunshine, and Wind Energy:
Blow Away! 24 pages per book. Levels O-P. Interest
level 2-5. Reading level 3.
Redesigned with new features like Fast Facts which
summarize key information about creatures that
make their home on the farm. Fascinating facts and
brilliant photographs. Set includes one copy of each
title: Chickens G, Cows G, Goats G, Horses G, Pigs F
and Sheep G. 24 pages per book.
743450 $49.40
750240 $49.75
Mathematics Guided
Reading
Featuring math topics and Time
for Kids® content, these engaging
books are perfect for guided
reading programs. Titles in the
Grades 1-2 collection include: Big
and Little; Shapes; Count Me In!
School Carnival; Count Me In!
Soccer Tournament; and Count
Me In! What's for Lunch? Guided
reading levels A-M. Interest
level K-3. Titles in the Grades
3-5 collection include: Backstage
Pass; Fashion Sweet; Inside a
Bakery; Big Digs; Construction Site; Make Money Grow; and
From Rags to Riches. Guided reading levels O-U. Interest
level 2-8.
750939 Grades 1-2 $40.75
750937 Grades 3-5 $78.90
36
Animals That Live in the Forest
Redesigned with new features, each book invites
readers to discover the world of creatures that make
their home deep in the woods. Through fascinating
facts and brilliant photographs, these books paint a
vibrant picture of the incredible array of animal life
in the forest habitat. Set includes one copy of each
title: Black Bears, Deer, Moose, Opossums, Owls and
Porcupines, all level H. 24 pages per book. Reading
level 1. Interest level PreK-3.
743448 $49.40
Tel: 1.800.668.0600
Leveled Readers
TIME for Kids® Nonfiction Readers
These colourful books feature content from TIME For Kids®
with themes from science, mathematics, and social studies.
Grade 1 Collection
Children will want to read these books that include
familiar concepts, informational text, and a variety of
colourful graphics.
Reading Levels 1.0-1.9; Interest Levels K-3.
750925 Set 1 (10 Books) $65.70
750899 Set 2 (10 Books) $65.70
750897 Set 3 (10 Books) $65.70
Grade 2 Collection
Motivate readers and prepare them for more
challenging text with these high-interest books that
feature informational text, diagrams, and graphs
to engage readers. Reading Levels 2.0-2.9; Interest
Levels 1-5.
750895 Set 1 (10 Books) $92.00
750893 Set 2 (10 Books) $92.00
750891 Set 3 (10 Books) $92.00
Grade 3 Collection
Includes content such as how planes work, the
history of baseball, and much more. Books feature
engaging informational text plus high-quality
photos and graphics. Reading Levels 3.0 -3.9;
Interest Levels 2-6.
750887 Set 1 (10 Books) $118.35
750885 Set 2 (10 Books) $118.35
750883 Set 3 (10 Books) $118.35
Grade 5 Collection
Readers will be exposed to various types of
text including maps, experiments, diagrams,
and interviews. Reading Levels 5.0-5.9;
Interest Levels 4-8.
750875 Set 1 (10 Books) $144.65
750873 Set 2 (10 Books) $144.65
750871 Set 3 (10 Books) $144.65
Grade 4 Collection
Books include sophisticated graphics, build
vocabulary, and provide readers with additional
resources to extend the learning experience.
Reading Levels 4.0-4.9; Interest Levels 3-8.
750881 Set 1 (10 Books) $131.50
750879 Set 2 (10 Books) $131.50
750877 Set 3 (10 Books) $131.50
Nonfiction, Multicultural Leveled Readers
Reading For Fluency Readers
Grades K-2 Fluency bridges the gap between word recognition and
comprehension and is a key component to overall reading success. Each book
in this 24-book series is designed to offer children a motivating and fun way to
practice reading text with expression, voice inflection and a natural flow. Each
Variety Pack contains 12 books.
744570 Variety Pack 1, Reading Level C-H $49.65
744572 Variety Pack 2, Reading Level C-J $49.65
spectrum-nasco.ca
Grades K-2 Jump into literacy with this exciting new series of multicultural
leveled readers! Hopscotch is brought to you by a team of academic intervention
specialists who know what children need for language and literacy development.
The Hopscotch series is an excellent supplement to any literacy program – great
for general education, ESL, special education, RTI and early intervention. This
series features:
• Real-life content and photos that children relate to
• Nonfiction topics ranging from visiting the doctor, to exploring the sea, going to
the park, family reunions, and much more!
• Guide Reading Levels A-I, Intervention Levels 1-16
Set A Single Package
Set B Single Package
751224 $181.25
751225 $181.25
1 each of 34 titles. Levels A-D.
1 each of 34 titles. Levels D-I.
37
Leveled Readers
Levels B-C
B Pigs
B I See Colors
B The Four Seasons
B Buttons, Buttons
B Is It Alive?
B We Can Eat The Plants
Special
Packs 1-3
$145.00
746720
Level C
B It's Melting!
C I See Shapes
C I Can Write
C My New Backpack
C What Goes Together?
C I Can Read
Pack 1
74516 1 each of the above 12 titles $49.60
CWhat Comes in Threes?
CBarney Bear Gets Dresses
CRain
CUnder The Sky
CSee How It Grows
CHow's the Weather?
CI am Special
CCat and Dog
CReading Is Fun!
CWhat Do Cowboys
and Cowgirls Need?
CI Can See
CThe Giraffe Made
Her Laugh
Pack 2
74524 1 each of the above 12 titles $49.60
Levels C-D
CWhat Time Is It?
COn The Go
CWhose Forest Is It?
CWhat's Going On?
CBears, Bears, Everywhere
DHow To Make A Mudpie
DWhere Are You Going?
DWhat Do You See?
DHow Many?
DWe Can Share At School
DHow Can I Help?
DMr. Noisy Builds a House
Pack 3
74532 1 each of the above 12 titles $49.60
Special
Packs 4-6
$145.00
746722
Level D
Level D
DOur Pumpkin
DI See Patterns
DWe Can Make Graphs
DWhere's Your Tooth?
DLittle Green Frog
DI Can't Sleep
DWhat's In My Pocket?
DReduce, Reuse, Recycle
DWatch Out For Worms!
DFive Little Monsters
Went To School
DBarney Bear,
World Traveler
DPeople Say Hello
Pack 4
DOranges For Orange Juice
DCat And Dog On
Playground Patrol
DWho Can Go To School?
DHere Come The Trucks
DThe Bear Went Over
The Mountain
DWho Lives Here?
Pack 5
DMother Goose Guessing
DWho Will Help?
DMr. Noisy's Book
of Patterns
DThe Costume Parade
DAll Through The Week
With Cat and Dog
DScaredy Cat Runs Away
74550 1 each of the above 12 titles $49.60
Level D
DSpiders, Spiders Everywhere!
DLittle Number Stories Addition
DLittle Number Stories
Subtraction
DLunch With Cat & Dog
DWhere Do Monsters Live?
DCat, Dog, And The Tooth Fairy
DMy Global Address
Pack 6
74558 1 each of the above 12 titles $49.60
74542 1 each of the above 12 titles $49.60
The Best of Learn to Read, Set 1
Essential Skills for Beginning Readers in Grades K-1
Learn to Read books are great for developing fluency, vocabulary
and comprehension via guided, independent and shared reading,
read-alouds and reading at home. This series is designed to provide
maximum support to the emergent reader with repetitive, predictable
story lines, and illustrations and photos that match the text. Easy and
fun activities inside the back covers extend learning. This set comes
with Read-Along CDs that are perfect for listening centres. Also
included is the Guided Reading resource guide that's full of ideas for
developing guided reading lesson plans, complete with fun activities
and an assessment section.
743266 Set 1, 144 Student Readers Grades K-1 $530.90
38
DWhat Do We Need?
DHow Do I Feel?
DCity Mouse &
The Country Mouse
DWho's Hiding?
DRound & Round The
Season
Tel: 1.800.668.0600
Leveled Readers
Special
Packs 7-9
$145.00
746724
Level E
DLong Ago And Today
DSafety Counts!
DThe Seed Song
EWho Took The Cookies
From The Cookie Jar
EThe Skip Count Song
ECinderella Dressed
In Yellow
Level E
EMom Can Fix Anything
EIf A Tree Could Talk
EThe World
In A Supermarket
EScaredy Cat
ECan You Read A Map?
EWay Down South
Pack 7
74568 1 each of the above 12 titles $49.60
EThe Crayola
Counting Book
EThe Magic Money Box
EThe Colours Of My Day
EMr. Noisy
EWhat's The Weather
Like Today?
ESink Or Float?
Levels E-F
EThe Monsters'
Tea Party
EFamilies Share
EThe One And Only
Special Me
EMr. Noisy's Helpers
ECat & Dog At School
EHouses
Pack 8
EGood Choices
For Cat & Dog
EMaps
FPilgrim Children
Had Many Chores
FI Can Talk With
My Hands
FThe Little Green Man
Visits A Farm
74576 1 each of the above 12 titles $49.60
Pack 9
Level F
Levels F-G
FI Need To Clean
My Room
FApron Annie
In The Garden
FMatthew The Magician
FThis Is The Way
FDinosaurs Dancing
FFive Little Monsters
FA Counting We Will Go
74584 1 each of the above 12 titles $49.60
Special
Packs 10-12
$145.00
746726
Level F
FThe Time Song
FLet's Measure It!
FThe Bugs Go Marching
FShe'll Be Coming
Around The Mountain
FDown On The Farm
FIn Times Long Ago
FThe Farmer
Pack 10
Didn't Wake Up
FMr. Noisy Paints
His House
FLet's Take Care
Of The Earth
FWhat Happened?
FIt Started As An Egg
FCaring For Our Lizard
74594 1 each of the above 12 titles $49.60
FJust Graph It!
FNumbers All
Around Me
FTen Monsters In A Bed
FPack A Picnic
FIt Started As A Seed
FI Have
A New Baby Brother
Pack 11
FThere's A Monster
In The Tree
FIf Animals Came
To School
FBest Friends
FJust Like Me
FThe Block Party
FHelping Mom And Dad
74602 1 each of the above 12 titles $49.60
FCollecting Things
Is Fun!
FCat And Dog:
The Super Snack
GLook And See
GPatterns All Around Me
GMonster Stew
GMeasurements
Mysteries
GOur Favorites
GBy Myself
Or With My Friends
GDid You Know?
GI Try To Be
A Good Person
GA Great Attitude
GWhere Did It Go?
Pack 12
74610 1 each of the above 12 titles $49.60
The Best of Learn to Read, Set 2
Everything You Need to Enrich Your Grade 1-2 Reading Program!
Highly motivational and easy to read, these readers contain more challenging
text with less repetition and predictability. The set of 144 student books
comes with 2 Read-Along CDs that complement the readers and are perfect
for learning centres. The Guided Reading resource guide that's full of ideas for
developing guided-reading lesson plans is also included, complete with lots of
fun activities and an assessment section.
743268 Set 2 Grades 1-2 $530.90
spectrum-nasco.ca
39
Leveled Science Big Books and Readers
Make Science concepts accessible to all students!
Grades K-6 GRL F-O
Primary Big Books
• Poster-size, real-life photos
• Jumbo 35 x 50 cm size, 16 pages
• Developmentally-appropriate text
• Effective for a whole range of early learners
• Guided Reading Levels
Teacher Guides
•
•
•
•
•
Background information
Cross-curricular activities
Hands-on experiments
Assessment tasks
Home/school connections
Life Science
The Vegetable Garden H
You Are What You Eat I
Grades K-2 Plant a garden and examine the parts of a
plant.
750931 Big Book & Guide $51.00
750929 Student Book 6-Pk $53.30
Grades K-2 Learn about the food pyramid and how
good nutrition helps you grow.
743352 Big Book & Guide $51.00
743354 Student Book 6-Pk $53.30
Busy As a Bee
M
See, Hear, Touch, Taste, Smell F
A Butterfly is Born
G
Grades K-2 Learn about hives, honeycombs, larvae and
more.
743320 Big Book & Guide $51.00
743322 Student Book 6-Pk $53.30
Grades K-2 Children are introduced to sensory
systems and their functions.
746542 Big Book & Guide $51.00
748836 Student Book 6-Pk $53.30
Grades K-2 Follow the life cycle of a butterfly from a
tiny egg.
743324 Big Book & Guide $51.00
743326 Student Book 6-Pk $53.30
Earth & Space Science Earth Science
Earth in Space
V
Grades 3-6 Earth's position in our solar system gives us
seasons, eclipses, polar caps, tides and ultimately life.
745868 Big Book & Guide $51.00
745870 Student Book 6-Pk $53.30
Physical Science
Push and Pull
F
Grades K-2 We push and pull things to make them
move, speed up, slow down, or change speed.
745908 Big Book & Guide $51.00
745910 Student Book 6-Pk $53.30
Simple Machines
Wild Weather
Readers learn what each storm looks like, how it
forms, the damage it can cause, and how they can
protect themselves from wild weather! Set includes
one copy of each title: Dust Storms, Hailstorms,
Hurricanes, Snowstorms, Thunderstorms, and
Tornadoes. 24 pages per book. Reading levels H-I.
Reading level 1. Interest level K-3.
750244 $49.40
40
M
Grades K-2 Wheels, inclined planes, pulleys and levers
– discover how they help work and play.
743364 Big Book & Guide $51.00
743366 Student Book 6-Pk $53.30
Can Kids Save the Earth?
N
Grades 3-6 Students discover that other children
all over the world are helping to improve the
environment, and they learn what they can do to
help.
743404 Big Book & Guide $51.00
743406 Student Book 6-Pk $53.30
Forces and Motion
S
Grades 3-6 The laws of motion are concisely
explained. Students learn about inertia, gravity,
friction – and the seven simple machines that help
us move things.
743412 Big Book & Guide $51.00
743414 Student Book 6-Pk $53.30
Look Inside
Look Inside a micro-habitat and discover a world of inhabitants! A close
look at each micro-habitat reveals an unbelievable variety of organisms.
Vibrant photographs and detailed illustrations combine to make these books
informative and engaging. A visual table of contents helps readers navigate the
text and informative labels make photographs valuable sources of information.
32 pages. Reading levels 1-3.
751453 Big Book $42.10
751460 Big Book and 6 Student Books (Tide Pool, Tree, Burrow, Garbage
Can, Cave and Pond) $118.90
Tel: 1.800.668.0600
Read Aloud Lap Books
Introduce children to classic stories from around the world while developing visual, aural, and verbal skills. The inside front cover of each
book presents the genre and vocabulary, and includes tips for reading the book aloud. Introductory pages encourages children to discuss
illustrations and predict the story before reading, and inside back covers offer post-reading activities to reinforce comprehension. Set includes
3 books, 16 pages each. Trim size: 10" x 10".
Myself and My Family
We Get Along
My Neighborhood
Safety
Staying Healthy
My Five Senses
Weather
Animals
Transportations
Growing Things
Read Aloud Classics Topic Set (3 Book Set)
Grades K-2 30 classic stories from around the world to introduce young learners to rich literacy texts and vocabulary.
Each topic set includes lap books grouped into 10 child-friendly topics to support early learning curricula. A teaching card for
each theme provides explicit instruction and supports comprehension and foundational reading skills.
751912 Myself and My Family $60.40 751913 We Get Along $60.40
751915 Safety $60.40 751916 Staying Healthy $60.40
751918 Weather $60.40 751919 Animals $60.40
751921 Growing Things $60.40
spectrum-nasco.ca
751914 My Neighborhood $60.40
751917 My Five Senses $60.40
751920 Transportations $60.40
41
Leveled Math Big Book Sets
Big Books
• Poster-size, real-life photos
• Jumbo 35 x 50 cm size, 16 pages
• Developmentally-appropriate text
• Effective for a whole range of early
learners
• Guided Reading Levels B-I
Math Big Book Sets
These sets include 1 Big Book, 3 Students Books, and 1 Teacher's Guide.
Teacher Guides
•
•
•
•
•
Background information
Cross-curricular activities
Hands-on experiments
Assessment tasks
Home/school connections
Two-Digit Numbers Reading Levels G-I
Subtraction Reading Levels D-E
Understand and use estimation strategies and the
concept of place values.
746634 Set $76.20
Add and subtract 1 and 2 digit numbers to sums
of 50 without regrouping. Solving simple problems
involving addition and subtraction.
746642 Set $76.20
Graphs Reading Levels E-G
Solid Shapes Reading Levels D-E
Add to Ten Reading Levels B-D
More/Less Than Ten Reading Levels B-D
Shapes Reading Levels B-D
Patterns Reading Levels G-I
Numbers to 100 Reading Levels G-I
Fractions Reading Levels D-E
Time Reading Levels G-I
Numbers, Numbers, Numbers Reading
Levels E-G
Read and interpret picture graphs and bar graphs.
Formulate questions and organize data to answer
them.
746636 Set $76.20
Students learn to: group by tens to develop their
understanding of place value; represent doubles
up to 10 + 10; recognize pairs of objects; skip
count by twos.
746638 Set $76.20
Count by 1s, 2s, 5s and 10s to 100; use place value;
read and write numerals; compare numbers using the
symbols <, >, and =.
746640 Set $76.20
42
Students recognize, name, compare, and sort cubes,
spheres, cones, cylinders, and prisms, as well as
describe their attributes.
746644 Set $76.20
Learn about common two-dimensional shapes;
attributes for shapes; shape patterns; symmetrical
shapes; line of symmetry.
746646 Set $76.20
Recognize and represent unit fractions: 1/2, 1/3, and
1/4.
746648 Set $76.20
Understand the meaning and effect of subtraction and
use words associated with subtraction appropriately.
Choose correct strategies and solve problems involving
subtraction.
746626 Set $76.20
Students learn that addition means to join groups
and find the number in all; apply a number line to
add; and practice the strategy of counting on.
746628 Set $76.20
Repeating patterns are taught including patterns of
size, shape, colour, sounds, movement, letters, and
numbers.
746630 Set $76.20
Recognize elapsed time according to both informal
units and minutes, hours, days, weeks, and months.
Analog and digital clocks and how to use a calendar are
taught.
746632 Set $76.20
Tel: 1.800.668.0600
Readers
Around the World in 80 Mysteries™
Travel with Mimi, Papa, Christina and Grant as they visit famous places around the
world! Exciting adventures include the history, geography, culture, and more of
each country they visit. Each book includes a map, inline glossary definitions, built
in book club, and online teacher's guide! All level Q.
CSI Chapters
CSI Literacy materials are designed to support the metacognitive learning
approach and are enriched with general academic and domain-specific words
and phrases. Targeted towards students in middle years that are experiencing
more difficult and domain-specific texts. Topics include math, science,
language arts and social studies. Benefits include improved comprehension
scores, vocabulary and fluency, engagement and collaborative learning.
Interactive digital texts for 21st century learners.
751230 Complete Set* $418.00
*Contains 1 each of 25 titles, 25 matching e-books on DVD and 3
teacher's guides.
CSI Classroom Packages
Each package contains a mixture of text types with at least one fiction title,
one financial literacy title and one title from each subject area.
751229 Classroom Pack* $1,152.50
*Contains labels, book boxes, 6 each of 25 titles, lesson plan and matching
e-book on DVD inside 25 resealable bags.
CSI Chapters
A CSI Literacy Resource
CSI Chapters features 25 titles that focus on content
literacy in a variety of engaging text styles, including
graphic nonfiction, science fiction, math, and
more. CSI Chapters accelerates comprehension
development and vocabulary acquisition while
focusing on relevant content to increase reading
capacity and world knowledge.
751436 Set of 21 Titles $148.15
Set of all 21
Books
751436
$148.15
• The Mystery at Big Ben
• The Mystery at the Eiffel Tower
• The Mystery at the Roman Colosseum
• The Mystery of the Ancient Pyramid
• The Mystery on the Great Wall of China
• The Mystery on the Great Barrier Reef
• The Mystery on Mount Fuji
• The Mystery in the Amazon Rain Forest
• The Mystery at Dracula's Castle
• The Curse of Ancient Acropolis
• The Mystery of the Crystal Castle
• The Mystery in Icy Antarctica
• The Mystery of Mount Everest
• The Mystery of the African Safari
748890 Set of 14 $147.00
• The Mystery of Dracula's Castle
• The Mystery of the Crystal Castle
747634 Set of all 4 $42.00
New!
ScienceLevel
MathLevel
Social Studies
Nonfiction
Underwater Worlds
The Science of Sheep
Hissy Fits
Big Bugs, "Bad" Bugs
The Great Earth Magnet
Taken for Granted
Who Knew?
What a Mess!
Atolis
N
P
S
Q
V
N
T
P
R
A Guide to Time Travel
The Garden
It's a Deal
The Boy Who Saved Too Much
Crash!
Who Did It?
Ice Pilots
Monster Hunting
Terrifying Beasts of the Deep
The Man Who Changed the World
Fiction
Diary of Invisible Me
Aliens: Uggles Meet Wopples
U
Q-S
T-S
O-S
V-S
P
R
U
M
S
V
N
spectrum-nasco.ca
Set of all 14
Books
748890
$147.00
• The Curse of the Ancient Acropolis
• The Mystery in Icy Antarctica
The Mystery of the
Northern Lights (Canada)
You will encounter…. A maple leaf flag! A very
high tide! A very cold chill! A "Mountie"-friend.
Or Foe? And a stampede of clues! Can the kids
solve this mystery before sunrise? The Mystery of
the Northern Lights (Canada) takes readers on
an awe-inspiring and action-packed adventure
complete with thrills, chills, and a high tide!
The Mystery of the Northern Lights (Canada)
incorporates history, geography, culture and
cliffhanger chapters that keep kids begging
for more! The Mystery of the Northern Lights
(Canada) includes SAT words, educational
facts, fun and humour, built-in book club and
activities. This Carole Marsh Mystery also has
an Accelerated Reader quiz, a Lexile Measures,
a Fountas & Pinnell guided reading level and a
Developmental Reading Assessment level.
752039 $10.50
43
Chapter Readers
For reluctant readers in
grades 4-12.
Diary of a Wimpy Kid
Easy-to-Read Spooky Tales
Grades 1-2 First chapter books for fledgling readers
that offer shivers of anticipation along with the thrill
of accomplishment. Heavily illustrated and broken
into short phrases, each title features the same three
characters telling multi-cultural stories based on a
cautionary theme. Set of 10 books with titles like
Don't Open the Door! and Don't Eat That!
747640 Set of 10 $79.50
Diary of a Wimpy Kid:
The Long Haul
A family road trip is supposed
to be a lot of fun ... unless, of
course, you're the Heffleys.
The journey starts off full of
promise, then quickly takes
several wrong turns. Gas station
bathrooms, crazed seagulls, a
fender bender, and a runaway
pig - not exactly Greg Heffley's
idea of a good time, but even the worst road trip can
turn into an adventure - and this is one the Heffleys
won't soon forget.
751922 $16.95
Grades 5-8 Author Jeff Kinney recalls the growing
pains of school life and introduces a new kind of
hero who epitomizes the challenges of being a kid.
As Greg says in his diary, "Just don't expect me to be
all 'Dear Diary' this and 'Dear Diary' that". Luckily for
us, what Greg Heffley says he won't do and what he
actually does are two very different things.
751016 Set of all 8 Books $128.80
Diary of a Wimpy Kid:
Old School
Disaster Series
Explore the who, what, where, why and how of some
of the great contemporary disasters. Whether manmade or natural, tragedies can bring out the noblest
in those that suffer or survive them. Reading level
5-6; Interest level 5-12. GR Level N-P. Challenger
O, The Kuwaiti Oil Fires O, The Last Flight of 007
N, The Mount St. Helens Volcano O, The Nuclear
Disaster at Chernobyl O-P.
744698 Set of All 5 Books $35.50
Life was better in the old
days. Or was it? That's the
question Greg Heffley is
asking as his town voluntarily
unplugs and goes electronicsfree. But modern life has its
conveniences, and Greg isn't
cut out for an old-fashioned
world. With tension building
inside and outside the Heffley
home, will Greg find a way
to survive? Or is going "old
school" just too hard for a kid
like Greg?
751923 $16.95
Mysteries in Our
National Parks
Set of all 8
Books
750408
$47.60
Fast-paced stories involving a pair of sibling sleuths.
Weaving science and mystery, each thrilling tale is
packed with solid scientific facts, presents teens in
a positive light, promotes good family values, and
introduces readers to some of America's greatest
natural treasures. All titles include a park map and
an after word by a park naturalist. Interest Level Gr.
4-8. Guided Reading level R. Paperback.
• Cliff-Hanger
• Over the Edge
• Deadly Waters
• Running Scared
• The Hunted
• Valley of Death
• Night of the Black Bear
• Wolf Stalker
Field Trip Mysteries
Grades 2-3 Four fun kids find themselves in the middle of a mystery on every school
field trip they take! Visual and verbal clues are sprinkled throughout the story to
help the reader solve the mystery before the kids do.
751461 Complete Set of 16 $156.65
The Ride That Was Really Haunted
The Crook Who Crossed the Golden Gate Bridge
The Burglar Who Bit the Big Apple
The Cave That Shouldn't Collapse
The Everglades Poacher Who Pretended
The Ghost Who Haunted the Capitol
The Zombie Who Visited New Orleans
The Grand Canyon Borros That Broke
44
The Mount Rushmore Face That Couldn't See
The Seals That Wouldn't Swim
The Symphony That Was Silent
The Yellowstone Kidnapping That Wasn't
The Ballgame With No One at Bat
The Bowling Lane Without Any Strikes
The Crook that Made Kids Cry
The Dinosaur that Disappeared
Tales of Danger
Young people find their limits – and hidden
strengths – when they are faced with dangerous
situations in the outdoors. An icy climb through
an Alaska snowstorm, a search-and-rescue mission,
an aspiring rodeo rider's plan to help his family, a
string of accidents at a logging camp, and a struggle
with a deranged man, all test the courage and
determination of the heroes of these stories.
751235 Set of all 5 Books $35.50
Tel: 1.800.668.0600
Nursery Rhymes & Fairy Tales
Keepsake Stories
Between the pages of these
delightfully illustrated books are the
classic stories of magic, imagination,
and inspiration that will delight
children again and again. Fresh,
captivating illustrations enliven each
tale. 32 pages each, 20 x 20 cm.
Set 1: Goldilocks and the Three Bears, Little Red Riding
Hood, The Three Little Pigs, Mother Goose, Jack and the
Beanstalk, The Little Red Hen, Rapunzel
74194 Set of 7 Books $29.50
Set 2: Cinderella, Pinocchio, The Velveteen Rabbit, Peter
Pan, The Wizard of Oz, Puss in Boots, Sleeping Beauty, The
Three Billy Goats Gruff, The Princess and the Pea
749106 Set of 9 Books $37.90
Plays for Every
Day
Twicetold Tales
The Other Side of the Story
Grades 3-4 Twicetold tales bring fairy tales to life
in the 21st century. Jack scales a beanstalk next
to a city skyscraper; a rich socialite finds herself
living with seven thieves in Manhattan; Cassie
seeks revenge on the Woolf who broke in to her
grandmother's apartment; the new boy at school
wakes the beauty he loves. The classic tales, now
twicetold, are enhanced by the retelling.
751409 Cassie and the Woolf $10.85
751410 The Girls and the Seven Thieves $10.85
751411 A Home in the Sky $10.85
751412 The Sealed-Up House $10.85
751414 Set of all 4 $41.25
Grades 2-3 Every story has two sides, including the most
famous fairy tales! Get the real truth about Little Red Riding
Hood from the Wolf's point of view. See if Cinderella was
really as perfect as she seemed. These delightful stories will
get young readers thinking and also provide a few laughs
along the way. 24 pages each. 20 x 25 cm.
751484 Believe Me, Goldilocks Rocks $12.10
751485 Honestly, Red Riding Hood Was Rotten! $12.10
751486 No Lie, I Acted Like a Beast! $12.10
751487 Seriously, Cinderella is SO Annoying! $12.10
751488 Seriously, Snow White Was SO Forgetful! $12.10
751489 Trust Me, Jack's Beanstalk Stinks! $12.10
751490 Set of all 6 $69.55
spectrum-nasco.ca
Grades K-2 Build fluent reading skills with
these 7 engaging scripts, based on folktales
from around the world. Specially written for
beginning readers, with each part colourcoded. Printed on 24 durable cards: enough
copies for all parts. Plus cut-out stick puppets
for retelling, and read-along audio CD to model
reading skills.
• The Tortoise and the Hare
• The Three Little Pigs
• The Monkey and the Tiger
• The City Mouse and the Country Mouse
• Little Red Riding Hood
• The Three Billy Goats Gruff
• The Tiger and the Big Wind
751787 $46.10
45
First Nations, Métis & Inuit Stories
Maiden of the Mist
An
Inuksuk Means
Welcome
A central image in
the Inuit culture, the
inuksuk frames this
picture book as an
acrostic: readers will
learn seven words
from the Inuktiut
language whose first
letters all together
spell INUKSUK.
Each word is presented in English and in Inuktitut
characters, with phonetic pronunciation guides
provided.
752121 $18.95
Beneath Raven
Moon
An enchanting tale
of the creation of
Grandmother Moon
and of the first time
she wove her spell on
a young, unsuspecting
couple in a goodnatured conspiracy
with Eagle.
751236 $24.95
Sky Sisters
"Expresses the
sense of wonder
and excitement
that surrounds
the phenomenon
of the Northern
Lights." – School
Library Journal.
741094 $8.95
An Aboriginal
Carol
This best-selling
Canadian author reworks
Canada's oldest and
most well-known carol,
The Huron Carol. Written
in English and Inuktituk,
the language of Canada's
Inuit people, the book is
accompanied by a CD.
748528 $24.95
My Arctic 123
life experiences in the north.
748526 $18.95
Ages 4-7 Readers
discover counting and
creatures, and learn
who's predator and
who's prey. They watch
fisherman catch eight
Arctic char. Numbers
explored include 1-10,
20, 100, and even
1,000,000. Breathtaking
paintings and a special
section on the author's
Beyond the
Northern Lights
A Legend of Niagara Falls
Long ago, a Seneca tribe
lived on the Niagara River,
just upstream from a great
waterfall. Then a sickness
came to the people, and
everything changed.
New!
Batik artist Lynn
Blaikie calls on Raven
to take the reader on
a magical tour of the
North.
749082 $16.95
749076 $9.95
The
Drum
Calls
Softly
Discover the
beauty of the
traditional
Round
Dance
through
the lush
descriptive
verse of Bouchard and Willier that leads you through
the cycles and seasons of life, the forming of new
friendships and the understanding of values. 32
pages.
748532 $24.95
Raven's Greatest
Creation
David Bouchard introduces
readers to Sky World, Earth
People, Raven and Turtle
Island and one vision of
how humankind came
to be.
751237 $29.95
Dreamstones
Icebound in the Arctic,
David leaves the safety of
his ship and is found by a
mysterious man. The next
morning the man is gone,
but in his place stands an
Inukshuk.
Nokum
Is My
Teacher
Poetic story
of a young
aboriginal
boy, posing
questions
to his
grandmother,
his "Nokum",
about the
wider world beyond their home and community.
Nokum guides her grandson towards an
understanding of his need to fit into and learn more
about this large world beyond the reserve. Includes
an audio CD. 32 pages.
750230 $24.95
Feed the
Good
Wolf!
A young wolf
who is having
a dreadfully
bad day learns
why it is much
better to look
always on the
positive side
of things. Based on a native legend that shows how
the elders used stories to teach optimism and right
from wrong.
747744 $10.00
748530 $9.95
The Shaman's
Nephew
Through the use
of many tape
recordings and
translations,
Sheldon has woven
the threads of a
remarkable man's life
into a book for all to
treasure.
748536 $12.95
Buffalo
Watercolours and oil
paintings accompany
tribal song-poems
woven into a narrative
history about the
buffalo's essential and
sacred role on the
Plains. 32 pages.
748538 $19.95
46
Tel: 1.800.668.0600
Northern Lights
The Soccer Trails
Based on an Inuit tale
about the mystical
aspects of the northern
lights – the souls of the
dead play soccer using
a walrus head.
749066 $8.95
Wisakyjak & The
New World
Wisakyjak is the central
figure in this Woodland
Cree foundation myth.
Clever One, trickster,
and friend, Wisakyjak
transformed the forest
so that it appears as it
does today. 48 pages.
748540 $10.95
I am Raven
This spectacular picture
book introduces readers
to the realm of animal
medicine spirit guides
(totems) through story
and pictures. Canada's
best selling author, Métis
David Bouchard, spins
a tale which takes every
reader closer to their
own spirit guardians.
The gifted Comox and
Kwakwaka'wakw First Nation artist Andy Everson
shares in the gift of this story.
750228 $19.95
Seven Sacred
Teachings
A celebration of
nature's spectacular
light shows, and
a visual feast
documenting the
kaleidoscope of
colours that decorate
the sky. Ancient
peoples saw these
displays as souls of the
dead, the torches of the spirits, and as harbingers of
war. Our understanding of the physics behind the
auroras has not detracted from their wonder. Filled
with 80 photographs of one of nature's greatest
spectacles. The book poses and answers the many
scientific questions about auroras.
Polar Bears
Young readers will
learn about tiny
newborn cubs and
see them follow
their mother
across the frozen
tundra, playing and
learning survival
skills as they go. The
book also shows
the other animals
that share the Far
North's breathtaking
scenery.
56 pages.
The latest addition
to the Discovering
Canada series brings
to life the time before
the white European
settlers "discovered"
Canada, when only
the original native
peoples lived here.
Who were these
people? Where did
they live? What were their legends and myths,
famous heroes, and supernatural gods?
Long Powwow
Nights
751238 $21.95
750506 $29.50
Native Peoples
750266 $12.95
Is it not easy to see how
insignificant you are
when you marvel at the
rising sun?, says Wolf,
who epitomizes the
teaching of humility.
Through Wolf, we learn
that the pack is more
important than the
individual.
Auroras –
Fire in the Sky
First Nations, Métis & Inuit Stories
The Powwow is
a time-honoured
custom; a celebration
of life and spirituality,
uniting people
through dance and
ritual. This book is the
story of a mother's
dedication to her
roots and her efforts
to impress upon her
child the importance
of culture and
identity. Comes with an audio CD.
750268 $24.95
The Secret
of Your Name
David Bouchard writes
a personal account
of what it means to
be Métis. The book
and accompanying
CD celebrate Métis
heritage through
poetry, paintings, and
traditional music. A
much needed resource
for middle schools
students and young
adult readers to learn
more about the history of Métis culture.
750270 $24.95
Rainbow Crow
Before two-leggeds
walked on Mother Earth
there was a great cold.
The animals formed
a council; someone
has to seek help from
the Creator. 32 pages,
hardcover.
751773 $24.95
751176 $9.95
The Night
Walker
The boy hears behind
him strange sounds
that get louder and
louder. He wonders
if the dreaded Night
Walker has come to
snatch him. Has his
imagination carried
him too far? 32 pages.
751768 $9.95
Orphans in the
Sky
A moving account of
the courage and loyalty
experienced by two
lonely orphans who find
a home in the sky. 32
pages.
751767 $9.95
spectrum-nasco.ca
Stones, Bones
and Stitches
Fascinating and beautiful
introduction to the art of
the North. Focusing on
works from the McMichael
Canadian Art Collection,
this book takes you on
a journey through the
artistic landscape. Included
are eight different works
from sculpture to prints, each highlighted with
introductions to the artists, the materials they used,
geography, legends, and stories. 40 pages.
750226 $24.95
Voices from the
Wild
What would it be like if
more than two dozen
different wild animals
from around the world
got together to boast
about their senses?
David Bouchard delivers
a unique exploration of
the realm of the senses
in 25 animal portraits.
In warm, lyrical verse,
Bouchard introduces
the reader to some
fascinating aspects of
natural history.
751769 $24.95
The Legend
of Lightning
& Thunder
In this tale of guilt
and consequence,
the actions of two
children lead them to
flee punishment by
escaping to the sky as
thunder and lightening.
This beautifully
illustrated traditional
legend weaves together
elements of an origin
story a traditional
cautionary tale. 32
pages, hardcover.
751771 $16.95
The First Flute
"Name should be
respected. They should
be valued. They should
be honoured. When
a name is given to an
adult, it is often given
based on the life that
person has lived. The
name is a statement
about the person he or
she has become. When
a name is given to a
child, it foretells what
kind of person that
child will become." 32
pages, hardcover + CD.
751770 $24.95
47
Spelling & Vocabulary
New!
My ABC Book
Grades K-1 These interactive alphabet
books allow children to cut and paste
environmental print such as cereal labels,
snack food wrappers, and toy logos--right
on the page. Space for writing words
below.
752041 Set of 20 $36.80
New!
My Book About Me
Grades K-1 These special
little books have 16 pages for children
to describe themselves, their families,
and their favorite things. Children will
love thinking about themselves, drawing
pictures, and filling in the blanks to create
their own little keepsakes. And they
will want to share them with family and
friends.
751952 Set of 20 $36.80
Word Study Notebook
Grades 1-3 Help students become better spellers by having
them focus on the most common spelling patterns. Children
will hunt for and record words that follow common spelling
patterns such as ea, ai, igh, o-e, th, and ck. Over 50 spelling
patterns are explored.
751108 Set of 5 $10.85
751110 Set of 20 $36.95
My Writing Journal
Grades K-3 Get students writing every
day with these 30-page journals. Each
page has lines for writing, plus space
for illustration. Includes a word bank of
frequently misspelled words and a list of
topic ideas.
751112 Set of 5 $10.85
751114 Set of 20 $36.95
My Reading Journal
Grades K-3 Give students a place to keep track of the books
they have read. On each of the 30 pages, students write
about a book, draw a picture, and give it a rating.
750837 Set of 5 $10.85
750857 Set of 20 $36.95
New!
Pocket Dice Cubes
These 3" x 3" x 3" foam cubes with clear vinyl pockets
are ideal for the classroom. Versatile pockets allow
you to make the dice sides whatever theme or style
you wish offering you endless learning activities. You
can make your own matching activities, your own
games, and more. Includes a clear, zippered carrying
case with handle.
752042 $15.70
Word Chains
Grades 1-3 Can you turn a cat into a dog? Just
change one letter at a time: cat-pat-pot-dot-dog!
Research shows that the best readers and writers see
analogies between words they know, and those they
are trying to decode or spell. Word Chains foster
this strategy by having children build words from
other words. Student Letter Tiles (see page 7) allow
students to experiment with ways to change words
right on the page. 64 pages. Reproducible.
Building Bigger Words
Grades 2-3 Help children read and spell longer,
more complex words, by building onto root words
with prefixes and suffixes. Begin by adding simple
inflectional endings, then common prefixes and
suffixes to root words. Once children learn to
construct big words, they will be better able to
deconstruct big words into manageable parts. For
use with Bigger Word Tiles. 80 pages. Reproducible.
750843 $15.75
750845 $15.75
Bigger Word Tiles
48
750841 $7.50
Set of 52 transparent prefixes (green) and suffixes
(purple) for use with Building Bigger Words.
752043
752044
752045
752046
New!
Dice Inserts -100 pieces
752043 Level 1, Sight Words $7.90
752044 Level 2, Sight Words $7.90
752045 Level 3, Sight Words $7.90
752046 ABC Upper/Lowercase $7.90
Tel: 1.800.668.0600
Spelling & Vocabulary
Steps to Good
Grammar
Vowel Power
Grades K-2
Children will
develop mastery of
vowel/sound
correspondence as they build words
with common vowel sounds and
regular patterns. For use with Vowel Power Tiles
(listed below) which include vowels, vowel pairs,
consonants, and digraphs. Reproducible.
751793 Vowel Power Tiles $10.50
751795 Vowel Power Tiles, Set of 4 $36.85
Sight Word
Spellers
Grades 1-3 The engaging
games and activities in these Spellers offer plenty
of practice spelling, reading and writing Dolch list
words. Word searches, sorts, scrambles and more
teach high frequency words that don't always follow
regular phonetic spelling patterns.
751038 Set of 5 $26.30
751040 Set of 20 $98.70
Grades 7-9 169 lessons,
exercises and tests. Focus
is on the essentials of
grammar in ready-touse worksheets. Flexible
lessons for small groups or
the whole class. Extensive
teacher support including
objectives, strategies and
answer key. 334 pages.
743920 $49.30
Grammar
Dictionary
Grades 4-12 This reference
for students and teachers
covers over 250 terms using
examples from texts that
range from Shakespeare
to Time magazine. Gives
information on familiar
terms such as noun, subject
and predicate.
740956 $20.80
Spectrum Sight
Words
New!
Individual Making Words Letters
12 sets of cut-apart letter cards including 4 of
each vowel and 2 of each consonant per set, with
lowercase letters on one side, and uppercase on the
other.
68398 $9.50
Sight Word Speller Book 2
Grades K-3 What are the most important words
primary students need to learn? High frequency
words--many of which do not follow regular
phonetic spelling patterns. The engaging games and
activities in these Spellers offer your students plenty
of practice spelling, reading, and writing Dolch list
words: word searches, sorts, scrambles, and much
more. Book 2 covers 120 words young children need
to learn, after they have mastered the first 100 words.
8 1/2" by 11"; 72 pages each.
752047 Set of 20 $98.70
Word Fun Series
Making Words
Children explore words, discover letter patterns and
increase their vocabularies.
46926 Grades 1-3 Making Words $17.90
46924 Grades 3-6 Making Big Words $17.90
Sort & Store Rings
Handy 2" diameter rings
allow teachers to divvy up
flash cards for individualized
learning. Package of 6.
751270 $5.45
Punctuation can be a puzzle, but it can also be fun.
Discover how punctuation lives and helps build
meaning in every sentence. Set of 6 books includes:
Comma, Period, Question Mark, Apostrophe,
Exclamation Mark, and Quotation Mark.
749062 Set of 6 Books $78.65
The Best Sight Word Book Ever!
Grades K-3 Learn 170
high frequency words
and increase fluency
and comprehension
skills. Reproducible word
wall cards and a 6-page
reproducible activity
booklet for each of 170
sight words – everything
you need to help students
build strong sight word
identification skills. 384
pages.
746224 $29.50
spectrum-nasco.ca
Grades K-1 Best-selling
workbook series provides
quality educational activities
that meet students' needs
for learning achievement
and success. Young learners
master the high-frequency
words that commonly
appear in any text with
practice using Fry's Instant
Sight Words. Includes activities, sight word sentence
strips, flash cards and answer key.
747894 Grade K $12.65 747896 Grade 1 $12.65
Spectrum
Vocabulary
An essential building block
for writing and reading
proficiency, the Spectrum
Vocabulary series extends
vocabulary knowledge
through grade-appropriate
instruction and activities.
Synonyms, antonyms,
homophones, word families
and word forms are among
the key concepts explored.
744944 Grade 3 $12.65 744946 Grade 4 $12.65
744948 Grade 5 $12.65 744950 Grade 6 $12.65
Spectrum Spelling
Grades 1-6 This series links
spelling to reading and
writing and increases skills
in words and meanings,
consonant and vowel
spelling, and proofreading.
Riddles, brainteasers, and
puzzles make spelling
fun. Each book contains
more than 200 full-colour
pages, including a speller
dictionary, and an answer
key.
74818 Grade 1 $12.65 74820 Grade 2 $12.65
74822 Grade 3 $12.65 74824 Grade 4 $12.65
74826 Grade 5 $12.65 74828 Grade 6 $12.65
49
Vocabulary / Writing Skills
Based on the popular Zaner-Bloser® Simplified Method
Our handwriting practice book series is a progressive program to develop students'
handwriting skills. Based on the popular Zaner-Bloser® Simplified Method teachers and
home-schooling parents alike will find this step-by-step program is the perfect path to legible
penmanship. Each title features simplified letterforms and writing grids, simplified approach
and techniques, all with ample review and evaluation. Manuscript writing is reviewed for
maintenance at all levels. 64 pages per title.
751337 Grade 1 Learning Manuscript Writing $8.80
751338 Grade 2 Improving Manuscript Writing $8.80
751339 Grade 3 Learning Cursive Writing $8.80
New!
Magnetic
Demonstration
Notebook
Paper
Save time and
resources with this
giant-size version
of student paper.
Model sentences,
paragraphs, outlines,
paper headings, notetaking, business or
personal letters and more. Durable write-on/wipe-off
surface works with wet-erase markers. Strong backing
sticks firmly to magnetic whiteboards. Measures 22"L
x 28"H.
752054 $33.15
751340 Grade 4 Improving Cursive Writing $8.80
751341 Grade 5 Mastering Cursive Writing $8.80
751342 Grade 6 Maintaining Legible Writing $8.80
Canadian Daily
Cursive Writing
Practice
Spectrum
Writing
Grades 2-4 With
repeated exposure,
this notebook will help
improve children's
cursive writing. Following
the Canadian curriculum,
the worksheets can be
used until daily practice
makes perfect. 80 pages.
Grades 1-8 Each
book's lessons
focus on creative
and expository
writing using clearly
stated objectives
and pre-writing
exercises. Eight
essential writing
skills are applied.
Activities teach
main idea, sequence,
comparison, detail,
fact and opinion, cause and effect, and making a
point.
74880 Grade 1 $12.65
74882 Grade 2 $12.65
74884 Grade 3 $12.65
74886 Grade 4 $12.65
751797 $9.95
Canadian Daily
Writing Practice
Grades K-2 Help children
improve their printing
skills with these daily
activities. Aligned with
the Canadian curriculum,
this workbook includes
numerous easy-to-use
practice sheets. 80 pages.
74888 Grade 5 $12.65
74890 Grade 6 $12.65
74892 Grade 7 $12.65
74894 Grade 8 $12.65
751796 $9.95
A Sentence a
Day
New!
Story Starters Curriculum
Cut-Outs
Grades K-5 A unique format for motivating students!
Includes 36 unique, fresh, fun, and intriguing Story
Starters topics. An example of a story starter
question is: When you arrive at school one morning,
you see dogs and cats sitting at the desks, studying
for a test. Write a story about what happens next.
Contemporary-designed Curriculum Cuts-outs
help create a positive, encouraging, and motivated
classroom! Encourages critical thinking and creativity
and supports the Common Core Standard of
increased focus on nonfiction and informational text.
Curriculum Cut-Outs are perfect for writing centers,
journaling, morning work, extended writing or when
students have completed other tasks! Each pack
includes 36 story starters.
752050 Narrative $6.30
752051 Opinion $6.30
752052 Research $6.30
752053 Explanatory $6.30
50
Grades 6-9 Focuses
on short, playful,
interesting sentences
with a sense of
humour. Students
receive proofreading
practice in daily doses
that don't overwhelm
them. Each exercise
should take only a few minutes of class time,
allowing for frequent, consistent reinforcement and
practice of serious writing skills.
748004 $20.95
Grammar Minutes
New!
Spectrum Handwriting
Workbooks
Support your students' learning achievement
and success by providing them with a strong
foundation in handwriting and penmanship with
Spectrum®Manuscript Handwriting and Cursive
Handwriting which provides students with the
practice that may be missing from today's classroom.
Students learn correct letter formation while
gaining exposure to academic vocabulary. Colourful
illustrations and silly sentences keep students
engaged as they develop the handwriting skills that
are crucial for school success. 96 pages.
752048 Grades K-2 Manuscript $8.80
752049 Grades 3-5 Cursive $8.80
Grades 1-6 Each
classroom-tested book
provides 100 "Minutes"
of 10 problems for
students to complete
within a 1-2 minute
period. Providing daily
practice in every key area
of grammar instruction,
Grammar Minutes is
a fun way to improve
students' problemsolving speed (crucial for testing situations) and an
instant assessment tool.
749354 Grade 1 $20.85
749360 Grade 4 $20.85
749356 Grade 2 $20.85
749362 Grade 5 $20.85
749358 Grade 3 $20.85 749364 Grade 6 $20.85
Tel: 1.800.668.0600
Writing Skills
Writing Stories
Books in this series show children how
to write different types of stories. Key
features of each genre are explained
and readers are guided through the
story writing process. Top tips are given
covering planning, writing, dialogue,
developing characters, adding narrative
plot twists, using descriptive language and
more! Engaging photographs, eye-catching
illustrations, and a wealth of ideas bring each genre to life. A
themed story running throughout each book draws readers
in, offers concrete examples of how the tips can be put into
practice, and will inspire readers to get writing their own stories.
32 pages. Level Reading N
751333 Complete Set of 6 Titles $78.90
New!
Green Chalk Boards
Save paper by using a time tested and reusable
writing surface. Green chalk boards are the perfect
size to store in students' desks or notebooks. Works
well for handwriting practice, working equations,
brainstorming, and more. Rounded corners and
smooth edges for safety and comfort. For use with
white and color chalk and felt erasers. Hardboard
backing is warp and chip resistant.
752056 9.5" x 12", class pack of 24 $104.25
752057 18" x 24", each $11.20
752058 10" x 16", each $7.50
Writer's Toolbox
Turn readers into writers. Using a
single or small number of genrespecific works, this new series
explores the tools all beginning
writers need. Each title includes a
review list of key concepts, at least
four exercises for getting started,
and numerous writing tips. 32 pages.
Level Reading O-R
751334 Complete Set of 10 Titles
$147.35
Writer's
Block
Grades 3-6
Reach in
and grab a
card to spark
creativity early
in the writing
or oral storytelling process.
Includes 150+
engaging ideas! Features 86 double-sided prompt
cards in 4 subject areas, with photos on the front and
writing prompts on the back.
748020 $23.70
Oral and Written Language Skills
New!
Occupations & Careers
Photo Language Cards
Familiarize students with the many ways people
make a living. Two-sided cards vividly illustrate
working men and women in a variety of occupations
and careers. Not all pieces shown.
752055 $20.20
Using photos in a variety of activities helps stimulate
oral and written language skills. Photos range from
family, friends, community helpers, transportation,
animals, food and sports, to architecture, social
issues, history, cultures and nature. 68 photos per set,
15 x 20 cm.
744412 Beginner $20.20
744414 Intermediate $20.20
744416 Advanced $20.20
Find the Errors
Grades 7-9 Motivate
students to find and
correct common errors
using humourous
anecdotes! The
proofreading activities
focus on errors ranging
from spelling and
punctuation to dangling
modifiers and clichés.
Includes answers,
assessments and
additional activities. 94
pages.
742282 $31.45
Say it in a Bold Way
Creative Writing Flip Chart
Grades 1+ Double-sided flip chart features cards
with real-life photography and unique writing
prompts. Mix and match image cards or phrase
cards to determine the characters, plot and setting.
Includes 60 cards and activity guide. 36.3 x 12.5 cm.
745708 $17.75
spectrum-nasco.ca
Say what you need to say in a bold way! These
oversized dry-erase speech bubbles are great for
getting attention. Use them on bulletin boards to
draw attention to and highlight aspects of your
display. Speech bubbles are great for teaching
younger students how to structure quotes and
sentences. Made from heavy-duty card stock and
laminated, this teaching tool will last for years. 8" (23
cm).
751819 $12.95
51
LEGO® Story Starter
We all have a story to tell...
LEGO® Education StoryStarter kick-starts creativity and
boosts literacy skills within the language arts curriculum.
StoryStarter is a hands-on tool that inspires students to collaborate while
creating and communicating stories using LEGO bricks as their toolbox.
StoryStarter teaches students the basic structure of a wellcomposed story, making it a great tool for analyzing existing
stories or discussing specific, current topics. What's more, the
included StoryVisualizer software links the physical world with
the digital, enabling students to record the stories they have
crafted in a visual and creative way, resulting in students that
are engaged and energized about language arts!
With StoryStarter, literacy becomes an exciting experience for
second through fifth graders, no matter what their abilities or
backgrounds!
Laptop not
included.
Kit Now Includes Story Visualizer Software!
StoryStarter Core Set
6+ yrs Make literacy tangible with LEGO Education StoryStarter. The StoryStarter Core Set contains all of the StoryStarter elements needed to teach your students
the basic mechanics of a well-composed story, to engage all your students while creating confident and inspired readers and writers. With StoryStarter students work
together to create and build stories with LEGO bricks and figures and then use the unique StoryVisualizer software to photograph, write, and publish their stories.
Bricks:
The StoryStarter Core Set consists of 1,144 carefully selected LEGO elements, including: characters, animals, accessories, icons, basic bricks and building plates for
creating up to five story scenes.
Also included are the elements to build a Spinner, along with four motive cards that can affect the outcome of a story. Students use the spinner and cards when they
are in need of a creative boost. A simple spin on either the setting, time period, or mood card and they are given direction on where to take their story next. All of the
StoryStarter building materials are delivered in a sturdy storage box along with sorting trays, baseplates, and organizational stickers. One Core Set contains the LEGO®
elements needed for three students.
Curriculum:
The StoryStarter Curriculum Pack contains 24 activities all correlated to English Language Arts 2nd through 5th grades. All lessons have been developed to enable
students' skills and understanding in the areas of speaking and listening, reading, language, and writing.
The Curriculum Pack features:
• 24 Language Arts activities
• Learning Grid that aligns activities to key standards and objectives
• Rubric samples to help ongoing student self-evaluation
• Element survey, lesson plans, student worksheets, and tips and tricks
The detailed Learning Grids found in the pack shows how StoryStarter and the activities included map to the curriculum standards, making it easier to align the key skills
you need to teach to the right activity. The collaborative nature of the product also helps students develop essential 21st century skills such as collaboration, problem
solving, communication, creativity and imagination.
Software and apps:
The StoryVisualizer software encourages students to plan, create and write their stories by offering digital tools that help provide structure to the storytelling experience.
The organizational and storyboarding tools in the software create a strong foundation for all writers to build upon even those students who show little interest and are
typically difficult to engage in the writing process. The software enables students to write their stories and upload photos they've taken of their built StoryStarter models
using a webcam, digital camera, or smart device. Plus the variety of comprehensive features enable students to further develop their stories by using imported images,
backdrops, clip art graphics, and an easy-to-use text tool. The digital interface enhances your students' creativity as it helps them realize their writing skills. The software
makes it easy to create, print, publish, and share stories with other students. Stories also can be emailed to parents or posted online. Try out the software with our
software demo tool, and you'll gain a greater understanding of the possibilities and scope it provides for structuring and writing stories. You'll see how intuitive and easy
it is to use, giving you an idea of how quickly you will be able to implement it in your classroom – and also how much fun your students will have when they use it.
Available for download on PCs, Macs and iOS and Android devices.
751310 - $152.95
StoryStarter Class Pack
Includes five StoryStarter Core Sets and Curriculum Software.
52
751816 - $726.50
Tel: 1.800.668.0600
LEGO® Education StoryStarter kick-starts
creativity and boosts literacy skills within the
language arts curriculum.
LEGO® Story Starter
LEGO® Education StoryStarter is a hands-on tool that supports Language and Literacy and
is developed together with teachers. It motivates students in 2nd to 5th grade to read and
write by making them confident storytellers. StoryStarter inspires students to collaborate
while creating and communicating stories using LEGO® bricks as their toolbox.
Expansion Packs
For use with the LEGO® Education StoryStarter Core Set, the Expansion Sets encompass all the benefits of the Core Set while
broadening its use.
All Packs Now Include Curriculum!
StoryStarter
Fairy Tale Expansion Pack
StoryStarter Space
Expansion Pack
6+ yrs Blast off into outer
space with the StoryStarter
Space Expansion Pack. Let your
students explore the universe
through stories with this brick set
and curriculum pack filled with
additional StoryStarter elements
and inspiration. These special elements enable students to engage with science
fiction and go even deeper into concepts, characteristics, people and their needs,
and space exploration.
6+ yrs StoryStarter Fairy Tale Expansion
Packs enables students to create richer and
more detailed fairy tales by adding a wide
range of additional elements that take their
inspiration from the world of make-believe.
The Fairy Tale Expansion Pack encourages students to go even deeper into the
fairy tale genre through a three phase method: Theme, Research and Reporting.
These special elements enable students to engage with fairy tale characteristics,
famous authors, character traits, and cultural influences on fairy tales.
751811 - $47.95
751814 - $47.95
StoryStarter Community Expansion Pack
New!
StoryStarter Replacement Packs
751587 Scenes $9.95
751589 Props $17.95
751591 Settings $13.95
751588 Characters $18.75
751590 Details $13.95
spectrum-nasco.ca
6+ yrs Teach your students about the lives of the people and world around them
with the StoryStarter Community Expansion Pack. Explore a variety sociallyrelevant topics covering communities and their needs. These special elements
enable students to engage with aspects of community and culture while learning
about roles, responsibilities, community systems, guidelines, social behavior, and
communication.
751815 - $47.95
53
Blank Books & Easel Pads
Blank books encourage creativity!
Children are eager to create their very own books and games,
and the results become cherished keepsakes.
Blank Game Boards
This game board will be a hit as an individual or a
classroom project! White glossy finish. Blue pebble
cover. The four-fold design allows for compact
storage. 18" x 18".
748756 $9.20
Blank Books
Grades K+ These hard covered, fully-bound books contain 28 blank
pages (14 sheets). All books are constructed with quality white paper and
are suitable for crayons, watercolour markers, coloured pencils and other
writing and colouring materials.
748306 Portrait, 6" x 8" $3.30
752059 Portrait, 6" x 8", Pack of 24 $74.90 NEW!
748308 Portrait, 8½" x 11" $5.30
752064 Portrait, 8½" x 11", Pack of 12 $61.20 NEW!
752065 Portrait, 8½" x 11", Pack of 24 $122.30 NEW!
748310 Landscape, 8" x 6" $3.30
752060 Landscape, 8" x 6", Pack of 12 $37.50 NEW!
752061 Landscape, 8" x 6", Pack of 24 $74.90 NEW!
Lined Books
Lines on half of every other page starting on page 3.
747174 Portrait, 6" x 8" $3.30
748312 Landscape, 11" x 8½" $5.30
752062 Landscape, 11" x 8½", Pack of 12 $61.20 NEW!
752063 Landscape, 11" x 8½", Pack of 24 $122.30 NEW!
Writers Notebook
92 blank pages. While Quantities Last
748314 Portrait, 8½" x 11" $3.20
Word Family Notebook
Grades K-1 This 30-page notebook gives children
practice writing words for 25 common word
families. Students can build words right on the page
using our tiles.
751790 Set of 5 $10.50
751791 Set of 20 $36.80
Easel Pads
These pads contain high quality white sulphite
bond paper ruled on one side, bound with strong
resin gluing and wire stapled. Each pad has a
perforated headstrip that is 3-hole punched and
have an extra heavy 50 point chipboard back.
Recyclable. 27 x 34", 50 sheets.
751473 Unruled $22.70
751474 1" Ruled $22.70
751475 1" Cross Ruled $22.70
Canadian Draw
and Write
My Word Book
Grades K-3 Children record and keep track of
the words they learn in this 30-page personal
dictionary. 254 high frequency words are listed
alphabetically for easy reference, with lots of room
to write in new words. Plus word lists for colours,
numbers, and more.
751788 Set of 5 $10.50
751789 Set of 20 $36.80
Grades K-2 First
in a new series.
Inspire children to
write by using these
fun step-by-step
drawing pages as a
springboard. Writing
prompts and other
writing activities
included! 120 pages.
751792 $15.95
54
Tel: 1.800.668.0600
Blank
Passports
Passports with 12
blank pages. 4.25"
x 5.5". 12 per pack.
751129 $9.25
Reading Comprehension
Teachers Resources / Shakespeare
Spectrum
Language Arts
Shakespeare Graphics
Grades 2-3 It's Shakespeare like you've never seen
before! His most famous lines and characters are
now retold in a more visual format, bringing these
dramatic roles to life. 88 pages.
751498 A Midsummer Night's Dream $11.80
751499 Julius Caesar $11.80
751500 Macbeth $11.80
751501 Romeo and Juliet $11.80
Canadian Media Literacy Activities
Grades K-6 Children will learn to identify the
purpose of various media forms, create media
texts, and think critically about the messages
they encounter on a daily basis with this essential
workbook. The included activities promote
media literacy as recommended by the Canadian
curriculum.
751798 Grades K-3 $19.95
751799 Grades 4-6 $19.95
Grades 2-6 72 fourpart lessons strengthen
writing skills by focusing
on parts of speech,
word usage, sentence
structure, punctuation,
and proofreading. A
Writer's Handbook,
found at the end of each
workbook, offers helpful
writing tips. Based on
the highly respected
McGraw-Hill language arts textbooks. 180+ fullcolour pages each, including answer key.
74970 Grade 2 $10.50
74976 Grade 5 $10.50
74972 Grade 3 $10.50
74978 Grade 6 $10.50
74974 Grade 4 $10.50
Spectrum
Reading
Grades K–6 Enjoyable
reading, even for
below-average readers.
Each book contains
interesting content and
colourful illustrations,
so children are eager to
find out what happens
next. Answer key
included. 150+ pages.
74764 Grade K $10.50
74766 Grade 1 $10.50
74768 Grade 2 $10.50
74770 Grade 3 $10.50 74772 Grade 4 $10.50
74774 Grade 5 $10.50
74776 Grade 6 $10.50
Canadian Daily Reading
Comprehension
Activities
Grades 1-6 Students will hone
essential reading comprehension
skills with this must-have resource.
Each reading selection encourages
students to read with a purpose.
Follow-up questions emphasize
making connections, inferences
and synthesizing what students
have read. Graphic organizers
for extended learning are also
included.
751801 Grade 1 $15.95
751802 Grade 2 $15.95
751803 Grade 3 $15.95
751804 Grade 4 $15.95
751805 Grade 5 $15.95
751806 Grade 6 $15.95
Media Literacy
Daily Warm-Ups
Grades 5-8 Reinforces and enhances vital spelling
and grammar skills. Quick activities reinforce
students' vocabulary retention skills.
743938 Critical Thinking $27.35
742376 Commonly Confused Words $27.35
742380 Journal Writing $27.35
742390 Spelling & Grammar $27.35
742394 Vocabulary $27.35
742396 Writing $27.35
742398 Prefixes, Suffixes & Roots $27.35
Digital Daily Warm-Ups – Language
Arts
Grades 5-8 Fully searchable content lets you find
the perfect warm-up lesson. PDF format is PC/Mac
compatible and lets you print or display pages on
overhead projector or interactive whiteboard. Link to
provide definitions for every word.
Helps students learn
to think critically
about the thousands
of media messages
they encounter each
day via art, music,
video games, radio, TV,
websites, newspapers,
magazines, ads, and
packaging. As they
develop media literacy,
they learn to make
thoughtful, informed
decisions. 144 pages.
749396 Grade 5 $24.95
749398 Grade 6 $24.95
749400 Grades 7-8 $24.95
745048 $34.10
spectrum-nasco.ca
55
Resources
Differentiated
Literacy Strategies
Grades K-6 This book gives
teachers an instructional
and assessment framework
designed to promote
multiple competencies
in literacy. With a focus
on research-based, datadriven, and differentiated
strategies, teachers are
offered a compilation of
planning models, matrixes,
rubrics, and checklists for differentiating instruction.
240 pages.
Language Arts
746476 $53.50
Differentiated
Literacy Strategies
for Student Growth
and Achievement in
Grades 7-12
New!
Die-Cut Magnetic Big Wall
Words (Dolch & Fry)
Sight Words, often also called high frequency sight
words, are commonly used words that young
children are encourage to memorize as a whole by
sight, so that they can instantly recognize these
words in print without having to use any strategies
to decode. Approximately 1.5"x4.5" each word. 100
per pack.
752070 Level 1, 1st 100 $26.35
752071 Level 2, 2nd 100 $26.35
752072 Level 3, 3rd 100 $26.35
New!
Die-Cut Magnetic Sight
Words (Dolch & Fry)
Sight Words, often also called high frequency sight
words, are commonly used words that young
children are encourage to memorize as a whole by
sight, so that they can instantly recognize these
words in print without having to use any strategies
to decode. Approximately 1"x1.5" each word. 100 per
pack.
752073 Level 1, 1st 100 $13.15
752074 Level 2, 2nd 100 $13.15
752075 Level 3, 3rd 100 $13.15
Use high pay-off
instructional strategies to
accelerate learning in the
differentiated classroom!
This versatile handbook
helps teachers differentiate
literacy instruction for
adolescent learners at
different stages of development along the literacy
continuum. 248 pages.
748498 $53.50
Differentiated
Instructional
Strategies for
Writing in the
Content Areas, 2nd
Edition
This updated edition of
a best-selling book offers
explicit strategies for
differentiating writing
instruction to help
students learn content
and develop as writers.
Addresses how to create a climate for writing, use
flexible groupings, differentiate instruction, and
assess student writing. 176 pages.
746490 $53.50
New!
Die-Cut Magnetic Foam
Word Chunking
Grades 1+ Great for use in the classroom or at home!
Use on whiteboards, steel lockers, refrigerators,
etc. Each tile approx. 1"x1.5", 100 Pieces - 55 word
families/ 25 blends/ 20 consonants. Color coded.
752068 $13.15
New!
Die-Cut Magnetic Foam
Letters
Grades K+ Great for use in the classroom or
at home! Use on whiteboards, steel lockers,
refrigerators, etc. Each tile approx. 1"x1", 104 Pieces 4 sets of (A-Z)
752066 Uppercase $9.20
752067 Lowercase $9.20
Making Thinking
Visible
New!
Die-Cut Magnetic Foam
Sentence Building
Grades 1+ Great for use in the classroom or at home!
Use on whiteboards, steel lockers, refrigerators, etc.
Each tile approx. 1"x1.5", 100 Pieces - nouns/ verbs/
adverbs/ adjectives/ pronouns/ articles/ capitals/
punctuation/ etc.
Color coded.
752069 $13.15
56
How to Promote
Engagement,
Understanding,
and Independence for
All Learners
Grades K-12 A proven
program for enhancing
students' thinking
and comprehension
abilities. This researchbased approach, begun
at Harvard's Project
Zero, develops students' thinking dispositions, while
deepening their understanding of the topics they
study. Using this process, thinking becomes visible
as the students' different viewpoints are expressed,
documented, discussed, and reflected upon. 320
pages.
Differentiated
Instructional
Strategies for
Reading in the
Content Areas, 2nd
Edition
Featuring new strategies,
current research, expanded
coverage of key topics, plus
new material on planning,
and information about
English language learners,
this updated edition
shows how to use differentiated instruction, multiple
intelligences, scaffolding, constructivism, and
cooperative learning methods to support reading
comprehension. 224 pages.
746488 $53.50
751807 $39.95
Tel: 1.800.668.0600
A Guide to Graphic
Organizers
Updated version offers a
collection of 24 ready-touse graphic organizers.
Includes lessons for
introducing these learning
tools to students and
tips for maximizing their
positive learning effects.
232 pages.
746468 $60.60
Math, Science & Literature
Crazy Nature™
This attention-grabbing set highlights some of
nature's most amazing adaptations. Students
learn basic science concepts while reading about
evolutionary features like pockets, camouflage, and
armor. Each book features a full-colour fact spread
that will entice even reluctant readers into finding
out more about adaptation. Set includes 6 books, 24
pages each: Albino Animals, Animal Mimics, Animals
with Armor, Animals with Pockets, Camouflaged
Creatures, and Underground Animals. Reading
levels M-N.
750320 $49.75
20 Questions: Physical Science
This useful series harnesses kids' natural
curiosity to explore subjects from grades 2-3 physical
science curricula. Colourful photographs and
diagrams help kids grasp the important scientific
concepts. 20 questions are raised and answered
about that topic. Glossary, index, and web site links
are provided. Set includes 6 books, 24 pages each:
What Do You Know About Atoms and Molecules?;
What Do You Know About Electricity?; What Do
You Know About Forces and Motion; What Do You
Know About Light?; What Do You Know About
Simple Machines?; What Do You Know About States
of Matter? Reading levels J-L.
Creepy Crawlies
This fun series introduces readers to some of the
grossest and squirmiest creatures that our planet
has to offer. Each book richly explores its slimy
subject with full-colour photographs and a lively
narrative. Readers will learn about what flies like to
eat, why snails have shells, and so much more. Set
includes 6 books, 24 pages each: Centipedes and
Millipedes Are Gross!; Flies and Maggots Are Gross!;
Salamanders Are Gross!; Slugs Are Gross!; Snails Are
Gross!; and Worms Are Gross! Reading levels L-M.
Exploring Habitats
750318 $49.75
This globe-trekking set focuses on animals that call
certain specialized habitats home, such as caves,
coral reefs, and deserts. Each book introduces the
habitat and some of its unique features, and then
students explore the animals that help make up that
habitat. Set includes 6 books, 24 pages each: Who
Lives in a Coral Reef?; Who Lives in a Deep, Dark
Cave?; Who Lives in a Hot, Dry Desert?; Who Lives in
a Wild, Wet Rain Forest?; Who Lives on a Towering
Mountain?; and Who Lives on the Cold, Icy Tundra?
Reading levels M-N.
Simple Machines at Work
Let's Read About Our Bodies
Each book explains the fundamentals of
elementary physics as they apply to the mechanical
advantage of each machine. Uncomplicated,
introductory vocabulary, fabulous full-colour
photographs, and real-work examples make these
concepts accessible. Set includes 6 books, 24 pages
each: Inclined Planes in Action, Levers in Action,
Pulleys in Action, Screws in Action, Wedges in
Action, and Wheels and Axles in Action. Reading
levels K-M.
750316 $49.75
Grade 1 Second edition. Readers will discover how
our eyes help us see the world and how our skin is
a shield from the environment. Each book includes
information about proper care and maintaining
health while offering new vocabulary words. Set
includes 8 books, 24 pages each: Ears, Eyes, Feet,
Hair, Hands, Mouth, Nose, and Skin. Reading level
D.
745230 $65.85
750324 $49.75
750322 $49.75
Complete MathStart® Series
Grades K-4 MathStart books, created by Stuart Murphy, tell stories every kid
can relate to and enjoy, while helping them understand that math is much
more than a school subject – it's all around us and in everything we do!
Each book in the series includes suggestions for group or individual exercises
that reinforce math concepts presented in the story, easy-to-do activities,
and a bibliography of children's books that feature similar math concepts.
Sets include 19-21 books plus a FREE Hands-on Math and Literature with
MathStart® resource book.
745164 Level 1 Complete Set, 20 Books K $159.00
745166 Level 2 Complete Set, 19 Books 1-2 $151.10
745168 Level 3 Complete Set, 20 Books 2-4 $159.00
spectrum-nasco.ca
57
Science & Literature
New!
Engineers Rule!
Ages 9-13 What does it take to be an
engineer? This series delves into several
branches of engineering, from civil
engineering to robotic engineering.
Readers will learn exciting facts and
descriptions about careers within these
branches, as well as the history and
science behind each one. Each book
also covers groundbreaking projects
and developments in engineering, as
well as the future of the field. Sidebars
and a graphic organizer deepen the
readers' understanding of engineering,
while color photographs help them
visualize a day on the job. With a
focus on careers, this series covers the
education and work experience that
lay the foundation for a rewarding and
exciting career.
Science Readers
These high-interest readers are designed to
build literacy through science content in
Grades 4-8. Helps prepare students for science
testing, and promotes content-area literacy.
The multiple reading levels make this resource
perfect for differentiated instruction.
Set of all
14 Books
748154
$165.45
752076 $71.10
Look Once,
Look Again!
Collection
Non-fiction science
series for beginning
readers
Grades 1-4 Young
scientists can expand
their vocabulary and
develop fluency and text
comprehension skills as
they examine plant parts
and animal features "up
close". They'll also learn
how these smaller parts fit into the bigger picture with easy-to-read text that presents scientific
facts with detailed descriptions. This 24 book series by award-winning children's' author David M.
Schwartz is also perfect for struggling readers in upper-elementary grades because of its appealing
subject matter. Books are 16 pages each.
Exploring Habitats Variety Pack
Plants & Animals Variety Pack
62006L $49.65
62014L $49.65
Set of 12 books: At the Farm N, At the Pond N, At
the Park N, Among the Flowers N, In the Garden
N, In the Meadow O, At the Zoo O, In a Tree O,
At the Seashore P, Underfoot P, In the Desert P, In
the Forest Q.
Science Readers – Life Science
Looking Inside Cells S
Cell Scientists: Discovering How Cells Work Q
All About Mitosis and Meisois S
Pioneers in Cell Biology Q
Investigating Simple Organisms S
Louis Pasteur and the Fight Against Germs Q
The World of Plants S
Inside Ecosystems and Biomes S
Pioneering Ecologists Q
The World of Animals S
Jane Goodall: Animal Scientist and Friend Q
Investigating the Human Body S
Hippocrates: Making the Way for Medicine Q
The World of Genetics S
748154 Set of all 14 Books $165.90
Set of 12 books: Animal Feet N, Plant Fruits & Seeds
O, Animal Noses O, Animal Tails O, Animal Eyes O,
Animal Skin & Scales O, Animal Feathers & Fur O,
Plant Blossoms O, Animal Ears P, Animal Mouths P,
Plant Leaves P, Plant Stems & Roots Q.
Life Cycles/How & Why
Collection
Answers for Curious Minds
Grades 1-4 These 16-page
readers feature captivating
photography and easy-toread text to provide
a firsthand look at
some of nature's
most fascinating
phenomena. Students
develop research
skills and expand their vocabulary
and comprehension as they discover
answers to their probing questions.
Each set comes with a resource guide.
Life Cycles Variety Pack
Set of 12 books: Bean O, Jumping Spider O,
Hummingbird O, Horse O, Monarch Butterfly
P, Wood Frog P, Ladybug P, Green Snake
P, Sunflower Q, Chicken Q, Maple Tree Q,
Fighting Fish Q.
62690L $49.65
58
Set of all
15 Books
748156
$177.75
Science Readers – Earth and Space
Science
How & Why Variety Pack
Set of 12 books: Birds Build Nests N, Seeds Travel
N, Birds Use Their Bills N, Animals Hatch from Eggs
N, Spiders Spin Silk N, Plants Eat Insects N, Animals
Hide O, Animals Prepare for Winter O, Insects Visit
Flowers P, Insects Grow and Change P, Animals are
Poisonous P, Animals Grow New Parts Q.
68920L $49.65
Investigating Storms R
Weather Scientists Q
The World of Rocks and Minerals R
The First Geologists Q
Inside the Water Cycle R
Water Scientists Q
Investigating Landforms S
Pioneers of Earth Science Q
Investigating Plate Tectonics S
Alfred Wegener: Uncovering Plate Tectonics Q
The Wonder of Our Solar System R
Astronomers Through Time Q
The Wonder of Outer Space S
From Hubble to Hubble: Astronomers and
Outer Space Q
Spaceship Earth S
748156 Set of all 15 Books $177.75
Tel: 1.800.668.0600
Science & Literature
New! Let's Explore Physical
Science, 10-Book Set
New!
Let's Explore Earth & Space
Science, 10-Book Set
Grades K-1 Set Includes: I Spy, Tell Me About It, Solid
or Liquid?, Nature Made, Here Comes the Sun, How
Sound Moves, Message Received!, Light Makes a
Rainbow, Shadows, How Heat Moves.
Grades K-1 Set includes: Changing Weather; Earth
and Moon; Looking Up; On Land; On Water; Our
Sun; The Seasons; Too Much Trash! ; We Recycle; and
What Is the Weather?
Grades 2-3 Set Includes: The Nature of Matter,
Forces, Energy, Friction, Motion, Changing Matter,
Energy in Action, Gravity, Electromagnetism,
Balanced and Unbalanced Forces.
Grades 2-3 Set includes: Climate; Earth's Moon;
Extreme Weather; Landforms; People and the Planet;
Rocks and Minerals; Tracking the Weather; Water
Bodies; Water Cycle; and Weathering and Erosion.
Grades 4-5 Set Includes: Electricity; Circuits;
Transferring Energy; Sound Waves and
Communication; Light and Its Effects; Composition
of Matter; Mixtures and Solutions; Conservation of
Mass; Conservation of Energy; Chemical Reactions.
Grades 4-5 Set includes: Earth's Cycles; We Are
Here; The Rock Cycle; Our Resources; The Story of
Fossil Fuels; The Four Spheres of Earth; The Powerful
Ocean; The Milky Way: A River of Stars; Stars; Global
Warming.
752083 $118.30
752084 $118.30
752085 $118.30
752077 $118.30
752078 $118.30
752079 $118.30
Inside Science
Grades 3-5 Invite young readers to step inside the world of science. Whether they chase
a storm, investigate the causes of a volcanic explosion, or learn about the science behind
movie making, students will build their scientific knowledge, increase their content
vocabulary, and sharpen critical nonfiction comprehension skills. This 24-book series
covers the four main branches of science, and covers essential content standards. 24
pages each.
Physical Science
Set of 6 books: Amazing Water; Energy, Sound
and Light; Switched On; Wired for Sound; Space
Station; and Volcanic Eruptions.
749580 Set of 6 Books $41.45
New!
Let's Explore Life Science,
10-Book Set
Grades K-1 Set includes: All in the Family; Baby
Animals, Growing Up; Growth and Change; Inside a
Plant; Living! ; Raising Babies: What Animal Parents
Do; Seeds; What Do Living Things Need? ; and What
Makes a Plant?
752080 $118.30
Grades 2-3 Set includes: Pollination,
Interdependence of Living Things, Ecosystems,
Habitats, Environment: A World of Change,
Life Cycles, Food Webs, Traits for Survival,
Photosynthesis, The Right Environment
752081 $118.30
Grades 4-5 Set includes: Plant Reproduction;
Producers and Consumers; Animal Senses;
Adaptations; The Nutrient Cycle; Life and the Flow of
Energy; Life and Non-Life in an Ecosystem; Digestion
and Using Food; Cells; DNA.
752082 $118.30
Life Science
Set of 6 books: Food; Animals We Live With;
Disappearing Prairies; Insects on the Move;
Food Machines; and Healthy Food Choices.
749582 Set of 6 Books $41.45
Our Solar System
Earth and Space Science
Set of 6 books: Comets and Meteors; Moon Tides;
Under Your Feet; Chasing Storms; Forecast the
Weather; and Global Warming.
749584 Set of 6 Books $41.45
Science and Technology
Set of 6 books: Robotics; Lights, Camera, Action!;
Voyage; Big and Small; Disaster Strikes!; and
Making a Computer Game.
749586 Set of 6 Books $41.45
spectrum-nasco.ca
This series takes readers on an exciting journey
from the sun to dwarf planet Pluto, and
beyond! Set includes 12 books, 24 pages each:
Comets and Asteroids: Space Rocks; Earth: The
Blue Planet; Jupiter: The Largest Planet; Mars:
The Red Planet; Mercury: The Iron Planet; The
Moon: Earth's Satellite; Neptune: The Stormy
Planet; Pluto: The Dwarf Planet; Saturn: The
Ringed Planet; Uranus: The Ice Planet; Venus:
The Masked Planet; and The Sun: Star of the
Solar System. Reading levels G-H.
750328 $98.80
59
Storage
Six-Shelf
Organizer
For storage of
print-outs, reading materials,
assignments, tests, coloured paper, etc.
Book Keeper Systems
Classroom Keepers®
Storage Tote Assortment
Stackable, portable totes with handles. The inside
dimensions accommodate hanging files and file
folders. Six colours. Recycled and recyclable. 10.12" x
12.25" x 15.25".
750801 Set of 6 $57.50
Large Book Files
Great for classroom book centres. Larger, more
durable, visual and handy storage solution.
750250 6" Book Files $13.00
750252 8" Book Files $14.65
750354 $36.25
Classroom Cubby
For storage of large student or teacher books.
750352 $41.35
Multi-Colour Book Files
Classroom Keepers® 10-Shelf Organizer
The perfect organizer for any storage need. Store
paper, books, folders and more. Slots measure 3" x
10" x 12.5 ". Recycled and recyclable. 17" x 21" x 12.8".
Durable, visual, and handy book files.
750254 4" 3-Pack, Red/Blue/Yellow $11.65
750256 4" 3-Pack, Purple/Green/Orange $11.65
750260 6-Pack (both sets above) $19.55
750802 $45.65
New!
Decorated Poly Folders
Pack of 6. Easily hold and carry 100 papers. Snap
button enclosure, flat top. Write-on/Wipe-off
surface. Water resistant.13.5" x 9.5".
752086 Emojis $19.75
752088 Dots $19.75
752089 Chalk Days $19.75
752090 Chalk Tasks $19.75
752087 Ladybug $19.75
Classroom Keepers®
Literature Centre
Ideal for organizing readers in the classroom. Books
can be arranged based on targeting reading levels,
subjects, themes, authors, etc. Each slot measures
11.25" x 17.4" x 12.25".
750803 $34.95
Compartment Trays
Designed to organize classroom materials for
storage. 100% recyclable and easily cleaned.
750795 3 Compartments (10.5" x 5.5" x 2.5") $14.90
750794 8 Compartments (19" x 9.5" x 3.5") $23.85
750793 20 Compartments (17.5" x 12.25" x 1.5") $19.75
Interlocking
Storage
Folder Holders/Organizers
For storage of print-outs, reading materials,
assignments, tests, coloured paper, etc.
750262 With 3 Compartments
(12" x 14" x 5.63") $18.95
750264 With Single Compartment
(11" x 11.75" x 4.5") $7.80
60
Classroom Keepers® Folder Holder
Assortment
Organize your files for easy reference. Durable
and transportable. The coated finish helps protect
them from daily use. Four colours. Recycled and
recyclable. 9.7" x 11.75" x 5.4".
750800 Set of 4 $21.95
Tel: 1.800.668.0600
Container with Lid
Tough, clear plastic storage
bins are wide-mouthed and
great for storing almost
anything. Perfect for craft
items, blocks,
manipulatives,
etc. High impact,
recyclable
plastic and FDA approved.
5.5" x 9.5" x 6.75".
750806 Each $9.40
4 or more $8.95 Each
Listening Centres
New!
New!
Juke24™ - Portable, Digital Jukebox
with CD Player and Karaoke
Function
Load up to 48 hours of any music or audio from
CD, computer, smartphone, laptop or flash
drive, even read and record songs, poems or
books to listen to, anytime. Upload the latest
books-on-tape. Easily upload content to as
many of the 24 buttons as you like, then create
and insert button artwork for easy recall. We've
even created a free iPhone app to make creating
button artwork fun and quick! Built tough
to withstand the rigors of daily use, Juke24™
comes with built-in 4 GB of memory, has a
back-loading CD player, karaoke function with
talkover mic for sing-along, built-in speakers,
digital display and translucent button covers.
HamiltonBuhl™
Flex-Phones™,
Foam Headphones
HamiltonBuhl FlexPhones™ are nearly
indestructible, made from
a single piece of EVA foam.
EVA foam is safe, non-toxic, BPA-free, soft and
an extremely flexible material. Recommended
for children ages 3 and up, Flex-Phones™
deliver high quality sound that will never
exceed 85 decibels, ensuring young developing
ears are protected. 4' straight nylon cord,
3.5mm stereo plug. 1 Year warranty.
750293 Blue $28.80
750294 Black $28.80
750295 Red $28.80
752099 $201.40
Deluxe Listening Centre
– Stereo Cassette CD
Headphones
74020 $429.60
74016 $21.45
Includes CD/cassette/AM-FM
boombox, six stereo headphones,
six-station stereo jack box with
individual volume control in a
durable lockable carrying case.
Free combination lock included.
Operate in stereo and
mono modes. Soft
leatherette, washable,
replaceable ear cushions.
Light design, easy to
wear, with swivel ear
cups.
HamiltonBuhl USB,
MP3, CD,
Cassette and AM/FM Radio
Boombox
New!
New! HamiltonBuhl™ Kids
Protective Cases
Kid-friendly silicone case to protect your iPad™.
The form-fitting silicone provides precise fit and
excellent protection with its air-filled chambers
for unique cushioning. Molded in such a way as
to provide thick handle-like areas on the sides
and edges raised above the screen, the case
will absorb shock and protect the screen from
impact in case your iPad lands screen-down.
With full access to all audio outputs and special
designed volume key silicone wrap this case is a
must have to protect your tablet from slippery
fingers.
752097 iPad™ 2 or iPad™ 3 $40.60
752096 iPad™ Mini 2, 3 & 4 $40.60
752098 iPad™ Air 2 $40.60
•
•
•
•
•
•
•
•
Programmable CD Player w/repeat play Plays CD Audio and MP3 files on CD
USB Port for MP3 Files on USB Memory
Built-in Cassette Player/ Recorder, records
from CD or MP3
Records from CD or radio to cassette
Receives AM/FM stereo broadcasts
Power: AC or 6 "D" size batteries
Six 3.5mm headphone outputs
Stylish silver/blue housing
Output Power: 4W RMS
752091 $142.00
Economical Stereo CD
& Cassette Centre
Includes all components of
deluxe centre, but with economy
headphones.
740931 Set $341.35
CD Listening
Centre
Includes a colourful CD player with sing-a-long mic, 4 deluxe
blue noise-reducing headsets, 8 station stereo jackbox with
individual volume controls, and a lockable carry case.
747716 CD Listening Centre $371.05
747718 CD Boom Box only $147.65
New!
HamiltonBuhl™ TopLoading Portable
Classroom CD Player
with USB and MP3
• Top-loading CD/MP3 player
with USB
• Plays: Audio CD, CD-R, CD-RW
and MP3 files on CD-R or CDRW
• Plays MP3 files on USB flash
drives via built-in USB port
• Amplifier and speaker: Built-in
3W
• Outputs: 3.5 mm and 1/4" stereo outputs for connecting
headphones and jackboxes
• Volume control: Digital push button
• Track display: Back-lit LCD
• Power: 6V wall power adapter or 4 "C" batteries (batteries
not included)
752092 $115.25
spectrum-nasco.ca
61
Tech Tubs™ / Dewey
/ Writing Centres
Tech Tubs™
The Tech Tub™ have
adjustable dividers
for different sized
devices and a cable
management pocket
to keep cords neat
and organized. Tech
Tubs™ are secure,
mobile and
lightweight,
and make
device
sharing
and
charging
easy.
Dewey the Document Camera Stand
Document Camera Position:
Dewey allows the iPad to work as a document camera. The projected
image can change from landscape to portrait, by rotating Dewey's
head 90 degrees.
Microscope Position:
The Microscope function can used in all height settings and either
landscape or portrait Document Camera positions. Each lens
provides 5x magnification. They can be used individually or separately
depending on what specimen and the focal length needed. To save
images of what you have discovered, don't forget to take a picture
using your camera function!
Stability:
Dewey's base adds stability to the unit in all the different heights and
positions. The base with the rubber pads stops Dewey from sliding
around on the surface and falling down when the surface gets hit
accidentally.
Dewey the Document Camera Stand
750788 $84.60
With Microscope and Light Stand with LED Light
Comes with a magnetic LED light. The light is powered by 3 AAA
batteries.
751928 $98.10
Royal® Reading/Writing Centre
This award winner has been newly redesigned with many unique
features and a modern style. Helping you teach more efficiently
while engaging your students, these teaching centres are an
essential teaching tool for all primary and junior classes. New
Features: Sliding tubs for easier access with Safety Stops, larger 3
casters for easier movement, foot-activated brake mechanism,
enhanced magnetic dry erase surface, Big Book rack keeps books
upright, shelf with two Tiny Tubs. Same Great Features: Two
magnetic Page Paws®, 60 x 90 cm removable/adjustable magnetic
lined dry erase board, Ultra-Safe Premium Book Ledge locks into
various positions, Snap-on chart paper/accessory hooks, lifetime
warranty on frame and tubs. 70D x 142.5H in 77.5W cm, 95W
(Queen)
748230 Standard 31" with 4 Open Tubs $432.00
Tech Tub™ Premium: Holds 6 Tablets
Some features include:
• Holds six tablets with or without cases
• Adjustable dividers to accommodate up to six
devices and cases
• Cable management pocket to keep cables
organized, out of sight, and in-line with each
device
• Cable management for power strip cord (on back)
• Internal six-outlet power strip
• Locking block and pin to lock tub to counters and
tables
• Two padlocks with the same keys
750783 $241.55
The Regal™ Reading Writing Centre
Tech Tub™ Premium:
Holds 6 Chromebooks™
Some features include:
• Taller lid to
accommodate more
Chromebooks
• Adjustable dividers
increasing tablet
capacity
• Cable management
751808 pocket
The Regal™ Reading Writing Centre is a valuable teaching tool for
primary and junior classes. This centre is equipped with plenty of
book and manipulative storage, for quick access during independent
or group lessons.
•Front magnetic dry erase
•Safety Cap™ Premium Book
surface, with a rear removable Ledge locks into multiple
dry erase board that hangs
positions
horizontally
•Snap-on chart paper hooks
•4 sliding Open Tubs with
•3" casters, 2 foot-activated
safety stops brakes
741138 $355.50
751808 $360.35
New!
Dry Erase Easel
Multi-use, adjustable-height
easel you can take anywhere! 1/2"
aluminum frame surrounds a quality, nonghosting dry erase board. Bottom marker tray
spans the entire width and will support posters
and large-format books. Locking safety hinges
ensure a stability and fold for storage. Legs
feature anti-skid tips and are height adjustable
for use on the floor or table top. Dry erase
surface is 27.5" wide x 32" high with a pressureregulated steel strip along top edge to hold
tablets in place with thumb screws. Measures
46" x 5" x 29.5"
740932 $184.25
62
Double-Sided Bamboo Easel
Eco-friendly and extremely strong!
Bamboo was chosen for this easel for its
sustainability, being one of the fastest
growing plants on earth. The easel also
includes four deep-bottomed ECO Tubs
made from 100% recycled materials,
and a magnetic dry-erase whiteboard
on each side. This beautifully crafted
product, with its wide ledge for Big
Books and markers, will enhance any
learning experience. The four 7.5 cm
locking casters provide easy mobility and
the chart paper hooks hold charts and
posters in place. Three-year warranty on
frame and lifetime warranty on tubs.
751302 $518.80
See our web site for a complete selection of Copernicus Classroom Storage Centres.
spectrum-nasco.ca
The all New! Tech Tub2® by Copernicus
holds iPads®, Chromebooks™ or a combination of both
Tech Tub2®
Features Include:
Ergonomic handles and flip-up handle • Adjustable
shelves • Internal cable organizers • 6 outlet internal
power strip • Cable management hooks on back
• Mounting hardware to secure tub to a surface •
3-point door lock with 2 keys
Tech Tub2® Trolleys
Features include:
Adjustable handle • Ideal for transporting
small quantities of devices
• Durable 3" casters
Tech Tub2®
Tech Tub2® Carts
Features include:
Two handles for ease of mobility • Tubs break apart
using clips • Ideal for sharing small sets of devices • 4"
locking casters • Power timer for charging (requires
1 outlet)
Premium Cart (752114) Locking front doors
and top shelf for laptops or other instructional
uses Modular Cart (752110) 2 lower tub sets are
permanently connected together
Modular Cart holds
32 devices (752110)
Trolley holds 6 devices (752106)
Premium Tech Tub2®
holds 6 devices (752102)
Premium
Cart holds
32 devices
(752114)
Trolley holds 10 devices
(752107)
Trolley - holds 6 devices
Size: 35 3/4" H x 14 3/4" W x 19 1/2" D
752106 $378.00
Trolley - holds 10 device
752107 $585.00
With 10 port syncing USB hub (for iPads®)
Size: 35 3/4" H x 14 3/4" W x 19 1/2" D
Premium Tech Tub2®
holds 10 devices (752104)
752108 $702.00
Base Trolley - (tub and frame only - no power)
752109 $279.00
Premium Tech Tub2® holds 6 devices
752102 $296.10
Modular Cart - holds 32 devices
752110 $1,890.00
With 10 port syncing USB hub (for iPads®)
Size: 50" H x 34" W x 19" D
752111 $2,610.00
Modular Cart - holds 24 devices
752112 $1,530.00
With 10 port syncing USB hub (for iPads®)
Size: 43" H x 34" W x 19" D
752113 $2.295.00
Premium Cart - holds 32 devices
752114 $2,340.00
With 10 port syncing USB hub (for iPads®)
Size: 47 1/2" H x 34" W x 26" D
Base Tech Tub2® (tub only - no power)
Size: 13" H x 12 1/2" W x 16 1/4" D
752115 $2,970.00
752103 $153.00
Premium Tech Tub2® holds 10 devices
Dual Duty Teaching Easel
752104 $540.00
With 10 port syncing USB hub (for iPads®)
Size: 29 1/2" H x 12 1/2" W x 16 1/4" D
752105 $629.10
Tech Tub®, Carts and Easel
Warranty
Lifetime Tech Tub2®, 5 year frame
(Trolleys, Modular Carts and
Easels), 10 year frame (Premium
Cart), 1 year powerstrip and
1 year electrical components
warranty
spectrum-nasco.ca
Features Include:
Large magnetic dry erase board
(41 3/4" H x 26 3/4" W)
•Safety-Cap book ledge that locks
into multiple positions
•Premium Tech Tubs® to hold 32
devices
•Power timer for charging devices
(requires 1 outlet)
• Headphone racks with 32 clear
pouches (FTT200 only)
•2 Tiny Tubs
• Snap-on chart paper hooks
• 4" locking casters
Size for all Easels:
63 1/2" H x 33 1/4" W x 24
3/4" D
Dual Duty Teaching Easel - holds 32 devices
752116 $2,250.00
With 10 port syncing USB hub (for iPads®)
752117 $3,150.00
Holds 12 devices and includes 4 Open Tubs
752118 $1,170.00
With 10 port syncing USB hub (for iPads®)
752119 $1,525.50
Holds 6 devices and includes 5 Open Tubs
752120 $899.55
63
Index and Terms & Conditions
INDEX
3-D Reading.................................34
ABC Cookies................................18
Alphabet..........4, 7, 8, 9, 11, 12, 14,
........15, 16, 17, 20, 21, 25, 28, 29
Alphabet Racetrack......................23
Answer Paddles............................17
Articulation Box...............................8
Big Books...............................40, 42
Blank Books..................................54
Blends & Ends..............................11
Blends and Digraphs......................5
Blends and Sounds......................23
Book Buddy Bags.........................25
Book Files.....................................60
Bulletin Board Sets.......................29
Cassette Players..........................61
CD Players...................................61
Chalk Boards..........................19, 51
Chapter Readers..........................44
Chart Stands...........................25, 26
Coding Books...............................35
Consonants....................................5
Contractions...................................8
Conversation Cubes.....................17
Creative Writing............................51
CVC..............................................21
Desk Plates..................................11
Desk Strips...................................12
Differentiated Instruction.........21, 56
Display Boards...Inside Front Cover
Document Camera Stand.............62
Dolch & Fry...................................56
Dry Erase Blocks..........................28
Dry Erase Pockets........................24
Dry-Erase Boards......12, 13, 14, 15,
................................17, 19, 28, 29
Dry-Erase Markers & Crayons......13
Dry-Erase Pouches......................25
Easel Pads...................................54
Easels....13, 17, 19, 62, Back Cover
Educards......................................11
Eye Lighter...................................24
Fairy Tales....................................45
First Nations Stories............... 46-47
Flip Chart......................................17
Folders..........................................60
Fountas & Pinnell.........................31
Games............16, 18, 19, 20, 22, 23
Grammar..........................49, 50, 55
Graphic Organizers......................56
Guided Word Building...................31
Handwriting...................................12
Headphones.................................61
High Frequency Words...................4
Highlight Strips & Tape.................24
Hooks...........................................25
Interactive Readers......................34
Inuit Stories............................. 46-47
iPad™ Cases................................61
Jolly Phonics...........................32, 33
Journals........................................48
Justick™.............Inside Front Cover
Keys to Unlocking Words.............10
Language...............................21, 55
Language Arts Learning Cubes....18
Language Cards.....................28, 51
Language Development.................3
Language Objects..........................6
Lap Books.....................................41
LEGO®................................... 52-53
Letters......7, 8, 9, 11, 12, 14, 15, 16,
..........................18, 19, 20, 33, 56
Level Reading.........................57, 58
Leveled Readers.............33, 35, 36,
....................37, 38, 39, 40, 42, 43
Listening Centres..........................61
Literacy Centres.............................4
Literacy Kit....................................11
Living Letters................................12
Magnetic Boards...............13, 15, 19
Magnetic Hooks............................25
Magnetic Paper............................50
Magnetic Pockets.........................25
Magnetic Strips.............................26
Math & Literature..........................57
Math Big Books............................42
Math Readers...............................43
Mathematics Guided Reading......36
MathStart® Series........................57
Media Literacy..............................55
Métis Stories........................... 46-47
Name Plates.................................25
Note Books...................................54
Numbers.......................................20
Nursery Rhymes...........................45
Onset....................................4, 9, 21
Organization Products..................60
Paper............................................12
Phonics.......6, 17, 19, 30, 31, 32, 33
Phrase Strips................................26
Plays for Every Day......................45
Pocket Charts.............14, 23, 26, 27
Pockets...................................24, 25
Poetry...........................................14
Pointers........................................27
Pouches........................................25
Primary Concepts™..........3, 4, 5, 6,
....................................8, 9, 30, 48
Privacy Boards.............................28
Puzzles.........................................11
Question Cubes / Dice..................17
Read Aloud Lap Books.................41
Reader Response.........................18
Readers.....................34, 35, 36, 37,
.........................38, 39, 40, 42, 43,
....................44, 46, 47, 57, 58, 59
Reading Centres......62, Back Cover
Reading Comprehension
..................................2, 17, 18, 55
Reading Guides............................24
Reading Rods™.............................9
Reluctant Readers........................44
Resource Books...........................56
Retell a Story............................1, 17
Rhymes................................5, 8, 18
Rime.....................................4, 9, 21
Rings............................................49
Royal® Reading Centres
.............................62, Back Cover
Sand Trays...................................14
Science & Literature.........57, 58, 59
Science Readers....................40, 43
Sentence Building.......4, 7, 9, 20, 56
Sentence Strips............................26
Sentences.....................................50
Shakespeare................................55
Sight Words......................29, 49, 56
Slide Reader.................................24
Social Study Readers...................43
Sound Buddies.......................10, 11
Sound Sorting.............................5, 6
Sounds...................................11, 28
Spelling.............................48, 49, 55
Spinners.................................12, 14
Stamps.........................................20
Steps to Retelling.........................10
Storage Bags................................25
Storage Solutions.........................60
Story Books....................................1
Story Elements.............................18
Story Mapping..............................29
Story Prewriting............................18
Story Starters............................2, 17
StoryStarter............................ 52-53
Tech Tubs™............................ 62-63
Thinking Cube..............................18
Time Timer®.................................27
Timers...........................................27
Toobaloo.......................................24
Vocabulary............19, 20, 48, 49, 50
Vowel Pals....................................10
Vowels..................................4, 5, 49
What's In Your Book? Game........23
WhisperPhone™..........................24
White Boards......Inside Front Cover
Wikki Stix......................................21
Wipe-Off Boards...........................12
Word Building...................7, 8, 9, 16
Word Families...............8, 16, 17, 28
Word Hand & Finger Covers........25
Word of the Day..............................3
Word Puzzles...............................11
Word Strips...................................26
Word Wands.................................25
Write 'N' Wipe Boards......12, 13, 14,
......................... 15, 17, 19, 28, 29
Writer's Toolbox............................51
Writing Skills...........................50, 51
TERMS & CONDITIONS
PRICES
For your convenience, all catalogue
prices are quoted in Canadian
dollars and do not include the cost
of transportation or any applicable
taxes. These charges will be added
to your invoice separately. Prices are
FOB Newmarket, Ontario.
SPECTRUM PRICE CHANGE POLICY
Because our suppliers sometimes
make significant price increases
during the life of our catalogue, we
must reserve the right to change
prices without notice. Wherever
possible, SPECTRUM/NASCO
Canada will absorb small increases
from suppliers but if there is a large
cost increase, we will notify you
before filling your order. In the rare
event of a typographical error, we
reserve the right to charge at the
correct price.
64
PST, GST, HST
All applicable provincial taxes will
be added to your order at the time
of invoicing. GST (or HST) will be
added to orders where applicable.
For your reference, our GST
number is R104958731.
SHIPMENTS: FOB NEWMARKET
All orders will be shipped in the most
economical manner (for parcels this
is generally UPS Ground) unless
otherwise specified by you the
customer. Shipments will be FOB
Newmarket, Ontario, and shipping
& handling charges will be added
to your invoice. A minimum $15.00
shipping charge will be applied to all
orders, so we would encourage you
to make sure your orders total more
than $50 before shipping charges.
When Spectrum ships to your
institution, arrangements normally
include delivery to your building's
front door or loading dock. If the
shipping company's assistance is
going to be required to carry the
parcels further into your building,
Spectrum must be informed in
advance and the additional handing
charges of the freight forwarder will
apply.
This logo on items in the
catalogue, indicates that additional
shipping charges apply.
BACK-ORDERS
Items not in stock at the time
of processing your order will be
shipped when available and invoiced
separately. Please note that
back-orders under $25.00 may be
canceled.
SPECTRUM GUARANTEE &
RETURN POLICIES
If within 30 days of receipt of your
order, for any reason you are not
completely satisfied with any one
of our products, simply call our
customer service department and
we will do everything we can to
make you happy with your purchase.
In the event that a returned order
has any packaging, manuals,
accessories, or other items missing,
the return may be refused, or we
may deduct the value of any of the
missing items. Due to copyright
laws, CDs, Software, DVDs and
videos in opened packaged may
only be exchanged for the same
item if original purchase is defective.
All returns must be authorized by
our Customer Service Department
(1-800-668-0600), which will provide
you with a Return Authorization
Number. Please (1) include our
invoice number, (2) indicate our
Return Authorization Number on
the outside of the package being
returned, and (3) indicate the
reason(s) for returning the goods.
For damaged shipments or errors
on our part, no restocking charge
will apply. On all other returns, a
15% restocking charge will apply.
Items with the part number starting
in "Z", are considered special order
items and a 15% re-stocking charge
will apply on returns, unless the
item is defective in which case the
re-stocking charge will be waived.
MANUFACTURER'S WARRANTY
SPECTRUM/NASCO Canada will
honour all manufacturer's warranties
on products purchased from
SPECTRUM/NASCO Canada (proof
of purchase will be required).
DAMAGED GOODS/SHORTAGES
While our liability ceases after goods
are received in good condition by
the carrier, we will replace damaged
items. If the contents of your
delivered boxes are damaged, you
must notify the carrier to make a
claim for damages. It is important
to note any visible damage to your
shipment on the delivery carrier's
receipt before the driver leaves. If
the damage is hidden, please call
the carrier immediately to report this.
Delays of 2 or 3 days can result in
the carrier refusing to pay claims for
hidden damage.