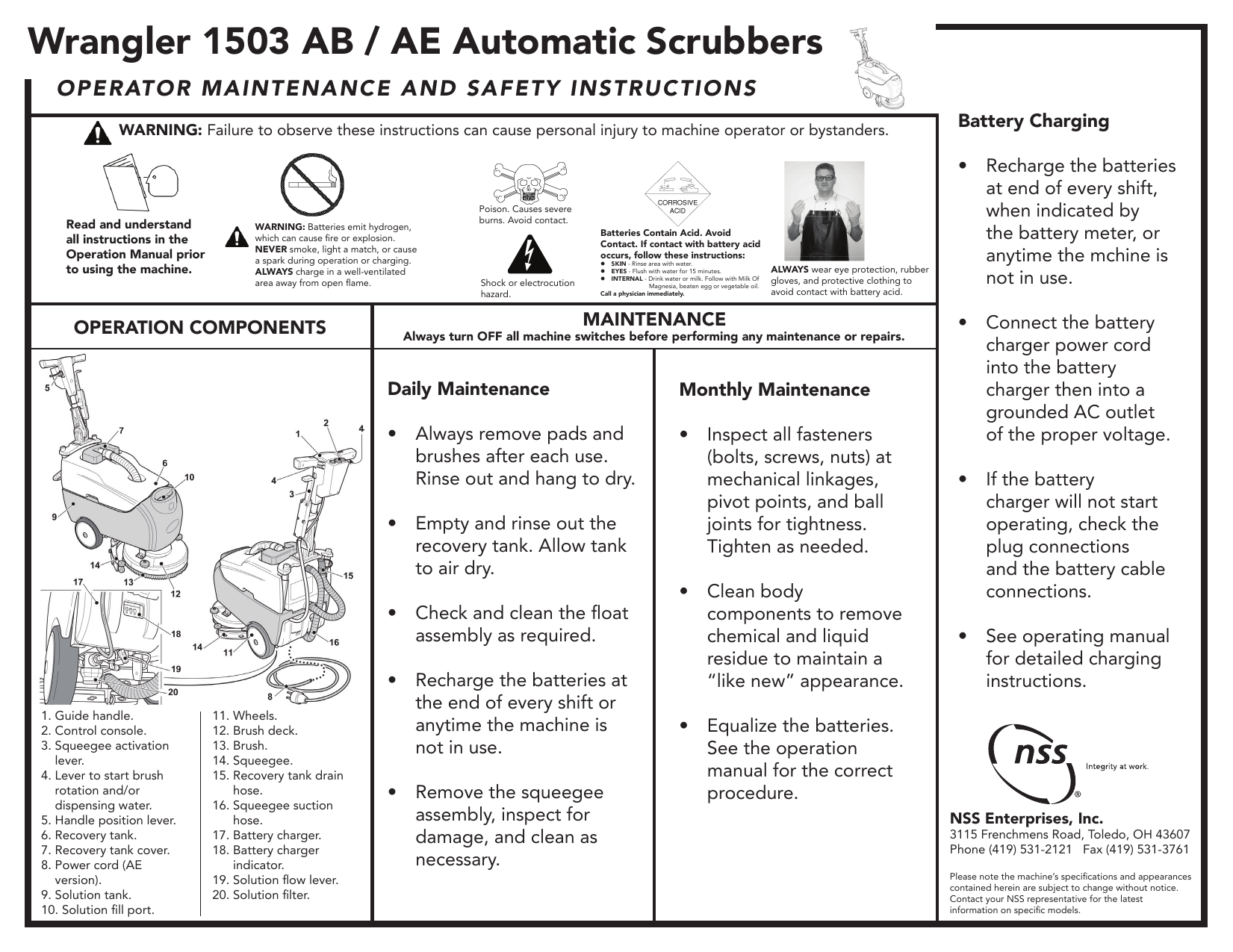 Wrangler 1503 AB / AE Automatic Scrubbers
O PE RAT O R M A I N T E N A N C E AND SAFETY INSTRUC TIONS
WARNING: Failure to observe these instructions can cause personal injury to machine operator or bystanders.
Read and understand
all instructions in the
Operation Manual prior
to using the machine.
WARNING: Batteries emit hydrogen,
which can cause fire or explosion.
NEVER smoke, light a match, or cause
a spark during operation or charging.
ALWAYS charge in a well-ventilated
area away from open flame.
OPERATION COMPONENTS
Poison. Causes severe
burns. Avoid contact.
Batteries Contain Acid. Avoid
Contact. If contact with battery acid
occurs, follow these instructions:
Shock or electrocution
hazard.
SKIN - Rinse area with water.
EYES - Flush with water for 15 minutes.
INTERNAL - Drink water or milk. Follow with Milk Of
Magnesia, beaten egg or vegetable oil.
Call a physician immediately.
l
l
l
MAINTENANCE
Always turn OFF all machine switches before performing any maintenance or repairs.
Daily Maintenance
Monthly Maintenance
• Always remove pads and
brushes after each use.
Rinse out and hang to dry.
• Inspect all fasteners
(bolts, screws, nuts) at
mechanical linkages,
pivot points, and ball
joints for tightness.
Tighten as needed.
• Empty and rinse out the
recovery tank. Allow tank
to air dry.
• Check and clean the float
assembly as required.
1. Guide handle.
2. Control console.
3. Squeegee activation
lever.
4. Lever to start brush
rotation and/or
dispensing water.
5. Handle position lever.
6. Recovery tank.
7. Recovery tank cover.
8. Power cord (AE
version).
9. Solution tank.
10. Solution fill port.
11. Wheels.
12. Brush deck.
13. Brush.
14. Squeegee.
15. Recovery tank drain
hose.
16. Squeegee suction
hose.
17. Battery charger.
18. Battery charger
indicator.
19. Solution flow lever.
20. Solution filter.
ALWAYS wear eye protection, rubber
gloves, and protective clothing to
avoid contact with battery acid.
• Recharge the batteries at
the end of every shift or
anytime the machine is
not in use.
• Remove the squeegee
assembly, inspect for
damage, and clean as
necessary.
• Clean body
components to remove
chemical and liquid
residue to maintain a
"like new" appearance.
Battery Charging
• Recharge the batteries
at end of every shift,
when indicated by
the battery meter, or
anytime the mchine is
not in use.
• Connect the battery
charger power cord
into the battery
charger then into a
grounded AC outlet
of the proper voltage.
• If the battery
charger will not start
operating, check the
plug connections
and the battery cable
connections.
• See operating manual
for detailed charging
instructions.
• Equalize the batteries.
See the operation
manual for the correct
procedure.
NSS Enterprises, Inc.
3115 Frenchmens Road, Toledo, OH 43607
Phone (419) 531-2121 Fax (419) 531-3761
Please note the machine's specifications and appearances
contained herein are subject to change without notice.
Contact your NSS representative for the latest
information on specific models.

* Your assessment is very important for improving the work of artificial intelligence, which forms the content of this project