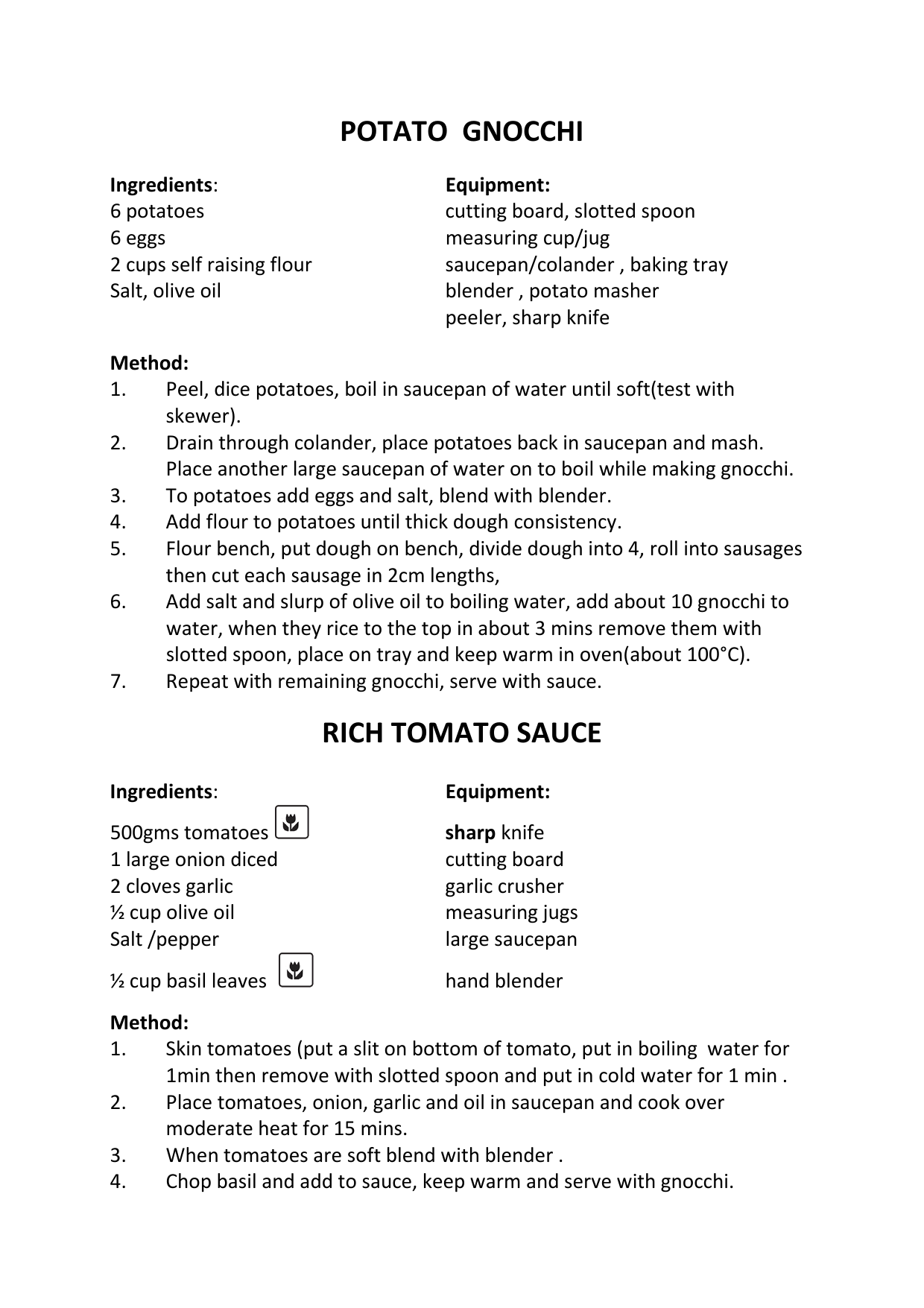 POTATO GNOCCHI
Ingredients:
6 potatoes
6 eggs
2 cups self raising flour
Salt, olive oil
Equipment:
cutting board, slotted spoon
measuring cup/jug
saucepan/colander , baking tray
blender , potato masher
peeler, sharp knife
Method:
1.
Peel, dice potatoes, boil in saucepan of water until soft(test with
skewer).
2.
Drain through colander, place potatoes back in saucepan and mash.
Place another large saucepan of water on to boil while making gnocchi.
3.
To potatoes add eggs and salt, blend with blender.
4.
Add flour to potatoes until thick dough consistency.
5.
Flour bench, put dough on bench, divide dough into 4, roll into sausages
then cut each sausage in 2cm lengths,
6.
Add salt and slurp of olive oil to boiling water, add about 10 gnocchi to
water, when they rice to the top in about 3 mins remove them with
slotted spoon, place on tray and keep warm in oven(about 100°C).
7.
Repeat with remaining gnocchi, serve with sauce.
RICH TOMATO SAUCE
Ingredients:
Equipment:
500gms tomatoes
1 large onion diced
2 cloves garlic
½ cup olive oil
Salt /pepper
sharp knife
cutting board
garlic crusher
measuring jugs
large saucepan
½ cup basil leaves
hand blender
Method:
1.
Skin tomatoes (put a slit on bottom of tomato, put in boiling water for
1min then remove with slotted spoon and put in cold water for 1 min .
2.
Place tomatoes, onion, garlic and oil in saucepan and cook over
moderate heat for 15 mins.
3.
When tomatoes are soft blend with blender .
4.
Chop basil and add to sauce, keep warm and serve with gnocchi.

* Your assessment is very important for improving the work of artificial intelligence, which forms the content of this project