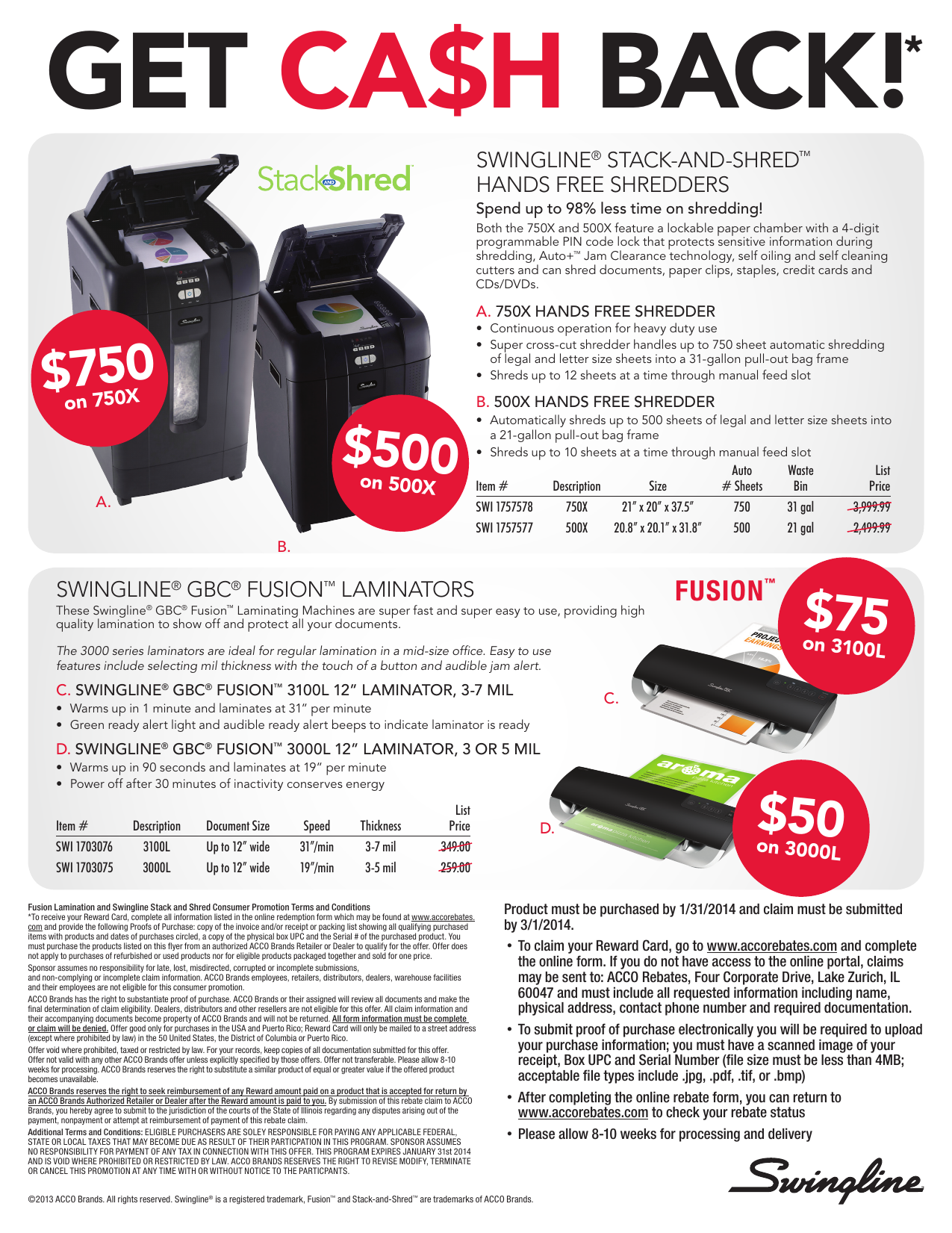 GET CA$H BACK!
*
SWINGLINE® STACK-AND-SHRED™
HANDS FREE SHREDDERS
Spend up to 98% less time on shredding!
Both the 750X and 500X feature a lockable paper chamber with a 4-digit
programmable PIN code lock that protects sensitive information during
shredding, Auto+™ Jam Clearance technology, self oiling and self cleaning
cutters and can shred documents, paper clips, staples, credit cards and
CDs/DVDs.
A. 750X HANDS FREE SHREDDER
• Continuous operation for heavy duty use
• Super cross-cut shredder handles up to 750 sheet automatic shredding
of legal and letter size sheets into a 31-gallon pull-out bag frame
• Shreds up to 12 sheets at a time through manual feed slot
$750
on 750X
B. 500X HANDS FREE SHREDDER
$500
on 500X
A.
• Automatically shreds up to 500 sheets of legal and letter size sheets into
a 21-gallon pull-out bag frame
• Shreds up to 10 sheets at a time through manual feed slot
Item #
Description
Size
SWI 1757578
750X
21" x 20" x 37.5" SWI 1757577
500X
20.8" x 20.1" x 31.8"
AutoWaste
List
# Sheets
Bin
Price
750
31 gal
3,999.99
500
21 gal
2,499.99
B.
SWINGLINE® GBC® FUSION™ LAMINATORS
These Swingline® GBC® Fusion™ Laminating Machines are super fast and super easy to use, providing high
quality lamination to show off and protect all your documents.
The 3000 series laminators are ideal for regular lamination in a mid-size office. Easy to use
features include selecting mil thickness with the touch of a button and audible jam alert.
C. SWINGLINE® GBC® FUSION™ 3100L 12" LAMINATOR, 3-7 MIL
FUSION
™
$75
on 3100L
C.
• Warms up in 1 minute and laminates at 31" per minute
• Green ready alert light and audible ready alert beeps to indicate laminator is ready
D. SWINGLINE® GBC® FUSION™ 3000L 12" LAMINATOR, 3 OR 5 MIL
• Warms up in 90 seconds and laminates at 19" per minute
• Power off after 30 minutes of inactivity conserves energy
List
Item #
Description
Document Size
Speed
Thickness
Price
SWI 1703076
3100L
Up to 12" wide
31"/min
3-7 mil
349.00
SWI 1703075
3000L Up to 12" wide
19"/min
3-5 mil
259.00
Fusion Lamination and Swingline Stack and Shred Consumer Promotion Terms and Conditions
*To receive your Reward Card, complete all information listed in the online redemption form which may be found at www.accorebates.
com and provide the following Proofs of Purchase: copy of the invoice and/or receipt or packing list showing all qualifying purchased
items with products and dates of purchases circled, a copy of the physical box UPC and the Serial # of the purchased product. You
must purchase the products listed on this flyer from an authorized ACCO Brands Retailer or Dealer to qualify for the offer. Offer does
not apply to purchases of refurbished or used products nor for eligible products packaged together and sold for one price.
Sponsor assumes no responsibility for late, lost, misdirected, corrupted or incomplete submissions,
and non-complying or incomplete claim information. ACCO Brands employees, retailers, distributors, dealers, warehouse facilities
and their employees are not eligible for this consumer promotion.
ACCO Brands has the right to substantiate proof of purchase. ACCO Brands or their assigned will review all documents and make the
final determination of claim eligibility. Dealers, distributors and other resellers are not eligible for this offer. All claim information and
their accompanying documents become property of ACCO Brands and will not be returned. All form information must be complete
or claim will be denied. Offer good only for purchases in the USA and Puerto Rico; Reward Card will only be mailed to a street address
(except where prohibited by law) in the 50 United States, the District of Columbia or Puerto Rico.
Offer void where prohibited, taxed or restricted by law. For your records, keep copies of all documentation submitted for this offer.
Offer not valid with any other ACCO Brands offer unless explicitly specified by those offers. Offer not transferable. Please allow 8-10
weeks for processing. ACCO Brands reserves the right to substitute a similar product of equal or greater value if the offered product
becomes unavailable.
ACCO Brands reserves the right to seek reimbursement of any Reward amount paid on a product that is accepted for return by
an ACCO Brands Authorized Retailer or Dealer after the Reward amount is paid to you. By submission of this rebate claim to ACCO
Brands, you hereby agree to submit to the jurisdiction of the courts of the State of Illinois regarding any disputes arising out of the
payment, nonpayment or attempt at reimbursement of payment of this rebate claim.
Additional Terms and Conditions: ELIGIBLE PURCHASERS ARE SOLEY RESPONSIBLE FOR PAYING ANY APPLICABLE FEDERAL,
STATE OR LOCAL TAXES THAT MAY BECOME DUE AS RESULT OF THEIR PARTICPATION IN THIS PROGRAM. SPONSOR ASSUMES
NO RESPONSIBILITY FOR PAYMENT OF ANY TAX IN CONNECTION WITH THIS OFFER. THIS PROGRAM EXPIRES JANUARY 31st 2014
AND IS VOID WHERE PROHIBITED OR RESTRICTED BY LAW. ACCO BRANDS RESERVES THE RIGHT TO REVISE MODIFY, TERMINATE
OR CANCEL THIS PROMOTION AT ANY TIME WITH OR WITHOUT NOTICE TO THE PARTICPANTS.
D.
$50
on 3000L
Product must be purchased by 1/31/2014 and claim must be submitted
by 3/1/2014.
• To claim your Reward Card, go to www.accorebates.com and complete
the online form. If you do not have access to the online portal, claims
may be sent to: ACCO Rebates, Four Corporate Drive, Lake Zurich, IL
60047 and must include all requested information including name,
physical address, contact phone number and required documentation.
• To submit proof of purchase electronically you will be required to upload
your purchase information; you must have a scanned image of your
receipt, Box UPC and Serial Number (file size must be less than 4MB;
acceptable file types include .jpg, .pdf, .tif, or .bmp)
• After completing the online rebate form, you can return to
www.accorebates.com to check your rebate status
• Please allow 8-10 weeks for processing and delivery
©2013 ACCO Brands. All rights reserved. Swingline® is a registered trademark, Fusion™ and Stack-and-Shred™ are trademarks of ACCO Brands.