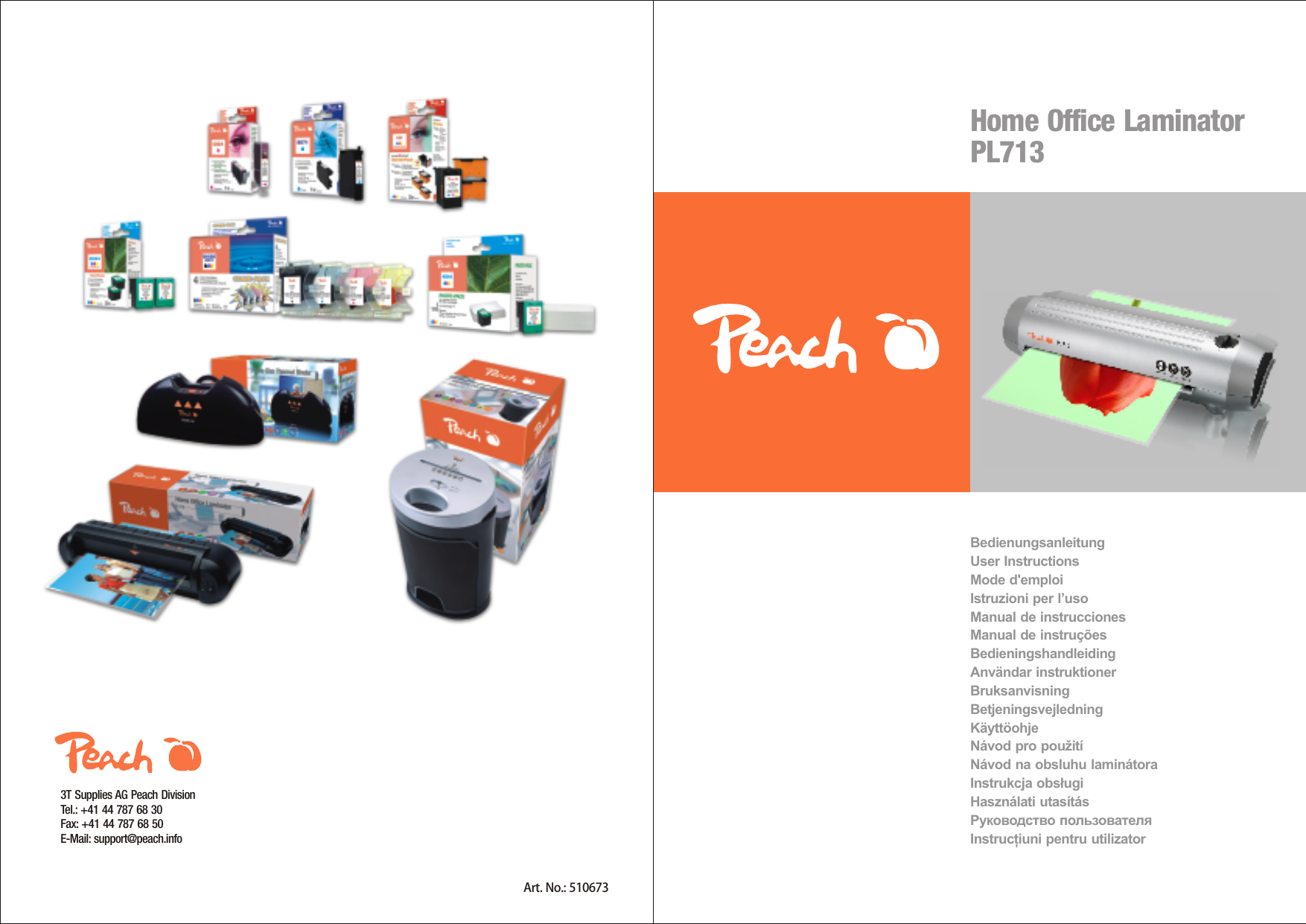 Home Office Laminator
PL713
Bedienungsanleitung
User Instructions
Mode d'emploi
Istruzioni per l'uso
Manual de instrucciones
Manual de instruções
Bedieningshandleiding
Användar instruktioner
Bruksanvisning
Betjeningsvejledning
Käyttöohje
Návod pro použití
Návod na obsluhu laminátora
Instrukcja obsługi
Használati utasítás
Руководство пользователя
Instrucţiuni pentru utilizator
3T Supplies AG Peach Division
Tel.: +41 44 787 68 30
Fax: +41 44 787 68 50
E-Mail: [email protected]
Art. No.: 510673
Bedienungsanleitung PL 713
Die folgenden Informationen sind wichtig. Lesen Sie diese bitte vor
Gebrauch gründlich durch, danke.
Das Gerät immer auf einer feststehenden Arbeitsfläche in der
Nähe einer leicht zugänglichen Steckdose aufstellen. An der
Rückseite des Gerätes einen ausreichenden freien Raum
vorsehen, damit das fertig laminierte Dokument leicht ausgegeben
werden kann. Keine Metallgegenstände laminieren. Zur
Vermeidung von Elektroschocks darf das Gerät niemals in feuchter
oder nasser Umgebung benutzt werden und es darf kein Wasser
auf das Gerät, Anschlusskabel oder die Steckdose kommen. Das
Laminiergerät nicht benutzen, wenn das Anschlusskabel
beschädigt ist! Setzen Sie das Laminiergerät nie folgenden
Einflüssen aus: Wärmequellen, direkte Sonneneinstrahlung.
Schützen Sie Ihr Laminiergerät vor Nässe, Staub, aggressiven
Flüssigkeiten und Dämpfen. Verwenden Sie zum Laminieren nur
die hierfür vorgesehenen Spezialfolien. Das Gerät ist nicht zur
Verwendung in gewerblichen oder industriellen Bereichen
vorgesehen. Nach 2 Stunden Betrieb muss das Gerät während
mindestens ½ Stunde abkühlen.
Home Office Laminator
PL713
Gerätebeschreibung
1. Multifunktionaler ON/OFF/Anti Blockier (ABS) Schalter
2. Ein- / Aus-Indikationsleuchte (rot)
3. Indikationsleuchte "Betriebsbereit" (grün)
4. Schlitz für Folienzufuhr (vorne)
5. Folienauswurf-Schlitz (hinten)
Laminierung
1. Stecken Sie das Netzkabel in eine normale Steckdose
2. Stellen Sie den Wahlschalter 1 auf die gewünschte
Folienstärke ein
a. 2x80 mic und dünner – Stellung 80 mic
b. 2x100 mic bis 2x125 mic – Stellung 125 mic
Die rote Ein- / Aus-Indikationsleuchte 2 leuchtet nun.
3. Wenn die grüne Leuchtanzeige 3 aufleuchtet, ist das Gerät
betriebsbereit. Für ein gleichmässigeres Laminierergebnis
empfehlen wir, insbesondere bei dünneren Folien (unter 125 mic)
und beim Einstellen einer anderen Folienstärke, erst nach einer
zusätzlichen Wartezeit von ca. 2-3 Minuten mit dem
Laminiervorgang zu beginnen.
4. Ordnen Sie das Dokument in der zu laminierenden Folientasche
mittig ein. Achten Sie darauf, dass alle Ränder des Dokuments
mindestens zwei Millimeter Abstand zum Rand der Folientasche
haben müssen.
5. Führen Sie die Folientasche von vorne 4 in das Laminiergerät
ein, bis diese von den Rollen erfasst- und transportiert wird.
Wichtig: Die Folientasche muss mit der geschlossenen Seite
zuerst eingeführt werden.
6. Das fertig laminierte Dokument wird aus dem FolienauswurfSchlitz an der Rückseite 5 ausgegeben. Lassen Sie die
Folientasche nach dem Laminieren eine Minute lang abkühlen,
bevor Sie sie berühren.
7. Falls die Folientasche irrtümlich schräg eingezogen wird oder
wenn sie sich im Geräteinnern verhakt gehen Sie bitte wie folgt
vor:
Specifications
Hot seal laminator with 2 rollers
Perfect for protecting inkjet printed photos,
ID cards, letters, recipes, menus, luggage
tags and many many more
Silent, automatic roller-fed laminating system.
Max strength of laminate: 0.5 mm
Max. pouch thickness : 2 x 125 MIC
Laminating speed : 0.25m / minute
Warm-Up time : < 3 minutes
Max. Width : 230 mm
Temperature auto control : Yes
Control Panel
a. Drehen Sie den Anti-Blockier-Schalter (ABS) 1 auf Stellung
ABS/OFF
b. Die Folie wird nicht weiter eingezogen
c. Entnehmen Sie die Folie
d. Drehen Sie den Schalter 1 wieder auf die gewünschte
Folienstärke
e. Beginnen Sie erneut mit dem Laminiervorgang
User Instructions PL 713
The information below is important. Please read this information
carefully before using the machine to avoid any problems.
Always position the machine on a solid working surface near an
easily accessible power socket. Leave enough free space at the
back of the machine to allow the laminated document to be
easily ejected. Do not attempt to laminate metal objects. To
avoid electric shocks, the laminator must not be used in humid
or wet conditions and water must never be allowed to come into
contact with the machine, the connection cable or the socket.
Do not use the machine if the connection cable is damaged!
Never subject the laminator to the following: sources of heat,
direct sunlight. Protect it against dampness, dust, aggressive
liquids and vapours. Only use special films designed specifically
for laminating. The laminator is not intended for commercial or
industrial applications. After 2 hours of operation the appliance
must be allowed to cool down for at least a ½ hour (Turn off).
Description
1. Multifunctional ON/OFF/Anti-Blocking(ABS) switch
2. Power On / Off indicator lamp (red)
3. Indicator lamp "Ready" (green)
4. Slot for pouch input (front)
5. Pouch ejector slot (rear)
Lamination
1. Insert the power cord into a standard socket
2. Adjust the switch 1 to the pouch thickness used
a. 2x80 mic and less – position 80 mic
b. 2x100 mic to 2x125 mic – position 125 mic
The red On / Off- indication lamp 2 now glows.
3. The laminator has reached its operation temperature as soon
as the green "Ready" indicator light 3 glows For a more
uniform laminating result we recommend, especially for thinner
foils (below 125 Micron) and after adjustment to a different foil
thickness, to first wait an additional 2-3 minutes before
beginning with lamination.
4. Lay the document to be laminated into a laminating pouch of
the appropriate size. Make certain that all corners of the
document have at least two millimetres of space to the edge
of the laminating pouch.
5. Now slide the laminating pouch, sealed side first, slowly into
the pouch input slot 4. Guide the pouch into the laminator
until it is gripped and transported by the rollers
6. The completed laminated pouch is ejected from the pouch
ejector slot 5. Allow the laminated pouch to cool down for at
least one minute before touching it.
7. At the start of the lamination process, the pouch may be
pulled in at an angle or jam itself inside the appliance.
a. Set the Anti-Blocking switch (ABS) 1 to position ABS
b. The laminate pouch is not pulled in any further
c. Remove the laminate pouch
d. Turn the anti-blocking switch 1 back to the desired foil
thickness
e. Re-start the lamination process.
Mode d'emploi PL 713
Les informations ci-après sont importantes. Veuillez les lire
attentivement avant d'utiliser la machine pour prévenir toute
utilisation non autorisée, merci.
Toujours poser la machine sur une surface stable à proximité
d'une prise de courant facilement accessible. Prévoir
suffisamment d'espace libre à l'arrière de la machine pour
faciliter la sortie du document plastifié. Il est interdit de plastifier
des objets métalliques. Pour prévenir un électrochoc, éviter
d'utiliser la machine à plastifier à proximité d'un point d'eau et
éviter tout contact de la machine, du câble de raccordement ou
de la prise avec de l'eau. Ne pas utiliser la machine à plastifier
si le câble de raccordement est endommagé ! Tenez la
plastifieuse loin des influences suivantes : sources de chaleur,
rayons directs du soleil, humidité, poussières, liquides agressif
ou vapeurs. Pour la plastification, utiliserz uniquement les
pochettes spéciales prévues à cet effet.
Description du produit :
1. Commutateur anti-blocage (ABS) et sélecteur d'épaisseur
de film
2. Témoignage de mise en marche
3. Signalisation que la machine est prêt à l'utilisation
4. Ouverture pour introduire la pochette de plastification
5. Ouverture de laquelle la pochette plastifiée en sortira
Plastification :
1. Insérez le cordon d'alimentation dans une prise standard
2. Mettez le sélecteur d'épaisseur de film 1 sur l'épaisseur de
film souhaitée.
a. 2x80 mic et moins - position 80 mic
b. 2x100 à 2x125 mic - position 125 mic
Un voyant lumineux rouge 2 s'allume
3. L'allumage du témoin lumineux LED vert 3 indique que la
température a atteint sa consigne. Nous recommandons pour
une plastification plus régulière, notamment avec les films
minces (en dessous de 125 microns) ou lorsqu'on change
d'épaisseur de film, d'attendre 2 ou 3 minutes avant de
commencer les opérations.
4. Placez le document au centre dans la pochette à plastifier et
veillez qu'il reste toujours un bord de pochettes autour du
document à plastifié
5. Insérez la pochette côté fermé en premier dans la machine à
plastifier (4) jusqu'à sa saisie et son transport par les rouleaux
6. Retirez le document plastifié à l'arrière de la machine après
l'avoir laissé se refroidir pendant env. 1 minute
7. Si par erreur la pochette à été saisie incorrectement ou si la
pochette reste bloqué veuillez agir selon description :
a. Tournez le commutateur anti-blocage (ABS) 1 sur la
position ABS.
b. La pochette n'est plus transportée
c. Retirez la pochette
d. Tournez à nouveau le commutateur anti-blocage (ABS)
1 sur l'épaisseur de film souhaité.
e. Veuillez répéter la plastification
Istruzioni per l'uso PL 713
Manual de instrucciones PL 713
Le informazioni sotto riportate sono importanti. Prima di fare uso
della macchina si prega di leggere attentamente queste
informazioni per evitare problemi.
Posizionare sempre la macchina su una superficie di lavoro
compatta nelle vicinanze di una presa di corrente facilmente
accessibile. Lasciare abbastanza spazio libero sul retro della
macchina per consentire una facile espulsione del documento
plastificato. Non cercare di plastificare oggetti metallici. Per
evitare folgorazioni, la plastificatrice non deve essere utilizzata
in presenza di umidità o in ambienti bagnati e non si deve mai
consentire il contatto tra acqua e macchina, cavo di
connessione o presa. Non usare la macchina se il cavo di
connessione è danneggiato! Non esporre mai la plastificatrice ai
seguenti elementi: sorgenti di calore, luce solare diretta.
Proteggerla da umidità, polvere, liquidi e vapori aggressivi.
Usare soltanto le pellicole speciali ideate in modo specifico per
la plastificazione. La plastificatrice non è destinata ad uso
commerciale o industriale. Dopo 2 ore di funzionamento
bisogna lasciar raffreddare la macchina per almeno ½ ora
(Spegnerla).
La siguiente información es importante. Antes de usar la
máquina lea esta información detalladamente para evitar
problemas.
Coloque la máquina siempre en una superficie de trabajo
estable y que se encuentre cerca de una toma de corriente de
fácil acceso. Deje suficiente espacio libre en la parte trasera de
la máquina para que el documento a plastificar pueda salir
con facilidad. No plastifique ningún objeto metálico. Para evitar
descargas eléctricas, no use la plastificadora cerca de lugares
en los que haya agua y no permita que el agua entre en
contacto con la máquina, el cable de conexión o la toma de
corriente. No use la plastificadora si el cable de conexión está
dañado. Nunca someta la plastificadora a las siguientes
influencias: Fuentes de calor, radiación solar directa. Proteja la
plastificadora de la humedad, el polvo, líquidos agresivos y
vapores. Use para plastificar sólo plásticos aconsejables para
este fin. La plastificadora no está diseñada para aplicaciones
comerciales o industriales. Después de 2 horas de
funcionamiento de la máquina, dejar que se enfríe durante al
menos una hora y media (Desactivar).
Descrizione
Descripción
1. Interruttore antiblocco e interruttore per lo spessore della
pellicola
2. Spia indicante se l'apparecchio è acceso o spento
3. Spia indicante che l'apparecchio è "Pronto"
4. Fessura per inserimento tasche (frontale)
5. Fessura di espulsione tasche (posteriore)
Plastificazione
1. Inserire il cavo di alimentazione in una presa standard
2. Impostare l'interruttore per lo spessore della pellicola 1 sullo
spessore desiderato
a. 2x80 mic e meno - posizione - 80 mic
b. 2x100 mic a 2x125 mic - posizione 125 mic
A questo punto la spia rossa indicante se la macchina è
accesa o spenta lampeggia.
1. Interruptor antibloqueo (ABS) e interruptor grueso de lámina
2. Luz indicadora de encendido / apagado
3. Lámpara de indicación "Ready"
4. Ranura de entrada dela funda de plastificar (frontal)
5. Ranura de expulsión de la funda de plastificar (trasera)
Plastificado
1. Inserte el cable de alimentación a un enchufe estándar
2. Ajuste el interruptor de grueso de lámina 1 al grueso de
lámina elegido.
a. 2x80 mic y menos - posición 80 mic
b. 2x100 mic para 2x125 micrófono - posición 125 mic
La luz indicadora de encendido se iluminará en color rojo.
3. Non appena la spia verde 2 indicante che l'apparecchio è
pronto lampeggia la plastificatrice ha raggiunto la temperatura
di esercizio. Per un risultato di laminazione più uniforme
consigliamo di cominciare il processo di laminazione dopo un
ulteriore tempo di attesa di circa 2-3 minuti, soprattutto con
fogli di plastica più sottili (meno di 125 micron) e dopo aver
impostato uno spessore diverso.
4. Inserire il documento da plastificare nella tasca della
dimensione corretta. Accertarsi che tutti gli angoli del
documento abbiano una distanza di almeno due millimetri
rispetto al bordo della tasca.
5. A questo punto far scivolare lentamente la tasca, con il lato
sigillato per primo, nella fessura 4 di inserimento tasche.
Guidare la tasca nella plastificatrice fino a che non sia
afferrata e trasportata dai rulli.
6. Al termine della plastificazione la tasca viene espulsa dalla
fessura 5 di esplusione tasche. Lasciar raffreddare il
documento plastificato per almeno un minuto prima di toccarlo.
7. All'inizio del processo di plastificazione, un angolo della tasca
può rimanere intrappolato oppure all'interno dell'apparecchio
può prodursi un inceppamento.
3. Cuando el indicador luminoso verde (nº 3 . "Ready") se
encienda, la plastificadora ha alcanzado su temperatura de
funcionamiento y la máquina está lista para usar. Sugerencia:
Para un resultado más uniforme de plastificación y
especialmente durante el uso de fundas de plastificar más
gruesas (125 micras), es recomendable esperar primero 2-3
minutos adicionales antes de comenzar con la plastificación.
4. Coloque el producto a plastificar en una funda de plástico del
tamaño adecuado. Asegúrese de que todas las esquinas del
documento tienen por lo menos dos milímetros de espacio
hasta el borde de la funda de plástico.
5. Introduzca la funda de plástico, con el lado sellado en primer
lugar, poco a poco en la ranura de entrada de la máquina
(nº 4). Guíe y mantenga en posición horizontal y totalmente
recta la funda de plástico hasta que los rodillos la agarren y
comience a plastificar.
6. La funda plastificada es expulsada por la ranura trasera de
la máquina (nº 5 ). Deje enfriar la funda de plastificar al
menos un minuto antes de tocarla.
7. Al inicio del proceso de plastificación, la funda puede
colocarse en un ángulo incorrecto y producir un atasco en el
interior de la máquina.
a. Ruotare l'interruttore antiblocco (ABS) 1 in posizione ABS.
b. La tasca da plastificare non viene trascinata oltre all'interno.
c. Togliere la tasca
d. Ruotare l'interruttore antiblocco (ABS) 1 nuovamente sullo
spessore desiderato.
e. Riavviare il processo di plastificazione.
a. Gire el interruptor antibloqueo (ABS) 1 oa la posición ABS.
b. La máquina se para y deja de plastificar.
c. Retire la funda de plastificar
d. Gire el interruptor de antibloqueo (ABS) 1 de nuevo al
grueso de lámina elegido.
e. Vuelva a iniciar el proceso de plastificación.
Manual de instruções PL 713
As seguintes informações são importantes. Leia-as
atentamente antes da utilização, a fim de poder evitar
quaisquer problemas, obrigado.
Coloque o aparelho sempre sobre uma superfície de trabalho
estável na proximidade de uma tomada de alimentação que
esteja acessível. Mantenha um espaço livre suficiente na parte
de trás do aparelho, para que o documento plastificado possa
ser expulso facilmente. Não plastifique objectos de metal. Para
evitar choques eléctricos, a plastificadora não pode ser utilizada
perto de água, sendo que o aparelho, a tomada de alimentação
e o cabo de ligação não podem entrar em contacto com água.
Não utilize a plastificadora se o cabo de ligação estiver
danificado! Nunca exponha a plastificadora às seguintes
influências: fontes de calor, radiação solar directa. Proteja a sua
plastificadora da humidade, pó, líquidos agressivos e vapores.
Para a plastificação utilize apenas as películas especiais
previstas para o efeito.
Descrição
1. Interruptor anti-bloqueio e interruptor de espessura da
película (ABS)
2. Luz indicadora de LIGADO/DESLIGADO
3. Luz indicadora de "Operacionalidade"
4. Ranhura para a introdução da película (frente)
5. Ranhura para a ejetor da película (traseiro)
Laminação
1. Insira o cabo de alimentação a uma tomada padrão.
2. Regule o interruptor de espessura da película 1 para a
espessura da película pretendida
a. 2x80 mic e menos posição - 80 mic
b. 2x100 mic para 2x125 mic - posição 125 mic
O vermelho On / Off-indicação luz agora brilha.
3. O laminador atingiu sua temperatura de funcionamento logo
que o verde indicador "Ready" 3 brilhos de luz.
4. Para um resultado de plastificação uniforme, recomendamos
que, sobretudo no caso de películas mais finas (inferiores a
125 mícrons) e aquando da regulação de outra espessura de
película, a plastificação seja iniciada após um tempo de
espera adicional de aprox. 2-3 minutos.
5. Coloque o documento a ser laminado em uma bolsa de
plastificação de tamanho apropriado. Certifique-se que todos
os cantos do documento, pelo menos, dois milímetros de
espaço para a borda da bolsa de laminação.
6. Agora deslize a bolsa de laminação, o lado fechado em
primeiro lugar, lentamente na entrada de slot bolsa 4. Guia da
bolsa para o laminador até que ela seja presa e transportada
pelos rolos
7. A bolsa concluído laminado é ejetado do ejetor slot bolsa 5.
Permitir que a bolsa laminada para esfriar por pelo menos um
minuto antes de tocá-lo.
8. No início do processo de laminação, a bolsa pode ser obtida
em um ângulo ou geléia-se no interior do aparelho.
a. Rode o interruptor anti-bloqueio (ABS) 1 para a posição
ABS.
b. A bolsa de laminado não é puxado qualquer outra dentro
c. Remova a bolsa de laminado
d. Desloque o interruptor anti-bloqueio (ABS) 1 novamente
para a espessura de película pretendida.
e. Re-inicie o processo de laminação.
Bedieningshandleiding PL 713
De volgende informatie is belangrijk, lees deze a.u.b. voor het
gebruik zorgvuldig door om problemen tijdens het gebruik te
voorkomen.
Het apparaat altijd op een vast en horizontaal werkvlak in de
buurt van een goed toegankelijke wandcontactdoos opstellen.
Aan de achterzijde van het apparaat voldoende vrije ruimte
overhouden, zodat het gelamineerde document goed
doorgevoerd kan worden.
Geen metalen objecten lamineren. Ter voorkoming van
elektrische schokken mag het lamineerapparaat niet in de
nabijheid van water gebruikt worden en mag er geen water op
het apparaat, de aansluitkabel of de wandcontactdoos komen.
Het lamineerapparaat niet gebruiken, wanneer de aansluitkabel
beschadigd is! Stel het lamineerapparaat nooit bloot aan de
volgende invloeden: warmtebronnen, directe zonnestralen.
Bescherm het lamineerapparaat tegen vocht, stof, agressieve
vloeistoffen en dampen. Gebruik voor het lamineren alleen de
hiervoor bedoelde speciale lamineer hoezen.
Dit lamineer apparaat is niet bedoelt voor profesioneel gebruik,
na 2 uur gebruik moet het apparaat minstens 30 min afkoelen
(uitschakelen).
Apparaatbeschrijving
1. Anti-blokkeer-schakelaar (ABS) en schakelaar voor de dikte
van de folie
2. Aan/Uit Kontrolle lamp
3. Kontrolle lamp (gebruiksklaar)
4. Invoer opening lamineer folie
5. Uitvoer opening Lamier folie
Lamineren
1. Steek de stekker in een standaard stopcontact
2. Zet de schakelaar voor de dikte van de folie 1 op de
gewenste foliedikte.
a. 2x80 mic en minder - positie 80 mic
b. 2x100 om 2x125 mic microfoon - stand 125 mic
het rode indicatie lampje 2 gaat branden
3. Wanneer het groene indicatie lampje 3 gaat branden, is het
apparaat gereed voor gebruik. Voor een gelijkmatiger resultaat
van het lamineren adviseren wij, vooral bij dunnere folies
(onder 125 micron) en bij het instellen van een andere
foliedikte, eerst na een extra wachttijd van ca. 2-3 minuten
met het lamineren te beginnen.
4. Plaats het document in het midden van de lamineer hoes, let
er op dat het document minstens 2 mm van alle zijden van de
lamineer hoes verwijdert is.
5. Voer de lamineer hoes met de gesloten zijde eerst in invoer
opening 4 van het lamineerapparaat, de hoes wordt door de
rollen gegrepen en verder getransporteerd.
6. Neem het gelamineerde document aan de achterzijde van
het lamineerapparaat uit de uitvoer sleuf 5 (pas op document
is warm).
7. Indien de lamineer hoes scheef ingetrokken wordt of
vastloopt in het apparaat kunt u het op de volgende wijze
verwijderen:
a. Draai de anti-blokkeer-schakelaar (ABS) 1 in de stand ABS.
b. De hoes wordt niet veder getransporteerd
c. rwijder de folie door hem terug te trekken.
d. Draai de anti-blokkeer-schakelaar (ABS) 1 weer op de
gewenste foliedikte..
e. Het apparaat is weer klaar voor gebruik.
Nedan information är viktig. Vänligen läs informationen nedan för att
undvika problem och få glädje av din lamineringsmaskin under lång
tid.
Placera maskinen på ett stadigt och plant underlag. Se till att det finns
got om utrymme bakom maskinen så att styva laminatfickorna kan
komma ut Laminera ej metallföremål då de kan skada valsarna. För
att undvika elektriska stötar, får inte lamineringsmaskinen användas i
fuktig eller våt miljö – vatten får inte komma i kontakt med maskinen,
kabeln eller el-kontakten. Använd inte maskinen om elkabeln är sliten
eller förstörd. Utsätt aldrig lamineringsmaskinen för direkt värme,
direkt solljus och skydda den mot fukt, damm eller starka vätskor.
Använd endast de laminatfickor som maskinen är framtagen för.
Peach har ett av marknadens största urval av olika laminatficks format
och tjocklekar. De skall bestå av PET och LDPE och ej t ex vara
gjorda av PVC. Vardagligt språk kallas de för Peach laminatfickor.
Denna maskinen är inte framtagen för att användas kommersiellt eller
för industrianvändning utan endast för mindre behov för småkontor
och privat bruk. Efter max 2 timmars användning måste maskinen
kylas ner innan den kan användas igen.
Betjeningsvejledning PL 713
Bruksanvisning PL 713
Användar instruktioner PL 713
Informasjonen nedenfor er viktig. Les nøye gjennom den før
bruk slik at det ikke oppstår problemer.
Maskinen skal alltid plasseres på et stødig underlag i nærheten
av en lett tilgjengelig stikkontakt. Pass på at det er tilstrekkelig
ledig plass bak maskinen slik at det laminerte dokumentet ikke
blir hindret på vei ut. Ikke laminer gjenstander av metall. For at
det ikke skal oppstå elektriske støt, må lamineringsmaskinen
ikke brukes i fuktige eller våte forhold, og det må ikke komme
vann på maskinen, ledningen eller stikkontakten. Maskinen må
ikke brukes hvis ledningen er skadet. Lamineringsmaskinen må
aldri utsettes for: varmekilder eller direkte sol. Den må også
beskyttes mot fuktighet og støv samt aggressiv væske og
damp. Ved laminering må bare spesialposene som er beregnet
til dette, brukes. Lamineringsmaskinen er ikke ment for
kommersielle eller industrielle formål. Etter 2 timer med bruk må
apparatet kjøles ned i minst en halv time (slå av).
Følgende oplysninger er vigtige: Læs venligst dette grundigt
igennem før brugen for at undgå eventuelle problemer.
Anbring altid apparatet på en fast arbejdsflade i nærheden af en
let tilgængelig stikkontakt. På bagsiden af apparatet skal der
være tilstrækkeligt med frit rum til, at det laminerede dokument
let kan udskydes. Laminér ikke metalgenstande. For at undgå
elektriske stød må laminatoren ikke benyttes i nærheden af
steder med vand, og der må ikke komme vand på apparatet,
tilslutningskablet eller stikket. Laminatoren må ikke benyttes,
hvis tilslutningskablet er beskadiget! Udsæt aldrig laminatoren
for følgende påvirkninger: Varmekilder, direkte sollys. Beskyt
laminatoren mod fugtighed, støv, aggressive væsker og dampe.
Anvend kun de hertil beregnede specialfolier til laminering.
Laminatoren er ikke beregnet til kommercielt eller industrielt
brug. Efter to timers operation skal apparatet have mulighed for
at køle af i mindst ½ time (sluk).
Beskrivelse
Beskrivelse
Beskrivning
1. Väljare för antiblockering (ABS) och folietjocklek
2. AV & PÅ lampa
3. Indikeringslampa "Ready"/ "Klar"
4. Inmatnings öppning för laminatficka med dokument
5. Laminatfickans utmatnings sida på baksidan av laminatorn
Laminering
1. Sätt in nätsladden i ett vanligt uttag
2. Sätt väljaren för folietjocklek 1 på önskat läge
a. 2x80 mic och mindre - position 80 mic
b. 2x100 mic till 2x125 mic - position 125 mic
Den röda lampan lyser nu för att indikera att den är påslagen.
3. När lamineringsmaskinen har uppnått rätt arbetstemperatur tänds
lampan 3 med grönt ljus – nu är den klar att användas! För att få ett
jämnare resultat, särskilt för tunn folie (under 125 mikron) och när
man har ändrat folietjocklek, rekommenderar vi att man väntar i
ytterligare 2 - 3 minuter innan man börjar laminera.
4. Lägg ditt dokument i en laminatficka med rätt storlek. Se till att det
finns en kant om minst 2 mm runt om ditt dokument – har Du
tjockare papper som lamineras rekommenderar vi en liten större
kant kanske ca 3-4 mm. Vill Du inte ha en kant runt om Ditt laminat
kan man skära av kanterna efter Du har laminerat. OBS! Skär eller
klipp aldrig en laminatficka Innan Du har laminerat. De måste vara
exakta i format från fabrik för att ej fastna i maskinen.
5. Nu kan Du långsamt föra in laminatfickan centrerat i öppningen och
rakt in med den förseglade kanten först in i maskinens öppning 4.
Hjälp laminatfickan in i maskinen tills den greppas och automatiskt
förs in i maskinen.
6. Den färdiga laminatfickan kommer ut på baksidan av maskinen 5 –
Tillåt laminatfickan svalna av ett litet tag innan Du tar tag i den – bäst
är att låta laminatfickan svalna av på den plana bordskivan som
maskinen står på.
7. Laminatfickan måste alltid föras rakt in i maskinen. Om Du kanske
matar in laminatfickan snett in i maskinen kan laminatfickan fastna
och då måste Du trycka på anti-blockeringsknappen! – Då kan Du
dra ut laminatfickan igen. Oftast är både fickan och dokumentet
förstört och du får skriva ut och laminera om ifrån början igen. Men
maskinen har klarat sig. Om fickan går in snett gör då så här:
a. Skruva antibockeringsknappen (ABS) 1 till läge ABS.
b. Laminatfickan matas ej in längre in i maskinen då valsarna är
frigjorda.
c. Dra ut laminatfickan bakåt
d. Vrid tillbaka antiblockeringsknappen (ABS) 1 till önskad
folietjocklek.
e. Nu kan Du börja laminera igen.
1. Veske tykkelse velgeren og Anti-blokkere bryter (ABS)
2. På/Av-indikatorlampe
3. Indikatorlampe "Klar"
4. Spor for veske (front)
5. Utløserspor for veske (bak)
1. Antiblokeringskontakt (ABS) og folietykkelseskontakt
2. Tænd / sluk indikatorlampe
3. Indikatorlampe "Parat"
4. Indstik til lomme-input (front)
5. Lomme udskyder indstik (bagside)
Laminering
Laminering
1. Sett strømledningen inn i en vanlig stikkontakt
2. Juster posen tykkelse velgeren 1 til posen tykkelsen brukt.
1. Sæt netledningen i en almindelig stikkontakt
2. Indstil folietykkelseskontakten 1 på den ønskede folietykkelse
a. 2x80 mic og mindre - posisjon 80 mic
b. 2x100 mic til 2x125 mic - posisjon 125 mic
Den røde På/Av-indikatorlampen lyser nå.
3. Lamineringsmaskinen har nådd driftstemperaturen så snart
den grønne "Klar"-indikatoren 3 lyser. Tips: For en jevnere
laminering og spesielt mens tykkere lamineringsposer
(125 mic) brukes, anbefales det at du først venter en ekstra
2-3 minutter før du starter lamineringen.
4. Legg dokumentet som skal laminieres inn i en
lamineringspose av riktig størrelse. Sørg for at alle hjørnene
av dokumentet har minst to millimeter mellomrom til kanten
på lamineringsposen.
5. Før nå lamineringsposen, forseglet side først, sakte inn i
sporet 4. Før posen inn i lamineringsmaskinen med den
lukkede siden først slik at hjulene griper fatt i den og fører den
videre.
6. Den fullførte lamineringsposen støtes ut fra spor 5. La den
laminerte posen kjøle seg ned i minst ett minutt før du tar på
den.
7. Ved starten av lamineringen, kan posen stå i en vinkel eller
sette seg fast inni apparatet.
a. Angi Anti-Blocking bryter (ABS) 1 til stillingen ABS
b. Lamineringsposen trekkes ikke mer inn.
c. Fjern lamineringsposen
d. Slå av anti-blokkerende skru 1 tilbake til ønsket tykkelse
folien
e. Start lamineringen på nytt.
a. 2x80 mic og mindre - position 80 mic
b. 2x100 mic til 2x125 mic - position 125 mic
Den røde tændt / slukket indikationslampe lyser nu.
3. Laminatoren har nået sin arbejdstemperatur, når den grønne
"Parat" indikator 3 lyser. For at opnå et ensartet
lamineringsresultat anbefaler vi især i forbindelse med tyndere
folier (under 125 mikron) og ved indstilling af en anden
folietykkelse, at lamineringen først startes efter en ekstra
ventetid på ca. 2-3 minutter.
4. Anbring dokumentet, som skal lamineres, i en
lamineringslomme af passende størrelse. Kontoller, at alle
dokumentets hjørner er mindst to millimeter fra
lamineringslommens kanter.
5. Skub lamineringslommen med den lukkede side først ind i
pose-input indstikket 4. Styr lommen ind i laminatoren, indtil
den gribes og transporteres af valserne.
6. Den færdige, laminerede lomme udskydes fra
lommeudskyder indstikket 5. Lad den laminerede lomme køle
af i mindst ét minut, inden der røres ved den.
7. Ved lamineringsprocessens start kan lommen blive trukket
ind i en skæv vinkel og lave stop inde i apparatet.
a. Drej antiblokeringskontakten (ABS) 1 hen på position ABS.
b. Lamineringslommen trækkes ikke længere ind.
c. Fjern lamineringslommen
d. Drej igen antiblokeringskontakten (ABS) 1 hen på den
ønskede folietykkelse.
e. Genstart lamineringsprocessen.
Käyttöohje PL 713
Seuraavat tiedot ovat tärkeitä. Lue ne huolellisesti läpi ennen
laitteen käyttöä ongelmien välttämiseksi.
Aseta laite aina kiinteälle työtasolle helppopääsyisen pistorasian
lähelle. Varmista, että laitteen takana on riittävästi vapaata tilaa
laminoitujen asiakirjojen helppoa ulostuloa varten. Älä yritä
laminoida metalliesineitä. Sähköiskujen välttämiseksi
laminointilaitetta ei saa käyttää kosteissa tai märissä
olosuhteissa, eikä laitteeseen, sähköjohtoon tai pistorasiaan saa
päästä vettä. Älä käytä laminointilaitetta, jos sähköjohto on
vaurioitunut! Älä milloinkaan altista laminointilaitetta seuraaviin
olosuhteisiin: kuumennuslähteet, suora auringonvalo. Suojaa
laminointilaite kosteudelta, pölyltä, aggressiivisilta nesteiltä ja
höyryiltä. Käytä laminointiin vain siihen tarkoitettuja
erityiskalvoja. Laminointilaite ei ole tarkoitettu kaupallisiin tai
teollisiin sovelluksiin. 2 tunnin käytön jälkeen laitteen täytyy
antaa jäähtyä vähintään ½ tuntia (Sammutus).
Návod na obsluhu laminátora
PL 713
Návod pro použití PL 713
Následující informace jsou důležité. Přečtěte si je pečlivě před
použitím, abyste se tak vyhnuli případným škodám. Děkujeme.
Přístroj pokládejte vždy na pevně stojící pracovní plochu v
blízkosti snadno dostupné elektrické zásuvky. Na zadní straně
přístroje ponechte dostatečně velký prostor, aby mohl hotový,
zalaminovaný dokument snadno vyjet. Nelaminujte žádné
kovové předměty. Z důvodu prevence elektrošoku je zakázáno
používat laminovací přístroj v blízkosti vody a voda se nesmí
dostat na přístroj, spojovací kabel ani do zásuvky. Nepoužívejte
laminovací přístroj, pokud je spojovací kabel porušený!
Laminovací přístroj nikdy nevystavujte následujícím vlivům:
zdroje tepla, přímý sluneční svit. Ochraňujte laminovací přístroj
před vlhkem, prachem, agresivními tekutinami a párou. K
laminování používejte pouze k tomu určené speciální fólie.
Přístroj není určen pro používání v průmyslových oblastech. Po
2 hodinách provozu se musí přístroj nechat alespoň ½ hod
vychladnout.
Kuvaus
Nasledujúce informácie sú dôležité. Prečítajte si ich pozorne
pred použitím laminátora, aby ste predišli prípadným
problémom.
Zariadenie inštalujte vždy na pevnej pracovnej ploche v blízkosti
ľahko prístupnej zásuvky. Na zadnej strane zariadenia
ponechajte dostatok voľného miesta, aby sa laminované
dokumenty mohli ľahko vyndávať. Nelaminujte žiadne kovové
predmety. Aby sa zamedzilo úrazom elektrickým prúdom,
nesmie sa laminátor používať v blízkosti zdrojov vody a na
zariadenie, napájací kábel alebo zásuvku sa nesmie dostať
voda. Nepoužívajte laminátor, ak je poškodený napájací kábel!
Nevystavujte laminátor nasledujúcim účinkom: zdroje tepla,
priame slnečné žiarenie. Chráňte svoj laminátor pred vlhkosťou,
prachom, agresívnymi kvapalinami a parami. Na laminovanie
používajte len špeciálne fólie, ktoré sú na to určené.
Prístroj nie je určený na používanie v priemyslových oblastiach.
Po 2 hodinách použitia sa musí prístroj vypnúť a nechať aspoň
na ½ hodiny vychladnúť.
Popis přístroje
1. Tukkeutumisenestokytkin (ABS) ja kalvonpaksuuskytkin
(ABS)
2. Päälle / Pois -merkkivalo
3. Merkkivalo "Valmis"
4. Paikka pussitulolle (edessä)
5. Pussin ulostyöntöpaikka (takana)
Popis prístroja:
1. Protiblokovací přepínač (ABS) a přepínač tloušťky fólie
2. Kontrolka signalizující zapnutí / vypnutí přístroje
3. Kontrolka signalizující "připraveno" k laminování
4. Otvor pro vkládání folie (vpředu)
5. Otvor pro výstup zalaminovaného dokumentu (vzadu)
Laminointi
Laminování
1. Aseta virtajohto standardi pistorasiaan
2. Aseta kalvonpaksuuskytki 1 haluttuun kalvonpaksuuteen.
1. Vložte napájecí kabel do zásuvky standard
2. Nastavte přepínač tloušťky fólie 1 na požadovanou tloušťku
1. Protiblokovací prepínač (ABS) a prepínač hrúbky fólie
2. Kontrolka signalizujúca zapnutie / vypnutie prístroja
3. Kontrolka signalizujúca "pripraveno" k laminovaniu
4. Otvor pre vkladanie fólie (vpredu)
5. Otvor pre výstup laminovaného dokumentu (vzadu)
Laminovanie
a. 2x80 mic ja vähemmän - asema 80 mic
b. 2x100 mic - 2x125 mic - asema 125 mic
Punainen Päälle / Pois -merkkivalo palaa nyt.
3. Laminointilaite on saavuttanut käyttölämpötilansa heti, kun
vihreä "Valmis"-merkkivalo 3 syttyy. Tasaisen laminointituloksen
saavuttamiseksi suosittelemme erityisesti ohuilla kalvoilla (alle
125 mikronia) ja toista kalvonpaksuutta säädettäessä
odottamaan laminointitapahtuman aloittamista vielä noin 2-3
ylimääräistä minuuttia.
4. Laita laminoitava asiakirja sopivan kokoiseen
laminointipussiin. Varmista, että kaikissa asiakirjan kulmissa
on vähintään kaksi millimetriä tilaa laminointipussin reunalle.
5. Liu'uta nyt laminointipussia, tiivistetty sivu ensin, hitaasti
pussin tuloaukkoon 4. Ohjaa pussi sisään laminointilaitteeseen,
kunnes se on tarttunut ja rullat siirtäneet sitä
6. Valmiiksi laminoitu pussi työnnetään ulos pussin
ulostyöntöaukosta 5. Anna laminoidun pussin jäähtyä
vähintään yhden minutin ajan ennen sen koskettamista.
7. Laminointiprosessin alussa pussi voidaan vetää sisään
kulmassa tai se voi juuttua laitteen sisään.
a. Kierrä tukkeutumisen estotoiminnon kytkin (ABS) 1
asentoon ABS.
b. Laminointipussia ei vedetä enempää sisään.
c. Poista laminointipussi
d. Kierrä tukkeutumisen estotoiminnon kytkin 1 jälleen
haluttuun kalvonpaksuuteen.
e. Käynnistä laminointiprosessi uudestaan.
a. 2x80 mic a méně - poloha 80 mic
b. 2x100 mic na 2x125 mic - poloha 125 mic
Červená On / Off-údaj lampa 2 nyní svítí.
3. Po rozsvícení zelené kontrolky 3 je přístroj připraven k
laminování Za účelem rovnoměrnějšího laminovacího výsledku
doporučujeme, zvlášť u tenčích fólií (pod 125 mikronů) a při
nastavení jiné tloušťky fólie, začít laminovat až po dalších ca
2-3 minutách čekání.
4. Umístěte dokument doprostřed laminovací fólie určené k
laminování Dbejte, aby okraje dokumentu byly vzdáleny 2 mm
od okraje fólie.
5. Zaveďte laminovací fólii do předního otvoru 4 laminovacího
přístroje tak, aby ji zachytily válce a poslaly dál. Důležité: fólie
musí být zavedena uzavřenou stranou
6. Zalaminovaný dokument vyjde ze zadního otvoru 5
laminovacího přístroje Než se dotknete zalaminovaného
dokumentu, nechte ho 1 minutu vychladnout
7. Jestliže dojde k chybnému zavedení fólie nebo se zachytí v
přístroji, postupujte následovně:
a. Přepněte protiblokovací přepínač (ABS) 1 do pozice ABS.
b. Fólie se zastaví
c. Vyjměte fólii
d. Přepněte protiblokovací přepínač (ABS) 1 znovu na
požadovanou tloušťku fólie.
e. Pokračujte v laminování
1. Vložte napájací kábel do zásuvky štandard
2. Nastavte prepínač hrúbky fólie 1 na požadovanú hrúbku fólie.
Instrukcja obsługi PL 713
Podane poniżej informacje są ważne. Aby uniknąć problemów,
przed rozpoczęciem korzystania z urządzenia należy uważnie
przeczytać zamieszczone tu informacje.
Urządzenie należy zawsze ustawiać na stabilnej powierzchni
roboczej, w pobliżu łatwo dostępnego gniazda elektrycznego. Z
tyłu urządzenia należy pozostawić wystarczająco dużo miejsca,
aby zalaminowany dokument mógł swobodnie wysunąć się z
urządzenia. Nie wolno laminować metalowych obiektów. Aby
uniknąć porażenia prądem elektrycznym, laminatora nie należy
używać w wilgotnych miejscach i nigdy nie wolno dopuścić do
kontaktu wody z urządzeniem, przewodem zasilającym i
gniazdem elektrycznym. Urządzenia nie wolno używać, gdy
uległ uszkodzeniu przewód zasilający! Nigdy nie należy narażać
laminatora na oddziaływanie następujących czynników: źródła
ciepła, bezpośrednie promienie słoneczne. Urządzenie należy
chronić przed wilgocią, pyłem, agresywnymi cieczami i oparami.
Do laminowania należy używać wyłącznie przeznaczone do
tego folie. Laminator nie jest przeznaczony do zastosowań
komercyjnych lub przemysłowych. Po 2 godzinach pracy należy
zaczekać co najmniej ½ godziny na ochłodzenie urządzenia
(Wyłączenie).
Opis
1. Włącznik funkcji przeciwdziałającej blokowaniu (ABS) i
przełącznik grubości folii
2. Wskaźnik Włączenie/Wyłączenie
3. Wskaźnik "gotowości" lampy
4. Szczelina wprowadzania folii (przód)
5. Szczelina wysuwania folii (tył)
Laminowanie
a. 2x80 mic a menej - poloha 80 mic
b. 2x100 mic na 2x125 mic - poloha 125 mic
rozsvieti sa červená kontrolka 2
3. Ak sa rozsvieti zelená kontrolka 3 je zariadenie pripravené k
prevádzke Pre dosiahnutie rovnomerných výsledkov
laminovania odporúčame, predovšetkým pri tenších fóliách
(pod 125 mikrónov) a pri nastavení inej hrúbky fólie, začať s
laminovaním až po uplynutí dodatočnej čakacej doby asi 2-3
minúty.
4. Vložte dokument doprostred laminovacej fólie určenej k
laminovaniu Dajte pozor, aby okraje dokumentu boli vzdialené
2 mm od okraja fólie
5. Zaveďte laminovaciu fóliu do predného otvoru 4
laminovacieho prístroja tak, aby ju zachytili valce a poslali
ďalej. Dôležité: fólia musí býť zavedená uzavrenou stranou!
6. Zalaminovaný dokument vyjde zo zadného otvora 5
laminovacieho prístroja Skôr ako sa dotknete zalaminovaného
dokumentu, nechajte ho 1 minutu vychladnúť
7. Ak dôjde k chybnému zavedeniu fólie alebo sa zachytí v
prístroji, postupujte následovne:
a. Otočte protiblokovací prepínač (ABS) 1 do polohy ABS.
b. Fólia sa zastaví
c. Vytiahnite fóliu
d. Otočte protiblokovací prepínač (ABS) 1 znova na
požadovanú hrúbku fólie.
e. Pokračujte v laminování
1. Włóż kabel zasilacza do gniazda 2. Przełącznik grubości folii
1 ustaw na żądaną grubość folii.
a. 2x80 mic i mniej - pozycja 80 mic
b. 2x100 mic na 2x125 mic - pozycja 125 mic
Zaświeci się czerwone światło wskaźnika Włączenie /
Wyłączenie.
3. Uzyskanie temperatury roboczej wskazywane jest przez
zapalenie się zielonej diody 3. W celu uzyskiwania równego
efektu laminowania zaleca się, w szczególności przy
cieńszych foliach (poniżej 125 mikronów) oraz przy ustawianiu
innego grubości folii, rozpocząć laminowanie dopiero po
odczekaniu dodatkowego czasu około 2-3 minut.
4. dokumentu do krawędzi folii wynosi co najmniej dwa
milimetry.
5. Wsuń powoli folię zgrzewaną stroną do szczeliny 4.
Wprowadź folię do laminatora, aż do jej uchwycenia i
przesunięcia przez rolki
6. Zalaminowana folia jest wysuwana przez gniazdo 5. Przed
dotknięciem należy zaczekać co najmniej jedną minutę na
ochłodzenie folii.
7. Na początku procesu laminacji, folia może zostać pociągnięta
pod niewłaściwym kątem lub może zablokować się w
urządzeniu.
a. Obróć włącznik funkcji przeciwdziałającej blokowaniu (ABS)
1 w położenie ABS.
b. Nie można dalej wciągnąć folii laminatu.
c. Wyciągnij folię laminatu
d. Przestaw przełącznik zabezpieczenia przed zablokowaniem
1 do pozycji poziomej
e. Uruchom ponownie proces laminowania.
Használati utasítás PL 713
Az alábbi információk nagyon fontosak. A használat előtt kérjük,
olvassa át alaposan az esetleges komplikációk elkerülésére
A készüléket mindig rögzített munkafelületre, könnyen elérhető
elektromos aljzat közelében helyezze el. Az eszköz hátulján
legyen elegendő szabad terület a kész, laminált dokumentum
könnyű kiadására. Ne lamináljon fémtárgyakat. Az áramütés
elkerülése érdekében a lamináló készüléket nem párás, nedves
hely közelében használni és nem kerülhet víz a készülékre, a
csatlakozókábelre vagy a dugaszaljzatba. Ne használja a
készüléket, ha a csatlakozókábel sérült! A lamináló készüléket
soha ne tegye ki a következők behatásának: hőforrások,
közvetlen napbesugárzás. Védje a nedvességtől, portól, maró
folyadékoktól és gőzöktől. A lamináláshoz csak a megfelelő
speciális fóliákat használja. A lamináló készüléket nem szánják
kereskedelmi vagy ipari használatra. Két órányi működtetés
után a készüléket legalább ½ óráig hagyni kell, hogy lehűljön
(Ki kell kapcsolni).
Leírás
1. Blokkolásgátló (ABS) és fóliavastagság kapcsoló
2. Bekapcsolt állapotot jelző lámpa
3. "Üzemkész" jelzőfény
4. Nyílás a lamináló fólia betöltéséhez (elöl)
5. Nyílás a laminált tárgy kiadásához (hátul)
Laminálás
1. Helyezze be a tápkábelt egy szabványos aljzatba
2. Állítsa a fóliavastagság-kapcsolót 1 a kívánt fóliavastagságra
a. 2x80 mic és kevésbé - helyzetben 80 mic
b. 2x100 mic a 2x125 mic - helyzetben 125 mic
A vörös, bekapcsolt állapotot jelző fény világít.
3. Ha a lamináló készülék elérte üzemi hőmérsékletét, a 3-es
számú "Üzemkész" jelszőfény kigyullad. Az egyenletes
laminálási eredmény elérése érdekében javasoljuk - különösen
a vékonyabb (125 mikron vastagság alatti) fóliáknál, illetve
másik fóliavastagság beállítása esetén - a laminálási folyamat
megkezdése előtt tartson egy kiegészítő 2-3 perces várakozási
időt.
4. Fektesse a laminálandó dokumentumot a megfelelő méretű
lamináló fólia lapjai közé. Győződjön meg arról, hogy a
dokumentum minden oldala legalább két milliméter távolságra
van a lamináló fólia szélétől.
5. Most lassan csúsztassa a lamináló fóliát a rögzített végével
előre a 4-es számú betöltő nyílásba. A fóliatasakot a zárt
oldalával vezesse be először a lamináló készülékbe, amíg a
görgők azt megfogják és tovább viszik.
6. A kész laminált dokumentum az 5-ös számú kiadó nyíláson
keresztül távozik a készülékből. Várjon legalább egy percet,
amíg a laminált dokumentum kihűl, mielőtt hozzáérne.
7. A laminálás elején előfordulhat, hogy a készülék nem
egyenesen húzza be a tasakot, vagy az megakadhat benne.
a. Tolja a blokkolásgátló-kapcsolót (ABS) 1 az ABS helyzetbe
b. A lamináló fóliát a készülék nem húzza tovább.
c. Távolítsa el a lamináló tasakot.
d. Tolja a blokkolásgátló kapcsolót (ABS) 1 tovább a kívánt
fóliavastagságra.
e. Indítsa újra a laminálást.
Instrucţiuni pentru utilizator
PL 713
Руководство пользователя PL 713
Следующая информация очень важна. Во избежание
возникновения проблем внимательно прочтите ее перед
использованием ламинатора.
Всегда устанавливайте данный прибор на устойчивую
поверхность вблизи легко доступной электрической розетки. С
задней стороны ламинатора оставьте достаточное свободное
пространство для беспрепятственного выхода
ламинированного документа. Запрещается ламинировать
металлические предметы. Во избежание поражения
электрическим током не используйте ламинатор в условиях
повышенной влажности и в присутствии воды. Не допускайте
попадания воды на данный прибор, соединительный кабель
или электрическую розетку. Не используйте данный прибор в
случае повреждения токопроводящего кабеля. Никогда не
подвергайте ламинатор воздействию источников тепла и
прямых солнечных лучей. Предохраняйте данный прибор от
воздействия влаги, пыли, агрессивных жидкостей и паров.
Используйте для ламинирования только специально
предназначенные для этого пленки. Данный ламинатор не
предназначен для коммерческого или промышленного
использования. После 2 часов работы данный прибор
необходимо оставить охлаждаться не менее чем на 0,5 часа
(выключить его).
Описание
1. Чехол выбора толщины и анти-переключатель блокировки
(ABS)
2. Индикатор включения
3. Индикатор «Ready» (Готовность)
4. Щель для подачи конверта (передняя)
5. Щель для выхода конверта (задняя)
Ламинирование
1. Вставьте шнур питания в стандартный разъем
2. Установите селектор мешок толщиной от 1 до толщины
использовать мешок
a. 2x80 микрон и менее - позиции 80 микрон
b. 2x100 микрон до 2x125 микрон - позиция 125 микрон
Должен начать светиться красный индикатор включения.
3. Ламинатор достиг рабочей температуры, если светится
зеленый индикатор 3 «Ready» (Готовность). Совет. Для
достижения более равномерного ламинирования и особенно
при использовании толстых конвертов для ламинирования
(125 микрон) рекомендуется перед началом ламинирования
сначала подождать дополнительно 2–3 минуты.
4. Поместите документ, подлежащий ламинированию, в
конверт для ламинирования соответствующего размера.
Удостоверьтесь, что все углы документа отступают не менее
чем на два миллиметра от краев конверта для
ламинирования.
5. После этого медленно вставьте конверт для ламинирования
запаянным краем в щель подачи документа 4. Вставляйте
конверт для ламинирования в ламинатор до тех пор, пока
валики не захватят и не протянут конверт с документом.
6. Ламинированный конверт выводится из щели для выхода
конверта 5. Оставьте ламинированный конверт остыть как
минимум в течение минуты перед тем, как касаться его.
7. В начале процесса ламинирования конверт может
затягиваться под углом или застрять в данном приборе.
a. Установить Анти-переключатель блокировки (ABS) 1 в
положение ABS
b. Конверт для ламинирования перестанет подаваться в
ламинатор.
c. Извлеките конверт для ламинирования.
d. Поверните против блокировки переключения 1 к желаемой
толщины фольги.
e. Начните процесс ламинирования с начала.
Informaţiile de mai jos sunt importante. Citiţi-le cu atenţie înainte
de a utiliza aparatul pentru a evita orice fel de problemă.
Aşezaţi întotdeauna aparatul pe o suprafaţă de lucru solidă
lângă o priză uşor accesibilă. Lăsaţi suficient spaţiu în spatele
aparatului pentru ca documentele laminate să poată fi scoase
cu uşurinţă. Nu încercaţi să laminaţi obiecte metalice. Pentru a
evita electrocutarea, laminorul nu trebuie utilizat în medii cu
umiditate mare şi este interzis ca dispozitivul, cablul sau priza
să intre în contact cu apa. Nu utilizaţi aparatul atunci când
cablul este deteriorat! Nu expuneţi niciodată laminorul la
următoarele medii: surse de căldură, lumina directă a soarelui.
Protejaţi-l împotriva umezelii, prafului, substanţelor lichide şi
vaporilor agresivi. Utilizaţi doar folii speciale pentru laminare.
Laminorul nu este destinat utilizării în scopuri comerciale sau
industriale. După 2 ore de utilizare aparatul de laminat trebuie
lăsat să se răcească cel puţin o ½ de oră (oprit).
Descriere
1. Husă de grosimea şi de a comuta selectorul de anti-blocare
(ABS)
2. Led pornit/oprit
3. Led "Ready" (Pregătit)
4. Slot pentru introducerea rolei (faţă)
5. Slot pentru scoaterea rolei (spate)
Laminare
1. Introduceţi cordonul de alimentare într-o priză standard de
2. Reglaţi selectorul de grosime husă 1 la grosimea husă
utilizate
a. 2x80 mic şi mai puţin - poziţia 80 mic
b. 2x100 mic a 2x125 mic - poziţia 125 mic
Se va aprinde ledul roşu.
3. Laminorul îşi atinge temperatura de funcţionare în momentul
în care indicatorul 2 verde "Ready" se aprinde. Sfat: Pentru ca
laminarea să fie uniformă şi în cazul în care utilizaţi o folie mai
groasă (125 mic) se recomandă ca mai întâi să aşteptaţi încă
2-3 minute înainte de a începe laminarea.
4. Aşezaţi documentul de laminat pe folia specială de
dimensiuni adecvate. Lăsaţi cel puţin 2 mm spaţiu pe marginea
foliei de laminat.
5. Introduceţi folia de laminat cu partea prinsă mai întâi în slotul
pentru folie 4. Ghidaţi folia până la laminator până când este
prinsă şi preluată de role.
6. Folia complet laminată este scoasă prin slotul 5. Lăsaţi folia
laminată să se răcească cel puţin 1 minut înainte de a o atinge.
7. La începutul laminării, este posibil ca folia să fie prinsă
strâmb sau să se blocheze în interiorul aparatului de laminat.
a. Setaţi comutatorul anti-blocare (ABS), 1 la poziţia ABS
b. Folia de laminat nu mai este trasă înăuntru
c. Scoateţi folia de laminat
d. Întoarceţi antiblocare comuta 1 Înapoi la grosimea dorită folie
e. Reporniţi procesul de laminare.