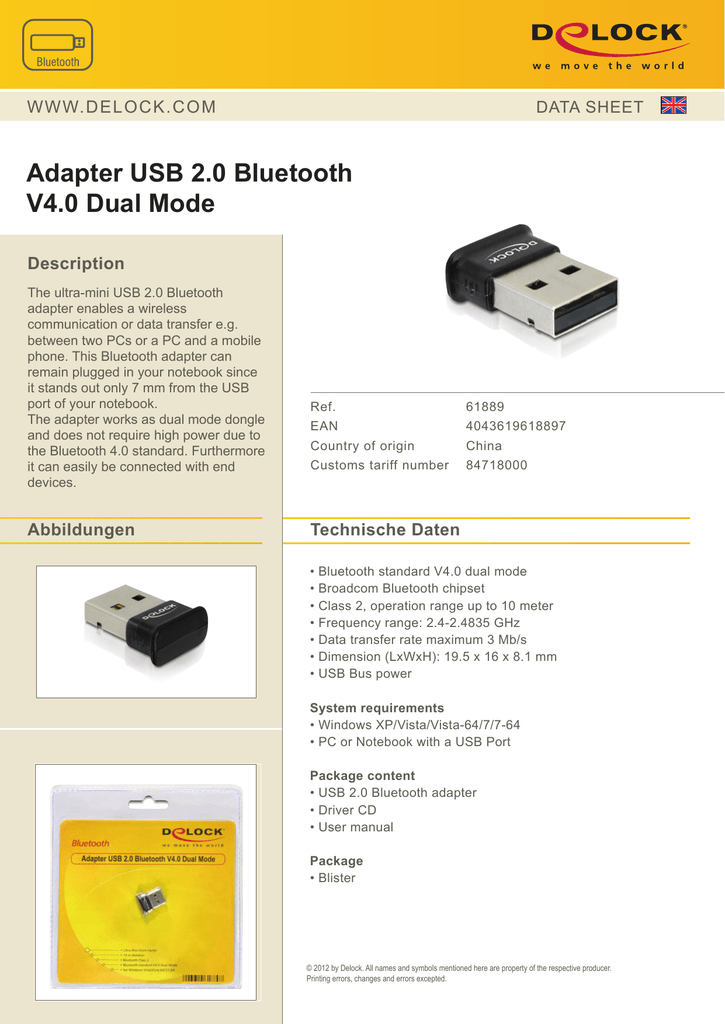 DATA SHEET
WWW. DE LO CK . C O M
Adapter USB 2.0 Bluetooth
V4.0 Dual Mode
Description
The ultra-mini USB 2.0 Bluetooth
adapter enables a wireless
communication or data transfer e.g.
between two PCs or a PC and a mobile
phone. This Bluetooth adapter can
remain plugged in your notebook since
it stands out only 7 mm from the USB
port of your notebook.
The adapter works as dual mode dongle
and does not require high power due to
the Bluetooth 4.0 standard. Furthermore
it can easily be connected with end
devices.
Abbildungen
Ref.
61889
EAN
4043619618897
Country of origin
China
Customs tariff number
84718000
Technische Daten
•
•
•
•
•
•
•
Bluetooth standard V4.0 dual mode
Broadcom Bluetooth chipset
Class 2, operation range up to 10 meter
Frequency range: 2.4-2.4835 GHz
Data transfer rate maximum 3 Mb/s
Dimension (LxWxH): 19.5 x 16 x 8.1 mm
USB Bus power
System requirements
• Windows XP/Vista/Vista-64/7/7-64
• PC or Notebook with a USB Port
Package content
• USB 2.0 Bluetooth adapter
• Driver CD
• User manual
Package
• Blister
© 2012 by Delock. All names and symbols mentioned here are property of the respective producer.
Printing errors, changes and errors excepted.

* Your assessment is very important for improving the work of artificial intelligence, which forms the content of this project