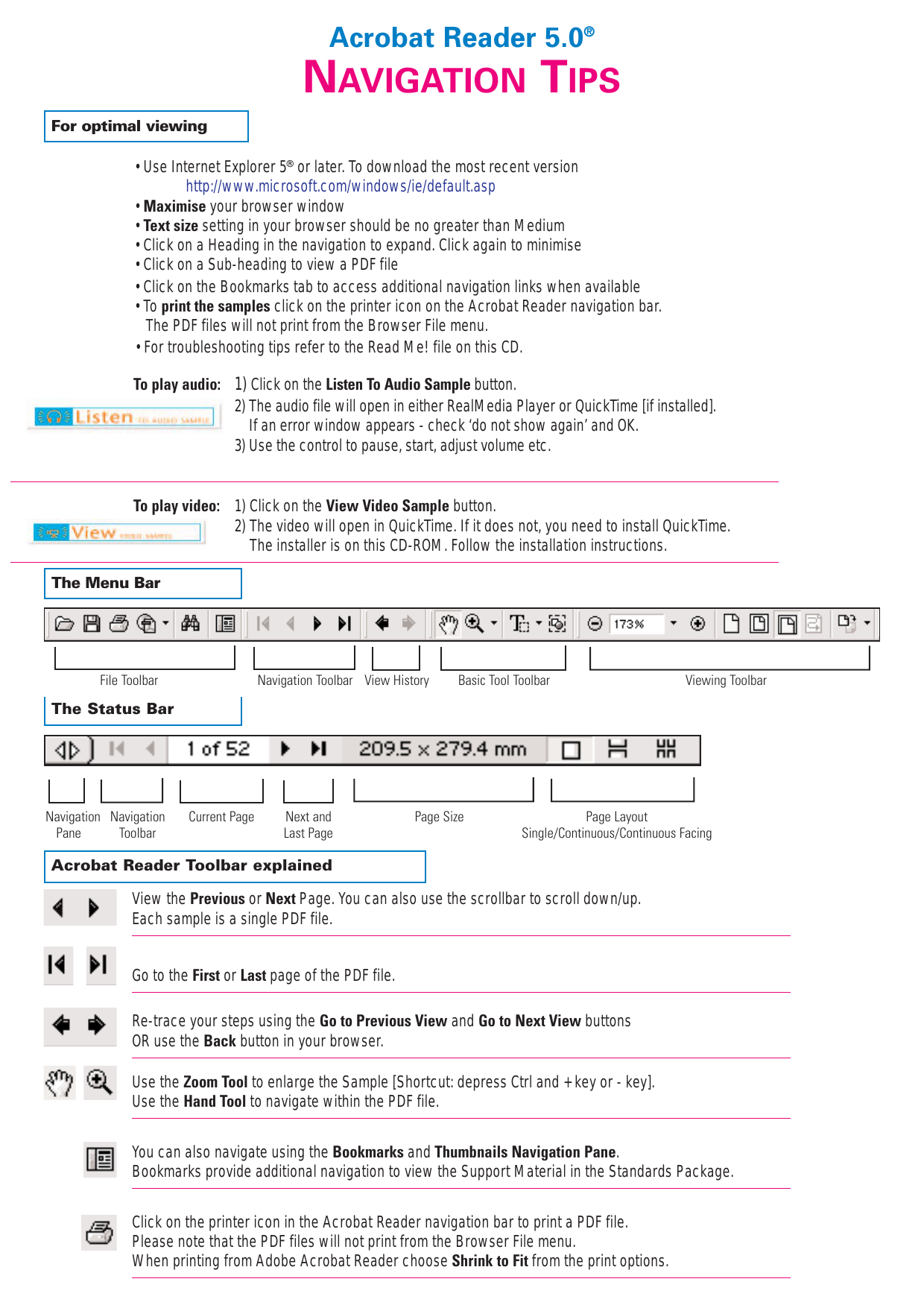 Acrobat Reader 5.0®
NAVIGATION TIPS
For optimal viewing
• Use Internet Explorer 5® or later. To download the most recent version
http://www.microsoft.com/windows/ie/default.asp
• Maximise your browser window
• Text size setting in your browser should be no greater than Medium
• Click on a Heading in the navigation to expand. Click again to minimise
• Click on a Sub-heading to view a PDF file
• Click on the Bookmarks tab to access additional navigation links when available
• To print the samples click on the printer icon on the Acrobat Reader navigation bar.
The PDF files will not print from the Browser File menu.
• For troubleshooting tips refer to the Read Me! file on this CD.
To play audio: 1) Click on the Listen To Audio Sample button.
2) The audio file will open in either RealMedia Player or QuickTime [if installed].
If an error window appears - check 'do not show again' and OK.
3) Use the control to pause, start, adjust volume etc.
To play video: 1) Click on the View Video Sample button.
2) The video will open in QuickTime. If it does not, you need to install QuickTime.
The installer is on this CD-ROM. Follow the installation instructions.
The Menu Bar
File Toolbar
Navigation Toolbar View History
Basic Tool Toolbar
Viewing Toolbar
The Status Bar
Navigation Navigation
Pane
Toolbar
Current Page
Next and
Last Page
Page Size
Page Layout
Single/Continuous/Continuous Facing
Acrobat Reader Toolbar explained
View the Previous or Next Page. You can also use the scrollbar to scroll down/up.
Each sample is a single PDF file.
Go to the First or Last page of the PDF file.
Re-trace your steps using the Go to Previous View and Go to Next View buttons
OR use the Back button in your browser.
Use the Zoom Tool to enlarge the Sample [Shortcut: depress Ctrl and + key or - key].
Use the Hand Tool to navigate within the PDF file.
You can also navigate using the Bookmarks and Thumbnails Navigation Pane.
Bookmarks provide additional navigation to view the Support Material in the Standards Package.
Click on the printer icon in the Acrobat Reader navigation bar to print a PDF file.
Please note that the PDF files will not print from the Browser File menu.
When printing from Adobe Acrobat Reader choose Shrink to Fit from the print options.

* Your assessment is very important for improving the work of artificial intelligence, which forms the content of this project