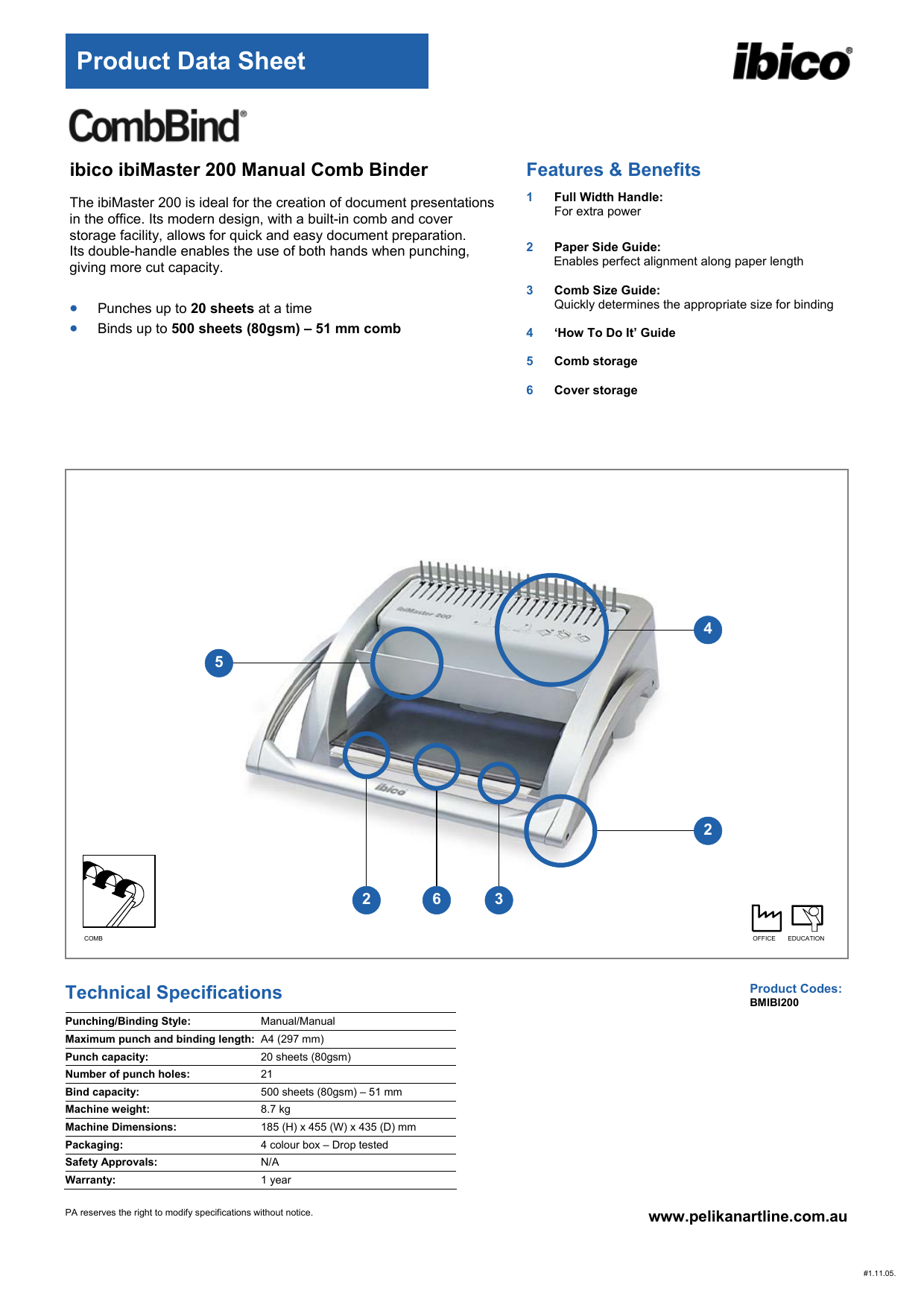 Product Data Sheet
ibico ibiMaster 200 Manual Comb Binder
Features & Benefits
The ibiMaster 200 is ideal for the creation of document presentations
in the office. Its modern design, with a built-in comb and cover
storage facility, allows for quick and easy document preparation.
Its double-handle enables the use of both hands when punching,
giving more cut capacity.
1
Full Width Handle:
For extra power
2
Paper Side Guide:
Enables perfect alignment along paper length
3
Comb Size Guide:
Quickly determines the appropriate size for binding
4
'How To Do It' Guide
5
Comb storage
6
Cover storage
•
•
Punches up to 20 sheets at a time
Binds up to 500 sheets (80gsm) – 51 mm comb
4
5
2
2
COMB
3
OFFICE
Technical Specifications
Punching/Binding Style:
6
EDUCATION
Product Codes:
BMIBI200
Manual/Manual
Maximum punch and binding length: A4 (297 mm)
Punch capacity:
20 sheets (80gsm)
Number of punch holes:
21
Bind capacity:
500 sheets (80gsm) – 51 mm
Machine weight:
8.7 kg
Machine Dimensions:
185 (H) x 455 (W) x 435 (D) mm
Packaging:
4 colour box – Drop tested
Safety Approvals:
N/A
Warranty:
1 year
PA reserves the right to modify specifications without notice.
www.pelikanartline.com.au
#1.11.05.

* Your assessment is very important for improving the work of artificial intelligence, which forms the content of this project