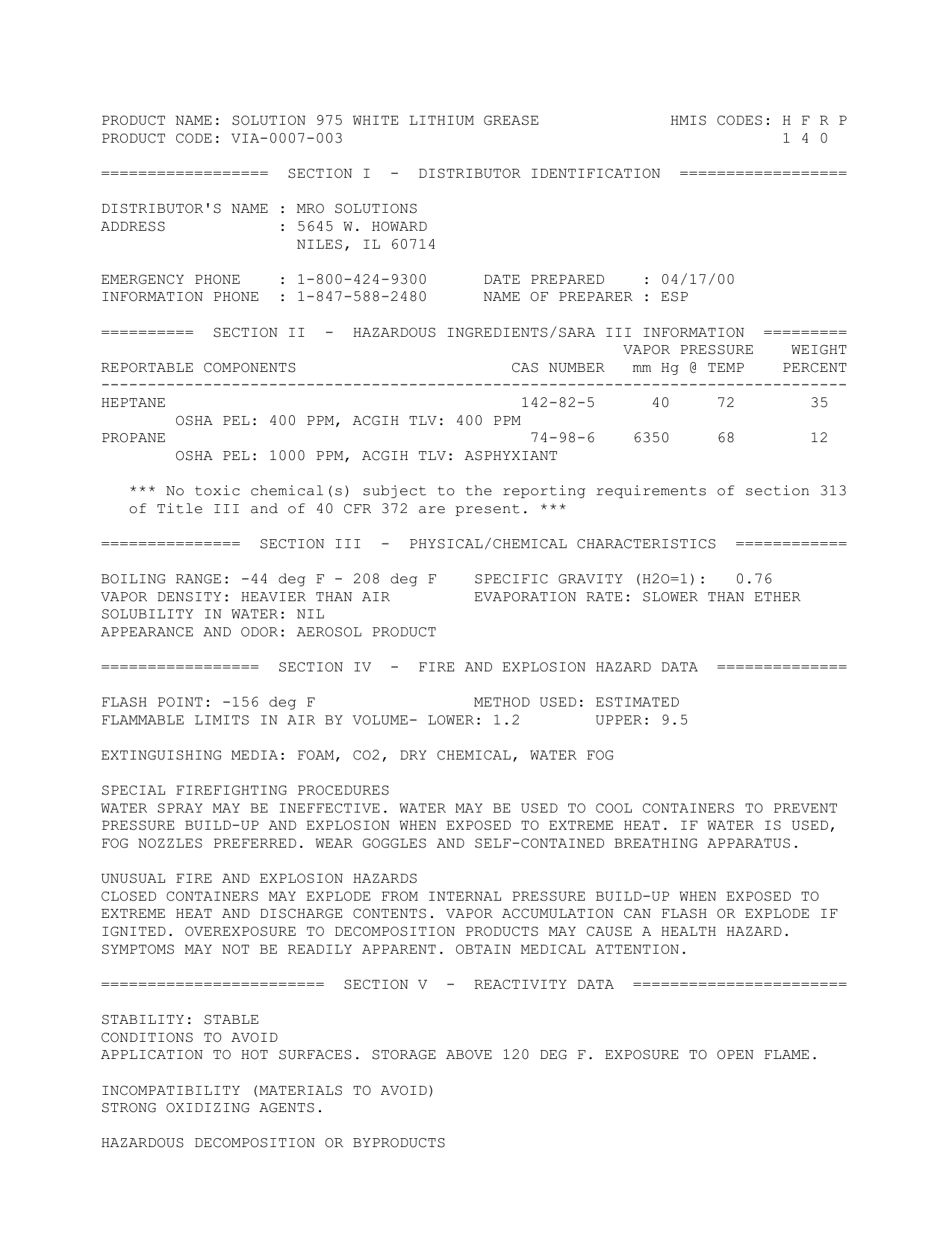 PRODUCT NAME: SOLUTION 975 WHITE LITHIUM GREASE
PRODUCT CODE: VIA-0007-003
==================
SECTION I
-
HMIS CODES: H F R P
1 4 0
DISTRIBUTOR IDENTIFICATION
==================
DISTRIBUTOR'S NAME : MRO SOLUTIONS
ADDRESS
: 5645 W. HOWARD
NILES, IL 60714
EMERGENCY PHONE
INFORMATION PHONE
==========
: 1-800-424-9300
: 1-847-588-2480
SECTION II
DATE PREPARED
: 04/17/00
NAME OF PREPARER : ESP
-
HAZARDOUS INGREDIENTS/SARA III INFORMATION =========
VAPOR PRESSURE
WEIGHT
REPORTABLE COMPONENTS
CAS NUMBER
mm Hg @ TEMP
PERCENT
-------------------------------------------------------------------------------HEPTANE
142-82-5
40
72
35
OSHA PEL: 400 PPM, ACGIH TLV: 400 PPM
PROPANE
74-98-6
6350
68
12
OSHA PEL: 1000 PPM, ACGIH TLV: ASPHYXIANT
*** No toxic chemical(s) subject to the reporting requirements of section 313
of Title III and of 40 CFR 372 are present. ***
===============
SECTION III
-
PHYSICAL/CHEMICAL CHARACTERISTICS
BOILING RANGE: -44 deg F - 208 deg F
VAPOR DENSITY: HEAVIER THAN AIR
SOLUBILITY IN WATER: NIL
APPEARANCE AND ODOR: AEROSOL PRODUCT
=================
SECTION IV
-
============
SPECIFIC GRAVITY (H2O=1):
0.76
EVAPORATION RATE: SLOWER THAN ETHER
FIRE AND EXPLOSION HAZARD DATA
==============
FLASH POINT: -156 deg F
METHOD USED: ESTIMATED
FLAMMABLE LIMITS IN AIR BY VOLUME- LOWER: 1.2
UPPER: 9.5
EXTINGUISHING MEDIA: FOAM, CO2, DRY CHEMICAL, WATER FOG
SPECIAL FIREFIGHTING PROCEDURES
WATER SPRAY MAY BE INEFFECTIVE. WATER MAY BE USED TO COOL CONTAINERS TO PREVENT
PRESSURE BUILD-UP AND EXPLOSION WHEN EXPOSED TO EXTREME HEAT. IF WATER IS USED,
FOG NOZZLES PREFERRED. WEAR GOGGLES AND SELF-CONTAINED BREATHING APPARATUS.
UNUSUAL FIRE AND EXPLOSION HAZARDS
CLOSED CONTAINERS MAY EXPLODE FROM INTERNAL PRESSURE BUILD-UP WHEN EXPOSED TO
EXTREME HEAT AND DISCHARGE CONTENTS. VAPOR ACCUMULATION CAN FLASH OR EXPLODE IF
IGNITED. OVEREXPOSURE TO DECOMPOSITION PRODUCTS MAY CAUSE A HEALTH HAZARD.
SYMPTOMS MAY NOT BE READILY APPARENT. OBTAIN MEDICAL ATTENTION.
========================
SECTION V
-
REACTIVITY DATA
=======================
STABILITY: STABLE
CONDITIONS TO AVOID
APPLICATION TO HOT SURFACES. STORAGE ABOVE 120 DEG F. EXPOSURE TO OPEN FLAME.
INCOMPATIBILITY (MATERIALS TO AVOID)
STRONG OXIDIZING AGENTS.
HAZARDOUS DECOMPOSITION OR BYPRODUCTS
MAY PRODUCE FUMES WHEN HEATED TO DECOMPOSITION. FUMES MAY CONTAIN CARBON
MONOXIDE.
HAZARDOUS POLYMERIZATION: WILL NOT OCCUR
====================
SECTION VI
-
HEALTH HAZARD DATA
=======================
INHALATION HEALTH RISKS AND SYMPTOMS OF EXPOSURE
RESPIRATORY IRRITATION, HEADACHE, NAUSEA, FATIGUE, DROWSINESS, IMPAIRED COORDINATION.
SKIN AND EYE CONTACT HEALTH RISKS AND SYMPTOMS OF EXPOSURE
SKIN: CONTACT MAY DRY THE SKIN; PROLONGED CONTACT MAY CAUSE MODERATE IRRITATION.
EYES: LIQUID OR VAPOR CAN CAUSE MODERATE TO SEVERE IRRITATION.
SKIN ABSORPTION HEALTH RISKS AND SYMPTOMS OF EXPOSURE
NOT EASILY ABSORBED. SOLVENT ACTION CAN DRY AND DEFAT THE SKIN CAUSING THE SKIN
TO CRACK, LEADING TO DERMATITIS.
INGESTION HEALTH RISKS AND SYMPTOMS OF EXPOSURE
NOT A LIKELY ROUTE OF EXPOSURE. IF SWALLOWED, DO NOT INDUCE VOMITING. SEEK
IMMEDIATE MEDICAL ADVICE AND/OR ATTENTION.
HEALTH HAZARDS (ACUTE AND CHRONIC)
ACUTE: EYE IRRITANT. POSSIBLE SKIN IRRITANT.
CARCINOGENICITY:
NTP CARCINOGEN: No
CHRONIC: NONE KNOWN.
IARC MONOGRAPHS: No
OSHA REGULATED: No
MEDICAL CONDITIONS GENERALLY AGGRAVATED BY EXPOSURE
NONE KNOWN.
EMERGENCY AND FIRST AID PROCEDURES
INHALATION: REMOVE TO FRESH AIR. ADMINISTER OXYGEN IF NEEDED. APPLY ARTIFICIAL
RESPIRATION IF BREATHING HAS STOPPED. GET MEDICAL ATTENTION. SKIN: WIPE OFF WITH
TOWEL. WASH WITH SOAP AND WATER. GET MEDICAL ATTENTION IF IRRITATION PERSISTS.
EYES: WASH IMMEDIATELY WITH LARGE VOLUMES OF FRESH WATER FOR AT LEAST 15
MINUTES. GET MEDICAL ATTENTION.
===========
SECTION VII
-
PRECAUTIONS FOR SAFE HANDLING AND USE
============
STEPS TO BE TAKEN IN CASE MATERIAL IS RELEASED OR SPILLED
AVOID BREATHING VAPORS. VENTILATE AREA. REMOVE ALL SOURCES OF IGNITION. CLEAN UP
AREA WITH ABSORBENT MATERIAL AND PLACE IN CLOSED CONTAINERS FOR DISPOSAL.
WASTE DISPOSAL METHOD
DISPOSE OF IN ACCORDANCE WITH LOCAL, STATE, AND FEDERAL REGULATIONS. BEFORE
ATTEMPTING CLEAN UP, REFER TO OTHER SECTIONS OF THIS MSDS FOR HAZARD CAUTION
INFORMATION.
PRECAUTIONS TO BE TAKEN IN HANDLING AND STORING
STORE AND USE IN COOL, DRY, WELL-VENTILATED AREAS. DO NOT STORE ABOVE 120 DEG F.
DO NOT PUNCTURE OR INCINERATE (BURN) CANS. DO NOT STICK PIN, NAIL OR ANY OTHER
SHARP OBJECT INTO OPENING ON TOP OF CAN. DO NOT SPRAY IN EYES. DO NOT TAKE
INTERNALLY. SEE PRODUCT LABEL FOR ADDITIONAL INFORMATION.
OTHER PRECAUTIONS
SMALL PRESSURIZED CONTAINERS OF FLAMMABLE PRODUCTS MAY BE STORED IN AREAS
SUITABLE FOR ORDINARY COMBUSTIBLES WITH RESPECT TO CONSTRUCTION, DRAINAGE,
CONTROL OF IGNITION SOURCES, AND VENTILATION EXCEPT THAT THEY SHOULD NOT BE
STORED IN BASEMENTS.
=====================
SECTION VIII
-
CONTROL MEASURES
======================
RESPIRATORY PROTECTION
NONE UNDER NORMAL USE. AVOID BREATHING VAPORS. IN RESTRICTED AREAS, USE APPROVED
CHEMICAL/MECHANICAL FILTERS DESIGNED TO REMOVE A COMBINATION OF PARTICLES AND
VAPOR. IN CONFINED AREAS, USE APPROVED AIR LINE TYPE RESPIRATOR OR HOOD. SELFCONTAINED BREATHING APPARATUS IS REQUIRED FOR VAPOR CONCENTRATIONS ABOVE PEL/TLV
LIMITS.
VENTILATION
SUFFICIENT TO PREVENT INHALATION OF SOLVENT VAPORS. GENERAL DILUTION AND/OR
LOCAL EXHAUST VENTILATION IN VOLUME OR PATTERN TO KEEP PEL/TLV OF MOST HAZARDOUS
INGREDIENT BELOW ACCEPTABLE LIMIT AND LEL BELOW STATED LIMIT.
PROTECTIVE GLOVES
NONE UNDER NORMAL USE. SOLVENT RESISTANT REQUIRED FOR PROLONGED OR REPEATED
CONTACT.
EYE PROTECTION
NONE UNDER NORMAL USE; HOWEVER, USE OF SAFETY GLASSES WITH SPLASH GUARDS OR FULL
FACE SHIELD IS RECOMMENDED.
OTHER PROTECTIVE CLOTHING OR EQUIPMENT
NONE UNDER NORMAL USE; HOWEVER, USE OF SOLVENT RESISTANT APRONS OR OTHER
CLOTHING IS RECOMMENDED.
WORK/HYGIENIC PRACTICES
EYE WASHES AND SAFETY SHOWERS IN THE WORKPLACE ARE RECOMMENDED.
=========================
SECTION IX
-
DISCLAIMER
==========================
THE INFORMATION CONTAINED HEREIN IS BASED ON DATA CONSIDERED ACCURATE. HOWEVER,
NO WARRANTY IS EXPRESSED OR IMPLIED REGARDING THE ACCURACY OF THE DATA OR THE
RESULTS TO BE OBTAINED FROM THE USE THEREOF. BECAUSE THE INFORMATION CONTAINED
HEREIN MAY BE APPLIED UNDER CONDITIONS BEYOND OUR CONTROL, WE ASSUME NO
RESPONSIBILITY FOR ITS USE.

* Your assessment is very important for improving the work of artificial intelligence, which forms the content of this project