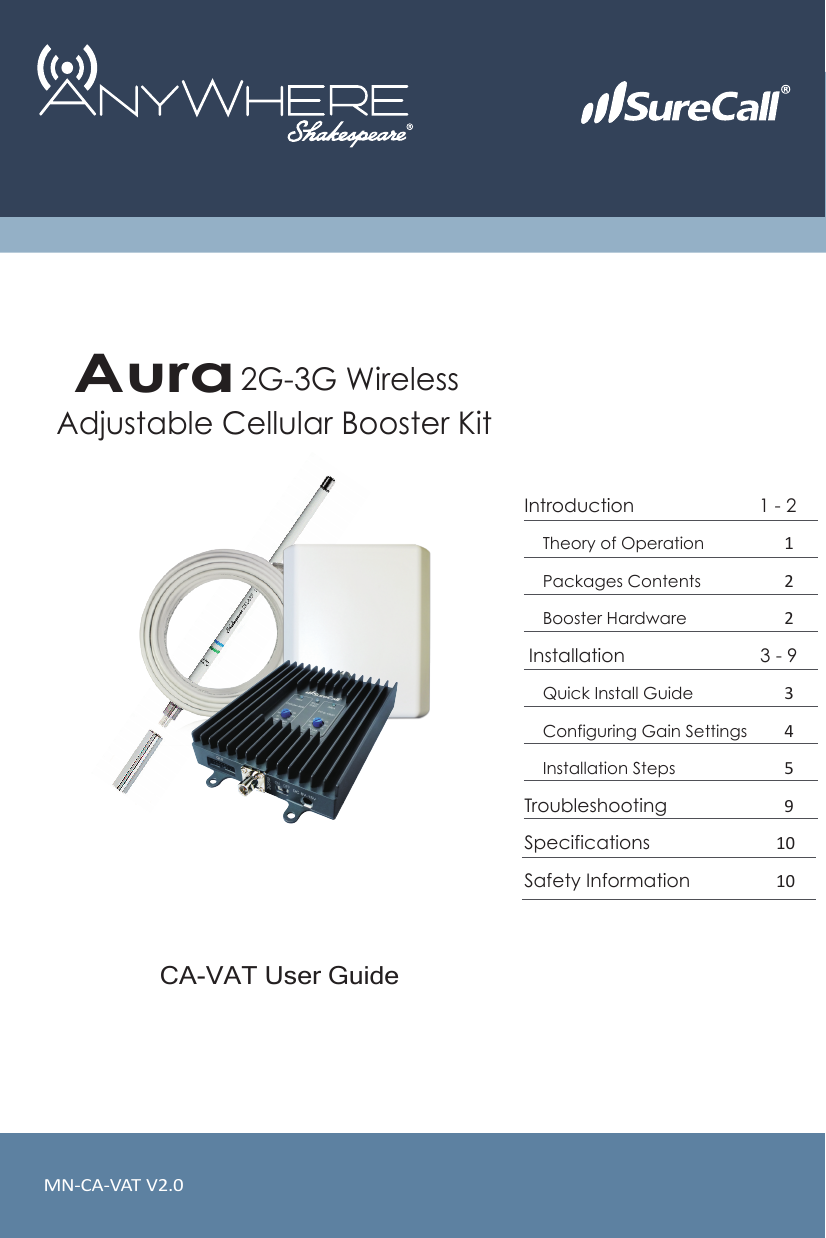 Aura 2G-3G Wireless
Adjustable Cellular Booster Kit
Introduction
Theory of Operation
1
Packages Contents
2
Booster Hardware
2
Installation
MN-CA-VAT V2.0
3-9
Quick Install Guide
3
Configuring Gain Settings
4
Installation Steps
5
Troubleshooting
CA-VAT User Guide
1-2
9
Specifications
10
Safety Information
10
INTRODUCTION
INTRODUCTION
Congratulations on purchasing the Aura, the finest cellular booster available!
The Aura adjustable cellular boosters and kits remove the frustration over dropped
calls, limited range, and slow data rates by amplifying incoming and outgoing cellular
signals in watercraft of all sizes. The Aura is designed with leading-edge technology to
detect and amplify weak incoming signals your cellular device would otherwise miss
and to broadcast a significantly stronger signal back to the cell tower.
This guide contains all the information you need to get your Aura booster system up
and running.
BEFORE USE, you MUST REGISTER THIS DEVICE with your wireless provider
and have your povider's consent. Most wireless providers consent to the use of
signal boosters. Some providers may not sp. consent to the use of this device
on their network. If you are unsure, contact your provider.
Theory of Operation
The Aura is a high-quality bi-directional booster that boosts cellular signals for areas
prone to weak cellular coverage.
The Aura works with two antennas:
An inside antenna that communicates with your cell phone.
An outside antenna that communicates with the cell tower.
Signals sent from a cell tower are received by the outside antenna, amplified by the
booster and then sent to your phone via the inside antenna.
When your phone transmits, the signal is sent to the inside antenna and then sent to
the cell tower via the outside antenna.
Some cell signal is required for the Aura to enhance cellular signal coverage. The
weakest cell signal for the Aura to work is low -100dBm to high -90dBm. dBm is an
abbreviation for the power ratio in decibels of the radio power per one milliwatt.
To measure your existing cell signal on an Apple iPhone, dial *3001#12345#*and
press Call. In the top-left corner, a number appears instead of bars.
For Android devices, you can download several apps to measure exact signal
strength. In your phone's App Store, search for "check real signal strength" to find a
cell signal measurement app.
CA-VAT / Aura Cellular Booster Kit
Page 1
INTRODUCTION
INTRODUCTION
Aura Package
Unpack all package contents, compare them against the package contents list, and
check for damage. For missing or damaged items, contact your retailer. Keep the
carton and packing material to store the product or if you need to return it.
booster
outside antenna
with mount
Package
inside antenna
with bracket
cable - 20'and 40'
Package Contents
50dB adjustable marine booster
Marine c
20ft CM240-M marine cable
40ft CM240-M marine cable
CA-VAT / Aura Kit*
5412-P outside omni marine antenna
248W-M inside panel antenna
an enna
110W-M 10ft inside patch antenna
12V 18ft DC power supply
*Screws not supplied. Please purchase separately.
Aura Booster Hardware
The following image shows the key hardware components on the cellular booster.
Refer to this image as you install your Aura kit components.
FME connector to outside antenna
Alert LED
Alert LED
PCS - 1900 Dial
Cellular - 800 Dial
Programmer
Power Jack
FME connector to inside antenna
Page 2
Power Switch
CA-VAT / Aura Cellular Booster Kit
INSTALLATION
Mount outside antenna in an elevated area with a
12" radius clear of obstructions
Quick
Install
Guide
Install CM240 Low coax cable from outside antenna
to cellular booster
Using provided cable, connect booster to inside antenna
Install inside antenna in location where increased
cell reception desired most
Using power cord, plug booster into power source
Turn on booster for clear and consistent cellular coverage
7 Adjust power dials as needed. If red lights illuminate,
it may take a few seconds for the lights to go out after
adjusting.
Exterior Antenna
Interior Antenna
Connected Devices
CA-VAT / Aura Cellular Booster Kit
Page 3
INSTALLATION
INTRODUCTION
INTRODUCTION
Configuring Gain Settings
1. Facing the front of your booster, find the
Cellular-800 dial on the left side and the
PCS-1900 dial on the right side.
2. Set these dials according to the coverage area
and the distance between the inside and outside
antennas.
3. Inside panel antenna provides up to 1,500
square feet of coverage, or a 25 ft. wide by 100 ft.
deep marine craft.
Adjust dB Gain according to table below if you cannot achieve maximum separation.
Required Between
Outside and Inside Antenna
tion
para
e
s
nna
ante
• 50dB
• 47dB
• 44dB
• 40dB
8-10 ft. separation
5-7 ft. separation
3-4 ft. separation
1-2 ft. separation
Note: As you can see from the table above, acquiring the recommended inside and
outside antenna separation optimizes coverage significantly. Panel antenna can be
vertically installed 6 ft. under outside antenna with the booster at full dB gain.
Inside panel antenna should face away from outside antenna. If panel antenna faces
outside antenna, the booster will oscillate and go into Auto Shutdown.
Page 4
CA-VAT / Aura Cellular Booster Kit
INSTALLATION
Installation Steps
The Aura booster kit is specially designed for installation on watercraft. Can be used in
other applications with appropriate mounting hardware.
Step 1. Connect the Outside Antenna - 5412-P
The Style 5412-P is a Galaxy series dual-band cellular antenna of 2' length with
stainless steel ferrule. Tools that may be needed: Open-end wrench or adjustable
wrench, soldering iron (40-watt min., 75-watt max.), rosin core solder, wire cutters,
utility knife, drilling tools.
Antenna 5412-P - Installation Instruction
1. Choose a mounting location that is as high as possible, and as free from
obstructions, and as far as possible from other antennas and strong sources of RF.
2. For mounting to a mast, use flange mount and suitable hardware. Mount flange
mount to a flat, stable location.
3. Drill hole in the middle of the mounting location wide enough in diameter to fit
CM240-M cable connector and cable through.
4. Feed N connector end of outside antenna cable through ferrule. Then, screw cable
connector to antenna and screw ferrule to antenna base.
5. Mount outside antenna base (screws not provided).
To clean the antenna, use mild dishwashing liquid (one that is not harsh to the hands
and without ammonia) in lukewarm water.
WARNING: Do not let paint solvents, cleaning solvents, or adhesive caulking come in
contact with the antenna. Chemicals in these materials might destroy the finish.
N connector
1
3
2
CA-VAT / Aura Cellular Booster Kit
Page 6
INTRODUCTION
INSTALLATION
Step 2. Using the CM240-M cable
Use the CM240-M cable's FME connector to connect the outside antenna to the
booster connector marked OUTSIDE (see page 2).
Hand tighten the connection.
Make sure to not coil additional coax cable that might be left over from installation.
Step 3. Connect the Inside Antenna
A : Standard Wireless Usage - ( Recommended ) - CM248W-M
This interior antenna transmits and receives signal to cell phones. This CM248W-M full
band panel antenna is a directional antenna designed to cover 2G/3G/4G and WLAN
systems for Cellular, PCS, AWS and LTE frequencies. It's a high gain inside antenna
suited for places where the signal needs to be broadcast over a wide area.
Antenna 248W-M - Installation Instruction
1. Choose location for mounting antenna on vertical surface. Ideal height from the
cabin or deck should be the approximate height of regular cell phone use.
2. Using plate, mark position of desired screw placement with pencil or marker.
3. Screw ( not supply) mounting plate into place with the slide panel protruding towards
you.
4. Slide antenna securely onto mounting plate.
Note: Be sure to provide enough separation from outside antenna. Panel antenna
Page 5
CA-VAT / Aura Cellular Booster Kit
INTRODUCTION
INSTALLATION
B : Low Profile Usage - (Optional ) - CM110W-M
1. The patch antenna is intended for indoor use only. Do not mount on a surface within
4" of metal.
2. Hand tighten the patch antenna to the "inside" connector on the booster.
Note: Laboratory tests show that patch antenna
can work as close as 2 ft. from outside antenna
if the patch antenna is facing away from outside
antenna. If booster shows oscillation, turn it down
by 3 dBs on the dial of oscillating band.
Step 4. Booster Mount
If mounting booster, mount on vertical location using booster screw fittings.
Step 5. Connect to DC Power
1. The positive red and negative black wired end will connect to watercraft's power
supply - either battery, ignition or fusebox – whichever is most conveniently located.
2. Connect the DC power cord to the booster.
Turn on switch to power cord
The Power LED lights up to show that the booster is ready for use
The Alert LEDs flash up to 15 seconds on each band to show the band is
zzzzzzzzzactivated.
If the Power light does not go ON, be sure the power supply is working.
If the Alert LEDs lights up after the initial activation period, lower the dial above the
blinking LED by 3dB (for example, from 50 to 47) and monitor the bars on your cell phone
to see whether reception has improved.This process can take a few moments. Monitor
the LEDs to make sure they go off.
If the Alert LED continue to flash, lower by another 3dB on the blinking band. The booster
will shut down automatically to prevent oscillation, and then restarts after 60 seconds.
Turn down the Cellular-800 or PCS-1900 dial to prevent the booster from shutting down
again. Fail to do so, booster will completely power off after 15 minutes. Manual reset
requires powering off booster and powering back on.
Failure to do so will cause the booster to power off.
CA-VAT / Aura Cellular Booster Kit
Page 7
INTRODUCTION
TROUBLESHOOTING
Record the model and serial number for your products:
Serial #:
Purchase Date:
Avoiding Interference
If the booster interferes with your radio or other electronic receivers, move the booster
further away from those devices.
Frequently Asked Questions
For a list of Frequently Asked Questions and a comprehensive, up-to-date
Troubleshooting Guide, please visit our website at: www.surecall.com.
Obtaining Technical Support
You can also consult a SureCall technical specialist directly by emailing us at
[email protected], or call 1-888-365-6283 and ask for tech support.
Antenna Kitting Info
Component
Product Number (Description) Product Number (Description)
outdoor Antenna Galaxy 5412-P
3dBi at 800/1900Mhz
CM240 Cable
CM004-40FN 40Feet
-3.9dB at 800MHz 6.0dB at 1900MHz
Indoor Panel
Antenna
CM248W-M
7dB at 800MHz 10dB
at 1900MHz
CM240 Cable
CM004-20FN 20Feet
-1.95dB at 800MHz 3.0dB at 1900MHz
Indoor Patch
CM110W
Sold in Shakespeare® Aura
marine kit
1.1dB at 800Mhz
3dB at 1900MHz
Note: For the signal booster to work, the following items are required:
Outside antenna
Cable for connecting the outside antenna to the booster
Signal booster
Inside antenna
Cable for connecting the inside antenna to the booster
Power supply
Warning: Unauthorized antennas, cables, and/or coupling devices are prohibited by
current FCC regulations. Please contact FCC for details: 1-888-CALL-FCC.
Changes or modifications not expressly approved by SureCall could void the user's
authority to operate the equipment.
Page 8
CA-VAT / Aura Cellular Booster Kit
TROUBLESHOOTING
INTRODUCTION
Booster has no power
After installing the booster
system, you have no
signal or reception where
your boat is berthed,
moored or anchored
One of the red lights next
to the dials on your
booster is flashing.
1. Verify that the rocker switch on the power supply is
turned on and red LED is ON.
2. Connect the power supply to an alternate power source.
3. Be sure the power source is not controlled by a switch
that can remove power from the outlet.
4. Check the green POWER LED on the booster. If it is
OFF, return the power supply to SureCall. Contact tech
support at 1-888-365-6283 to receive a Return Merchandise
Authorization (RMA), email [email protected], or go
to surecall.com and log on via online support
1. Check the outside signal closest as you can to the
outside antenna. To measure your existing cell signal:
Apple iPhoneD: dial *3001#12345#*and press Call. In
the top-left corner, a number replaces the bars.
Android devices: download apps to measure exact
signal strength, such as Network Signal Info in Google
Play store. Search "check real signal strength" to find
other cell signal measurement apps.
2. Double-check cable connections to both antennas
and booster.
3. Be sure your booster's dB gain is turned up to
50dB on each dial.
1. Turn down the dB gain on the dial
until the light goes OFF or turns yellow.
2. Be sure the inside panel antenna is facing away
from the outside antenna.
3. Use the recommended antenna separation:
• 50dB
• 47dB
• 44dB
• 40dB
Your booster restarted and
shut down for 15 minutes,
and is now shut down
permanently.
CA-VAT / Aura Cellular Booster Kit
8-10 ft. separation
5-7 ft. separation
3-4 ft. separation
1-2 ft. separation
Each SureCall booster is equipped with Auto Shutdown
if there's danger of cell tower interference. Your dock
or berth may be close to a cell tower. Once offshore,
use the power supply switch to restart the booster
manually.
Page 9
WARRANTY
Three-Year Product Warranty
SureCall warrants its products for three years from the date of purchase against defects in
workmanship and/or materials. Specifications are subject to change. The three-year warranty
only applies to products meeting the latest FCC Certification Guidelines stated on 2/20/2013
and going into effect April 30, 2014. A two-year warranty applies to any products
manufactured before May 1, 2014.
Products returned by customers must be in their original, un-modified condition, shipped in
the original or protective packaging with proof-of-purchase documentation enclosed, and a
Return Merchandise Authorization (RMA) number printed clearly on the outside of the
shipping container.
Buyers may obtain an RMA number for warranty returns by calling the SureCall Return
Department toll-free at 1-888-365-6283. Any returns received by SureCall without an RMA
number clearly printed on the outside of the shipping container will be returned to sender. In
order to receive full credit for signal boosters, all accessories originally included in the signal
booster box must be returned with the signal booster. (The Buyer does not need to include
accessories sold in addition to the signal booster, such as antennas or cables.)
This warranty does not apply to any product determined by SureCall to have been subjected
to misuse, abuse, neglect, or mishandling that alters or damages the product's physical or
electronic properties.
SureCall warrants to the Buyer that each of its products, when shipped, will be free from
defects in material and workmanship, and will perform in full accordance with applicable
specifications. The limit of liability under this warranty is, at SureCall's option, to repair or
replace any product or part thereof which was purchased up to THREE YEARS after May 1,
2014 or TWO YEARS for products purchased before May 1, 2014, as determined by
examination by SureCall, prove defective in material and/or workmanship. Warranty returns
must first be authorized in writing by SureCall. Disassembly of any SureCall product by
anyone other than an authorized representative of SureCall voids this warranty in its entirety.
SureCall reserves the right to make changes in any of its products without incurring any
obligation to make the same changes on previously delivered products.
As a condition to the warranties provided for herein, the Buyer will prepay the shipping
charges for all products returned to SureCall for repair, and SureCall will pay the return
shipping with the exception of products returned from outside the United States, in which
case the Buyer will pay the shipping charges.
The Buyer will pay the cost of inspecting and testing any goods returned under the warranty
or otherwise, which are found to meet the applicable specifications or which are not defective
or not covered by this warranty.
Products sold by SureCall shall not be considered defective or non-conforming to the Buyer's
order if they satisfactorily fulfill the performance requirements that were published in the
product specification literature, or in accordance with samples provided by SureCall. This
warranty shall not apply to any products or parts thereof which have been subject to accident,
negligence, alteration, abuse, or misuse.
SureCall makes no warranty whatsoever in respect to accessories or parts not supplied by it.
SureCall is not responsible for any fees associated with the removal or servicing of the
product.
Page 10
CA-VAT / Aura Cellular Booster Kit
Booster Technical Specs
Frequency
Uplink: 824-849 MHz and 1850-1910 MHz
Downlink: 869-894 MHz and 1930-1990 MHz
Impedance
50 ohm
Gain
30dB - 50dB adjustable
VSWR
≤ 2 .0
Standard Supported
CDMA/WCDMA,GSM/GPRS,EDGE,TDMA AMPS etc.
DC Power
5-15V
Max RF Power
1W EIRP
Noise Figure
5dB
RF connectors
FME connectors on both ends (Interior and Exterior antennas
are equipped with N connectors.)
Power Consumption
<10W
Dimensions
8" x 1.25" x 5"
Weight
1 lb 8 oz.
FCC Information [ FCC ID: RSNFLEX2GO ]
This is a CONSUMER device.
BEFORE USE, you MUST REGISTER THIS DEVICE with your wireless provider and have
your provider's consent. Most wireless providers consent to the use of signal boosters.
Some providers may not consent to the use of this device on their network. If you are
unsure, contact your provider.
You MUST operate this device with approved antennas and cables as specified by the
manufacturer. Antennas MUST be installed at least 20 cm (8 Inches) from any person.
You MUST
licensed wireless service provider.
WARNING.
calls served by using this device.