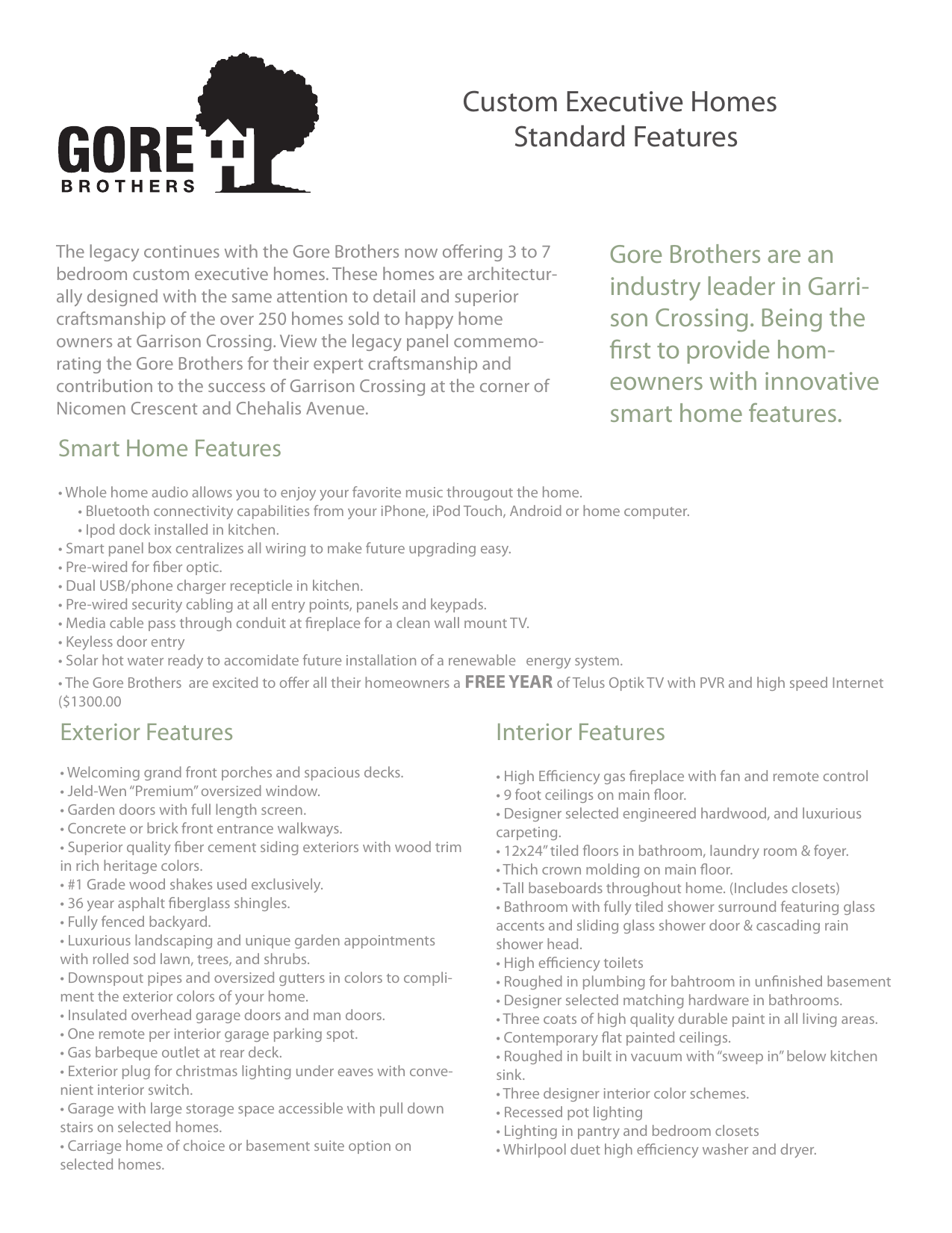 Custom Executive Homes
Standard Features
The legacy continues with the Gore Brothers now offering 3 to 7
bedroom custom executive homes. These homes are architecturally designed with the same attention to detail and superior
craftsmanship of the over 250 homes sold to happy home
owners at Garrison Crossing. View the legacy panel commemorating the Gore Brothers for their expert craftsmanship and
contribution to the success of Garrison Crossing at the corner of
Nicomen Crescent and Chehalis Avenue.
Gore Brothers are an
industry leader in Garrison Crossing. Being the
first to provide homeowners with innovative
smart home features.
Smart Home Features
• Whole home audio allows you to enjoy your favorite music througout the home.
• Bluetooth connectivity capabilities from your iPhone, iPod Touch, Android or home computer.
• Ipod dock installed in kitchen.
• Smart panel box centralizes all wiring to make future upgrading easy.
• Pre-wired for fiber optic.
• Dual USB/phone charger recepticle in kitchen.
• Pre-wired security cabling at all entry points, panels and keypads.
• Media cable pass through conduit at fireplace for a clean wall mount TV.
• Keyless door entry
• Solar hot water ready to accomidate future installation of a renewable energy system.
• The Gore Brothers are excited to offer all their homeowners a FREE YEAR of Telus Optik TV with PVR and high speed Internet
($1300.00
Exterior Features
Interior Features
• Welcoming grand front porches and spacious decks.
• Jeld-Wen "Premium" oversized window.
• Garden doors with full length screen.
• Concrete or brick front entrance walkways.
• Superior quality fiber cement siding exteriors with wood trim
in rich heritage colors.
• #1 Grade wood shakes used exclusively.
• 36 year asphalt fiberglass shingles.
• Fully fenced backyard.
• Luxurious landscaping and unique garden appointments
with rolled sod lawn, trees, and shrubs.
• Downspout pipes and oversized gutters in colors to compliment the exterior colors of your home.
• Insulated overhead garage doors and man doors.
• One remote per interior garage parking spot.
• Gas barbeque outlet at rear deck.
• Exterior plug for christmas lighting under eaves with convenient interior switch.
• Garage with large storage space accessible with pull down
stairs on selected homes.
• Carriage home of choice or basement suite option on
selected homes.
• High Efficiency gas fireplace with fan and remote control
• 9 foot ceilings on main floor.
• Designer selected engineered hardwood, and luxurious
carpeting.
• 12x24" tiled floors in bathroom, laundry room & foyer.
• Thich crown molding on main floor.
• Tall baseboards throughout home. (Includes closets)
• Bathroom with fully tiled shower surround featuring glass
accents and sliding glass shower door & cascading rain
shower head.
• High efficiency toilets
• Roughed in plumbing for bahtroom in unfinished basement
• Designer selected matching hardware in bathrooms.
• Three coats of high quality durable paint in all living areas.
• Contemporary flat painted ceilings.
• Roughed in built in vacuum with "sweep in" below kitchen
sink.
• Three designer interior color schemes.
• Recessed pot lighting
• Lighting in pantry and bedroom closets
• Whirlpool duet high efficiency washer and dryer.
Custom Executive Homes
Standard Features
Kitchen Features
Master Retreat
• Fabulous open kitchen design.
• Granite countertops and under mount sink
• Whirpool gold energy start stainless steel french door
bottom freezer referigeratior.
• Whirpool 30" self cleaning slide in gas range
• European design chimney hood fan.
• Whirpool gold energy star stainless steel 6 cycle
dishwasher.
• Stainless Steel Inverter Microwave - built into kitchen
cabinet
• Recessed lighting with multiple lighting option switches
for varied lighting scenes
• Full tile backsplash with glass accent
• Quality custom designed kitchen cabinetry with under
cabinet lighting & valance
• Over height 42" upper cabinets (in select homes)
• Pots and pans drawers
• Cabinet crown moldings
• Soft closing hydraulic hinges on kitchen cabinets doors
• Designer selected polished satin nickel knobs and pulls
• Designer selected kitchen faucet with pull out vegetable
sprayer
• Dual kitchen sink with refillable soap dispenser pump
• Luxurious master ensuite with double sinks in most
homes
• Fully tiled shower surround with glass accent, sliding glass
doors and cascading rain shower heads
• Night stand areas with convenient electrical switch turn
on/off
• Master closet with shelving organizers and lighting
Upgrade Options
• Media room options include: HD/3D ready projectors,
motorized projection
screens, built-in surround sound speakers, integrated
amplifiers and recessed
lighting. Ready for your Blue-ray, and gaming system
• Extra speakers and sources to enhance the Whole Home
Audio
• Fully finished basement with the same attention to detail
given to the main living
area – see specific plan for layout (Buyer variations to
basement layout may be
permitted depending on stage of construction)
Craftsman and staff are personally selected by the Gore Brothers to maintain a consistent rigid high
standard of building and finishing of all their homes. The Gore Brothers have a home-service technician for any follow up required after the home owner moves into their home to ensure Buyer satisfaction. The Gore Brothers also employ a technology specialist who can assist and advise Buyers on
technology requirements for business and entertainment. A short stroll along the gently winding
streets from your beautiful Gore Brothers home leads to parks, recreation centre, schools, grocery
stores and restaurants. The University of the Fraser Valley, Vedder River fishing and hiking at the
Rotary Trail are also a stone's throw away. The residents of Garrison Crossing have a great sense of
community. Live life as it was meant to be.
Experience Excellence
The builder reserves the right to make modifications & changes should they be necessary.
Smart Home Upgrades
the future of home entertainment is here
Smart Panel Box - $2500 Value
Included
A smart panel box centralizes all telephone, Internet, cable TV, & audio wiring toone convenient location. This
allows for future changes & upgrades without re-wiring & makes it easy to switch service providers.
Keyless Door - $200 value
Included
Whole Home Audio - $2100 value
Included
Wall Mounted IPod dock - $225 value
Included
One door of Buyers choice
Single source, 8 speakers/4 zones, Cat5 audio
Media Room Options
Platinum Home Theatre Package
• Ceiling mounted HD (1080p) projector.
• Network ready receiver, p
• Powered projector screen.
• 5.1 flush wall/ceiling mounted speakers plus pow-
ered subwoofer.
• recessed lighting package.
Gold Home Theatre Package
• Ceiling mounted HD (720p) projector.
• Blue Ray player/receiver combo.
• Powered projector screen.
• 5.1 channel home theatre wall mounted
satellite speaker plus subwoofer.
Silver Home Theatre Package
• 5.1 channel home theatre satellite wall mounted
speakers plus subwoofer
5.1 wall speaker wiring
• Includes wall terminals to mount your own speakers
Recessed Lighting Package
• Eight 6" pot lights and two dimmer switches
Ceiling Sound Proof Package
• Insulation, sound bar & 5/8" drywall TBD
• 2" white faux wood blinds including installation
Built in vacuum & accessories
NOTE: Gore Brothers New Homes Inc. reserves the right to change brands or models to that of equal qualitywithout notice
to the purchaser. All items do not include HST.

* Your assessment is very important for improving the work of artificial intelligence, which forms the content of this project