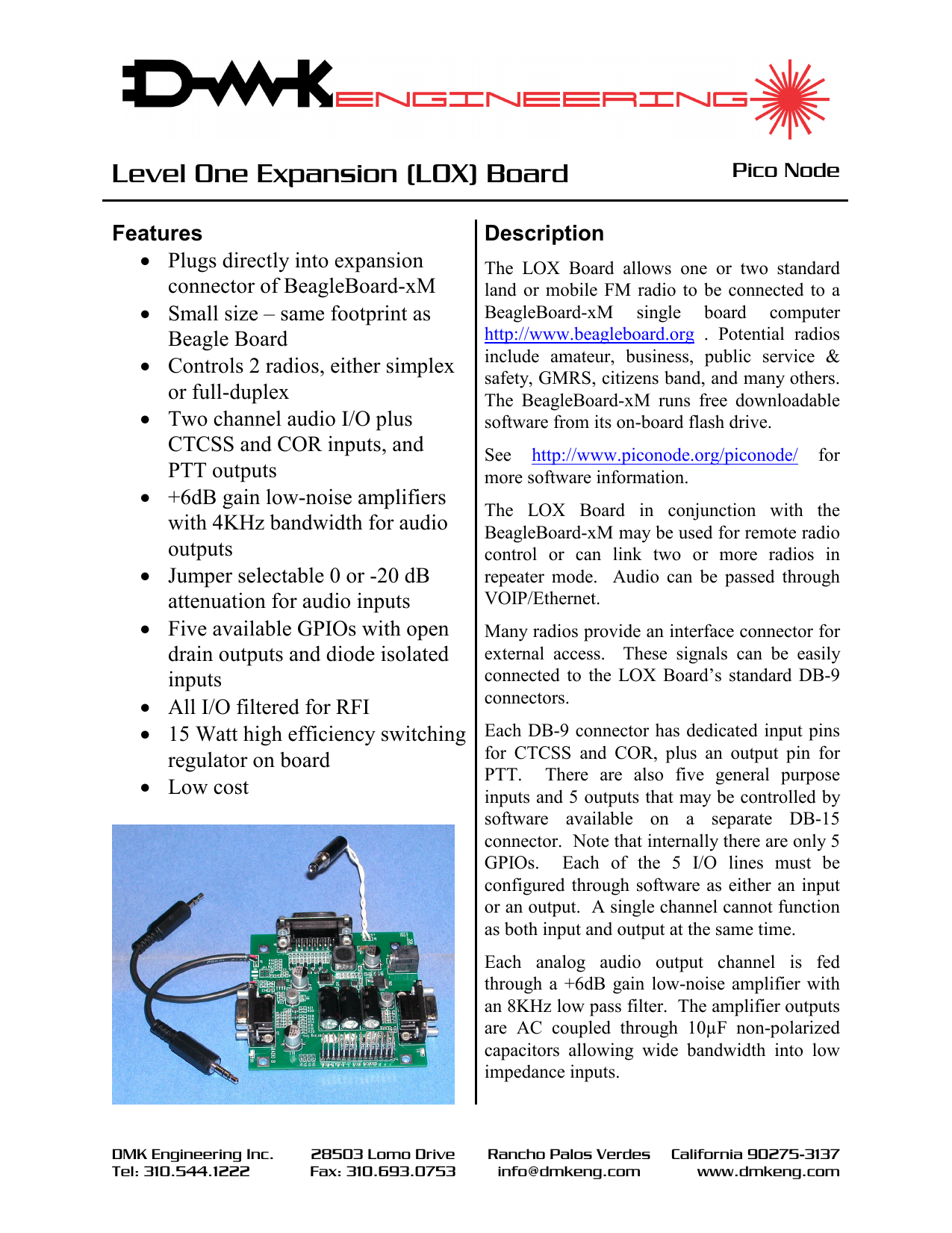 Level One Expansion (LOX) Board
Features
• Plugs directly into expansion
connector of BeagleBoard-xM
• Small size – same footprint as
Beagle Board
• Controls 2 radios, either simplex
or full-duplex
• Two channel audio I/O plus
CTCSS and COR inputs, and
PTT outputs
• +6dB gain low-noise amplifiers
with 4KHz bandwidth for audio
outputs
• Jumper selectable 0 or -20 dB
attenuation for audio inputs
• Five available GPIOs with open
drain outputs and diode isolated
inputs
• All I/O filtered for RFI
• 15 Watt high efficiency switching
regulator on board
• Low cost
Pico Node
Description
The LOX Board allows one or two standard
land or mobile FM radio to be connected to a
BeagleBoard-xM single board computer
http://www.beagleboard.org . Potential radios
include amateur, business, public service &
safety, GMRS, citizens band, and many others.
The BeagleBoard-xM runs free downloadable
software from its on-board flash drive.
See http://www.piconode.org/piconode/
more software information.
for
The LOX Board in conjunction with the
BeagleBoard-xM may be used for remote radio
control or can link two or more radios in
repeater mode. Audio can be passed through
VOIP/Ethernet.
Many radios provide an interface connector for
external access. These signals can be easily
connected to the LOX Board's standard DB-9
connectors.
Each DB-9 connector has dedicated input pins
for CTCSS and COR, plus an output pin for
PTT. There are also five general purpose
inputs and 5 outputs that may be controlled by
software available on a separate DB-15
connector. Note that internally there are only 5
GPIOs. Each of the 5 I/O lines must be
configured through software as either an input
or an output. A single channel cannot function
as both input and output at the same time.
Each analog audio output channel is fed
through a +6dB gain low-noise amplifier with
an 8KHz low pass filter. The amplifier outputs
are AC coupled through 10µF non-polarized
capacitors allowing wide bandwidth into low
impedance inputs.
DMK Engineering Inc.
Tel: 310.544.1222
28503 Lomo Drive
Fax: 310.693.0753
Rancho Palos Verdes
[email protected]
California 90275-3137
www.dmkeng.com
Description Continued…
Two female DB-9 connectors are provided to interface with two radios. Each connector has an
LED adjacent to it which is lit when the corresponding PTT output is active. The pin
assignments are shown in Table 1.
Table 1. Radio A/B Connector Pin Assignments (DB9F)
Name
Description
Pin No.
1
GND
DC Return
2
CTCSS
Input, diode isolated continuous tone-coded squelch system detect
3
PTT
Push to talk open collector outputs to radio transmitter. Maximum
off state 40V, maximum on state current 0.75 amps
4
AUDIO OUT AC coupled audio output to radio, 8KHz bandwidth
5
AUDIO IN
AC coupled audio input from radio, jumper selectable for -18dB or
-38dB attenuation
6
GND
DC Return
7
COR
Input, diode isolated, receive (carrier operated relay) detect
8
GND
DC Return
9
GND
DC Return
One female DB-15 connector is provided with 5 general purpose inputs and outputs. Plus 5 volts
DC is available to power external circuits up to 100mA. The five inputs and outputs are
numbered 1 through 5, but there are only 5 GPIO channels available on the BeagleBoard Xm.
Through software each channel must be configured as either an input or an output. The unused
state, input or output becomes inactive. The pin assignments are shown in Table 2.
Table 2. GPIO Connector Pin Assignments (DB15F)
Pin No.
Name
Description
1
IN1
Channel 1 input
2
IN2
Channel 2 input
3
IN3
Channel 3 input
4
IN4
Channel 4 input
5
IN5
Channel 5 input
6
GND
DC Return
7
GND
DC Return
8
GND
DC Return
9
OUT1
Channel 1 output
10
OUT2
Channel 2 output
11
OUT3
Channel 3 output
12
OUT4
Channel 4 output
13
OUT5
Channel 5 output
14
+5V
DC output, 100mA maximum
15
+5V
Common with pin 14
All digital inputs including COR, CTCSS and IN1 through IN5 are diode isolated. No pull-up
resistor is required to generate a logic high. Maximum input voltage is 36 volts. When pulled to
ground the low state input current will be approximately -0.5mA.
All digital outputs OUT1 through OUT5 are open drain transistor outputs. An external pull-up
resistor is required to generate a logic high. Maximum output high (off state) voltage is 18 volts.
Maximum output low (on state) current is 0.75 amps.
Since the BeagleBoard Xm analog inputs are designed for microphone levels, standard line level
signals must be attenuated. Jumpers on the LOX Board allow for user selectable attenuation.
When the jumper is installed the input signal is attenuated by -20dB. Selection is made
separately for each channel.
Figure 1. LOX Board Connected with BeagleBoard-xM
PickleJar Research
PTT Output
The push-to-talk outputs are open drain MOSFET transistor outputs. There is no internal pullup
so these outputs require an external load or pullup resistor. Maximum off-state voltage is 40
volts. Maximum on-state current is 0.75 amps. Voltage and current must be limited to remain
within these limits at all times.
DC Power Input
A 2.1mm coaxial power jack is provided for input power. Center contact is positive. Input
voltage range is from 6 to 40 volts DC. Current draw will be approximately 0.5 amps at 12 volts
when powering just the Beagle Board. With a fully loaded compliment of powered USB devices
attached current draw may be as much as 3 amps.
This data sheet is distributed in the hope that it will be
useful, but WITHOUT ANY WARRANTY; without even the
implied warranty of MERCHANTABILITY or FITNESS FOR
ANY PURPOSE.

* Your assessment is very important for improving the work of artificial intelligence, which forms the content of this project