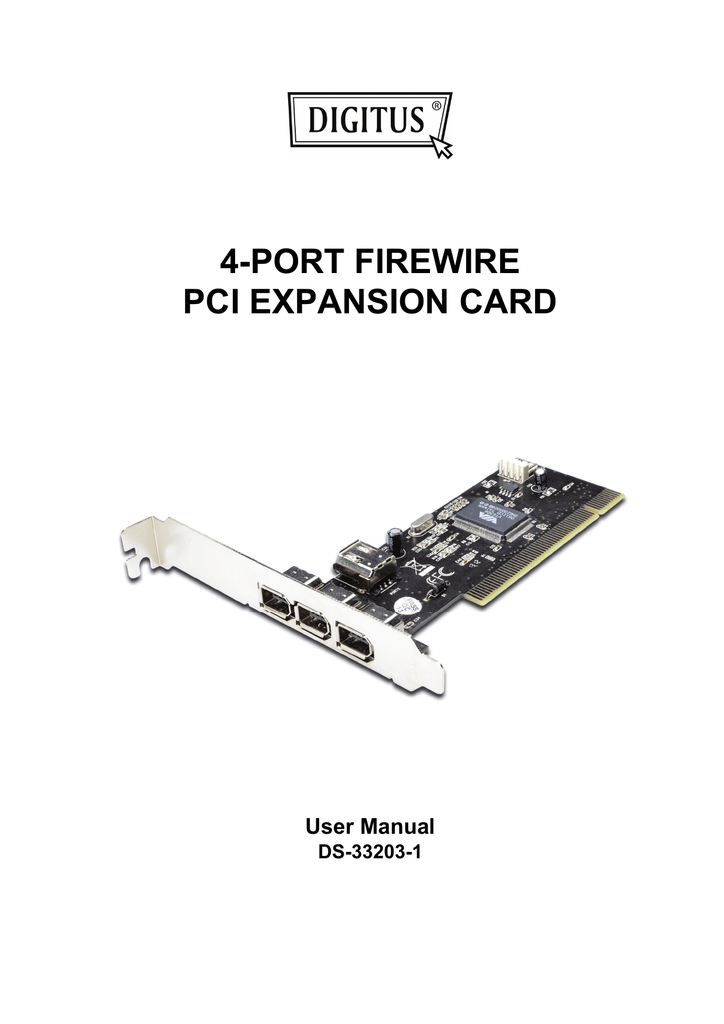 4-PORT FIREWIRE
PCI EXPANSION CARD
User Manual
DS-33203-1
Features and Benefits
• VIA VT6306 chipset
• PCI 32-bit 33MHz Interface
• Compliant IEEE 1394-1995, 1394a (rev. 1.1) and OHCI Interface
Specification 1.0
• Supports data transfer rates of 100, 200 and 400 Mbps
• Hot-swapping features allows you to connect/disconnect devices
without powering down your system
• Adds four IEEE 1394 (FireWire) ports to your PC for high-speed
I/O connectivity and support up to 63 devices
• One (1) internal IEEE 1394 port (Sharing with first external IEEE
1394 port P2)
• Supports various brands of DV camcorders including Sony,
Panasonic, Canon, JVC, Sharp and more
• Supports Windows® 2000, XP/2003 / Vista / Win 7 32/64 bit
Connectors
• 2 x external IEEE 1394a 6-pin connectors
• 1 x external IEEE 1394a 4-pin connector
• 1 x internal IEEE 1394a 6-pin connector
System Requirements
• Windows® 2000, XP/2003 32/64 bit, Vista 32/64 bit
• Available PCI slot
Package Contents
• 1 x VIA PCI IEEE 1394 Adapter
• 1 x User's Manual
Optional Accessories
• IEEE 1394a Cable
• CD
Hardware Description
Hardware Installation
1. Turn Off the power to your computer.
2. Unplug the power cord and remove your computer's cover.
3. Remove the slot bracket from an available PCI slot.
4. To install the card, carefully align the card's bus connector with the
selected PCI slot on the motherboard. Push the board down firmly.
5. Replace the slot bracket's holding screw to secure the card.
6. Replace the computer cover and reconnect the power cord.
Driver Installation
Windows® 2000/XP/Vista will automatically detect and install the
correct driver for the VIA PCI IEEE 1394 Adapter. Make sure that the
driver has been installed correctly, right click My Computer, then click
Manage, click Device Manager. The Device Manager window opens.
Scroll to the IEEE 1394 Bus host controller icon and click on the plus
symbol, the VIA OHCI Compliant IEEE 1394 Host Controller should
be displayed.

* Your assessment is very important for improving the work of artificial intelligence, which forms the content of this project