Panasonic RP-SDUB16GAK Datasheet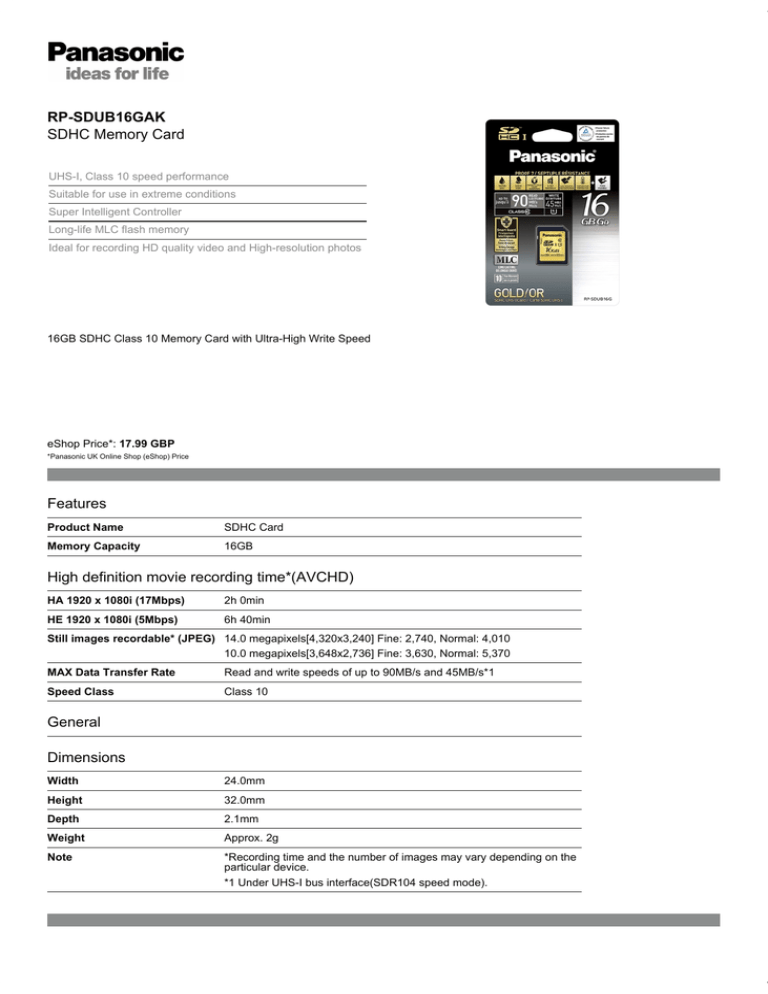 RP-SDUB16GAK
SDHC Memory Card
UHS-I, Class 10 speed performance
Suitable for use in extreme conditions
Super Intelligent Controller
Long-life MLC flash memory
Ideal for recording HD quality video and High-resolution photos
16GB SDHC Class 10 Memory Card with Ultra-High Write Speed
eShop Price*: 17.99 GBP
*Panasonic UK Online Shop (eShop) Price
Features
Product Name
SDHC Card
Memory Capacity
16GB
High definition movie recording time*(AVCHD)
HA 1920 x 1080i (17Mbps)
2h 0min
HE 1920 x 1080i (5Mbps)
6h 40min
Still images recordable* (JPEG) 14.0 megapixels[4,320x3,240] Fine: 2,740, Normal: 4,010
10.0 megapixels[3,648x2,736] Fine: 3,630, Normal: 5,370
MAX Data Transfer Rate
Read and write speeds of up to 90MB/s and 45MB/s*1
Speed Class
Class 10
General
Dimensions
Width
24.0mm
Height
32.0mm
Depth
2.1mm
Weight
Approx. 2g
Note
*Recording time and the number of images may vary depending on the
particular device.
*1 Under UHS-I bus interface(SDR104 speed mode).

* Your assessment is very important for improving the work of artificial intelligence, which forms the content of this project