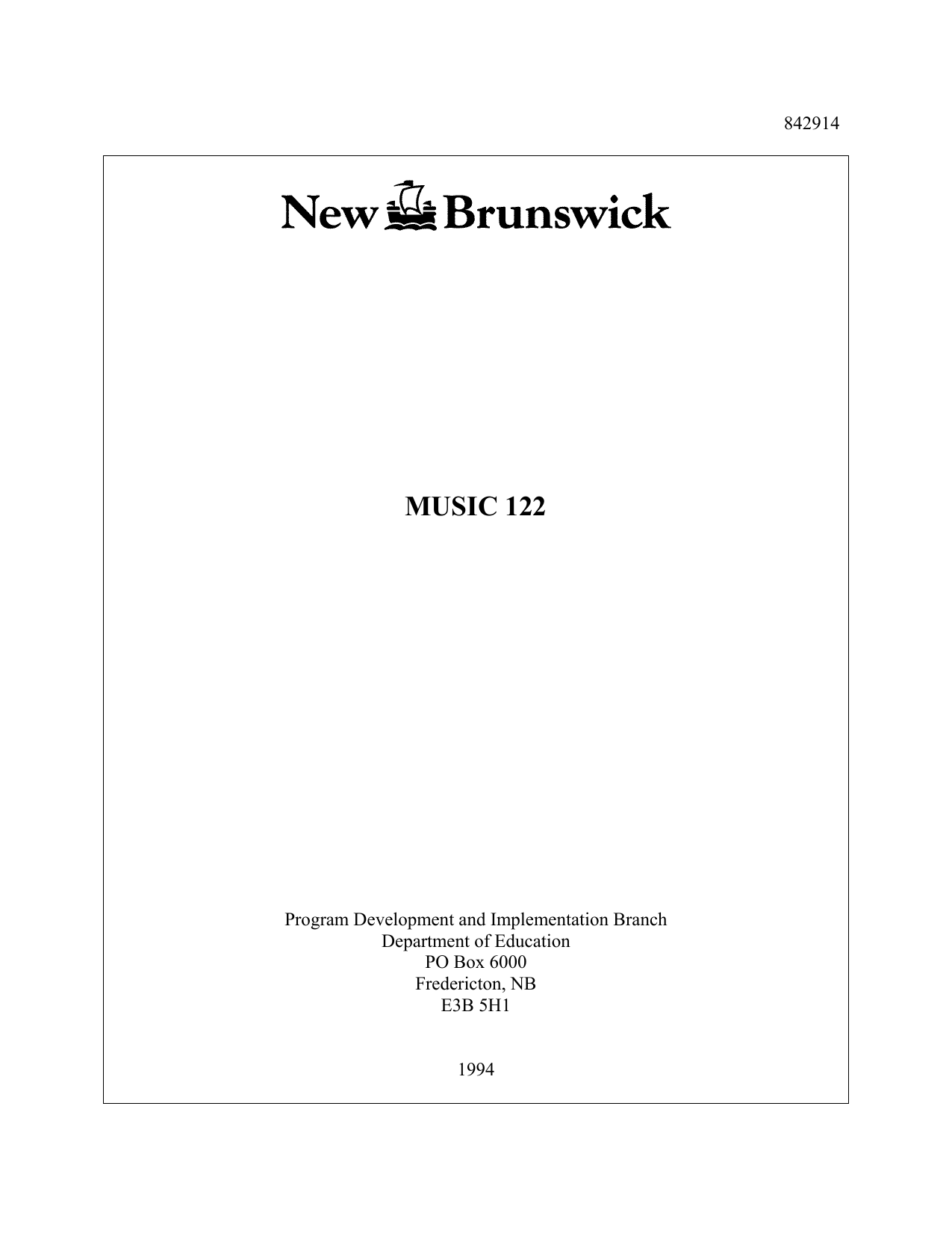 842914
MUSIC 122
Program Development and Implementation Branch
Department of Education
PO Box 6000
Fredericton, NB
E3B 5H1
1994
Acknowledgements
The Department of Education gratefully acknowledges the work of the members of the Senior
High Music Curriculum Development Advisory Committee. Members of the committee are as
follows:
John Betts, School District 02
Martha Jacobson, School District 15
Richard Hornsby, University of New Brunswick
Hugh Kennedy, School District 18
Peter McLaughlin, School District 13
Debbie Woodford, School District 06
Paul Woodford, University of New Brunswick
Gervais Warren, Department of Education
i
Index
Acknowledgements.......................................................................................................................... i
Rationale ........................................................................................................................................ iii
Entrance Requirements .................................................................................................................. iii
Course Components ....................................................................................................................... iii
Program Design and Implementation ............................................................................................ iii
Student Assessment & Evaluation ................................................................................................. iv
Purposes of Assessment and Evaluation................................................................................ iv
Principles of Assessment and Evaluation .............................................................................. iv
Gathering Assessment Evidence............................................................................................. v
Technical/Performance Skills ......................................................................................................... 1
Composition.................................................................................................................................... 3
Canadian Music History ................................................................................................................. 7
Contemporary Local Cultural Institutions and the
Music Industry/Careers................................................................................................................. 15
Music Criticism............................................................................................................................. 17
Technology ................................................................................................................................... 19
Appendices
1. Selected Instrumental Solo Materials for Woodwind, Brass and Percussion
2. Selected Instrumental Solo Materials for Woodwind, Brass and Percussion
3. Summary Chart of Musical Styles
4. How to Produce and Publish Music Material
5. Sequencing Project
6. Music Careers
ii
Music 122
Rationale
The Music 122 course is designed for the advanced and serious student of music who wishes to
pursue the subject as an avocation or who may be interested in further studies at the postsecondary level. The course assumes an advanced level of musical literacy, good aural skills, a
sound theoretical background, knowledge of historical styles and forms and an interest in
improving upon and expanding these areas of music knowledge and expertise.
Entrance Requirements
Students entering this course must have passed Music 112 (or Music 113 with teacher's
permission), or have private music study equivalent to grade 6 instrumental (including keyboard)
or voice and grade 2 theory offered by the Royal Conservatory of Music or equivalent. Students
offering private music for advanced standing to enter grade 12 music must present evidence of
acceptable equivalency prior to being accepted into grade 12 course.
Course Components
Music 122 consists of the following components and their allotted percentage of time and worth.
1) Technical/performance skills (instrumental; including keyboard,
or guitar or vocal).
25%
2) Composition
25%
3) Canadian Music History
20%
4) Contemporary Local Cultural Institutions and The Music Industry/Careers
10%
5) Music Criticism
10%
6) Music and Technology
10%
Program Design and Implementation
The course may be delivered in a variety of formats. If numbers permit a discrete class is
recommended. Smaller numbers may be integrated into Music 112. Students would meet with
the teacher at mutually convenient times to set directions and report progress, receive feedback
and assessment, and to provide opportunities for necessary encouragement and advice.
iii
The course is designed to encourage students to develop their musical skills through exposure to
a variety of musical challenges and problems that require creative and higher order thinking
skills. They will be required to work individually, independently, in small groups and in larger
ensembles. Assignments, projects and research activities should all be oriented to activity-based
experiential learning where the students assume a large responsibility for their learning.
Students should be exposed to a wide range of music for purposes of analysis, listening,
historical research and performance. It may be that a fair amount of this course will involve
work outside of the music room – at home, with other students, in the library, at a music studio,
at concerts, etc. The manifestations of musical activity are many and varied. It is hoped that the
student will experience many of them.
Student Assessment & Evaluation
All components of this course are to be used for student assessment and their individual
component worth similar to the percentage indicated beside them under the Course Component
section. Assessment of the student is an integral, continuous and systematic part of the learning
process. It should relate to the broad aims of the program, course content and specific learning
objectives. Assessment refers to the gathering of information on what a student can do –
evaluation refers to the manner in which judgments are made and reported to others – e.g.,
school personnel, parents. Students should know from the beginning the method, frequency and
manner of the collection of information on their progress.
Purposes of Assessment & Evaluation
-
to gather information and evidence on student achievement including purely musical skills of
expression, interpretation, creativity, musicianship;
-
to monitor students growth in all areas of the course in order to provide feedback to the
student and assist the teacher to make appropriate instructional interventions;
-
to communicate student progress to school personnel and parents.
The Principles of Assessment and Evaluation are as follows:
-
assessment and evaluation are on-going and utilize information gathered from a variety of
sources and utilizing a number of methods;
-
assessment and evaluation provide information on all aspects of learning that are consistent
with curriculum expectations, including skills, knowledge, understandings, procedures,
processes, attitudes, dispositions and behaviours;
-
the purpose of assessment and evaluation is to assist teachers to teach better and help
students learn better and more;
iv
-
assessment and evaluation of students should be constructive, positive and should encourage
students to monitor their own learning and to work to improve in an independent manner;
-
assessment and evaluation should be carried out and recorded in ways that are meaningful
and easy to understand by others.
Gathering Assessment Evidence
-
Observation including anecdotal comments, checklists and rating scales.
-
Portfolios and recordings (tapes) of musical efforts, e.g., compositions and criticisms could
be kept in a portfolio and progress on etudes, ensemble playing, etc. could be recorded.
Also, student reflections on the above provide valuable information on their use of higher
order musical thinking skills.
-
Performances (solo, small group, larger ensemble) demonstrations, exhibitions.
-
Research papers, presentations to class including projects and home assignments.
-
Interviews with students – teachers – others.
-
Participation and attitude in all aspects of course of study.
It is recommended that parents be involved in as much of the above as possible. If not able to be
physically present then samples of written and recorded work should be made available to
parents.
The manner in which the above is presented to others is the responsibility of the School District.
If percentages must be used it is strongly suggested that students be given written critiques of
their progress in all areas of the course.
v
Technical/Performance Skills
Entrance Requirements
Students entering the grade 12 music course must demonstrate either:
-
the completion of the performance objectives in the grade 11 course or,
-
private music study in an instrument (including keyboard) or voice at the level of grade 6
Royal Conservatory of Music or equivalent. Evidence of this standing must be presented
prior to enrolling in Music 122.
Content
Students will continue to develop their technical and performance skills on their chosen
instrument through grade 12.* This will include:
-
practice
-
solo playing using both studies and other music at a suitable level*
-
small ensembles with as much variety as possible given the music resources of the school
and students
-
participation and leadership
-
sight reading/singing
-
school ensembles such as stage band, concert band, choir, musicals, etc.
It is expected that students will:
-
progress to level of the equivalent of Royal Conservatory of Music Grade 7 or beyond
-
sight-read at two levels below the above playing level
-
make music among themselves and perform for others utilizing a wide range of repertoire
-
demonstrate an increasing subtlety of interpretation and musical judgment in their playing
-
reflect upon and critique their playing and that of others
*
See Appendices 1 & 2 for suggestions for (1) Selected Instrumental Solo Materials and (2) Selected Instrumental
Study Materials
1
-
demonstrate enthusiastic and regular practice habits
-
demonstrate leadership in school music activities
-
play music that is being studied for other purposes e.g., listening, music criticism,
composition
2
25%
Composition
The grade 12 music course contains an important composition component. In the overall
assessment it is worth 25%. This component is an opportunity for students to put previously
learned theoretical and aural concepts to practical and creative uses. By grade 12, students will
have been introduced to many of the important building blocks of composition such as rhythm,
pitch (melodic and harmonic), texture, tone colour, dynamics and form. They are now required
to put knowledge of these concepts to creative use – to manipulate the above elements to create
compositions that demonstrate a degree of musical originality.
The aims are therefore two-fold – to apply previously learned theoretical knowledge and to work
in the world of musical ideas to produce short musical compositions that demonstrate craft and
inventiveness.
Methodology
The composition of music does not exist in a vacuum. Musical ideas can be developed from
numerous sources including other musical activities such as score reading and analysis, listening,
arranging, and improvising. This being the case, the composition section interacts with and
complements other areas of the curriculum. Students must listen and play, for these are valuable
experiences necessary for the generation of musical ideas. The actual act of composition may
take place in school or outside of school, and preferably over a period of time. The generation
and development of musical ideas requires reworking, refinement, analysis, reflection and often
rejection of produced materials. The time needed to notate is also considerable, as is the time
necessary to interpret and perform the composition. It is therefore recommended that students
work throughout the semester/year on a variety of exercises and compositions. Consideration
should be given to combining the requirements of this section and the objectives of the
technology unit. There is nothing to stop a student producing compositions using the available
technology.
The basic text is Learning to Compose by John Howard but students should study all music they
listen to and play, from an analytical/compositional point of view.
Students are required to create and perform the following:
1.
A soundscape / soundpiece of two minutes duration using non-conventional notation.
At least 2 from numbers 2, 3, 4
2.
A thirty-two bar single-line melody for a specific instrument.
3.
A sixteen bar piece in two or more parts that demonstrates contrapuntal techniques.
4.
A setting of words to music with simple accompaniment.
3
5.
A final project of at least 4 minutes duration, either a short piece or pieces in the style of
a particular composer or historical style*, or an original composition of at least 4 minutes
duration incorporating previous learning.
Soundscape / Soundpiece
This activity is useful in developing the students' awareness of the various sounds that can be
found in different environments – sounds that are often taken for granted and never really
listened to. We hear them but we don't listen to them. They can be notated with or without
definite pitch using traditional and/or non-conventional (graphic) notation. Students should work
at notating and performing both imitative and creative soundscapes / soundpieces. Examples
could include:
1.
Make soundscape of a main street –
(a) on a Saturday evening and
(b) on Sunday morning
2.
(a) a tranquil pastoral scene
(b) a storm in the country
3.
Own choice
4.
Learning to compose (P. 8 and 9 assignments 1, 2 a, b)
The books of John Paynter Sound & Silence and R. Murray Schaffer Ear Cleaning, Elephant in
the Classroom and A Sound Education are useful resources.
Melody Writing
The objective is to have students create and perform an extended melody (at least 32 bars).
Students should have opportunities to:
-
generate musical ideas
-
develop musical ideas through compositional devices such as use of motifs (melodic and
rhythmic), sequences, modulations
-
develop a sense of form through structuring of both phrases and sections. This would
entail, the study of cadences, scales, intervals, phrasing, melodic contour and simple
forms such as binary and ternary.
-
Manipulate musical elements for expressive effects (dynamics, timbre, rhythms, etc.
Note harmony will only be implied, not written out.)
*
See Appendix III, Summary Chart of Musical Styles
4
Examples and explanations can be selected from Learning to Compose.
pp. 10-17 especially p. 13 assignment 4 – (How to use musical ideas)
pp. 16-19 (form) including assignments 7, 8, 9
p. 23 assignments 13-17
p. 26 assignments 18-26
p. 40 assignments 28-39
assignment 33-34 (phrasing)
assignment 35 (scales)
p. 50-52 assignments 37-38 (various ways of developing a tune)
Partwriting
Students are required to create and perform a 16 bar piece in two or more parts demonstrating
fluency, independent part writing and use of contrapuntal techniques.
Begin with simple drones and ostinati. Play and listen to examples in Learning to Compose pp.
76-79 and do assignment 57. Read, play, listen to examples on pp. 79-83, Several Tunes at
Once. Add 2nd movement of Bach's D minor Double Violin Concerto to listening list on p. 79.
Discuss other pieces played or listened to where part writing is prominent or that are polyphonic
in nature.
Final composition might demonstrate use of imitation, voice leading, inversion, augmentation,
stretto, use of pedal-point.
Word Setting
A short text, perhaps an 8-line verse, should be selected and set to music with simple mainly
chordal accompaniment. The music should be sensitive to the words and the piece should be
performed.
Read Learning to Compose pp. 58-61 (do not do assignments 41 B and 42).
Read pp. 55-57 and pp. 62-65 and complete assignment 41 a (accents) or other suitable text, then
assignment 39 p. 55 and assignment 40 (2), p. 57 both dealing with chords and harmony.
Re-read pp. 59-61 and complete assignment 42 or other suitable text.
5
Final Projects
Choose one:
On original composition of 3-8 minutes duration demonstrating originality of musical ideas,
fluency, stylistic consistency, attention to formal matters and musical interest will be composed,
performed and critiqued. The work may be for any combination of voices or instruments.
OR
Using one of the following techniques: aleatoric, dodecaphonic, tonal, atonal, contrapuntal,
create a 3-5 minute piece.
OR
A short piece of 3-5 minutes duration in the style of a particular composer or historical style will
be composed, performed and critiqued. Faithfulness to stylistic characteristics of the imitated
style is important. Students must be able to list and describe such characteristics. (see attached
Appendix 3)
Musical craft and invention, quality of ideas, fluency, expressive qualities and emotional effects
are all considerations for evaluation.
Suggestion
A concert of these students' works should be presented to other classes and also recorded for
each student. Other music classes could critique them as part of their listening units and as
motivation for their own compositional efforts.
Enrichment
How to produce and publish music material
Appendix 4
6
Canadian Music History
(20%)
Objectives
Students will:
1.
Understand how Canadian music evolved since 1867.
2.
Demonstrate familiarity with some of the Canadian Music Centre's Associated
Composers and their music.
3.
Experience, in detail, at least one Canadian composer's compositions, musical style and
research his/her biography.
4.
Research the basic mandate of some of Canada's national music institutions.
Teachers are encouraged to focus on New Brunswick's musical assets whenever possible.
Resources
Student text:
The Music of Canada, Timothy McGee, W.W. Norton and Company, 1985
1/student
Required references:
Composter Project Ted Dawson, ed. by David Parsons, Canadian Music Centre, 1991
1 book/student, 1 set of tapes/2 students
The Encyclopedia of Music in Canada, Kallman, Potvin, Winters, University of Toronto Press,
1991
1/class for reference
Recommended resources:
Directory of Associate Composers, ed. by Carolyn Beatty, coordinated by Mark Hand, Canadian
Music Centre, 1989
1/3 or 4 students
Twentieth Century Canadian Composers – Vol. 1, Ian Bradley, GLC Publishers Limited, 1977
1/3 or 4 students
Twentieth Century Canadian Composers – Vol. 2, Ian Bradley, GLC Publishers Limited, 1982
1/3 or 4 students
7
Canada's Music: An Historical Survey, Clifford Ford, GLC Publishers Limited, 1985
1/class for reference
Music Education in Canada, Nancy Vogan and Paul Green
(Current) Catalogue of Recordings, Canadian Music Centre
1/class
Music Directory Canada, 5th edition, publ. Jim Norris
Essential Recordings: (available through the CMC)
Anton Kubalek Plays Canadian Piano Music, SMLP 4023
Canadian Classics Vol. 1, CMC 2887 (D)
R. Murray Schafer, SMLP-C4046
Scores:
"Altitude" by Claude Champagne
Unit Content
The intent of this unit is to have the students gain an understanding of the historical development
and the current status of Canadian music and to acquaint them with important national music
institutions. This will be achieved through reading assignments and writing research papers
and/or making oral presentations. There are 3 parts to this unit.
Part 1
To provide the necessary background information for effective research, and to give an historical
perspective of Canadian Music, students will read the small text contained in the Composter
Project and chapters 4, 5, 6 and 7 of McGee's The Music of Canada. Evaluation procedures will
include normal testing tools for comprehension. Teachers may wish to provide students with
question sheets and/or review/summary sheets of the readings. Teachers may also decide as to
the frequency of the testing. Be sure to include an awareness of aboriginal music. It might
include inviting an aboriginal musician to a class discussion.
Part 2
8
Students will write an assignment of at least 2 to 4 pages in length and/or deliver an oral
presentation on a Canadian music institution which possesses a national profile. The possible
topics could make an infinite list. Some suggested topics are: the CBC, the Canadian Music
Centre, the Canada Council, the Canadian League of Composers and their affiliate, the Society
of Composers, Authors and Publishers – (SOCAN), conservatories of music, the National Arts
Centre, the Association of Canadian Orchestras, the Association of Canadian Choral Conductors,
the Canadian Band Association, the Canadian Music Educators' Association, the Registered
Music Teachers' Association, and a professional orchestra, choir or chamber ensemble.
Obviously locally available resources may restrict the students' selection of topics. However,
students should be encouraged to contact the institution for information. For this reason, this
assignment might be given with a distant deadline.
Part 3
Students will write an assignment of at least 5 pages in length and/or deliver an oral presentation
on 2 Canadian composers. The focus of this assignment is to be a comparison of the composers'
musical styles and the ideas behind the composers' work. Some biographical information could
be included although this is not to be the emphasis of the assignment. Students will need access
to scores and recordings so that adequate study can occur. In all likelihood, this will involve the
student accessing materials from the Canadian Music Centre. Again, teachers are advised to give
the students enough lead-time so that appropriate resources are available.
Evaluation
The unit is comprised of 3 parts.
Part 1 is the easiest component to complete. It is a concrete assignment which uses a limited
number of resources, and is easily assessed. In a semestered school it should take 1-2 weeks.
This is worth 25% of the unit.
Part 2 is an easily understood assignment but it demands greater responsibility, motivation and
maturity of the students. Once the information is available, this assignment could be completed
in only 1 week. This is worth 25% of the unit.
Part 3 is similar to Part 2 in its expectations of personal qualities but the end product is more
comprehensive. Again, once the information is available, there should be little difficulty in
completing the assignment. This assignment could be allotted 2 weeks. This assignment is
worth 50% of the unit.
9
Teacher Notes
Summary of Chapters in The Music of Canada.
The following are some of the important points teachers may wish to emphasize to their students.
Chapter 4
**
A connection should be made between Western European music from a Canadian
perspective and the socio-political history of the late 1800's. For instance, 1867 was
Canada's year of Confederation which was the same era as the operation of the Halifax
Citadel and the Victorian Age.
**
The settling of the West via the Canadian Pacific Railway brought an Asian and
European cultural influence. The folk songs associated with the voyageurs became less
popular while parlour music became more popular.
**
Church and community choirs thrived.
**
Many orchestras were formed but most collapsed within 12 years due to a shortage of
money. Of particular interest is the evolution of the Quebec Symphony.
**
Many orchestras were formed but most collapsed within 12 years due to a shortage of
money. Of particular interest is the evolution of the Quebec Symphony.
**
Opera and vaudeville were very popular. Concert repertoire was essentially Western
European content.
**
Major cities of Eastern Canada were on the same touring circuit as Boston, New York,
Chicago, etc.
**
For the first time Canada produced its own virtuosi such as Frantz Jehin-Prume on violin,
Luigi von Kunits on violin, and Emma Albani a soprano, Georgina Stirling, opera singer.
**
The organ makers Casavant Freres were established in 1880 in St. Hyacinthe, Quebec.
**
Piano manufacturers flourished – Mason and Risch, Lesages, and Heintzman and Willis
**
Distinct French and English musical styles became established.
Chapter 5
**
In general, this was a time of prosperity for Canada as it grew as a producer and as a
consumer.
10
**
Claude Champagne and Healey Willan emerged as major composers for the French and
English styles respectively.
**
With the advent of the radio and phonograph there came a shaping of the market for
music, a certain cultural homogenization, and a national identity/awareness.
**
Important dates are:
1919
First broadcast was begun on a regular basis by the Canadian Marconi Company
1927
First Nationwide broadcast for the Diamond Jubilee of Confederation
1929
25 performances of the Toronto Symphony were broadcast with the last concert
consisting of nothing but Canadian music
1936 Founding of the CBC
**
Popular styles of music and jazz emerged. Important Canadian jazz figures are: Trump
Davidson, Percy Faith, Maynard Ferguson, Gill Evans, Oscar Peterson and Guy
Lombardo.
**
Chamber music became more established with the creation of the "Hart House String
Quartet" and the "Toronto Conservatory String Quartet".
**
Concert choirs flourished as did local opera companies. National companies collapsed
under the financial pressured brought to bear as a result of World War I.
**
Since 1940, CBC carried Saturday matinee performances of the Metropolitan opera.
**
Significant Canadian musicians of this time include: Edward Johnson, Harry Adaskin,
Percy Faith, Wilfrid Pelletier, Claude Champagne, Rodolphe Mathieu, Healey Willan,
Ernest MacMillan, Kelsey Jones, Robin Bailey and Talivaldis Kenins.
NOTE: The text scores for Champagne's "Danse Villageoise" on page 173 (there is a recording
of this same work on "Canadian Classics Volume 1"), Willan's "Introduction, Passacaglia and
Fugue" on page 179, and Willan's "Rise Up, My Love, My Fair One" on page 199 (there is a
recording of this last work on the "Composter" tape).
Chapter 6
**
Since the end of World War II, Canada has entered fully into the mainstream of Western
music. It has been established more ensembles presenting better performances and it has
more music in schools, universities, and conservatories.
11
**
The French Folk tradition has been maintained in Quebec while the English, Scottish and
Irish Folk tradition were retained in Newfoundland, New Brunswick, Nova Scotia, and
Prince Edward Island. The Acadian tradition continues in the Atlantic Provinces.
**
Professional orchestras became firmly established in Montreal, Toronto, Vancouver,
Halifax, Quebec, London and in the National Arts Centre, Ottawa.
For a more complete and updated listing, contact the Association of Canadian Orchestras.
**
Professional choirs were established, including: The Elmer Isler Singers (Toronto), the
Vancouver Chamber Choir, the Tudor Singers (Montreal). The Mennonite Children's
Choir (Winnipeg) was also formed.
**
Important dates are:
1933 Banff School of Fine Arts opens
1957 Canada Council was formed
1959 Canadian Music Centre started building a national library of musical scores and
information
1960 Establishment of the National Youth Orchestra
1970 Canadian Radio-Television and Telecommunications Commission (CRTC)
legislated the 30% Canadian content law
**
The Canadian composers from this chapter are: Jean Papineau-Couture (text contains a
score for "Prelude for Suite for Piano" with a recording of the same on Anton Kubalek
Plays Canadian Piano Music"), Gilles Tremblay (scores for "Phases" in text), Godfrey
Ridout (score for "Etude II from Two Etudes" in text with a recording of the same on
"Anton Kubalek…"), Violet Archer, Oskar Morawetz, John Weinzweig (score for
"Movement No. 1 from Divertimento No. 1" in text with a "Composter" recording), R.
Murray Schafer (score for "Part V from Requiems for the Party Girl" in text with a
recording on "R. Murray Schafer"), Harry Freedman, Barbara Pentland, John Beckwith,
Istvan Anhalt and Harry Somers.
**
Important Electronic Musicians/Composers are: Hugh LeCaine, Gustav Ciamaga, David
Keane and Barry Truax.
Chapter 7
**
Aboriginal music is stylistically very diverse.
**
Aboriginal cultures music is associated with religious ritual – no recreation as in
European cultures. Therefore the music is defined by the specific rituals.
**
Current Aboriginal cultures are heavily influenced and affected by the dominant
European presence.
12
**
Most Aboriginal music is vocal. Some have words and some have only vocables
(syllables and exclamations).
**
Aboriginal ownership of music is very personal. Songs are usually created for certain
occasions.
**
Algonkian, Iroquoian, Plains, MacKenzie River, Plateau and Pacific Coast peoples each
have unique qualities to their music and the instruments used for accompaniment.
**
The Inuit of the Yukon, Central Artic and Baffinland, Quebec, and more recently
Labrador have been more successful than other aboriginals at preserving their culture.
**
Inuit music is both functional (ritual) and recreational. Most is related to ancient beliefs.
**
The Inuit tend to compose music while other aboriginals frequently acquire/assume a
piece from a trance-like meditation experience.
13
Contemporary Local Cultural Institutions and the
Music Industry/Careers
10%
The purpose of this unit is two-fold: (1) to familiarize students with the various institutions that
exist in their community and province which support and encourage music, and, (2) to give
students a background in the availability of, and requisites for music-related careers.
Again it is intended that the students research available resources and produce information,
especially in the careers section, that may be of some relevance to their future.
Short presentations of their findings and discussions are the preferred methods of using the
information.
Provincial Cultural Institutions
Students should be involved in research that increases their awareness of musical performing
groups, institutions, support groups and industries at the local, provincial and national levels.
At the local level, students will identify amateur and professional musical groups of various
musical styles, attend performances when possible and invite local musicians to perform and
discuss their work in class (helpful funding may be available through the Artists in the Schools
program) – contact the Arts Branch or Dept. of Education.
Students should also identify provincial organizations that support or perform music. This list
could include the New Brunswick Arts Branch, musicians union, Saint John Symphony,
Universities of New Brunswick, Mount Allison University and Université de Moncton, festivals
(Baroque Festival, Festival By The Sea, etc.) It is important that the richness and variety of
musical styles in the province are identified.1
It is also important that the supporting infrastructure is examined; i.e. the role of organizations,
agents and business that presents and makes available musical performances. Included would be
recording studios, radio stations, performing arts association, music stores, instrument repair
companies/individuals, etc.
Included would be the Canada Council, the Canadian Broadcasting Company, orchestras from
large and small populations, Canadian Opera, the Canadian Music Centre, and popular
performers. Students should develop an understanding of the role these large organizations play
in influencing the musical life of the province.
1
The curriculum guide Fine Arts 110 is helpful in this regard (pink section) and also information from the
various program officers at the Arts Branch, Department of Municipalities, Culture and Housing.
15
Music Industry/Careers
Students should begin this section by listing music related careers. They should then select a
career or an aspect of the music industry that has appeal to them as a possible vocation. If more
than one student selects the same career the teacher may decide, in the interests of broader
information being made available to the class, to ask that all students select a different career.
To provide students with information on their choice, the following questions should be
researched:
*
**
***
the necessary school requirements for the chosen career,
the necessary entrance requirements for post-secondary study,
where study is available in Canada,
years to complete program,
language of instruction,
nature and extent of course work,
graduation requirements (recital, composition, etc.)
availability of employment for graduates,
expected salary in first position,
opportunities for professional development, promotion, salary increases,
travel requirements,
compatibility of personality with employment demands
with whom will they work (other musicians, non-musicians, business people, bureaucrats,
children, etc.),
what might be their level of satisfaction in this position,
what musical returns can they make to your community, country,
what provisions are there for social benefits – sickness, health, coverage, pension.
See appendix VI for information and short description on careers in music.
See Who Teaches What in the Arts, ISBN 0-9 20007-26-0, Canadian Conference of the
Arts, 1989.
Music Career poster is a useful resource (see guidance department)
The above information will furnish the basis for a short presentation, including a question period,
to the class.
16
Music Criticism
(10%)
The main focus in this section is to develop the students' listening skills to a high degree, to have
them reflect on live and recorded music and write about their reflections in a way that
demonstrates their knowledge and understanding of music and the role of a critic. They will
therefore employ analytical, synthesizing, research and evaluating skills in comparing and
contrasting musical performances. They are also required to write in a clear and cogent manner
that comments intelligently and sensitively on the quality of music and musical performance.
Items 1 and 2 should be attempted in that order prior to proceeding to the choice (2) from among
numbers 3, 4, 5, 6.
1.
Understand role and function of a music critic (does he/she comment on the music or the
performance or both. Compare with films, plays).
2.
List and describe the necessary and desirable qualities and experiences to become a
successful music critic:
-
broad knowledge of music history, style, performance practices, good writing skills
including an ability to write for a variety of readers, acoustical and architectural
considerations, interpretation, reasoned judgement, good listening skills,
knowledge/awareness of the issues involved in authenticity, e.g., use of original
instruments versus modern, sensitivity to performance conditions and status of
performer, knowledge of a lot of music, live and recorded, speaking voice for
radio/T.V.
Select two activities from number 3, 4, 5, 6.
3.
4.
Read and discuss 3-5 reviews of musical performances from various sources with the
following in mind:
-
style of writing;
-
intended readership or audience;
-
what was evaluated, e.g., technical competence, musicality, interpretation, rapport
with audience, programming (selections and sequencing), audience reaction, etc.
Critique a live professional concert (if possible), or student performance, or a recording.
Write for peers. Refer to list developed in number 3 above. Critique should be around
one page long.
17
5.
Compare and contrast performances of the same work or part thereof, e.g.,
Mozart
-
Tchaikovsky 6.
A Little Night Music – CD 450095
Eine Kleine Nachtmusik – CD 450048
Norton Scores – Vol. 1, p. 553
Symphony 5
- CD 450147
- CD 450205
Listen to two pieces you don't know (one in a style familiar to the student and one in a
less familiar style) and critique them. Listen to them many times then critique them later.
Teacher note: - much of this listening could be done at home and certainly independently.
18
The Use of Technology in the Music Classroom
(10%)
Rationale
The primary advantage to the use of technology (electronic media) in the music classroom is that
it encourages the exploration of sound, thereby developing the musical imagination. As such it
is especially well suited for use in teaching and learning music composition and arranging.
Other advantages of the use of technology in the classroom are that it can contribute to the
development of musicianship, and reduce, or even eliminate, some of the routine associated with
the creative process (e.g., transposing instrumental parts, copying scores, etc.)
It is important, however, to realize that technology is only a means to an end, and not an end in
itself. The following caveat is worth noting:
Recent developments in technological hardware and software support offer an
obvious boon to compositional experiences in the schools. It has never been
easier to create, combine, save, retrieve, and experiment with sound. However,
with this power comes abuse and misunderstanding. Technology provides the
music educator with a powerful means for promoting and operationalizing
compositional thought, but technology is, itself, not the point. Rather, the point is
the expressive sound and the mental representations that the technology supports.1
One of the most significant advantages to using technology in the music classroom is that is
lessens students' dependence on traditional notation, thereby empowering them to explore
music-making in ways which previously would have required years of preparation and study. As
a result, it is now possible to engage more students in composition than ever before. Bennett
Reimer argues that music composition should constitute a third force in music education
(listening and performances are the other two). The use of computer-synthesizer technology can
make this possible.
While composition is an obvious candidate for the use of technology, other important aspects of
the music curriculum which it can support are music performance, ear-training, theory, and
listening/appreciation. Electronic keyboard classes make it possible for teacher to offer
keyboard skills classes to relatively large groups of students, and there is a large body of usefriendly music theory and aural skills software which teachers can use to individualize
instruction. However, the introduction of HyperCard coupled with CD-Rom technology for use
in listening and appreciation is one of the most exciting and stimulating developments in the
recent history of music education. With this combination of hardware and software, students are
able to explore the world of music through sound, text, and visual imagery. These products have
the potential to revitalize music listening and appreciation classes.
1
Draft of a document written by the Center for the Study of Education and the Musical Experience at
Northwestern University, Evanston, Illinois (May 14, 1992).
19
Technology instruction comprises approximately 10% of the course content (about 10 hours of
class time). It is suggested that the "getting acquainted to technology section" be placed near the
beginning of the course and lead directly into music composition.
General
Student Objectives
1.
Demonstrate knowledge and understanding of the following terms necessary for use of
computer/Midi technology:
mouse, sequencer and sequencing, sampler and sampling, floppy disk drive, hard disk
drive, compact disc, musical-instrument-digital-interface (Midi), HyperCard, synthesizer,
random access memory, read-only memory, bytes and kilobytes, megabyte, CD Rom, CD
Rom player, write-protect, write-enable, digital-to-analog conversion, windows, software,
hardware, editing, tracks, channels, printer, cut, paste, copy.
2.
Demonstrate familiarity, understanding, and basic competence with the synthesizer in
terms of its parts and functions (keyboard, pitch wheel, modulation wheel, master volume
control, sequencer keys and indicator, voice key and indicator multi-key and indicator,
sequencer mode key and indicator, edit/compare key and indicator, utility key, store/copy
key).
3.
Demonstrate familiarity, understanding, and basic competence with the hardware of the
Macintosh computer in terms of its operating parts and functions (keyboard, mouse, disk
drives, on/off switch).
4.
Demonstrate familiarity with the operating systems (intuitive human interface) of the
Macintosh computer (menus, mouse clicks, starting and stopping applications, printing or
producing output, saving, backing up and managing files).
Teacher Note
The purpose of the above objectives is to introduce students to the basic terminology associated
with computer/Midi technology as well as to the machines themselves and how they are
operated. It is likely that at least some students have already had considerable experience with
computers and/or synthesizers. In such cases, teachers are advised to draw upon the knowledge
and experience of those individuals by requesting that they serve as tutors to other students.
Much of the information required in this section may be found in the operating manuals which
are provided with the equipment.
20
Composition
Student Objectives
1.
Explore and produce simple preprogrammed sounds on the synthesizer. The purpose of
this activity is to introduce students to the breadth of timbres (voices) and sound
possibilities available through the synthesizer.
2.
Experiment with sampling sounds (digital recording and playback).
3.
Experiment with sequencing sounds (including playback and translation of real-time
sounds into graphics and traditional notation using the computer).
4.
Experiment with voice editing (using a computer and electronic score to transpose, reorchestrate, or alter voices).
5.
Experiment with printing scores.
6.
Compose.
Teacher Note
The purpose of the above objectives is to equip students with the basic technological know-how
to compose using computers and synthesizers. It is suggested that teachers consult the
synthesizer operating manual for directions and information pertaining to the operation of that
instrument. Similarly, teachers are advised to review the explanatory manual which
accompanies the computer software package.
Appendix V offers a simple lesson plan written out in step-by-step fashion that may be helpful to
teachers new to the technology.
Useful Computer Software
Deluxe Music Construction Set (for transcribing, arranging, composing and printing).
Pub.: Electronic Arts
Deluxe Recorder (sequencer) (this product is designed to work with DMCS).
Pub.: Electronic Arts
EZ Vision
Music Prose
Professional Composer
21
Music Theory
1.
Demonstrate competence to a reasonable level with ear-training/aural skills and music
software suitable for the grade 12 level (depends on what they have done previously).
Recommended Software
Publisher
Practica Musica (Midi)
Ars Nova (Macintosh)
Listen (Midi)
Resonate (Macintosh)
Melodious Dictator (Midi)
Temporal Acuity Products (Apple IIGS)
Teacher Note
1.
There are a number of software products which develop ear-training and aural skills. The
intention here is simply to acquaint students with the format of several of the more
popular and efficient packages. Once that is accomplished, the student is able to direct
his/her own learning in this area.
Listening/Appreciation
Student Objective
1.
Demonstrate competence in running and utilizing commercial "interactive"
hypercard/CD products such as:
Britten's Young Person's Guide to the Orchestra
Beethoven Symphony # 9 (Pub: Voyager)
Stravinsky The Rite of Spring (Pub: Voyager)
Mozart's The Magic Flute (Pub: Warner Audio Notes)
Beethoven String Quartet No. 14 (Pub: Warner Audio Notes)
The Anatomy of Music (Pub. Tom Snyder Productions Ltd.)
Teacher Note
The above-mentioned HyperCard products are relatively simple to use and can be intended to be
self-directed. In other words, students can interact with the computer in selecting which tasks
and activities (listening, analysis, historical review, score-study, etc.) they wish to do. The
purpose of the above objective is to familiarize students with the product in terms of how they
are "opened" and "operated". After accomplishing this task, the student is free to direct his/her
own learning.
22
APPENDICES
Appendix I
Selected Instrumental Solo Materials for
Woodwind, Brass and Percussion
Italicized titles indicate books; Non-italicized titles indicate single pieces of music
Flute
Blavet
Handel
Kulau (Moyse)
Loeillet
Telemann
Faure
Honegger
Krommer
Bach
Schumann
Clarinet
Sonata No. 1
Sonatas in g minor, and F, C, G maj
Album of Sonatinas, Sonatina
Sonata in g min.
Sonata in F maj.
Piece
Sicilienne, Op. 78
Contemporary French Recital Pieces
Romantic Music for Flute
Sonata in E , g min.
Three Romances
Rudall Carte
Rudall Carte
Schirmer
Rudall Carte
International
Leduc
International
International
Boosey/Hawkes
Peters
International
Oboe
Cherubini
Danzi
Handel
Loeillet
Krenek
Corelli
Beethoven
Fleming
Oboe Solos, Vol. 2, Andantina
Oboe Solos, Vol. 2, Arietta
Air and Rondo
Sonata in C
Andante and Allegretto
Concerto for Strings and Oboe
Adagio Cantablle
Three Dialogues
Chester
Chester
Chester
Chester
Belwin
Boosey/Hawkes
Southern
Leeds
Bassi (Voxman)
Mozart
Finzi
Roussel
Whitney
Baerman
Schumann
Stamitz
Cook
Nocturne
Solos for the Clarinet Player
Five Bagatelles
Aria
Gigue
Solos for the Clarinet Player
Fantasy Pieces
Concerto in B
Alla Marcia
Rubank
Schirmer
Bossey/Hawkes
Leduc
Bourne
Schirmer
Schirmer
Schott
Oxford
Evening in the Country
Cantilena
Contemporary French Recital Pieces
Aria
Petite Gavotte
Concert and Contest Collection
Adagio and Menuetto
Saxophone Solos
Sonata
First Concertino
Sonata in g min.
Ludwig
Bossey/Hawkes
International
Leduc
Leduc
Rubank
Rubank
Chester
Leduc
Rubank
McGinnis/Marks
Saxophone
Bartok
Benson
Bloch
Bozza
Handel (Voxman)
Mozart
Saint-Saens
Eccles
Guildhaud
Vivaldi
Bassoon
Bakaleinikoff
Weissenborn
Galliard
Koepke
Faure
Spohr
Boismortier
Fliere
Trombone/Baritone
Three Pieces
Song Without Words
Caproccio, Op. 14
Sonata No. 1, a min.
Suite in G
Piece
Adagio
Sonata No. 5
Humoresque
Belwin
Rubank
International
International
Rubank
Leduc
Simrock
Baron
International
Trumpet
Bakaleinikoff
Fitzgerald
Handel
Nelhybel
Cords
Montbrun
Alary
Mihalovici
Bernstein
Corelli
Solos for the Trombone Player
A Handel Solo Album
Suite
Vocal Studies
Sonata
6 Sonatas for Trombone, Bk. 1
Sonata in e min.
Concert Solo Sonatina
Lyric Etudes
Schirmer
Oxford
Rubank
Schirmer
Ensemble
International
International
Boston
Kendor
Siciliano
Concert Album for Tuba
Suite for Louise
Introduction and Dance
Suite
Solos for The Tuba Player
Concerto No. 4
Andante
Variations for Tuba and Piano
Visions
Aria
Brodt
Ed. Mus.
Kendor
S. French
Gen. Mus.
Schirmer
Fischer
Belaieff
Shawnee
C.M.C.
Elkan-Vogel
Peach Grove Drummer
Pass in Review
17 + 1 Percussion Pieces
Rocky Rhythm
Downfall of Paris
The All American Drummer
Ludwig
Belwin
Southern
Bourne
Fischer
Ludwig
Tuba
Polonaise
Modern Suite
Introduction and Fantasy
Concertino
Suite
Romance
Lied
Trumpet Piece, Op. 57
Meditation
Rondo for Liefy
Sonata in F
Belwin
Fischer
Belwin
Oxford
Gen. Mus.
Cundy-Bett.
Leduc
Cundy-Bett.
Leduc
Amberson
Ed. Musicus
French Horn
Handel
Mozart
Cherubini
Faure
Corelli
Haydn
Gliere
Nelhybel
Bach
Handel
Hasse
Mozart
McCarty
Galliard
Marcello
McKay
Dedrick
Bach
Handel
Masso
Bilik
Nelhybel
Wagner
Golterman
Tcherepnine
Frackenpohl
Kulesha
Hartley
Percussion
Solos for the French Horn Player
Concertos No. 1, 2, 1st, 2nd Mov.
Sonata No. 1
Froydis' Favorite Prunes, Vol. 2
Sonata in F
Concerto No. 2
Intermezzo
Scherzo Concertante
Schirmer
Schirmer
Schirmer
McCoy
Ed. Mus.
Cundy-Bett
MCA
Gen. Mus.
٠ Snare Drum
Abel
Prentice
Schinstine
Berg
Trad.
Wilcoxen
٠ Mallet
Goldenberg
Joliff
Clementi
Haydn
Schubert
Modern School for Xylophone
78 Solos for Marimba
Masterpieces for Marimba
Gypsy Rondo
Ave Maria
Chappell
Belwin
Belwin
Ludwig
Rubank
6 Graded Tympani Solos
Tympani Solos
Timpendium
The Solo Tympanist
Solos for the Virtuoso Tympanist
Music for Percussion
Music for Percussion
Southern
Fischer
Jerona
٠ Tympani
Mckenzie
Price
Schinstine
Firth
Hinger
Appendix II
Selected Instrumental Solo Materials for
Woodwind, Brass and Percussion
Italicized titles indicate books; Non-italicized titles indicate single pieces of music
Flute
Saxophone
Endresen
Supplementary Studies for Flute
or Piccolo
Vester
125 Easy Classical Studies for
Flute
Gariboldi
20 Studies Opus 132
Koehler
Studies, Opus 33, Bk. 1
Taffanel-Gaubert Méthode.. Vol. 2
24 Progressive Studies
Berbiguer
18 Studies
Genzmer
Neuzeitliche Etuden, Vol. 1
Rubank
Endreson
Universal
Voxman
De Ville
International
International
Leduc
Leduc
Schirmer
Schott
Oboe
Barrett
Gekeler
Supplementary Studies for
Saxophone
Selected Studies for Saxophone
Universal Method for Saxophone
Rubank
Rubank
Universal
Supplementary Studies for Horn
200 Modern F.H. Etudes, Bk. 1, 2
Lyrical Studies
Rubank
Leduc
Brass Press
70 Little Studies
40 Progressive Etudes
20 Studies
Odd Meter Etudes
International
Fischer
International
Fox
Supplementary Studies for Trombone
Studies in Legato for Trombone
60 Studies for Trombone
School of Sight Reading and Style
Rubank
Fischer
International
Baron
French Horn
Endresen
Maxime-Alphonse
Concone
Trumpet
Method for Oboe, 40 Progressive
Melodies
Method for Oboe, Book 2
Boosey/Hawkes
Clarinet for Beginners, Bk. 2
Melodious and Progressive
Studies, Bk. 1
Melodious and Progressive
Studies, Bk. 2
40 Studies for Clarinet
Boosey/Hawkes
Southern
Belwin
Clodomir
Hering
Balasanyan
Gates
Clarinet
Trombone/Baritone
Galper
Hite (arr.)
Rose
Southern
Fischer
Endresen
Fink
Gaetke
La Fosse
Bassoon
Giampiere
Weissenborn
Progressive Method for Bassoon
Studies for Bassoon, Op. 8, Vol. 1
50 Advanced Studies
Ricordi
International
Peters
Tuba
Endresen
Vandercook
Blazhevich
Kopprasch
Supplementary Studies for E and
BB Bass
Etudes for E and BB Bass Tuba
70 Studies for BB Tuba, Vol 1
60 Studies, Book 1
Rubank
Intermediate Drum Method
Fundamental Studies for Mallets
Modern School for Xylophone
Tympani Tech. For the Virtuoso
Syncopation for the Modern
Drummer
Portraits in Rhythm
Belwin
Meredith
Chappell
Jerona
Reed
Rubank
R. King
Hofmstr.
Percussion
Burns & Feldstein
Whaley
Goldenberg
Hinger
Reed
Cirone
Belwin
Appendix III
Summary Chart of Musical Styles
Musical Characteristics
Baroque
(1600-1750)
Classical
(1750-1800)
Romantic
(1800-1900)
Modern
(1900 to present)
Melody
• elongated themes (especially in • clearly defined phrases 2 or 4
slow movements
measures long
• single basic "affection" (mood
• tonal melodies
feeling) of the composition is
• graceful and simple
established by theme
• fortspinnung – literally spinning
out of melody
• embellishments and decorations
common
• longer more irregular phrases
• more chromaticism
• greater melodic contrast within
a movement
• often fragmented, motivic,
wide – ranging, angular
• reduced relationship (if
any to a key centre)
• use of folk melodies
Harmony
• rise of tonality (major minor
system) replacing modal system
• chords change often (fast
harmonic rhythm
• walking bass common
• diatonic
• occasional chromaticism
• use of chromaticism
• modulations often to remote
keys
• use of extended chords and new
progressions
Rhythm
• constant on-going "consistent"
pulse and rhythmic drive
• constant tempo throughout a
movement
• simple meters
• crisp, precise, regular
rhythms
• can be complex
• extensive use of rubato,
accelerando and ritardando
• displaced accents
• diminishing importance of
barline
• polytonality, tonality,
atonality, whole-tone,
twelve tone and bitonality
all used
• partial demise of major/
minor systems
• chord clusters and
pointillist effects
• constantly unresolved
chords
• strong accents and
syncopation (barbaric,
primitive and jazz
rhythms)
• multi/mixed meters
• polyrhythms
• a-rhythmic structures
Baroque
(1600-1750)
Classical
(1750-1800)
Romantic
(1800-1900)
Modern
(1900 to present)
Texture
• polyphonic and quite thick and
busy
• several melodic lines combined
over figured bass
• homophonic
• clear texture
• usually homophonic – melody
supported by block chords
• variety of textures
• wide variety of sound
sources and combinations
Tone colour
• violins gain acceptance
• "wooden" woodwinds
• use of valveless natural
trumpets and characteristic high
register
• use of harpsichord as
"harmonic fill" in orchestra
• pipe organ becomes virtuosic
instrument
• use of castrati singers
• smallish orchestra
• standardization of orchestra
• advances in construction of
woodwinds
• pianoforte replaces
harpsichord
• use of new instruments often
for special effects
• orchestra increases up to 100
people
• tone colour an end itself
• piano now capable of wide
range of tone colours and
volume
• new standards of technique
demanded of individual
instrument players and
orchestra group
• use of sound and
instruments as an end in
themselves
• development and
acceptance of electronic
technology e.g.,
synthesizers
• use of unusual instruments
• including enlarged
percussion section
• expansion of sound
sources
Dynamics
• use of terraced dynamics –
contrasts achieved by
increasing or decreasing the
number of instruments playing
• few expression marks
• typically limited to pp-ff
• restrained, few sudden
changes
• varied
• dynamic range increased to
pppp-ffff
• abrupt, dynamic changes
• dramatic use of silence
• extreme variations
• volume and silence used
as end in themselves
Often
described as
• bouncy, energetic, grandiose,
religious, theatrical, dynamic,
bustling, bold, colourful
• balanced, restrained, simple,
light, not dramatic, well
formed, little tension, logical,
serene, aristocratic
• stormy, restless, full of
changes, emotional, dramatic,
complicated, sweeping,
romantic, virtuosic, intimate,
rebellious, programmatic,
colourful
• eclectic, harsh, unusual,
different, exotic, tough,
percussive, nervous,
violent, dissonant, brief,
succinct
Baroque
(1600-1750)
Performance
Practice
• keep similar mood throughout
composition
• dynamic levels must be clearly
defined – avoid long crescendos
and decrescendos
• keep pulse steady
• emphasize phrase beginnings in
contrapuntal sections and
balance voices
• bass line is important
Classical
(1750-1800)
• melody should predominate
and accompanying parts
should be quieter
• dynamics should be treated
with restraint
• timbre should be clear
• texture should be clear
Romantic
(1800-1900)
• melodies must "sing"
• balance, expression and
dynamics must be worked in
conjunction with each other
• tone colour should be full, rich
and warm
• try to exploit all available
instrumental colours
• strive for intended emotional
effect of music
Modern
(1900 to present)
• follow composers
instructions precisely
• directors must understand
the relationship between
the varying degrees of
dissonance
• proper blend and balance
of parts is important
• often requires players of
superior technical skills
and an ability to improvise
Appendix IV
How to Produce and Publish Music Material
The following serves as a guideline for music students who wish to increase their
musical expression through composition. Several of our high school music students
have written many original compositions of excellent quality. Included are a few
points of interest that will assist prospective student composers.
The very first principle is to write compositions as clearly and neatly as possible with
the appropriate harmony. If the composition has words, these should be written
directly under the notes to be sung.
If possible, make a tape recording of the composition. Several new electric
keyboards such as the Korg M1, JW-50 Roland and Yamaha PSR-SQ16 work
stations have multiple tracks (the latter 2 have 16) to allow the composition of a
fairly good demo of your song.
To protect your material, send an original copy of your composition to yourself
through registered mail. When it arrives, do not open it and make sure the date is
clearly visible on the postmark. Material sent through the mail in this method will
stand up in court proving you are the original composer and is much less expensive
than paying copyright fees.
If you do pay to copyright your material, the international copyright is recommended
as the Canadian copyright provides very limited protection.
There are thousands of composers who write out their songs and send them along
with a tape to several music publishing companies. Ninety-nine percent of these are
sent back to the composer in many cases with a polite letter stating "while your
music has merit, we are not in a position to publish at this time." So as not to be
discouraged, you must realize that music publishers have dozens of writers on staff
and attempt to promote their own singer/song writers.
A more successful venue for publishing your compositions would be for you to do it
yourself. Contact a local music studio and find out what a recording package may
cost. Be sure you have a market for selling the resulting cassette tap or you will go
in debt. You probably do not have enough relatives to buy 500 to 1000 copies.
However, school bands, choirs, or church groups may perform the music, record it
and sell it as a fundraiser. You would have your music recorded and pay for it too.
Before entering a music studio, be sure that all your practicing has been done. At up
to $100/hr. you cannot afford to use up valuable studio time to learn songs and
rehearse.
If you wish to only publish the written music rather than go through the expense of
recording it, you can send away to have the music type set and then make your own
copies. There are some new music computer programs which will also do the same
job.
Be sure to join a performing rights association so that if your music is performed on
radio, T.V. or other concert venue. You would be paid a royalty. Canada used to
have two performing rights groups (CAPAC, PROCAN), but now we have only one
– Society of Composers, Authors and Music Publishers of Canada (SOCAN), 41
Valleybrook Drive, Don Mills, Ontario, M3B 2S6.
Their purpose is to protect the performing rights of copyright owners – composers,
lyricists, song writers and publishers.
If you are fortunate enough to have a company publish your music, they usually look
after the copyright fees and pay you a royalty.
In New Brunswick, there is some assistance available to encourage musicians. The
Department of Municipalities, Culture and Housing (Arts Branch) provides some
help to musicians for development, implementation and monitoring programs. It
provides some grants to qualified performers. Also, FACTOR, the Foundation to
Assist Canadian Talent On Record, 146 Front Street, Suite 355, Toronto, Ontario,
M5J 2L7, provides loans and awards for recording and touring.
Resource Books
Music Directory Canada – 5th edition
by Jim Norris publisher
CM Books, 3284 Yonge St., Toronto, Ontario M4N 3M7
Some Straight Talk About the Music Business – 2nd edition
by Mona Coxson, CM Books
Music Studios
C.M.S. Studios
151 Mountain Road
Moncton, NB
E1C 2K8
Prime Time Studio
Gary Morris
Sussex, NB
Studio Madouess
45 Savoie
RR # 4
Edmundston, NB
E3V 3V7
Appendix V
Sequencing Project
A computer consists of hardware and software. Hardware refers to the items that
are tangible and can be touched. This includes the computer itself, the printer,
monitor, keyboard, etc. Software refers to the instructions written in a computer
language that tell the hardware how to perform its tasks (program).
The computer can be attached to and can communicate with a keyboard or another
sound device using MIDI (a MIDI instrument with or without a keyboard may be
called a sound module). MIDI means Musical Instrument Digital Interface. This is
a standardized device that allows information to be conveyed from one instrument to
another and/or from one or more instruments to a computer. The interface is the
hardware link that allows the information to be transferred.
Using Macintosh computer once the cables have been installed
1.
2.
3.
4.
5.
Turn on the computer (back, left hand corner).
Turn on the keyboard and sound module and amplifier.
Double click on the hard drive.
Double click on the EZ Vision icon.
Double click on your own EZ Vision folder that you have previously created.
Terms you need to know before beginning the project
Program – An individual voice or instrument
To attach the computer to the MIDI equipment:
Track – One line or part of music
Be sure the power is off at both the computer and the sound device.
Sequence – Group of up to 16 tracks that may be heard separately or in groups
Attach the MIDI interface to the Modem port (found at the back of the computer).
After setting up the equipment you may begin to record the first track as follows:
Connect the MIDI cable from the MIDI OUT of the sound module to the MIDI IN of
the interface.
1.
Select a track by clicking on the track bar.
2.
Begin recording the track by clicking the record button.
3.
In real-time mode, using the keyboard to enter one individual voice. See note
below.
4.
Repeat steps 1, 2 and 3 above for as many tracks as you require.
Connect the MIDI cable from the MIDI OUT on the interface to the MIDI IN on the
sound module.
5.
Refer to the manual to ensure you are able to perform the following:
a)
b)
c)
d)
e)
f)
g)
Record and play back a track;
Name the track;
Assign and change program sounds;
Select and edit notes;
Create a sequence;
Use of the edit window;
Save the information both on the hard drive and a floppy disk.
Tutoring lab for Theory, History and Ear Training – Use the computer program
in conjunction with the student's principal performance instrument. Example:
making use of the Band in the Box program to improve and extend improvisational
skills.
Evaluation of the Project
Evaluation will be based on the following areas:
1.
Testing of knowledge of terms.
2.
Use of the equipment.
3.
The major portion of the evaluation is the project itself, including interpretations
of musical decisions.
NOTE: Refer to the manual for instructions on step-time recording.
Sample Activities
The following are offered as suggestions for activities utilizing school equipment.
Sound Exploration Project
The student chooses a musical selection to be orchestrated using multiple tracks.
The selection must be a minimum of thirty-two bars. There must be at least four
tracks including one rhythm track. The student must demonstrate knowledge of both
real and step time recording. The student must also demonstrate knowledge of the
following uses of the sequencing program:
1.
2.
3.
4.
5.
6.
7.
Record and play back a track;
Name the track;
Assign and change program sounds;
Select and edit notes;
Create a sequence;
Use of the edit window;
Save the information both on the hard drive and a floppy disk.
Other Suggestions
Composition exploration – Using a computer program or sequencer, a student
working on a composition may hear all the voices simultaneously, may easily make
corrections, may have the computer print a score on request, and may store the score
electronically for future retrieval and modification.
Appendix VI
MUSIC INDUSTRY – Careers in music. The following provides a starting point for research into careers.
Choosing a career is one of the most difficult decisions facing a young musician. A true musician will sense an inner necessity, or a certain drive to
achieve his or her goals within a musical career. This drive will provide the strength necessary to have a career in the musical field.
UNIVERSITY TEACHING
Today it is fairly difficult to acquire a job in music at university. Research or performance is taking up more time than teaching, and it is more likely
for someone with more degrees and experience to obtain a university teaching career in music. A doctorate is normally required.
MUSIC JOURNALISM
To pursue a career in music journalism, writers, editors, and publishers need a solid professional background. The way music is, one takes many
years to absorb enough to begin writing about the subject. The ultimate career goal for music journalists is to enlighten and interest their readers.
ORCHESTRAL CONDUCTORS
For an aspiring conductor, the best progression is to start music lessons beginning with piano. Tremendous drive and enthusiasm is needed to be
successful. Superior musical understanding is also required.
COMPOSING
Most composers find it necessary to teach and work at other jobs to support their craft. Many people have found musical composition to be very
rewarding.
OPERATING A MUSIC SCHOOL
The role of a music school director is to seek ways of accomplishing and improving standards. Many difficult decisions must be made.
Administrative and business skills are required.
MUSIC LIBRARIANSHIP
The music librarian helps broaden the horizons of music for the local clients, e.g., university, conservatory, etc.
MUSIC THERAPY
The music therapist should have knowledge of the piano, and also one secondary instrument, like the guitar. He or she must have good vocal skills.
They also must be familiar with human behaviour. Music therapists must be skilled in the verbal and written reporting of music therapy assignments,
treatments, and program evaluations.
MUSIC PERFORMANCE
In deciding on a career in music performance one must have musicality, determination, ambition, good health, personality, intelligence, and
discipline.
MUSIC CRITICISM
Music criticism is a form of journalism. The career of a music critic can be described as a musician who writes with critical and musical
understanding. The critic should have good musical understanding.
CHURCH MUSIC
Positions in church music normally require the ability to sing or play the organ.
MUSIC INSTRUMENT SALES
One must have total familiarity with the structural and acoustic features and performance application of the products.
MUSIC RESEARCH
Opportunities for professional researchers in the field of music are currently few. The jobs are usually found in broadcasting companies and
universities.
MUSICAL INSTRUMENT MANUFACTURING
The best people in this industry must have knowledge in areas other than music. An understanding of physics and manufacturing processes is
important in designing and developing an instrument.
The career choices open to a musician are limited by the talents, imagination, and daring of the individual. Composition, performance, studio
recording, broadcasting, administration, research, teaching, writing, publishing, instrument building and repair, music therapy, and music sales, all of
which require musical abilities and understanding of the art.