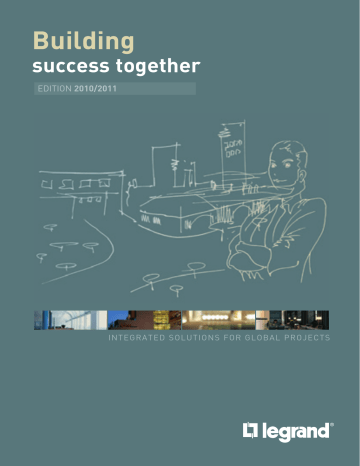 Building success together
Edition 2010/2011
intEgratEd solutions for global projEcts
BuiLdinG projecTs
suCCessfuLLy
In a context of accelerated globalisation and increasingly complex projects,
the support of a reliable and competent partner is absolutely essential, a real key to the success of your company.
"Our cOmprehensive and reliable sOlutiOns and services enable yOu tO fully express yOur visiOn wOrldwide."
Choosing the Legrand Group means the assurance of benefiting from global expertise throughout the world thanks to its strong local presence.
A vast choice of carefully styled products compose solutions which in turn form coherent systems incorporating the latest technological innovations.
Choosing Legrand also means you are sure to be assisted by professionals at your service any time, from your project's design through to its completion.
This document aims to introduce you to just some of the solutions the Legrand Group has on offer.
To find out more, feel free to email our dedicated key accounts team.
sOme shOwcase prOjects badehaus metzler (austria) sapphire (turkey) tian chun island villa (china) tnt veenendaal (netherlands)
02-03
LeGrand aT a GLance
04-05
LeGrand soLuTions
10-11
assisTed LivinG
12-13
producT desiGn
14-15
ikap Team
16-17
residenTiaL soLuTions
18-19
HoTeL soLuTions
20-21
office soLuTions
22-23
sHop and maLL soLuTions
24-25
soLuTions for educaTion esTaBLisHmenTs
26-27
HeaLTHcare soLuTions
28-29
daTa cenTer soLuTions
30-31
indusTry soLuTions
32-33
various appLicaTions
34-35
enerGy savinGs & enerGy QuaLiTy
38-39
moduLar offer
40-41
caBLe manaGemenT
42-43
connecTinG THe WorksTaTion
44-49
WirinG devices
54-55
door enTry sysTems
56-57
LiGHTinG manaGemenT
58-59
LiGHTinG soLuTions
60-61
emerGency LiGHTinG
62-65
sTrucTured caBLinG sysTems
66-67
HeaLTHcare eQuipmenT
68-69
aT your service
02
LEgRANd
A bENChMARk
pLayeR
Legrand is the global specialist in electrical and digital building infrastructures.
98
product families forming a comprehensive system offer for any type of project
Leading positions
in close to 30 countries
Close to
4 600
patents covering about 1 700 different systems and technologies
AN ACTIVE INTERNATIONAL PRESENCE
More than 70 subsidiaries and offices, sales in close to 180 countries
Asia, Middle East and Pacific
Australia • China • Hong-Kong
• India • Indonesia • Iran • Jordan
• Kazakhstan • Lebanon • Malaysia
• New Zealand • Philippines
• Qatar • Saudi Arabia • Singapore
• South Korea • Syria • Thailand
• United Arab Emirates • Uzbekistan
• Vietnam
The Americas
Brazil • Canada • Chile • Colombia •
Costa Rica • Mexico • Peru • United
States • Venezuela
Europe and Africa
Algeria • Austria • Belarus •
Belgium • Bosnia-Herzegovina
• Bulgaria • Croatia • Czech
Republic • Denmark • Egypt
• Estonia • France • Germany
• Greece • Hungary • Ireland
• Italy • Libya • Lithuania •
Morocco • Netherlands • Poland
• Portugal • Romania • Russia
• Serbia and Montenegro •
Senegal • Slovakia • Slovenia
• South Africa • Spain •
Switzerland • Tunisia • Turkey
• Ukraine • United Kingdom
One of the most complete offers on the market
170 000 catalogue items!
For you, the wealth of the Legrand
Group's catalogue offer is the guarantee that you will find the products and solutions best suited to your specific requirements in terms of electrical installations and communication networks.
The world leader in wiring devices and cable management
Legrand is the world No.1 in two areas: wiring devices
(19% market share) and cable management products (15% market share). Legrand also offers complete integrated solutions for a wide range of applications.
Continuous innovation
In 2009, more than 1800 people were dedicated full-time to research and development. On average,
Legrand invests between 4% and 5% of its sales each year in R&D.
03
04
A complete range of purpose-built systems for all types of electrical installation and data network applications:
Installation Control and Command
products and solutions for comfort, energy efficiency, communication and security management and installation control: wiring devices, home automation systems, door entry systems, surveillance and burglar alarms…
Cable Management
every solution needed for routing power and data cables throughout the building and for connecting the workstation. Trunking and mini-trunking, cable trays, floor boxes and technical floors, columns, multi-outlet units…
Power and Voice-data-
Image distribution
every product and system needed for distributing energy, protecting people and property and enhancing energy efficiency:
Cabinets and enclosures, circuit breakers, transformers and busbars, capacitor banks and analyzers… every solution needed for circulation of data throughout the building: Cabinets and enclosures, fibre optic and copper cable connectors, RJ45 sockets and WiFi access points…
WORLDWIDE BRANDS
LEGRAND • BTICINO
Local or specialist brands
Alpes Technologies • Anam • Arnould
• Cablofil • Cemar • Electrak • Estap • Famco
• HDL • HPM • Kontaktor • Krieg & Zivy • Lorenzetti
• Luminex • Nelson • Ortronics • Pass & Seymour
• Pial • Planet Wattohm • Quintela • Sarlam • Shidean
• TCL • Tegui • URA • Van Geel • Vantage • Watt Stopper
• Wiremold • Zucchini
COMPLETE SOLUTIONS
FOR eVeRy pROJeCT
Whether for residential, commercial or industrial buildings, the Legrand group proposes complete solutions through to home systems and building automation.
05
06
SUSTAINAbLE dEVELOPMENT
BeCaUSe TOMORROW
BeGINS TODay
For many years Legrand has been committed to a process of continuous improvement to ensure the profitable and sustainable long-term growth of its business. Combining long-term performance with protection of the environment and enhancement of human capital is a major concern for the group.
Corporate Social
Responsibility
Voluntary initiatives such as signing up to the Global Compact or meeting the stringent social and environmental criteria of the
FTSe4Good* Index form part of an overall policy of transparency highlighting Legrand's determined commitment to Corporate Social
Responsibility.
* Based on evaluation 2010 and subject to annual re-evaluation
Sustainability, a global approach
Legrand's commitment to sustainable development covers three areas: corporate social responsibility, the environment and governance.
projects aiming to develop access to electricity, solutions for assisted living, ecosolutions for sustainable integrated environmental protection and environmental management into how we run our industrial sites.
(ReaCH, RoHS, etc.). In particular, it has committed itself to excluding any materials or items targeted by the ReaCH directive from the energy use, involving suppliers in the Group's sustainable development approach - these various initiatives all provide a targeted response to today's environmental, economic and social concerns, and those of tomorrow.
Reducing the environmental footprint of our industrial sites
Since 1996, Legrand has
In 2009 energy-focused Kaizen events implemented at Legrand's French sites enabled a reduction in CO
2
emissions by 1890 T eq. CO
2
compared to 2008
By 2009, 84% of our sites worldwide and 96% of our european units had achieved
ISO 14001 environmental management certification.
Our efforts are currently focused on cutting energy and water consumption, waste reclamation, and educational measures.
Controlling the use of chemicals
In the manufacture of its products the Legrand Group takes into account the european directives and regulations concerning the management of substances development of its new ranges.
Today, Legrand involves everybody, from staff through to suppliers and customers, in a transparency and accountability-based approach.
The eco-design approach
eco-design is an approach that focuses on optimizing the environmental impact of a product, throughout its lifecycle. Legrand has been applying eco-design for several years now, and by the end of 2009, 70% of the Group's design offices were using an eco-design approach.
For further information, please visit our website: www.legrandgroup.com
07
v Eco-design and Product
Environmental Profiles
The application of eco-design on altis enclosures allowed to decrease their impact on the depletion of natural resources by 57%. product environmental profiles provide customers with environmental information about the product.
v Promotion of Energy Efficiency
Operating at the very heart of the major changes affecting the buildings of tomorrow, Legrand not only provides innovative solutions to enhance energy management in any kind of building.
New offerings such as solar-cell equipment protection devices accelerate the use of renewable energies.
NON-RESIDENTIAL BUILDINGS
Manage energy consumption at building level
08
Zucchini high performance transformers Capacitor banks Measuring and monitoring software Analyzers
Substantial reductions in power consumption can be achieved through Zucchini high performance transformers by reducing no-load losses. Capacitor banks improve the output of your electrical installation by increasing real power. Analyzers, measuring instruments and supervision solutions allow to monitor electrical parameters closely, to detect and pre-empt problems and thereby optimize electrical power delivery.
Manage building applications sustainably and reduce the specific electricity consumption
Occupancy sensor Light mood manager New emergency lighting unit Desktop multi-outlet extension and time-switch
Significant energy savings can be achieved through automatic switches, switch sensors, integrated BUS solutions for lighting management or eco-designed emergency lighting units with long-life low-energy
LEDs. Programming systems allowing disconnection of certain circuits according to time slots contribute to optimizing the consumption of electricity-using office appliances.
RESIDENTIAL BUILDINGS
Options reach from automatic switches to complete home automation solutions which allow to automate and centralize different applications such as lights, shutters, heating, to program scenarios or to view and thereby control energy consumption.
Automatic switch Roller blind switch Scenario switch Programmable room thermostat
u
ENERGY CONSUMPTION DISPLAY SYSTEM
Monitor and manage consumption of gas, electricity, water, heating through the energy consumption display system which forms part of the Legrand home automation solutions.
u
AUTOMATE AND SAVE ENERGY
Automatic lighting control, centralized control of roller shutters, collective control of different functions or programmable solutions for temperature management allow to save energy and control homes cost-effectively.
ENERGY
EFFICIENCY
THROUGH
SUSTAINABLE
BEHAVIOUR
Legrand deploys a global energy efficiency policy, conveyed by 3 main vectors:
Solutions for better consumption control in buildings, giving access to higher-quality energy and favouring the use of renewable energy sources.
Responsible communication based on clear signalling and an eco-label displaying precise energy benefits.
Direct involvement in changes to the regulatory and standards framework, to ensure electrical solutions play their full part in making tomorrow's buildings more efficient.
For further information, please visit our website: www.legrandgroup.com
09
OPT FOR RENEWABLE ENERGY SOURCES: PHOTOVOLTAICS
UPS, DC protection,
AC protection, surge protection, cabinets:
New offerings of solar-cell equipment protection devices for the residential and the commercial sector really allow this renewable energy source to fit in with our everyday surroundings.
u
SOLAR-CELL EQUIPMENT PROTECTION DEVICES
FOR PHOTOVOLTAIC INSTALLATIONS FROM 3 TO 250 kWp
UPS and "ready-fit" residential cabinets or modular solutions for commercial premises to suit all kinds of configuration:
In either case, combine simplicity of choice and implementation and safety for all involved.
10
Designed in a spirit of preventive action, Legrand solutions meet the specific needs of older people who wish to stay in their own home for as long as possible.
By enhancing safety around the house, facilitating everyday gestures or communication with the outside world, Legrand provides targeted responses for maximum comfort and safety.
ASSISTEd
LIVINg SOLUTIONS, pROaCTIVe pReVeNTION
Faced with the challenges raised by today's ageing population, Legrand provides products and systems designed to be widely and easily accessible, in support of people experiencing a loss of independence either due to old age or to temporary or permanent disability. by compensating for their handicap, these products and solutions make it easier for them to continue living at home.
11
SIMpLIFyING THe HaNDLING OF CONTROL DeVICeS
Continual improvements in ergonomics for easier handling of control devices.
pReVeNTING FaLLS
By lighting up passages, providing easier access to lighting control devices or helping to avoid unnecessary movements, Legrand offers simple ways of preventing falls in the home.
pReVeNTING DOMeSTIC HaZaRDS
Solutions are available for detecting water or gas leaks, containing their consequences and alerting the home owner, as well as systems for temperature management to avoid extreme peaks and troughs…
TOGGLE SWITCH NO-TOUCH SWITCH
EASY-CONNECT SOCKET
AUTOMATIC SWITCH
Creation of lighting paths
SWITCH WITH
A LUMINOUS CROWN
Their illuminated crown makes control devices easier to spot in the dark
SCENARIO SWITCH
Enables control of various functions from a single point, thereby contributing to cutting the need to move around the home
NIGHTLIGHT / GFCI
OUTLET COMBINATION
Facilitates locating the socket in the dark
GAS AND FLOOD DETECTOR
Identification of gas or water leaks, transmission of warning signal and closing-off of the incoming gas supply by solenoid valve
TEMPERATURE CONTROL UNIT
Temperature display
COMMUNICaTION aND SeCURITy
Video door entry and intercom systems: allow to identify visitors and keep the family members connected.
STUDIO INTERCOM UNIT
AND CÉLIANE VIDEO DOOR ENTRY SYSTEM
12
PROdUCT dESIgN
a LeVeR FOR
DIFFeReNTIaTION
The challenge for product design is to meet customer expectations on styling and functionality while strengthening Legrand brand identity and market position; this makes it pivotal to Legrand group strategy.
The role of design
product design has a dual purpose. It aims to meet end-user needs in terms of ergonomics, styling, usability and budget, while at the same time consolidating the Legrand brand identity and core values.
At the source of creation
The creative process follows precise codes which leave nothing to chance. Designers engage in an approach that revolves around three core strands: environmental research (technology and social trend watch, ethnographics, etc.), analysis of the data gathered to define a product development strategy, and finally, the creation process itself, based on rigorous product specifications. In order to meet the specific needs and expectations of users from different cultural spheres,
Legrand draws on design teams based in France,
Italy, the US and China.
Creating a strong brand identity
These design teams develop strong visual codes that converge to infuse our products with a distinctive and shared identity. This results in Legrand products being instantly recognizable, and easy to differentiate from the competition.
13
t
DIMMERS
Dimmers embed an unmistakeable Legrand-coded design, with that distinctive, instantly recognizable 3-split switch design, 2/3 for the ON/OFF function and 1/3 for the dimmer function.
t
PLEXO 3 WATERPROOF CABINET
Similar to portholes that withstand water and impact, the Plexo 3 line cabinets are waterproof and impact resistant. Their very shape was designed to embody these qualities: a frame that encloses the door, a rounded and recessed handle with a two-point latch, a waterproof gasket and a marked radiused external shape to express impact resistance.
Mosaic Céliane Arteor
14
PERSONAL SUPPORT
IN aLL yOUR pROJeCTS
Our specially dedicated team for major international projects (IkAP*) is there to support you throughout every step of your project. For you, this means the assurance of having a single contact who is competent and always easy to reach.
*International Key accounts and projects
Investor
IKAP
Local Teams
PRE-C
ONSTRUCTION
Developer
Architect
& Interior designer
System integrator
Electrical consultant
P
O
TS
C-
O
N
Facility manager
Project manager
YOUR PROJECTS
Electrical contractor
TS
R
U
C
T
I
O
N
Distributor
System integrator
Electrical contractor
General contractor
C
O
N
S
T
R
U
C
T
OI
N dedicated support from the earliest stage of your project
Our IKap team is there to support you right from the earliest stage of your project. as your dedicated unique contact for all
Legrand Group brands they will closely cooperate with your teams and coordinate with Legrand's subsidiaries. This ensures that you'll get the right solution in terms of standard, budget and availability.
The combination of international coordination, local expertise and innovative solutions will add value to your projects and facilitate your international expansion.
Close cooperation from the initial idea through to the end solution
15
Project concept
IKAP COORDINATORS
In close cooperation with you, our IKAP team strives for the best solution, whatever your type of project, wherever in the world.
They'll share your ideas and requirements and provide you with all the information and tools needed to facilitate decision-making and moving forward at the different stages of the project.
PRESENTATIONAL MEDIA CATALOGUES AND E-CATALOGUES TECHNICAL / SPECIFICATION DOCUMENTS SOFTWARES
Proposal with product photos and technical information
Definition of the end solution
SHOWROOMS AND CONCEPT STORES TRAINING FACILITIES
16
Open tO see the prOducts in their 3d envirOnment
RESIDENTIAL
MAxiMuM personAlizAtion for the Most deMAndinG custoMers
The equipment of deluxe residences has to combine functionality and well-being with carefully styled design options that allow to express an individual personality.
the legrand Group's home automation solutions not only match the most demanding aesthetic standards but also provide a high level of comfort and security. As required, the installation can be tailored to include the latest innovations in home entertainment and communication technologies.
17
multimedia touch screen
DeSign optionS for maximum perSonalization
MORE: SEE PAGE 46-47
Forms, finishes, functions, the choice is yours. From standard ranges to exclusive options: select colours that are either timeless or trendy, exclusive materials such as leather, wood or woven metal, shapes that are either sober or soft, modern or classical.
Multimedia touch screen
Socket outlet
Socket outlets
An infinite number of design options to satisfy the most demanding customers
a fully networkeD home
enhance comfort:
create lighting scenes, control access, steer the whole installation from a single point or from a tablet touch screen: our different home automation systems allow to customize solutions exactly according to your customers' wishes.
MORE: SEE PAGE 50 to 55
Speaker
Video station
Automatic switch
Sound system
Multimedia socket
Gas detector
Thermostat
Scenario controller
Skirting light
Tablet touch screen
Stop & Go safety function
Data cabinet
Wi-Fi access point
Dimmer
Shutter control
Inground waymarkers
Bulkhead light
My Home web control
Axolute
Video station
Vantage
Touch screen and keypad
Arteor
Touch plate dimmer
flexible entertainment anD communication:
Home networks for flexible access to any communication media, sound distribution systems to bring your favourite music to every desired room.
1.2" Touch screen
RDS Tuner Multimedia socket
Multi-room audio
Safety for greater peace of minD
MORE: SEE PAGE 38-39, 50 to 53
Scare off intruders, detect gas or water leaks, protect sensitive hardware, avoid the negative impact of cuts in the electrical power supply
(e.g. freezer or alarm system turned off, pool pump disabled).
Burglar alarm Gas detector Safety and protection: voltage surge protectors, Stop & Go auto-reset
State-of-the-art technology
that makes the difference
18
Open tO see the prOducts in their 3d envirOnment
hoSPItAlItY
increase customer loyalty
Whatever the type of establishment, every detail counts when it comes to building customer loyalty.
High quality service and comfort are there to ensure a maximum fill rate. Free internet access and efficient conference equipment are essential ingredients.
the electrical installation also contributes to ensuring the premises function safely and efficiently, and can provide an added aesthetic dimension to enhance the brand image.
19
Bedside touch control unit
enhance your image
MORE: SEE PAGE 46-47
Among our 100 ranges of wiring devices and their 200 functions you will find the perfect solution to enhance the image of your project.
Advanced forms, materials, colours and functions allow for every option, in any standard.
Outdoor lighting
Emergency lighting luminaire
CCTV camera
Lighting pilots
Consumer unit
Video door entry unit
Sound system
Dimmer and shaver socket
Bedside unit
Occupancy sensor
Touch screen
Mobile scenario controller
Light mood manager
Remote control
Floor box
HDMI/YUV/
RCA socket
Trunking
Convention center floor box
Remote control
Shutter control
Emergency lighting luminaire
Switch
Axolute Etèris/
White
Silent switch
Céliane Exclusives/
Burr myrtle
Micropush switch
Arteor/Galuchat
Key card switch
Mallia/Silver
increase cusTomer comforT
MORE: SEE PAGE 46 to 53
Each detail counts when it comes to building customer loyalty: touch control panels for centralised control of scenarios, lighting and shutters, internal units which easily allow to select the desired setting and access to any multimedia application…
Colour touch screen
Internal unit
Multimedia sockets
Shaver socket
Tailor-made soluTions for evenT managemenT
MORE: SEE PAGE 40-41
Specially designed for event locations, the convention center floor box provides multi-utility services to the showroom floor.
It gives direct access to power and data, audio/video functions, plumbing and compressed air from a single point.
Metal ducting
Wi-Fi access point
Access control
VDI enclosure
safeTy for people and properTy
MORE: SEE PAGE 58-59
Ensure safety for people and property by lighting up paths and stairways or monitoring external and internal spaces via a CCTV system.
high performance inTegraTed sysTems
for improved comfort for the visitor and profitability for the operator
Outdoor lighting Lighting pilots CCTV camera
20
Open tO see the prOducts in their 3d envirOnMent
officeS
AdAptAbility And flexibility spell perforMAnce
Nomadic work practices and the constant pursuit of optimized productivity are influencing the design of office buildings.
An adaptable and flexible technical infrastructure is needed to integrate electrical equipment and communication networks just where you want them.
More generally, such buildings need to operate in a way that is functionally optimal but also energy efficient and environmentally friendly.
21
Meeting room multi-outlet extension
ENSURE
ADAPTABILITY
MORE: SEE PAGE 40-43
Trunkings, columns, floor boxes, office outlet units… a complete offer for current circulation, from floor to ceiling.
This will facilitate modifications and maintenance, thereby ensuring perfect building adaptability.
Fast connection
Power busbars
Emergency lighting luminaire
Main distribution board
Floor box access
Sensor with daylight setting
Floor box
Wire mesh cable tray
Power busbars
Remote control
Office outlet unit
Mini-column
Automatic switch
FROM THE TECHNICAL ROOM TO THE WORKSTATION
Legrand solutions fit together to ensure you get the most efficient and economical building
Automatic switch
Floor system
Emergency lighting luminaire
Occupancy sensor
Evolution Series, a multiservice Poke-Thru device from Wiremold/Legrand
High flexibility and easy upgrading with Van Geel/
Legrand floor boxes
Pop-up devices, ideal for task tables, desks, or lecture halls
ENHANCE
PRODUCTIVITY
MORE: SEE PAGE 62-65
High performance structured cabling systems provide quick, reliable and safe access to information networks for optimal working conditions.
Light mood manager
Trunking
Meeting room multi-outlet unit
Access control
VDI enclosure
Trunking
Wi-Fi access points integrate seamlessly into your structured cabling
End-to-end solutions keep your data moving all the way from the building entrance to the workstation
SAVE
ENERGY
MORE: SEE PAGE 48-53, 56-57
Automatic controls and light mood managers enable to adapt light exactly according to each space and situation. Ideal for open space offices, meeting rooms, corridors, restrooms, etc.
Skirting light
Ramp
Occupancy sensors and daylighting controls, the efficient way to control energy consumption, even remotely
Light mood manager, easy customization of lighting scenes for meeting rooms
Automatic switch
ENSURE
PEOPLE SAFETY
MORE: SEE PAGE 60-61
Self-testing emergency lighting luminaires can be centrally controlled to enable remote control of equipment.
This ensures perfect safety of people and makes maintenance operations easier.
Emergency lighting luminaires
22
Open tO see the prOducts in their 3d envirOnment
shops and malls
minimize cost, mAximize sAles
strict construction deadlines, tight budgets and unexpected changes require a technical infrastructure that is reliable, simple and quick to install.
Reconfigurations and maintenance operations must be made easy to ensure a good level of service continuity.
And besides providing energy savings, integrated lighting solutions can help to boost sales.
23
Zucchini lighting busbar
VDI enclosure
Main distribution board
Trunking
VDI fast connection
Wire mesh cable tray
Lighting busbar
CCTV camera
INCREASE PROFITABILITY
through optimum service continuity and energy efficiency
Steel cable tray
Busbar system
Emergency lighting luminaire
Fireman's emergency switch
Vandal-proof socket
IDEAL FOR FAST
TRACK PROJECTS
MORE: SEE PAGE 36-37, 40-41
Different cable management and busbar systems ensure an easy fit and maximum versatility, for minimum service interruption in the event of reconfiguration of sales areas.
Emergency lighting luminaire
CCTV camera
Vandal-proof shutter control
Emergency push boutton
Multi-utility floor box
Cablofil
®
wire mesh cable tray: safe, quick and easy fit
Zucchini lighting busbars: reconfigurations made easy
ENSURE
SERVICE CONTINUITY
Different steel cable tray systems to suit all kinds of applications
MORE: SEE PAGE 34-37
Safe power distribution from the main board to the final application. Intelligent solutions allow to protect your installation and to measure and control your energy consumption.
Zucchini transformer and busbars,
XL
3
enclosure with DMX
3
supply inverter
ENERGY
EFFICIENCY
MORE: SEE PAGE 34-35, 56-57
Increase energy efficiency through solutions that either optimize energy quality or enable reduced energy consumption. Reactive energy compensation systems contribute to increasing the all-round output of your electrical installation. Lighting management solutions ensure just the right amount of light when and where you need it, thereby generating significant energy savings.
Automatic capacitor banks, for reactive energy compensation
Power dimmers for easy definition and adjustment of lighting levels
Lighting Management supervision software
ENSURE
SAFETY
MORE: SEE PAGE 48-49, 60-61
From vandal-proof wiring devices to CCTV systems or addressable emergency lighting, all the equipment needed to ensure safety.
Soliroc vandal-proof key switch
CCTV camera Addressable emergency lighting
24
Open tO see the prOducts in their 3d envirOnment
education
Safety, performance and control of operatinG coStS
Safety of people and property, performance of installations and cost control: these are the challenges faced by the heads of educational
establishments. Given the high number of people and considerable human traffic flows within these buildings, security equipment must be 100% reliable. data/multimedia equipment must be powerful and flexible in order to meet the needs of users and the requirements of modern, high quality education. and thanks to electrical energy consumption management in particular, operating costs will be significantly optimized.
25
rJ45 security socket
RJ45 security socket with lock
Fast connection
Socket with
RCD protection
Occupancy sensor
Switch
VDI cabinet
Wi-Fi access point
Audio/video sockets
Light mood manager
Trunking with sockets
A SAFE ENVIRONMENT
for people and property
Lighting pilots
Emergency lighting luminaire
Emergency lighting luminaire
VDI cabinet
Occupancy sensor
SAFETY FOR PEOPLE
AND PROPERTY
MORE: SEE PAGE 38-39, 60-61
Emergency lighting, passageway pilot lighting, workstation protection…
Teaching establishments need to ensure maximum personal safety and protection of work equipment.
Emergency lighting luminaires
Lighting pilots Safely connected to power with RCD protection
OPTIMIZE
ENERGY EFFICIENCY
MORE: SEE PAGE 56 to 59
Legrand's lighting management solutions and its luminaire offering allow to adapt lighting to the use of space and to cut energy consumption.
Skirting lights
Vandal-proof luminaire
Zone distribution box
Vandal-proof wiring devices
CCTV camera
Access control
VDI enclosure
Lighting management solutions Automatic switches Sarlam bulkheads with built-in motion sensor
FLEXIBLE
MULTIMEDIA ACCESS
MORE: SEE PAGE 42-43, 62-65
Fast and reliable internet access, connection of multimedia equipment, frequent and quick reconfigurations - school data and multimedia equipment needs to combine performance, reliability and flexibility.
Illuminated signs
Patch panels Fast connection Desktop multi-outlet extensions
RESISTANCE
TO USE
MORE: SEE PAGE 48-49, 58-59
Premises used by school and college students require robust equipment. Frequent and intensive handling, blows and scratches, etc.:
Legrand high-resistance solutions were designed to withstand a variety of aggressions.
Sarlam bulkheads
High power and
Vandal-proof
Soliroc access control
Vandal-proof wiring devices
Easy integration of Mosaic RJ 45 sockets with Plexo IP55 range
26
Open tO see the prOducts in their 3d envirOnment
healthcare
maximum comfort and safety
Because it's so important to provide maximum comfort and safety to patients and staff, all types of healthcare establishments (from hospitals to retirement homes) need quality infrastructures.
legrand's specific solutions allow for consistent and reliable installation systems to be designed to suit each level of requirement.
27
Fingerprint reader
Antimicrobial socket
Strip lights
Bedhead trunking unit
Busbar
HEALTHCARE
EQUIPMENT
MORE: SEE PAGE 66-67
ELIOFLUX2
TM
BEDHEAD TRUNKING UNIT
Perfect safety and compliance with standards. Neat integration of medical gas systems. Suitable for vertical or horizontal installation.
Factory fitted on request.
TV-FM-SAT socket
Bedhead trunking unit
Antimicrobial motion sensitive switch
IP 44
Antimicrobial plate
Cabinet
Multi-function hand-held control unit
Flush socket
Corridor overdoor light unit
Emergency lighting luminaire
Enclosure
Door unit
Isolating transformer for hospitals
Outdoor lighting
Large choice of colours and finishes
RELIABLE AND EASILY ADAPTABLE: ELIOCAD™
This hospital signalling system combines the benefits of bus communication with the functionality of the Mosaic range.
Optional intercom, paging and call tracing function included for a safer medical environment.
Main distribution board
Main control unit
Floor box
VDI enclosure
Corridor overdoor light unit and door unit
Eliocad main control unit
HYGIENE AND SAFETY FIRST:
Easy-to-clean antimicrobial protective plates, motion-sensitive switches to turn on the light without even touching and flush sockets to avoid accumulating dust.
Mosaic functions to suit the special hygiene requirements of healthcare establishments
DESIGNED TO ENHANCE
PATIENT COMFORT
MORE: SEE PAGE 48-49, 58-59
Sound distribution, automated functions, easy-connect sockets for more patients' comfort. Vandal-proof, long lasting lighting solutions will enhance the outdoor entrance, arrival areas and circulations.
COMPLETE SOLUTIONS FOR ALL SPACES
from bedhead trunking to signalling
Easy-connect socket, automatic switch and sound distribution
Safe and pleasant: outdoor lighting for arrival areas and frontages
28
Open tO see the prOducts in their 3d envirOnment
data centers
suPERioR PERFoRMAnCE, sERviCE Continuity
AnD EnERGy EFFiCiEnCy
Mission-critical data centers require reliable, flexible and scalable infrastructures with guaranteed performance.
they need to ensure absolute service continuity and today more than ever, cutting energy consumption is vital. legrand provides integrated solutions that cover needs ranging from a comprehensive power distribution system via cabling infrastructure systems through to complete and effective fibre optic and copper cabling. these solutions provide a coherent and efficient response to the needs of data centers.
29
estap it cooling solutions
High voltage enclosures
Video central control cabinet
Telecom enclosure
VDI enclosure
Enclosures and patch panels
Trunking with
RJ45 sockets
Underfloor busbar distribution
Busbars
Supply inverter
Main distribution board
Capacitor banks
HIGH PERFORMANCE
Flexible and reliable solutions for maximum network efficiency and service continuity
HV/LV
Transformer
Wire mesh cable tray
Occupancy sensor
CCTV camera
Biometric access control
PDU
ENSURE HIGH
PERFORMANCE
MORE: SEE PAGE 64-65
The Legrand Group offers a complete selection of high density copper and fibre optic structured cabling solutions for guaranteed performance.
Momentum 2
Designed for use in mission critical data centers these modular pre-terminated fibre optic cabling solutions provide quick and easy deployment, adds and changes, eliminating costly field installation time
Clarity SNAP
TM
This terminated copper cabling system offers the above-the-standards performance of Clarity
® connectivity in a custom terminated cable assembly system that's ready to plug and go
MAXIMIZE
NETWORK EFFICIENCY
MORE: SEE PAGE
40-41, 64-65
In addition to complete and effective solutions for structured cabling, the Legrand Group also offers an integrated infrastructure of physical supports designed to enhance network efficiency.
Integrated physical support solutions
(racks, cabinets and accessories,
Cablofil
®
cable trays and raised floor systems) reduce power consumption, cooling costs and risk of equipment failure, and enhance overall system performance
Ensuring a proper flow of air from cold aisle to hot aisle, Ortronics ®
Mighty Mo cabinet design enables more efficient cooling and reduces power consumption
ENSURE SERVICE
CONTINUITY
MORE: SEE PAGE 34-37
Use the Legrand Group power offering for complete control of energy distribution: transformers, busbars, analyzers, reactive energy compensation systems, supply inverters… – an efficient system response to service continuity requirements.
Redundant power distribution
A complete system for efficient energy distribution up to 4000 A.
Supply inverters ensure perfect service continuity
Quick and easy reconfigurations through busbar solutions
30
OPEN TO SEE
THE PRODUCTS IN THEIR 3D
ENVIRONMENT
INDUSTRY
ENSURE SERVICE
CONTINUITY
To ensure the best possible performance of their production tools, manufacturing plants that run complex processes need stable, high-performance solutions which can guarantee optimum service continuity.
They must also enable quick reconfiguration of the installation, making it easy to add new equipment while facilitating maintenance operations. Obviously, ensuring safety for the personnel working on the installation is a key priority. All of the
Legrand Group's products are designed to meet these different requirements while adapting to the specific needs of each industry and every environment, even the most extreme.
31
Capacitor banks
Emergency lighting luminaire
Wire mesh cable tray
Busbars
Cable ladder
Industrial enclosure
High power busbar
HV/LV
Transformer
Fast connection
Industrial socket
Trunking
Capacitor banks
Flexible conduits
Main distribution board with supply inverter and power analyzers
Combined unit
Cabinet with control and signalling auxiliaries
Wire mesh cable tray
OPTIMUM SERVICE CONTINUITY
through stable, high performance solutions, easy to install and reconfigure
EASIER
RECONFIGURATIONS
MORE: SEE PAGE 40-41
In industrial environments, energy distribution networks need to adapt easily and quickly to new configurations. Busbars and cable management products meet these requirements by combining easy installation and flexibility. They also ensure the safety of the installation.
Swifts cable ladder: main distribution infrastructure
Mobile and multi-purpose
P17 site distribution box
Cablofil wire mesh cable tray
CUSTOMIZE
YOUR CHOICE
MORE: SEE PAGE 34 to 37
Our configured solutions provide tailormade answers whatever your need and the level of requirements. Our enclosures are equally suited to ordinary environments with no particular constraints, and to the severest of conditions.
A perfectly integrated solution of heavy power distribution (with a designed point to point transfer)
Combined units: can be equipped to suit your need
Atlantic cabinet: heat regulation, perforations and painting to order
MAXIMUM SERVICE CONTINUITY
AND ENERGY EFFICIENCY
MORE: SEE PAGE 34 to 37
Supply inverters answer the double need of continuity of service and greater security. Traditionally used in industries with continuous manufacturing processes, they are increasingly used for the management of energy sources, particularly renewable ones.
Low and Medium voltage Legrand solutions for reactive energy compensation allow to save energy and reduce environmental impact.
Control panel of a supply inverter
Medium voltage compensation provides fixed or automatic solutions with or without harmonic filters
DMX³, DPX and DX
32
w
RAW MATERIALS INDUSTRY
Reduce your electricity consumption and improve the global electricity quality of your plant with capacitor bank solutions.
w
TRANSPORT
EZ-Path
®
, an innovative firestop solution from Cablofil
®
, which satisfies both the requirements associated with modern buildings and those imposed by fire safety regulations.
w
PETROCHEMICAL INDUSTRY
From extra heavy duty cable ladders to wire mesh cable trays, the Group offering provides a variety of long-lasting and effective solutions to meet the requirements of extremely demanding clients.
w
PUBLIC SPACES
For public spaces that require a certain level of security - protect your environment with CCTV systems ideally suited to large surveillance areas.
INFRASTRUCTURE
Airports, bridges, highways, railway stations, harbours, tunnels, ship building and naval installations…
INDUSTRY
Food industry, car industry, raw material processing, oil & gas, chemical industry, pharmaceutical plants, waste & water treatment, photovoltaic installations, wind turbines industry, power stations…
BUILDING SERVICES
Warehouses, governmental buildings, educational facilities, leisure & entertainment parks, casinos, convention & exhibition centres, parking lots, theatres, museums, sports centres & stadiums.
STADIUMS THEATRES PHOTOVOLTAIC INSTALLATIONS TUNNELS
A VERY BROAD
RANGE OF APPLICATIONS
Beyond the examples of products and solutions we have just shown you, the Legrand Group boasts expert know-how in a large number of other applications. Our consistent research efforts and the complementarity of our offers and brands allow us to respond to the needs of countless different projects.
33
WATER TREATMENT
34
1
reACtiVe energy CoMPensAtion designed to manage reactive power compensation, the vacuum-tech automatic capacitor banks demonstrate unparalleled long-term reliability. in addition to their overvoltage withstand capability and discharge resistance, these capacitor banks are also PCB-free, making them environmentally friendly.
2
1
3
4
energY SaVingS
and energy Quality
the Legrand catalogue of products and systems provides a portfolio of solutions for enhancing energy quality and reducing energy consumption.
our reactive power compensation systems make it possible to increase the all-round output of your electrical installation or optimize your energy retailer subscription package (switch-down to lower rate bands).
network analyzers offer a suite of features: on-site or remote diagnostics and benchmarking, real-time metrics and performance comparisons, and monitoring on electricity delivery parameters.
During building down-time phases, Zucchini's low-loss cast-resin transformers will optimize all-round energy consumption and reduce network power losses.
35
2
ZUCChini edM trAnsForMers
Zucchini edM dry-type hV/lV transformers combine optimized electrical energy consumption with low environmental impact to offer a reliable, energy-efficient solution.
3
ZUCChini BUsBAr systeMs reliability, flexibility, and usability: Zucchini high Power busbar systems provide fully safeguarded electrical power delivery and distribution to commercial and industrial buildings.
4
AlPes teChnologies AnAlyZers real-time analysis of electrical network parameters and remote metrics feedback: Alptec network quality analyzers help users to act fast and deal with problems early.
36
efficient protection
up to 4 000 a
to guarantee efficient protection and effective service continuity, Legrand proposes DMX³ air circuit-breakers, DpX MccBs, supply inverters, isolating switches and XL³ distribution enclosures as a set of fast-deployable solutions integrating cutting-edge technologies. the range is rounded off with standard or optimized distribution systems. Zucchini busbar systems connect the main panel and branch distribution panels to the building network to forge a top-level energy distribution system. Legrand has completed this offer with a series of complementary services spanning software solutions for scaling and designing electrical panel networks, technical guides, training modules and technical support, to facilitate specifier workflows and help shortlist and select the optimal system solutions.
37
Xl 3 4000 enClosUres robustness, sleek design, performance ergonomics and seamless integration of protection devices are the main qualities of the Xl³ 4000 range of distribution enclosures.
Xl³ And Altis enClosUres And CABinets drawing on the same core qualities as the Xl³ 4000 enclosures, the full range of Xl³ distribution enclosures and cabinets (up to 4 000A) combines sleek design and quality with quick-and-easy installation. Altis automation enclosures are geared specifically to industrial applications.
dMX
3
, dPX And dX CirCUit-BreAkers the full range of legrand protection equipment delivers an efficient and powerful solution against electrical faults anywhere in the installation.
ZUCChini BUsBAr systeMs
As an energy distribution system, the Zucchini busbar offer up to 5 000A provides scalability, dependability and hassle-free deployment.
indUstriAl soCkets And CoMBined Units legrand proposes industrial-grade sockets up to 125A and combined units designed to handle specific applications in the toughest working environments.
Viking 3
Ultra-reliable connections by screw or automatic terminals, easy wiring, and marking thanks to CAB 3 system:
Viking 3 boasts numerous competitive edges.
MArking systeM
Clear to read and straightforward to use, the CAB 3 marking system comfortably covers a wide range of applications: cables, wiring and terminal blocks.
cabinets modular devices
ModUlAr CABinets
Various cabinet solutions (Practibox, nedbox and Plexo
3
) exist to cover any type of installation. they share the same sober modern design and provide effortless cabling and deployability.
dX CirCUit-BreAkers And rCds the catalogue contains several circuit-breaker and residual current device ranges to meet a variety of application needs.
VoltAge sUrge ProteCtors dependable protection against lightning effects for sensitive hardware such as PCs, printers, tV screens, home cinema systems, etc. stoP & go AUto-reset if a temporary fault accidentally trips the general protection system, stoP & go will automatically reset the installation.
tiMe switChes/light sensitiVe switChes to optimize electricity consumption while enhancing user comfort and convenience.
PrACtiBoX
Practibox blends design and ergonomics into a modular range of 6 to 36 din-rail module flush-mounted cabinets.
39
a fully-comprehensive
MoDULar offer
circuit-breakers, residual current protection systems, surge protectors, auto-resets, programmable or light sensitive switches… the Legrand group offers a comprehensive range of Din-rail equipment. people and property are protected against electrical faults, while energy consumption and system usability are optimized. the Legrand offer is rounded off by various ranges of functional and attractive modular cabinets that fully meet the requirements of any residential and small commercial project site.
floor
2
FlUsh Floor systeM
A simple and effective system that integrates into concrete flooring to make maintenance and floor box reconfiguration operations easy.
3
sCreed Floor systeM designed to carry heavy loads, this PVC or metal trunking is sunk directly into the floor screed.
40
1
CABle MAnAgeMent Floor systeMs: solUFleX, eleCtrAk, ZUCChini And CABloFil
Fast-fitting, dependably safe complementary solutions, such as the soluflex floor system, Cablofil wire mesh cable trays, electrak or Zucchini busbars offer a series of key advantages: time saved on installation, flexibility in use, and instant reconfigurability.
perimeter
4
trUnking
For power distribution and connection,
PVC, steel or aluminium trunking offers installations the greatest flexibility and scalability. wiring device ranges such as Mosaic or Arteor can be seamlessly integrated.
4
overhead
5
MetAl And wire Mesh CABle trAys with Cablofil, Van geel/legrand, wiremold and swifts, the legrand group offers a vast array of cable management solutions spanning the full range of applications: plain or perforated cable trays, and wire mesh trays. the range of available finishes means they can be used in any environment.
6
CABle lAdders the ideal solution specially geared to heavyweight and very heavyweight loads.
5 6
41
caBLe ManageMent
a comprehensive offer for any type of building
office space, industrial buildings or housing, whatever the project and its requirements,
Legrand has end-to-end system solutions for power and data cable management. Legrand's floor, overhead and perimeter cable management systems are engineered to make it easy to get power delivered where users need it. Quick and safe to install, these solutions were designed to optimize cost-effectiveness.
42
getting poWer &
Data DeLiVereD JUSt
Where users need it
floor boxes, columns, mini-columns, underdesk modules, desktop multi-outlet extensions and trunking solutions have been specially designed to get power delivered just where users need it. Safe and easy to use, these installation elements open up convenient, flexible equipment options. this range of workstation systems has been developed to integrate several electrical standards, thus offering unbeatable adaptability. they all enable a seamless fit with wiring device ranges such as Mosaic or arteor to offer innovative new functionalities.
2
trUnking
For new buildings or refurbishments of currently available space, this is a fast-fitting and costefficient scalable distribution solution. Moreover, maintenance becomes easier thanks to sockets that snap-mount directly onto the trunking.
3
Under-desk ModUles electrak intersoc under-desk modules are available as a fully configurable solution that can be easily expanded to meet all workstation power distribution needs.
4
4 Poles And ColUMns
Choose among a variety of solutions, like the Vista architectural columns, for the best panel option to get the wiring capabilities you need, anywhere and for any reconfiguration.
5
Floor BoXes legrand, Bticino or wiremold floor boxes fit smoothly into any type of power infrastructure, from raised service floors to concrete flooring, and into any type of building, leaving the interior styling fully intact.
2
1
1
desktoP MUlti-oUtlet eXtensions
Blending design and ergonomics: the ideal solution for on-the-go and flexibility needs.
3
5
4
w Cable management solutions, see page 40 - 41
43
44
Wiring DeViceS
one partner for all standards
Legrand is the only market player with wiring device offerings in all the major international standards including US, german, British, french, italian, chinese and Korean. With more than 100 ranges of wiring devices encompassing in excess of 200 functions, you can choose from a wide spectrum of products to get the solution that best suits your project and local electrical standards.
FrenCh British gerMAn itAliAn AMeriCAn BrAZiliAn AUstrAliAn koreAn Chinese indiAn
45
t
the eXClUsiVe ChoiCe
Céliane offers an exclusive selection of 11 finishes available on demand.
46
tHe ULtiMate cHoice
formats, colours, finishes and functions - the Legrand group boasts 100 wiring device ranges to meet all your needs, however stringent the requirements involved.
Whatever the project, whatever the geographic situation, there is a wiring device range to fit your needs. exclusive ranges such as arteor, céliane or axolute offer advanced home automation functions allied with luxurious, top-quality surface finishes. But requirements can be taken even further, to the configured solutions offered under the art d'arnould range, a benchmark in tailored solutions. and our portfolio even extends to end-to-end custom-built solutions: specific engraved markings, custom symbols integrated onto touchscreen appliances, your imagination is the only limit!
dreAMs
Céliane exclusives enChAntMent
Céliane exclusives slAte
Céliane exclusives
w
ConFigUred
Art d'Arnould brings you an exclusive, configurable and bespoke range. Choose the functions, shapes and finishes to suit your project. For more information, please contact: [email protected]
Finition gamme
t
FroM stAndArd to lUXUry
From standard to luxury, the legrand group's offering covers all segments and types of installations. however strict the requirements of your project, we can provide the perfect response.
grAPh BlUe
Valena white
Màtix
MAhogAny
Céliane trUe gold living
PeArl AlU
Arteor gAlUChAt
Arteor
47
teCh
Axolute etèris sAnd leAther
Axolute
w
CUstoMiZed special markings, personalisation of digital screens, etc. - whatever your needs, various group ranges offer you the option to tailor-make your systems. For more information, please contact: [email protected]
Mirror white
Arteor light titAniUM living kristAll glAss
Axolute
48
fUnctionS to SUit all types of proJects
While numerous functions included in the Legrand group's offering are common to all requirements encountered within commercial and residential buildings
(high and low voltage power supply, lighting and heating control systems, etc.), Legrand can also provide dedicated functions to suit precise needs. arteor and céliane, for example, offer specific solutions for hotels, the Mosaic anti-microbial range is perfect for health care facilities and the Soliroc range is designed for hazardous or unmonitored areas.
Modern buildings require targeted technical responses and, with 200 available functions, Legrand will always come up with the right solution.
w
shAred FUnCtions
All the essential functions for all types of projects are covered by a vast selection of products: lighting controls, socket outlets, data and multimedia sockets, etc.
diMMer wi-Fi ACCess Point switCh
FeMAle hd15 + JACk 3.5 MM And hdMi soCket rJ 45 dAtA soCket
Functions designed especially for hotels, specific marking, etc., are targeted solutions that meet the needs of both clients and operators. they guarantee maximum comfort and optimum profitability.
Bedside Unit eXternAl Unit strong, resistant to intensive use and impacts, a whole range of equipment has been specially designed for premises that are used by the public.
SHopS & pUBLic
CArd reAder ACCess
Control legrand provides a wide range of innovative solutions for sustainable lighting management.
AUtoMAtiC switCh light Mood MAnAger
Various products, designed to meet the hygiene standards of medical premises.
AntiMiCroBiAl switCh AntiMiCroBiAl
FlUsh soCket oUtlet
49
50
comfort and safetY door entry SySteMS and hoMe ControL: perfeCt integration as genuine all-round home control centres, these systems combine home control functions with remote surveillance and video door entry system functions. they also offer access to a variety of multimedia contents: radio, weather forecasts, playlists, Mp3, etc.
scenarIo controL room controLLer
TWo TeCHnoLogieS
brIdgIng aLL Your needs
user requirements in terms of home automation are continually rising. To meet these expectations,
Legrand has developed a dual response: a plug&play solution with radiofrequency technology based on the Zigbee
®
protocol, and a buS/SCS offer providing the fully-integrated solution package. These two technologies can cross-communicate via a shared platform. The buS solution interfaces with systems such as dALi and KnX. our openWebnet protocol secures interoperability with other home automation systems. Available through ranges such as
Arteor and Céliane by Legrand and Axolute and Living & Light by bticino, our offer is broad enough to cover the full spectrum of needs. Whether you need to automate a single function or build full-scale systems integrating every available application, the Legrand group has a solution for you.
51
suPerVIsIon mY oPen communItY all the essential functions for a modern way of life: lights, roller shutters, alarms, sound distribution, etc.
Control your centralized scenarios: lights, roller shutters, temperature, etc.
Control centralized functions and scenarios in each room from a single touch-screen: lights, roller shutters, sound distribution, alarms, etc.
Supervise and monitor your installation remotely via the internet, your mobile or smart phone.
Customize your home-automation applications, interface bticino and Legrand products with third party solutions: it's all possible via the
"My open" web community.
52
VAnTAge
the benchmark In home automatIon
For over 20 years, Vantage has been designing and manufacturing home automation and lighting control equipment which has come to symbolize the state-of-the-art in technology and reliability. its capabilities and flexibility have made
Vantage the benchmark solution for luxury homes, and
Vantage can be seamlessly integrated into office buildings, hotels and commercial premises.
Combine these assets with straightforward wiring, proprietary free-to-update software, open interoperability, an international network of trained dealers and technical and engineering support, and you can understand why
Vantage is set to remain eternally up-to-date. t
hoteLS
53
t
hoMe theatre vantage systems give homeowners unprecedented control over every facet of their lives at home. keypads, touch screens and remote access enable to activate, change or monitor the home systems from anywhere.
vantage also works wonders in audio-visual meeting rooms where it ensures perfect integration of lighting, music, projection screens, videoconferencing equipment, curtains and, where applicable, the partitions that transform a large room into several small rooms.
the vantage home theatre solution combines sophisticated control of lighting and window treatments with pulse-pounding and high definition video to create the perfect theatre experience. home theatre design and integration by domosat.
Quantum of Solace (Copyright: Quantum of Solace
©
2008 danjaq, united artists, Cpii. 007 and related James bond trademarks, tM danjaq)
54 poLyx video the new polyx video forms part of the "design for all" concept. this stand-alone internal unit incorporates a wide range of functions. it is equipped with multi-sensory controls (sight, touch, sound) and can be used with a hearing device. this design facilitates accessibility for disabled and elderly people. polyx video has been awarded the dfa Start label.
door enTry SySTemS
sPecIaLIst offers from the VILLa to comPounds
For detached houses or individual apartments, medium-sized homes, large residential tower blocks or compounds, there is a residential access control solution that perfectly meets the needs of every project.
Thanks to a wide choice of stand-alone versions as well as attractive solutions integrated into a number of wiring device ranges, the Legrand group is able to boast one of the most complete selections on the market. it also offers various services to facilitate project design and to help you make the right choice.
55
externaL InternaL externaL InternaL aPartments and medIum sIZed homes
Linea 2000 MetaL the extra-flat Linea 2000
Metal entrance panel from bticino combines beauty with functionality. it is perfect for small applications thanks to its
2-wire buS system.
internaL unitS in stand-alone version or as part of the Céliane, arteor or axolute ranges, hands-free or with a handset - choose exactly what you want.
comPounds
Sfera and axoLute outdoor
Sfera is a flexible external unit for any kind of installation typology. the axolute outdoor entrance panel from bticino combines all the advantages of a 2-wire system with all the options of an ip system. innovation in terms of aesthetics, functions and technology.
More than JuSt a video door entry phone as genuine home control centres, these internal units incorporate a wide range of functions: door entry system, monitoring of communal and outdoor areas, home control, access to certain web services and multimedia content management, etc.
56
puTTing A STop
to energY waste
delivering just the right lighting, where it's needed and when it's needed, that's what
Legrand's lighting management solutions are there for. They provide an appropriate and dependable response for any building project designed for sustainable development. Legrand's solutions offer technical compliance with building energy efficiency requirements, but they also go further, enabling significant energy savings and cuts in running costs while creating a safer, more comfortable environment for building users. Legrand's new lighting management solutions provide a valuable contribution to green building initiatives such as breeAm, Leed, HQe and green STAr.
Switch sensors
a range of switch sensors for automated lighting management, the ideal solution for single or multiple areas.
100-240 va.c 50/60 hz
buS/SCS SySTem
a bus/scs based system enabling lighting management throughout a floor or a whole building, fully compatible with all types of lighting features as well as daLI.
SySTemS deSigned
AS THe uLTimATe
In effIcIent LIghtIng controL the solutions best suited to maximizing energy savings will vary depending on the target space and the type of project involved.
Legrand proposes two solutions for tackling the specific requirements of different applications.
buS | SCS 27 v
57
v tranSparent inforMation the Legrand group delivers complete, fully transparent information on the potential savings made possible by its lighting management solutions: the forecast energy consumption scenarios are based on standard en15193.
diMMer rooM ControLLer SCS SenSor Configuration tooL
Software v a CoMpLete SoLution
Legrand offers a range of lighting management strategies: occupancy-based or vacancy-based, with options for combined manually-set and automated control, lighting level control based on natural light availability or space usage, but also programmable light settings according to site occupancy.
v group Synergy the Legrand group's lighting management solutions integrate seamlessly with its international wiring devices ranges such as arteor,
Mosaic, Céliane, axolute…
sustaInabLe LIghtIng soLutIons
Energy efficiency
58
SArLAm
LigHTing SoLuTionS
desIgn, safetY and energY effIcIencY
Showcase your building and the surrounding spaces, make its access secure and optimize the energy balance; Sarlam lighting solutions include bulkheads, bollards, striplights and recessed lighting for walls and flooring. Choose the colours, shapes and materials best suited to your project's specific environment. designed to facilitate installation and maintenance, Sarlam products also perfectly meet the environmental requirements of modern buildings. make savings through built-in motion sensing
the bulkhead comes with a built-in sensor, offering an effective system for handling intermittent building use patterns throughout the day while ensuring the lights stay off overnight. not only does this solution save on power consumption, it is also easy to set up and maintain.
opt for new light sources
fluorescent luminaires fitted with electronic ballasts provide real progress in terms of equipment lifespan, easy maintenance, and lower electricity bills.
boLLards
takIng aLL Your reQuIrements
Into account
• Integration of the most energy-saving sources and technologies,
• Lighting quality,
• Resistance to environmental constraints and vandalism,
• Quality finishes,
• Extremely easy installation and maintenance.
borneo ChartreS recessed LumInaIres kaLank kaLank Mini Led koreo buLkheads
protect products & users
available throughout almost the entire sarlam range, vandal-proof functions meet the safety and solidity requirements dictated by the environment in which they are installed, with high degrees of protection (Ik from 7 to 10 and IP from 43 to 65).
ChartreS oLeron high power hp
59
60
emergenCy
LigHTing
goes green
Thanks to technological developments in line with Legrand's various environmental commitments, an increasing number of its emergency lighting solutions now combine safety with energy saving. The new offerings are equipped with long-life, low energy Leds. An additional benefit: all our emergency lighting solutions are eco-designed, have eco-labelling (nF environment) and are entirely recyclable. right around the world, the Legrand group provides stand-alone emergency lighting luminaires as well as addressable solutions to cover all types of buildings.
61
neW emergenCy
LIghtIng offerIngs the new Legrand emergency lighting offerings are equipped with low energy, long-life
Leds which ensure low energy consumption while also reducing maintenance costs. the use of ni-mh batteries further reduces their environmental impact. their slim design facilitates integration into any type of surroundings.
the Perfect combInatIon of safetY and energY saVIng VarIous soLutIons new eMergenCy
Lighting unitS the flush-mounting accessory guarantees quick and easy ceiling mounting.
arCor
™
2 the perfect combination of flushmounted design and low energy consumption.
SLide ConneCt
™ g2 winner in 2008 of the award for excellence in Sustainable design, one of the australian international design awards, this Led based solution is perfectly suited to the pacific aera.
LipSo emergency lighting pilots with
Leds, the perfect combination of style and safety. g5 an emergency lighting range that offers a variety of fixing modes and finishes. for any kind of project, anywhere in the world. er a cost-efficient solution for all exit sign applications in the pacific area.
SpeCifiC SoLutionS twin Spot Lights: the right solution for lighting large open areas. Conversion kits: change usual luminaires into"stand-by lighting units".
addressabLe sYstems
Legrand produces various addressable systems, both wired with the Legrand vision System and wireless with axiom. these systems are designed for managing emergency units and conversion kits. Software allows operators to monitor one or more buildings, floors or areas, from a central location. for easier and better prepared maintenance operations.
62
LegrAnd CAbLing SySTem
2
Performance from the technIcaL room to the workstatIon
Complete systems with a 20-year guarantee.
The new LCS
2
offering includes copper
(Cat. 6
A
, Cat. 6 and Cat. 5e), fibre optic and Wi-Fi solutions as well as enclosures. The systems have been designed as coherent entities to optimize their performance. Additional benefit: the perfect synergy with other Legrand products and solutions such as cable management, trunking systems, installation supports or wiring devices. Legrand's solutions allow to create coherent and efficient systems from the technical room through to the workstation.
LCS 2 fibre optiC drawer for ease of use and maintenance, the fibre optic drawer is entirely accessible and the fibres are coiled using built-in accessories.
Zone diStribution boxeS flexibility and adaptability in outlet connections and reconfigurations thanks to the fast connection system and zone distribution boxes.
the network at your fingertipS on the wall using trunking, at ceiling level using columns, at floor level with floor boxes or locally with desktop multi-outlet extensions - networks can be adapted to any type of workspace configuration.
LCS
2
19'' enCLoSure designed for optimal management of cables and patch cords. easy to assemble and dismantle.
perfeCt integration into wiring deviCeS rJ 45 sockets integrate seamlessly into the group's various ranges of wiring devices: Mosaic, Céliane, arteor, Living,
Light, etc.
63
64
SpeCiALiST
SoLuTionS
In datacom encLosures
estap is the Legrand group's specialist providing a complete offer in datacom enclosure solutions: from basic racks, cabinets and accessories to telecommunication outdoor cabinets, server cabinets and data center solutions. estap provides standard as well as customized solutions.
it CooLing SoLutionS hot aisle, cold aisle, cold/hot aisle containment, perforated doors, open/closed loop cooling systems (in row/ Side cooler) data center ip 55 outdoor enCLoSureS
Maximum protection against environmental impact, vandalism, eMi and extreme thermal conditions.
univerSaL Line high quality cabinets fit your decoration and environments. Secure and sturdy.
orTroniCS hIgh Performance for mIssIon crItIcaL aPPLIcatIons
from building entrance to desktop, ortronics offers seamless end-to-end solutions to keep your business moving. whether you need to run copper, fibre, or wireless… for Lan, san, or data center… with a distributed, centralized, or zoned architecture: ortronics understands the impact of structured cabling and physical support on networks, and designs systems to ensure yours connect flawlessly.
stock exchange aIrPorts
orTroniCS/eSTAp
sPecIaLIst soLutIons for structured cabLIng
With ortronics, the Legrand group provides advanced, highest performing structured cabling systems and solutions for mission critical applications.
They are perfectly suitable for LAn and datacenter/SAn installations in many different markets including finance, transport, healthcare, administration etc.
Combined with the group's infrastructure solutions for cabling - racks, cabinets, Cablofil
®
wire mesh cable trays and raised floor systems - these systems ensure real network stability. Via its specialist estap, Legrand also offers complete solutions for datacom enclosures, from standard applications to bespoke versions.
65
hosPItaLs
66
HeALTHCAre
sPecIfIc soLutIons for heaLthcare enVIronments
The Legrand group offers specific material from bedhead equipment through to signalling.
This dedicated offer comprises complete and functional solutions for bedrooms, corridors, treatment rooms, casualty wards and equipment rooms. our healthcare solutions integrate perfectly into the group's global offer, thus ensuring maximum reliability. They have been designed to enhance patient safety and comfort while reducing the need to involve nursing and maintenance staff.
w eLiofLux 2™ bedhead trunking unit a perfect combination of functionality and flexibility, bedhead trunking units can incorporate various electrical functions, such as power and data sockets, lighting and roller shutter controls, and hospital signalling. they also allow to supply the patient's room with medical gases. their electronic ballasts and t5 tubes reduce energy consumption. they can be installed vertically or horizontally and are available in different colours and finishes.
antI-mIcrobIaL ranges eLIofLux 2™ eLIocad™ functions tailored to areas with extremely strict hygiene requirements feature in the Mosaic, Céliane and plexo ranges. their specific feature is the use of an anti-microbial material containing silver ag+ ions, which allows the majority of bacteria, fungi and viruses to be eliminated.
these strip lights combine ambient and reading lighting. they are engineered to withstand the impact of cleaning products.
the bedhead trunking unit enables the room to be supplied with medical gases.
eliocad tM
: this hospital signalling system is a buS solution incorporating Mosaic functions.
Mosaic functions dedicated to display calls or the presence of a nurse in corridors and rooms.
t MuLti-funCtion hand-heLd ControL unit for remote control of reading light, room lighting and roller shutters.
67
68
AT your SerViCe
throughout the worLd
our iKAp team is there to give you the best possible support, whatever the nature or geographic location of your project, whatever your information requirement: whether commercial or technical details, information about standards and regulations or presentational media... We provide you with solutions drawing on all available resources, making the best use of expertise across different brands, subsidiaries and offers.
SoMe ShowCaSe proJeCtS
FeeL Free To ConTACT uS:
Legrand international Key Accounts and projects
82, rue robespierre
93171 bagnolet cedex france
one TeAm / 7 coordInatIon areas
north america
Central and South america, Southern europe
asia / oceania
China
Middle east / africa
northern, eastern and Central europe
united kingdom / ireland private yacht (Monaco) hotel Secret de paris (france) paris department Store (hungary) the Sail @ Marina bay (Singapore) California academy of Sciences (uSa) british antarctic research Centre (uk) aquileia tower (italy) ottoman palace hotel and villas (dubai)
This document is printed on paper derived from sustainably managed forests.
Headquarters
128, avenue de Lattre de Tassigny
87045 Limoges Cedex
France
Tel. : + 33 (0) 5 55 06 87 87
Fax : + 33 (0) 5 55 06 88 88
www.legrandgroup.com
* Your assessment is very important for improving the work of artificial intelligence, which forms the content of this project