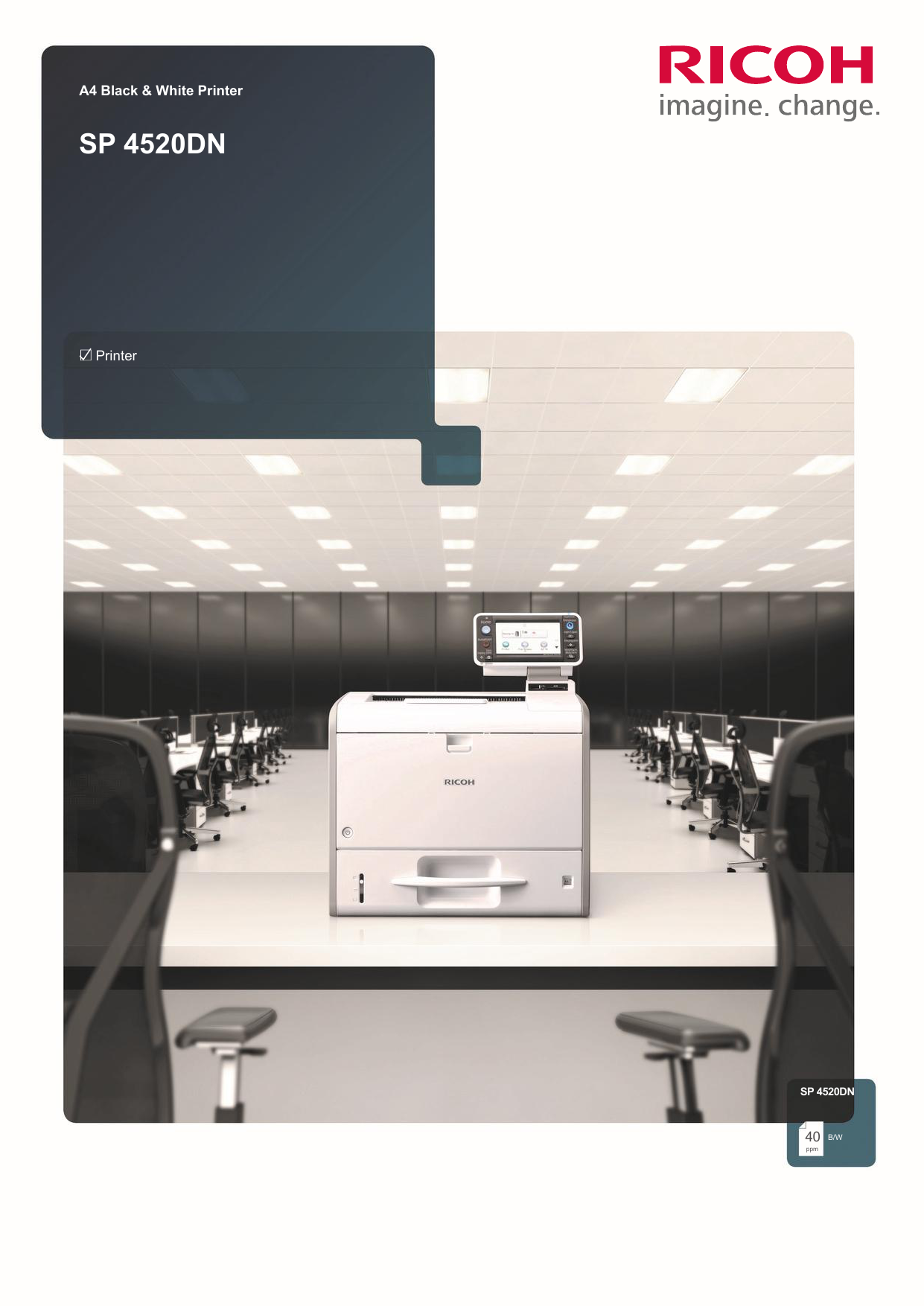 A4 Black & White Printer
SP 4520DN
Printer
SP 4520DN
40
ppm
B/W
Compact, efficient and designed for smooth
workflow
Ideally suited for small to medium-sized workgroups, the SP 4520DN is a compact, cost-efficient A4 black
and white printer with a 4.3 inch colour touch panel for improved workflow. Thanks to its small footprint
and sleek modern design, these printers can easily fit on the corner of a desk – but their small stature
does not compromise on quality. Delivering stunning performance, this business printer offers best-inclass environmental credentials and superb cost efficiency.
The best energy efficiency in its class
Easy-to-use 4.3 inch colour touch panel
Save money with low Total Cost of Ownership
Offers 1200 x 1200 dpi at full speed
Print direct from USB-stick
Perfect for your business.
High productivity in a small space
With an impressively small footprint, this printer
won't take up too much space. But because it
offers 1200 x 1200 dpi and prints at 40 pages per
minute, there's no compromise on quality. It's the
perfect combination.
Maximum value, for you and the
environment
This printer offers extraordinarily low cost-per-page
for its class – which means excellent value and low
total cost of ownership compared to similar
products. Furthermore, the SP 4520DN offers
lowest-in-class energy consumption, reducing costs
further as well as your carbon footprint so your
business can thrive and save money.
State-of-the-art
The easy to use icon-based 4.3 inch colour touch
panel allows you to add shortcuts and customise
your home screen - as well as the benefits of easy
integration with other networked equipment. Our
Mobile Printing App means you can print securely
from a variety of sources, and, integration with
FlexRelease gives you access to view and print
documents straight from the cloud.
Advanced integration for better
workflow
Want to reduce costs, enhance document security,
improve productivity or decrease your carbon
footprint? Or all of the above? We can help you.
Ricoh's extensive range of software solutions are
designed to meet specific business needs and
challenges. And, you will receive ongoing support
to make sure you get the most from your
investment.
SP 4520DN
MAIN SPECIFICATIONS
GENERAL
SECURITY
Technology:
LED
Warm-up time:
17 seconds
First output speed:
5 seconds
Print speed:
40 pages per minute
CPU:
RM7035C-533L 533MHz
Memory:
Standard: 512 MB
Maximum: 1,024 MB
HDD:
Option: 320 GB (Encryption/Data
Overwrite Security unit)
Duty cycle:
150,000 prints per month
Duplex:
Yes
Dimensions (W x D x H):
370 x 392 x 306 mm
Weight:
14 kg
Power source:
220 - 240 V, 50/60 Hz
PRINTER
Authentication:
Windows® authentication, LDAP
authentication, User code
authentication, 802.1.x wired
authentication
Network security:
Disable/Enable ports and protocols,
SSL support, SNMPv3 support
ECOLOGY
Power consumption:
Maximum: 1,110 W
Sleep mode: 0.58 W
TEC (Typical Electricity Consumption):
1.74 kWh
OPTIONS
2 x 250-sheet paper tray, 2 x 500-sheet paper tray, Medium cabinet, High
cabinet, Hard Disk Drive (320 GB), RAM (1,024 MB), Bi-directional IEEE
1284, Wireless LAN (IEEE 802.11a/b/g/n), VM Card, Netware, IPDS unit,
Browser unit, XPS direct print
Printer language:
Standard: PCL5e, PCL6, Adobe®
PostScript® 3™, PDF direct print,
Mediaprint (JPEG/TIFF)
Option: XPS, IPDS
Print resolution:
1,200 x 1,200 dpi
Fonts:
PCL (45 fonts, International fonts: 13
Intellifonts), PS3 (136 fonts)
Starter toner:
Black: 18,000 prints
Drum:
40,000 sheets
Standard: USB 2.0, SD slot, USB Host
I/F, Gigabit Ethernet
Option: Bi-directional IEEE 1284,
Wireless LAN (IEEE 802.11a/b/g/n)
Toner cartridge (ultra high yield): Black: 18,000 prints
Interface:
Network protocol:
TCP/IP, IPX/SPX (Option)
Windows® environments:
Windows® Vista, Windows® 7,
Windows® 8, Windows® 8.1,
Windows® Server 2003, Windows®
Server 2008, Windows® Server 2012
Mac OS environments:
Macintosh OS X v10.5 or later
UNIX environments:
UNIX Sun® Solaris: 2.92.10
HP-UX: 11.x11i v211i v3
SCO OpenServer: 5.0.76.0
RedHat® Linux Enterprise: 456
IBM® AIX: 5L v5.35L v6.15L v7.1
CONSUMABLES
Consumable yield measuring
method ISO/IEC 19752
For availability of models, options and software, please consult your
local Ricoh supplier.
Novell® Netware® environments: v6.5
PAPER HANDLING
Recommended paper size:
A4
A5
A6
B5
B6
Paper input capacity:
Standard: 600 sheets
Maximum: 1,600 sheets
Paper output capacity:
Maximum: 250 sheets
Paper weight:
Paper tray(s): 52 - 162 g/m²
Media capability:
Plain paper, Thick paper, Recycled
paper, Colour paper, Letterhead, Preprinted paper, Thin paper, Special
paper, Envelopes
www.ricoh-europe.com
ISO9001 certified, ISO14001
certified, ISO27001 certified
All brand and/or product
names are trademarks of their
respective owners.
Specifications and external
appearance are subject to
change without notice. The
colour of the actual product
may vary from the colour
shown in the brochure. The
images in this brochure are
not real photographs and
slight differences in detail
might appear.
Copyright © 2015 Ricoh
Europe PLC. All rights
reserved. This brochure, its
contents and/or layout may
not be modified and/or
adapted, copied in part or in
whole and/or incorporated
into other works without the
prior written permission of
Ricoh Europe PLC.