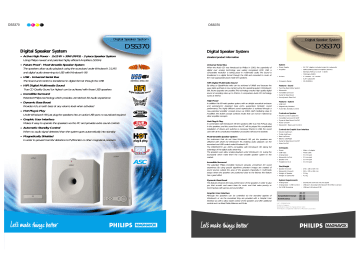 DSS370
C
M
Y
DSS370
B
Digital Speaker System
Digital Speaker System
DSS370
• Active High Power - 2x15 W + 30W (RMS) - 3 piece Speaker System
Using Philips newest and patented highly efficient Amplifiers (SODA)
• Future Proof - Most Versatile Speaker System
The speakers allow audio playback using the soundcard under Windows® 3.1/95
and digital audio streaming via USB with Windows® 98
• USB - Universal Serial Bus
The Sound and Control is transferred in digital format through the USB
Digital Speaker System
DSS370
Digital Speaker System
standard product information
Universal Serial Bus
When the Audio CD was introduced by Philips in 1981, the superiority of
digital over analog technology was widely recognized. With USB a
comparable revolution is taking place in multimedia audio. The Sound is
transferred in a digital format through the USB and converted to music at
the most appropriate place: inside the speakers.
HiFi Digital Multimedia Sound
By doing so Signal/Noise ratio can be achieved of 98dB and because the
wave table synthesis is now carried out by the operating system (Windows®
98), future upgrades are possible. This technology ensures high quality digital
sound at sampling rates up to 55kHz. In comparison, Audio CD technology
works at 44kHz.
• HiFi Digital Multimedia Sound
True CD Quality Sound (or higher) can be achieved with these USB speakers
• Incredible Surround
Patented Philips technology which provides unmatched 3D Audio experience
• Dynamic Bass Boost
Provides rich, smooth bass at any volume level when activated
High Power
In addition this 60-watt speaker system, with an airtight acoustical enclosure
and aerodynamic designed bass ports, guarantees fantastic sound
performance. The highly efficient sound reproduction is achieved through a
new, patented amplifier concept known as SODA (Self Oscillating class D
Amplifier). The SODA concept achieves results that can not be matched by
other amplifier concepts.
• Hot Plug & Play
Under Windows® 98 just plug the speakers into an active USB port, no soundcard required
• Graphic User Interface
Makes it easy to operate the speakers via the PC and provides extra sound controls
• Automatic Standby Control
When no audio signal detected than the system goes automatically into standby
• Magnetically Shielded
In order to prevent harmful distortion to TV/Monitor or other magnetical products
Hot Plug & Play
In combination with Windows® 98 the speakers offer true Hot PnP. Just plug
in the speakers, and the sound from the PC will be played. No complicated
installation of drivers and switches is necessary. Thanks to USB, the sound
card with all its complicated installation procedures will become obsolete.
Most Versatile Speaker System
For customers that do not have Windows® 98 yet, the speakers
delivered with drivers for Windows® 95, enabling audio playback via
soundcard and USB control under Windows® 95.
The DSS350/370 are 100% compatible with Windows® 98 taking
advantage of the digital audio streaming.
The speakers even allow analog playback under Windows® 3.1 (using
soundcard) which make them the most versatile speaker system in
market.
ASC
are
the
System
• Power Supply
• Amplifier
• Drivers
• Frequency Range
•
•
•
•
•
Incredible Surround
The patented Philips Incredible Surround provides unmatched 3D sound
experience. By using special algorithms phantom images are created of
sound sources outside the area of the speakers. Especially in multimedia
setups where the speakers are positioned close to the listener, this feature
has a great effect.
Dynamic Bass Boost
This feature enhances the bass performance of the speakers in order to give
you that smooth and warm bass for music and that extra punchy or
booming bass with games and sound effect
Graphic User Interface
Although the speakers can be controlled via the standard applets of
Windows® or via the soundcard, they are provided with a Graphic User
Interface as well to allow easier control of the speakers and offer additional
controls such as: Bass, Treble, Balance and Mute
AC-DC adapter included, mains for subwoofer
SelfOscillating class D Amplifier (SODA)
60 Watts RMS (2 x 15 W + 30 W)
720 Watts PMPO
2" tweeter + 4" woofer
5.25" subwoofer
35-20.000Hz
Features - Sound
Two Way Bass Reflex System
Subwoofer
Incredible Surround
Dynamic Bass Boost
Aerodynamic Bass Port
Features - System
• USB DAC
• Magnetically Shielded
• Automatic Standby Control
•
•
•
•
•
Controls on Speaker
Volume Control Up/Down
Incredible Surround On/Off
Dynamic Bass Boost On/Off
Power On/Off
Subwoofer : Bass Level Control
•
•
•
•
•
•
Controls via Graphic User Interface
Volume Up/Down
Treble Up/Down
Bass Up/Down
Balance Left/Right
Dynamic Bass Boost On/Off
Mute On/Off
•
•
•
•
•
•
In/Outputs
Power
USB Input
Analog Input
Subwoofer In/Out
Speaker Out
Headphone Out
:
:
:
:
:
:
Mains + Adapter
Fixed cable
3.5 mm jack
2.5 mm jack
3.5 mm jack
3.5 mm jack
•
•
•
•
Size/Weight
Speaker (hxwxd)
Subwoofer (hxwxd)
Weight of Speaker
Weight of Subwoofer
:
:
:
:
270 x 140 x 187 mm
241 x 235 x 244 mm
3.9 kg
4.5 kg
full
the
the
:
:
:
:
:
:
:
System Requirements
• Analog Input
• Analog Input + USB Control
• Full USB Streaming
: Soundcard (controls only via signal)
: USB port, Soundcard, Windows® 95 OSR2.1 version
: USB port, Windows® 98
/00 /17
Europe/Eastern Europe
North America
•
•
UPC : 037849871690
Printed in Singapore
Specifications subject to change without notice.
® Windows is a registered trademark of Microsoft Corporation.

* Your assessment is very important for improving the work of artificial intelligence, which forms the content of this project