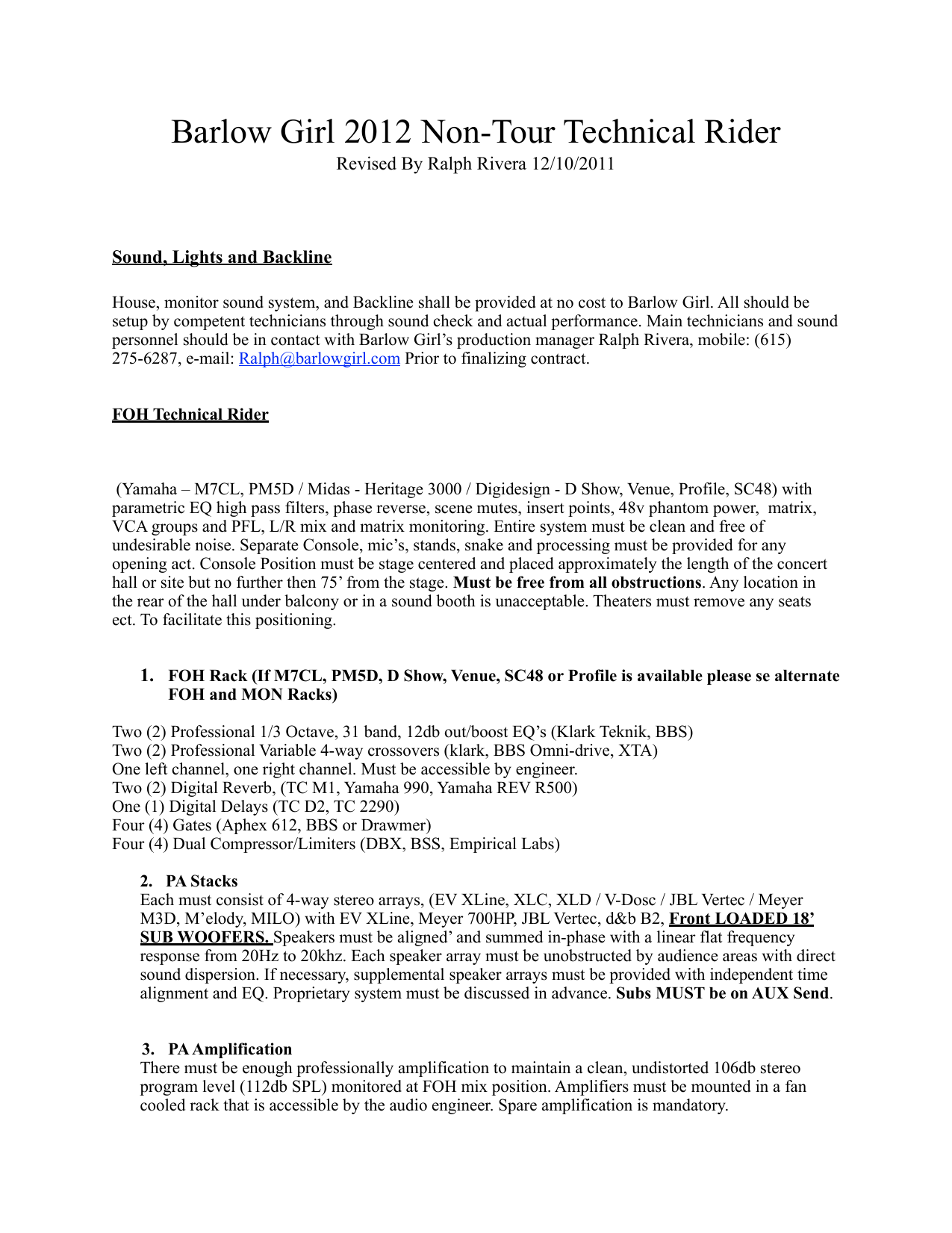 Barlow Girl 2012 Non-Tour Technical Rider
Revised By Ralph Rivera 12/10/2011
Sound, Lights and Backline
House, monitor sound system, and Backline shall be provided at no cost to Barlow Girl. All should be
setup by competent technicians through sound check and actual performance. Main technicians and sound
personnel should be in contact with Barlow Girl's production manager Ralph Rivera, mobile: (615)
275-6287, e-mail: Ralph@barlowgirl.com Prior to finalizing contract.
FOH Technical Rider
(Yamaha – M7CL, PM5D / Midas - Heritage 3000 / Digidesign - D Show, Venue, Profile, SC48) with
parametric EQ high pass filters, phase reverse, scene mutes, insert points, 48v phantom power, matrix,
VCA groups and PFL, L/R mix and matrix monitoring. Entire system must be clean and free of
undesirable noise. Separate Console, mic's, stands, snake and processing must be provided for any
opening act. Console Position must be stage centered and placed approximately the length of the concert
hall or site but no further then 75' from the stage. Must be free from all obstructions. Any location in
the rear of the hall under balcony or in a sound booth is unacceptable. Theaters must remove any seats
ect. To facilitate this positioning.
1. FOH Rack (If M7CL, PM5D, D Show, Venue, SC48 or Profile is available please se alternate
FOH and MON Racks)
Two (2) Professional 1/3 Octave, 31 band, 12db out/boost EQ's (Klark Teknik, BBS)
Two (2) Professional Variable 4-way crossovers (klark, BBS Omni-drive, XTA)
One left channel, one right channel. Must be accessible by engineer.
Two (2) Digital Reverb, (TC M1, Yamaha 990, Yamaha REV R500)
One (1) Digital Delays (TC D2, TC 2290)
Four (4) Gates (Aphex 612, BBS or Drawmer)
Four (4) Dual Compressor/Limiters (DBX, BSS, Empirical Labs)
2. PA Stacks
Each must consist of 4-way stereo arrays, (EV XLine, XLC, XLD / V-Dosc / JBL Vertec / Meyer
M3D, M'elody, MILO) with EV XLine, Meyer 700HP, JBL Vertec, d&b B2, Front LOADED 18'
SUB WOOFERS. Speakers must be aligned' and summed in-phase with a linear flat frequency
response from 20Hz to 20khz. Each speaker array must be unobstructed by audience areas with direct
sound dispersion. If necessary, supplemental speaker arrays must be provided with independent time
alignment and EQ. Proprietary system must be discussed in advance. Subs MUST be on AUX Send.
3. PA Amplification
There must be enough professionally amplification to maintain a clean, undistorted 106db stereo
program level (112db SPL) monitored at FOH mix position. Amplifiers must be mounted in a fan
cooled rack that is accessible by the audio engineer. Spare amplification is mandatory.
4. Snake, 250' in Length
Forty eight (48) channels inputs MINIMUM, forty eight (48) channel transformer isolated splits to
stage monitor console.
5. Power Distribution
We will need Five (5) properly grounded 30amp quad boxes for band gear and RF racks.
MON Technical Rider
Atist will provide a PreSonus 24/4 Digital console for monitors, a 24 channel Fanout will be
needed, also a link to drum sub and down stage right monitor wedge will be needed
1. Monitor Console (If not using artist console)
Minimum console requirements 48x16 (Yamaha PM5D, M7CL / Midas Heritage 3000 / Digidesign
Profile, Venue, SC48) with individual channel faders parametric EQ high pass filters, phase reverse,
scene and channels mutes, inserts points, 48v phantom power, PFL and AFL monitoring on each
channel and group are mandatory via headphones and both cue mixes. Console must have a stereo cue
send for In-Ear mix. Cue must be post outboard 1/3 octave EQ and post fader (AFL) Entire system
must be clean free of undesirable noise.
2. Mixes, EQ's, Crossover, Amps
No EQ necessary if console is a M7CL, PM5D, Profile, Venue, SC48 or D Show
Two (2) Channels professional 1/3 octave 31 band (Klark Teknik, BBS), 12 db cut/boost EQ's to be
INSERTED on amplified mixes. Two (2) Bi-Amplified Clair 12AM, EAW SM2002LV Monitor
Wedges or equivalent, with one 12" Speaker and on 2" Driver. One (1) dual 18" subwoofer is a must
for drum fill!
3. Processing
No processing needed if console is a PM5D, M7CL, Profile, Venue, SC48 or D Show
Compressors (BSS DPR-504, DBX 160), Gates (BSS DRP-504, DBX).
4. Notes and Expectations
Absolutely no Mackie, Spirit or Peavey Consoles!!
In the event there is an opening act, the sound company MUST supply a separate FOH console, a
separate MON console or provide Barlow Girl's MON engineer with a minimum of 24 dedicated
channels of the MON console to be shared. Also, provide the necessary mic's, stands, cables, stage
boxes and snake to accommodate the opener. Dedicated Clear-Com and FOH Talk-Back microphone
for communications between FOH and MON.
Barlow Girl 2012 Backline Requirements
Revised By Ralph Rivera 12/10/2011
All Backline Must Be Setup Prior to Bands Arrival!!!
Keys: 1 Piano (88 Key Weighted)
One (1) Yamaha S90 ES Keyboard
Note: If first keyboard is not available then we would like:
One (1) Yamaha Motif 8 ES Keyboard
Guitar Amps: Two are needed
Two (2) Marshall JCM's One (1) 900 and One (1) 2000 with 2 - 4x12 Cab
Note: If first two amps are not available then we would like:
Two (2) Marshall JCM 800 with Two (2) 4x12 Cab
Guitar Stands: 4 are needed or a guitar boat
Bass Amp: One is needed
One (1) GK 2001:rb Head with a Neo 4x12 Cab
Note: If first amp is not available then we would like:
One (1) Ampeg SVT with a 8x10 Cab
Drums: One Complete Kit is needed
One (1) DW Complete Drum Kit
Note: If first kit is not available then we would like:
One (1) Yamaha Maple Custom Absolute Complete Drum Kit
One (1) 20" Box Fan is a must at drum riser
Note: All new heads on drums must be Clear Remo Pinstripe. THIS IS A MUST!
We Will Also Need A 20" Box Fan!! And an 8x8x2 drum riser!!
Drum Sizes:
12" - Floating Rack Tom
16" - Floor Tom
22" - Kick
14" x 5.5" - Snare
Cymbal Sizes: All Zildjian
14" – Master Sound Hats
19" – A Custom Crash
19" – Z Custom Crash
21" – Sweet Ride
Barlow Girl 2012 Input List
Revised By Ralph Rivera 12/10/2011
Chan.
1
2
3
4
5
6
7
8
9
10
11
12
13
14
15
16
17
18
19
20
21
22
23
24
Inst.
Kick - In
Kick - Out
Snare
Hat
Rack Tom
Floor Tom
OH L
OH R
Bass
Key L
Key R
Marshall -1
Marshall -2
Clean Gtr.
Tracks-1
Tracks-2
Tracks-3
Tracks-4
Tracks-5
Beca Vox
Alyssa B Vox
Alyssa K Vox
Lauren Vox
Lauren D Vox
Monitors
Mix-1&2
Mix-3&4
Mix-5&6
Mix-7&8
Mix-9
Mix-10
Rebecca
Alyssa
Lauren
Tech Guy
DSR Wedge
Drum Sub
Mic/D.I
SM-91
Beta-52
SM-57
Cond.
SM-27
SM-27
Cond.
Cond.
D.I
D.I
D.I
KSM-32
SM-57
D.I
XLR
XLR
XLR
XLR
XLR
UHF-R
UHF-R
UHF-R
UHF-R
Beta56
Gate/Comp.
Gate/Comp
Gate/Comp
Comp
Gate/Comp
Gate/Comp
Stands
Comm.
Short Boom
Short Boom
Short Boom
Clamp
Clamp
Tall Boom
Tall Boom
Comp
Comp
Comp
Comp
Comp
Comp
Comp
Comp
Short Boom
Short Boom
Tall Boom
Straight
Tall Boom
Tall Boom
Tall Boom
At Guitars
At Drums
At Drums
At Drums
At Drums
At Drums
Down Stage R
Down Stage L
At Keys
Down Stage C
At Drums
IEM/will
IEM/will
IEM/will
IEM/will
provide
provide
provide
provide
2x18 Sub
Barlow Girl
Key
2012 Stage Plot
= Monitor
✖✖✖
= AC Quad Box
Drum Sub
2 x 18"
= Boom Stand
= D.I. Box
Drums
8'x8'x2' Riser
D.I. for Clean Gtr -3
Marshall
Gtr -2
3'
3'
Bass
Rig
16'
Marshall
Gtr -1
Bass D.I.
10'
10'
Keys
Lighting requirements
The following are the minimum Lighting requirements for BarlowGirl. Any and all exceptions
or substitutions must be pre-approved by Vince Barlow and BarlowGirl Inc. No later than 5 days
prior to the date of the show, vincent@barlowgirl.com
We require: no less than (8) Moving head spot fixtures, (4) Etc source four ellipsoidal specials,
(4) eight cell crowd blinders on (2) 40' truss (one upstage and one Downstage) as well as (4) 10'
upright truss with base and sand bags and (2) 4' upright truss with base and sand bags (or 2 - 45"
tall black road case). As well as (3) long throw follow spots 700watts or higher (with experienced
Operators) and (1) Df-50 hazer with fan and WATER BASED fluid.
Preferred fixtures include but are not limited to:
VL3500, VL3000, Mac 700 profiles, Mac 2k profiles and Alpha spot HPE 575 and up.
Unacceptable fixtures include: Anything made by American Dj, Chauvet or Elation.
Or any moving Mirror fixtures.
BarlowGirl carries a Jands Vista S1 and requires (1) Quad box with four 110v outlets at Front Of
House, either a 4' table or road case, as well as (1) COM headset with belt pack. (To
communicate with the spot operators)
We also Carry a 20' by 20' backdrop (When we bring our bus) and will need a full black
backdrop to be hung behind ours on the upstage truss.
We will also require an on-site Lighting technician with extensive knowledge of all lighting
related equipment.
Please see attached Lighting Plot for more information.