Toshiba SBX1250 soundbar speaker Datasheet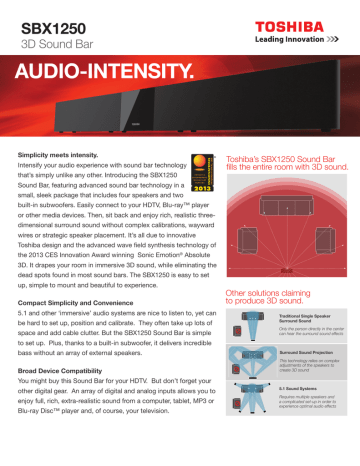 SBX1250
3D Sound Bar
Audio-intensity.
Simplicity meets intensity.
Intensify your audio experience with sound bar technology
that's simply unlike any other. Introducing the SBX1250
Toshiba's SBX1250 Sound Bar
fills the entire room with 3D sound.
Sound Bar, featuring advanced sound bar technology in a
small, sleek package that includes four speakers and two
built-in subwoofers. Easily connect to your HDTV, Blu-ray™ player
or other media devices. Then, sit back and enjoy rich, realistic threedimensional surround sound without complex calibrations, wayward
wires or strategic speaker placement. It's all due to innovative
Toshiba design and the advanced wave field synthesis technology of
the 2013 CES Innovation Award winning Sonic Emotion® Absolute
3D. It drapes your room in immersive 3D sound, while eliminating the
dead spots found in most sound bars. The SBX1250 is easy to set
up, simple to mount and beautiful to experience.
Compact Simplicity and Convenience
5.1 and other 'immersive' audio systems are nice to listen to, yet can
be hard to set up, position and calibrate. They often take up lots of
Other solutions claiming
to produce 3D sound.
Traditional Single Speaker
Surround Sound
space and add cable clutter. But the SBX1250 Sound Bar is simple
Only the person directly in the center
can hear the surround sound effects
bass without an array of external speakers.
Surround Sound Projection
to set up. Plus, thanks to a built-in subwoofer, it delivers incredible
Broad Device Compatibility
You might buy this Sound Bar for your HDTV. But don't forget your
other digital gear. An array of digital and analog inputs allows you to
enjoy full, rich, extra-realistic sound from a computer, tablet, MP3 or
Blu-ray Disc™ player and, of course, your television.
This technology relies on complex
adjustments of the speakers to
create 3D sound
5.1 Sound Systems
Requires multiple speakers and
a complicated set-up in order to
experience optimal audio effects
SBX1250
3D Sound Bar
Immersive 3D sound experience from
a single compact solution.
Get deep bass while saving space
Digital audio connectivity to your TV, Blu-ray
Disc™ player, cable box or other device.
simple wall mounting under your TV
What's in the Box:
• 3D Sound Bar (SBX1250)
• AC Adapter
• Remote Control with Battery
• RCA to 3.5mm Audio Cable
• User Manual
• Warranty Information
• Wall-Mount Kit
S PE C I FI CATION S*
Power Output:
Total Power:
•110W total peak power: 15 Watt x 4,
25 Watt x 2 THD @ peak power <10%
Sound Bar:
•15W x 4
•25W x 2
Connectivity:
•Optical In
•Coaxial In
•Analog Audio RCA In
•Audio In 3.5mm
Convenience:
•Digital Inputs
•Video/Music/Gaming Modes
•Remote Control
•Built-in Subwoofer
Compatible With:
•Television
•Laptops
•Tablets
•Smart Phones
•MP3 Players
Product Dimensions:
•Size: 33.5"(L) x 3.75"(W) x 3.25" (D)
•Weight: 7.3 lbs.
Package Dimensions
•Shipping Carton:
36.2"(L) x 7.5"(W) x 6.3"(D)
•Weight: 11.4 lbs
UPC: 022265349465
Warranty:
•1 Year Limited Warranty
* Visit info.toshiba.com for a complete list of all product legal footnotes.
While every effort has been made at the time of publication to ensure the accuracy of the information provided herein, product specifications, configurations, system/component/options availability are subject to
change without notice.
© 2012 Toshiba America Information Systems, Inc. All trademarks are the property of their respective owners. All rights reserved.

* Your assessment is very important for improving the workof artificial intelligence, which forms the content of this project