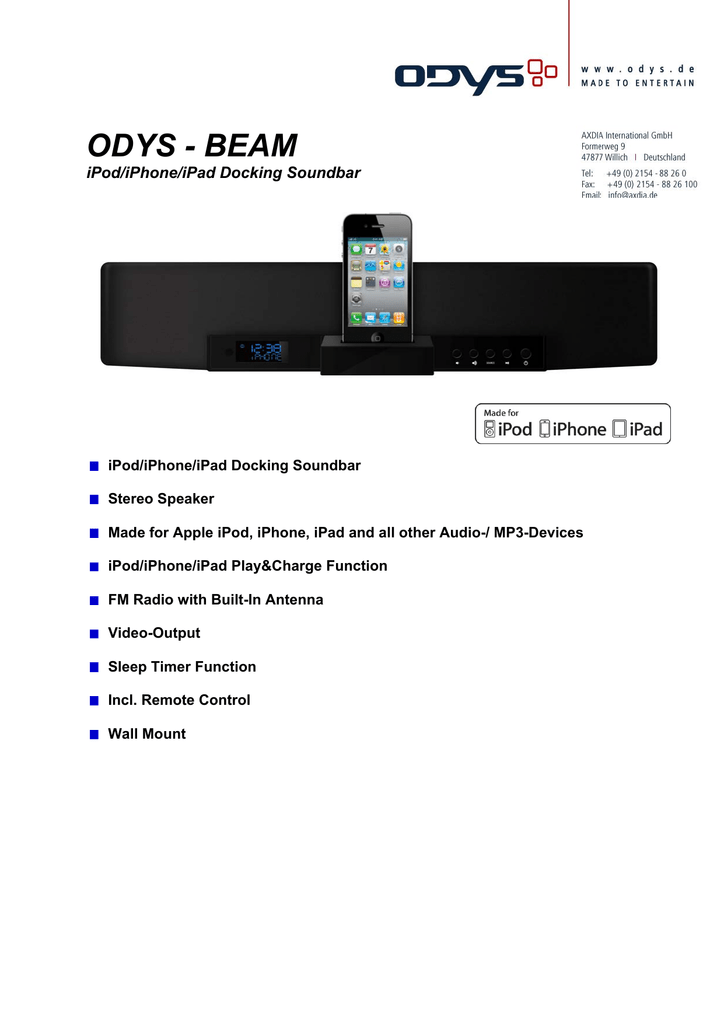 ODYS - BEAM
iPod/iPhone/iPad Docking Soundbar
iPod/iPhone/iPad Docking Soundbar
Stereo Speaker
Made for Apple iPod, iPhone, iPad and all other Audio-/ MP3-Devices
iPod/iPhone/iPad Play&Charge Function
FM Radio with Built-In Antenna
Video-Output
Sleep Timer Function
Incl. Remote Control
Wall Mount
Beam
Technische Daten /Specifications
Lautsprecher /
Speaker
Anzahl / Quantity
2
Größe / Size
7,6cm (3")
Frequenz / Frequency
20Hz – 20kHz
Widerstand / Resistor
8Ω
Ausgangsleistung /
Output Power
RMS 2x 10W
Max. 2x 15W
Anzeige /
Display
LCD, schwarz-weiß
LCD, black-white
FM Radio
FM Stereo mit 20 Stationstasten
FM Stereo, Preset 20 Stations
Klangregelung /
Sound Control
Lautstärke, Equalizer (Normal, Rock, Klassik, Pop, Jazz)
Volume, Equalizer (Normal, Rock, Classic, Pop, Jazz)
Anschlüsse /
Connections
iPad, iPod, iPhone, AUX-Eingang, YPbPr-Videoausgang
iPad, iPod, iPhone, AUX-Input, YPbPr Video Output
Stromanschluss /
Power Supply
AC 100V-240V
Stromverbrauch /
Power Consumption
<40W
Abmessung /
Dimension
508 x 125 x 102 [mm]
Gewicht /
Weight
2,18 kg
Lieferumfang /
Package Content
Beam, Fernbedienung, Apple Adapter (6x), YPbPr
Kabel, Anleitung
Beam, Remote Control, Apple Adapter (6x), YPbPr
Cable, Manual
"Made for iPod" and "Made for iPhone" and "Made for iPad" means that an electronic accessory has been designed to connect specifically to iPod and has been certified
by the developer to meet Apple performance standards. Apple is not responsible for the operation of this device or its compliance with safety and regulatory standards.
iPhone, iPod, iPod classic, iPod nano, iPod shuffle, and iPod touch are trademarks of Apple Inc., registered in the U.S. and other countries, iPad is a trademarkt of Apple
Inc.
Please note that the use of the accessory with iPod, iPhone or iPad may affect wireless performance.
Technische Änderungen und Irrtümer vorbehalten.
We reserve the right for technical changes and mistakes.