Demystifying the Business of Television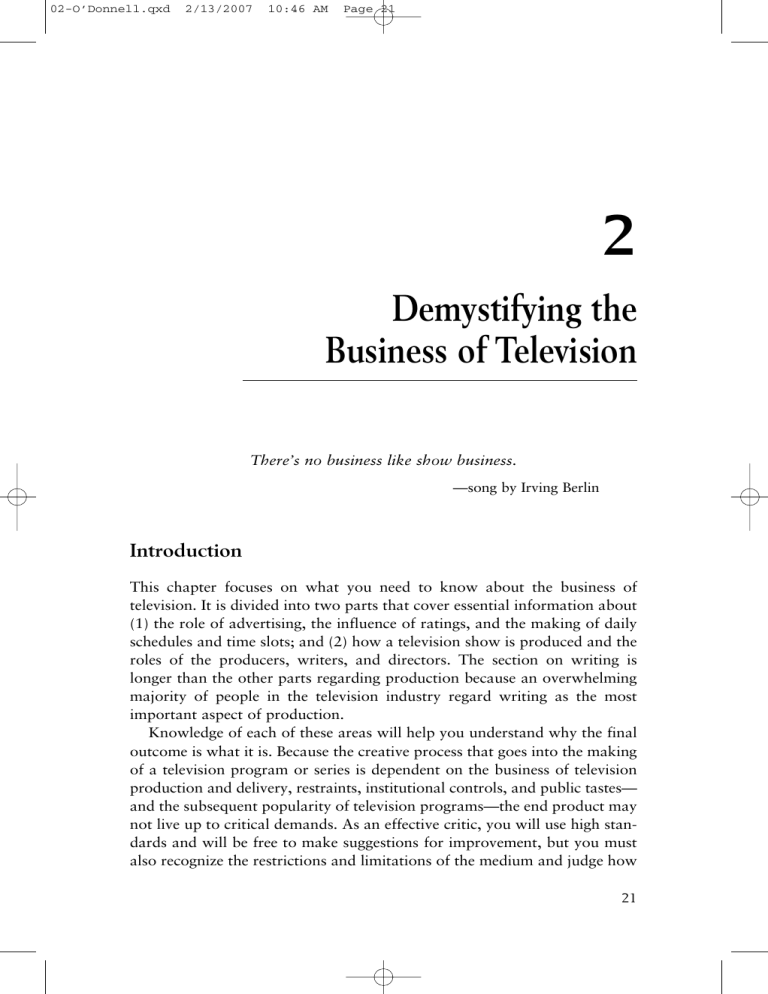 02-O'Donnell.qxd 2/13/2007 10:46 AM Page 21
2
Demystifying the
Business of Television
There's no business like show business.
—song by Irving Berlin
Introduction
This chapter focuses on what you need to know about the business of television. It is divided into two parts that cover essential information about
(1) the role of advertising, the influence of ratings, and the making of daily schedules and time slots; and (2) how a television show is produced and the roles of the producers, writers, and directors. The section on writing is longer than the other parts regarding production because an overwhelming majority of people in the television industry regard writing as the most important aspect of production.
Knowledge of each of these areas will help you understand why the final outcome is what it is. Because the creative process that goes into the making of a television program or series is dependent on the business of television production and delivery, restraints, institutional controls, and public tastes— and the subsequent popularity of television programs—the end product may not live up to critical demands. As an effective critic, you will use high standards and will be free to make suggestions for improvement, but you must also recognize the restrictions and limitations of the medium and judge how
21
02-O'Donnell.qxd 2/13/2007 10:46 AM Page 22
22 —— Chapter 2 good or bad a program is accordingly. This chapter is not intended to provide a complete understanding of the television industry, but rather it will enable you to understand enough about the business of television to place it in that context when evaluating a program or series.
The Role of Advertising, Ratings, and Schedules
Advertising
The common wisdom in television is that its primary role is to deliver consumers to advertisers. Advertising income is what pays for television programs that are broadcast on commercial networks. The networks derive 100 percent of their revenues from advertising and product placement. With the exception of premium subscription channels such as HBO and Showtime, cable and satellite television include advertising and develop special programming or promotions and also offer local advertising. In the business of television, the goal is to sell as many commercials as possible and to charge as much as advertisers are willing to pay. In the business of advertising, the goal is to buy time in television programs watched by an audience who fits the demographic characteristics that advertisers market products to and to buy these audiences as efficiently as possible. In other words, television sells audiences to advertisers for billions of dollars.
A good illustration that the television audience is the commodity that networks and individual stations sell to advertisers is the description of the audience in terms of "costs per thousand." In other words, the cost to purchase air time for a commercial is divided by the number of people in thousands. For example, if the cost for a commercial is $300,000 and the audience for a program is
40 million women 18 to 49 years old, then the cost-per-thousand is $300,000 divided by 40,000 = $7.50. The advertiser is spending $7.50 for every 1,000 women 18 to 49 years old who watch the program in which the commercial is placed. How is such a description derived? Audience research provides the estimates of the size and demographics of the audience. Certain audience characteristics desired by advertisers are also incorporated into programming choices and their exposure to audiences (Lometti, 1997).
Ratings
Television revenues are determined by data derived from a quantitative measurement of the size and composition of the audience that are established
02-O'Donnell.qxd 2/13/2007 10:46 AM Page 23
Demystifying the Business of Television —— 23 by ratings and shares measured by a media market research firm known as the A. C. Nielsen Company, which advertises itself as "the television standard." The Nielsen Company measures and compiles statistics on television audiences and sells this data to advertisers, advertising agencies, program syndicators, television networks, local stations, and cable and satellite program and system operators. (The Arbitron Company had been Nielsen's competitor for compiling local television ratings—this company got out of the television business but still does radio ratings.) At one time, a gadget known as the Audimeter or the Nielsen black box was used to send daily reports to a central office, but to acquire audience demographics, Nielsen supplemented it with viewer diaries.
Webster, Phalen, & Lichty define ratings as "a body of data on people's exposure to electronic media" (Webster, Phalen, & Lichty, 2000, p. 10).
Ratings are derived from a formula that calculates the percentage of the nationwide audience with television sets who are watching a particular program—in other words, how many people out of the total possible audience are watching at that time. The networks base their advertising rates on the regular weekly data that Nielsen produces, while stations in smaller markets—because they cannot afford Nielsen's research year-round—rely on Sweeps four times a year for all their important ratings numbers.
Webster, Phalen, & Lichty describe the ratings as follows: "Ratings are the tools used by advertisers and broadcasters to buy and sell audiences; the report cards that lead programmers to cancel some shows and clone others.
Ratings are road maps to patterns of media consumption . . . They are objects of fear and loathing" (Webster, Phalen, & Lichty, 2000, p. 12).
Demographics is the practice of describing groups of people according to gender, age, ethnicity, income, educational level, and other information.
Demographics identify target audiences for advertisers and commercial broadcasters. Advertisers believe that pinpointed messages aimed at their best prospects will be most successful; therefore, while age, gender, and occupation are considered important, they are also interested in whether individuals share a certain set of values (Buzzard, 1990). Thus, they may target the
Generation X audience—with its perceived emphasis on material goods and action activities—for one ad, and Baby Boomers—who are concerned with health and security—for another. Nielsen devised a Peoplemeter, which uses a programmed box on top of the television set that includes demographic descriptions as well as channel selections. This system now dominates the production of national television ratings (Russell & Lane, 2002).
Ratings are reported in various newspapers and industry magazines. In June
2002, USA Today began reporting the Nielsen ratings by total viewers rather than by households. USA Today also reports the Nielsen breakdown of primetime ratings by networks, cable, syndicated channels, and by age groups 18–49.
02-O'Donnell.qxd 2/13/2007 10:46 AM Page 24
24 —— Chapter 2
Categories of Ratings
There are several categories of ratings for television: the Nielsen
Television Index (NTI), an estimate of how many people with certain demographic characteristics view each program based on a sample of 4,000 homes; the National Audience Demographics (NAD), a report that provides demographic information on network programs for both household and on a per-person basis; the Nielsen Station Index (NSI), a quarterly measurement of each local television station in each nationwide market; the Designated
Market Areas (DMA), diaries in which separate samples of people record their viewing habits; Nielsen Syndicated Service (NSS), a service for syndicated television shows; and the Nielsen Homevideo Index (NHI), a service for cable networks, superstations, and home video. Other special reports are also produced for videocassette and DVD usage, sports programming, and political elections.
On December 26, 2005, Nielsen Media Research began to measure what is recorded on digital video recorders (DVRs), such as TiVo. An estimated 7 percent of the nation's 110 million homes with televisions now have digital video recorders, and that is expected to rise to 25 percent sometime in 2007.
A code embedded in a television program can tell when something that has been recorded is actually watched. Nielsen can even tell when people fastforward through the commercials. Nielsen gives its clients, mostly television networks, advertisers, and ad agencies, a list of how many people watch each program live each week. By recording DVR usage, Nielsen can offer three lists: (1) the number of people who watch a show live; (2) the number who watch it within 24 hours; and (3) the number of people who watch it within a week. The information regarding fast-forwarding through the ads may result in advertisers asking for lower fees if they have evidence of how many commercials are skipped (Bauder, 2005). Nielsen's data can be accessed on its Web site at www.nielsenmedia.com.
Public broadcasters usually do not use commercial advertisements, but they do have sponsors such as ExxonMobil, which supported Masterpiece
Theatre as the sole corporate sponsor from its 1971 debut until 2004, mak-
ing it the largest sponsor in public television's history. In 1984, the Federal
Communications Commission (FCC) relaxed the rules, allowing about 350 public broadcasting stations to air commercial messages as long as they did not ask for a sale or make price or quality comparisons and were not aired during local, 2.5-minute program breaks. The public broadcasters had requested the right to advertise after their federal funding was cut back by
30 percent, but not all public stations air advertisements (Wells, Burnett, &
Moriarty, 2002). Public broadcasting also has pledge drives during which
02-O'Donnell.qxd 2/13/2007 10:46 AM Page 25
Demystifying the Business of Television —— 25 programs are interrupted to appeal to prospective donors. Because they must justify their existence by serving an audience in addition to keeping their sponsors satisfied that they have adequate viewers, many public broadcasting station managers subscribe to Nielsen ratings or use research consultants to analyze their data. The Public Broadcasting Service (PBS) subscribes to national ratings in order to evaluate the appeal of its programming. Ratings help the public broadcasters learn when the largest number of viewers is available for their programs, thus they can make adjustments to their program schedules and their pledge drives (Webster, Phalen, & Lichty, 2000).
I served as the "talent" for the some of the pledge drives for Montana Public
Television. We found that we got the most pledges on Saturday night, especially during The Lawrence Welk Show, even though they were reruns since the show's host, Lawrence Welk, had died many years before.
Ratings and the Cost of Advertising
Ratings are used as references for negotiations for the price of advertising time as well as for the salaries of the actors, the news anchors, and other on-screen personnel, decisions about syndicating programs, and other vital issues. Because ratings determine how much the advertisers pay for commercials, the larger the desired audience, the higher the cost of commercials.
The desired audience for advertising tends to be 18- to 49-year-old consumers with disposable income—thus television programs are geared to that segment of the population. The lead characters in many television programs tend to be 20–30 years old because the shows are designed to appeal to a younger segment of the population aged 18 to 34, to compensate for an audience that presumably watches little television. Reality programs such as Survivor and
Fear Factor are designed to court young adults whom the advertisers hope will develop strong brand loyalty to their sponsors (Mitchell, 2002). Although older consumers have more spending power, advertisers view them as less flexible in their buying choices and therefore worth fewer advertising dollars
(Singhania, 2002).
After a great deal of media hype, 52.2 million people watched the final episode of Friends on May 6, 2004, driving up the price of a beer commercial that evening to $2 million (Carter, 2004). Typically the Super Bowl broadcast, because of its huge audience, has the highest-priced commercials.
In the year 1984, Apple Computer aired its 1984 commercial, a mini-epic
02-O'Donnell.qxd 2/13/2007 10:46 AM Page 26
26 —— Chapter 2 about Big Brother propagandizing on a big screen in front of colorless, automaton humans when suddenly an athletic woman in red shorts, outrunning the "thought police," hurls a sledgehammer at the screen, which explodes in a flash of light. Ridley Scott made this commercial that ended with the announcer saying, "On January 24th, Apple Computer will introduce Macintosh. And you'll see why 1984 won't be like 1984." The next day, 200,000 consumers went to Apple dealers to view the new Macintosh computer, and 72,000 bought one in the next 100 days. The tremendous success of this ad ushered in a new era for advertising on the Super Bowl. As
Jerry Della Femina, Chairman of Della Femina Rothschild Jeary Advertising, wrote in The Wall Street Journal, "In my world—advertising—the Super
Bowl is judgment day. If politicians have Election Day and Hollywood has the Oscars, advertising has the Super Bowl" (26 January 2001, p. A14).
Television commercials for the February 1, 2004 Super Bowl cost $2.3
million for a 30-second spot, and the broadcast reached about 130 million
Americans. "People sit back and say, '$2.2 million, $2.3 million,' when can this end?" said Len Short, executive vice president for brand marketing at
America Online (AOL), which is spending $10 million on commercials and sponsorship of the Super Bowl halftime show. "It gets to be more of a cultural phenomenon every year . . . a great place to launch something"
(Associated Press, 2004, p. 4C).
The Sweeps
Ratings Sweeps (the name is taken from the practice of sweeping all local markets four times a year) are the month-long periods in November,
February, May, and July during which ratings set the advertising rates for all the other months for local stations. Nielsen introduced these Sweeps periods in the 1960s, and they have been big business ever since. Television programs are promoted, news specials are publicized, blockbuster miniseries and made-for-TV movies are aired, and series finales, often with cliffhanger situations, are shown in May. This is why many reruns are shown the month before the Sweeps because networks wait until the Sweeps months to air new scripts. Competition among channels is keen during the Sweeps with newspapers and electronic trade journals reporting the winners. Ratings are reported first with shares second. The share is a mathematical formula that calculates the percentage of the nationwide audience with sets turned on and tuned into a particular program during a given time. This is a measure of the actual possible audience, known as Households Using Television (HUT).
Shares enable station and network executives to learn how well their
02-O'Donnell.qxd 2/13/2007 10:46 AM Page 27
Demystifying the Business of Television —— 27 programs are doing compared with their competition. A good example is given in the Encyclopedia of Television:
For example, station WXXX airs Jeopardy! At 7 p.m. Sample data estimate that 10,000 or 10 percent of the city's 100,000 TV households are viewing that program. Some 40,000 households are viewing other programs, but another
50,000 are not using their TV sets. Since 10,000 of the 50,000 active viewers
(20%) are watching Jeopardy!, that program has a share of 20 even though its rating (the percentage of TV households) is only 10. (Newcomb, 1997, vo1. 3, p. 1482)
If all households with television sets had people watching television during a given time period, the rating and the share would be equal, but this never happens; thus, the share for a program is always greater than its rating. The gap is greatest during periods of light viewing.
Why Television Shows Get Renewed or Canceled
Ratings and shares are what determine whether programs get canceled or continued. ABC revamped its entire line of shows for the fall 2004 season based on its low ratings in 2003–2004. Lloyd Braun, Chair of ABC
Entertainment, explained that there had been a number of reality shows that failed causing a serious backlash among its advertisers (Carter &
Rutenberg, 2003). Although it is a rare phenomenon, viewer reaction may sometimes "save" a television program. The first time this occurred was in
1968, when—despite a low number of viewers—NBC renewed Star Trek for a third season due to a massive letter-writing campaign that was secretly started by the show's creator, Gene Roddenberry (Cavanaugh, 2006). In
1984, the CBS program Cagney and Lacey was canceled because it had finished 55th among 99 prime-time series. Viewer outrage expressed in "an avalanche of mail," favorable press attention, and Tyne Daly's Emmy for her portrayal of one of two policewomen convinced CBS executives to restore the show. Also, according to David Poltrack, who was the vice president for research at CBS, "Cagney and Lacey had enthusiastic advertisers, despite the mediocre ratings. Its core audience, women 25 to 54, is the most saleable demographic segment" (Viewer Reaction saves Cagney and Lacey,
1984, p. 11C.). Hill Street Blues finished 89th in the ratings during its first half season, but its small audience was demographically made up of POMs, an acronym for professionals, operatives and managers, a clearly defined target audience with disposable income, and the show thus escaped cancellation
(Marc & Thompson, 1995). CBS canceled Joan of Arcadia in May 2005.
02-O'Donnell.qxd 2/13/2007 10:46 AM Page 28
28 —— Chapter 2
Angry fans e-mailed the network, asking executives to reconsider their decision. The show had received critical praise, but it did not have good ratings in its spot on Friday night. Although the show was basically about teenagers, the Friday night audience has a median age of 53.9, out of the range for advertising revenue. David Bauder of Associated Press wrote,
"There's a better chance of seeing Los Angeles paralyzed by a July snowstorm than CBS changing its mind" (Bauder, 2005, p. 6).
Shortcomings of the Nielsen Rating System
There have been various complaints about the Nielsen rating system, especially from the networks, according to David Lieberman, who writes for
USA Today. Lieberman (1996) wrote that among the complaints are:
(1) Nielsen does not count the viewers who watch television away from home, for example, in offices, hotel rooms, on college campuses, or in bars;
(2) Nielsen undercounts children, who often forget to note their activities in the Nielsen diaries or meters; (3) surveys include too many older and wealthy viewers, which especially exaggerates the viewers of premium cable channels such as HBO and Showtime; (4) Nielsen undercounts minority viewers; and (5) because Nielsen measures local viewing only four times a year, it encourages stations to run contests or sensational programs during
Sweeps months to boost their ratings (Lieberman,1996).
In 2004, a congressional task force was appointed to study the issue of minority representation in the Nielsen Peoplemeter system in New York
City, Los Angeles, Boston, and Chicago because there have been sharply lower ratings for programs popular in black and Latino homes. Critics believe that these minority groups are undercounted in the Nielsen system
(Congress to audit Nielsen system, 2004). Nielsen Media Research countered these charges with an ethnic measurement (see Web site: http://www
.nielsenmedia.com/ethnicmeasure).
Ratings in the Summer
Summer television used to be filled with nothing but rerun programs, but that has changed in recent years. To acquire more viewers during the summer months, many new television programs have been developed, but the ratings make little difference in the summer because advertising rates are set for the fall. For example, in the summer of 2004, the quiz show Jeopardy! had a record-breaking winner with Ken Jennings, who won 38 games and
$1,321,660. His long run boosted Jeopardy!'s ratings. According to an
Associated Press release, Jeopardy! producers were probably annoyed that
02-O'Donnell.qxd 2/13/2007 10:46 AM Page 29
Demystifying the Business of Television —— 29 this happened during the summer when higher ratings don't mean as much financially. Michael Davies, executive producer of WhoWants to be a
Millionaire, said that when the syndicated Millionaire had two big winners
on shows taped to air in the summer, he delayed them to the fall (Jeopardy!
Star Jennings gives show a big boost, 25 July, 2004).
The Strategies of Television Advertising
Typically, the basic formula for ads on television is eight minutes of ads for a half-hour show; however, because air time is so expensive, advertisers often run shorter commercials, resulting in more ads per minute. Marketing communications company Young & Rubicam uses the AQRI rule—"arouse quick related interest" to relate to viewers' lives or experiences (Bellamy &
Walker, 1996). In addition to ads for products, promotions for other television shows and films frequent the airwaves during the breaks of a show.
Movie studios advertise heavily on Thursday nights to reach young adults before the weekend's new movie releases (The Thursday factor, 2005, p. 10).
Advertisers prefer sponsoring shows that put viewers in a mood to buy. The
Day After, a 1983 made-for-television movie about a nuclear holocaust,
posted some of the highest ratings in the history of television. Yet some sponsors were afraid to run ads during the show because its message might make the audience feel bad and would not put the viewers in a mood to buy their products (Stark, 1997).
Advertisers also link actors in popular television shows to their products.
The writers and producers of the popular series Friends created a miniepisode starring the six actors in character for Diet Coke at a cost of $10 million. This ad was also tied to a contest in which the winner would sit in on a taping of a Friends episode (Bellamy & Walker, 1996). A commercial for
Mercedes Benz with Dennis Franz of NYPD Blue giving a citation to a driver, however, was not aired on NBC or CBS because they felt it promoted a show on rival ABC (Abelman, 1998).
Advertising often functions as entertainment to hook the viewers. In the 1990s, Taster's Choice began running serialized commercials created by the McCann-Erickson ad agency that followed the romantic encounters of a man and woman who shared a fondness for this coffee. The commercials presented a soap opera environment in each episode that ended with ambiguous dialogue to create in the viewers a desire to tune in to see whether these people would become a couple. The commercials were so successful that they were given credit for a 10 percent increase in product sales soon after they were aired. MasterCard had a "priceless" commercial serial in 2004–
2005 about a Boston Terrier dog that gets lost in the redwood forest when
02-O'Donnell.qxd 2/13/2007 10:46 AM Page 30
30 —— Chapter 2 his family drives away in a camper. Subsequent commercials depicted the friendly dog being picked up by a truck driver, given water by a Native
American in the Mojave Desert, and offered a ride on a motorcycle. The suspense built as the dog seemingly made his way home and was finally reunited with his family.
Product Promotion Within Television Programs
The Project for Excellence in Journalism reported a study of the content of the ABC, CBS, and NBC morning shows, calling them "a kind of sophisticated infomercial" because they tended to promote the products of their parent companies. The report said that one third of the content on these morning shows essentially sold something—a book, a compact disk, a movie, or another television program. Twenty-seven percent of the products promoted on The Early Show are owned by Viacom, the parent company of
CBS; 21 percent of the Good Morning America promotions are owned by the Walt Disney Company, which owns ABC; 12 percent of the products promoted on Today are owned by General Electric, which owns 80 percent of NBC (Associated Press, 2001). The remaining 20 percent is now owned by Vivendi Universal.
Likewise, game shows announce the brand names of the prizes they offer, such as automobiles, furniture, and appliances, and the names of airlines, hotels, and resorts that serve as prizes. Of course, in the process of covering the action of most athletic contests, televised sports also show the stadium billboards that promote specific products. An increasing number of sports arenas are named for their corporate and business sponsors, thus the sponsors' names are openly mentioned in the television coverage.
Product Placement
Product placement (brand names purposely placed within the context of a program) is another source of income for television programs. Although television product placement is not exactly new, it has become a widespread strategy in the 21st century. Erik Barnouw (1978) pointed out in Sponsor that in the 1940s, in the early days of television, there were sub rosa sponsors. Writers and directors were told that if they could put a certain brand of potato chips in a televised party scene, a publicity agent would send a
$100 check. On a documentary program about skiing, the skiers would end with a social hour and be shown drinking Old Crow whiskey. Product placement has been used in films for a long time. When Reese's Pieces candy was shown in the 1982 film ET, sales of the candy increased by 65 percent.
02-O'Donnell.qxd 2/13/2007 10:46 AM Page 31
Demystifying the Business of Television —— 31
Sometimes brand names of products are part of television's narrative. For example, Tony Soprano of HBO's The Sopranos says he prefers Gulden's mustard or says that he will buy a Whitman's Sampler box of candy. For his father-in-law's 75th birthday, he buys him a Beretta shotgun. When Tony wants a beer, he says, "Bring me another Rolling Rock." Steven Antin, producer of the WB show The Young Americans signed a deal with Coca-Cola in 2000 for $25 million, promising that the cast would be seen drinking Coca-
Cola in every episode (Longworth, 2002). Paula Abdul, Simon Cowell, and
Randy Jackson, the judges on American Idol, sip Coca-Cola from glasses inscribed with the Coke logo. ABC signed major marketers to embed brands such as Schick and Cingular Wireless into reality shows like All American
Girl. Segments of the show had examples of women's intuition, and Schick
had a women's shaver named Intuition (Elliott, 2003). Extreme Makeover:
Home Edition refurbishes houses with Sears products. Leslie Moonves, CBS
executive, said, "We're making more and more of those deals: the kind of cars they drive in CSI; the kind of orange juice they drink in Two and a Half Men"
(Associated Press, 'Stealth ads' infiltrate TV programming, 2005 p. TW21).
Another form of product placement for television is the digital insertion of brands into selected versions of programs based on viewers' brand preferences. This is a legal practice, but product placement can sometimes be questionable. Christopher Turner, a clinical assistant professor of medicine at the University of Michigan, presenting a paper at the 2002 National
Communication Association, pointed out that an episode of the medical drama Chicago Hope featured a malnourished, breast-fed baby. Dr. Turner said that the show was sponsored by baby milk products that were not advertised. He also explained that manufacturers of medical devices use television drama to interject claims for the devices. For example, he said that the
A-2000 BIS monitor, which records a cardiac patient's EKG and anesthetic depth, is heavily marketed to the medical community. A story line on Chicago
Hope had an anesthetized patient hear a female doctor make a remark about
his anatomy, which he remembered when he woke up. Because of the threat of lawsuits, the offending doctor argued to install a BIS monitor as a solution to make sure that the patient is asleep. However, as Dr. Turner pointed out, the U.S. Food and Drug Administration does not allow BIS to advertise this claim (Turner, 2002).
Because television is available 24 hours every day and because there are hundreds of channels to choose from, the television audience has become increasingly fragmented. With the enormous success of HBO and other cable channels such as MTV, CNN, and ESPN, there has been erosion in the viewership of the broadcasting networks ABC, CBS, NBC, and Fox. There is major competition for audiences, and strategies are planned to acquire them, especially in the 18- to 49-year-old range. One such strategy is "narrowcasting"
02-O'Donnell.qxd 2/13/2007 10:46 AM Page 32
32 —— Chapter 2 or reaching for target audiences. CNN and CNN Headline News keep viewers informed of the latest developments in news. Lifetime and Oxygen attempt to attract women viewers by featuring numerous made-for-TV
"weepies" and talk shows with emphasis on female issues. The various Fox sports channels and ESPN appeal to sports devotees alongside specific sports channels such as Golf and NFL Network; Animal Planet (APL) engages animal lovers; Court TV attracts people who like to watch trials and reruns of crime shows; the Food Channel interests people who like to cook; and the Sci
Fi Channel entertains science fiction and horror fans. Advertising tends to match the interests of the limited audiences that watch these narrowcast channels. Schedules are devised to match programs with the audiences most likely to tune in at certain times.
Scheduling and Advertising
The use of television as an advertising vehicle is determined by demographic characteristics or who is watching at what time. Television programming is divided into parts of the day. Prime time is between 8:00 p.m. and 11:00 p.m.
EST on weekdays and 7:00 p.m. to 11:00 p.m. on Sundays. These are the most expensive advertising times because 75 percent of adults are most likely to view situation comedies, drama serials, reality television, and special reports during these hours. Daytime is between 9:00 a.m. and 4:00 p.m. EST.
Daytime advertising can reach up to 65 percent of the adult population. Early daytime is between 7:00 a.m. and 9:00 a.m., appealing to working men and women with a wide variety of advertised products. High-profile news programs are given a separate time of day with demographics favoring the older segments of the adult population. Late night programming appeals to younger adults, while weekends favor sports fans. Because more than 60 percent of television households receive all their television via cable or satellite (Donnelly, 1996), advertisers target precisely defined audiences of certain channels and programs and/or place regional or local ads within the programs. When CNN lagged behind Fox News in the ratings, advertisers began to withdraw because the CNN audience was too old and not as affluent
(Gomery, 2006).
Schedules are designed to get viewers who tune into a popular program to stay and watch subsequent programs; thus, a new show or one with low ratings is placed after a very popular show such as CSI or Lost. Network executives from NBC, CBS, ABC, and Fox who appeared on a satellite seminar from the Museum of Television and Radio explained that they create
02-O'Donnell.qxd 2/13/2007 10:46 AM Page 33
Demystifying the Business of Television —— 33
"flow" with their prime-time schedules. The television concept of flow has to do with viewer inertia and staying with a channel into the next program.
Raymond Williams also used the term "flow," meaning a planned stream of television programs, from trailers, commercials, and public service announcements to the next program in the schedule. Williams wrote: "We can be 'into' something else before we have summoned the energy to get out of the chair, and many programmes are made with this situation in mind: the grabbing of attention in the early moments; the reiterated promise of exciting things to come, if we stay" (Williams, 1974, p. 94).
Instead of thinking about what time to air a single show, network executives build scheduling blocks from 8:00 to 11:00 p.m. (The Making of a
Prime-Time Schedule, 1997). They use the "hammock" strategy of placing a new or less successful program before and sometimes after successful series.
The "tent-pole" strategy is the opposite of the hammock technique whereby they schedule a successful program between two less successful programs or a new one. Another technique is to place series of the same or similar genre or that have similar demographic appeals back-to-back (Bellamy & Walker,
1996). The network executives also said it is important to create programs that complement other technologies such as the Internet and Web sites. NBC developed the one-minute mini-movie to air during commercial breaks in two 30-second installments. The opening half was developed to air during one show (Will & Grace) and the conclusion during the next show (Coupling)
(McDowell, 2003).
Most television shows open immediately on the hour or half hour with scenes from the last episode and a strong lead-in, the beginning of the narrative that sets the theme of the show. This is followed by a myriad of commercials—some of which are 10 to 15 seconds long—and other promotions. Unless the viewer has recorded the show on a VCR, DVD, or DVR to allow fast-forwarding through the commercials, that person sits through the commercials in order to be there when the next segment of the show begins.
In order to follow the narrative of a show, the viewer is likely exposed to the ads. Credits at the end of the show are often accompanied in a split screen by an epilogue or outtakes from the show to keep the viewer from switching channels. A new strategy for American broadcasting is off-the-hour starting and ending times. Common in cable television, the "off the clock" practice is not popular with the public. The rationale is to keep people from changing the channel to watch another show because the one they are watching has not yet ended or has started early. ER, for example, on NBC starts before the hour to keep viewers from switching to Without a Trace on CBS
(Bobbin, 2005).
02-O'Donnell.qxd 2/13/2007 10:46 AM Page 34
34 —— Chapter 2
Noncommercial Channels
Home Box Office (HBO), part of the AOL Time Warner conglomerate, changed American television by eliminating commercials and repeating its programs several times throughout the week's schedule so viewers have ample opportunities to catch up with missed episodes. Showtime, which originally featured primarily movies, has added series, miniseries, and special programming uninterrupted by commercials to its schedule. HBO and
Showtime do not have to attract an audience for advertisers. Although the audience for premium channels may be relatively small at any given time— compared to the mass audience that the networks must have to keep their ratings high—shows on premium channels are very popular and successful at winning awards such as the Emmy and Golden Globe. Because HBO usually produces 13 episodes per season of shows like The Sopranos, compared with 22 for the networks, the creators have more time, artistic freedom, and bigger budgets. Shows are shot on film with cinematic visual techniques such as moving cameras, cinematic shot-counterpoints, long takes, and sophisticated nighttime photography. They are often shot on location and have high production values. HBO also allocates huge budgets for marketing and promoting its products (Akass & McCabe, 2004). HBO is not censored in the way that broadcast networks are because it does not go over the public airways. Shows like The Sopranos have much profanity, violence, and nudity but also excellent acting and direction. HBO scheduled series like Rome,
Deadwood, Sex and the City, The Sopranos, Six Feet Under, and Big Love
to have their first shows of the week on Sunday evenings with the new seasons beginning in the spring, summer, or early in the new year. In addition to feature-length films, HBO features original programming, its signature focus. Because of the popularity of original programming, HBO has developed more series per season.
The Production of a Television Show
Production Houses
Television shows are created, developed, and produced by professional production houses, most of which are located on the West Coast. The networks also have their own production houses, for example, NBC
Productions and CBS Productions. The networks also produce their own news and sports programs. The networks prefer to own the shows that they air because they can eventually make huge profits by selling reruns of the shows they produced into the syndication market (Grover, 1997). Film
02-O'Donnell.qxd 2/13/2007 10:46 AM Page 35
Demystifying the Business of Television —— 35 giants such as Universal, Paramount, Disney, and Warner Brothers are production studios with big budgets where many television shows are made.
Warner Brothers actually made Friends for NBC instead of for its own WB network. The Walt Disney Company is the parent company of the ABC network. Actors and stars also may have their own production houses. For example, David Letterman has Worldwide Pants, which not only produces
The Late Show with David Letterman, but also The Late Late Show with
Craig Ferguson, and Everybody Loves Raymond. There are also a variety of
independent production houses that produce only one or two shows, for example, Charles, Charles, and Burrows, which was famous for Cheers.
Pilots and the "Pitch"
If a creator has the funds or financial backing to make a pilot, a complete pilot or a 20-minute sample of one might be made in a production house and then offered to a network or cable organization. Since it costs approximately
$1 million to produce a pilot for a half-hour show and almost $2 million for a one-hour show, most creators of television shows will first "pitch" an idea to the network or cable group. A pitch is a description of the concept of a prospective show or series; it is a brief story line presented to a network executive. Pitches are usually made by experienced writers because new writers are seldom given the opportunity.
John Marcus, the head writer for Taxi and The Cosby Show, said in a seminar at the Museum of Television and Radio in 1996: "Executives have poker faces and skeptical attitudes . . . Pitching doesn't invoke your skills as a writer but your skills as a salesman." David Mich, a writer for Saturday Night Live, who also participated in the seminar, added: "Executives do things like try on designer jeans during a pitch, or they sleep" ("From Pitch to Polish: The
Collaborative Process," 1996).
The executives ask questions of the pitch, for example, what is the motivation for the story; what propels the script; what is the nature of the lead character? The executive also asks specific questions about locale and possible actors and will make suggestions as well. There are many stories about famous pitches. For example, Warner Brothers Television President Peter
Roth told of the pitch for the hit show Without a Trace, the show about the
FBI's work to find missing persons: "The pitch for Without a Trace was a
02-O'Donnell.qxd 2/13/2007 10:46 AM Page 36
36 —— Chapter 2 magazine thrown on my desk with the headline WHERE IS CHANDRA
LEVY? (Chandra Levy was a congressional intern in Washington, DC who went missing in April 2001. Her body was found 13 months later in a park in the District of Columbia.) The one-line pitch was 'Whoever finds her'"
(Stein, 2003, p. 72).
Because television executives prefer to build on the successes of previous series, resemblance to other shows is often a factor in the pitch. Todd Gitlin, author of Inside Prime Time, coined the term, "hybrid pitch," which he described as a writer-producer trying to sell a new television series to network executives by telling them that the prospective show is brand new and there has never been one like it before and then saying that it is a blend of two familiar hit shows from the past. Gene Roddenberry, creator of Star Trek, pitched his show to NBC as Wagon Train to the stars (Meehan, 2005). Battlestar
Galactica was pitched as an "absolutely, new break-through show that would
ably merge the Star Trek and Bonanza franchises" (Kubey, 2004, p. 9).
If the executives respond positively to the pitch, they will ask for an outline or a script, and—if the subsequent reaction is also positive—they will commission a pilot to be made at the network's expense. Pilots are usually made in March or April. In late spring, pilots are screened before focus groups, small groups of people whose comments after a screening are compiled and interpreted by a market researcher. Computer programs also enable the members of a focus group to record their likes and dislikes while they watch the pilot. Focus groups are designed to obtain perceptions of people from demographic clusters such as age, occupation, income, lifestyle, and product purchases. Because television is so competitive, data from focus groups have become increasingly important. As the season progresses, maintenance research (the retesting of regular television programs with focus groups) is conducted to measure the appeal of story lines, characters, and other factors. Many pilots never actually get on television; however, if a pilot is considered a probable winner, the network or cable company will contract with the producer for a certain number of episodes, usually five or six, sometimes 10 or 11 (a half season); or sometimes 22 (a full season). The gold standard is 88 episodes or four seasons. The network's top executives announce their decisions about which new series to order and announce them to advertisers and the public in mid-May. It is in May that the broadcast networks
(ABC, CBS, NBC, Fox, WB, and UPN, along with cable networks such as MTV and USA) will try to sell 75 percent of their commercial time for the upcoming season. In July, the pilots are screened by members of the
Television Critics Association for publicity purposes. Production for the specified number of episodes also begins in July.
02-O'Donnell.qxd 2/13/2007 10:46 AM Page 37
Demystifying the Business of Television —— 37
The Production Team
Once a series is signed on for the upcoming season, the producer of the series puts together a team of coproducers, writers, actors, directors, assistant directors, editors, and technical crew members.
The Producer
The producer, who is usually the senior writer, along with other writers, develops the series for the season, and oversees the creation and production of episodes, each at a different stage of development. In an article about
Brian Grazer, producer of 24 and other television shows for 25 years, Mimi
Avins wrote that "a producer often incubates ideas, then finds a creative team to understand and execute his vision" (Avins, 2005, p. F10). Television is a producer's medium, as Horace Newcomb and Robert S. Alley (1983) noted in the title of their book, The Producer's Medium, because they found that producers were the primary figures in television. When asked, "What does a producer do?" Lee Rich, founder of Lorimar and producer of Dallas,
Falcon Crest, and Knot's Landing, answered:
A producer does exactly what it sounds like. Somebody had to put all the pieces together. Somebody else may come up with the idea and then turn it over to somebody who will do it and put it all together. A guy who is making sure it gets done, the pages are shot, and the whole thing is done on a dayto-day basis. (Kubey, 2004, p. 104)
There are many types of producers for a television series. The executive producers are the creators and senior writers who are also known as the
"show runners" because they oversee the television programming, tackling everything from negotiating with network executives to counseling actors to defining the creative vision of a series—and much more. For example,
Barbara Hall (Judging Amy), Stephen Bochco (NYPD Blue), and David E.
Kelley (The Practice) are show runners. Co-executive producers, producers, associate producers, and consulting producers also may be directors, writers, lead actors, and consultants. The line producer (or on-the-line producer) is the detail person who oversees the show from its concept to its production.
The line producer supervises the budget, oversees the construction of the sets, and keeps the costs in line. A former line producer at CBS told me that his job was saying "no" to most requests. CSI: Crime Scene Investigation, the CBS series that held the number one place in the ratings during most of
02-O'Donnell.qxd 2/13/2007 10:46 AM Page 38
38 —— Chapter 2 the 2003–2005 seasons, has four executive producers who are also writers, the lead actor, and the head director, four co-executive producers, 10 producers, three line producers, three associate producers, three consulting producers, and two supervising producers. Some of the same people hold more than one position. Information about and the names of a television program's personnel can be obtained from the program's Web site.
Writers
Writers are considered the most important personnel for a television program, whether it is a series, a soap opera, a news program, a movie-of-theweek, or a special. Sid Caesar, famous for the comedy shows The Show of
Shows and Caesar's Hour in the 1950s, was asked about the importance
of writing. His answer, an old line from vaudeville, "If it's not on the page, it ain't on the stage" is echoed by many performers of the 21st century.
Caesar, whose writers for the 39 shows that he did each year included Mel
Brooks, Neil Simon, Woody Allen, and Larry Gelbart, said, "Writing is the most important thing" (Kubey, 2004, p. 30).
The creator/executive producer is the senior writer in charge of the story line throughout the season, but there is a staff of eight to 10 writers for every episode. Some senior writer/producers such as David E. Kelley (Ally McBeal) and Aaron Sorkin (The West Wing) wrote every script, but most senior writers develop the concept and the season story line then turn the writing for each episode over to a team of writers. Some of these writers are freelancers who write no more than two or three scripts a year, but in order to have their scripts read, they must have agents. There are also specialty writers who get called in to "punch up" a script, particularly for situation comedies.
As writers on the regular staff gain seniority, they are given the title of producer. Eventually, many create their own shows, as did Dick Wolf, creator of
Law & Order, Law & Order SVU, and Law & Order: Criminal Intent. Wolf
started out as a writer for Hill Street Blues in 1985, moved up to coproducer of Miami Vice from 1986–1988, and began creating his own shows, which were not outstandingly successful until he came up with Law & Order. Barbara
Hall, the first woman staff writer on M*A*S*H, wrote for Moonlighting,
Family Ties, and Newhart and was a producer for Northern Exposure and
Chicago Hope. Judging Amy was not her creation (Amy Brennerman's
mother was a judge, and the actress conceived the series), but Hall's script for the pilot gave so much impetus to the series that she was made executive producer and show runner. Likewise, Steven Bochco wrote for Columbo,
McMillan and Wife, and Banacek before he became a producer at Universal.
02-O'Donnell.qxd 2/13/2007 10:46 AM Page 39
Demystifying the Business of Television —— 39
He then joined MTM Enterprises and created Hill Street Blues. Many writers start out in their twenties and thirties, and tend to be very well educated with backgrounds in English literature and acting in college.
The standard procedure for television series writers is to meet in a room to discuss the script for the upcoming episode. They talk about plot lines that may be taken from their own experiences and from news stories. Phil
Rosenthal and Jeremy Stevens, writers for Everybody Loves Raymond, explained that they would come together every morning and sit around and just catch up with each other in terms of what's new or pressing . . . We realized fairly quickly that the main source of our stories is our lives and that a lot of the humor was going to come out of the gravel of our lives. (Fernandez, 2005, p. E7)
Rosenthal's wife, actress Monica Horan, said that his exact words to her appear in the scripts, for example, when Raymond says to his television wife
Debra, "You're my girl," Horan said, "that is what Phil says to me"
(Fernandez, 11 May 2005, p. E7). One of the writers for Threshold has a blog online (Berg, 2005) where she talked about how ideas for the show are derived. She said that the executive and co-executive producers had seen an old Vincent Price horror film that caused them to suggest a story line about an alien invasion as a harbinger of the end of the world. The writer then prepared an outline for approval by the network and later started writing the first draft before going into the room with the other writers (Berg, 2005).
Dick Wolf said that the main source for story ideas for Law & Order is the front page of the New York Post (Unger, 1997) and law reviews (Creating
Prime-Time Drama: Law and Order, 1997); Christopher Lloyd, Peter Casey, and David Lee, former executive producers for Frasier, said they and the other writers discuss what happened to them the previous weekend or a story from the back of the newspaper, select the funniest incident, and talk it into a treatment (The creative process, 1997).
Animated shows have become increasingly popular on television, none more so than the long-running show The Simpsons. Matt Groening, the creator, explained that all the writers get together in a rented hotel suite at the beginning of the season. There they spend a day or two throwing out ideas while a secretary records what they say and makes notes for them. In subsequent meetings, the story ideas are fleshed out, and other writers write the scripts. Groening said that the scripts get "written, rewritten, rewritten again"
(Kubey, 2004, p. 144). When Kubey asked how he learned to tell a story in
22 minutes, Groening said he learned as a staff writer for James Brooks:
02-O'Donnell.qxd 2/13/2007 10:46 AM Page 40
40 —— Chapter 2
It's been the greatest learning experience in my life. I've learned more about structure, storytelling, and pacing. Everything is a writing problem to be solved, so even though these cartoons were very simple in dialogue it was a matter of learning how to tell a story and keep people interested . . . We do storyboards about 120 pages long and our scripts vary from 40–60 pages.
Once that is approved, the animation is filmed. There are 80 animators and it takes six months to do a single show. (Kubey, 2004, pp. 142 & 145)
Dramatic television programs that appear on PBS, for example American
Playhouse, or the Hallmark Hall of Fame are basically movies made for tele-
vision. American Playhouse producers do not pitch their stories. They bring in the best writers they can find who tell stories, or they work with short stories or novels and find writers to adapt them for television. The philosophy of this kind of drama is to emphasize the writer and tell a story in as interesting a way as possible. They put their scripts through many drafts with suggestions from all of the production staff to "explore the world of the script and the characters and what they might do" (American Playhouse, 1992).
The Writer's Treatment
A treatment is an overview of the plot with details of the chronological rundown of the scenes of the prospective script with information about the setting, plot, and characters, and may include a few examples of dialogue and a few key camera shots. The Writers Guild of America suggests 10–15 pages of a treatment for a half-hour show; 15–25 pages for a one-hour show;
25–40 pages for 90 minutes; and 40–60 pages for a two-hour show
(Hilliard, 1991).
CSI executive producers/writers Ann Donahue, Carol Mendolsohn, and
Anthony Zuiker read a lot of science and interview paramedics and crime scene analysts for their story ideas. Zuiker, the series creator, discussed the complexities of the writing process on the national, weekly public radio series,
The Infinite Mind:
"The first thing we do is somebody will walk into the room with a kernel of an idea. It may be a piece of technology. It may be a small story line. It may be a character arc and we sort of go from there. We have six—six or seven writers in the room at one time. We'll all be in a room with a bunch of grease boards and grease pens and we'll begin to talk it out pre the research stage, and we'll talk about an opening teaser, a through-line. We'll break down several beats
[scenes] of Act 1, 2, 3 and 4. We'll talk about the act outs, the spins and turns.
02-O'Donnell.qxd 2/13/2007 10:46 AM Page 41
Demystifying the Business of Television —— 41
"After we talk about all of the process of the beats we'll have for the episode, we'll go to outline stage where the appropriate writers who are assigned will jot down every beat of the episode. Then they'll go commence to writing . . ."
"It's just like an outline, and once they write the first draft, it'll come in.
We'll give notes. We'll get notes from the network, from our peers, from the actors, and then we'll get notes from the director and we'll accommodate some notes based on production . . . If we need a black bottom pool vs. a white bottom pool, we'll make that adjustment. If we found a two-story house vs. a onestory house, we'll make that adjustment to reflect in the dialogue, and then every single day of shooting, we'll do small dialogue tweaks and execution tweaks until the last roll of film is run. And then we'll get to the editing room and watch the director's cut, then the producer's cut, and then the network, you know, final master, and we'll continue to do writing and ad libs and loop lines until it airs that day . . . We have to make sure that when we execute our stories that they're all forensically driven, and by using 'CSI' shots and snapzooms, we really show the audience the intense micro. That's the one thing we keep in mind. Another thing we keep in mind is we want to make sure that it— we're always telling a great mystery with twists and turns 'cause our show really isn't so much a whodunnit but rather a howdunnit."
"The challenge to writing is to be able to underwrite and to be able to write
30 percent of the dialogues so the audiences can fill in 70 percent of the subtext. We hope that we challenge people cerebrally as they watch the show, as they're able to sort of tap into the minds of our characters and what they're thinking and what are their attitudes and deal with death in a very personal level and deal with a crime that could happen on their neighborhood block."
"There's no rhyme or reason. Basically we just sit back and say, 'What is interesting and engaging to us? What excites us?' And we're hopeful that
America will follow and they have" (Television and the Mind, 2002).
SOURCE: Reprinted with permission of Lichtenstein Creative Media, Inc.
Directors
Most television series have multiple directors, sometimes a different one for each episode. CSI had 21 directors in three seasons, although Danny
Cannon, who is considered to be the head director as well as an executive producer, directed 15 episodes. The director sits in the room with the writers and gets the final script before the actors (unless an actor is also a producer). The director then blocks the rehearsal and the camera shots.
During the taping, the director usually stays in the control room communicating with the camera operators through a microphone or via the assistant director. The assistant director often prepares the camera shots. For live
02-O'Donnell.qxd 2/13/2007 10:46 AM Page 42
42 —— Chapter 2 television, the director sits in front of multiple monitors, selecting the best shots with great speed. Larry Auerbach, the director for One Life to Live, said: "Each director has a unique approach to the material, to the way he shoots it, puts it together, but you also have a producer who sits in the control room when you are doing your dress [rehearsal] and provides a third eye" (Kubey, 1990, p. 118). Directors rely on their instincts and experience to set the tone of a television show.
Casting
The network executives have the last word on casting. Warren Littlefield, the president of NBC entertainment in 1994, said, "Casting is everything"
(Kolbert, 1994, p. C13). After the final script with well-defined characters is completed, the casting director sends a "breakdown," a description of the characters complete with production details, to agents, who send photos and résumés suggesting possible actors for the parts. When Friends casting director Ellie Kanner sent out her breakdown, she received 1,000 glossy photos for the six regular characters on the show. She chose 75 to come in to audition for the producers and director. Those who looked promising were called back to read in front of Warner Brothers executives. Before actors audition for the network, the production studio negotiates what they will be paid if they get the part. Contracts for the actors commit them to staying for several years if the series lasts that long. The network executives, and not the producers, generally make the final casting decisions. Leslie Moonves, who was the president of Warner Brothers Television in 1994, said: "My concern can't solely be the best actor. I'm looking for people who are attractive.
That's part of the crass commercialism the studios and the networks have to look at. I have to think, 'Am I going to have a TV Guide cover in six months, and what's that going to look like?' " (Kolbert, 1994, p. C18).
According to Joshua Brand, executive producer of Northern Exposure, the networks' first choice for an actor is always someone who has acted in a successful television show. He said that the network chief, Brandon
Tartikoff, did not like Michael J. Fox for Family Ties, but in that case the producers prevailed (The Future, 1993). John Wells, executive producer of
ER, explained the exception to the rule in the case of his series:
Under ordinary circumstances there is a certain amount of pressure to use recognizable names or faces when casting shows. The networks provide extensive lists of suggested performers to choose from—not for any cynical reason, just for the obvious business reason that nobody's going to watch your show unless they know somebody to watch it for. ER was different. We felt so confident
02-O'Donnell.qxd 2/13/2007 10:46 AM Page 43
Demystifying the Business of Television —— 43 that people would watch the show because of Michael Crichton's and Steven
Spielberg's involvement that we were able to start casting the show without the usual pressures. We had the freedom to cast the best actors for the parts.
(Pourroy, 1995, pp. 8–9)
Many television dramas and situation comedies have ensemble acting.
Barbara Miller, head of casting for Warner Brothers, described the casting problems: "Ensemble casting is particularly difficult because you really have to balance it out. It's not as if you find one person for the lead and then assign the rest of the parts, the parts for ER were pretty equal all the way around" (Pourroy, 1995, p. 13). Extras also have to be cast. For example,
ER's assistant director in charge of casting and directing the extras works
with Central Casting to find the many extras who appear as patients and their families, ambulance drivers, orderlies, and housekeeping personnel in the hospital.
Putting a Show Into Production
When production begins for a new season in July, 22–24 episodes have to be made. There may be six or eight scripts ready to go at the beginning, but once a series is underway, there are about eight days between conception of a script and the taping or filming of the finished product. This means very long work days that may last for 16–20 hours as the production staff races to complete a show for broadcast. Although procedures vary for different series, the following is the usual procedure:
After the writers have their initial meeting in the room and agree on the treatment, one of the writers makes a 10-page outline that is scrutinized by the other writers before either the single writer or some of the writers complete a draft script of about 40–48 pages for a half-hour episode. To allow for commercials and other messages during the broadcast, 22 minutes is the standard for a script for a 30-minute program; 44 minutes is the standard for a 60-minute program. Sometimes half the writers write the script, and the other half punch it up. Once a script is written, the actors and producers have a table reading. They sit around the table, and the actors read the script for the writers, producers, director, and perhaps a few network representatives. Sometimes fans will be included to listen. The actors give some input about what works for their characters and what does not. The writers then make notes about what does not work and revise the script, often late into the same night. If they have not been present at the table reading, representatives from the network also read the script and suggest changes. After the script is revised, the actors, the director, and the camera operators have a
02-O'Donnell.qxd 2/13/2007 10:46 AM Page 44
44 —— Chapter 2 run-through rehearsal where they block the movement and read the lines aloud with scripts in hand. All the producers watch the run-through from the front row of the studio. At the end of each scene, the actors walk up to the front row and discuss the script with the director and producers. Lines and words from the script get changed, and sometimes entire scenes are revised or dropped. As new pages get written, different colored sheets of paper are inserted into the script to mark the changes. The final production of the show for most situation comedies is in front of a live audience. Scenes are taped and retaped when there are bloopers or last-minute changes have to be made.
(I am indebted to my friend Patricia Hill, camera operator, for allowing me to sit behind the producers and directors in run-throughs and filming of various episodes of Frasier and Caroline in the City at Paramount Television
Studios.) The taping may take four to six hours before everyone is satisfied.
The tape goes to the editors, and the show is aired about a month later.
Complicated production for a series such as ER has a longer production schedule: seven days of preparation, eight days of filming, and five days of postproduction editing and sound mixing. The Sopranos takes 8 days to prepare, 15 to film, and several more days to edit and mix the sound.
Preproduction of the next episode overlaps with the production phase of another episode, and that overlaps with the postproduction phase of the previous show.
Soap opera production is different because instead of 22–24 episodes,
260 must be written and produced. Agnes Nixon, long-time writer for The
Guiding Light, One Life to Live, and All My Children, explained that she
and the other writers determine a long-range story projection for six to eight or 10 months that gets updated as needed. The projection is sent to the network for approval. Six weeks prior to taping, each episode is plotted in outline form, act-by-act, scene-by-scene, and that goes out to the network for approval. Once approved, the outlines go to the associate writers who write and edit the scripts. The directors get the scripts three weeks in advance, but the actors get them the night before taping. They have teleprompters, but most soap opera actors memorize their lines very quickly. They rehearse, block, and perform an episode all on the same day.
Nixon discussed network censorship when she told about wanting to do a show on uterine cancer. The sponsor, Procter & Gamble, balked, but finally told her she could do the show if she did not use the words "cancer,"
"uterus," and "hysterectomy." She did the show without the words and managed to get her message across. Proof of this was the many letters she received from women who said the information in the show prompted them to get medical checkups.
02-O'Donnell.qxd 2/13/2007 10:46 AM Page 45
Demystifying the Business of Television —— 45
Nixon discussed the unwritten subtext, a very important concept in television acting:
Subtext is a word that's in almost every scene of every outline. Subtext is what she is feeling and not saying. Sometimes, I'll start out with subtext, and it will be even more important than what she is saying, and we want to make sure that the viewer understands that though Erica is putting on a great front, she's really terrified inside . . . This affects the camera work. Sometimes the camera will not be on the person who's speaking. What the camera shows, the audience sees. The camera says to the viewer, "Look how Erica, who is saying nothing, is reacting." (Kubey, 2004, pp. 72–77)
Sets range from a single sound stage to complicated sets and locations.
Shows like CSI, NYPD Blue, and ER—supposedly set in Las Vegas, New York
City, and Chicago, respectively—are filmed in Los Angeles studios with sets that look like the cities where they are supposed to take place. The staff, crew, and actors go to those cities every three or four months to do exterior shots for authenticity. If the writers want outdoor shots in their scripts, they often have to change the scripts and wait until the next trip to the city. (More information on sets and art design can be found in Chapter 3, "Television Style")
After the show is "wrapped," it is sent to postproduction for editing, sound mixing, and other changes. Despite all the care that goes into producing a television show, it is normal for them to change before they air. If the network executives do not like the way the show is going, they may scratch the first few episodes, bring in new producers, and completely reshoot the show. New versions are written with new or changed characters; actors may get dropped or added; locations may be changed. Sometimes actors who were killed off the previous year come back to life, as Buffy did on Buffy the Vampire Slayer. The head of Studios USA Television, Ken Solomon, said that they do not wait until the November Sweeps to make changes, because ". . . the audience very likely by then will have tuned in and tuned out" (Auto pilot, it's not, as fall season nears, 1998, p. D3).
Summary
Television is a business that relies on audience viewership. The process of making television shows inevitably involves disappointment. Roughly eight out of ten new television shows fail. Concepts, characters, and scripts that seemed promising often do not work in production. Research audiences that form focus groups may not warm up to them. Yet sometimes there are
02-O'Donnell.qxd 2/13/2007 10:46 AM Page 46
46 —— Chapter 2 pleasant surprises, and shows that had low expectations turn out to be quite successful in execution. Scott Siegler, a former development executive for Warner
Brothers, explained why it is so hard to predict what will please audiences:
Because it's a mass audience . . . You can work off precedents about what's worked on television before. You can work off whatever smattering of sociological information you gleaned from whatever sources. You can let your personal judgments enter into it to some extent . . . You can ask whether this is something that people in Georgia or Nebraska will appreciate because they'll be able to translate it into their understanding. But you never really know. And there are so many variables in programming that even when you've reached a pretty general consensus about a genre not working or a kind of attitude not working, you can never be quite sure that that rule applies." (Gitlin, 1983, pp. 22–23)
Rino Scanzoni, chief investment officer for ad buyer Mediaedge:cia, looked at it from the perspective of advertising and spin-off shows: "It's a struggle for TV networks to create 'watercooler' hits that can command ad rates of half a million bucks for 30 seconds. That's why TV viewers are seeing more spin-offs of current hits such as CBS' new CSI: New York. Once viewers buy into a series, there's a real appetite for new shows" (McCarthy,
2004, p. 6B ).
The love-hate relationship between the creators of television shows and the networks was comically expressed by Ellen DeGeneres, who hosted the
2001 Emmy Awards on CBS on November 4: "They can't take away our creativity, our joy. Only television executives can do that."
The television critic needs to be aware of the many economic constraints that influence television production. Television is a business and has to make a profit. However, writers, directors, actors, and even producers want their products to be of high quality, for they are creative and talented people. As a television critic, you recognize how much depends upon the mass audience and its preferences. Therefore, knowledge of the television business as well as how television style is created (the subject of Chapter 3) enhances understanding of why television is the way it is.
Exercises
1. Find the television ratings in USA Today or on the Nielsen Web site www.nielsenmedia.com. (The Nielsen homepage is http://www.nielsen
.com. It has a link to www.nielsenmedia.com.) Check the ratings and shares for the current week on (1) broadcast television; (2) cable; (3) syndication;
(4) among African Americans; and (5) among Hispanics. Note how Nielsen includes DVR recording.
02-O'Donnell.qxd 2/13/2007 10:46 AM Page 47
Demystifying the Business of Television —— 47
2. During a Sweeps Week (November, February, May, and July), examine the television schedule to determine how the programs are different at that time.
3. Find a television program that has been canceled. Go back to the ratings to see where it was ranked.
4. Watch a television commercial and describe its AQRI (arouse quick related interest).
5. Watch a half-hour or one-hour television program, paying attention to all the commercials. See if you can guess the show's demographics from the commercials.
6. Watch a half-hour or one-hour television program and note all the products that are placed within it.
7. How many products get free air time on a morning news or game show?
8. Watch a show on local cable television. See how many commercials are targeted to precisely defined audiences.
9. Analyze the flow of broadcast programs from 8:00 p.m. to 11:00 p.m. and describe the building blocks. Where is a less successful program placed?
10. Look for broadcast programs that are scheduled "off the clock," and note what programs on other networks are in competition with them. If you watch the beginning or end of a show that is off the clock, will you miss the opening or closing of a competing program?
11. Select a series on HBO: (1) find how many times the episode is repeated during the week; and (2) find how many episodes are scheduled for a single season.
12. At the end of a television show, watch the credits and find the name of the production house that produced it.
13. Select a very successful television series, then name newer shows that resemble it.
14. Go to a television series Web site and look at the roles and names of the personnel (producers, directors, writers, and so on).
15. Pay close attention to the writing of a television show. How much do you, as a member of the audience, fill in what is not spoken in the dialogue?
16. Examine the unwritten subtext of a television program. How do the camera work and the acting communicate the subtext?
17. If at all possible, visit a television studio to observe the taping of a television program or a live production. Discuss what you observed and what you learned.
02-O'Donnell.qxd 2/13/2007 10:46 AM Page 48
48 —— Chapter 2
Suggested Readings
Gitlin, Todd. (1983). Inside Prime Time. New York: Pantheon Books.
Kubey, Robert. (2004). Creating Television: Conversations with the People Behind 50
Years of American TV. Mahwah, NJ: Lawrence Erlbaum.
Marc, David & Thompson, Robert J. (1995). Prime Time, Prime Movers. Syracuse,
NY: Syracuse University Press.
Newcomb, Horace & Alley, Robert S. (1983). The Producer's Medium: Conver-
sations with Creators of American TV. New York: Oxford University Press.
Webster, James G., Phalen, Patricia F., & Lichty, Lawrence W. (2000). Ratings
Analysis: The Theory and Practice of Audience Research, (2nd ed.). Mahwah,
NJ: Lawrence Erlbaum.
www.nielsenmedia.com
PART-II-Ch-03.qxd 2/13/2007 10:27 AM Page 49
PART II
Formal Aspects of Television
* Your assessment is very important for improving the work of artificial intelligence, which forms the content of this project