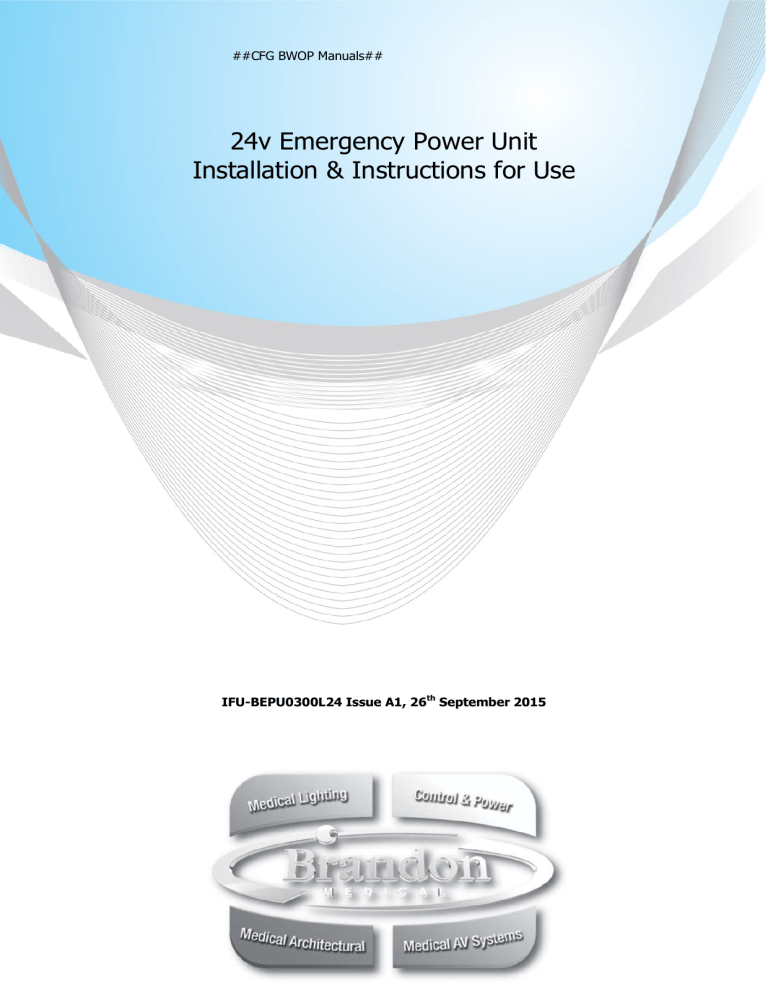 ##CFG BWOP Manuals##
24v Emergency Power Unit
Installation & Instructions for Use
IFU-BEPU0300L24 Issue A1, 26 th
September 2015
4
5
Contents
1
2
3
6
7
8
9
General .............................................................................................3
1.1
Symbols used ........................................................................... 3
1.2
All rights reserved ..................................................................... 4
1.3
Electromagnetic compatibility ..................................................... 4
1.4
Declaration of Conformity .......................................................... 5
1.5
Disposal Instructions ................................................................. 5
1.6
Guarantee ................................................................................ 6
Safety ................................................................................................7
2.1
Intended use ............................................................................ 7
2.2
User Profile .............................................................................. 7
2.3
Safety Instructions .................................................................... 8
2.4
Warnings ................................................................................. 8
Technical data ...................................................................................9
3.1
Models covered ........................................................................ 9
3.2
Classification ............................................................................ 9
3.3
Environmental ........................................................................ 10
3.4
Technical Information ............................................................. 10
3.5
Specification ........................................................................... 11
Electrical installation ......................................................................13
4.1
Supply requirements ............................................................... 13
Mechanical Installation ..................................................................14
5.1
Overview ............................................................................... 14
5.2
Wall Mounting ........................................................................ 15
Commissioning the unit ..................................................................16
Operating Instructions ...................................................................17
7.1
Mains Healthy ........................................................................ 17
7.2
Battery Discharge ................................................................... 17
7.3
Battery Fail ............................................................................ 17
Settings ...........................................................................................18
Routine maintenance & service ......................................................18
9.1
Cleaning instructions ............................................................... 18
9.2
Replacement parts .................................................................. 18
9.3
Maintenance Checklist ............................................................. 19
Page 2 of 20
1 General
1.1 Symbols used
The symbols used in this guide and on the product are explained in the following table.
Caution
Consult instructions for use
CE conformity mark
Disposal
Manufacturer
Date of manufacture
Fragile handle with care
Catalogue number
Serial number
Temperature limit
Humidity limitation
Atmospheric pressure limitation
Table 1
Page 3 of 20
1.2 All rights reserved
© Brandon Medical Company Ltd
All rights are reserved. No part of the content may be reproduced, adapted, stored in a retrieval system or transmitted in any form or by any means, electronic, mechanical, photocopying, recording or otherwise without the prior permission of the Copyright owner.
Whilst every effort is made to ensure the accuracy and completeness of this guide, we do not warrant that the content is error free.
The brand names or product names mentioned or referred to throughout this guide are fully recognised as the trademark or registered trademark of their respective owners.
1.3 Electromagnetic compatibility
Medical devices manufactured by Brandon Medical Company Ltd conform to
EN60601-1-2:2007 (EMC Directive 2004/108/EC) standard for both immunity and emissions.
The medical devices should not be used adjacent to or stacked with other equipment. In case adjacent or stacked use is necessary, the medical device should be observed to verify normal operation in the configuration in which it will be used.
Page 4 of 20
1.4 Declaration of Conformity
Brandon Medical Co Ltd hereby declares that this product – BEPU0300L24– is in compliance with the
EC Directive 200A/108/EC.
1.5 Disposal Instructions
Do not dispose of the product with normal refuse. Depending on local regulations, dispose of the product at a recycling centre or return it to a dealer with a disposal service.
Equipment must be de-contaminated before disposal or return to dealer.
Page 5 of 20
1.6 Guarantee
1.6.1 Terms of the Guarantee
Subject to the conditions listed below Brandon Medical Company Ltd guarantee to provide for the repair of, or at its option replacement of Brandon Medical equipment, or any component thereof
(other than consumables), found to be faulty or below standard, as a result of inferior workmanship or materials. This Guarantee will be passed to the purchaser through the Approved Brandon Medical
Distributor where equipment is purchased outside of the United Kingdom.
1.6.2 Conditions of the Guarantee
 This Guarantee shall only apply to defects or faults that are notified to Brandon Medical
Company Ltd. or its Approved Distributor within 12 months of the delivery date.
 This Guarantee covers equipment intended for use in hospitals and healthcare establishments only.
 It is a condition of the Guarantee that the equipment is maintained as recommended in the instruction manuals provided.
 This Guarantee does not cover – and is invalidated by – faults or defects caused by accident, misuse, fair wear and tear, neglect, tampering with the equipment, or any attempt at adjustment or repair other than by Brandon Medical approved Service
Technicians.
 In the unlikely event of the equipment requiring repair, please contact the Dealer or
Supplier from whom it was purchased. Where this is not possible or where the equipment was purchased direct from Brandon Medical Company Ltd., please contact us directly:


Tel: +44 (0)113 277 7393
Fax:+44(0)113 272 8844

E-mail: [email protected]
 The cost of any carriage to and from the Dealer, Supplier, Brandon Medical Company Ltd or approved Service Agent shall be borne by the Purchaser.
 This Guarantee cannot be varied except by written notification by Brandon Medical
Company Ltd authorised by a Company Director.
 Under no circumstances whatsoever shall Brandon Medical Company Ltd. be liable in respect of consequential loss.
 The Guarantee is subject to the equipment in question having been paid for in full.
 This Guarantee is offered as an additional benefit to the Purchaser's statutory rights and does not affect these rights in any way.
Page 6 of 20
2 Safety
2.1 Intended use
The charger unit is a purpose designed, medical approved unit that operates at a float voltage of
27.24Vdc application. Float voltage method of charging batteries, requires an accurate constant potential charger unit with controlled current during the charge period. As the battery voltage approaches the required float voltage the current supplied by the charger reduces until only a few milliamps are allowed to flow to automatically hold the battery at its float potential. Sealed lead acid batteries are normally charged at 2.27 volts/cell, therefore a 24 volt system should float at 27.24 volts.
The BEPU has 2 voltage settings that can be selected; 28.5V and 27.2V. The BEPU is usually factory set at 27.2V. There is also 3 settings for the charge current these are 0.5, 1 & 2.5amps, the BEPU is usually factory set at 2.5 amps. The BEPU has a battery protective mode; when it senses the battery voltage is below 19.2V it disconnects the batteries from the load.
PSU
Mains Supply
100-240VAC
Battery
Charger
24VDC
Batteries
Fig 1
27-20VDC
2.1.1 Fail Safe
For a surgical luminaire system to be fail safe, two or more surgical lights are used to construct a surgical luminaire system. Each luminaire in the system will have its own individual power supply.
The BEPU system consists of an integrated power supply unit (PSU) and a separate battery charger.
The (PSU) will provide the lamp with power under normal operating conditions. Should the PSU fail or mains power is lost, then the BEPU will switch over to its own battery supply.
If each luminaire should be provided with its own BEPU. In this case each luminaire would have an independent power supply and Battery back-up system.
2.2 User Profile
Medical professional
A medical professional is any person with medical training who works within their field in which they were trained.
Cleaning professional
A person with knowledge and training with national and workplace hygiene requirements.
Electrician
An electrician is trained in the fields of electronics and electrical engineering and is familiar with the relevant standards and regulations.
Qualified professional
A qualified professional who is capable of mounting and dismounting of the luminaire with professional training, knowledge and experience of the equipment and knowledge of the local regulations.
2.3 Safety Instructions
Please note that certain duties must only be carried out by people with the appropriate training and knowledge of the equipment.
 This installation guide is for use on Brandon Medical Equipment Only. If there is any other equipment mounted or connected to the system that is not part of Brandon Medical's remit then the corresponding instruction manual should be consulted.

The BEPU0300L24 is class l protection and must be connected to the protective earth, if this is not done then there is a potential for electric shock.
 These instructions for use only become applicable after the proper installation and assembly of the equipment in accordance with the installation guide provided.
 Only trained cleaning personnel are permitted to clean the equipment.
 Please carefully read these instructions for use before using the equipment.

If problems are encountered that has not been addressed in these instructions for use, please contact your supplier in the interest of your own safety.
 The instructions for use should be made available to all users of the equipment.
 Any work carried out on the BEPU0300L24 must be done so by a qualified person.
 Never place any additional loads on the BEPU0300L24; this will cause overload and exceed load limits set for this unit.
 Modifications should never to be made for any reason.
 Any modifications made to the system will void the warranty.
 The contents of the instructions for use are subjected to change without notice.

Do not use in oxygen-enriched atmospheres.
2.4 Warnings

If this equipment is modified, appropriate inspection and testing must be conducted to ensure continued safe use of the equipment!
Page 8 of 20
3
3.1
Technical data
Models covered
Model
BEPU0300L24 ( BEPU only )
BEPU0300L24 + 2 x 18Ah batteries
BEPU0300L24 + 2 x 26Ah batteries
Approx. weight
11.0 kg
23.0 kg
29.4 kg
3.2
Table 2
Classification
Classification
Electrical classification
Degree of protection against the presence of flammable anaesthetic mixtures
Oxygen-enriched atmospheres
Description
Class 1
Not for use in a flammable atmosphere
Do not use in oxygen-enriched atmospheres.
Table 3
Page 9 of 20
3.3 Environmental
The environmental conditions relating to transportation and storage.
-40 o
C to 70 o
C
10% to 95% non-condensing
500hPa to 1060hPa
Table 4
The environmental conditions relating to operating are explained in the following table.
15 o
C to 30 o
C
10% to 80% non-condensing
700hPa to 1060hPa
Table 5
3.4 Technical Information
On request circuit diagrams, component part lists and drawings will be made available to suitably trained service personnel to assist with the maintenance of the equipment.
Page 10 of 20
3.5 Specification
Voltage
Current ( Typ)
Frequency
Output Voltage ( VDC )
Output Current
Medical Power Supply Input Protection
85-265V ( 240V Models )
0.8Amps @ 230VAC
47-63 Hz
Medical Power Supply Output Specification
19.2 - 28.8 VDC typically set @ 24VDC
6.5 Amps
Inrush Current ( Amps ) 14/28
Max Power ( Watts )
Power Factor / Flicker
156
Meets EN61000-3-2, EN61000-3-3
Temperature Coefficient (
Deg C )
<0.02% Deg C
Overvoltage Protection (V) 30-34.8
Overcurrent Protection >104%
Hold Up Time
Leakage Current
Cooling
Withstand Voltage
Isolation Resistance
20ms
<0.5ma
Operating Temperature &
De-rating
-10°C to +70°C, (-10 - +50°C: 100%, +60°C: 60%, +70°C: 20%)
Storage Temperature -30 to +85°C
Humidity (non-condensing) Operating: 30 - 90%RH (10 -90%
Convection
I/P to Grnd 2kVAC, I/P to O/P 3kVAC, O/P to Grnd 500VAC, O/P to
Remote On/Off 100VAC for 1 min
>100M at 25C & 70%RH, Output to Ground 500VDC, >10M Output to remote on/off 100VDC
Vibration (non-operating)
Safety Agency Approvals
10 - 55Hz (1 min sweep), 19.6m/s2 constant, X, Y, Z axis, one hour each
UL60601-1, EN60601, CSA-C22.2 No601.1-M90 (C-UL) (basic insulation),
CE Mark
Line Dip Complies with SEMI F47 (200VAC line only)
Conducted & Radiated EMI B, FCC-B, VCCI-B (HWS600 & 1500 Class A)
Immunity
Load Regulation ( mV )
IEC61000-4-2 (Level 2,3), -3, -4, -6, (Level 3), -5 (Level 3,4), -8 (Level
4), -11
192
Line Regulation ( mV )
Ripple Noise ( mV )
Efficiency (typ) % 1
Case
96
150
85/88
Aluminium
Table 6
Page 11 of 20
DC Uninterruptible Power Supply (BEPU) Specification
Input Voltage VDC
Output Voltage VDC
Output Discharge Current ( Typ)
Selection of Charge Currents Available
Selection of Charge Voltages Available
Isolation voltage
Isolation resistance
Ambient temperature
De-rating (see de-rating curve)
Storage temperature
Relative humidity
MTBF Bellcore Issue 6 @40 C, GB @24v
22.5 – 28 Vdc
22-27.5
30Amps max
0.5, 1 & 2.5 amps ( Selector Switch )
27.2 & 28.5Vdc ( Selector Switch )
500Vdc
100MΩ
-40 - 71o C
Vi nom, from +51 to +71 °C max 2.5 % / °C
-40min - 85max °C
20 – 95%RH
360,000 Hours
Altitude during operation IEC 60068-2-13 4,850m
Installation Position
Pollution Degree
Degree of protection
Current consumption ( No Load )
Current consumption ( Charging )
Current consumption ( Charging )
Battery Voltage Range
Cooling Method
Ripple and Noise
Battery Reverse Voltage
Battery Output Fuse
Suggested Batteries
Fast Charge Voltage
Battery Low Voltage Cut-out Setting
Case
UL / CUL
TUV
CE
Vibration resistance
Vertical
2
IP20
0.2 Amps
3.5 Amps
35 Amps
19.2 - 28.5 Vdc
Free Air Convection
100mV
28.5Vdc
40 Amps
18 & 26 Ah ( 18Ah for 3-5 years, single lamp head )
( 26Ah for 10 years or 2 lamps heads in use )
28.5
19.2Vdc
Plastic
Approvals and Standards
UL 508 Listed, UL 60950-1 Recognized
EN 60950-1
EN 61000-6-3, EN 55022 class B, EN 61000-6-2, EN
55024, EN 61204-3 EN 61000-4-2, EN 61000-4-3, EN
61000-4-4, EN 61000-4-6, EN 61000-4-8 meet IEC 60068-2-6 (Mounting on rail : 10-500 Hz, 2G, along X, Y,Z each Axis, 60 min for each Axis )
Shock resistance meet IEC 60068-2-27 (15G, 11ms, 3 Axis, 6 Faces, 3 times for each Face)
Table 7
Page 12 of 20
4 Electrical installation
Each installation requires two people, one of whom should be a suitably qualified general electrician.
4.1 Supply requirements
The cable used to supply the mains to the equipment should be rated for the maximum current for the equipment and the cable used must meet the requirements of IEC 60227or IEC 60245 and shall be ≥
1mm².
20mm holes at the top of the BEPU0300L24 enclosure are pre-drilled to provide conduit entry and exit holes for the mains input and the lamp output.
Mains 230VAC should be fed into the mains isolator from a suitable 13 amp fixed fuse spur. All mains terminals on this unit will take up to 4mm² cable, Terminal 1 being 230VAC Live and terminal 2 being
230VAC Neutral. Feed the Earth to either the earth terminal or Chassis plate earth stud with appropriate cable, approximately 6mm² Min.
Connect up cables to the 24VDC Output Terminals (4mm² recommended), Main lamp output = MCB3
+ve, Terminal 12 -ve. Care must be taken to assign the correct polarity. The 24VDC output wires ideally need to be no more than 25M from the BEPU unit to the operating lamp.
Note: For a wire diagram contact Brandon Medical at www.brandon-medical.com
Mains Input Here Lamp Output Here
Fig 2
Page 13 of 20
5 Mechanical Installation
5.1 Overview
Fig 3
Unpack the boxes and check that all the parts listed in the following table are present.
Qty
1
2
Enclosure containing battery charger
12v battery (If Supplied)
Table 8
Examine all the parts carefully for any damage in transit. Report any damaged or missing items to the supplier within 5 working days.
Page 14 of 20
5.2 Wall Mounting
When selecting a location to site the enclosure, care must be taken to ensure that the room does not exceed the temperature range, (15° to 25° Celsius), with an average temperature as close as possible to 20°Celsius.
Fig 4 (Back view)

Select a mounting position on a dry solid wall. The position would ideally be as close to the top of the operating lamp assembly as possible to reduce the risk of a volt drop on low voltage cable runs.

Using the dimensions given in the fig above drill the wall using an appropriate masonry bit. Use fixings that are appropriate to the type of wall material encountered to secure the enclosure.
Cable entry to the enclosure is via the gland plate mounted on the top surface of the enclosure.
Incoming and outgoing cables must be protected by a grommet or strain relief boot.
Page 15 of 20
6 Commissioning the unit

Ensure all cable runs are secure and clear of hazards.

Ensure the enclosure door is closed and secure.

When first powered up; check that the mains Health indicator is illuminated

Hand this Installation & Instruction manual over to the Clinical Manager.

Check mains Isolator operation.
Terminals 15 & 11 are Volt free Contacts for "Mains Healthy" condition. This is usually used to supply the signal to the indicator lamp on the front facia of the BEPU to indicate that the mains is ok and is charging the batteries. This is a green illuminated led indicator.
Terminals 16 & 11 are Volt free contacts for the "Batteries Discharging" condition. This is usually used to supply the signal to the indicator lamp on the front facia of the BEPU to indicate that the mains has failed and the batteries are now discharging. This is a blue illuminated led indicator.
Terminals 17 & 11 are Volt free contacts for "Battery Fail" condition. This is usually used to supply the signal to the indicator lamp on the front facia of the BEPU to indicate that the mains has failed and the batteries are now discharging to very low levels of 22.5v. This is a yellow illuminated led indicator.
At 19.2V the batteries will disconnect themselves from the load until mains is reconnected and starts charging the batteries again. This is to protect the batteries from deep discharge.
Mains Input 20mm conduit hole here
Lamp Output 20mm conduit hole here
Fig 5
Page 16 of 20
7 Operating Instructions
The main features of the Control Unit are highlighted in the illustration below.
Mains Healthy Battery Discharge
Fig 6
Battery Fail
7.1 Mains Healthy
Mains healthy indicator indicates 230V mains power is present and batteries are charging ok.
7.2 Battery Discharge
The 'Battery Discharge' indicator will illuminate if the mains power has failed or has been disconnected and the batteries are discharging and the battery voltage has fallen below.
7.3 Battery Fail
The 'Battery Fail' indicator when illuminated shows that the battery has fallen to below 22.5v. When the battery voltage reaches down to 19.2V the lamp will cut out. This indicator may also flicker on and off even when Mains Healthy led is on, this would indicate there is a battery fault condition, Try changing batteries if this happens.
The 'Battery Fail' indication should prepare the operator to change the light source.
Page 17 of 20
8 Settings
No settings are available on this product.
9 Routine maintenance & service
9.1 Cleaning instructions
Do not clean the BEPU0300L24 with alkaline cleaning solutions or bleach, which
may damage the surface material.
Brandon Medical approves the use of the following cleaning solutions on its products:
 Hexaquart
R plus – dilute to strength
 Meliseptol
R rapid – pre-prepared spray
 Meliseptol
R
HBV – tissues.
These chemicals are manufactured by B Braun Ltd and are available from Brandon Medical. To order these products please contact your local stockist.
Please ensure that the solutions are not applied to warm surfaces and that any excess solution is wiped from the surface and not allowed to dry as this may lead to a build-up of deposits.
Make sure you check the manufacturer's instructions regarding the dilution factors for a particular solution.
You can clean the body of the lamp using proprietary non-alkaline, sterilising solutions as instructed by the manufacturer.
9.2 Replacement parts
The major parts listed below include parts that may wear or are liable to occasional accidental damage.
Description
18Ah 12v Battery
26Ah 12v Battery
24v BEPU Charger
24v 150watt power supply
6 amp 'C' type mcb
4 pole 16amp Isolator
Part Number
EBL13847-1218
EBL13847-1226
EPD70528
EPS15023024
SM70465
SI70529
Table 9
Page 18 of 20
9.3
Site Data
Maintenance Checklist
Hospital
Theatre No.
Product installed
Serial No.
Inspection
Check building mountings are secure
Check all fixing screws and retainers are secure
Check operation of all switches and indicators
Check emergency power system is charging correctly
Check changeover circuit is working correctly
Inspect incoming wiring (where accessible)
Check room temperature & humidity are within limits
Additional notes:
Maintenance Sign-off
Signature
Print name
Position
Date
Initial Comments
Page 19 of 20
Page 20 of 20
* Your assessment is very important for improving the work of artificial intelligence, which forms the content of this project