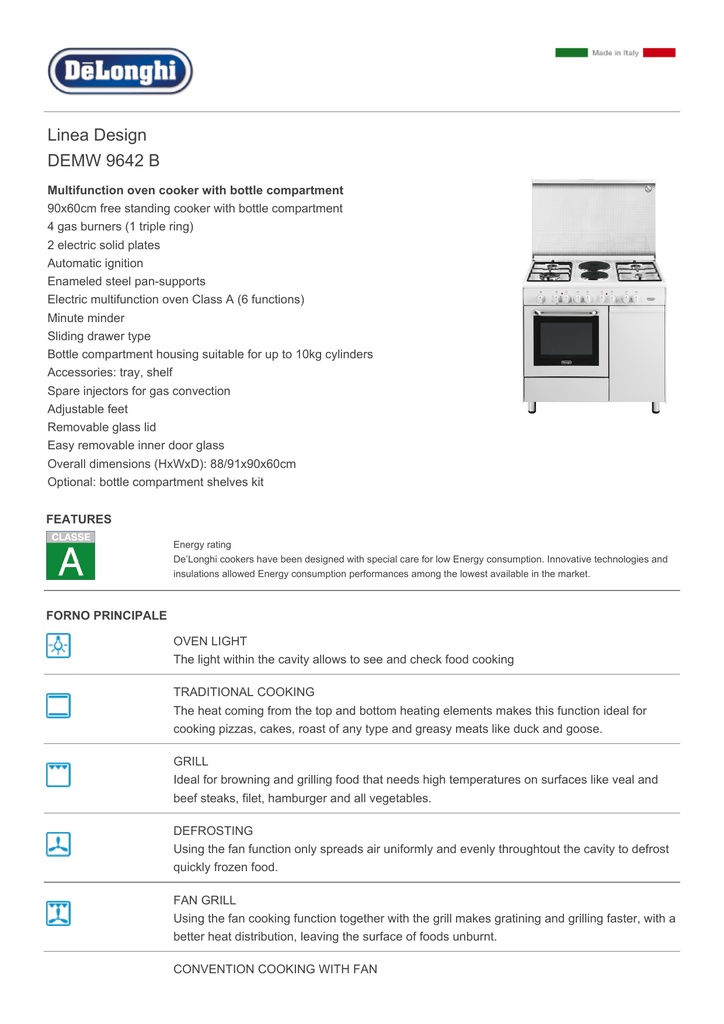 Linea Design
DEMW 9642 B
Multifunction oven cooker with bottle compartment
90x60cm free standing cooker with bottle compartment
4 gas burners (1 triple ring)
2 electric solid plates
Automatic ignition
Enameled steel pan-supports
Electric multifunction oven Class A (6 functions)
Minute minder
Sliding drawer type
Bottle compartment housing suitable for up to 10kg cylinders
Accessories: tray, shelf
Spare injectors for gas convection
Adjustable feet
Removable glass lid
Easy removable inner door glass
Overall dimensions (HxWxD): 88/91x90x60cm
Optional: bottle compartment shelves kit
FEATURES
Energy rating
De'Longhi cookers have been designed with special care for low Energy consumption. Innovative technologies and
insulations allowed Energy consumption performances among the lowest available in the market.
FORNO PRINCIPALE
OVEN LIGHT
The light within the cavity allows to see and check food cooking
TRADITIONAL COOKING
The heat coming from the top and bottom heating elements makes this function ideal for
cooking pizzas, cakes, roast of any type and greasy meats like duck and goose.
GRILL
Ideal for browning and grilling food that needs high temperatures on surfaces like veal and
beef steaks, filet, hamburger and all vegetables.
DEFROSTING
Using the fan function only spreads air uniformly and evenly throughtout the cavity to defrost
quickly frozen food.
FAN GRILL
Using the fan cooking function together with the grill makes gratining and grilling faster, with a
better heat distribution, leaving the surface of foods unburnt.
CONVENTION COOKING WITH FAN
Using the fan with top and bottom heating elements spreads heat uniformly inside the oven
and is particularly suitable for foods demanding the same level of coking both inside and
outside, like rollroasts, legroasts and fishes, also set on different levels.

* Your assessment is very important for improving the work of artificial intelligence, which forms the content of this project