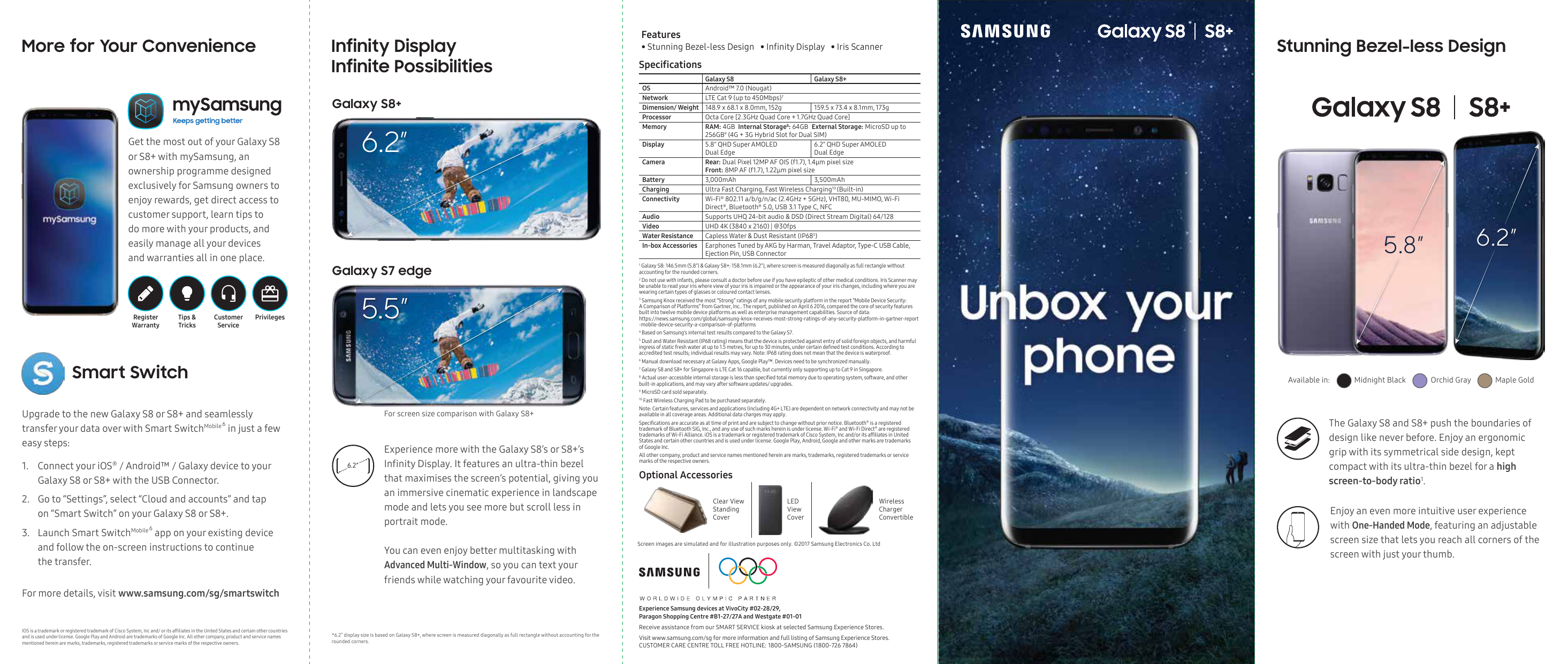 More for Your Convenience
Infinity Display
Infinite Possibilities
Features
• Stunning Bezel-less Design • Infinity Display • Iris Scanner
Specifications
OS
Network
Dimension/ Weight
Processor
Memory
Galaxy S8+
Get the most out of your Galaxy S8
or S8+ with mySamsung, an
ownership programme designed
exclusively for Samsung owners to
enjoy rewards, get direct access to
customer support, learn tips to
do more with your products, and
easily manage all your devices
and warranties all in one place.
Register
Warranty
Tips &
Tricks
Customer
Service
Privileges
6.2"
1. Connect your iOS / Android™ / Galaxy device to your
Galaxy S8 or S8+ with the USB Connector.
®
2. Go to "Settings", select "Cloud and accounts" and tap
on "Smart Switch" on your Galaxy S8 or S8+.
6
3. Launch Smart SwitchMobile app on your existing device
and follow the on-screen instructions to continue
the transfer.
Camera
Audio
Video
Water Resistance
In-box Accessories
5.5"
Smart Switch
Upgrade to the new Galaxy S8 or S8+ and seamlessly
6
transfer your data over with Smart SwitchMobile in just a few
easy steps:
Display
Battery
Charging
Connectivity
Galaxy S7 edge
For screen size comparison with Galaxy S8+
Experience more with the Galaxy S8's or S8+'s
Infinity Display. It features an ultra-thin bezel
that maximises the screen's potential, giving you
an immersive cinematic experience in landscape
mode and lets you see more but scroll less in
portrait mode.
You can even enjoy better multitasking with
Advanced Multi-Window, so you can text your
friends while watching your favourite video.
Galaxy S8
Galaxy S8+
Android™ 7.0 (Nougat)
LTE Cat 9 (up to 450Mbps)7
148.9 x 68.1 x 8.0mm, 152g
159.5 x 73.4 x 8.1mm, 173g
Octa Core [2.3GHz Quad Core + 1.7GHz Quad Core]
RAM: 4GB Internal Storage8: 64GB External Storage: MicroSD up to
256GB9 (4G + 3G Hybrid Slot for Dual SIM)
5.8" QHD Super AMOLED
6.2" QHD Super AMOLED
Dual Edge
Dual Edge
Rear: Dual Pixel 12MP AF OIS (f1.7), 1.4μm pixel size
Front: 8MP AF (f1.7), 1.22μm pixel size
3,000mAh
3,500mAh
Ultra Fast Charging, Fast Wireless Charging10 (Built-in)
Wi-Fi® 802.11 a/b/g/n/ac (2.4GHz + 5GHz), VHT80, MU-MIMO, Wi-Fi
Direct®, Bluetooth® 5.0, USB 3.1 Type C, NFC
Supports UHQ 24-bit audio & DSD (Direct Stream Digital) 64/128
UHD 4K (3840 x 2160) | @30fps
Capless Water & Dust Resistant (IP685)
Earphones Tuned by AKG by Harman, Travel Adaptor, Type-C USB Cable,
Ejection Pin, USB Connector
Galaxy S8: 146.5mm (5.8") & Galaxy S8+: 158.1mm (6.2"), where screen is measured diagonally as full rectangle without
accounting for the rounded corners.
Do not use with infants, please consult a doctor before use if you have epileptic of other medical conditions. Iris Scanner may
be unable to read your iris where view of your iris is impaired or the appearance of your iris changes, including where you are
wearing certain types of glasses or coloured contact lenses.
3
Samsung Knox received the most "Strong" ratings of any mobile security platform in the report "Mobile Device Security:
A Comparison of Platforms" from Gartner, Inc.. The report, published on April 6 2016, compared the core of security features
built into twelve mobile device platforms as well as enterprise management capabilities. Source of data:
https://news.samsung.com/global/samsung-knox-receives-most-strong-ratings-of-any-security-platform-in-gartner-report
-mobile-device-security-a-comparison-of-platforms
4
Based on Samsung's internal test results compared to the Galaxy S7.
5
Dust and Water Resistant (IP68 rating) means that the device is protected against entry of solid foreign objects, and harmful
ingress of static fresh water at up to 1.5 metres, for up to 30 minutes, under certain defined test conditions. According to
accredited test results; individual results may vary. Note: IP68 rating does not mean that the device is waterproof.
6
Manual download necessary at Galaxy Apps, Google Play™. Devices need to be synchronized manually.
7
Galaxy S8 and S8+ for Singapore is LTE Cat 16 capable, but currently only supporting up to Cat 9 in Singapore.
8
Actual user-accessible internal storage is less than specified total memory due to operating system, software, and other
built-in applications, and may vary after software updates/ upgrades.
9
MicroSD card sold separately.
10
Fast Wireless Charging Pad to be purchased separately.
Note: Certain features, services and applications (including 4G+ LTE) are dependent on network connectivity and may not be
available in all coverage areas. Additional data charges may apply.
Specifications are accurate as at time of print and are subject to change without prior notice. Bluetooth® is a registered
trademark of Bluetooth SIG, Inc., and any use of such marks herein is under license. Wi-Fi® and Wi-Fi Direct® are registered
trademarks of Wi-Fi Alliance. iOS is a trademark or registered trademark of Cisco System, Inc and/or its affiliates in United
States and certain other countries and is used under license. Google Play, Android, Google and other marks are trademarks
of Google Inc.
All other company, product and service names mentioned herein are marks, trademarks, registered trademarks or service
marks of the respective owners.
2
Optional Accessories
Clear View
Standing
Cover
LED
View
Cover
Wireless
Charger
Convertible
Screen images are simulated and for illustration purposes only. ©2017 Samsung Electronics Co. Ltd
Experience Samsung devices at VivoCity #02-28/29,
Paragon Shopping Centre #B1-27/27A and Westgate #01-01
Receive assistance from our SMART SERVICE kiosk at selected Samsung Experience Stores.
*6.2" display size is based on Galaxy S8+, where screen is measured diagonally as full rectangle without accounting for the
rounded corners.
6.2"
5.8"
1
For more details, visit www.samsung.com/sg/smartswitch
IOS is a trademark or registered trademark of Cisco System, Inc and/ or its affiliates in the United States and certain other countries
and is used under license. Google Play and Android are trademarks of Google Inc. All other company, product and service names
mentioned herein are marks, trademarks, registered trademarks or service marks of the respective owners.
Stunning Bezel-less Design
Visit www.samsung.com/sg for more information and full listing of Samsung Experience Stores.
CUSTOMER CARE CENTRE TOLL FREE HOTLINE: 1800-SAMSUNG (1800-726 7864)
Available in:
Midnight Black
Orchid Gray
Maple Gold
The Galaxy S8 and S8+ push the boundaries of
design like never before. Enjoy an ergonomic
grip with its symmetrical side design, kept
compact with its ultra-thin bezel for a high
screen-to-body ratio1.
Enjoy an even more intuitive user experience
with One-Handed Mode, featuring an adjustable
screen size that lets you reach all corners of the
screen with just your thumb.
An Eye For Security
Picture Perfect
Enhanced Performance
Presenting the first Galaxy smartphone with a front camera
that supports Smart Auto Focus, so you and your friends
always capture the best, flawless selfies from any angle
and distance.
Your Galaxy Just Got Bigger
Boost your productivity with DeX Station, or shop securely
with Samsung Pay, protected by the defence-grade Samsung
Knox. Capture memories and stream it live in 360° with the
new Gear 360 (2017), or immerse yourself in another galaxy
with the new Gear VR with Controller. Whichever you choose,
the Galaxy S8 or S8+ opens up a world of possibilities for
your life. Seamlessly. And easily.
Work X Play
DeX Station
f1.7
Unlock your Galaxy S8 or S8+ securely with
your eyes without having to swipe your screen
with Iris Scanner2. It is one of the most secure
biometric identification systems available
on a smartphone, as your iris is almost impossible
to duplicate.
The Galaxy S8 and S8+ is built on Samsung Knox,
an award-winning3 defence-grade security
platform used by governments around the world,
including U.S. and Europe. Combined with the Iris
Scanner, it helps authenticate your Samsung Pay
transactions fast and securely. Separate work and
play too by switching from personal to secure
workspace with Secure Folder for your work email,
confidential documents and even sensitive apps.
Capture brighter, high-resolution selfies even
in low-light bars or clubs with its enhanced
8MP Auto Focus Front Camera that features
an f1.7 lens.
Live 360°
Gear 360 (2017)
Supporting the Vulkan API, the Galaxy S8 and S8+ deliver
a seamless powered gaming experience even when playing
graphically intense games, thanks to its powerful 10nm AP
processor. It even makes multitasking smoother with less
battery consumption than before4.
One-time fee
(at point of purchase)
New phone yearly.
All-round convenience.
Your songs sound even better
with new earphones from AKG by
Harman, thanks to the enhanced
audio technology that blocks out
external sounds, and delivers
an undistorted, premium sonic
experience on the go.
Choose from a wide variety of
filters, stickers and stamps to
apply to your photos and videos.
And with facial recognition built
in, any effects you use will fit
your face perfectly. Snapshots
have never been this easy
— or fun!
Rain or shine, the IP68-rated
water and dust-resistance5 has
you covered. Whether you're
caught without an umbrella, or
you've spilled a drink all over,
your phone just keeps working.
So you keep going.
$38
Join a first-of-its-kind service programme that lets you enjoy:
VRtainment
Gear VR
with Controller
Secure Shopping
Samsung Pay
Samsung Knox
DeX Station, Gear 360 (2017), Gear VR with Controller and Gear S3 sold separately.
New Phone
Yearly
Total
Assurance
Greater
Coverage
All-round
Convenience
Hassle-free
Data Transfer
Return your
device and
upgrade to a new
one every year.
(Save up to $350)
Get a 30-day
1-to-1 exchange
for functional
defects.
Enjoy 50% off
screen repair and
liquid damages.
(Save up to $500)
Get personalised
assistance and
repair right at
your doorstep.
(Save up to $110)
Dedicated
service by
Customer Service
Consultant.
Call 1800-SAMSUNG (7267864) for purchase enquiries
or visit www.samsung.com/sg/samsungconcierge
for more details.
Terms and conditions apply, please check with respective Operators, Samsung Experience Stores and selected Consumer
Electronics and IT Stores for details.