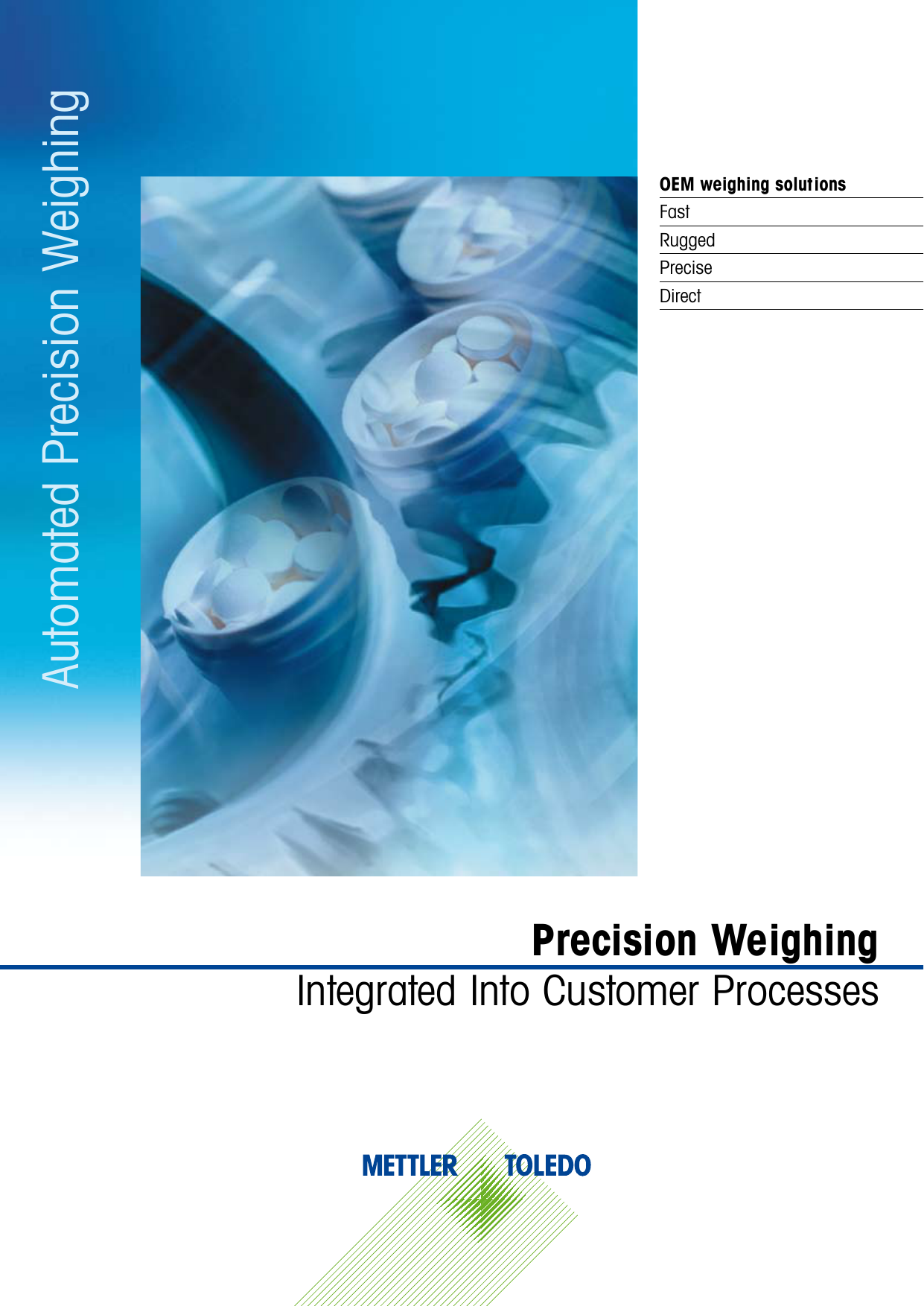 Automated Precision Weighing
OEM weighing solutions
Fast
Rugged
Precise
Direct
Precision Weighing
Integrated Into Customer Processes
Automated Precision Weighing
Automated Processes
Faster, More Effective and More Reliable
METTLER TOLEDO is the global market leader in precision instruments
and services for weighing, measurement and analysis in the laboratory
and in a broad variety of industries. Our growing portfolio of Automated
Precision Weighing products is focused on the needs of plant and
process engineering and tailored to instruments and systems requiring
integrated precision weighing technology.
Applications
Weight has always been a key
parameter in the production or
quality control of many processes.
Fast, automated, yet high-precision
weighing brings a completely new
dimension to process and
laboratory automation. Whether
your application requires simple
weighing, precise filling,
characterization of materials
or quality control, METTLER
TOLEDO precision weighing
modules and sensors offer direct
data connection and
state-of-the-art weighing
performance for automated
weighing solutions.
• We offer high-precision weighing
sensors for applications in
industrial and laboratory
automation.
• Our broad product range
guarantees a common hardware
and software platform.
• Our products feature a wide
variety of uses, robustness and a
long service life.
• Choices of communication
interfaces provide direct
connectivity to a variety of control
networks.
• Flexible engineering solutions
ensure that customer specific
requirements are always met.
• Local customer service offers
expert support and guarantees
maximum system availability.
Weighing module integrated in a
pharmaceutical filling machine.
(Picture: Groninger & Co. GmbH,
Germany)
2
Customer benefits
Fast
Increased productivity 
Shorter cycle times
Faster filling processes
MonoBloc
inside
Rugged
Developed for harsh environments
Reliable measurements
Long service life
Precise
Milligram weighing in industrial environments
Material optimization
Reliable quality control
Direct
Flexible connectivity
Simple implementation
Easy integration
Global service
Worldwide product availability
Professional consultancy
Fast on-site service
3
Automated Precision Weighing
4
New Dimensions
in Filling and Weighing
Automated precision weighing
Fast yet high-precision weighing in
the milligram range in a fraction
of a second, seamlessly integrated
into automated processes.
WM weighing modules in a
pharmaceutical filling system.
(Picture: F. Hoffmann-La Roche AG,
Switzerland)
Statistical quality control
(SQC)
Periodic weighing of defined
samples for the purposes of
statistical quality control; ensuring
traceability; efficient offline process
control.
WM weighing module in a tablet checking
instrument.
(Picture: Dr. Schleuniger Pharmatron AG,
Switzerland and Sotax AG, Switzerland)
100% quality control
Extremely short weighing times,
compact design and flexible
parameter definition for 100%
control integrated directly into the
production process.
WM weighing module in a handling
machine for solar wafers.
(Picture: Jonas & Redmann, Germany)
100% quality and process control
100% direct in-process precision
weighing at critical process steps
with immediate re-adjustment of
relevant production parameters.
WM weighing modules in a metal powder
press for precision metal cutting inserts.
(Picture: Fette GmbH, Germany)
Characterization of materials
High-precision, automatic
measurement of weight or force for
the characterization of materials.
Exceptional long-term stability.
WMH weighing module in an oxide
crystal growing system.
(Picture: Crystal Growing Systems GmbH,
Germany)
Filling
38 updates per second, flexible
configuration options, monitoring
functions integrated into the sensor
with digital outputs for optimized
filling processes.
GMP-compatible filling of active
substances.
(Picture: Lobotech, Switzerland)
Liquid handling
Extremely compact weighing
sensor dimensions provide flexible
integration into liquid handling
platforms.
Readability down to 10 µg.
WXS weighing module in a liquid
handling system.
(Picture: Hamilton Schweiz AG,
Switzerland)
Center of gravity
High-precision and fully automated
determination of center of gravity
to ensure optimum dynamic
properties of highly-stressed
components.
WM weighing modules in a testing
system for car piston rods.
(Picture: Hofmann Mess- und Auswucht­
technik GmbH & Co. KG, Germany)
5
Complete range
METTLER TOLEDO offers a complete range of weighing
sensors for automated precision weighing with readability
down to 10µg and capacity up to several tons.
Readability
Automated Precision Weighing
Innovative Products
and Tailored Services
WM/WM-Ex
weighing modules
X weighing platforms
WMH/WMH-Ex
weighing platforms
Capacity
Precision weighing modules for automation
WX weighing modules
Fast analytical weighing module
with compact load cell. Available
with or without terminal.
WM/WM-Ex weighing modules
Extremely fast, robust and compact
precision weighing modules. Developed
for integration into automated processes.
Models approved for hazardous areas
are also available (with ATEX, FM & CSA
compliance).
6
WX weighing
modules
Capacity
up to 220 g
Readability down to 10 µg
Capacity
up to 6100 g
Readability down to 0.1 mg
X weighing platforms
Compact precision platforms with
high weighing capacities yet the
smallest readability.
Capacity
up to 64 kg
Readability down to 0.1 m
g
WMH/WMH-Ex weighing platforms
Broad range of robust weighing platforms
with direct connectivity and a wide
selection of accessories. Models approved
for hazardous areas are also available
(with ATEX & FM compliance).
Capacity
up to 3000kg
Readability down to 0.1g
Weighing sensors
Flexible connectivity
Weighing kits
Compact load cell sets
for flexible integration into
machines and instruments.
Customer-specific models
upon request.
•Capacity up to 64 kg
•Readability down to10 µg
Strain gauge weigh mounts and
load cells
Wide range of load cells for static
and dynamic use in industrial
and logistic applications.
PC/PLC
RS232
RS422
Ethernet
TCP/IP
Profibus DP
DeviceNet
Profinet
Ethernet IP
IND690
IND780
Terminals
Simatic S7 +
Siwarex
FTA / FTC
Weighing sensors
Accessories
Connection components
ConModule, ConBox, cables,
commissioning set.
Communication bridges
Ethernet IP, Ethernet TCP/IP,
Profinet, DeviceNet and
Profibus DP.
Mechanical components
weigh pans, below-the-balance
weighing kit, draft shield,
evaporation traps.
Weighing components catalog
METTLER TOLEDO offers the broadest
range of worldwide approved and
supported weighing components.
Order your copy today by contacting your
METTLER TOLEDO sales representative.
Engineering services
Take advantage of the R&D expertise
of the market leader. We can offer you
individual product modifications and
weighing solutions tailored to your
needs.
7
Mettler-Toledo AG,
CH-8606 Greifensee, Switzerland
Phone +41-44-944 22 11
Fax +41-44-944 30 60
Australia
Austria
Belgium
Brazil
Canada
China
Croatia
Czech Republic
Denmark
France
Germany
HongKong
Hungary
India
Italy
Japan
Korea
Kazakhstan
Malaysia
Mexico
Netherlands
Norway
Poland
Russia
Singapore
Slovakia
Slovenia
Spain
Sweden
Switzerland
Thailand
Taiwan
United Kingdom
United States
For all other countries
Mettler-Toledo Ltd., Port Melbourne, Victoria 3207
Tel. (03) 9644 57 00, Fax (03) 9645 39 35
Mettler-Toledo GmbH., A-1230 Wien
Tel. (01) 604 19 80, Fax (01) 604 28 80
Mettler-Toledo s.a., B-1932 Zaventem
Tel. (02) 334 02 11, Fax (02) 334 03 34
Mettler-Toledo Ltda., 06455-000 Barueri/São Paulo
Tel. (11) 7295 1692, Fax (11) 421 3459
Mettler-Toledo Inc., Ontario, Canada
Tel (800) 638-8537, Fax (905) 681-8036
Mettler-Toledo (Shanghai) Ltd., Shanghai 200233
Tel. (21) 6485 04 35, Fax (21) 6485 33 51
Mettler-Toledo, d.o.o., HR-10000 Zagreb
Tel. 01 29 58 130, Fax 01 29 58 140
Mettler-Toledo, spol, s.r.o., CZ-100 00 Praha 10
Tel. 272 123 150, Fax 272 123 170
Mettler-Toledo A/S, DK-2600 Glostrup
Tel. (43) 270 800, Fax (43) 270 828
Mettler-Toledo s.a., F-78222 Viroflay
Tel. (01) 3097 17 17, Fax (01) 3097 16 16
Mettler-Toledo GmbH, D-35353 Giessen
Tel. (0641) 50 70, Fax (0641) 507 128
Mettler-Toledo (HK) Ltd., Kowloon
Tel. (852) 2744 1221, Fax (852) 2744 6878
Mettler-Toledo, KFT, H-1139 Budapest
Tel. (01) 288 40 40, Fax (01) 288 40 50
Mettler-Toledo India Pvt Ltd, Mumbai 400 072
Tel. + Fax (22) 2803 11 11
Mettler-Toledo S.p.A., I-20026 Novate Milanese
Tel. (02) 333 321, Fax (02) 356 29 73
Mettler-Toledo K.K., Tokyo 143
Tel. (3) 5762 0606, Fax (3) 5762 0756
Mettler-Toledo (Korea) Ltd., Seoul 137-130
Tel. 82-2-3498-3500, Fax 82-2-3498-3555
Mettler-Toledo Central Asia, 480009 Almaty
Tel. (07) 3272 980 834, Fax (07) 3272 980 835
Mettler-Toledo (M) Sdn. Bhd., 40150 Selangor
Tel. (603) 784 55 773, Fax (603) 784 58 773
Mettler-Toledo S.A. de C.V., México C.P. 06430
Tel. (55) 5547 5700, Fax (55) 5547 2128
Mettler-Toledo B.V., NL-4004 JK Tiel
Tel. (0344) 638 363, Fax (0344) 638 390
Mettler-Toledo A/S, N-1008 Oslo
Tel. 22 30 44 90, Fax 22 32 70 02
Mettler-Toledo, Sp. z o.o., PL-02-822 Warszawa
Tel. (22) 545 06 80, Fax (22) 545 06 88
Mettler-Toledo C.I.S. AG, 10 1000 Moskau
Tel. (095) 921 92 11, Fax (095) 921 78 68
Mettler-Toledo (S) Pte. Ltd., Singapore 139959
Tel. 65-6890 0011, Fax 65-6890 0012
Mettler-Toledo, SK-83103 Bratislava
Tel. (02) 4444 12 20-2, Fax (02) 4444 12 23
Mettler-Toledo, d.o.o., SI-1236 Trzin
Tel. (01) 530 8050, Fax (01) 562 1789
Mettler-Toledo S.A.E., E-08908 Barcelona
Tel. (93) 223 76 00, Fax (93) 223 76 01
Mettler-Toledo AB, S-12008 Stockholm
Tel. (08) 702 50 00, Fax (08) 642 45 62
Mettler-Toledo (Schweiz) GmbH, CH-8606 Greifensee
Tel. (044) 944 45 45, Fax (044) 944 45 10
Mettler-Toledo (Thailand) Ltd., Bangkok 10320
Tel. 66-2-723 0300, Fax 66-2-719 6479
Mettler-Toledo Pac Rim AG, Taipei
Tel. (2) 2657 8898, Fax (2) 2657 0776
Mettler-Toledo Ltd., Leicester, LE4 1AW
Tel. (0116) 235 70 70, Fax (0116) 236 5500
Mettler-Toledo, Inc., Columbus, OH 43240
Tel. 800-METTLER, Fax (614) 438 4900
Mettler-Toledo AG
PO Box VI-400, CH-8606 Greifensee
Tel. +41-44-944 22 11, Fax +41-44-944 31 70
Subject to technical changes
© 3/2008 Mettler-Toledo AG
Printed in Switzerland 11795606
www.mt.com/OEM-weighing
For more information
Quality certificates
Development, production and
testing under ISO 9001.
Environment management system
under ISO 14001.
"Communauté Européenne".
This mark assures you that our
products comply with the latest
guidelines.