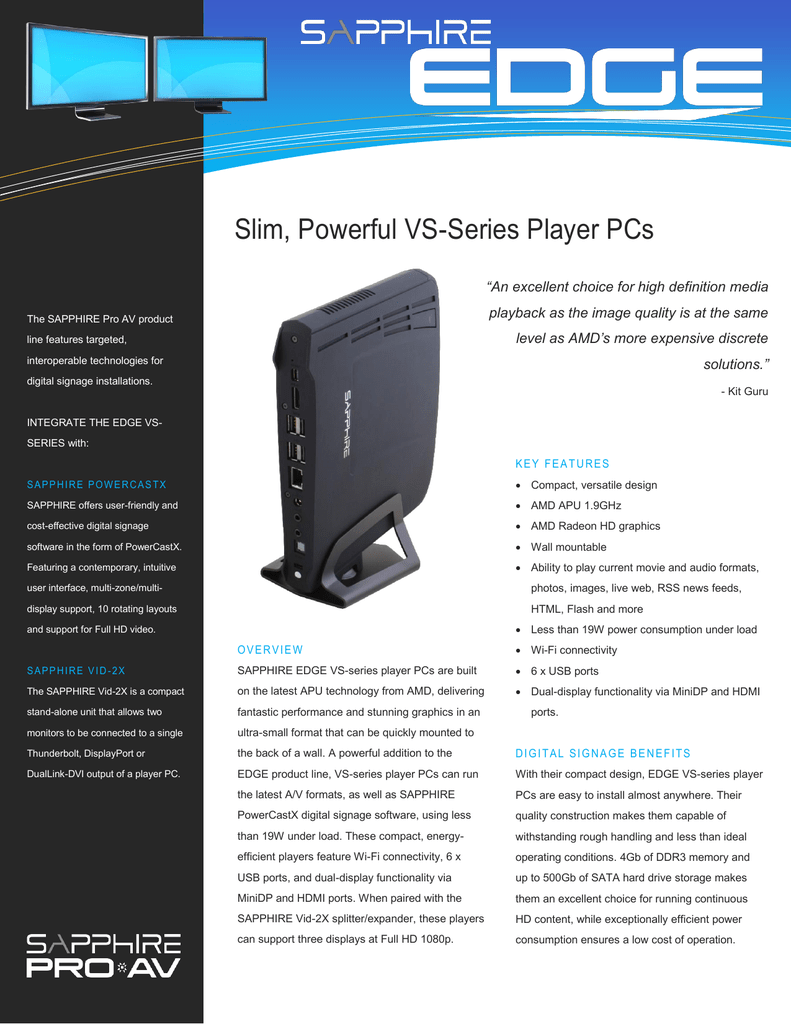 Slim, Powerful VS-Series Player PCs
"An excellent choice for high definition media
playback as the image quality is at the same
The SAPPHIRE Pro AV product
level as AMD's more expensive discrete
line features targeted,
interoperable technologies for
solutions."
digital signage installations.
- Kit Guru
INTEGRATE THE EDGE VSSERIES with:
KEY FEATURES
SAPPHIRE POWERCASTX
 Compact, versatile design
SAPPHIRE offers user-friendly and
 AMD APU 1.9GHz
cost-effective digital signage
 AMD Radeon HD graphics
software in the form of PowerCastX.
 Wall mountable
Featuring a contemporary, intuitive
 Ability to play current movie and audio formats,
user interface, multi-zone/multi-
photos, images, live web, RSS news feeds,
display support, 10 rotating layouts
HTML, Flash and more
 Less than 19W power consumption under load
and support for Full HD video.
OVERVIEW
 Wi-Fi connectivity
SAPPHIRE VID-2X
SAPPHIRE EDGE VS-series player PCs are built
 6 x USB ports
The SAPPHIRE Vid-2X is a compact
on the latest APU technology from AMD, delivering
 Dual-display functionality via MiniDP and HDMI
stand-alone unit that allows two
fantastic performance and stunning graphics in an
monitors to be connected to a single
ultra-small format that can be quickly mounted to
Thunderbolt, DisplayPort or
the back of a wall. A powerful addition to the
DIGITAL SIGNAGE BENEFITS
DualLink-DVI output of a player PC.
EDGE product line, VS-series player PCs can run
With their compact design, EDGE VS-series player
the latest A/V formats, as well as SAPPHIRE
PCs are easy to install almost anywhere. Their
PowerCastX digital signage software, using less
quality construction makes them capable of
than 19W under load. These compact, energy-
withstanding rough handling and less than ideal
efficient players feature Wi-Fi connectivity, 6 x
operating conditions. 4Gb of DDR3 memory and
USB ports, and dual-display functionality via
up to 500Gb of SATA hard drive storage makes
MiniDP and HDMI ports. When paired with the
them an excellent choice for running continuous
SAPPHIRE Vid-2X splitter/expander, these players
HD content, while exceptionally efficient power
can support three displays at Full HD 1080p.
consumption ensures a low cost of operation.
ports.
CONNECTION DIAGRAM
HDMI/DVI cable
MiniDP to DP cable
USB 2.0 cable
USB 3.0 cable
LAN cable
Power cable
Audio-in cable
Line-out cable
2 x HDMI/DVI Display
Vid-2X
Video
INTEGRATE THE EDGE VSSERIES with:
HDMI/DVI Display
USB Video
Wireless Mouse
Touch
USB
Keypad
SAPPHIRE POWERSCALE
EXTENDERS
SAPPHIRE's PowerScale HDMI over
CATx extenders have been designed
to ensure first-rate distribution of
uncompressed audio/video signals at
distances up to 330ft (100m).
Network
Power
Adapter
Microphone
Speakers
PRODUCT LINE
Player
CPU
Memory
Storage
Graphics
LAN
Wireless
For more information on the
SAPPHIRE Pro AV product line, visit
us on the web at:
www.sapphiretech.com/proav
Input / Output
Power Supply
Power Consumption
Dimensions (L x W x H)
Weight
Operating System
Accessories
EDGE VS8
EDGE VS4
AMD APU A8 1.9GHz Quad Core
AMD APU A4 1.9GHz Dual Core
2 x 2Gb DDR3 So-DIMM
500Gb SATA 2.5'' Hard Drive
320Gb SATA 2.5'' Hard Drive
AMD Radeon HD7600G
AMD Radeon HD7400G
10 / 100 / 1000 Mbps built-in Ethernet
802.11b/g/n built-in wireless network, built-in Bluetooth 3.0
1 x Mini DP, 1 x HDMI, 1 x RJ-45, 4 x USB 2.0, 2 x USB 3.0, 1 x audio-in, 1 x line-out, 1 x
optical SPDIF, 1 x SD card reader
100 – 240V AC / 19V DC
65W (max)
7.8" x 7.2" x 1.2" 198 x 182 x 32mm
23.7oz / 660g
Pre-installed Free DOS
1 x HDMI cable, 1 x HDMI to DVI adapter, 1 x Quick Install Guide, 1 x chassis stand, 1 x
power cable, 1 x power adapter, 1 x driver CD, 1 x optical SPDIF cable, 1 x VESA mount
© 2013 SAPPHIRE Technology Limited.
All names are for informational purposes only and may be trademarks of their respective owners. Features, performance and product specifications may vary by
operating environment and are subject to change without notice. Products may not be exactly as shown.