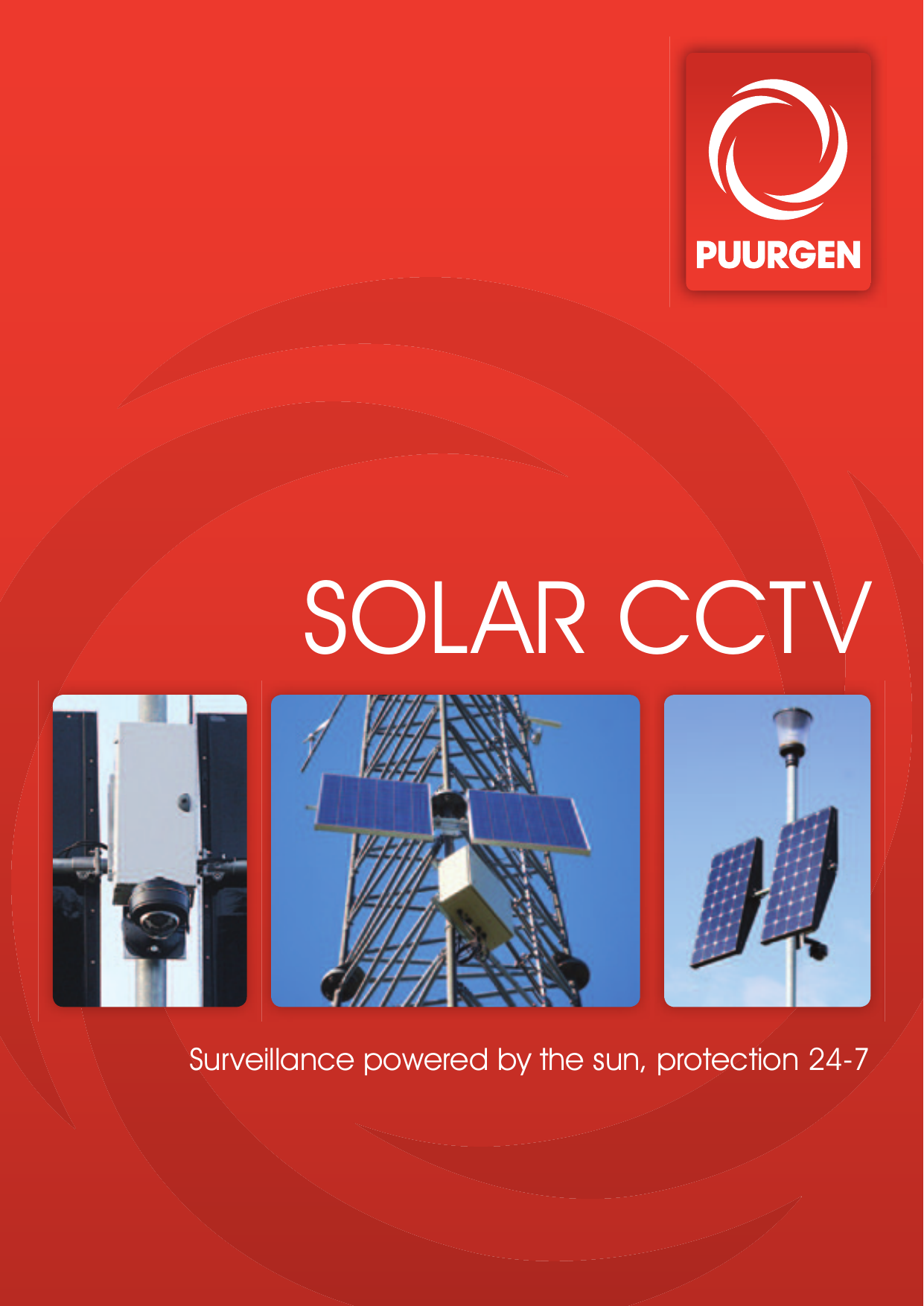 SOLAR CCTV
Surveillance powered by the sun, protection 24-7
SOLAR CCTV
Puurgen's Solar CCTV solutions provide 24-7 surveillance in remote and off-grid
locations. Scalable power systems, each using Puurgen's maximum power point
tracker technology, provide power for analogue and IP fixed and PTZ camera
systems.
KEY FEATURES
Off-grid Surveillance
Rapidly deployable
Continuous secure energy supply
VPN access to real-time video
Rugged design for all weather types
Suited to most environments – marine, land-based etc
2.4GHz P2P wireless or 3G transmission
Analogue and IP Fixed and PTZ camera options
Battery under & over voltage protection
Low maintenance
24 hour support available
24 hour monitoring (if using VPN)
Service contracts available
Systems can be tailored for customer requirements
Technical Description
Puurgen's Solar CCTV solutions open new possibilities for surveillance by using leading-edge
technology to offer up to 100W of continuous power. Our solar power engine can supply the
energy required by most CCTV camera and transmission combinations.
Solar CCTV stores energy from the sun during daylight hours to enable the system to operate
throughout the night, keeping your business or home secure.
Puurgen's Solar CCTV solutions are customised to solve the specific challenges faced by our
clients. Be it flytipping, theft of tools on construction sites, or simply surveillance in remote
locations, our solar power engines are sized to ensure the camera and transmission devices
remain operational 24-7 providing the protection you need.
www.puurgen.com
Solar Power System
Puurgen Maximum Power Point Tracking for high efficiency energy transfer
Capability to operate 24-7
Mono-crystalline, polycrystalline or thin film solar pv available
Completely scalable to suit the chosen camera + transmission solution and the geographical
location
Designed to operate globally in harsh and friendly environments
IP66 rated
Silent operation
Energy Storage & Conditioning
Maximises energy extraction from power source
Puurgen's charge regime prolongs battery life
Wide input operating range
>95% efficiency
Supports Lead-acid and Li-ion battery technologies
Camera
Day/Night continuous operation
Integrated IR options available
Analogue or IP, fixed or PTZ available
IP66 rated
Built in storage card option
Automatic, manual and programmable mode settings
Tamper detection
Live viewing for multiple operators/users
Mechanical
Rugged solution designed to withstand severe weather conditions
System rated to IP66 dust and water ingress protection
Deployable to most structures with no drilling required
System
Monitor locations with no power or fixed line communications infrastructure,
and record video to NVR, or integrate footage into existing CCTV network.
VPN channel to allow user access to real time video
SOLAR CCTV
Technical Specifications
SOLAR PANELS
CAMERA – TYPICAL VALUES
Min
Max
Units
Notes
Vmp
18
35.4
V
Depends on
panel type
Voc
22
44
V
Power
140
280
Height
1478
Width
Thickness
Nom
Units
Operating
voltage
12
V
Depends on
panel type
Power
4
W
Length
170
mm
W
Depends on
panel type
Diameter
60
mm
1956
mm
Depends on
panel type
Weight
0.7
kg
Op temp
-20 to +50
°C
670
992
mm
Depends on
panel type
Image sensor
1/4" CMOS
N/A
35
50
mm
Depends on
panel type
Resolution
1280 x 800
pixels
Angle of
view
H: 56, V: 41,
Dia: 71
°
Weight
16
30
Op temp
-40 to +85
kg
Depends on
panel type
°C
Camera Options (others available)
Notes
BATTERIES – TYPICAL VALUES
Nom
Units
Notes
Op voltage
12
V
Scaling possible
Day/night Vandal Proof Dome Camera with
DNR
Capacity
240
Wh
Per pack
Length
173
mm
IP Compact Dome Camera with Virtual PTZ, 3
Mega Pixel Image Resolution and Built in NVR
Depth
87
mm
Height
155
mm
Weight
6.8
kg
PTZ Dome with 18x optical zoom *
Solar Power System Options
NVR Options
250GB on board NVR*
Wireless Options
Long Range RF Transmission, up to 5km
Available separately
Hybrid solar/wind power systems
Different power and voltage ratings available,
dependent on your needs, please enquire
Encrypted Wireless Ethernet up to 30 miles
GPRS/ 3G / HSDPA Communications –highspeed cellular data link with no location
constraints
* Please note that these systems may require a higher rated solar power system, dependent on location
Mirren Court One, 119 Renfrew Road, Paisley PA3 4EA, UK
t: + 44 (0) 844 573 8480 e: [email protected]
www.puurgen.com
Registered in Scotland No. SC285287 at 123 St Vincent Street Glasgow G2 5EA.
This datasheet is not contractual and can be changed without notice. Last updated 09/02/2011.
Copyright (c) 2011 Puurgen Ltd. All rights reserved.

* Your assessment is very important for improving the work of artificial intelligence, which forms the content of this project