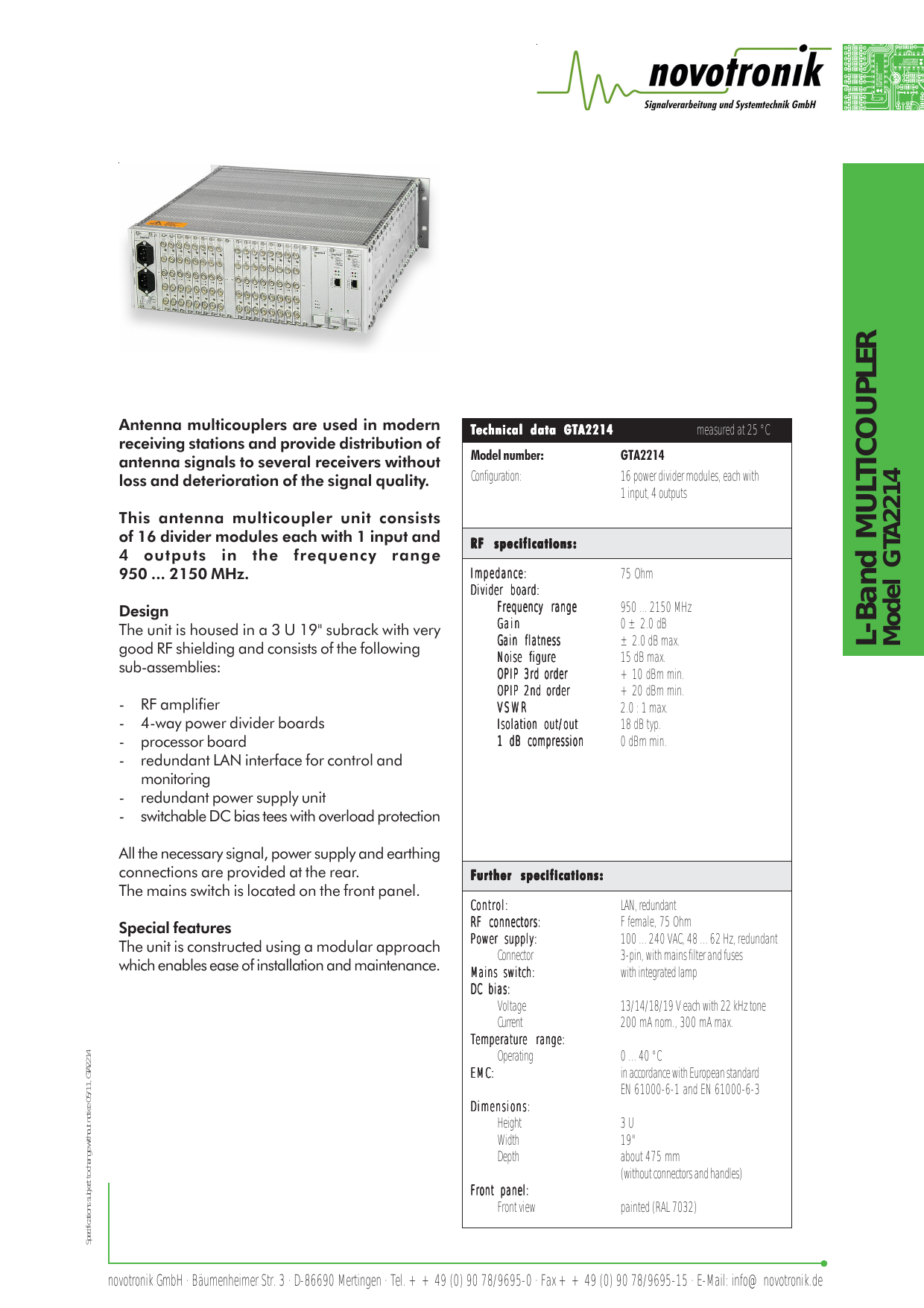 Design
The unit is housed in a 3 U 19" subrack with very
good RF shielding and consists of the following
sub-assemblies:
-
RF amplifier
4-way power divider boards
processor board
redundant LAN interface for control and
monitoring
redundant power supply unit
switchable DC bias tees with overload protection
All the necessary signal, power supply and earthing
connections are provided at the rear.
The mains switch is located on the front panel.
Specifications subject to change without notice 05/11, GTA2214
Special features
The unit is constructed using a modular approach
which enables ease of installation and maintenance.
measured at 25 °C
Model number:
GTA2214
Configuration:
16 power divider modules, each with
1 input, 4 outputs
RF specifications:
Impedance:
Divider board:
Frequency range
Gain
Gain flatness
Noise figure
OPIP 3rd order
OPIP 2nd order
VSWR
Isolation out/out
1 dB compression
75 Ohm
950 ... 2150 MHz
0 ±2.0 dB
±2.0 dB max.
15 dB max.
+10 dBm min.
+20 dBm min.
2.0 : 1 max.
18 dB typ.
0 dBm min.
Further specifications:
Control:
RF connectors:
Power supply:
Connector
Mains switch:
DC bias:
Voltage
Current
Temperature range:
Operating
EMC:
Dimensions:
Height
Width
Depth
Front panel:
Front view
LAN, redundant
F female, 75 Ohm
100 ... 240 VAC, 48 ... 62 Hz, redundant
3-pin, with mains filter and fuses
with integrated lamp
13/14/18/19 V each with 22 kHz tone
200 mA nom., 300 mA max.
0 ... 40 °C
in accordance with European standard
EN 61000-6-1 and EN 61000-6-3
3U
19"
about 475 mm
(without connectors and handles)
painted (RAL 7032)
novotronik GmbH · Bäumenheimer Str. 3 · D-86690 Mertingen · Tel. ++49 (0) 90 78/9695-0 · Fax ++49 (0) 90 78/9695-15 · E-Mail: [email protected]
Model GTA2214
This antenna multicoupler unit consists
of 16 divider modules each with 1 input and
4 outputs in the frequency range
950 ... 2150 MHz.
Technical data G
GTT A2214
L-Band MULTICOUPLER
Antenna multicouplers are used in modern
receiving stations and provide distribution of
antenna signals to several receivers without
loss and deterioration of the signal quality.

* Your assessment is very important for improving the work of artificial intelligence, which forms the content of this project