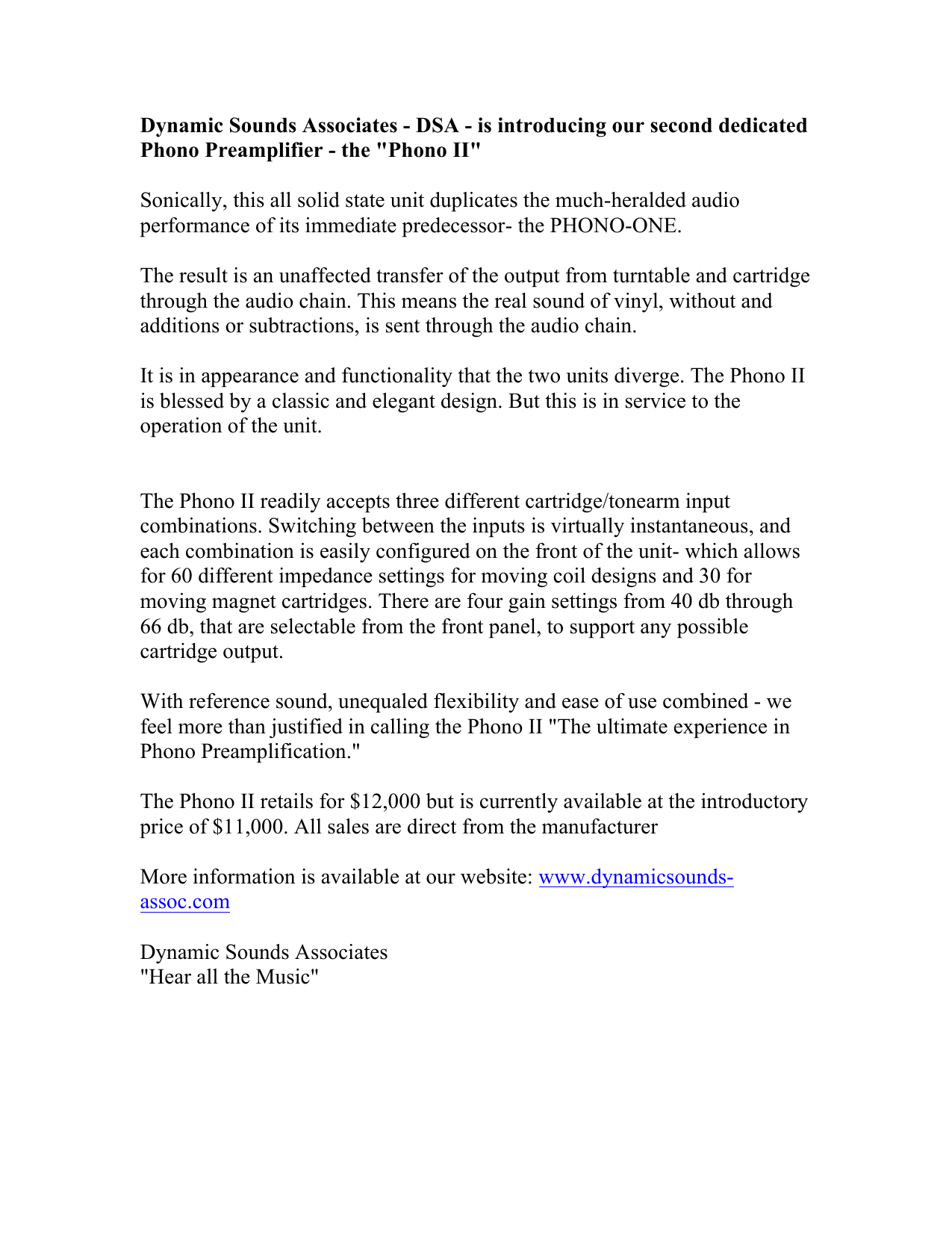 Dynamic Sounds Associates - DSA - is introducing our second dedicated
Phono Preamplifier - the "Phono II"
Sonically, this all solid state unit duplicates the much-heralded audio
performance of its immediate predecessor- the PHONO-ONE.
The result is an unaffected transfer of the output from turntable and cartridge
through the audio chain. This means the real sound of vinyl, without and
additions or subtractions, is sent through the audio chain.
It is in appearance and functionality that the two units diverge. The Phono II
is blessed by a classic and elegant design. But this is in service to the
operation of the unit.
The Phono II readily accepts three different cartridge/tonearm input
combinations. Switching between the inputs is virtually instantaneous, and
each combination is easily configured on the front of the unit- which allows
for 60 different impedance settings for moving coil designs and 30 for
moving magnet cartridges. There are four gain settings from 40 db through
66 db, that are selectable from the front panel, to support any possible
cartridge output.
With reference sound, unequaled flexibility and ease of use combined - we
feel more than justified in calling the Phono II "The ultimate experience in
Phono Preamplification."
The Phono II retails for $12,000 but is currently available at the introductory
price of $11,000. All sales are direct from the manufacturer
More information is available at our website: www.dynamicsoundsassoc.com
Dynamic Sounds Associates
"Hear all the Music"

* Your assessment is very important for improving the work of artificial intelligence, which forms the content of this project