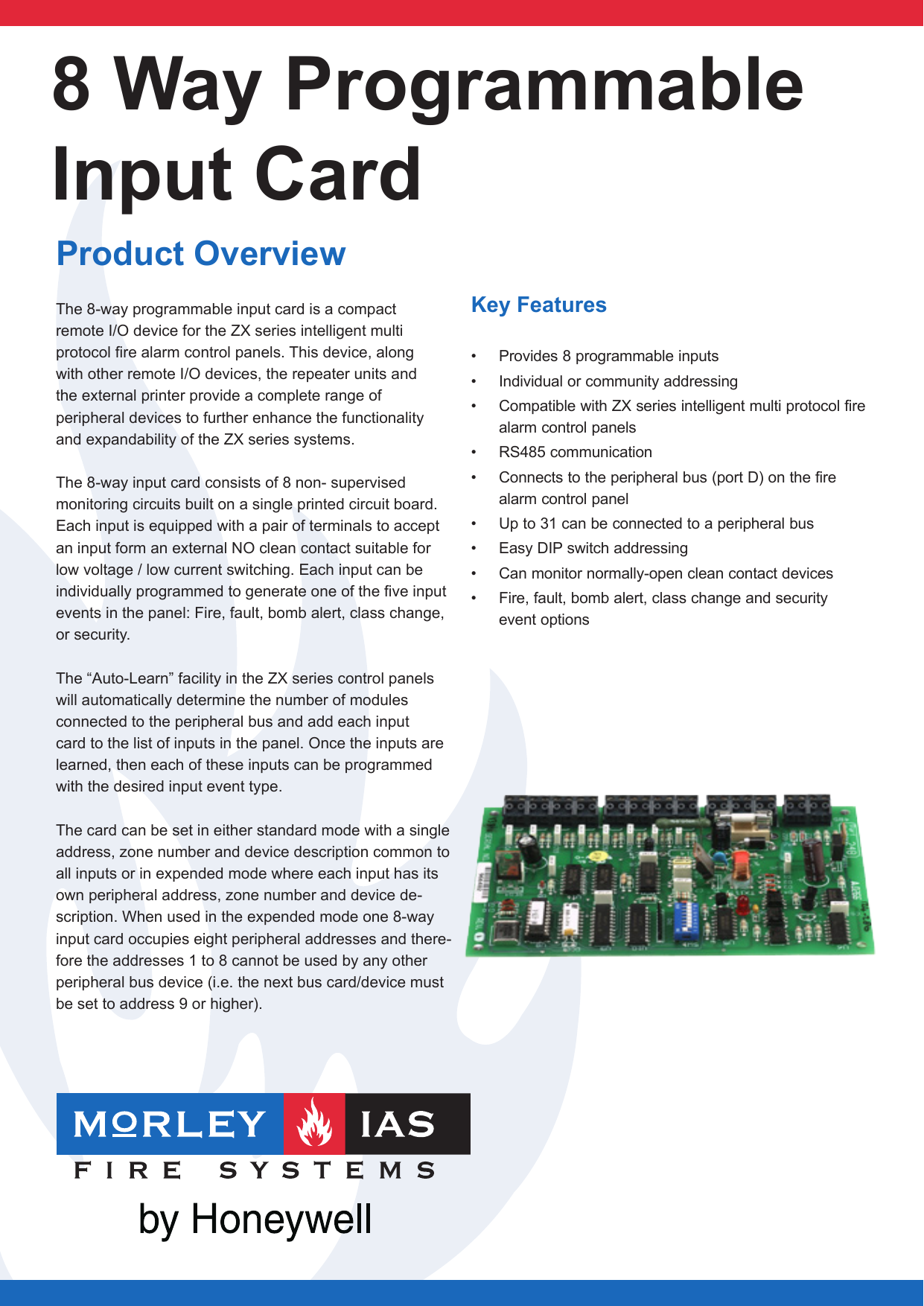 8 Way Programmable
Input Card
Product Overview
The 8-way programmable input card is a compact
remote I/O device for the ZX series intelligent multi
protocol fire alarm control panels. This device, along
with other remote I/O devices, the repeater units and
the external printer provide a complete range of
peripheral devices to further enhance the functionality
and expandability of the ZX series systems.
The 8-way input card consists of 8 non- supervised
monitoring circuits built on a single printed circuit board.
Each input is equipped with a pair of terminals to accept
an input form an external NO clean contact suitable for
low voltage / low current switching. Each input can be
individually programmed to generate one of the five input
events in the panel: Fire, fault, bomb alert, class change,
or security.
The "Auto-Learn" facility in the ZX series control panels
will automatically determine the number of modules
connected to the peripheral bus and add each input
card to the list of inputs in the panel. Once the inputs are
learned, then each of these inputs can be programmed
with the desired input event type.
The card can be set in either standard mode with a single
address, zone number and device description common to
all inputs or in expended mode where each input has its
own peripheral address, zone number and device description. When used in the expended mode one 8-way
input card occupies eight peripheral addresses and therefore the addresses 1 to 8 cannot be used by any other
peripheral bus device (i.e. the next bus card/device must
be set to address 9 or higher).
Key Features
•
Provides 8 programmable inputs
•
Individual or community addressing
•
Compatible with ZX series intelligent multi protocol fire
alarm control panels
•
RS485 communication
•
Connects to the peripheral bus (port D) on the fire
alarm control panel
•
Up to 31 can be connected to a peripheral bus
•
Easy DIP switch addressing
•
Can monitor normally-open clean contact devices
•
Fire, fault, bomb alert, class change and security
event options
The 8-way programmable input card requires a 24 V to
28 Vdc external power supply to operate. This may be
taken from the auxiliary power supply output on the ZX
series control panel or any other suitable DC supply of
suitable voltage and current rating.
Electrical:
The 8-way input card connects to the ZX series control
panel via the RS485 peripheral port (port D). An RS485
communication card must be fitted in the ZX series fire
alarm control panel for that purpose.
Stand by: 65mA (all inputs open)
Alarm (max): 97mA (all inputs closed)
Addressing: DIP switch (1-126)
The RS485 peripheral address is set via an onboard
DIP switch and other peripherals can be daisy chained
together on the same line. Up to a maximum of 31 input
points can be used on a peripheral bus. This number is
reduced when any other peripheral devices are used on
the same bus.
Terminals: Maximum cable cross
sectional area 2.5 mm2 (13 AWG) removable block
Peripheral bus: Maximum bus length:
1,200m (3937 ft) Operating Voltage: 24 to 28 Vdc
Current consumption (typical at 24Vdc):
Recommended cable: Belden 8760 or equivalent twisted shielded pair.
Mechanical:
Dimensions (HxWxD): 113 x 160 x 22 mm
Weight: 120 gr. (4 oz)
Operating temperature: 0°C to 49°C
Note: 150 Ohm end-of-line resistors required at both ends of the RS485 circuit.
Humidity: 10% to 93% non- condensing
Part Numbers:
Description
Order Codes
EN54
8-way programmable input
card
795-029
Other accessories:
RS485 communication module. 795-004-001
Hi-485 high integrity module. 795-038-001
Every care has been taken in the preperation of this datasheet but no liability can be accepted for the use of the
information therein. Design features may be changed or amended without prior notice. © Morley-IAS by Honeywell 2014
Caburn House
T: +44 (0) 1273 897 000
2B Brooks Road
F: +44 (0) 1273 376 894
Lewes, E. Sussex
E:[email protected]
BN7 2BY UK
www.morley-ias.co.uk
DOC REF: MIAS
8wayprogicard 0514
For further details on these or any other Morley-IAS
products please contact your local distributor, MorleyIAS Business Manager or via our contact details found
below. Morley-IAS by Honeywell - Providing a control
panel solution, for fire industry professionals, committed
to supporting our device partners.

* Your assessment is very important for improving the work of artificial intelligence, which forms the content of this project