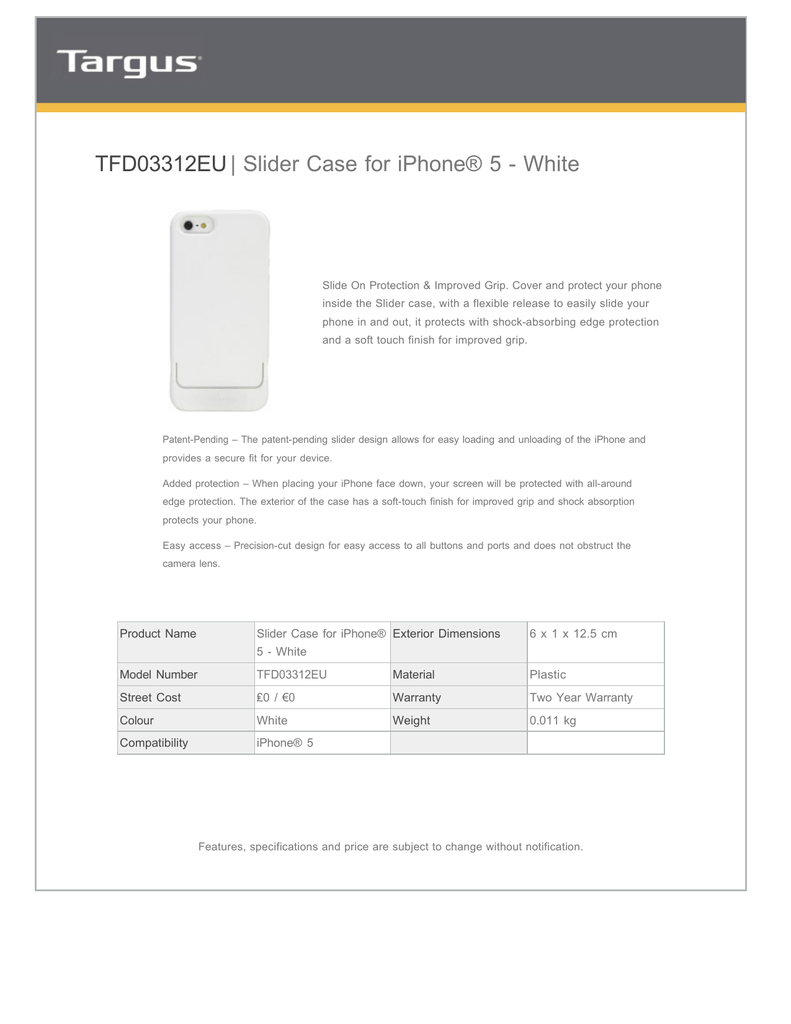 TFD03312EU | Slider Case for iPhone® 5 - White
Slide On Protection & Improved Grip. Cover and protect your phone
inside the Slider case, with a flexible release to easily slide your
phone in and out, it protects with shock-absorbing edge protection
and a soft touch finish for improved grip.
Patent-Pending – The patent-pending slider design allows for easy loading and unloading of the iPhone and
provides a secure fit for your device.
Added protection – When placing your iPhone face down, your screen will be protected with all-around
edge protection. The exterior of the case has a soft-touch finish for improved grip and shock absorption
protects your phone.
Easy access – Precision-cut design for easy access to all buttons and ports and does not obstruct the
camera lens.
Product Name
Slider Case for iPhone® Exterior Dimensions
6 x 1 x 12.5 cm
5 - White
Model Number
TFD03312EU
Material
Plastic
Street Cost
₤0 / €0
Warranty
Two Year Warranty
Colour
White
Weight
0.011 kg
Compatibility
iPhone® 5
Features, specifications and price are subject to change without notification.

* Your assessment is very important for improving the work of artificial intelligence, which forms the content of this project