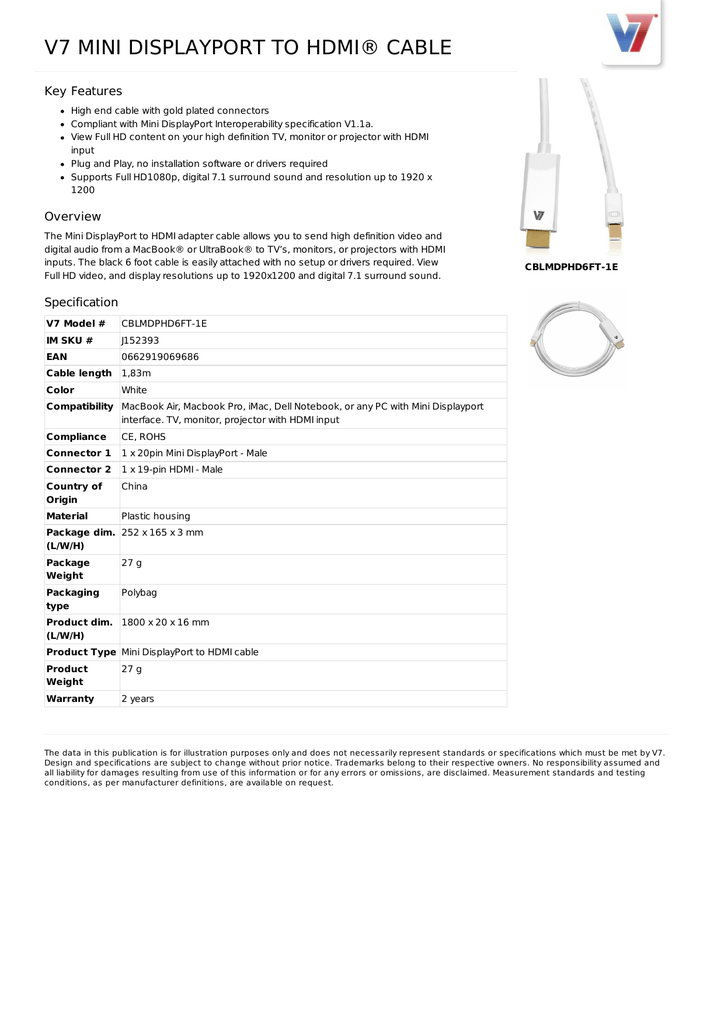 V7 MINI DISPLAYPORT TO HDMI® CABLE
Key Features
High end cable with gold plated connectors
Compliant with Mini DisplayPort Interoperability specification V1.1a.
View Full HD content on your high definition TV, monitor or projector with HDMI
input
Plug and Play, no installation software or drivers required
Supports Full HD1080p, digital 7.1 surround sound and resolution up to 1920 x
1200
Overview
The Mini DisplayPort to HDMI adapter cable allows you to send high definition video and
digital audio from a MacBook® or UltraBook® to TV's, monitors, or projectors with HDMI
inputs. The black 6 foot cable is easily attached with no setup or drivers required. View
Full HD video, and display resolutions up to 1920x1200 and digital 7.1 surround sound.
CBLMDPHD6FT-1E
Specification
V7 Model #
CBLMDPHD6FT-1E
IM SKU #
J152393
EAN
0662919069686
Cable length
1,83m
Color
White
Compatibility MacBook Air, Macbook Pro, iMac, Dell Notebook, or any PC with Mini Displayport
interface. TV, monitor, projector with HDMI input
Compliance
CE, ROHS
Connector 1
1 x 20pin Mini DisplayPort - Male
Connector 2
1 x 19-pin HDMI - Male
Country of
Origin
China
Material
Plastic housing
Package dim. 252 x 165 x 3 mm
(L/W/H)
Package
Weight
27 g
Packaging
type
Polybag
Product dim. 1800 x 20 x 16 mm
(L/W/H)
Product Type Mini DisplayPort to HDMI cable
Product
Weight
27 g
Warranty
2 years
The data in this publication is for illustration purposes only and does not necessarily represent standards or specifications which must be met by V7.
Design and specifications are subject to change without prior notice. Trademarks belong to their respective owners. No responsibility assumed and
all liability for damages resulting from use of this information or for any errors or omissions, are disclaimed. Measurement standards and testing
conditions, as per manufacturer definitions, are available on request.

* Your assessment is very important for improving the work of artificial intelligence, which forms the content of this project