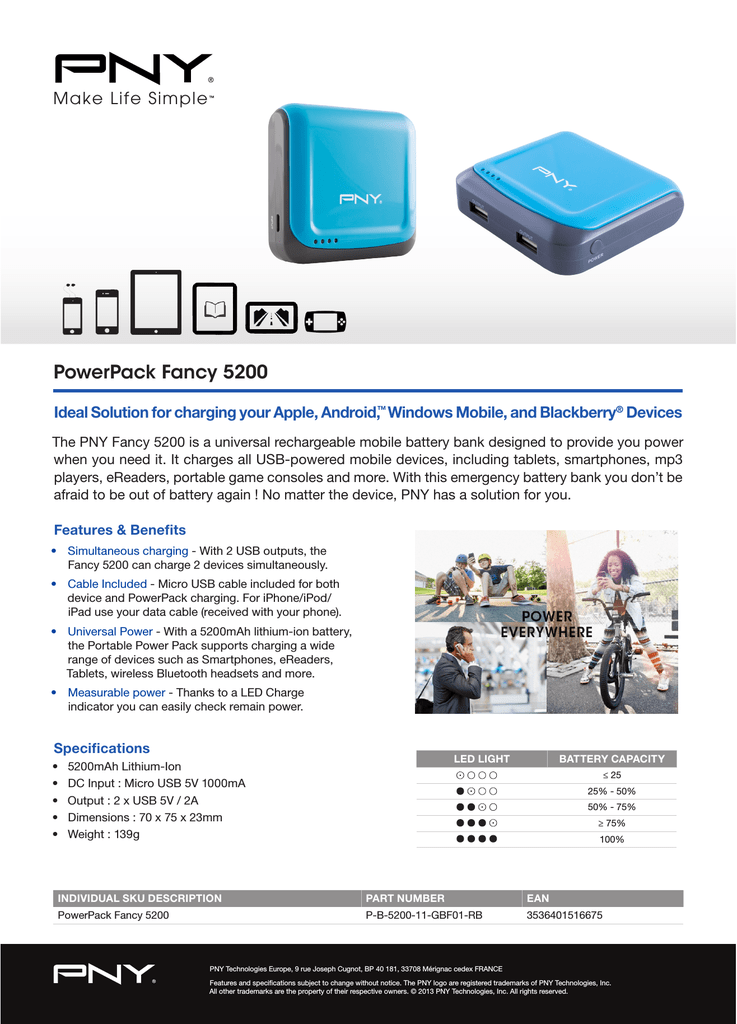 Make Life Simple
™
PowerPack Fancy 5200 Ideal Solution for charging your Apple, Android,™ Windows Mobile, and Blackberry® Devices
The PNY Fancy 5200 is a universal rechargeable mobile battery bank designed to provide you power
when you need it. It charges all USB-powered mobile devices, including tablets, smartphones, mp3
players, eReaders, portable game consoles and more. With this emergency battery bank you don't be
afraid to be out of battery again ! No matter the device, PNY has a solution for you.
Features & Benefits
• Simultaneous charging - With 2 USB outputs, the
Fancy 5200 can charge 2 devices simultaneously.
• Cable Included - Micro USB cable included for both
device and PowerPack charging. For iPhone/iPod/
iPad use your data cable (received with your phone).
• Universal Power - With a 5200mAh lithium-ion battery,
the Portable Power Pack supports charging a wide
range of devices such as Smartphones, eReaders,
Tablets, wireless Bluetooth headsets and more.
• Measurable power - Thanks to a LED Charge
indicator you can easily check remain power.
Specifications
•
•
•
•
•
LED LIGHT
5200mAh Lithium-Ion
DC Input : Micro USB 5V 1000mA
Output : 2 x USB 5V / 2A
Dimensions : 70 x 75 x 23mm
Weight : 139g
BATTERY CAPACITY
≤ 25
25% - 50%
50% - 75%
≥ 75%
100%
INDIVIDUAL SKU DESCRIPTION
PART NUMBER
EAN
PowerPack Fancy 5200
P-B-5200-11-GBF01-RB
3536401516675
PNY Technologies Europe, 9 rue Joseph Cugnot, BP 40 181, 33708 Mérignac cedex FRANCE
Features and specifications subject to change without notice. The PNY logo are registered trademarks of PNY Technologies, Inc.
All other trademarks are the property of their respective owners. © 2013 PNY Technologies, Inc. All rights reserved.

* Your assessment is very important for improving the work of artificial intelligence, which forms the content of this project