Toshiba STOR.E STEEL S 1.5TB Datasheet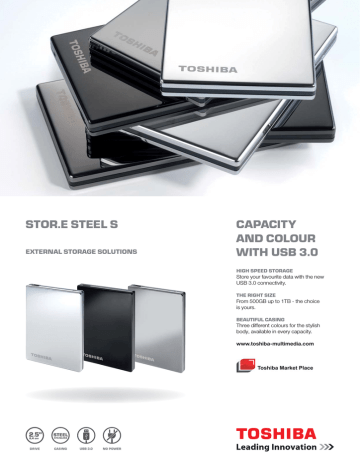 STOR.E STEEL S
EXTERNAL STORAGE SOLUTIONS
CAPACITY
AND COLOUR
WITH USB 3.0
HIGH SPEED STORAGE
Store your favourite data with the new
USB 3.0 connectivity.
THE RIGHT SIZE
From 500GB up to 1TB - the choice
is yours.
BEAUTIFUL CASING
Three different colours for the stylish
body, available in every capacity.
www.toshiba-multimedia.com
USB 3.0
MAIN FEATURES
High Speed USB 3.0 port
Available in 4 different capacities
Slim desing in 3 colours
Solid steel casing for data safety
MAIN SPECIFICATION
CAPACITY:
2.5" (6.4 cm): 500GB / 640GB / 750GB / 1TB /
1.5TB (available soon)
INTERFACE:
USB 3.0
INTERFACE TRANSFER
RATE:
Super Speed with 5.0 Gbps
ON-BUS POWER:
max. 900 mA
DIMENSION:
11(H) x 75.8(W) x 121.5(L) mm (<640GB)
13.8(H) x 75.8(W) x 121.5(L) mm (>750GB)
WEIGHT:
120g (<640GB)
190g (>750GB)
BOX CONTENT:
STOR.E STEEL S, USB 3.0 cable ("A" to Micro "B" 2,5"),
pouch, Quick Start Guide, Warranty Leaflet, pre-installed
User's Manual and Toshiba Market Place
COLOUR:
Silver, Black, Titanium
COLOURS
Silver
Black
Titanium
Dealer Stamp
www.toshibamarketplace.com
Copyright © 2011 TOSHIBA Corporation. All Rights Reserved. Product
specifications, configurations, prices and component / options availability are all subject to change without notice. Product design, specifications
and colours are subject to change without notice and may vary from those shown. Error and omissions excepted.

* Your assessment is very important for improving the workof artificial intelligence, which forms the content of this project