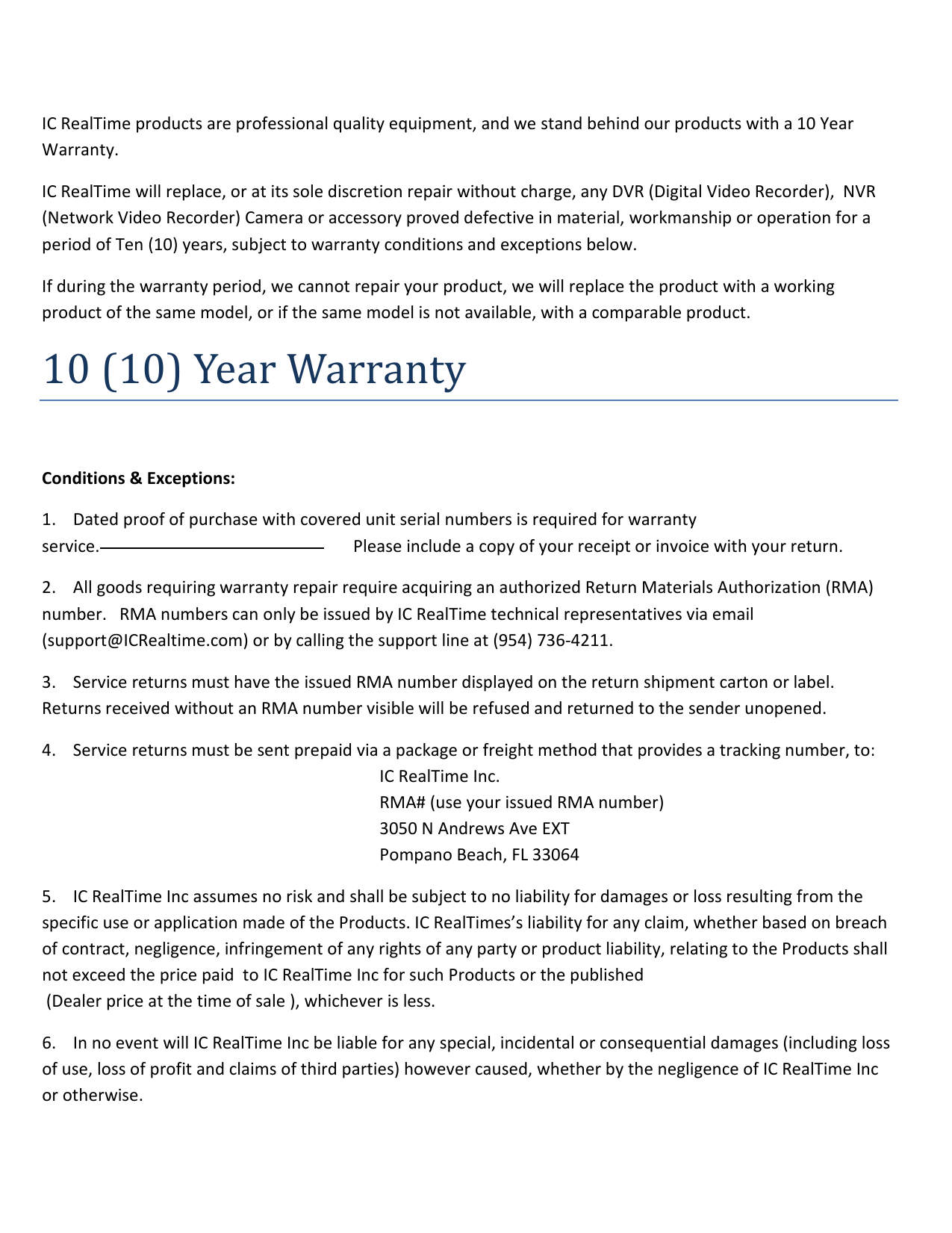 IC RealTime products are professional quality equipment, and we stand behind our products with a 10 Year
Warranty.
IC RealTime will replace, or at its sole discretion repair without charge, any DVR (Digital Video Recorder), NVR
(Network Video Recorder) Camera or accessory proved defective in material, workmanship or operation for a
period of Ten (10) years, subject to warranty conditions and exceptions below.
If during the warranty period, we cannot repair your product, we will replace the product with a working
product of the same model, or if the same model is not available, with a comparable product.
10 (10) Year Warranty
Conditions & Exceptions:
1. Dated proof of purchase with covered unit serial numbers is required for warranty
service.
Please include a copy of your receipt or invoice with your return.
2. All goods requiring warranty repair require acquiring an authorized Return Materials Authorization (RMA)
number. RMA numbers can only be issued by IC RealTime technical representatives via email
(support@ICRealtime.com) or by calling the support line at (954) 736-4211.
3. Service returns must have the issued RMA number displayed on the return shipment carton or label.
Returns received without an RMA number visible will be refused and returned to the sender unopened.
4. Service returns must be sent prepaid via a package or freight method that provides a tracking number, to:
IC RealTime Inc.
RMA# (use your issued RMA number)
3050 N Andrews Ave EXT
Pompano Beach, FL 33064
5. IC RealTime Inc assumes no risk and shall be subject to no liability for damages or loss resulting from the
specific use or application made of the Products. IC RealTimes's liability for any claim, whether based on breach
of contract, negligence, infringement of any rights of any party or product liability, relating to the Products shall
not exceed the price paid to IC RealTime Inc for such Products or the published
(Dealer price at the time of sale ), whichever is less.
6. In no event will IC RealTime Inc be liable for any special, incidental or consequential damages (including loss
of use, loss of profit and claims of third parties) however caused, whether by the negligence of IC RealTime Inc
or otherwise.
7. For warranty repaired or replaced products, IC RealTime Inc will warrant all replacement parts and repairs
for the remainder of the original warranty, or 90 days from the date of IC RealTime repair/replacement return
shipment, whichever is longer.
8. Service and warranty repairs are prorated from the end user date of purchase. For Four (4) years (48
months) after purchase IC RealTime covers 100% of replacement or repair costs. After 4 years (48 months),
replacement or repair value will prorate for normal wear & by .83 % per month from date of purchase through
the end of warranty period. Replacement, upgrade or repair charges are calculated at standard dealer or MSRP
pricing whichever is applicable . Warranty is non-transferrable.
9. Repairs made necessary by reason of misuse, alteration, or accident, or cosmetic damage such as finish
fading or scratches & scuffs are not covered under this warranty.
10. Exceptions, IR Rings (the illumination ring circuit board, LEDs and Components mounted on the board)
5200 RPM HD (Hard Drives) Both these components are cover for three (3) years.
After 36 months there is no warranty of any kind on these components.
11. This warranty is void if the product defect is caused by:
• Cracks and/or leaks caused as a result of abnormal normal wear and/or accident, vandalism or abuse;
• Use with non-IC RealTime Inc hardware products or software not licensed by IC RealTime Inc
(including but not limited to adaptors and power supply sources) or which are otherwise not compatible;
• Unauthorized modification or tampering; opening, disassembly, attempted repair, modified, or
alteration by other than IC RealTime Inc authorized repair centers.
• Damage by Acts of God, lighting, power surge, misuse, abuse, over exposure to the sun or elements,
negligence, accident, wear and tear, mishandling, misapplication, intrusion of or exposure to liquids, or other
causes unrelated to defective materials or workmanship;
• If serial number is defaced, altered, or removed;
• Malicious software, programs, data, viruses, or files;
• Use not in accordance with the accompanying documentation and use instructions; or
The above warranty provides the Dealer and consumer with specific legal rights. The Dealer or consumer may
also have additional rights, which are subject to variation from state to state.