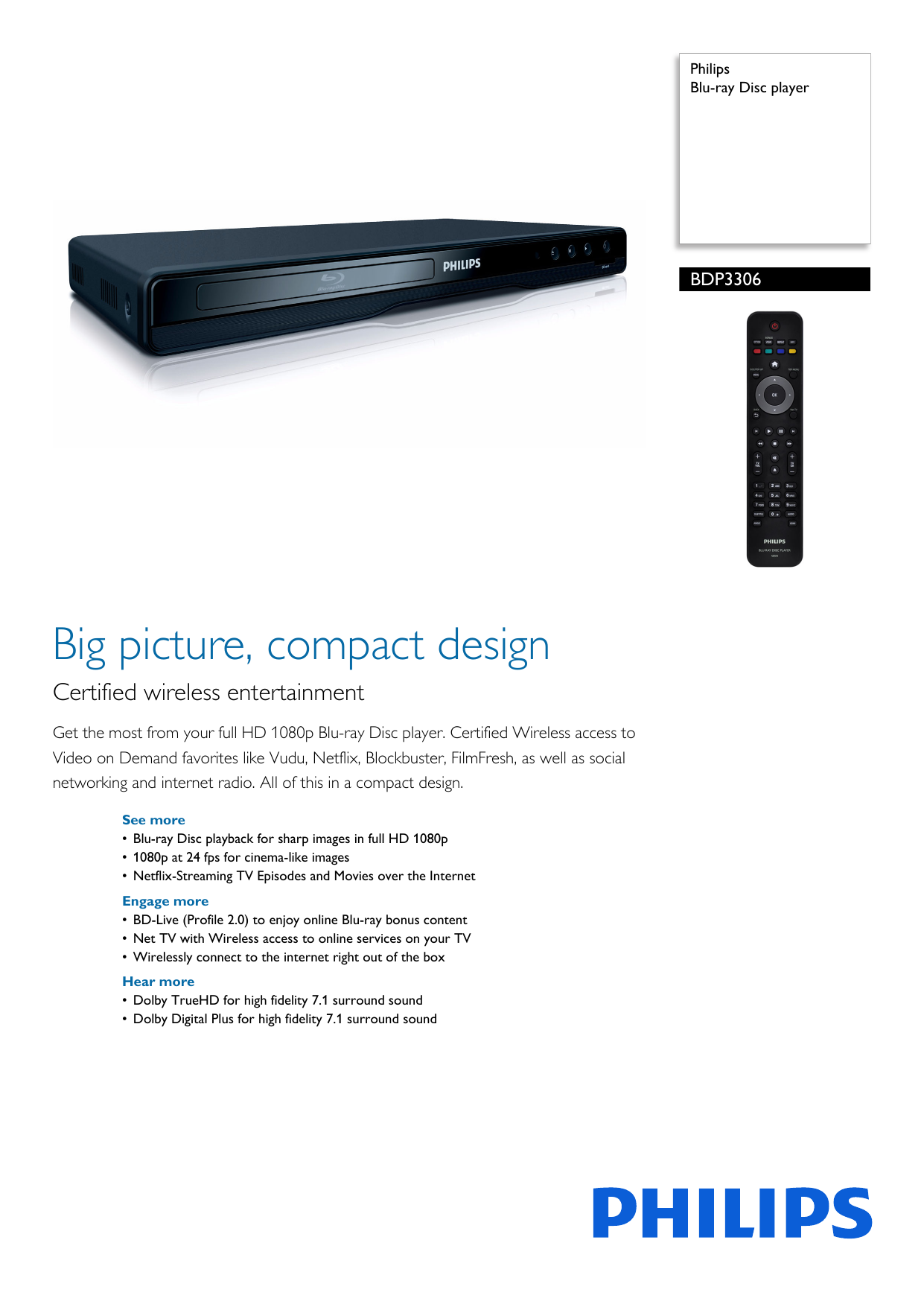 Philips
Blu-ray Disc player
BDP3306
Big picture, compact design
Certified wireless entertainment
Get the most from your full HD 1080p Blu-ray Disc player. Certified Wireless access to
Video on Demand favorites like Vudu, Netflix, Blockbuster, FilmFresh, as well as social
networking and internet radio. All of this in a compact design.
See more
• Blu-ray Disc playback for sharp images in full HD 1080p
• 1080p at 24 fps for cinema-like images
• Netflix-Streaming TV Episodes and Movies over the Internet
Engage more
• BD-Live (Profile 2.0) to enjoy online Blu-ray bonus content
• Net TV with Wireless access to online services on your TV
• Wirelessly connect to the internet right out of the box
Hear more
• Dolby TrueHD for high fidelity 7.1 surround sound
• Dolby Digital Plus for high fidelity 7.1 surround sound
BDP3306/F7
Blu-ray Disc player
Highlights
Net TV with Wireless
Experience a rich selection of online services
with Net TV wirelessly. Enjoy movies, pictures,
infotainment and other online content directly
on your TV whenever you like. Wirelessly
navigate and select what you want to watch
with the TV remote control. The Philips menu
gives you access to popular Net TV services
fitted for your TV screen.
1080p at 24 fps
Bring true cinema experience into your living
room with 24 frames-per-second video.
Original films are all recorded at this frame
rate, providing an ambience and image texture
that is so unique. Philips Blu-ray Disc players
are equipped to bring you 24fps directly from
Blu-ray Discs - thus giving you sensational
cinema-like high definition images that will
astound you.-
Dolby TrueHD
Dolby TrueHD delivers 7.1 channels of the
finest sound from your Blu-ray Discs. Audio
reproduced is virtually indistinguishable from
the studio master, so you hear what the
creators intended for you to hear. Dolby
TrueHD completes your high definition
entertainment experience.
and other exciting features like pop-up menus
bring a whole new dimension to home
entertainment.
Netflix
Blu-ray Disc playback
Blu-ray Discs have the capacity to carry high
definition data, along with pictures in the 1920
x 1080 resolution that defines full high
definition images. Scenes come to life as details
leap at you, movements smoothen and images
turn crystal clear. Blu-ray also delivers
uncompressed surround sound - so your audio
experience becomes unbelievably real. The
high storage capacity of Blu-ray Discs also
allow a host of interactive possibilities to be
built in. Seamless navigation during playback
Instantly watch TV episodes and movies as
often as you want on your Philips TV. All you
need is an internet connection (either Wi-Fi or
Ethernet) and a Netflix membership package
that includes streaming, and you are ready to
go.
Online Premium Video on Demand
Enjoy Premium movies wirelessly to your TV
from Vudu and Netflix. From the greatest
romantic classics to fast action movies, it's all
there at a push of a button from the comfort
of your sofa. Free yourselves from fixed
program timeslots, and watch what you like,
when you like.
BDP3306/F7
Blu-ray Disc player
Specifications
Picture/Display
• D/A converter: 12 bit / 150MHz
• Picture enhancement: Progressive scan, Video
upscaling, High Def (720p, 1080i, 1080p), Noise
Reduction
• Aspect ratio: 16:9, 4:3
Sound
• Sound System: Dolby Digital Plus, Dolby True HD,
DTS-HD Master Audio Essential
Video Playback
• Playback Media: CD-R/CD-RW, DVD-Video,
DVD-R/-RW, CD, DVD, BD Video, BD-R/RE 2.0,
BD-ROM
• Compression formats: MPEG2, H.264, AVCHD
• Video disc playback system: NTSC
• Disc Playback Modes: Angle, Disc Menu, Pause,
Repeat, Resume Playback from Stop, Skip, Search
forward/reverse, Slow Forward, Standard Play
• DVD Region.: 1
• Picture Quality Enhancements: Video upscaling
• Video Enhancement: Progressive Scan, Video
Upscaling
• BD Region: A
Audio Playback
• Playback Media: MP3-CD, CD-R/RW, CD, MP3DVD
• Compression format: MP3, PCM, Dolby Digital,
DTS
• Multichannel decoding: Dolby Digital
Still Picture Playback
• Playback Media: CD-R/RW, DVD-R/-RW, Kodak
Picture CD
• Picture Compression Format: JPEG
• Picture Enhancement: Slideshow, Rotate, Zoom,
High Definition Resolution
Multimedia Applications
• Playback Formats: JPEG Still pictures, MP3
Connectivity
• Rear Connections: Analog audio Left/Right out,
Composite video (CVBS) output, Digital coaxial
out, HDMI output, Ethernet
• Front / Side connections: SD-card (Videostore)
Convenience
• Child Protection: Parental Control
• OSD Languages: English, French, Spanish
Accessories
• Included accessories: Audio Cable, Quick start
guide, IFU / User Manual, Product Registration
Card, Remote Control, 2 x AAA Batteries
• User Manual: English, French, Spanish
Power
• Power supply: 120V, 60Hz
• Power consumption: 15 W
• Standby power consumption: 0.4W
Dimensions
• Set dimensions (W x H x D):
360 x 38.9 x 213.7 mm
• Packaging dimensions (W x H x D):
446 x 89 x 328 mm
• Weight incl. Packaging: 2.8 kg
• Set weight: 1.6 kg
•
Issue date 2014-07-15
© 2014 Koninklijke Philips N.V.
All Rights reserved.
Version: 2.5.2
Specifications are subject to change without notice.
Trademarks are the property of Koninklijke Philips N.V.
or their respective owners.
12 NC: 8670 000 72616
UPC: 6 09585 20541 3
www.philips.com
* In order to enjoy Internet services and content on your television,
broadband internet service is required Internet services and content,
picture quality and picture size may vary depending on your
broadband speed. For best results, your broadband speed should be
at least 2.5 Mbps for SD content
* Internet content displayed on your television is made available by
Third Party Providers who reserve the right to change and/or
terminate such content at any time with or without notice.
Additional fees and/or PC registration may be required in order to
receive Premium content.