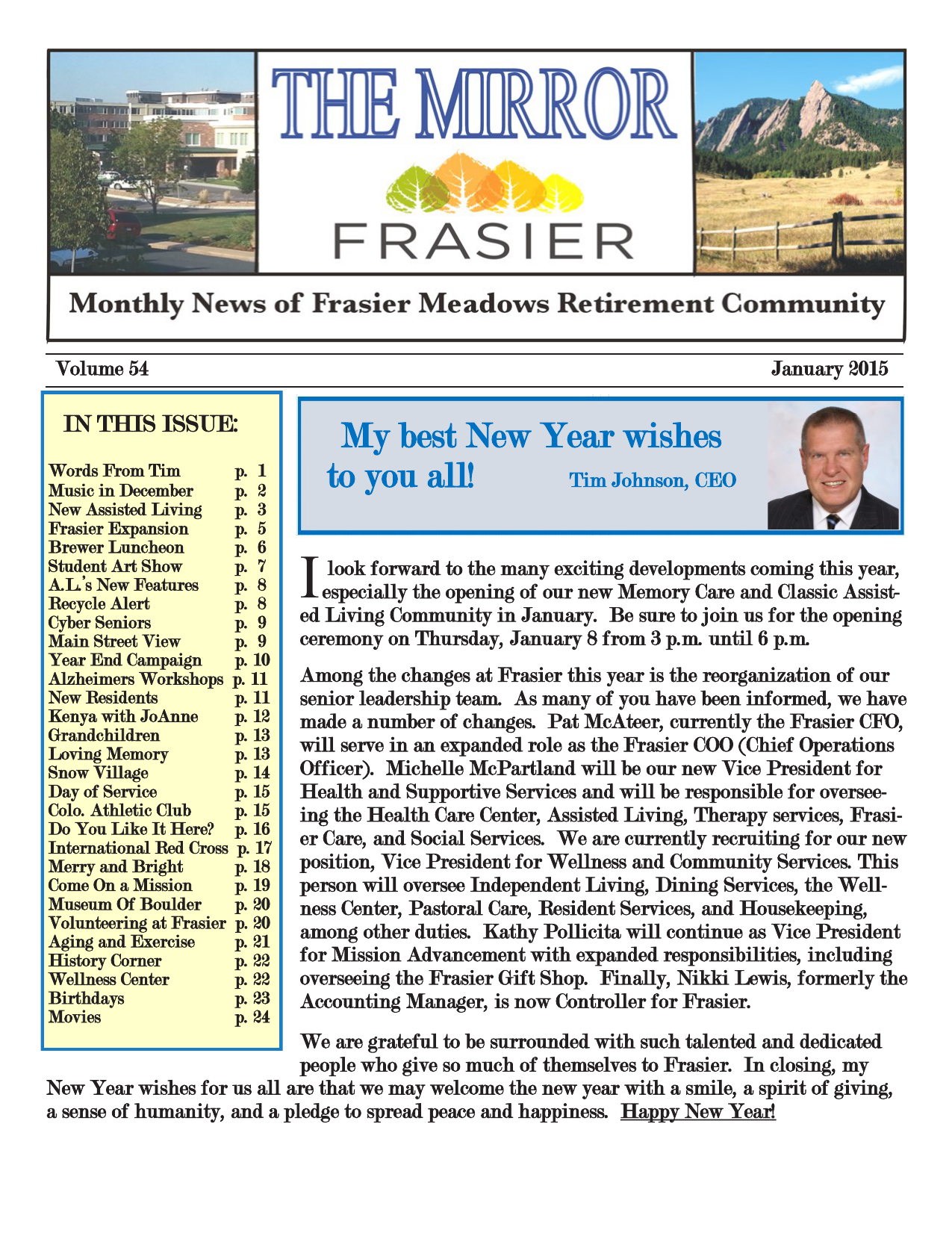 THE MIRROR
January 2015
Volume 54
January 2015
IN THIS ISSUE:
Words From Tim
p. 1
Music in December
p. 2
New Assisted Living
p. 3
Frasier Expansion
p. 5
Brewer Luncheon
p. 6
Student Art Show
p. 7
A.L.'s New Features
p. 8
Recycle Alert
p. 8
Cyber Seniors
p. 9
Main Street View
p. 9
Year End Campaign
p. 10
Alzheimers Workshops p. 11
New Residents
p. 11
Kenya with JoAnne
p. 12
Grandchildren
p. 13
Loving Memory
p. 13
Snow Village
p. 14
Day of Service
p. 15
Colo. Athletic Club
p. 15
Do You Like It Here? p. 16
International Red Cross p. 17
Merry and Bright
p. 18
Come On a Mission
p. 19
Museum Of Boulder
p. 20
Volunteering at Frasier p. 20
Aging and Exercise
p. 21
History Corner
p. 22
Wellness Center
p. 22
Birthdays
p. 23
Movies
p. 24
Page 1
My best New Year wishes
to you all!
Tim Johnson, CEO
I
look forward to the many exciting developments coming this year,
especially the opening of our new Memory Care and Classic Assisted Living Community in January. Be sure to join us for the opening
ceremony on Thursday, January 8 from 3 p.m. until 6 p.m.
Among the changes at Frasier this year is the reorganization of our
senior leadership team. As many of you have been informed, we have
made a number of changes. Pat McAteer, currently the Frasier CFO,
will serve in an expanded role as the Frasier COO (Chief Operations
Officer). Michelle McPartland will be our new Vice President for
Health and Supportive Services and will be responsible for overseeing the Health Care Center, Assisted Living, Therapy services, Frasier Care, and Social Services. We are currently recruiting for our new
position, Vice President for Wellness and Community Services. This
person will oversee Independent Living, Dining Services, the Wellness Center, Pastoral Care, Resident Services, and Housekeeping,
among other duties. Kathy Pollicita will continue as Vice President
for Mission Advancement with expanded responsibilities, including
overseeing the Frasier Gift Shop. Finally, Nikki Lewis, formerly the
Accounting Manager, is now Controller for Frasier.
We are grateful to be surrounded with such talented and dedicated
people who give so much of themselves to Frasier. In closing, my
New Year wishes for us all are that we may welcome the new year with a smile, a spirit of giving,
a sense of humanity, and a pledge to spread peace and happiness. Happy New Year!
THE MIRROR
W
January 2015
Page 2
Music in December at Frasier
e think of December as a month of gift
giving, and here at Frasier, we have had
an ongoing gift of music…not one style of music, but a wonderful variety of musical presentations. At the forefront we have the continuing relationship with the University of Colorado College of Music. Professor Margaret
McDonald of the collaborative music program
and our partner in the Percival Concert Series,
invited two promising pianists for the December concert. Graduate Student Joseph Piontek
and undergraduate Michael Short entertained
and stirred us with music from Beethoven,
Berg and Chopin. Two evenings earlier several
dozen Frasierites took the coach and cars to the
university to hear Ms. McDonald and several of
her colleagues perform music from Broadway
shows. Our relationship with the College of
Music expanded as students needed performing
areas and audiences for their degree qualifications. Again, Margaret McDonald selected outstanding
students to
perform
here, and
on December 5th violist Laura
Eakman
presented a
program of
Bach and
Shostakovich. On
the 12th
Bilinda
Lam Lou
(piano),
Bilinda Lam Lou Erica Echart
Summer
Laura Eakman
Lusk
(violin),
and Ethan Fallis, (cello), performed trios by
Beethoven and Mendelssohn. My wife, Nurit,
told me the concert was a wonderful combination of skill and enthusiasm, and the three students in the question period discussed the origins of their instruments. On Monday the 15th
was a highlight of the month of classical music. The brilliant seventeen-year-old cellist
Johannes Gray with collaborative pianist
Hsialo-Ling Lin gave a dazzling performance
of Debussy, Rachmaninov, Piazzolla, Dvorak,
and Sarasate. Again this year, on the evening
of the 23rd, Leann Ostercamp, who has been
Kevin Bunnell (MC) and Leann Ostercamp
performing for Frasier residents since she was
in high school and now as a Master of Music
student at Juilliard, brought us her musical
tour of Germany with pieces by Bach, Beethoven, Bernstein and Brahms. Her dynamic,
powerful program was a terrific capstone to a
month of music of the masters at Frasier.
However, not all the music of December was of
a classical bent. The Brassaholics, entertained
diners on the second floor dining room with
Christmas music to usher in the holiday season,
and on the following Sunday at noon, the
Mountain View United Methodist Church
Youth Choir enhanced the luncheon hour.
Residents Louise and Bob Dudley again this
year invited the CU Horn Studio under the direction of Professor Michael Thornton to perform an evening of Christmas music on Decem(Continued on page 6)
THE MIRROR
January 2015
Page 3
The New Assisted Living Shows its Face
A few nights before Christmas this reporter
donned his Pinkard hard hat and walked every foot of every room of the nearly finished
assisted living/memory care space.
Here are some ad lib impressions:
--The new main entrance. One comes through
the long-familiar south entrance doors and
sees a welcoming low-key reception desk that
is less a barrier than a guide to your destination.
Red walls surrounding stone fireplace
ments the clean feel of the fireplace.
Main entry with two-sided
fireplace in the distance
--Of course the center of interest at the entrance is the new two-sided free-standing fireplace. It seems distant, but inviting. The
whole structure is open to the room beyond. Of
a winter evening with the flames bespeaking
welcome warmth, a visitor will be drawn in.
--A second fireplace around the corner to the
left offers quite a different impression. It is
flanked by Chinese-red walls that set off its
light-colored stone work. Overhead hangs a
contemporary-styled chandelier that comple-
--A few steps past the fireplace brings us to the
new kitchen. The first impression is of a great
deal of very shiny stainless steel. Standing out
visually among the equipment is the large
commercial-style stove. It has gas burners, a
griddle and a grill, all within one structure.
There are the usual steel sinks, sprays and
countertops. The dishwasher is of mysterious
design yet to be revealed and, happily, there is
a walk-in cooler. The space is pretty tight, but
efficiently organized and beautiful—a fine
place to work.
--Temporary windows allow looking out into
the empty space of the yet to be completed
push-outs. Now the new concrete floors are
covered with construction debris and snow. A
skeletal outline of the shapes is formed by
gray steel beams. But with a little imagination one can see a welcoming dining area and
(Continued on page 4)
THE MIRROR
January 2015
(Continued from page 3)
Page 4
reveals a pleasant surprise—a flash of bright
chrome on the front loading washing and drying machines nestled in a closet. They will do
their work thoroughly and almost in silence.
--In every apartment, large and small, there
are beautifully tiled showers. And in addition,
for those needing help, there are two large
shower rooms with dressing areas and plenty of
benches.
--For those concerned about the comfort of
staff, the old health care offices near the south
entrance are still there. And there are several
public restrooms for staff and visitors.
Kitchen clean-up area
lounge. Architects drawings in the Frasier
front lobby show how the push-outs will look
when finished.
In summary, the two areas, assisted and
memory living, look clean, bright and inviting.
The promise that the new quarters will be a joy
for residents and an attractive destination for
visitors is already realized.
Note: A display of photographs from the new
facility is on the wall near the Gift Shop.
Kevin Bunnell
A view through one of the temporary windows
looking into the ~2,000 sq. ft. "push out" area
that will add to the great room and dinning
room space.
A side glance as one walks down the west hall
A common activity area in
Assisted Living—Memory Care
THE MIRROR
Page 5
January 2015
"We Didn't Expect FMRC Would Be That Strong"
Frasier Expansion Marketing and Analysis
A
t the December meeting of the Board of
Trustees of FMRC two presentations
were made of the data being considered in the
plans for expansion of the Frasier campus.
Elisabeth Borden of the Highland Group of
Boulder and Denver, a strategic research,
planning and marketing company, and David
Slack of ARI, a group which provides strategic
planning and financial projections to retirement communities, were present in person and
by phone to update the Board as it sets the
stage for the next generation's life at Frasier.
The program was heavy with data and information needed for the Board to make a final
decision on the future of FMRC.
According to Elisabeth Borden, Frasier's market area is the southern half of Boulder County where there are presently nine Independent
Living and nine Assisted Living facilities, six
Memory Care facilities, and five Skilled Nursing facilities. Only 20% of Frasier's residents
come from outside this area. Based on estimates of future population growth, an additional 172 Independent Living units, 160 Assisted Living units, and 185 Memory Care
units will be needed for Frasier's target population. Only two new retirement communities
are under construction in the Boulder area today; Morningstar on Table Mesa Drive will
provide Assisted Living and Memory Care,
Mainstreet Properties in Lafayette will offer
Skilled Nursing and Assisted Living. FRMC
has a strong advantage in the Boulder market.
The name alone is a "brand" with a great reputation. The scarcity of land for building in
Boulder makes it difficult for others to enter
the market. Frasier has stayed not only with
the times, but ahead of the times.
In order to build Frasier's projected 72 new
Independent Living apartments it will be necessary to secure 70% pre-leasing agreements. Its
leasing history suggests that new apartments
will be 85-100% pre-leased; Frasier now has the
longest wait list in its history with 194 people
waiting to move. Frasier offers high quality
and service. Its pricing is reasonable and in
line with other retirement communities, even
on the low side.
With these market indications and analysis of
our readiness on hand, David Slack of ARI
presented a thorough and number filled analysis of Frasier's financial present and future.
"We didn't expect it [the current status and projections] would be that strong," he said. The
market is there, the new facilities can sit on
site, all financial considerations are improving,
and the new additions will enhance the entire
Frasier community. The seventy-two new units
are key in terms of new revenue sources and
can easily support the new Centers. He projects
that FMRC will be better off financially with
expanded Independent Living apartments and
Performing Arts and Wellness Centers.
First, how do we stand financially in relation
to other retirement communities in the United
States? FMRC is A-rated in terms of its cash
reserves, ranking in the top 98% of all retirement communities, and probably the highest in
Colorado. Its cash reserves are $43,414,000, allowing it, if ever necessary, to operate for almost three years without any new influx of
money from entrance fees, monthly payments
or investments. Frasier's debt amounts to
$40,000,000; while payments seem high, it is
only because its debts are retired in 20 years.
Second, how does FMRC's financial profile
(Continued on page 16)
THE MIRROR
January 2015
(Continued from page 2)
ber 7; the music was familiar but with a brass
choir quite unique, and several of the perform-
The CU Horn Studio
ers told us about their studies and professional
ambitions. Again in keeping with the season, at
our Merry and Bright party, two very distinctive a cappella groups, one dressed in Victorian
costumes, sang traditional carols and the other,
a men's chorus belted out more boisterous ballads. For a change of pace the Timberliners
Barbershop Chorus performed in the Assembly
room. One of our own, soprano Janet Brewer
accompanied by Boulder's own Pat Holmberg
performed seasonal songs at the Women's
luncheon on Wednesday, the 17th. And to top it
off, we had Simon Kyeyune and friends' annual Christmas party with song and story on the
18th. December was decidedly a month of musical riches here at Frasier with something for
every taste: a climax of the old year and a hint
of what we can look forward to in 2015.
As a personal postscript: the thirteen people
who traveled with the Frasier coach to hear
Handel's complete Messiah presented by the
Colorado Bach Ensemble based in Ft. Collins,
were thrilled by an inspiring and uplifting performance of soloists, chorus and chamber orchestra.
Jim Wolf
Page 6
Janet Brewer Brings
Song To Women's Luncheon
In our sun-lit dining room, decorated with festive holiday greenery, Janet Brewer, an accomplished soprano who is a member of the
Boulder Chorale and a new resident of Frasier,
provided a stunning repertoire of nostalgic seasonal favorites, at the Women's Luncheon.
Her beautiful soprano voice lent to the audience's humming, singing along or listening,
with awe.. Pat Holmberg, a recognized piano
accompanist added to the fullness of presentation.
.
Janet sequenced her choice of songs, by starting with a song of anticipation "We need A
Little Christmas" followed by a selection of
songs mindful of biblical history and its spiritual impact on all connections with family
sentiments, and joy. All senses were touched
when Janet sang, "Do you Hear What I Hear?"
Janet ended her program with "Twelve Days
After Christmas," eliciting laughter as she used
comic gestures and exaggerated lyrics. Asked
how she practiced for her performance she
said, "Performance is the destination, and the
journey is the rehearsal preparation."
Janet comes to Frasier with an impressive history of singing in choirs since she was a child.
She was a member of the Central City Chorus
when she was at Colorado College. While pursuing her M.A at Miami University. She was
accepted at the Aspen Training Program. Her
most recent joy came in 2014 when she performed Handel's oratorio in Dublin, Ireland,
under the auspices of the Berkshire Choral
Festival. Thank you Janet and Pat for an
extraordinary picture of Christmas in song.
What a gift!
Laura Fischer
THE MIRROR
January 2015
Page 7
Student Art Show
I
n December all Frasier residents were invited
to the art gallery to enjoy a wonderful combination of art and music presented by students
from our local Horizon School. It proved to be a
delightful afternoon. Students from kindergarten to the sixth grade exhibited many impressive
examples of their work.
art was so colorful it just jumped off the wall.
We then saw that the first- and second-grade
children displayed a variety of subjects including trees, moons and sunflowers. They demonstrated their skill in handling water color.
The kindergarteners had drawn colorful self
portraits and each face wore a crown, a smile
and rosy cheeks. The portraits were priceless and
provided an interesting comparison with another
collection of sophisticated self portraits painted
by fifth and sixth grade artists. These students
were inspired by Andy Warhol and showed four
versions of their faces. Accompanying their portraits were student poems with color as a theme.
Their writing skills equaled their art ability.
Part of one poem read ...
"Orange playing in the night,
laughing, dancing with delight,
burning, scoring ever brighter,
sparks and embers turn to fire.
Red and purple, best of friends,
every second is a blend,
jumping to what sky they find,
they are never far behind."
Another project by the fifth and sixth graders
was a unique series titled "Rainbow Trees." This
Then the third and fourth graders came along
with a presentation of Southwest scenes as well
as an unusual group of animal pictures. These
cutout animal shapes were covered with bright
patterns and showed a very strong sense of design.
We then moved into the dining room for Christmas music and refreshments where we were
treated to some violin and flute solos and duets.
Some of the musicians were from the seventh
and eighth grade and the orchestra was composed of twenty-one students. The music was directed by their enthusiastic teacher, Dennis Sullivan. It should also be noted that the Horizon
art teacher is Kara Priest. How lucky these
children are to be in such good hands.
Jan Grenda
THE MIRROR
Page 8
January 2015
Assisted Living Residents Have More to Look
Forward to Than New Apartments
T
he December meeting of the Assisted Living Resident Council brought more than
the usual announcements of coming events,
and the now routine assurances about a movein date.
Here are some examples:

In addition to traditional menu favorites,
new items will be offered.

In Memory Care food will be cooked to order and available all day.

Assisted Living will enjoy amazing restaurant-style kitchen service. And the AL
dining staff will always be available, even
between meal times.

Manager Andy was asked if residents could
make special requests. The reply:
"Absolutely The chefs love special requests
and challenges that take them outside of
their daily routine."

One of AL residents' favorites is baked
goods by Donna Head. "Will Donna still
be baking"? they asked. Answer. "Donna
may bake some, but not right away." Chef
Jason is a former pastry chef and he will be
making individual birthday cakes from
scratch for AL residents."

One resident asked for smaller portions.
Andy encourages residents to specify their
preferences to their server when placing an
order.
Other AL news includes the announcement
that landscaping around the push-outs will
begin soon—believe it or not.
Also: Residents were again reminded that they
have access to a County-sponsored Ombudsman.
She is Bonnie Neighbors. Her special concerns
are residents' rights. She administers a list of
rights, and encourages people who have questions about them to call her at the Boulder
County Area Agency on Ageing at
303-441-1173.
Kevin Bunnell
RECYCLE ALERT
The new Eco-Cycle Guide that came a few
weeks ago has two important changes in the
recycling business.
 Under "Recycle" (p. 6). Large unperforated plastic boxes commonly used for salad
materials can now be recycled. They are
sturdier than berry boxes and resist crushing. Their flat lids, however, cannot be
recycled; please put them in Trash.
 Under "Compost" (p. 14). Dark-colored paper and envelopes can now be composted.
So can the light brown Kraft envelopes
with metal clips. With all of these items
please remove metallic parts.
THE MIRROR
Page 9
January 2015
Cyber Seniors
On the Friday before Christmas the six o'clock
PBS Nightly news carried a concluding story
that made a lot of Frasier Folk sit up and look
The View from
Main (Street)
by Jim Wolf
W
alking the corridors at Frasier can tell
you a lot about who lives in the long array of apartments. Of course, there are the
names, or name, on the door; that tells you
where someone you know lives. But then there
is the shelf; everyone of us has a shelf where we
receive packages, newspapers, the yellow sheets
announcing activities, and notices of all sorts
of special meetings, or letters from Tim.
Bruce MacKenzie with two mentors
twice. There before them were several familiar
residents solving computer problems with freshfaced teen agers from Boulder's New Horizons
School.
The film was from weekly sessions sponsored
by the school as one of its many innovative
programs to enrich the learning of students.
That's what we get, but what do we give in return? We share a bit of ourselves with what we
put on that shelf. It could be some artifact
from our travels, or a piece of artwork that says
something to us, or indeed a piece of art that
we have created ourselves or something as unusual as a bent bicycle wheel. Our shelf is a way
of telling passersby something about who we
are and something that we value. And that is a
value in itself. Each of us comes from a different place in life, geographically and professionally, and we are uniquely who we are. The
shelf is not just an inbox, it is an outbox of individuality.
Jim Wolf
help with commuter problems.
Diana Burnnell gets computer tips from one of
the students in the Cyber Seniors program.
Students who are good with computers and
who would like school credit for working with
seniors come to Frasier to give hard-to-come-by
After the holidays a new semester will begin,
and the Cyber Seniors program will continue.
For more information see Molly Briggs in Enrichment and Community Life.
Meanwhile, there is a poem on page 19 that explains the magnetism of the program for Frasier residents.
Kevin Bunnell
THE MIRROR
Page 10
January 2015
Happy New Year!
Thanks to all of you who gave to Frasier's Year
End Campaign to support the our New Assisted
Living and Memory Care Community which
will have a special dedication on Thursday,
January 8, 2015 from 3 p.m. to 6:00 p.m. You
and your friends are all invited to celebrate the
grand opening.
Colorado Gives Day raised over $26,000,000 for
area non-profits. Thanks to Frasier's residents,
Board, staff, families and community members
who supported us by making $4,500 in credit
card gifts on December 9th. Over $20,000 has
come in to date for Assisted Living and the total giving is coming close to $30,000. Please
consider making a gift if you haven't already
done so.
This year the funds raised for Assisted Living
will be used immediately for the following programs and items: We are working with Don
Galbranson of Bob's Piano to select a vintage
baby grand piano that will be enjoyed by our
residents and will be a pleasure to play by our
guest pianists. Members of the Geneva Percival
Fund for Music will help us with our selection.
A few new iPads will be used to support our
technology programs with brain exercises and
opportunities to communicate with out-oftown relatives for both Assisted Living Classic
and Memory Care residents. Additional funds
will be used to purchase new materials for the
library, the memory care garden, an aquarium, support for the Memories in the Making
and the Music and Memories programs, and
funds for staff education. All of these additions will enhance the lives of our residents in
our new Assisted Living community. Thank
you for making this possible.
Also, thanks to those of you who have made
gifts for staff scholarships, the Employee
Emergency Assistance Fund, and Spiritual
Life. As always your unrestricted gifts are
much appreciated.
With the opening of Assisted Living and the
approval of the Master Plan later in the year,
2015 will be an exciting year for Frasier.
Best wishes to you and your family in 2015.
Kathy Pollicita
Vice President for Mission Advancement
THE MIRROR
Alzheimer's Association Workshops:
The Nuts and Bolts Part II-B
O
n September 25th the Alzheimer's Association presented a free workshop at Frasier titled "Successful Communications." The information from that session is condensed here.
Communication and language changes that
may occur in the person with dementia:









Page 11
January 2015
Difficulty finding the right word
Using familiar words repeatedly
Inventing new words to describe familiar
objects
Easily losing train of thought
Difficulty organizing words logically
Reverting to speaking in a native language
Using foul language
Speaking less often
Relying on nonverbal gestures more often
It is the goal of the caregiver to preserve the
feelings, dignity and independence of the person with dementia while at the same time being vigilant of safety.
Questions in typical conversations seek information. When conversing with a person who
has dementia, look for the feeling behind the
question. For example, if a widow asks "Where
is my husband?" Instead of reminding the
woman of her husband's death, the caregiver
could begin a dialogue with "You love your
husband very much."
The Alzheimer's Association can help patients
and families by offering: information and referrals, family counseling, support groups, education programs, medic alert + safe return, trial match, and advocacy.
For more information call the Alzheimer's
Association 24/7 helpline at 1-800-272-3900
or visit www.alz.org/co on the web.
Isabelle Kessler
Enrichment and Community Life Coordinator
New Residents
M
oving from their
home in Louisville, CO and arriving in
FMRC apartment # 109FS are Pat Carney and
Charlie Anderson. Pat
was born in Ste. Genevieve, MO on April 30th. Charlie was born in
Minneapolis, MN on April 10th. Pat was a
history and art teacher and Charlie was a
mathematics teacher. Pat's interests are painting, history, art, travel, and nature. Charlie's
interests are travel, nature, hiking, and
bridge. Their new phone number is 720-5628072. We welcome Pat and Charlie to our
community!
M
oving from her
home in Lafayette, CO and arriving in
FMRC apartment # 475FC is Betty Campbell.
Betty was born at Patuxent River NAS, MD on
Sept. 7th. She was a registered dietician and
trainer. Her interests are fabric and needlecraft, walking, biking, reading, lectures, family time, and volunteering. She has two chilren , Jennifer in Louisville, CO and Brian in
Durango, CO. Her new phone number is 720562-8263. We welcome Betty to our commu-
Punography.
I tried to catch some fog. I mist.
When chemists die, they barium.
Jokes about German sausage are the wurst.
THE MIRROR
January 2015
Page 12
JoAnne Howe Brings Kenya to Women's Luncheon
W
hat was Kenya like situated on the
equator in the beautiful highlands and
grasslands of Africa's eastern coast, when it
became independent and free of British rule
in 1963? JoAnne Howe, born in Joplin, MO,
and a resident of
Frasier with her
husband Chuck
since 2003, had
the answer. In
her humorous
and pragmatic
way she fascinated a Frasier audience at the October Women's
luncheon with a
talk about her
sometimes trying but wonderful times when
she travelled to Kenya with her husband
Chuck in 1964, while being mom to four small
children, the youngest 4 months old. At that
time Chuck had been teaching Economics at
Purdue University in a professorial position,
when he received a phone call from the Rockefeller Foundation with an offer to teach at the
University of Nairobi in Kenya, all expenses
paid. Who could refuse? After World War II,
the Rockefeller Foundation prioritized the
support of higher education, to help developing countries by recruiting noted educators.
Chuck was to be given a professorial position
to teach economics and help with related environmental studies.
Deciding whether the family should go, JoAnne jokingly said, that if she could rent her
house, take her pressure cooker and Joy of
Cooking., it would be a great opportunity.
It took the year of 1963 to prepare, and in July
of 1964 they started their journey, encountering many detours and inconveniences, but
when they arrived in Kenya, which looked and
felt like Boulder, they were welcomed by an
official and taken to their Nairobi home.
There they met Jonathan, their loyal houseboy
who did the cooking and household chores .
Nairobi was Kenya's largest city a hub of culture, and university influence. One of JoAnne's
observations, was that the British left Kenya
in good condition, but did so with employment
of civil servants and no directors which led to
growing civil unrest.
In daily activities, JoAnne drove the children
to and from school. She learned that "Dick
and Jane" primers were used. There was no
school on Saturday. Wednesday afternoons
were a time to travel. Local markets had plentiful souvenirs, but not safe healthy food.
Shopping was done at government stores, or at
individual "butchers, bakers and candlestick
makers." JoAnne and Chuck fondly remember
safaris. They travelled with their children in
their own car for safaris in surrounding countries to see the beautiful and abundant wild
life of east Africa and bought art work, some
of which they donated to museums.
Once called the cradle of humanity, safe and
inviting, Kenya today is volatile and plagued
with internal corruption and terrorism, as are
her neighbors, South Sudan, Somalia and
Tanzania. In 2013 terrorists attacked a bus in
Nairobi, killing seven people.
JoAnne and Chuck remember Kenya and the
region in happier times..
Thank you very much JoAnne for this extraordinary talk, bringing Kenya to our awareness.
Laura Fischer
THE MIRROR
Page 13
January 2015
Grandchildren
T
hey disappear with friends near age 11.
We lose them to baseball and tennis, garage bands, slumber parties, stages where they
rehearse for the future, ripen in a tangle of
love knots. With our artificial knees and hips
we move into the back seats of their lives, obscure as dust behind our wrinkles, and sigh as
we add the loss of them to our growing list of
the missing.
Sometimes they come back, carting memories
of sugar cookies and sandy beaches, memories
of how we sided with them in their wars with
parents, sided with them even as they slid out
of our laps into the arms of others.
In Loving Memory
Ralph Burns
Born . . . . . . . . . . . . . . . . . . Aug. 29, 1918
Entered FMR.C. . . . . . . . . Jun. 30, 2008
Died . . . . . . . . . . . . . . . . . . Dec. 10, 2014
Eleanor Payne
Born . . . . . . . . . . . . . . . . . . Aug. 15, 1916
Entered FMR.C. . . . . . . . . Mar. 26, 1999
Died . . . . . . . . . . . . . . . . . . Dec. 07, 2014
Sometimes they come back and hold onto our
hands as if they were the thin strings of helium balloons about to drift off.
"Grandchildren" by Olivia Stiffler,
from Otherwise, We Are Safe. ©
Dos Madres Press, 2013.
Herbert Plews
Born . . . . . . . . . . . . . . . . . . Jun. 14, 1928
Entered FMR.C. . . . . . . . . Apr. 21, 2006
Died . . . . . . . . . . . . . . . . . . Dec. 12, 2014
Punography.
A soldier who survived mustard gas and pepper spray is now a seasoned veteran.
I know a guy who's addicted to brake fluid.
He says he can stop any time.
Angels Explained By Children
My angel is my grandma who died last year.
She got a big head start on helping me
while she was still down here on earth.
Ashley —age 9
Pauline Wilson
Born . . . . . . . . . . . . . . . . . . Apr. 13, 1927
Entered FMR.C. . . . . . . . . Sept. 25, 2009
Died . . . . . . . . . . . . . . . . . . Dec. 13, 2014
Dorothy "Dot" MacFarland
Born . . . . . . . . . . . . . . . . . . Jan. 02, 1918
Entered FMR.C. . . . . . . . . Feb. 03, 1992
Died . . . . . . . . . . . . . . . . . . Dec. 20, 2014
THE MIRROR
Page 14
January 2015
Snow Village
J
oyce Davies says she and her husband Ken
began collecting the china houses that
make up their North Pole Village in 1990. The
village is set up on Frasier's 4th floor next to
elevator #1. 1990 was
the first year this particular village was
made.
The Davies's collection comprises approximately 24 lighted
houses, each with its
own name, for example, the Elf Bunk
House (below), Crayola House (bottom
right), and the Jackin-the-Box House.
Only two small buildings don't light up, the
hot chocolate stand
and the popcorn shop.
The Mickey Mouse
carousel goes round
and round, and the
reindeer-training
snowman leads a
novice deer in a
harness around a
high circle on a
pole, presumably
teaching him to
fly. Other accessories include fences, benches, and
evergreen and deciduous trees.
The buildings are made of china and handpainted. Each comes in a box with a Styrofoam
insert exactly molded to its shape. In their
boxes the buildings are practically indestructi-
ble. Everyone was asking where Joyce stores
the snow village. She gave a chuckle as she
said, "They occupy three-quarters of our cage."
Joyce says it takes three days to set up the little
village. She had
great help this year
from son Kenneth,
who dealt with the
wiring. Each house
needs to be plugged
into a main electrical connection. The
whole set-up can be
turned off or on
with the touch of
one button.
Nancy Tilly
THE MIRROR
January 2015
Frasier and the
Colorado Athletic Club
Saturday, January 17th, MLK Jr. Day of
Service: Homeless Shelter and Safehouse
Progressive Alliance for Nonviolence
T
his year Frasier is participating with the
City of Boulder Youth Opportunities Advisory Board (YOAB) as a site for a day of service over the afternoon of Sat. Jan. 17th. Eleven high school age youths will join Frasier
residents on our campus in making a difference for two longstanding Boulder service organizations on projects supporting their vulnerable populations. From 1:00 – 2:00, in the
Art Studio, 2nd floor FE, the students will help
us assemble individual bags of art supplies for
children ages 4 to 8 who are residing at the
Safehouse. Then they will move to the HCC
Activities Room where they will put together
snack/lunch bags for the homeless shelter outreach program, providing nutritious meals to
those on the streets who choose not to use the
shelter.
We can all participate in this effort through a
collection drive as we gather supplies for both
of these projects. We will have boxes at all of
our entries where you may donate art supplies
(crayons, markers, coloring books, sketch pads,
chalk, coloring books, etc.) and items for the
outreach nutrition program (cereal/granola
bars, peanut butter, jelly, nuts, fruit cups, etc.)
There is a more extensive list at the front desk
as well as on the boxes at the Frasier entries.
The collection drive will run from Monday,
January 5th through Friday, January 16th.
Come hear about both the Homeless Shelter
and Safehouse during a talk on Thursday,
January 15th at 4:00 in the Assembly Room.
During this January 17th afternoon, we will
also take some time to write letters to our service members overseas. We hope you might
join us in some way for these projects!
Molly Briggs
Page 15
I
t is pretty clear to most residents of Frasier
Meadows that exercise in later life is critical in maintaining physical function and independence. We are fortunate to have a wellequipped Wellness Center with a staff dedicated to maintaining our physical well being.
However, we are also fortunate to have a relationship with the nearby Colorado Athletic
Club.
This facility has just undergone a $5,000,000
renovation and is available to Frasier residents
through a cooperative agreement between the
two facilities. Some of our residents have become regular users of the Club and have found
it to have a welcoming environment, a vast array of equipment and a staff dedicated to encouraging and aiding its club members to
achieve higher levels of strength, mobility and
fitness.
For those Frasierites that have not become familiar with the Colorado Athletic Club a visit
would be worthwhile. A look at the heated
outdoor pool, the indoor pool, the strength
(Continued on page 18)
THE MIRROR
Page 16
January 2015
Do You Like It Here?
Do you like it here?
An oft -asked question
Do you like it here?
Reflexively I respond
Oh yes, I'm happy here!
Later in my small apartment
I sit in reflection
Do I like it here?
I think about Ohio,
and my life there
Close family ties,
loving church community
Memories too intimate to ponder
Did I like it there?
The answer of course is
My life was perfect
Or was it?
Was it really perfect when the temperature
matched the humidity at 95 degrees?
Was it perfect when sweet friends helped
me across the street when I was able to
"do it myself"?
Was it perfect when a medical crisis left
me hurting, lying on the icy street
alone?
Once again I ask myself the question
Am I happy here?
And I mutter a silent prayer to the universe.
Thank you for bringing me here
Far from the familiarity of home and loving
family and friends
Far from the frustrations of conservative
politics
From the haggling of condo building residents
Wanting to overthrow current structure to gain
control
Far from a loved one's self-induced poverty
and neediness.
Far from the "perfection" of home.
Do you like it here? The question is asked
As a genuine concern
Do you like it here?
For just a moment I pause viewing the now
familiar Flatirons,
Yes, I love it here.
Mary Dickerson
(Continued from page 5)
stand at this moment? Its financial liquidity is
very strong. Its debt service is weaker, but still
good. Its capital structure would be strengthened by paying down more of its debt. At present, its profitability is low because of the costs
of the flood. If these adjectives seem to be negative — "weaker", 'strengthened" and "profitability" —it is only in relation to the strong
marks given to Frasier's financial liquidity.
So, with a future market promised, interested
parties, a history of successful marketing and a
strong financial base, FMRC is considering embarking on an expansion of its facilities. If a
decision is made to move forward, the first step
will be a testing of the waters, with $4,000,000
budgeted for a marketing program to see if Frasier's plans are feasible. If they are not, the facility can walk away from the project without
any harm to its financial status. If they are, an
aggressive pre-leasing campaign will be undertaken to ensure, at least, a 70% enrollment in
the new facility, or fifty new tenants. A loan
for $58-60 million, for twenty years at 3.25%,
will be taken out, with repayment made by new
entrance fees. These, and resulting monthly
fees, will strengthen FMRC's cash flow, covering increased costs and supporting the Wellness
and Performing Arts Centers. It will not only
put the entire facility on a firmer financial basis, but also improve the quality of life at Frasier Meadows.
The decision to go ahead with the project, or
not, is waiting to be made by Frasier's Board of
Trustees.
Margaret Picher
THE MIRROR
Page 17
January 2015
Infected with Gynocracy…..
That silly phrase was intended to ridicule
Clara Barton when it was published in an
eastern newspaper …… not because she was an
active suffragist (radical trouble-making rabble-rousers) but because she spoke publicly
about causes she believed in. Her last and
greatest cause was the establishment of the International Red Cross, which required the
President and Congress to authorize our signing of The Treaty of Geneva. The U.S., the
last holdout, finally signed in 1882.
ate prison (there were eleven others). As many
as 40,000 soldiers who fought in The Civil War
were not identified during Clara's lifetime.
We learned about this great lady from a dramatic monologue presented in the Assembly
Room in December. It was written and performed by Susan Marie Frontczak, who was
costumed in a historically accurate, charming,
It all began with Clara's desire to help soldiers
fighting in "The War of Rebellion." First, she
organized the public to produce food staples,
bandages, and warm clothing, keeping two
warehouses in continual use.
She knew that she needed to be on the battlefield, making sure the wounded had food and
water, and basic care; she also knew the importance of stemming the flow of blood from
wounds as quickly as possible. Ministering to
these needs often placed her in danger. On one
occasion, a bullet tore through her sleeve and
killed a man behind her. On another occasion
a soldier, had a bullet lodged in his bleeding
cheek which Clara reluctantly, but bravely,
removed. She became known as "the angel of
the battlefield."
After the War of Rebellion was finally over,
Clara set to work attempting to locate and
identify missing soldiers, only one of whom in
thirty was identifiable. With President Lincoln's blessing and encouragement, Clara established a Missing Soldiers' Office in Washington.
Bushel baskets of supplicating letters from
families arrived every day. To give you some
idea of the scale of this task, recall that 12,658
soldiers died in Andersonville Prison, perhaps
the most infamous, but not the only Confeder-
custom-made, 19th century dress and wig. Susan Marie coaches the budding actors who participate in the Young Chautauqua Program,
which meets here at Frasier. Perhaps we'll be
lucky enough to see this group in action as
they develop their skills. We hope so!
Trish Judd
Punography.
I'm reading a book about anti-gravity.
I can't put it down.
I did a theatrical performance about puns.
It was a play on words.
They told me I had type A blood,
but it was a type-O.
THE MIRROR
T
Page 18
January 2015
Merry and Bright
he Frasier annual Merry and Bright party in our Dining Room on Tuesday December 9th featured an extraordinary dinner
with appetizers, entrees of scallops and carved
filet of beef, and many delicious accompaniments. Entertainment included Essa Kalendareva on piano, The Dickens Carolers, and
the New Wizard Oil Combination an a cappella men's choir. Frasier staff pitched to assist
our dining room chefs and servers to kick off
the holiday season. A good time was had by all!
The Dickens Carolers strolled through the
diners and sang holiday favorites.
JoAnn Joselyn
Molly Briggs, Tim Johnson, Michael Lacopo,
Emily Jackson, and Kayla Goldstein were on
hand to make sure the evening ran smoothly.
(Continued from page 15)
equipment and the vast array of cardio machines is awe inspiring. For people who love to
walk in order to maintain fitness the indoor
track would be a welcome alternative on days
that preclude an outdoor walk. Improve your
health by taking a short walk across the street
to the Colorado Athletic Club. The sauna and
the steam room are all fired up and the staff is
waiting.
Ted Granda
Cory Balk, Jourdane Sorrell, Karina Gordillo,
and Greg Tracy helped to prepare and serve a
wonderful dinner.
THE MIRROR
Page 19
January 2015
They Come on a Mission
They come on a mission—
to fill a gap in the lives of their elders.
Their youthful expertise and wisdom,
surprises us who are supposed to own
such qualities.
They are guided into this new experience
by men and women who love to see their
charges shoulder new mantles of
knowledge and understanding.
They come wearing hats of many shapes.
We wonder if those hats are sending
secret signals. But the messages escape us.
We especially wonder about hats worn with
flat bills to the back, and recall bills
worked into curves until we seemed to
peer from a tunnel.
These young people come in all sizes and
shapes. Some tall, bearded and muscular.
Others in the bloom of impending adulthood.
But these are only superficial signs and
symbols.
They also come with precious bounties,
invisible on first sight, and still hidden
during initial meetings.
Then we bring forth computers and lay them
before these youngsters along with our
ignorance.
Now the rules kick in.
There are parietal rules to prevent behavior
incompatible with our learning goals.
Our student mentors have come, not to display
their technical skills but to evoke
understanding in those they teach.
Corollary: The learner's fingers are always on
the keyboard and mouse.
The mentor sits to one side of the booted
computer.
The voice is soft and patient. "You're right, this
won't work. Let's try this."
Or, "You will need to activate your location
service before you can use all those
other features."
Or, "---Janel is good at scanning matters.
We can stay after 4:00 and solve your
problem.
My Dad will be waiting out front."
Dedication, competence, and love are all here
marshaled.
These neophyte teachers have engendered rich
and lively learning to be envied by
master teachers.
A proper educational project is judged by
results.
Are these young mentors transformed in
some way?
Did they really induce learning?
Did they learn useful behaviors from their
older partners?
Did they learn new and mysterious things
about themselves?
And what of the elders?
Did those hours with the young transform
them?
Did they learn to like and enjoy their look
into youth culture?
Did they learn new techniques that made their
computer lives more pleasant and
productive?
The answers to these questions are yet to come.
They may not flow forth in one bolus.
More likely some answers will emerge
unexpectedly—an image of a face will
recall an "aha" technical moment.
Or a sudden notice of fingers on a keyboard
may awaken a moment of laughter
that teetered on the edge of love.
Words there will be about this experience-flowing easily from voices long
separated.
The assessment will go on long after many of
our voices are hushed.
Kevin Bunnell
THE MIRROR
B
January 2015
Museum of Boulder
oulder's History Museum is about to
transform into the Museum of Boulder.
December's Kaleidoscope program featuring
Laurie Paddock, Frasier Resident, and Nancy
Geyer, Executive Director of the new Museum
of Boulder explained and illustrated the metamorphosis. Laurie, a member since age 2 of
the Boulder Historical Society, reviewed the
many locations which have been used for historical collections through the years: The
Court House, Old Central School, to the present location in the Harbeck-Bergheim House
on Euclid. Nancy talked about the expanded
mission of the new museum which will feature
those factors such as local contributions to science, technology, athletics and natural foods
which make Boulder the unique place it is, as
well as historical exhibits and a children's museum.
The Museum has purchased and is renovating
the Masonic Lodge at Pine and Broadway for
its new home, projected to open in 2016. The
passage of tax measure 2A in November worth
$4 million, a December National Endowment
for the Humanities grant for $500,000 and $1
million in private donations to date have
brought the organization more than half way
to its $8 million goal. If one wishes to contribute toward the new Museum of Boulder
contact Karl Anuta. A joint membership in
The Museum of Boulder and Historic Boulder, the organization dedicated to saving historic worthy buildings, is available.
Louise Bradley
Punography
A cross-eyed teacher lost her job because she
couldn't control her pupils.
Page 20
Volunteering at Frasier
O
ne of the best features of our lovely community is the contributions of our members both within the walls of Frasier and in
the greater Boulder community. This column
is dedicated to bringing awareness to several
of these Frasier volunteer efforts, spotlighting
some of the Boulder community members who
volunteer at Frasier and bringing attention to
new opportunities as they arise.
This month I am thinking of our own Simon
Kyeyune, Frasier Care Resident Assistant extraordinaire, as well as extremely dedicated
volunteer. For the month of December, Simon
has completely embodied the spirit of the season, seeing that trees and public areas are festooned, singing at every opportunity, serving
residents at the Merry and Bright party, leading the singing at the Resident Relations Party. In addition, later that evening joining with
another amazing volunteer, Doe Kelly, to sing
with those on the Holiday Lights tour, putting
on a remarkable show on the 18th, performing
again with Doe at the Giving Tree party and
then again later caroling in the IL dining
room during dinner. Finally gracing the
Christmas Eve Worship with his beautiful
voice. His hours of preparation for all of these
events are unfathomable. He works diligently
behind the scenes for Vespers every week as
well. We are blessed to have Simon! (And Doe
for that matter!) Our gratitude is difficult to
describe in words!
Some examples of resident volunteer opportunities include taking a book cart to residents
in the HCC, Gift Shop attendees, and projection operators for the Saturday night movies
(training available). Please contact, me at ext.
4339 if you are interested or would like to
hear more.
Molly Briggs
THE MIRROR
January 2015
Page 21
Your Brain Matters:
Is Current Research on Aging and Exercise Relevant?
E
arlier this summer, Dr. Angela Bryan,
Professor of Psychology and Neuroscience
at CU, and her colleague Dr. Jessica AndrewsHanna, Research Associate in the Institute of
Cognitive Science, gave a fascinating overview
of age-related changes in brain structures that
influence different journeys as we age. Angela
and Jessica are collaborating with the Intermountain Neuroimaging Consortium, housed
at CU. In Boulder and across the Rocky
Mountain region, a team of 75 researchers is
using magnetic resonance imaging to study
brain functioning as it is related to different
behaviors. Their methods are on the cutting
edge of imaging research. Angela and Jessica
will be recruiting subjects for their work, and
several Frasier residents have volunteered.
Just as we take a different journey when ageing and decide to come to Frasier, similarly,
when our brain cells shrink and make fewer
neurons, the multitude of fibers finds a different route to process memory, cognition and
physical activity. We get involved with participation, enjoying life, leading activities and
committees, yet it frustrates us when we forget
names, misplace keys, forget where we filed
important papers, have trouble with organization and may lose a sequence of numbers when
telephoning or balancing check books. Is this
a short-term memory deficit? Not necessarily.
Recall in short-term memory is controlled by
the hippocampus, which is the gateway to
memory and acts as the executive, or CEO, of
the brain. The executive function includes
such abilities as reasoning, planning, multitasking and maintaining attention when there
are distractions. If short-term memory is in
question then the executive function is weak.
Angela was encouraging when she said that
with decline there is "good news." She ex-
plained that the brain is malleable and composed of inter-connected regions that "talk" to
each other, strengthening processes of brain
integration. Though neurons decay daily, we
can rehabilitate and replenish pathways from
birth to our last breath; we are continually trying to replenish and rebuild. Knowing this,
we need to take responsibility to build on our
strengths. Research at CU and internationally
suggests that we can recruit and replenish our
brain power in memory and cognition by an
active life style, with mental and physical exercises that challenge our short-term memory
and executive functions. Wellness Center, here
we come!
Angela and Jessica cautioned that neurological
detours still can happen. Although some recall
decline is normal, a few of us become part of
the unfortunate minority that develop Alzheimer's disease and other types of dementia, with
causes still to be discovered.
Along with other residents, I learned, questioned and felt I wanted to know more. Thank
you Angela and Jessica for taking us through a
fascinating journey we shall long remember.
Laura Fischer
Angels as Explained by Children
When an angel gets mad, he takes a deep
breath and counts to ten. And when he lets
out his breath again, somewhere there's a
tornado.
-Reagan, age 10
THE MIRROR
January 2015
Page 22
Renovating Central
A
s the North Wing project evolved Manor
residents wondered just what kind of
renovation would come to their part of the
building. Throughout the first thirty years the
most significant change in the residential
building at Frasier had been the consolidation
of one-room studios into one-bedroom apartments in response to the "market demands" of
incoming residents. Little attention had been
paid to upgrading the original facilities such
as the service utilities, service areas such as
the kitchen, modernizing the common areas,
or improving the looks of the hallways and
"public areas." It took some time for these
"improvements" to materialize.
Of persistent concern to residents were the service utilities and especially air conditioning.
This had not been a part of the original construction and over the first decades there had
been a considerable amount of "make do" undertaken and paid for by residents: the chapel,
the dining room and several other "common
areas." More extensive were actions taken by
individuals to make their living quarters more
comfortable by simply keeping their doors
open to foster cross ventilation during the hot
summer months, or adding window air conditioners that put a strain on the electrical system. To modify the service utilities as a whole
was a formidable task which was not tackled
until the "renewal" of 2008-09 when a modern
air heating and cooling system was installed
for every apartment.
The initial projects were to remodel the
kitchen and modify the Health Care Center;
in both cases a decade or two of experience
provided ample ideas for renovations. But in
2008-09 a more extensive renovation program
was undertaken for the original building, now
called "Central." Among many changes, this
involved rearranging facilities in the
"commons" area: moving the library from the
garden level to the main floor, a history room,
moving the gift shop from near the building
entryway to its interior and adding administrative office space by moving the outer wall
of the building to the west, renovating the reception area and constructing a new outdoor
overhang to protect residents coming and going in their cars.
Wellness Center:
Whitney Garcia McCain
Creating VITALITY
at Frasier Meadows
F
rasier Meadows Retirement Community is
committed to you! We are pleased to offer an
innovative program, Vitalize 360, which offers
you, as residents, the opportunity to share your
interests and lifestyle needs through an informal
conversation. The conversations support a culture
that represents the missions, values, and vision of
Frasier Meadows Retirement Community. Every
resident will be offered the opportunity to participate annually in a conversation. The program's
intention is to use the information collected from
your personal conversations to support a meaningful residential community for all residents. Stephanie Willner, Wellness Coordinator, is leading
Vitalize 360 and will offer a more detailed presentation on the program and its merits on Tuesday,
January 13th, 2-3 p.m. in the Grille.
THE MIRROR
Page 23
January 2015
Kathy Kingwell................. 1.21
HEALTH CARE
Evelyn Kube ..................... 1.12
Wanda Francipane ........... 1.23
Patricia LeBlang ............. 1.28
January Birthdays
INDEPENDENT LIVING
Ann Rowan ........................ 1.02
Betty Boselli ...................... 1.03
Elbe Geer .......................... 1.05
James Sindelar................... 1.05
Rachel Bender ................... 1.07
Connie DeVries .................. 1.07
Pete Palmer ....................... 1.09
Ann Evans ......................... 1.10
James Scholten .................. 1.10
Priscilla McQueen ............. 1.13
Stuart Mundt .................... 1.13
Jean Johnson ..................... 1.15
Kate Crawford.................... 1.18
Walter Duncan .................. 1.19
Bernice Rosenberg ............. 1.19
Mary Kelso......................... 1.20
Faye Parrish ..................... 1.21
Joan De Graaff .................. 1.22
Bill Sabin ......................... 1.25
Ken Davies ......................... 1.28
Eloise St. John ................... 1.28
Judith Rhoads ................... 1.31
ASSISTED LIVING
THE MIRROR Monthly news of Frasier
Meadows Retirement Community, Boulder,
CO, is published by residents to provide
in-house news and general information for
current and future residents.
PUBLISHER
CO-EDITOR
CO-EDITOR
PROOF READERS:
John Tracy
REPORTERS:
Louise Bradley
Laura Fischer
Tricia Judd
Margaret Picher
PHOTOGRAPHERS:
Al LeBlang
COLUMNISTS:
DISTRIBUTION:
John Harris
JoAnn Joselyn
Pete Palmer
Phil Waggener
Kevin Bunnell
Ted Grenda
Janet Klemperer
Nancy Tilly
Phil Waggener
THE MIRROR
Page 24
January 2015
Saturday January Movies (7:00 p.m.)
January 3
Cool Hand Luke
(1967)
When petty criminal (Paul Newman) is sentenced to two
years in a Florida prison farm, he doesn't play by the rules
of either the sadistic warden or the yard's resident heavy.
His bravado makes him a rebel hero to his fellow convicts
and a thorn in the side of the prison officers.
January 10
Renoir
(2012)
Set on the French Riviera in the summer of 1915, Jean Renoir returns home to convalesce after being wounded in
World War I. At his side is Andrée, a young woman who rejuvenates, enchants, and inspires both father and son.
January 17
Lost in Translation (2003)
A lonely, aging movie star named Bob Harris (Bill Murray)
and a conflicted newlywed, Charlotte (Scarlett Johansson),
meet in Tokyo. Strangers in a foreign land, the two find escape, distraction and understanding. They form a bond that
is as unlikely as it is heartfelt and meaningful.
January 24
The Big Sleep
(1946)
Private investigator Philip Marlowe (Humphrey Bogart) is
hired to help resolve the gambling debts of General Sternwoods. As people linked to the Sternwoods start being murdered, Marlowe finds himself getting ever deeper into the
case.
January 31
Kolya
(1996)
Former concert cellist Louka barely makes ends meet after
being blacklisted from his job with the Prague Philharmonic Orchestra. For a fee, he marries a Russian woman so she
can become a Czech citizen, but she immediately emigrates to
West Germany, sticking the bachelor with her sickly 5-yearold Kolya and questions about the sham marriage.