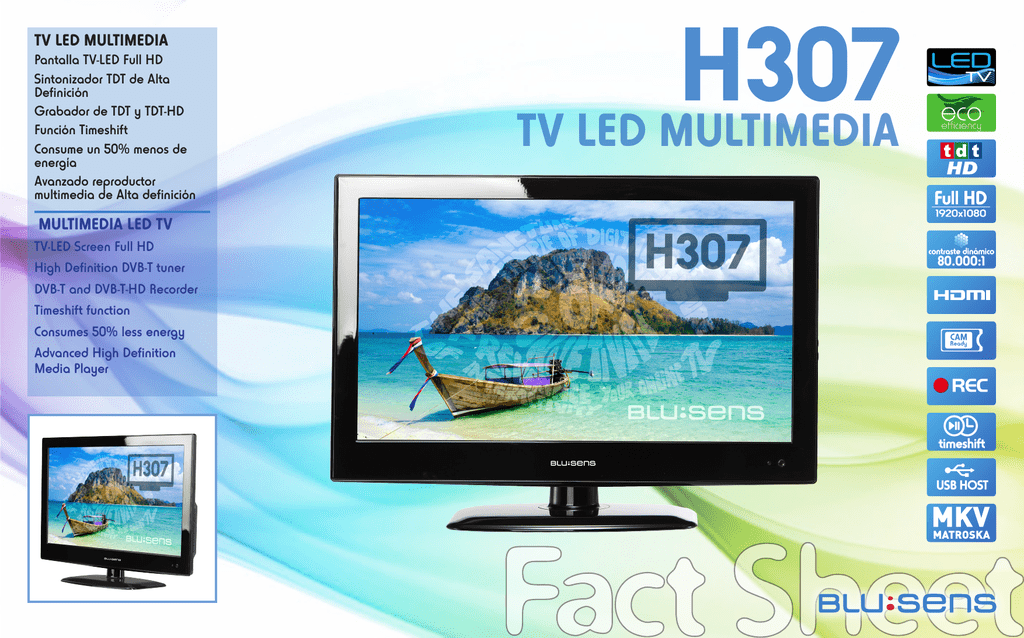 TV LED MULTIMEDIA
Pantalla TV-LED Full HD
Sintonizador TDT de Alta
Definición
Grabador de TDT y TDT-HD
Función Timeshift
Consume un 50% menos de
energía
Avanzado reproductor
multimedia de Alta definición
H307
TV LED MULTIMEDIA
MULTIMEDIA LED TV
TV-LED Screen Full HD
High Definition DVB-T tuner
DVB-T and DVB-T-HD Recorder
Timeshift function
Consumes 50% less energy
Advanced High Definition
Media Player
80.000:1
ESPAÑOL
FUNCIONES
• Sintonizador de TDT MPEG-2 y TV analógica
• Sintonizador de TDT HD de alta definición
MPEG-4/H264
• Reproduce Audio, Vídeo Y Fotos desde el
Puerto USB
• Graba en archivos .TS con toda la nformación
que incluya el canal seleccionado como
Subtítulos o varios idiomas
• Teletexto y Sleep Timer
• Timeshift para reproducir mientras continua la
grabación
• Bloqueo de seguridad para control paterno
• Modo Hotel
M215
H307
Pantalla TV-LED de alta definición, resolución de 1920x1080
pixels y 16 millones de colores. Sintonizador de TDT de alta
definición MPEG4/H264.
Puerto USB Host que reproduce y graba desde la TDT
convencional y de alta definición, además de interfaz de
módulos CAM compatible con tarjetas de abonado de la TDT
de pago. Reproduce archivos de alta definición Matroska
MKV/H264.
Incorpora bloqueo de seguridad del terminal (Modo Hotel
Programable), y cuenta con fuente de alimentación interna,
altavoces frontales integrados y múltiples entradas y salidas,
incluyendo HDMI.
Soporta 1080p input (24p). Peana con ajuste de inclinación.
Permite soporte para montaje en pared.
LED-TV High Definition screen, resolution 1920x1080 pixels
and 16 million colors. DVB-T tuner HD MPEG4/H264.
Host USB port that plays and records from the DVB-T
conventional and high definition video, CAM interface
module for pay TV channels. Plays high definition Matroska
files MKV/H264.
Includes device security mode (Programmable Hotel Mode)
and internal power supply. With integrated frontal speakers
and multiple I/O connections including HDMI. Compatible
with 1080p input (24p).
Stand with adjustable vertical angle. Allows wall mount.
DISCOS USB COMPATIBLES - COMPATIBLE USB DRIVES
2 GB
4 GB
8 GB
128 GB 256 GB 500 GB
16 GB 32 GB
1 TB
1.5 TB
FAT 32- NTFS FAT 32- NTFS FAT 32- NTFS FAT 32- NTFS FAT 32- NTFS
http://www.blusens.com/es/productos/hogar-digital/h307/
ENTRADAS/SALIDAS
• Entrada de Alta Definición HDMI
• Puerto USB 2.0 High Speed
• Ranura Common Interface • Entrada de audio y vídeo compuesto
• Entrada SCART A/V (Euroconector)
• Entrada de video para PC VGA (D-Sub)
• Entrada de audio de PC
• Salida estéreo de auriculares (3.5mm)
• Salida de audio Digital Coaxial
• Entrada de Antena RF
CARACTERÍSTICAS - SPECIFICATIONS
ENGLISH
MODO USB
• Video: MPEG1/2, MPEG 4.2 (AVI-XVID),
MPEG4.10 AVC-H264, .TS (MPEG2-H264HDTV), MKV,MP4
• Foto: JPEG, BMP, PNG
• Audio: MP3 (ID3Tag), AAC, M4A
• Grabación: MPEG2/H264 (.TS) Sólo sobre
FAT32
• Sistema de archivos: FAT32 y NTFS (Sólo
lectura)
CONTENIDO DE LA CAJA
• LED-TV H307
• Mando a distancia con pilas
• Manual de usuario
• Carta de garantía
FUNCTIONS
• DVB-T MPEG-2 and Analogue TV tuner
• High Definition DVB-T MPEG-4/H264
• Audio, Video and photo files playback from
USB device
• Records in .TS files with all the information that
includes the selected channel, subtitles or
different languages
• Teletext and sleep timer
• Timeshift function for playing while recording
continues
• Security lock for parental channel control
• Hotel Mode
INPUTS/OUTPUTS
• HDMI high definition input
• USB 2.0 High speed port
• Common Interface slot
• Audio and video composite output
• SCART A/V input (euroconnector)
• PC VGA (D-Sub) video input
• PC Audio Input
• Audio output for headphones
• Digital Coaxial audio output
• RF antenna input
USB MODE
• Photo: JPEG, BMP, PNG
• Audio: MP3 (ID3Tag), AAC, M4A
• Video: MPEG1/2, MPEG 4.2 (AVI-XVID),
MPEG4.10 AVC-H264, .TS (MPEG2-H264HDTV), MKV, MP4
• Photo: JPEG, BMP, PNG
• Recording: MPEG2/H264 (.TS) Only over
FAT32
• File Systems: FAT32 y NTFS (Read only)
BOX CONTENT
• LED-TV H307
• Remote control with batteries
• User's manual
• Warranty card
22"
H307B22A
EAN: 8436022671096
Pantalla - Screen
TFT LED 22"
Resolución - Resolution
1920 x 1080
Brillo - Brightness
250 cd/m2
Contraste - Contrast
80.000:1
Tiempo de respuesta - Response Time
5 ms
Ángulo de visión (V) - View Angle (V)
160º
Ángulo de visión (H) - View Angle (H)
170º
Colores - Colours
16,7 M
Altavoces - Speakers
2x3W
Dimensiones (cm) - Dimensions (cm)
53,1 x 38 x 16,8 (w stand)
53,1 x 34 x 4,4 (w/o stand)
3,4 Kg
Blusens se reserva el derecho a cambiar las especificaciones si previo aviso. Blusens reserves the right to change any specification without prior notice.

* Your assessment is very important for improving the work of artificial intelligence, which forms the content of this project