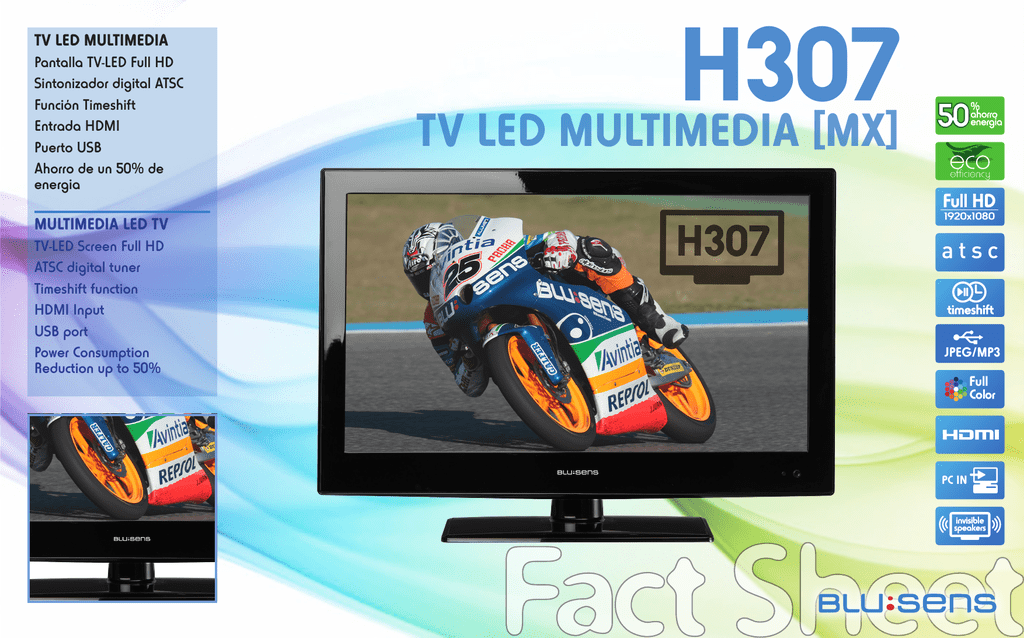 TV LED MULTIMEDIA
Pantalla TV-LED Full HD
Sintonizador digital ATSC
Función Timeshift
Entrada HDMI
Puerto USB
Ahorro de un 50% de
energia
H307
TV LED MULTIMEDIA [MX]
MULTIMEDIA LED TV
TV-LED Screen Full HD
ATSC digital tuner
Timeshift function
HDMI Input
USB port
Power Consumption
Reduction up to 50%
JPEG/MP3
Full
PC IN
ESPAÑOL
FUNCIONES
• Sintonizador de TV Digital ATSC
• Sintonizador de TV Analógica NTSC
• Función Timeshift
• Reproduce audio y fotos desde el puerto
USB
• Sleep Timer
• Bloqueo de seguridad para control paterno
• Ahorro energético
ENTRADAS/SALIDAS
• Entrada de Alta Definición HDMI • Puerto USB 2.0 High Speed
• Entrada de video para PC VGA (D-Sub)
• Entrada de audio de PC
• Entrada de audio y vídeo compuesto
• Entrada de vídeo por componentes(YPbPr)
• Salida de audio estéreo de auriculares
• Salida de Audio Digital Coaxial
• Entrada de antena RF
M215
H307
Pantalla TV-LED Full HD de alta definición
con 16 millones de colores. Cuenta
con sintonizador de TV digital ATSC y
sintonizador analógico NTSC. Función
Timeshift integrada y puerto USB Host.
Incorpora fuente de alimentación interna, CARACTERÍSTICAS - SPECIFICATIONS
control parental y cuenta con altavoces Pantalla - Screen
integrados y múltiples entradas y salidas,
Resolución - Resolution
incluyendo entrada HDMI.
LED-TV Full HD High Definition screen and
16 million colors. With ATSC digital and
NTSC analogue TV tuner. Timeshift funtion
integrated and USB port.
Includes parental channel control and
internal power supply. With integrated
speakers and multiple I/O connections
including HDMI input.
DISCOS USB COMPATIBLES - COMPATIBLE USB DRIVES
2 GB
4 GB
8 GB
128 GB 256 GB 500 GB
FAT 32
FAT 32
FAT 32
16 GB 32 GB
1 TB
FAT 32
1.5 TB
FAT 32
http://www.blusens.com/es/productos/hogar-digital/h307-mx/
Brillo - Brightness
Contraste - Contrast
ENGLISH
MODO MULTIMEDIA (USB)
• Foto: JPEG
• Audio: MP3
• Sistema de archivos: FAT16 y FAT32
CONTENIDO DE LA CAJA
• H307
• Mando a distancia con pilas
• Manual de usuario
• Carta de garantía
FUNCTIONS
• ATSC digital tuner
• NTSC analoge tuner
• Timeshift function for playing while recording
continues
• Audio and photo files playback from USB
device
• Sleep timer
• Security lock for parental channel control
• Energetic Save
MULTIMEDIA MODE (USB)
• Photo: JPEG
• Audio: MP3
• File system: FAT16 y FAT32
BOX CONTENT
• H307
• Remote control with batteries
• User's manual
• Warranty card
INPUTS/OUTPUTS
• HDMI high definition input
• USB 2.0 High speed port
• PC VGA (D-Sub) video input
• PC Audio Input
• Audio and video composite input
• Component video input (YPbPr)
• Audio output for headphones
• Coaxial Digital Audio Output
• RF antenna input
22"
H307B22C
EAN: 8436022671102
TFT LED 22"
1920 x 1080
250 cd/m2
80 000:1
Tiempo de respuesta - Response Time
5 ms
Ángulo de visión (V) - View Angle (V)
160º
Ángulo de visión (H) - View Angle (H)
170º
Colores - Colours
16.7 M
Altavoces - Speakers
2x3W
Dimensiones (cm) - Dimensions (cm)
53,2 x 38 x 16,6 (w stand)
53,2 x 34,4 x 4,4 (w/o stand)
3,1 Kg
Blusens se reserva el derecho a cambiar las especificaciones si previo aviso. Blusens reserves the right to change any specification without prior notice.

* Your assessment is very important for improving the work of artificial intelligence, which forms the content of this project