Philips SRRBLGBLBX1 Datasheet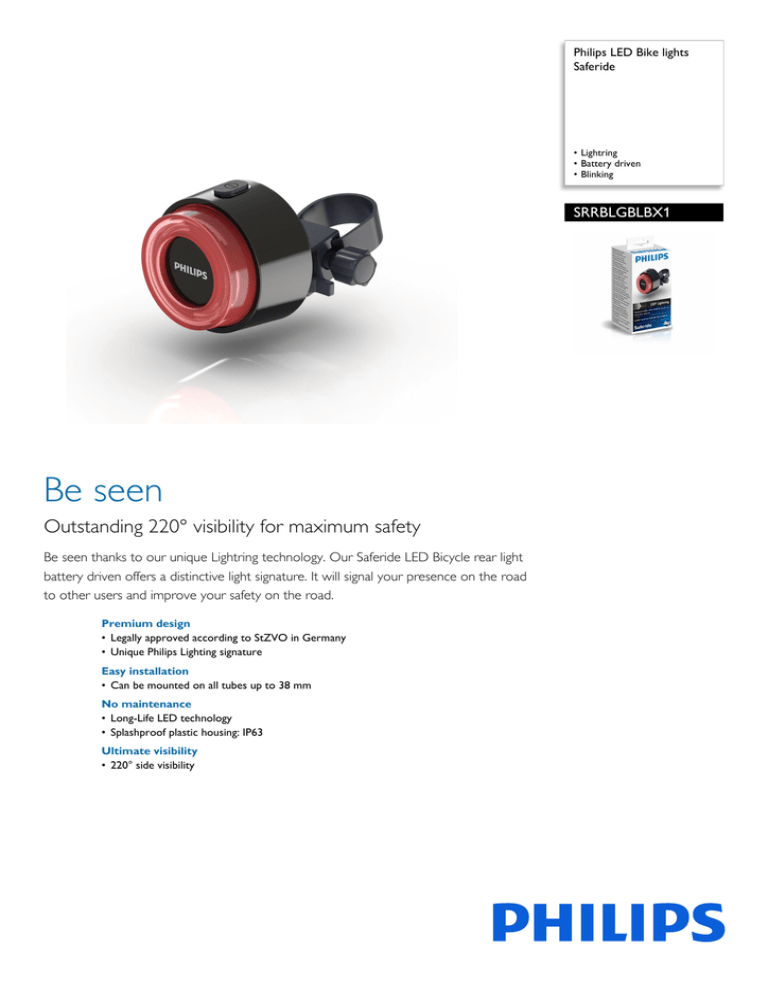 Philips LED Bike lights
Saferide
• Lightring
• Battery driven
• Blinking
SRRBLGBLBX1
Be seen
Outstanding 220° visibility for maximum safety
Be seen thanks to our unique Lightring technology. Our Saferide LED Bicycle rear light
battery driven offers a distinctive light signature. It will signal your presence on the road
to other users and improve your safety on the road.
Premium design
• Legally approved according to StZVO in Germany
• Unique Philips Lighting signature
Easy installation
• Can be mounted on all tubes up to 38 mm
No maintenance
• Long-Life LED technology
• Splashproof plastic housing: IP63
Ultimate visibility
• 220° side visibility
SRRBLGBLBX1
Saferide
Lightring Battery driven, Blinking
Specifications
Highlights
Maximum visibility
• City: LightRing
• Easy installation
• Long life LED technology
Ease of use
Certification
• Application: Day, Night
Splashproof plastic housing
• German certification: StVZO certification
•
As well as resisting knocks, the case is water
resistant, and comforms to IP63.
Long-Life LED technology
The Philips long-life LED technology requires no
maintenance and will provide you a very ntense light
for optimum vision and fatigue-free work.
Legally approved
Legally approved according to StZVO in Germany
220° side visibility
Be seen earlier thanks to the Lightring technology.
Light is indirectly diffused through a glowing ring at a
wide angle. The 220°side visibility will ensure you a
safe ride.
Philips Lighting signature
Unique Philips Lighting signature
Compatible with tubes < 38mm
Issue date 2013-09-12
© 2013 Koninklijke Philips N.V.
All Rights reserved.
Version: 1.1.2
Specifications are subject to change without notice.
Trademarks are the property of Koninklijke Philips N.V.
or their respective owners.
12 NC: 9237 999 00201
EAN: 87 27900 38742 1
www.philips.com
By utilizing the seat post holder accessory, the rear
light can also be fitted on all tubes up to 38mm.

* Your assessment is very important for improving the work of artificial intelligence, which forms the content of this project