Tucano IPD5PA-I Datasheet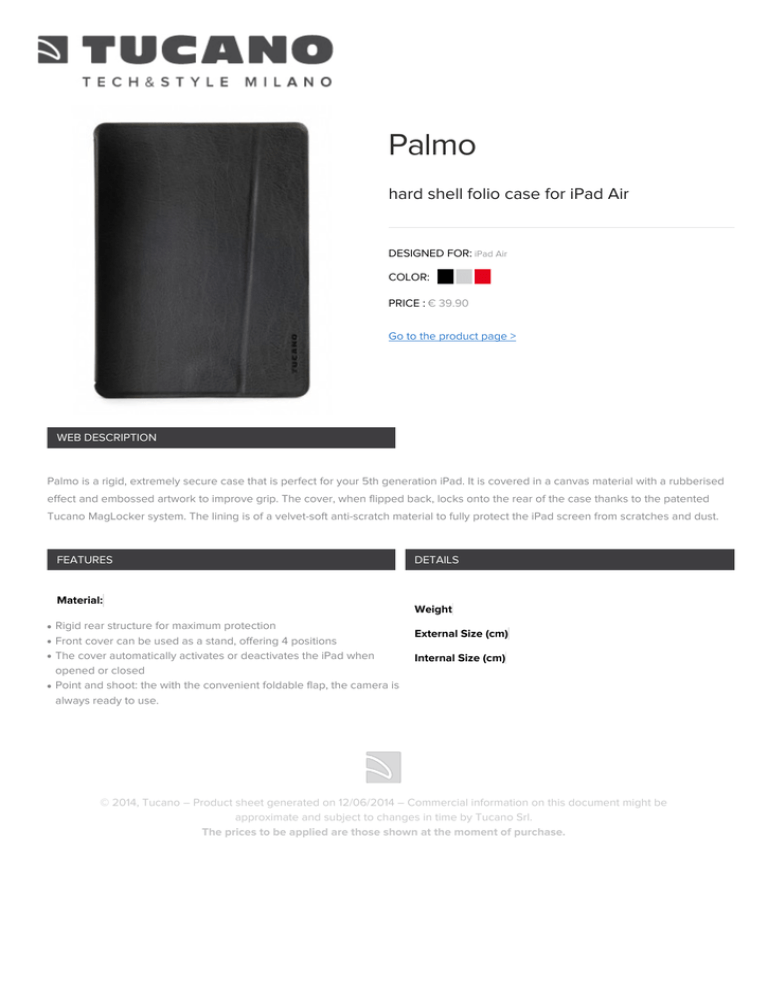 Palmo
hard shell folio case for iPad Air
DESIGNED FOR: iPad Air
COLOR:
PRICE : € 39.90
Go to the product page >
WEB DESCRIPTION
Palmo is a rigid, extremely secure case that is perfect for your 5th generation iPad. It is covered in a canvas material with a rubberised
effect and embossed artwork to improve grip. The cover, when flipped back, locks onto the rear of the case thanks to the patented
Tucano MagLocker system. The lining is of a velvet-soft anti-scratch material to fully protect the iPad screen from scratches and dust.
FEATURES
Material:
●
●
●
●
Rigid rear structure for maximum protection
Front cover can be used as a stand, offering 4 positions
The cover automatically activates or deactivates the iPad when
opened or closed
Point and shoot: the with the convenient foldable flap, the camera is
always ready to use.
DETAILS
Weight
External Size (cm)
Internal Size (cm)
© 2014, Tucano – Product sheet generated on 12/06/2014 – Commercial information on this document might be
approximate and subject to changes in time by Tucano Srl.
The prices to be applied are those shown at the moment of purchase.

* Your assessment is very important for improving the work of artificial intelligence, which forms the content of this project